Click on some images to go BIGGER

World Premier Mission R Electron Powered Superbike!
December 17th 2010, Long Beach Convention Center, CA - The introduction the Mission R, the new factory race bike from Mission Motors took place today at the Los Angeles stop of the International Motorcycle Show's annual winter tour across America. The Mission R is the ultimate electric racing motorcycle. With components and software from MissionEVT which raced at the Isle of Mann, a revolutionary electric motorcycle chassis design by James Parker, and Industrial Design by Tim Prentice of Motonium Design, the Mission R is compact, nimble, intelligent and downright fierce. World Superbikespec components from Ohlins, Brembo, and Marchesini round out this serious built-for-racing package.
The Mission RSS limited edition production model shows only minor changes from the original prototype at the top of this page.
Mission R / RS Electric Superbike Ready for Production
August 15th 2013 - This $58,999 RS model is limited to just 40 units. Once it's delivered, the Mission R will enter production starting at just $29,999 (before a $2,500 federal tax credit). For additional details and to order go to: http://www.mission-motorcycles.com

The Mission RS production bike.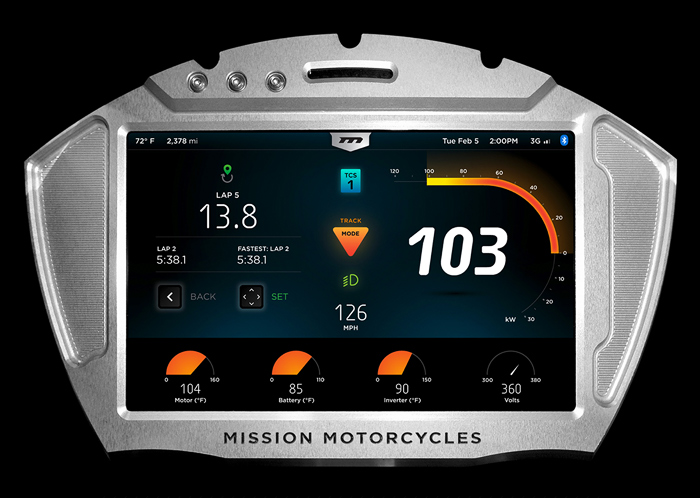 The highest specification electric race bike to date, the Mission R can compete in the new TTXGP alternative energy race classes at various venues around the world where this new watercooled electric Superbike should easily dominate. It probably would be very competitive in club level Superbike races where it might also be allowed to compete.
The Mission R bristles with MissionEVT innovations. Energy and power dense MissionEVT battery modules put more energy into a smaller space. This gives the Mission R the ability to turn lap after high speed lap for most race distances.The AC Induction motor produces 115ft lbs of torque and 141 HP, rocketing the bike from a standstill to over 160mph,all in one gear. Power is managed by the MissionEVT 100kW motor controller, with customizable regenerative braking maps, throttle maps and traction control enabling a new level of vehicle control.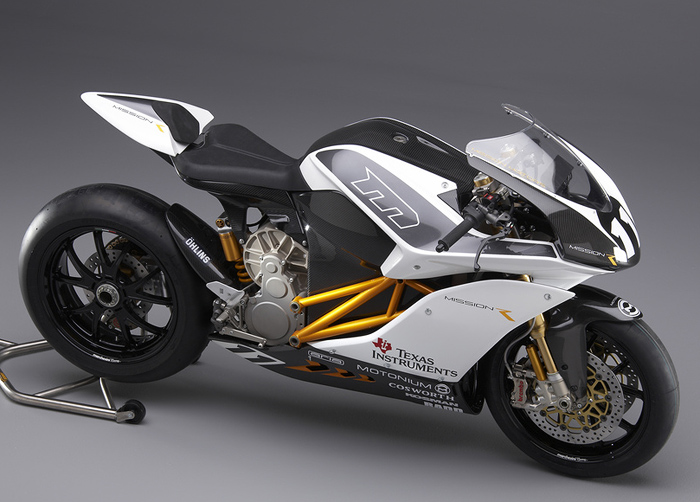 Optimized for the race track, the Mission R features even more energy on board in their all-new race specific pac, and a hot swappable pack architecture. Mission's advances in chassis tuning, throttle mapping and traction control maps for electric motorcycles all come with an obsession for lower track times. Mission has not yet formulated any racing plans with the R for the 2011 season. No doubt major sponsorship support would be instrumental in helping Mission Motors to formulate a serious racing program. In the meantime, you can race your own Mission R for an announced price of $70,000. For additional details go to RideMission.com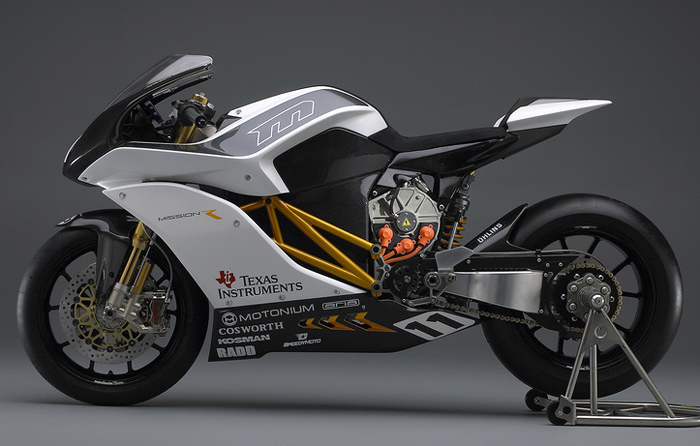 Mission R Specifications

Powertrain
141 horsepower liquid-cooled 3-phase AC induction
Crank: 115 ft-lb (0 – 6400RPM)
MissionEVT battery modules with integrated Battery Management System
Carbon fiber casing with dielectric liner
Swappable architecture
14.4 kW·h total energy storage

MissionEVT 100kw controller with integrated Vehicle Management System
Adjustable throttle mapping
Regenerative braking
WiFi & 3G data connectivity
Single speed, gear-driven primary reduction

160+ mph

Chassis


RADD-designed Quad-Element Frame Billet aluminum and chrome-moly with Power-Unit as fully-stressed member
Battery box as semi-stressed member
Öhlins FGR-000 TTX25 Gas Charged Fork
Adjustment for preload, ride height, high and low speed compression and rebound
Single-sided billet aluminum swingarm with linear wheelbase/chain adjustment
Öhlins TTX36 Shock and linkage system
Adjustment for preload, ride height, high and low speed compression and rebound
Marchesini forged magnesium 10-spoke.
Front: 17" x 3.5"
Rear: 17" X 6"
Rear: 190/60 ZR17 Superbike Slick
Front: 120/70 ZR-7 Superbike Slick
2 Brembo 320 mm narrow-band racing stainless rotors
2 Brembo 2-piece billet 4-piston 30/34 mm differential bore radial-mount calipers
245 mm stainless rotor
Brembo HPK 2-piston 34 mm caliper
Return to New Bike Index • Pit Lane News