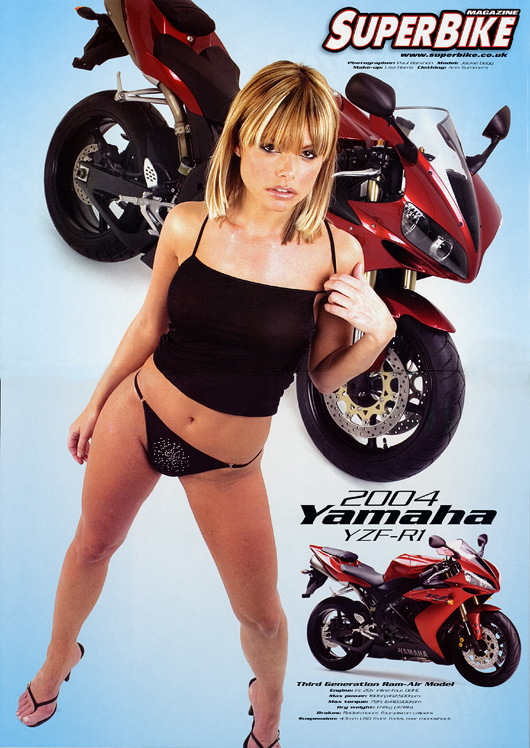 2004 British Sportbike Magazines Exposed!
FastDates.com rates the top 7 hard core British sportbike magazines where bikes,
half naked babes and roadracing are the norm -not the exception like in the colonies.

We Americans like to think that we're at the center of the universe, even when it comes to motorcycles, but that's harldly the case. Our AMA National Roadracing Championip does rival World Superbike in competitiveness, and the American produced Cycle World may be the world's biggest selling motorcycle magazine. But we're still behind Europe when we only pull 5,000 fans to a National race and Europe can pull 50,000, and European Bike Shows can pull 500,00 spectators.
Sportbike magazines are another categoy where America falls sorely behind Europe and Japan, and in particular Great Britain. Beginning this past 2003 season we did have Road Racer X join Sportrider as the onluy other sportbike magazine in America, but both are published just once every 2 months because of their limited readership and advertising support. Neither American mags feature current racing news or features, timely tests of the hottest new sportbikes or race bikes, nor does it offer informative technical features. And for or a publication aimed at a 100% male audience between 18 to 50 years old, it is strange that it purposely ignores beautiful girls that guys like us dream about, which magazines like Maxim, FHM, etc. have turned into marketing gold mines.
While in England, a county the size of California, sportbike enthusiasts are blessed with 7 major monthly sportbike magazines! The fact they are so successful certainly has to do with the fact they cover the topics sportbike enthusiasts want to see and read about, including beautiful girls. These great British sportbike magazines are now becoming more readily available on your favorite newstands here in America and we predict they will soon be the favorites of colonial sportbike enthusiasts as well.
| | |
| --- | --- |
| Our 2002 review of the British sporbike magazine saw us ranked them in the following order: 1. Two Wheels Only, 2. Superbike, 3. Motorcycle Racer, 4th -tie Performance Bikes and Fast Bikes, 6th-tie - Bike and Streetfighters. In our latest 2004 review there's been a dramatic reshuffling in the front running order as the classy Two Wheels Only -drops a notch to 2nd because it's become a touch boring and straight laced. The sexy cover of a leather clad temptress with thethen hot new KTM Supermoto bike helped give them the winning vote back in August of 2002, but we haven't seen a sexy girl or a hot bike featured in the magazine since. Just a lot of pretty pictures and conservative new bike tests and street riding articles not to offended anyone, particularly the advertisers, plus quality race features. But no real excitement. Still, TWO's high quality standards for design and editorial content is unrivaled in the English and American motorcycle magazine field (grid?). | Too Sexy for TWO, the August 2002 cover never to be imitated again. |
FastDates.com is happy to offer up our new 2004 review of the hottest sportbike magazines Great Britain has to offer, in order of our favorites. Starting with our favorite Superbike, down to Bike magazine in 6th position, they all offer more enjoyable reading content and photography than any of our American motorcycle magazines have to offer.
Stepping up into first place this year is Superbike. Almost as timely as FastDates.com, every issue of Superbike usually features a new bike introduction tyo scoop everyone else. Plus they love to take on controversial shootouts comparisons on the track and road and dyno with all the top sportbikes which pull no punches - In the Feb '04 issue theyhave the 3 year old RC51 Honda beating Aprilia's new RSVR and Ducati's 999! They also feature brief coverage of all the World Championship SBK, MotoGP and British Superbike rounds. Plus they've got the prettiest Page 3 Girls you'll see, featured on the cover and in the centerspread / pull-out poster, and sprinkled in the new Products Section. Plus mailed-in photos of reader's wives posing topless on bikes. Our only complaint remains that we don't more pages of the featured model with really top notch bikes (usually just stock, long term test bikes they can get to the studio).
| | |
| --- | --- |
| Superbike's indian trading wompum freebies include posters, sticker kits, videos, calendars, key chains! | Making Superbike a really cool deal for it's high cost to us Colonials are ($8.50 per issue newstand - we're paying for the air shipment to America to keep it timely, or just $7 pre issue by subscription by clicking on the cover far left)is all the freebies they give you. In December you got their annual Superbike Pinup Calendar packaged in a sealed baggie with the magazine, sometimes we get stunt videos, and with the February 2004 issue they gave us 3 goodies: a foldout 2-sided wall poster of World Champs Rossi and Hodgson in action, a funny sticker kit for your bike, and a real rubber and metal Superbike Key Chain. |
Meanwhile, we're still trying to get our domestic subscriptions of Sportrider and Cycle World to arrive in the mail with their covers in place! And the February 2004 cover of Sportrider proclaims the first ever test of the 2004 Aprilia RSVR some 4 months after the tests in Superbike and on FastDates.com.
Once again, all of the below reviewed British sportbike magazines are better than what America in what is susposned to be the biggest motorcycle market in the world. Go figure. Good job Mates, and welcome to America!

1st: SuperBike *****
Britain's premeir sportbike magazine returns to the top of our list, displacing last year's champ TWO. Each month features a great centerfold poster of a beautiful topless Page 3 girl with a test bike (usually a boring stocker). We'd like more photos of the hot babes with real race bikes. Great graphics, photos, enjoyable and honest and informative bike tests and comparisions , stupid stunt wheelies, lots of humor, and the most enjoyable race coverage. Great mix of tests, features, hop-ups, news, good product ads, etc. A guilty pleasure.
Staff: Kenny Oryde, Alan Dowds, Jaime Wilkins
Race Coverage: Excellent. Full MotoGP, SBK, BSB. The easiest to read with the best photos & graphics. Photos by our Gold & Goose.
Babe Content: Excellent. Nice studio shots of topless beautiful Page 3 models with test bikes. And a light scattering of models and grid girls.
US Availability: Newsstands, Barnes & Noble, Borders, Walden, etc.

Click to Subscribe!
2nd: Two Wheels Only ****
How the mighty have fallen No more hot babes, too much conservatism. But still awesome graphic design, large 9x12 format, great studio photography of the bikes,experienced and knowledgeable staff includes former editors from Superbike, with World Championship test riders like Neil Mackenzie. Great mix of tech, tests, and features.
Staff: Grant Leonard, Akex Hearn, John Cantile...
Race Coverage: Yes. Full MotoGP, SBK, BSB. By Gordon Ritchie, photos by our calendar photographs Gold & Goose and many others.
Contributors: Michael Scott, Carl Fogarty, Kenny Roberts Jr, others!
Babe Content: Excellent. Nice studio shots of beautiful professional models with test bikes. Regular 2-page feature spread of Pit Chicks.
US Availability: Major book chains like Barnes & Noble, Borders.

3rd Performance Bikes ****
If you like to modify -up your sportbike, this is the magazine for you. Lots of bike setupe features, hopups and tech articles for new and older bikes including die-hard 2-stroke fans. Huge New Products section with hop-up parts, riding gear. New bike tests and comparisons. First ever riding tests while US magazines were still downloading photos from the manufacturers' websites. Graphic design is very cluttered, poor photo scans, female models not as pretty as Superbike.
Staff: Simon Hargreaves, Trevor Franklin, Max Oxley, Bob Gray
Race Coverage: A token race news section, but not much. -1 star.
Contributors: Not really. Most editorial and photos in house.
Babe Content: Excellent. Studio shots of beautiful Page 3 models with feature bikes, a heavy scattering of scantilly clad models throughout.
US Availability: Major news stands. US subs Ph: 636-488-3113.

4th Motorcycle Racer ***
The sport's only pure roadracing feature magazine drops from 3rd to 4th. Full coverage of MotoGP, SBK and BSB Superbike, and even AMA Superbike in an vain attempt to boost stateside sales. Lots of inside roadracing news, articles, track tests of factory race bikes, interviews with all the top riders, organizers. Biased towards Limey riders. Graphics are clean and bland, with poor photo useage,and very small type that's difficult to read, especially when printed over photos . Lacks new bike features, and as a result, has few readers and advertisers. Editor Wheeler quit/fired as of December '03 after 2 years of no growth.
Staff: ??? Editor Ian Wheeler, just quit, RIP
Race Coverage: Yes. Full MotoGP, SBK, AMA, BSB. Writers Chris Martin, Kel Edge. Photos: G&G, Tom Hnatiw, Double Red.
Contributors: Alan Cathcart for the best race bike tests, onterviews.
Babe Content: Token. Regular 2-page feature spread of Grid Girls.
US Availabality: Major news stands. US subs Ph: 636-488-3113.
4th (tie) Fast Bikes ***
This is sort of a mix of SuperBike with news, tests, wheelies, road race features and some race coverage; and Performance Bikes with tech hop articles and features on reader modified bikes. Plus the standard centerfold girl (SB's are prettier) with a featured bike, and maybe another girl shot inset on the new products page. Sort of a Jack of all Trades. Worth buying -very readable with good diverse content compared to US magazines. Good race reports and graphics. -1 star on graphics.
Staff: Dan Harris, Rich Newland, Rob Hayless
Race Coverage: Yes, Full MotoGP, SBK, BSB. Pics Andy Northcott.
Contributors: Test riders Jeremy McWilliams, Shakey Byrne.
Babe Content: Poor wank quality. They are obviously too cheap to hire attractive professional models or a good studio photographer. -1
US Availability: Major news stands, Barnes & Noble, Borders.

6th Bike **
Touted as the biggest selling motorcycle magazine in GB, Bike is the sportbike magazine your wife or mother would want you to buy. Large 12x 8.75" format, 200 pages. Huge editorial content with many feature articles on racers, new bikes, comparisons of new bikes and used bikes, sport tires, roads, specs on all the world's sportbikes, rebuilding crashed and used bikes, yada, yada... Better than anything America has. But also very boring with no humor, no babes, no personality, no real depth to the articles, too perfect graphics, no unsocialable riding behavior. -1
Staff: Tim Thompson, Hugo Wilson, Steve Westlake, Jon Pearson.
Race Coverage: A token 2-page MotoGP, SBK, BSB section. -1
Contributors: Max Oxley, Julian Ryder, Barry Sheene.
Babe Content: Non exhistant to the obvious. Probably a publisher's policy not to even show fully dressed women in editorial or ads! -1
US Availabality: Major news stands. US subs Ph: 636-488-3113.

7th StreetFighters *
Naked bikes (and babes) gone bad! This is the poor white trash of the British sport market, but with the money these head bangers spend on their outdated sportbikes to customize, hop them up, burn up the tires, do wheelies and nose stoppies into utility poles, they could have bought am MV Agusta or Ducati 998R. But how much fun is that? They'd have to hang with all us geek wantabes! The Easyriders of sportbike mags.
Hopped up bike features, lots of gratuitous naked breasts, bad graphics.
Staff: Nick Samson, Will Jobins, Dave Green
Event Coverage: Stunt shows, wheelie contests!
Contributors: Test riders Dave Coates, Paul Gower
Babe Content: Really ridden hard. Lots of naked breasts and thongs, but too cheap to hire attractive pro models, a good studio photographer.
US Availability: Limited. Some major city news stands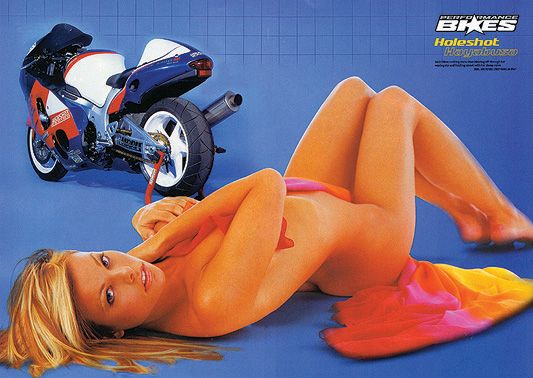 Back to Pit Board • Lane News

Hot Calendar Girl News! Go to: Fast Dates • Berm Busters • Iron & Lace
World Superbikes & Girls
FREE to Paddock Garage Members!
Photos from our upcoming official SBK World Superbike
2005 Fast Dates Calendar
with all the top factory race bike and our beautiful FastDates.com Umbrella Girls.Large Screen Saver Size! See it now for free in Members Corner with your Membership to The Paddock Garage
World Superbike Girls!
Our official SBK Fast Dates World Superbike girls are featured in
Member's Corner!
Get FREE Access with your
Paddock Garage membership.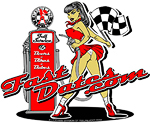 FastDates.com Apparel
Cool T-Shirts for fast boys and bad girls. HERE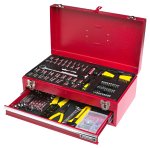 Great Tool Sets
Low prices $$$$

Save $$$ on Top Name Computers, Components!
Low Discount Prices -
No Sales Tax!


Liz Phair
With songs like "Rock Me All Night Long, Hot White Cum, this sexy songstress will have you bouncing off the rev limiter!
Performance Bikes Calendar
click to order
Featuring test bike action shots, a big calendar grid for notes, and small inset shots of their girls.