The 2017 Los Angeles Calendar Motorcycle Show
& Calendar Bike Building Championship - Featuring 2 Events This Year!

• Saturday July 15th - Calendar Bike Builders Party at the Calendar Photo Studio
• Sunday October 15th - Rider RoundUp at Paramount Ranch

The 2017 LA Calendar Motorcycle Show continues its now 27-year tradition as the premier outdoor streetbike event in America at two exciting dates and venues this year. Events will feature top Celebrity Custom Bikes & Builders, selected Vendors and Exhibitors, Live Music performances. And the world premier of next year's new 2018 FastDates.com Motorcycle PinUp Calendars featuring the world's top Sport and Custom Motorcycles with the beautiful Calendar Kittens in attendance at the Show. Select Builders and their Bikes will be invited to be photographed by producer Jim Gianatsis for the next
FastDates.com Calendars.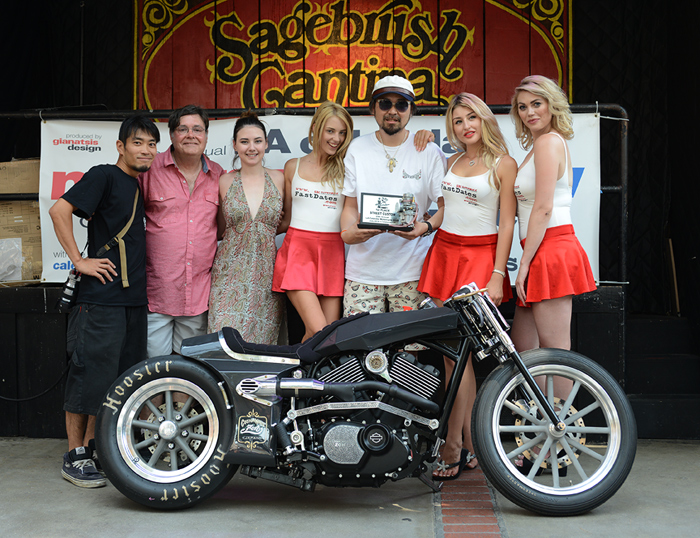 Saturday July 15th 2017 Calendar Bike Builder's Party features an optional morning ride to the legenday Rock Store on Mulholland Highway with photographer Jim Gianatsis, then join us at Jim's home / studio for a private Calendar Bike Shoot with Invited Calendar Bike Builders and Calendar Kittens, followed by a Dinner Party with Live Music. It at the at the FastDates.com Calendar Photo Studio in Woodland Hills, CA.

Got an exciting Calendar Worthy Custom Bike?
Email Us a picture with details and you could earn a Complimentary Invitation to the Calendar Party.
TICKETS - Saturday July 15th - Calendar Bike Builders Party at the Calendar Photo Studio
Sunday October 15th 2017 Rider Roundup at The Ranch in Agoura, CA. Our Calendar Bike Building Championship joins Russell Mitchell / Exile Cycles at the Paramount Western Movie Ranch in Agoura, CA,
down the road from the Rock Store, for an exciting day of Custom Motorcyles Activities, Venders,
Manufacturers and Live Music. It's a benefit to fight Leukemia. Spectator Admission $10.
CALENDAR BIKE SHOW ENTRY - Sunday October 15th - Rider RoundUp at Paramount Ranch

Help Us Fight Cancer!
With each Ticked Purchased we will donate portion to the American Cancer and the Leukemia Society.

Be an LA Calendar Motorcycle Show & Calendar Sponsor - Information Here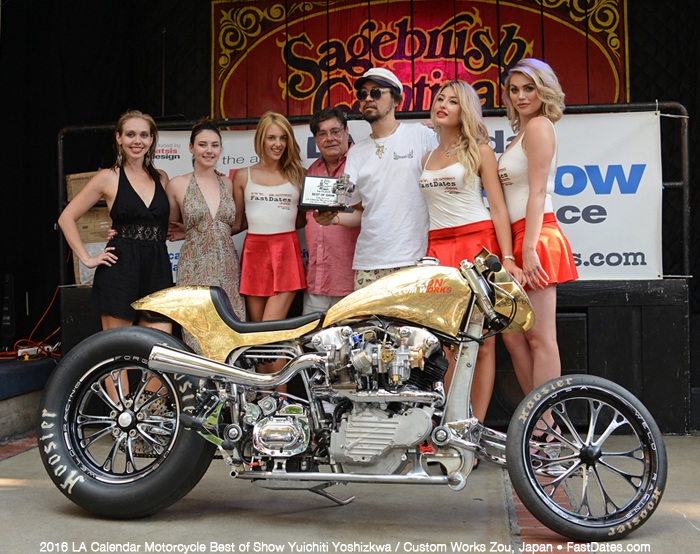 Calendar Show producer Jim Gianatsis, center with Best of Show winner Yuichiti Yoshizkwa, and from left: Calednar Girl Music performers Alex Nester and Jaq Mackenzie, Calendar Kittens Kaustin Rose, Daria Dali and Alissa Bourne.

2016 LA Calendar Motorcyole Show Coverage Here

We Have a Winner!
Japanese Builders Again Take Best of Show at 2016 LA Calendar Motorcycle Show
Calabasas, CA, July 23rd, 2016 - Yuichiti Yoshizkwa / Custom Works Zou, flew his 2 bikes in from Japan to take Best of Show and Pro Builder at the 2016 LA Calendar Motorcycle Show. This was the 5th year in a row that Asian Builders had claimed the top spot at America's premier custom motorcyce show with their unique had craft builds. Yuichiti's Cafe Racer themed bike features a front swingarm suspension with its Amrican V-Twin replica Shovel Head fed by a exhaust powered turbocharger!

Also Look for complete coverage if this year's 2016 LA Calendar Motocycle Show in
Pit Lane News and on our Bike Show Press Page.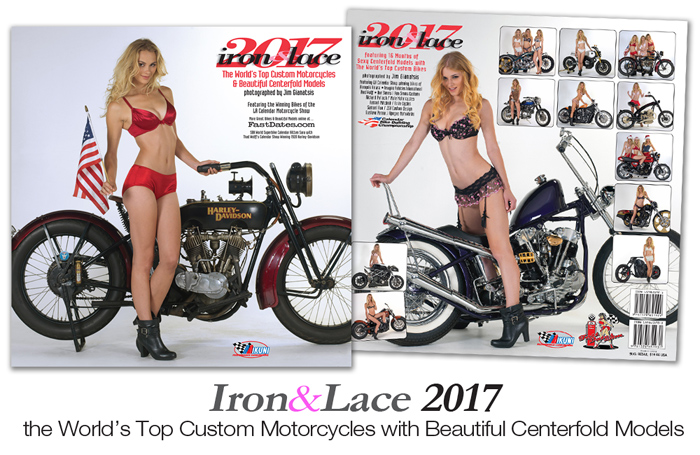 Purchase 2017 Admission Tickets, Bike Contest and Exhibitor Space HERE after 1/2017!
Space is limited and will sell out, So Don't Delay. Motorcycle Parking is Free. Advance Ticket Sales are Non-Refundable.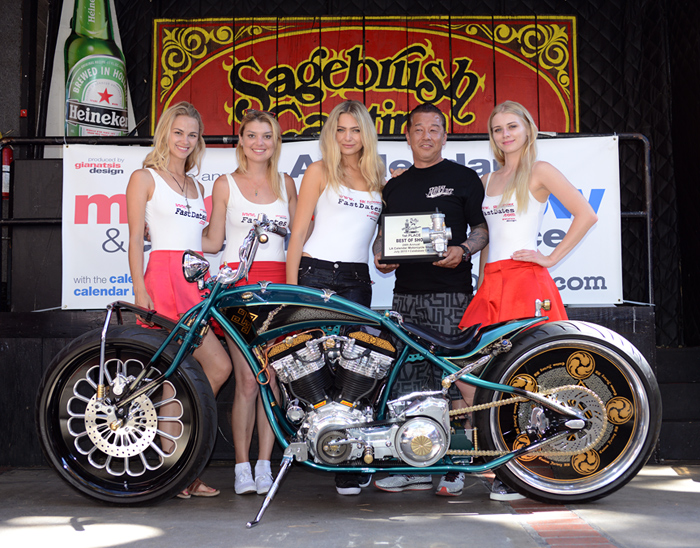 Hiroyuki Hirata from Japan returned in 2015 after 4 years to claim his 2nd Best of Show with his newest custom "Zero Fighter". Here he receives his Mikuni Carburetor Trophy from Calendar Kittens Sara, Apple, Helena and Alena.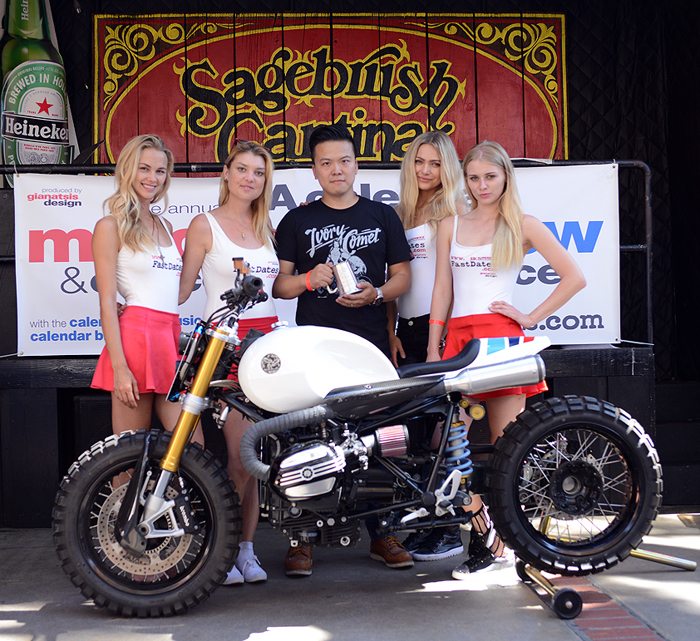 Celebrity Builders from Around the World Bringing Hot New Bike Premiers!
The Los Angeles Calendar Motorcycle Show features many of the world's top Pro and Amateur custom street bike builders in attendance with their newest 2-wheeled creations of rolling art to compete in the Calendar Show Bike Building Championship for cash and awards including the coveted Best of Show Trophy. The Calendar Show is broadening its focus to include the growing Collector Bike Market with Exhibitors and Bike Show classes for classic European, British and Japanese motorcycles, along with American V-Twins and Customs. Show Entries will be placed in a Concourse d' Elegance display throughout the Sagebrush Cantina's shaded outdoor patio venue.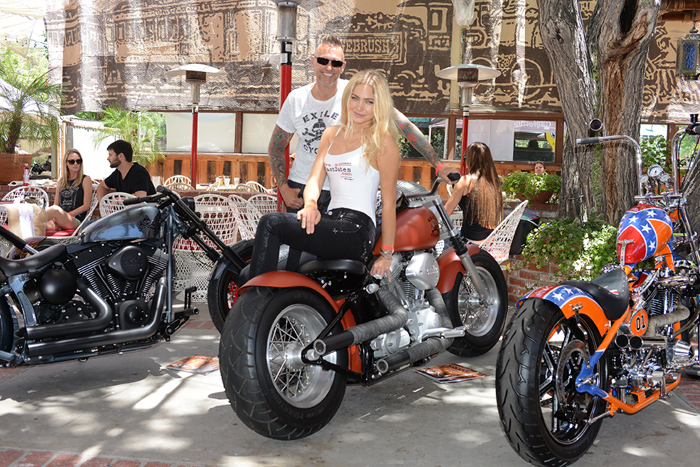 Legendary Builders featured in the popular FastDates.com Iron & Lace Custom Motorcycle PinUp Calendars planning to attend include 2014 Best of Show winners Calin Senciac / Imagine Vehicles International premiering a new Moto Guzzi based cafe racer build, Russell Mitchell / Exile Cycles (pictured above), Richard Pollock / Mule Motorcycles, Ron Simms / Ron Simms Customs, Jim Guiffra & Spokesmodels / AFT Customs, Chris Redpath / MotoGPwerks, Sam Kao / JSK Custom Design,
Shinya Kimura / Chabott Engineering, Adrian Packet / Canyon Motorcycles and many more!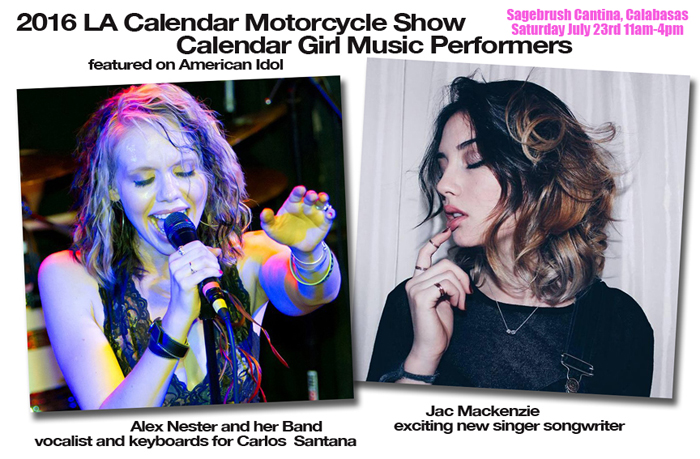 Includes the Calendar Girl Music Concert and American Cancer Society Benefit with Alex Nester
There's an incredible day of live music featuring American Idol contender and Carlos Santana's vocalist and keyboardist Alex Nester, performing two exciting sets of rock classics and own original songs. Also performing is incredibly talented 16-year old singer songwriter Jac Mackenziewho was also featured on American Idol lat season. Like many we know impacted by cancer, Alex is a survivor and the Calendar Show will be helping others with a portion of ticket sales going to the American Cancer Society. So please join the Calendar Show for a great day of entertainment to benefit a great cause! To find our more about the important work of fighting cancer go to www.Cancer.org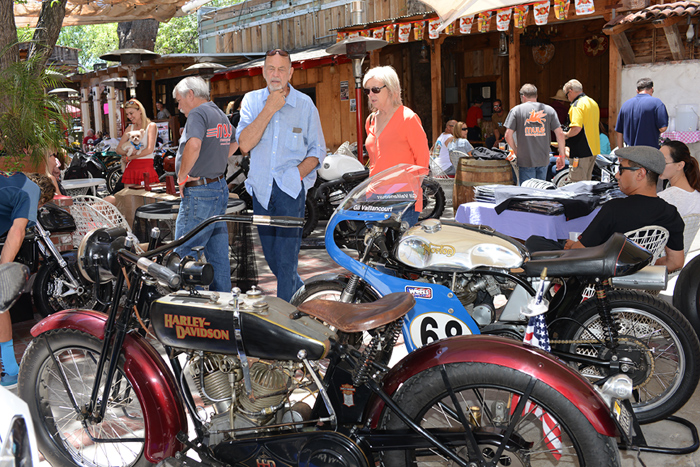 The LA Calendar Motorcycle Show features a great cross selection of the world's newest Custom Motorcycles,
Sport and Race Bikes, Cafe Racers and Classic Motorcycles.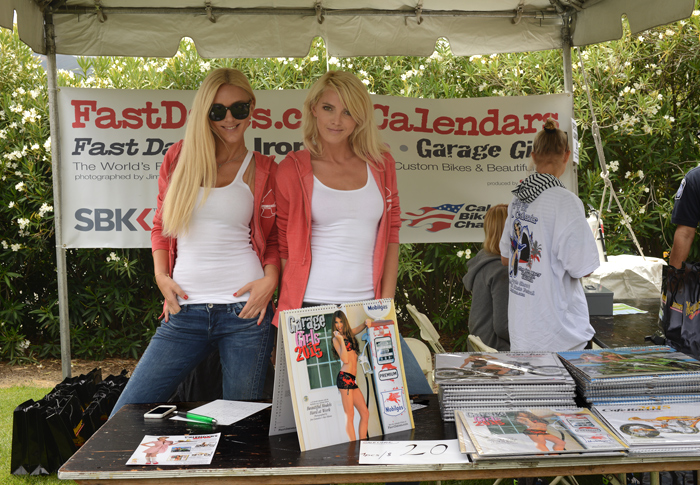 Calendar Show Hosted by official Fast Dates SBK World Superbike Umbrella Girls
The official Starting Line and Podium Girls of the SBK World Superbike Championship are featured at each year's Show. Last year it was beautiful Czech Republic super models Jitka and Petra (pictured above) shoot with us at the Laguna Seca USA World Superbike round in Monterey the week before, then join us in Los Angeles to host the LA Calendar Motorcycle Show and shoot with the winning bikes for the next FastDates.com Calendars. Are newest Callendar Kittens will always attend and are featured in the new FastDates.com Calendars which will premier at the Show each July.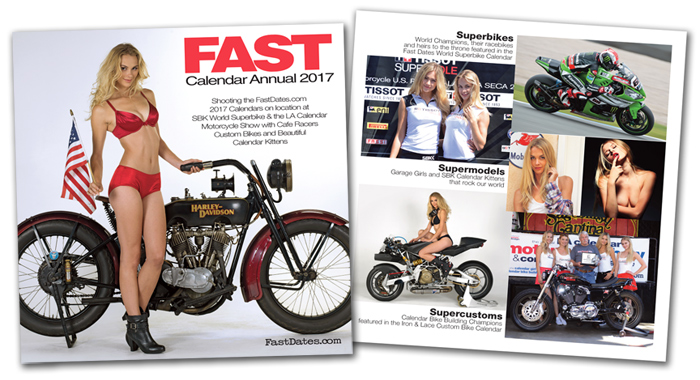 The FAST Calendar Digital OnLine Yearbooks!
Go Behind the Scenes of the FastDates.com Calendars - Now in Members Corner!
Each year's FastDates.com Calendar Digital Yearbook features 120 pages of exciting hi-resolution digital photography that
takes you with us behind the scenes to our photo shoots at SBK World and AMA Superbike, the LA Calendar Motorcyle Show,
and in our photo studio. You'll meet the beautiful Calendar Kitttens in sexy biography pictorials, the top Factory Racers and Custom Bike Builders,and see detailed photo features on the top calendar and race bikes. Take a track day with World Superbike Champion Troy Bayliss at Misano, take an Edelsweiss Ducati World Superbike tour of the Ducati Factory & Museum and across Italy, ride a Vespa scooter around Paris and party with the dancers at the Crazy Horse and the Moulon Rouge.
Hang with beautiful teen rock stars Like Tove Lo and Taylor Momsen of the Pretty Reckless. Did we forget anything?
Oh yes, and you'll see every page in the year's Fast Dates, Garage Girls, Iron & Lace Calendars!
Sagebrush Cantina Full Restaurant and Bar Menu & Free Motorcyle Parking
The Calendar Motorcycle's Show featues some of the world's newest Custom and Classic bikes, Celebrity Builders, Calendar Kittens, select Manufacturers and live performances by a talent female singer songwriters. Additional to Genersl Admission you can enjoy the Sagebrush Cantina's excellent Full Menu Mexican Lunch and Dinner and Full Bar Services.Because the Show is now in gated patio venue, spectator capacity is limited and advance online ticket purchase is recommended to assure your entry to the longest running and most exciting streetbike event on the West Coast.

The 2016 LA Calendar Motorcycle Show takes place on Saturday July 23th 11am-4pm at the Sagebrush Cantina, 23527 Calabasas Road, Calabasas, CA 91302. Motorcycle Parking is Free at the main entrance, with on site paid Car Parking also available.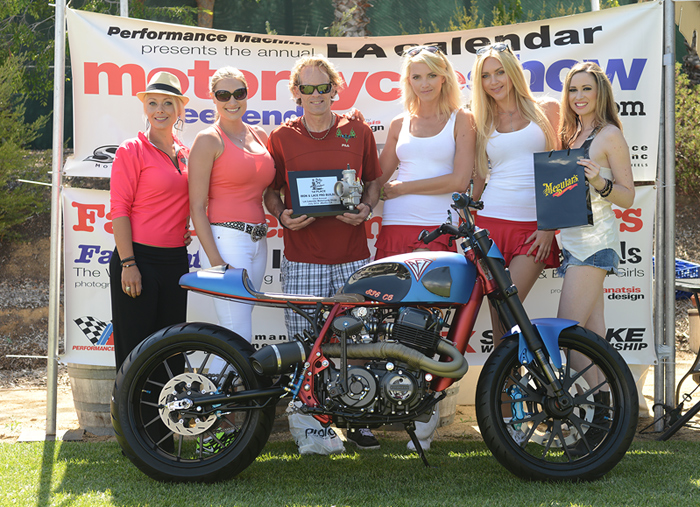 AFT Metric Customs takes it's 8th Straight Calendar Show Win!
Now 8-time Show winners Jim Giuffra and the spokesmodels at AFTcustoms.com worked hard on their latest custom bike build Cimarron which premiered at the 2014 LA Calendar Motorcycle Show in Malibu to take the Pro Builder Class win.
Ron Simms Honored at The 2016 Show!
The 2016 LA Calendar Motorcycle Show on Saturday July 23rd payed special tribute this year to Ron Simms / Ron Simms.com as one of our favorite and most successful FastDates.com Calendar Bike Builders over the last 25 years. You'll certainly want to join us as we honor Ron and he premiers his newest customb ike builds build!

---