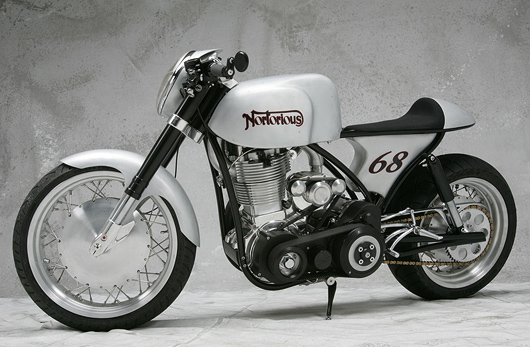 Roger Goldammer gets Busted at the Border and Notorious
Jan 1st - One of the most inovative, creative and talented custom bike builders in the world is Roger Golmammer, GoldammerCycle.com, out of British Columbia, Canada. The former AMD World Champion of Custom bike Buiding and Iron & Lace Calendar cover bike builder is always coming up with something totally unique and different like this jaw dropping retro Norton single he calls "Notorious".
Roger had planned to join us at last July's 2007 LA Calendar Motorcycle Show for the world premier of "Notorious" and a another unique 2-cyclinder motocross bike based roadracer we will also be showing you soon, but U.S. Immigration and Homeland Security would not let him across the border with his bike for a number of days. Some sort of paperwork bullshit and terrorist threat so they said. Roger did get across the border a few weeks later in August to take his bikes to to the AMD World Championship in Sturgis where he took 9th with "Nortorious" and then he took both bikes Bonneville for some high speed runs.

"Notorous is fully hand built, with the engine based on an American V-Twin with the rear cylinder lobobed off and the crank modified for just one cylinder. In its place is belt-driven supercharger that force feeds the big pushrod single. Other unique components include the huge drum brakes with all the actuation linkage for the brake shoes hidden internally. You know this thing must sound amazing with the straight megaphone exhaust!
You can see larger detail photos of "Notorious" and the other 2007 AMD World Championship of Custom Bike Building winners in our Iron & Lace Garage.
---


Casey Stoner and Ducati, The Front Runners Again for 2008
Casey Stoner will be, without a doubt, the man to beat again in MotoGP for the upcoming 2008 season after he took the 2007 title in dominate fashion. The 22-year old Aussie made the transistion this past year as a promising, yet inconsistant freshman in the premier class of motorcycle roadracing to a mature World Champion on an underdoag brand of bike unfazed by the best the world had to offer.
It all started in 2001 when Stoner's family brought him to England from their home Down Under, hoping to capitalize on his promising dirt track career. His future was quickly tapped fr success when he scored a wild-card ride at Donnington park that year. That ride gained him the recognition and a permanent ride the following year 2002 in MotoGP, first in the 250cc class under the guidance of Lucio io Cecchinello.
But it was until the following year 2003, when Casey dropped down into the 125cc class, that the paddock would really take notice of this rising star who carded four podiums and a win at the final round of the season. Then in 2004 he returned with KTM to battle for the 125cc title, giving them their first Grand prix victory and casey finishing 5th in the Championship.
The 2005 season saw Stoner return to the LCR team in the 250cc class and batle his old stablemate Dani Pedrosa for the quarter/litre title, winning five races on an Aprilia. That was more than enouch for the LCR team to move him up to the MotoGP class aboard a Honda RC211V the next year.
His rookie year in MotoGP would see Casey exhibitiing flashes of brilliance mixed with disapointing crashes. His standout moments included pole position at just his second race at Qatar, followed by his race to near victory in Turkey with Marco Melandri just nipping him at the finish. His showing was good enoough to catch the attention of Ducati, who wanted a young charger to replace veteran Troy Bayliss who was need back in World Superbike.
Casey's maiden MotoGP victory at the first race at Qatar was a self-confessed suprise for both Stoner, and Ducati who didn't expect their bike to be as competitive as it would prove in the new 800cc formula, but further victories at Turkey and China proved this wasn't a fluke. Stoner's standout performance at Catalunya, where he battled wheel-to-wheel with 5-time World Champion Valentino Rossi, will go down as one of the greatest races in motoGP history. And he continued to dominate the mid-season with pole-to-checkered victories at Laguna Seca, Bruno and ducati's home turf at Misano.
2007 World Championship glory was confirmed for Stoner at the fifth round before the final race, where a now lackluster finish of just of sixth place for the Aussie at Motegi in Japan, his lowest placing of the year, was more than enough to secure the title. It was the culmination of a dream that had taken his and his famiy around the world, saw him married, and become the most successful rider in MotoGP under the reign of legend Valentino Rossi.
Casey's 2007 Title victory inJapan.

There was still some unfinsihed business for Stoner with four rounds left on the 2007 calendar, the most important of which was his homecoming at Phillip Island. There Casey underlined his title triumph with the first of three more victoies in the final quartet of races, much to the delight of the record crowd who turned out to support their native son at his local track.
The 2007 season did end on somewhat of a down note for our new World Champion, who suffered a shoulder injury in a crash on day 2 of a 3-day final season testing of the new Ducati Descosedici GP8 at Jarez, bringing his year to an end one day early. Caseye suffered torn shouder ligaments, which thankfully did not require surgery, and it is expected he will return to early season testing, then racing when the 2008 MotoGP Championship begins again in March 2008. It was regretable that Casey did miss the huge Ducati homecoming celebration in Bologna for Italy's first MotoGP Championship manufacturer since MV Agusta back in the 1960s.
The only question to remain unanswered for now is, what bike and rider combination will be abe to step up in 2008 and match the pace and consistancy of Casey Stoner and the Ducati Desmosedici?
---
Troy Bayliss turned quickest time the last day in World Superbike testing at Losail last month on the new Ducati 1098F08.
2008 Roadracing Rider and Team Line Ups, Race Schedules
Max Biaggi on works Ducati in Huge SBK Line Up
Here's a look at the rider seat changes and confirmed lineup of teams and riders in World SBK and AMA Superbike and MotoGP for 2008. We will be add more teams and riders weekly as they confirm.
In the left sidebar are all the 2008 season MotoGP, SBK, BSB and AMA race dates and venues.
2007 Roadracing Teams
2007 World Superbike
Ducati Corse: Troy Bayliss, Lorenzo Lanzi
Ducati Sterilgarda: Ruben Xaus


Honda Ten Kate: James Toseland, Roberto Rolfo
Honda D.F.X. Corse: Luca Morelli, Michel Fabrizio



Yamaha Italy: Noriyuki Haga, Troy Corser
Suzuki Alstare: Yukio Kagayama, Bax Biaggi
Kawasaki PSG-1: Regis Laconi, Fonsi Nieto
Suzuki Germany: Max Neukirchne






2007 World MotoGP
Ducati Corse: Loris Capirossi, Casey Stoner
Ducati d'Antin: Alex Barros, Aex Hoffman
Yamaha Japan: Valentino Rossi, Colin Edwards
Yamaha Tech 3: Sylvain Guintoli
Suzuki Japan: Chris Vermeulen, John Hopkins

Kawasaki Japan: Randy de Puniet, Anthony West
Honda Japan: Nicky Hayden, Dani Padrosa
Honda Minolta: Shinya Nakano
Honda Gresini: Tony Elias
Honda LCR: Carlos Checa
Honda Roberts: Kurtis Roberts

2007 AMA Superbike
Suzuki Yoshimura: Matt Mladin, Ben Spies
Suzuki Jordan: Aaron Yates, Jake Holden
Honda American: Miguel DuHammel, Jake Zemke
Yamaha USA: Eric Bostrom, Jason DiSalvo
Kawasaki USA: Roger Lee Hayden, Jamie Hacking
MV Agusta Ferracci: Matt Lynn, Lucca

2007 BSB British Superbike
Honda HM Plant: Ryuichi Kiyonari - reigning champ



2008 Roadracing Teams
2008 World Superbike
Ducati Corse: Troy Bayliss, Michel Fabrizio
Ducati Sterilgarda: Ruben Xaus, Max Biaggi
Ducati Guandalini: Jakub Smrz
Ducati RG: Lorenzo Lanzi
Honda Ten Kate: Kent Sofulguo, Carlos Checa, Ryuichi Kiyonari - reigning 2-time BSB Champion
Honda D.F.X. Corse: Karl Muggeridge, Russell Holland
Honda Paul Bird: Gregorio Lavilla - BSB Champion
Honda Hannspree Althea: Roberto Rolfo
Yamaha Italy: Noriyuki Haga, Troy Corser
Yamaha GMT94 Europe: David Checa, Sebastian Gimbert
Yamaha Grillni: Loic Napoleone
Suzuki Alstare: Fonsi Nieto, Yukio Kagayama,
Max Neukircher
Kawasaki PSG-1: Regis Laconi, Makoto Tamada
Kawasaki Pedercini: Vittorio Ianuzzo, Ayrton Badovini
Suzuki Germany: Andreas Meklau

2008 World MotoGP
Ducati Corse: Casey Stoner, Marco Melandri
Ducati d'Antin: Tony Elias, Sylvain Guintoli
Ducati other : Guareschi, Canepa, Itoh
Yamaha Japan: Valentino Rossi, Jorge Lorenzo
Yamaha Tech 3: James Toseland, Colin Edwards
Suzuki Japan: Chris Vermeulen, Loris Capirossi,
and non'conflicting AMA races with Ben Spies
Kawasaki Japan: John Hopkins, Anthony West
Honda Japan: Nicky Hayden, Dani Padrosa
Honda Minolta:
Honda Gresini: Shinya Nakano, Alex de Angelis
Honda LCR: Randy de Puniet
JiR Scot Honda: Andrea Dovizioso

2008 AMA Superbike
Suzuki Yoshimura: Matt Mladin, Ben Spies
Suzuki Jordan: Aaron Yates, Geof May
Honda American: Miguel DuHammel, Neil Hodgson
Yamaha USA: Eric Bostrom, Jason DiSalvo
Kawasaki USA: Roger Lee Hayden, Jamie Hacking

2008 BSB British Superbike
Honda HM Plant: Leon Haslam, Cal Crutchlow
Suzuki Rizla: Tom Sykes, Atsushi Watanabe - reigning Japanese Superbike Champion
Ducati Airwaves: Shane 'Shakey' Byrne, Leon Camier
Yamaha GB : Rob McElnea
Yamaha AIM: Steve Plater
Kawasaki MMS :
---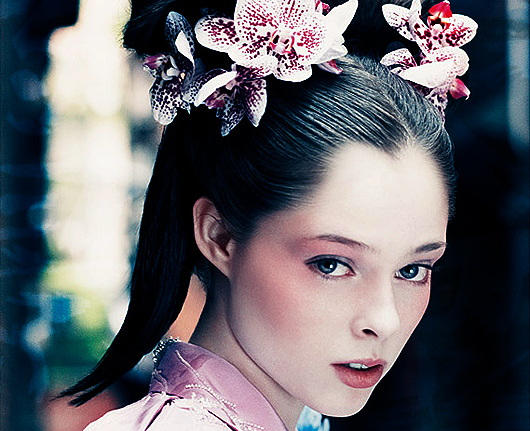 2008 Pirelli Calendar
Pirelli pays homage to China with its 2008 Calendar
Shanghai, China Dec 2007 - The 35th edition of the iconic Pirelli Calendar, the first to be photographic and premiered int Asia, sees the Italian tire giant Pirelli gives reverence to the world's 2nd largest and fastest growing industrial nation. And certainly the biggest new market for its products.
The 2008 Calendar is set entirely in Shanfhai - the picturesque streets of the old French Concession, the splended garden of the former British Legation, the mysterious and sensual atmosphere of forbidden Chinathe convulsive nanjing Road and the characteristic tea houses constitur the backgrounds for the camera shots that grace 2008 in 23 intense portraits (two for each month, with August having just one).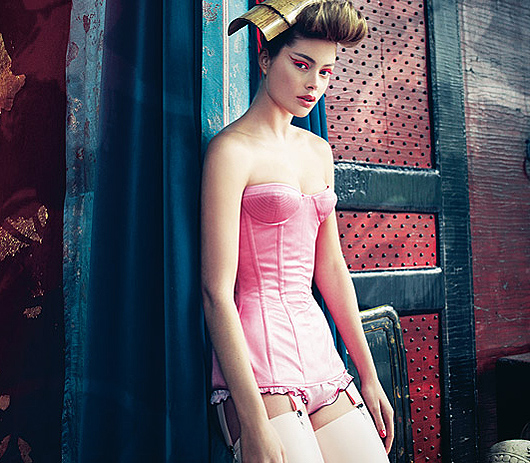 Patrick Demarchierelier, the influential master of fashion portrait photography, for the second time authors the celebrated almanac z( his first Pirelli calednar was shot in 2005 in Rio de Janerio with many of the worl'ds top supermodels appearing nude. "The casting was a fascinating mix between the West and the orient, an interesting group of faces."
The shooting took place last April and was comprised of eleven models and actresses occupied for ten days of intense location shooting, makeup and wardrope handled by a huge crew of 40 people. And though Pirelli won'r disclose what the calendar costs to produce, we easilly guestimate the 2008 Calendar shoot to be somewhere around Five Million Dollars.
The leading ladies of the edition are rising stars Agyness Deane and Lily Donaldson (UK), Doutzen Kroes (NL), Catherine McNeil and Gemma ward (Australia), Sasha Pivoarova (Russia), Coco Rocha (Ireland) and Caroline Trentni (Brazil). The calendar also features Chinese beauties Mo Wan Dan and Du Jan, along with one renoun actress and Asian beauty: Maggie Cheung known for her roles in Police Story (1985), Super Cop (1992). Actress (1992) Chinese Box (1997), In the Mood for Love (2000) and Hero (2003).
The Pirelli Calendars
Complete Works 1964-2007

Always a high-end seasonal gift to select customers and friends world-wide, the large firmat and expensively printed Pirelli Calendar is not availble to mere mortals, though copies now days, can be found on E-Bay. But you can see many of the images in books on the Pirelli calendar which have been pubished over the years and our available in the FastDates.com Collectors Corner.

This November, the latest book "The Complete Works: the Pirelli Calendar 1964-2007" has been published and becomes available world-wide. It is the result of a long, meticulous project of research and recovery of origional materials.From the sixties to today, the reader takes a passionate excursion through the evolution of fashion, trends and customs of the last 40 years, through the eyes of Pirelli's marketing communication.
---
Daytona Board Track Races 1920
Back in the 1910s - 1930s Motorcycle Boardtrack racing was one of the most popular and dangerous sports in America. Huge banked wooden oval tracks were built across America and drew tens of thousands of spectators for weekly races. The track shown here at Daytona Beach (no relation to Daytona International Speedway today) was a full 1-mile banked oval and top riders set average lap speeds of over 130mph (131.44 mph/ 212 kph shown here) on bikes with no suspension, no brakes, skinny bicycle tires and the riders wearing no real protection other than leather helmets and heavy clothing. The sport ended with the Great Depression and by World War II all the tracks were torn down. This is the only known movie to have survived of board track racing from that era.

Jesse Rooke's KTM Boardtracker with Tamara.

Roland Sands & Jesse Rooke
2008 Calendar Boart Track Replica Bikes featured in new DVDs
Three of the hottest custom sportbikes featured in both the 2008 Fast Dates Race Bike and
Iron & Lace Custom Bike Calendars and shown here with our beautiful Calendar Kitten and Playboy Playmate Tamara Witmer are now featured in DVD format and available from FastDates.com!
Then in Roland Sands' own video "New Blood" you'll see how Roland built the revolutionary Kenny Robert's KR 990cc 5-cylinder boardtracer which was also featured in our 2007 LA Calendar Bike show ad campaign. And you'll go with Roland to the US MotoGP at laguna seca where the bike was first premiered, then to the legendary Goodwood Festival of Speed in England where Roland put the 230hp bike through its paces. This is another extradordinary must have DVD to keep and enjoy forever withyour Fastdates.com Calendar Collection!
The Discovery Channel DVD "Sands vs. Rooke" Biker Build Off / Edisode 4 follows two of our hottest custom sportbikes featured in the 2008 Fast Dates and Iron & Lace Calendars being built and raced by Roland Sands and Jesse Rooke for Discovery Channel's Biker Build Off. You'll see Roland's "No Regrets" American V-Twin engined bike go up against Jesse's KTIM 950 V-Twin powered boardtracker, how the bikes were built from scrath, and what happen when the bikes and their builders came together for the raceoff at Willow Springs Raceway. This is a must-have collectors item to keep with your copies of the calendars.

Click Cover to Order

Then in Roland Sands' own video "New Blood" you'll see how Roland built the revolutionary Kenny Robert's KR 990cc 5-cylinder boardtracer which was also featured in our 2007 LA Calendar Bike show ad campaign. And you'll go with Roland to the US MotoGP at laguna seca where the bike was first premiered, then to the legendary Goodwood Festival of Speed in England where Roland put the 230hp bike through its paces. This is another extradordinary must have DVD to keep and enjoy forever withyour Fastdates.com Calendar Collection!

Click Cover to Order
Roland Sand's "No Regrets" with Tamara.
Roland Sand's KR powered 5-cylinder boadtracker with Tamara.
---
There's more! Go to Pit Lane News NEXT PAGE
Hot Calendar Girl and Bike News! Go to: Fast Dates • Calendar Girls • Iron & Lace
Calendar Kittens, The Paddock Garage, Screensavers, Iron & Lace Garage


Many of our Calendar Kittens can also be seen at Playboy's website...

BikerKiss.com - the largest biker personals site!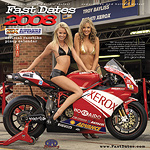 Now Available!
16-month Calendar starts Sept
2008 Fast Dates &
Garage Girls Calendars
New DVD!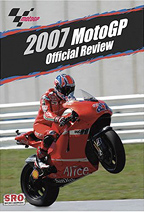 New Play Station!

World Superbike 2008 PSP
A truly authentic licensed motorbike racing experience for the PSP system featuring 10 beautifully re-created official tracks and all 14 teams and 22 riders. Experience the thrill and danger of high speed motorbike racing alongside 14 opponents. This incredibly detailed game allows the player to control the level of simulation, start off with multiple riding aids and then as you get comfortable, you can crank up the reality and excitement. Race amazing bikes at hig speeds in variable weather conditions. The definitive motorbike racing game for the system!
Hot New Books!

---
British Superbike Championship Signs
3-Year Control Tire Deal with Pirelli
Jan 2nd - Following the issue of an Invitation to Tender for the rights to exclusively supply the tyres to teams competing in the 2008, 2009 and 2010 MCRCB British Superbike and Supersport Championships, the Motorcycle Circuit Racing Control Board have carefully considered the bids received.
After deliberation the MCRCB have selected, subject to contract PIRELLI UK Tyres Limited.
Commenting on the announcement; Stuart Higgs, BSB Series Director said "This is a landmark moment for the British Championships. For the selected bidder it represents a great opportunity and responsibility, which I am confident that Pirelli can fulfil. This will be a great leveller for the championships and I relish the start of the on-track competition. In making the announcement of the selected bidder, I also acknowledge the obvious disappointment, the long standing contribution and the professionalism during this process of Dunlop, however the decision was confined strictly to determining the fulfilment of the requirements of the tender and the MCRCB's sporting objectives."
Latest Delivery News
Ducati Desmosedici RR
Dec 15th - FastDates.com has been able to confirm that Desmosedici RRs have been rolling off the production line at the Ducati factory in Bologna at the rate of about 2 per day since mid-October, but thus far, none have left the factory.
We had been told back in September by Ducati NA that bikes would ship to dealers as they came off the line, but now that decision has seemed to changed with no official announcement. Latest word is the bikes are being held back in mass, so every Ducati dealer world wide who ordered at least one, will get a bike at the same time.
This will allow Ducati Dealers to hold a special Desmosedici Open House celebration, as Ducati likes to do for all their new models. So until each country's Ducati distributor has his container allotment of 'Sedici's in hand and being shipped out to dealers, at that point an official announcement will be made about that country's Dealer Open House celebration, after which the bikes will begin being released to customers.
And in case you didn't know, the entire 1,500 bike production run of Desmosedici RRs have been sold out at the higher $72,000 price introduced last spring.
FastDates.com has both a Desmosedici RR and a 1198R Superbike reserved in the initial dealer deliveries and we look forward to presenting the world's first and possibly only shootout between the two best bikes of different disiplines in the world's two permier roadracing classes.
For compete details and photos of the new bike go to our
New Sportbike Index
Ducati Desmosedici RR
Gregorio Lavilla Confirmed At Paul Bird Motorsport for World Superbike
Dec 6th - Following on from their announcement last month regarding the team contesting the 2008 World Superbike Championship, Paul Bird Motorsport have confirmed that they will field a single ride on board factory-supported Honda machinery in the fifteen round series.
2005 British Superbike Champion, Gregorio Lavilla is the rider who has been entrusted to ride for the Cumbrian businessman and the Spaniard will return to the World Championship full time after a four year break.
Bird has secured the necessary backing from his sponsors, although it has yet to be decided as to what branding Lavilla's bikes will run when the opening round gets underway in Qatar on February 23rd and an announcement will follow in due course.
Paul Bird: "It's back to our tried and tested formula of a one rider team and that's where we've had most of our successes in the past. The team will be geared around Greg and he'll get everything he needs to make sure we have the best chance possible. It's a new venture for us but it's one that the whole team is very excited about and we aim to start testing very soon in readiness for the opening round in Qatar."
Gregorio Lavilla: "It has always been my aim to get back into the World Superbike Championship on a competitive bike and I'm very grateful to Paul Bird and his team for this opportunity. I have enjoyed my time in BSB very much and I'm sad to be leaving as I have made many good friends and it has been a good time for my career. I'd like to say thank you to my fans and not only do I have a home race in Spain next season, but I have two more 'home' races in England and I'm very much looking forward to it."
---
More 2008 Calendars in the Calendar Store

Click to Vist our Calendar Store
Calendar Kitten Joanna Krupa has her own 2008 Calendar


Taylor Swift
for Christmas!
New CD & Video DVD
and Christmas Music from
America's New Sweetheart
---
New Pirelli Russo Tire
and Sexy Video
Milan, 8 Nov. - During the EICMA show Pirelli presented the brand new Pirelli DIABLO ROSSO.
This tyre sets the point representing a new tyre generation, thanks to the new approach Pirelli adopted to design this new product for the SUPERSPORT segment and thanks to the new EPT (Enhanced Patch Technology) Pirelli patent.
Diablo Rosso finds its full description in a new section of Pirelli tyre website thanks to a video which represents its world and 'personality' together with a page with the product features.
Soon each country will have its own DIABLO ROSSO area in its proper language, now you can see the preview in the corporate website with a very SEXY VIDEO.
Please check it out by CLICKING HERE
Yamaha GMT94 moves up to World Superbike
After having contested in the World Supersport Championship for the last two years, the Yamaha GMT94 team will move up to the World Superbike Championship in 2008. In addition to this and following on from their Bol d'Or win in 2007, Yamaha GMT94 will continue to enter the world's two most demanding Endurance races – the Le Mans 24 Hours and the Bol d'Or 24 Hours.
The Guyot Motorcycling Team was founded in 1992 by Christophe Guyot - himself a former rider and passionate sportsman - with the aim of making motorcycle racing more accessible to the young people of France. In 2003, the team linked up with Yamaha Motor France to become a more professional concern and has since gone from strength to strength, including becoming Endurance World Champion in 2004. Now known as the Yamaha GMT94 team, the squad operates a strategy focused on two very different road race classes – sprint racing and endurance racing.
For 2008, the team is moving into the World Superbike Championship, although they are continuing with the current team line up of David Checa and Sébastien Gimbert. 2004 Endurance World Champion David Checa, aged 27, has raced in World Supersport with the Yamaha GMT team for the past two seasons. The younger brother of Carlos Checa, David's racing pedigree includes 250GP and European Supersport before he moved into Endurance racing in 2003. In addition, that same year he was Pirelli's WSB control tyre tester and participated in a handful of WSB races. This WSB experience will stand him in good stead for 2008 as he re-enters the WSB fray once more.
Sébastien Gimbert is also a long-time member of the Yamaha GMT94 Team, having first joined the team's Endurance effort in 2004 and becoming world champion in the same year. Like many Frenchmen the 30 year-old has specialised in the Endurance scene, having won the Bol d'Or with Checa and the GMT94 team in 2007 as well winning the Le Mans 24 Hours in 2005. But to date he also has 45 WSB races under his belt. Gimbert achieved his best WSB result in 2004 when he scored two fourth position finishes at Magny-Cours. This success was enough to gain him a full-time WSB ride with Yamaha Motor France the following year, although a broken leg during the season prevented him from showing his full potential.
As well as contesting the WSB Championship, David Checa and Sébastien Gimbert will contest the Le Mans and Bol d'Or races once again in 2008, this time with British rider Steve Plater. In 2007 the Yamaha GMT94 Team won the Bol d'Or for the first time in style with a five lap lead, after having already won as a team twice the Le Mans 24hrs and numerous other Endurance events.
Yamaha GMT94 will receive some support from Yamaha Motor Europe who recognise the importance of Endurance racing in France and the dream of team owner Guyot to grow steadily to become a future top contender in World Superbikes.
David Checa Profile
Date of Birth: 20/04/1980
Nationality: Spanish
Residence: Barcelona, Spain
Career Highlights
2007: 12th, World Supersport Championship, 1st Bol d'Or 24 Hours
2006: 11th, World Supersport Championship and 3rd, Le Mans 24 Hours
2005: 1st, Le Mans 24 Hours and 2nd, Bol d'Or 24 Hours
2004: World Champion Endurance and 1st, Oschersleben 24 Hours and Zhuhaï 6 Hours rounds
2003: 3rd, World Champion Endurance
Sébastien Gimbert
Date of Birth: 09/09/1977
Nationality: French
Residence: Puy de Velay, France
Career Highlights
2007: 20th, World Supersport Championship, 1st Bol d'Or 24 Hours
2006: 3rd, Le Mans 24 Hours and 19th, World Superbike Championship
2005: 1st, Le Mans 24 Hours
2004: World Champion Endurance
2003: 2nd, French Super-production Championship and 1st, Bol d'Or and Spa 24-hour races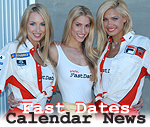 ---


NEW! FastDates.com
Cell Phone Wallpapers!
---
Sands vs. Rooke
Calendar Bike Build Off
See the world's two hottest custom sportbikes featured in the 2008 Fast Dates and Iron & Lace Calendars being built and raced by Roland Sands and Jesse Rooke for Discovery Channel's Biker Build Off
Roland Sands builds the
KR Tracker Calendar Show Bike
New Blood DVD
features Roland Sands building and riding the extraordinary Roland Sands Design / Kenny Roberts KR 990cc 5-cylinder MotoGP powered Retro Board Track Racer. The bike is also featured in the 2008 Fast Dates race bike and Iron & Lace custom bike Calendars with beautiful Playboy Playmate and Calendar Kitten Tamara Witmer in one of our best calendar shots ever and ,featured in the LA Calendar Motorcycle Show advertsing campaigns
and T-Shirt.