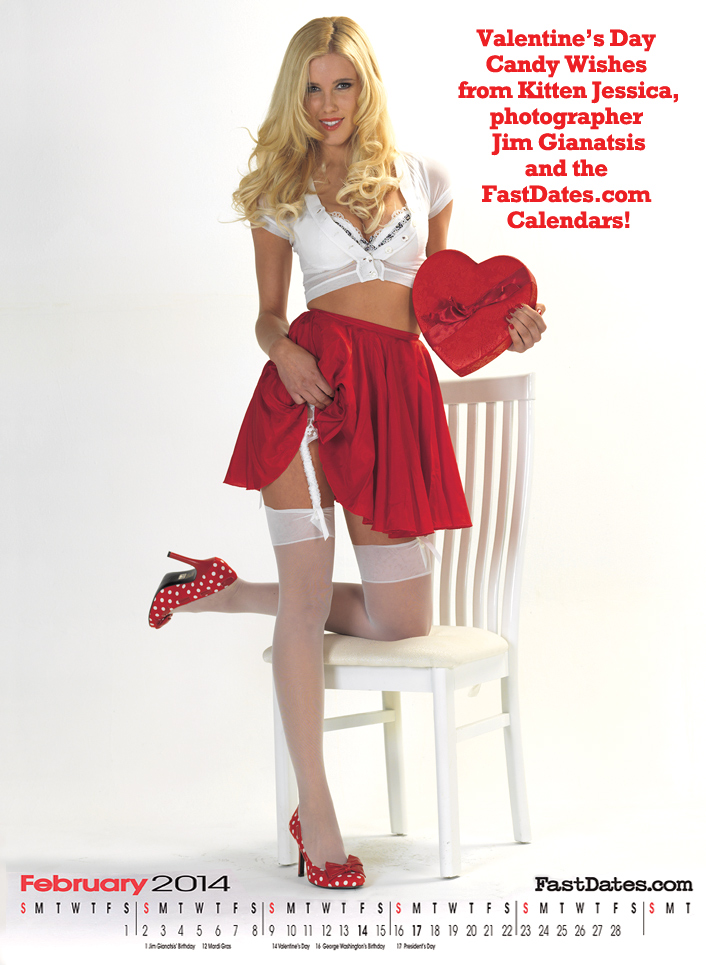 This Month in the Fast Dates World Superbike Calendar ....
Beautiful SBK Fast Dates Calendar Kitten Jessica Harbour takes girlfreind on a special Valentine Day's delivery for someone special. You'll find bikes like this with the beautiful Calendar Kittens featured in the
Calendar Bike Garage with full specifications and screensaver size pictures.
See more of our beautiful Models and Calendar bikes in the Calendar Bike Garage and in Members Corner.
Order the 2015 Cafe racer Calendar here on the oder pages for the 2015 Iron & Lace and Fast Dates Calendars.

Order the Fast Dates Calendars
NEW! FAST 2015, 2014 Calendar Digital Yearbook
Go behind the scenes of the FastDates.com Calendar photo shoots at the SBK World Superbike races, the Los Angeles Calendar Motorcycle Show & Concourse d' Elegance, and inside the FastDates.com Studio of famed photographer Jim Gianatsis. Meet the official SBK World Superbike Calendar Kittens who also serve as the official SBK podium and grid girls, the top factory riders of World Superbike, and America's top custom bike builders. You'll find detailed editorial photo features on the Calendars' top Custom and Race bikes, and on the Calendar Kittens.
Did we forget anything? - Oh yes! The new FAST 2015 Calendar Yearbook Digital Edition features in high resolution every page in the new 2015 Fast Dates World Superbike, Iron & Lace Custom Bikes, Garage Girls and Cafe Racers Calendars featuring the world's top race and custom bikes and the beautiful Calendar Kittens!
Now in Members Corner
---
Vyrus 986 Moto2 Honda 600cc
photography by Andrea Bardi

Pictured here is the Silkoleyene Vyrus 989 Moto2 bike to race in the 2015 Moto2 GP World Championship. The low production number of the Vyrus 989 chassisfrom the exotic Italina Sportbike CChassis manufacturer allow it to qualify as a prototype chassis for the Moto2 class using the spec Honda 600cc engines.

The Vyrus 986 MT comes as a exotic rolling chassis race bike kit for which you can take the engine from any Honda CBR 600 RR, from 2008 model year to 2012. together with the injection unit with air box and electrical wiring. You just need to assemble these few Honda CBR parts inside the Vyrus 986 M2 frame. Vyrus provides the frame, wheels, suspensions, brakes, screws bodywork and all necessary accessories to assemble a complete chassis. Vyrus even provides training courses for assembly the bike. There is no engine provide with the normal kit.
Veyrus is also offering a 846 M2 Street Model with lighting equipment. No doupt if you have the title and registration to a stock Honda CBR600 for the donor motor and parts, your State Motor Vehiclw Department may never know if your street Honda happed to get a replacement chassis with lights! See the Street Model and the Rolling Chassis Kit in our Calendar Bike Garage.

See more detailed photos of the Vyrus 386 M2 in large screensaver size in the Calendar Bike Garage
---
Cick Cover to order On Amazon.com


SBK WORLD SUPERBIKE 2014/2015 OFFICIAL ANNUAL
The Official Book covers all of the year's 14 races and provides the essential facts and results from each race. One of the features of this annual, one that enthusiasts will particularly enjoy is a chapter on the technology behind these motorcycles, revealed in minute detail with the help of the technicians that work for the different teams. Spectacular photos lay bare these stars of the world championship, each described with detailed specifications regarding all the key data on the engine and transmission. To complete this official book, there are sections featuring the other championships: Supersport and Superstock 1000 and 600. In SUPERBIKE 2014/2015: The Official Book there is everything an enthusiast could hope to know. Magnificent images created by Fabrizio Porrozzi, official photographer of the Superbike World Championship, make this book unforgettable.

Fast Dates is sad to report, following the 2014 SBK World Superbike race season, long-time offical SBK race photographer Fabrizio Porrozzi and his new partner, Fast Dates contributor photographer Massimo Oliana were let go by series organizers Dorna, who continues to clean house of all WSBK employees who worked for former WSBK series producers at InFront / Maurizio and Paolo Flammini.
See World Superbike - The First 25 years.
---
2015 AMA Pro Roadracing

Yamaha Announces Its 2015 Road Racing Teams, Riders, And Contingency Program
Cypress, CA, Jan 8th, 2015 – Yamaha Motor Corporation, USA, is proud to introduce the teams and riders that will be competing aboard Yamaha motorcycles during the upcoming inaugural MotoAmerica season. In addition, the highly popular Yamaha Road Racing Contingency Program is now part of Yamaha's bLU cRU family, and for 2015, the Program has been increased by more than $175,000 in available winnings. The announcements were made by Keith McCarty, Motorsports Racing Division Manager for Yamaha Motor Corporation, U.S.A.
"Yamaha is excited about the new MotoAmerica series, and we've got a great lineup of teams and riders who will be competing aboard the Yamaha YZF-R6 and brand-new Yamaha YZF-R1 in 2015," commented McCarty. "We're also pleased to expand our bLU cRU Program to include road racing. The bLU cRU has been a big success in motocross racing, and we're looking forward to supporting bLU cRU road racers in 2015 and beyond."
Monster Energy/Graves/Yamaha
Returning once again as title sponsor of the Superbike team, and beginning a new, two-year agreement with Yamaha U.S., is Monster Energy. McCarty said, "We've had a very successful partnership with Monster Energy over the past several years, and we're thrilled that they are continuing as title sponsor of our Superbike team. Monster is a premier brand in the energy drink market that aligns perfectly with Yamaha. Together, Monster Energy and Yamaha have shared four AMA Pro SuperBike Championships. We're looking forward to even greater success as we begin this renewed relationship with Monster Energy. We're also happy to have UPS, Yamalube, and Yamaha Generators back as team sponsors and partners for 2015."
Four-time and defending AMA SuperBike Champion, as well as 2014 Superbike Shootout Series Pro Superbike Champion, Josh Hayes will carry his #1 plate into the new MotoAmerica series where he will compete in Superbike aboard the brand-new R1. Josh is excited to race the new bike, especially since he and MotoGP rider Valentino Rossi worked with the Yamaha factory to test and develop the bike.
"The 2015 Yamaha R1 is THE bike to be on," said Josh. "As dominant as the previous-generation R1 was here in America--winning five straight AMA SuperBike Championships--this new R1 is really going to be something. I'm looking forward to this season and especially to debuting the bike (at the Circuit of the Americas) in Austin."
Also excited to be racing the brand-new Monster Energy/Graves/Yamaha R1 Superbike in MotoAmerica is Cameron Beaubier, who was the 2013 AMA Pro Daytona SportBike Champion and winner of three AMA Pro SuperBike races, seven podiums, and two poles in his rookie season last year. Look for Josh and Cameron to battle it out all year long for team supremacy, and hopefully, MotoAmerica Superbike supremacy in 2015.
Yamalube/Yamaha Extended Service/Graves/Yamaha
In the MotoAmerica Supersport class, Yamaha welcomes brand-new title sponsor Yamalube to the team, which includes experienced R6 riders Garrett Gerloff and JD Beach. In addition, Yamaha Extended Service and Graves Motorsports continue their long-standing relationship with the team.
Garrett won last year's Superbike Shootout Pro Sportbike Championship, and he had six top-five finishes in AMA Pro Daytona SportBike, finishing fifth on the season. JD notched four AMA Pro DSB podium finishes in 2014 on his way to finishing fourth in the Championship. Both riders are hungry for wins and are hoping that the new MotoAmerica series will net them a big windfall in race victories this season.
Yamalube/Westby Racing
Winner of three AMA Pro DSB races last year, Dane Westby moves into the MotoAmerica series for 2015 with Yamalube continuing as the team's title sponsor. "The Wolverine" will step up from his familiar R6 and race the brand-new Yamaha R1 in MotoAmerica's Superstock 1000 class. Look for Dane's signature #00 competition number emblazoned on his shiny, new R1 Superstock 1000 racebike.
"When I look at that new R1, I see a seasoned athlete," commented Dane in his own inimitable way. "It's a culmination of years of training and knowledge. Taking that bike into the new MotoAmerica Superstock 1000 class will be a pleasure, and we'll also have a chance to run with the big dogs in Superbike. Yamalube products are an invaluable asset both on and off the track, and I want thank them for their continued and enthusiastic support of our program."
The RoadRace Factory
Also moving up for 2015 is 2014 AMA Pro Daytona SportBike Champion Jake Gagne, who will join Dane on the MotoAmerica Superstock 1000 grid and compete aboard the #32 R1 with sponsorship by Red Bull.
"I am beyond excited to be on the new R1 and back with The RoadRace Factory family for 2015," Jake said, "And, with the new MotoAmerica series, the future is looking very bright. I can't wait to swing my leg over the new R1, especially going back to some of my favorite tracks here in the U.S."
Tomas Puerta is back with The RoadRace Factory for 2015, and he will be racing his familiar #12 R6 in Supersport. Joining Tomas in the Supersport class as a new member of The RoadRace Factory is Scotsman Ben Young. Ben formerly raced in AMA Pro SuperSport and competed in the British Superbike Series' 1000cc Superstock class last year.
The fourth member of The RoadRace Factory and also new to the team is South African rider Cameron Petersen, son of former Yamaha road racer and crew chief Robbie Petersen. Cameron won the South African Supersport Championship in 2013 and raced in South Africa's Super600 class aboard a Yamaha R6 last year. For 2015, he will join his teammates Tomas and Ben in racing an R6 in MotoAmerica's Supersport class.
MotoSport.com/Meen Yamaha
MotoSport.com/Meen Yamaha will field two riders in MotoAmerica for 2015. Racing in MotoAmerica's Supersport class is fan favorite, long-time member of the Yamaha road racing family, and 2013 AMA Pro SuperBike Champion Josh Herrin.
"I'm excited to be back racing in the U.S., again, especially in MotoAmerica's inaugural season," said Josh. "I've got unfinished business in the 600 class and aboard the Yamaha R6, so I'll be racing hard for the Championship."
Joining Josh on the team, racing in the Superstock 600 class, and also back aboard a Yamaha R6 is Joe Roberts, former Red Bull Rookies Cup rider and winner of five AMA Pro SuperSport races in 2013.
"I'm really excited to be riding for Meen Motorsports," Joe said. "They are a proven team--one of the best in the paddock--and it feels fantastic to go into the 2015 season with them behind me. We're looking forward to doing really well in the new Superstock 600 class. It's going to be an exciting season with Wayne Rainey and the KRAVE Group taking over the series."
The Road To Austin
To get you psyched up for the 2015 MotoAmerica season and the debut of the brand-new Yamaha R1 in Superbike and 1000 Superstock, check out our "Road To Austin" videos: http://www.yamahamotorsports.com/content/174/yamaha_road_race_videos.aspx.
For more Yamaha racing news, results, photos, and videos, visit http://www.YamahaMotorsports.com/Racing. Also, check out "YamahaMotorUSA" on your favorite social media site.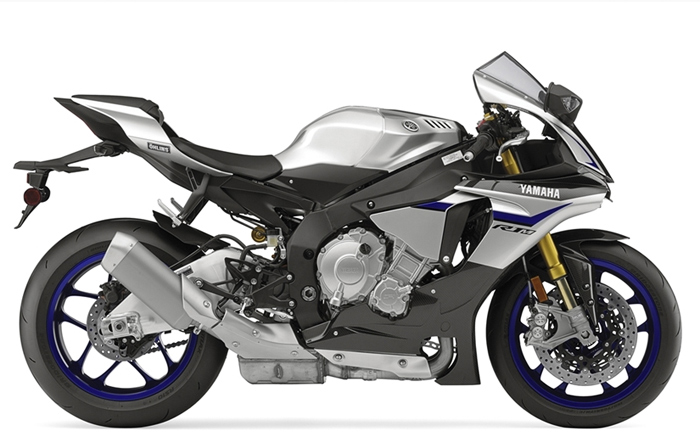 2015 YZF-R1M. The closest thing ever to a street-legal M1 MotoGP® bike
Yamaha takes it's all-new 2015 R1 and takes it one step higer with a high spec race modls like it's European competitors. The 2015 YZF-R1M is a production Superbike that's as close as you can get to a street-legal M1 MotoGP® bike, effectively blurring the line between the two. Retail price USA $21,990.

The YZF-R1M features a completely new, lightweight and compact, crossplane-concept, inline-four-cylinder, 998cc high-output engine. Featuring a first ever for a production motorcycle, titanium fracture split connecting rods delivering extremely high horsepower and a strong pulse of linear torque for outstanding performance.
The YZF-R1M features the most advanced MotoGP®-inspired electronics package ever offered on a supersport machine: a full suite of inter-related technologies, enabling the rider to enjoy the fullest range of performance with great comfort, control, and ease of operation.
Featuring the first six-axis Inertial Measurement Unit (IMU) ever offered on a street-going motorcycle, the 2015 R1M represents the dawn of a new digital era where all riders can experience total 3D controllability.
IMU consists of a gyro sensor that measures pitch, roll, and yaw, as well as an accelerometer or G-sensor that measures acceleration in the fore-aft, up-down, and right-left directions…all at a rate of 125 calculations per second. By calculating each signal, the IMU finds the precise vehicle position and movement, and communicates it to the ECU, enabling it to control the bike's systems.
The R1M features an Öhlins Electronic Racing Suspension (ERS), carbon fiber bodywork (upper fairing, side fairings, and front fender), and a Communication Control Unit (CCU) with GPS that enables the rider to capture ride data (including GPS tracking) and then download it via WiFi to the Yamaha Y-TRAC smartphone and tablet app. Once the data is downloaded, the rider can analyze it overlaid with the track map. Setting changes can then be made via the Yamaha "YRC" app, and upload those changes back to the R1M.
The 2015 R1M is fully equipped with banking-sensitive Traction Control, as well as Slide Control, Anti-Wheelie Control, Quickshifter, Launch Control, ABS, a Unified Braking System, and much more. The all-new R1M gives street riders, track day participants, and full-on racers an unmatched and unprecedented level of rider-adaptive performance.
All-new aluminum Deltabox® frame is designed to provide optimum longitudinal, lateral and torsional rigidity balance. The engine is a stressed member of the chassis.
An all-new titanium exhaust system with titanium headers and muffler canister with mid-ship layout is positioned low and in the middle of the chassis for centralized mass.
Additional R1M features include a clear-coated aluminum fuel tank, a highly polished aluminum swingarm, gold-colored front radial-mount calipers, special finished gold inner tubes on the 43mm Öhlins front forks, and a unique R1M badge on the airbox cover.
---
2015 SBK World Superbike Championship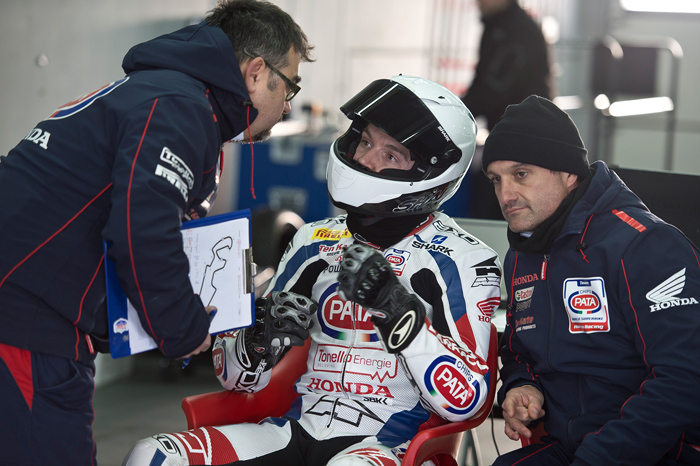 New World Superbike Champion Sylvain Guintoli now on Honda.

Guintoli and van der Mark complete Pata Honda Superbike Aragon test
January 20th, Motorland Aragon, Spain - The Pata Honda World Superbike team concluded back-to-back pre-season tests today at Aragon in Spain, following a two-day test last week at Portimao in Portugal.

Unfortunately, the weather at both tests prevented riders the recently crown 2014 World Superbike Champion Sylvain Guintoli and Michael van der Mark from completing a full scheduled programme on the 2015 Honda CBR1000RR Fireblade SP machine that they will campaign in this season's World Superbike championship.

However, in spite of some rain at Portimao and very low track temperatures at Aragon, both riders declared themselves happy with the progress that was made in developing this year's CBR alongside new technical regulations for the series.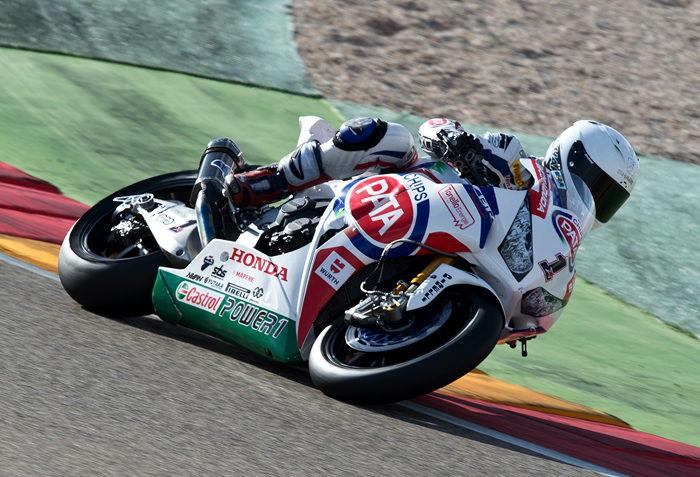 Reigning World Superbike champion, Sylvain Guintoli, said: "In spite of the rain in Portimao last week, the test was good there for the first time out on the 2015-spec CBR; and the times were quite good, even on 25-lap tyres. I was feeling a lot more comfortable on the bike by the end. Aragon has also been good, but it's been really cold. We worked on power delivery, engine brake and bike balance with some interesting findings. I cannot wait to race in Australia."

Guintoli's 2015 team-mate, current World Supersport champion, Michael van der Mark, was equally positive, despite a lack of track time: "The test was quite good for what we were able to do," he said. "This afternoon I did many laps of Aragon and tried many different things, but of course, the track was not in an ideal condition for the tyres. But I'm happy with the laps we were able to make and I'm looking forward to testing some more in, hopefully, drier and more normal conditions."
---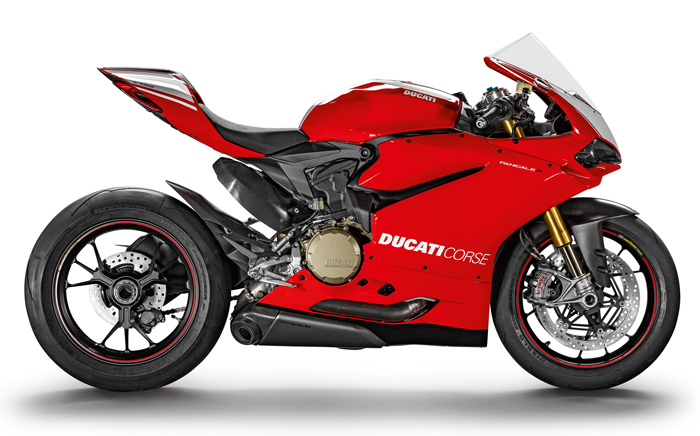 The 1199R15 Targets World Superbike
Created for the enjoyment of the most demanding enthusiasts, the Panigale R has been developed through the experience of Ducati in the World Superbike Championship. Fitted with a race-spec version of the Superquadro 1198 cm3 engine which meets displacement restrictions enabling it to compete in world and national Superbike and Superstock series, the Panigale R incorporates numerous features adapted specifically for the racetrack. Continued Here
---
COMPLETE EICMA 2014 COVERAGE HERE
---
COMPLETE IMS 2014 COVERAGE HERE
---
Unfortunately the combined World SBK / AMA Nationals at Mazda Raceway Laguna Seca in 2013 only drew our estimate of around 2,000 race fans, and this past July 2014 around 3,000 fans. The offical Laguna Press release for the 2014 motorcycle race weekend claimed a very generous 55,000 attendace number. Here you can see the front grandstands were nearly empty for the race start.
MotoAmerica: Is A New Organizer for AMA Pro Roadracing Enough?
Or Does America Need a New Type of Race Track & Promotor
to Revive Professional Motorcycle Road Racing?
Having a new owner for AMA Pro Roadracing with MotoAmerica is a great first step. But it won't bring old fans back to motorcycle roadracing in America, or create new fans.

You only have to look at what type racing in America is successful. As we all know, it's pretty much just Supercross and NASCAR, both which take place in stadium stye tracks where fans are up close and can watch all the action around the entire track, and there's access to the pits and paddock - The Pit Show in Supercross - so you can get up close and meet the riders, the spokesmodels, and see teams and the machines.
The Daytona Motorsports Group (DMG) had the opportunity to do this with their enclosed tracks at Daytona Speedway and California Speedway, but they weren't willing to invest the money required to build a quality FIA / FIM approved infield road race courses inside their superspeedways like Indianapolis did, or revise their many road race courses like Watkins Glen to be FIA / FIM approved like the new Circuit of the Americas in Austin, TX. So the motorcycle roadrace and sport car fans stopped coming. The sport has pretty much died. Continued Here
Below: Richard Varner Talks Motorcycles and MotoAmerica Racing Series
---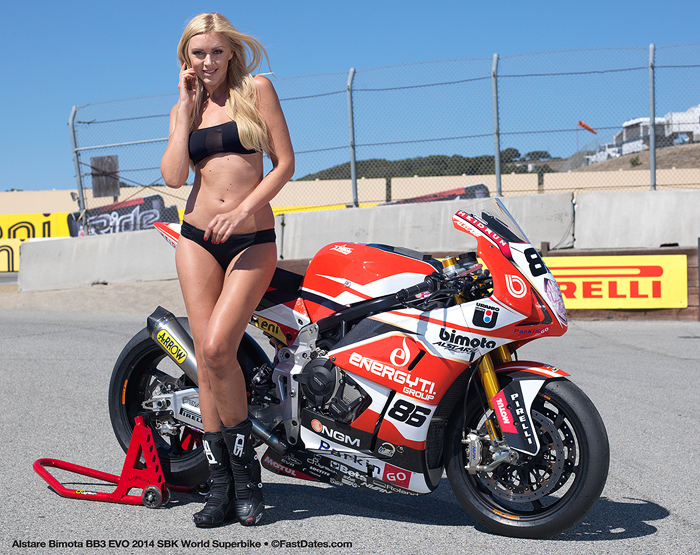 Now in the Calendar Bike Garage!
Alstare Bimota DB3 EVO World Superbike
Up close detail shots of the race bike and full-size screen saver photos with SBK Fast Dates Calendar Kittn Petra.
---
Now in The Calendar Bike Garage!
Imagine Vehicle's Honda CBX Best of Show Winner! Detail Photos and Full Size Screensavers with Calendar Kitten Petra.

2014 LA Calendar Motorcycle Show Concourse d' Elegance & Calendar Girl Music Festival
Report and photos by Jim Gianatsis

Malibu, CA, Sunday July 20th 2014 - The 2014 edition of the LA Calendar Motorcycle Show continued its now 23rd year tradition as the premier outdoor streetbike event in America with producer photographer Jim Gianatsis moving the Show this year to the beautiful green lawns of the Malibu Golf Course among the twisty canyon roads in the Santa Monica Mountains alongside the Pacific Ocean. Highlighting this year's exciting activities was the emergence of another new and soon to be renown custom bike builder to the sport for which the Calendar Show is known for cultivating. Additional Calendar Show coverage and photos at:
2014 LA Calendar Motorcycle Show Coverage
---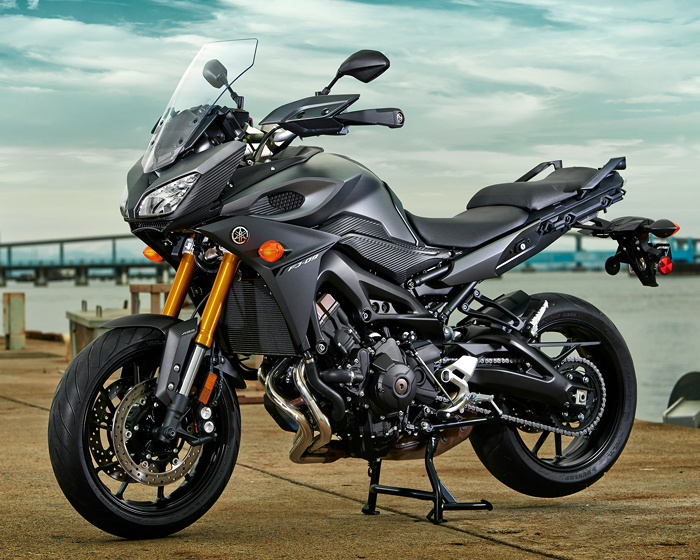 All-New 2015 Yamaha FJ-09 Offers Unique Blend of
Exciting Performance In A Versatile, Sport Touring Package
The Yamaha FZ-09 has been a huge success, garnering enthusastic praise from riders and the media alike. And now, Yamaha takes the popular FZ-09 sportbike formula and adds even more versatility with the all-new 2015 FJ-09. The FJ-09 utilizes the FZ-09's crossplane-concept, liquid-cooled, four-stroke, inline-three-cylinder, 847cc, fuel-injected engine in a versatile package that provides a sporty, agile, and comfortable ride for everything from daily commuting, to spirited canyon-carving, to full-on touring.

With excellent acceleration, response, and handling characteristics, the FJ-09 offers an upright riding position for a stress-free, comfortable experience, whether riding solo or with a passenger. The FJ-09 sports a whole host of position-adjustable components--including windscreen, handlebars, and seat--designed to further accommodate a wide range of riders and riding preferences. And the large, 4.8-gallon fuel tank enables you to log a lot of miles between fuel stops.

In addition, the FJ-09 comes equipped with electronic control technologies that include YCC-T (Yamaha Chip Controlled Throttle), ABS (Anti-lock Braking System), and TCS (Traction Control System) to ensure smooth-running performance. And, as if that weren't enough versatility and adjustability, the bike also features the Yamaha D-MODE (Drive Mode) variable-throttle-control system, which allows the rider to choose the optimum engine character for their riding situation.

Yamaha will offer a complete range of custom accessories for the FJ-09, including a top case, side cases, taller windscreen, heated handgrips, and a comfort saddle seat.

The 2015 FJ-09 will be available in two color options--Matte Gray and Candy Red--and will retail for $10,490, with bikes available in dealerships beginning in December. For more information on all Yamaha models--including features, specifications, photos, and videos--please visit www.yamahamotorsports.com. Also, check out "YamahaMotorUSA" on your favorite social media site.
---
The Dan Schoewald Superbike Motorcycle Collection
Private motorcycle collector and enthusiast Dan Schoenwald has one of the largest Superbike Collections in the world. Included are a nice collection of Bimotas, Ducati, Triumphs, BSAs, Nortons, and Kawasaki 2-stroke street bikes and a few race winning AMA factory Supersport track bikes. Noting super exotic, but lots of cool old street Superbikes of their day from the 1920s-to today.Join us as we vist his collection warehouse. CLICK ABOVE PICTURE
---
There's More! Go to Pit Lane News Previous Week

Also Visit: Fast Dates Calendar News • Iron & Lace Calendar News
Calendar Girl News • Meet the Models • Paddock Garage
Get FastDates.com T-Shirts, Mugs & Photographs from Our Store


MEMBERS CORNER! Calendar Kittens, Paddock Garage, Iron & Lace Garage


Amazon.com Motorcycle Products & Apparel Store



MotorcycleSuperstore.com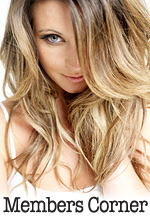 Hot Bikes, Sexy Kittens
Your Exclusive Grid Pass
also includes....
---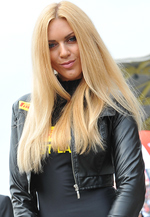 2014 SBK Race Season
Meet the offical SBK
World Superbike Girls!

2013 SBK Race Season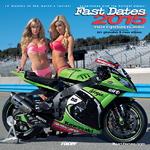 Order the New
2014 / 2015 Calendars!
with the FastDates.com Calendar Kittens - the official SBK Umbrella Girls!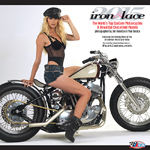 Click Below for more
2015 Calendars!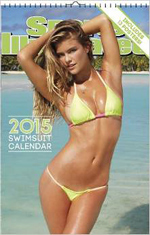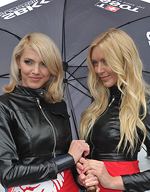 Meet FastDates.com
Calendar Kittens
SBK Grid Girls
Jitunka & Petra!
---
2015 WSBK Moscow SBK Round Cancelled
Wed Feb 11th 2015 - Dorna WSBK Organization and the FIM, Fédération Internationale de Motocyclisme, regret to inform of the cancellation of the Russian Round scheduled to be held at Moscow Raceway on July 5th 2015.
The Russian event promoter, YMS Promotion, has not provided the required contract guarantees defined by DWO to confirm and implement the event organisation.
The Round will not be replaced and the 2015 WSBK Calendar will consist of the 13 confirmed events as included in the enclosed document.
As a consequence, the Moscow Region Yakhnich Motorsport Team which applied to the FIM Supersport World Championship will not participate in the series for the 2015 season.
Ducati Records Another Sales Record with 45,100 bikes sold in 2014
• Fifth consecutive growth year for Bologna-based bike manufacturer
• Record sales achieved thanks also to the new Monster and 899 Panigale
• USA confirmed as Ducati's most important market, with Asia growing fast (+ 11%)
Bologna, Italy, Jan 15th 2015 - Ducati Motor Holding spa achieved a new sales record by delivering 45,100 bikes to customers, 2% more than in 2013, marking the fifth consecutive year of growth.

This increase also stemmed from the introduction of new products that, despite market uncertainty, made a clear contribution to what has been an outstanding result for Ducati. More specifically, with the introduction of the new Monster 1200 and Monster 821, Monster family sales rose by 31%, with 16,409 new bikes sold. The Superbike family, thanks to the widespread introduction of the 899 Panigale, which scored a +74% sales success with 5,806 bikes delivered to customers, enjoyed an overall growth of 12%, with a total of 9,788 bikes sold in 2014.

North American sales performance was in line with that of 2013, with Mexico experiencing 8% growth. The U.S. continues to be Ducati's top market, with 8,804 units delivered to customers. Despite difficult market conditions, sales in South America increased considerably, especially in Brazil (+ 74%, 1,174 bikes sold); this was achieved thanks to considerable expansion of the dealership network in that country and the market introduction of the full model range with local CKD production.

In Europe sales slowed a little (-3% with 19,743 bikes), mostly due to challenging conditions on several markets. However, while sales in Italy fell short of those attained the previous year (-14% with 4,284 bikes), other European countries were almost stable, with the UK actually experiencing significant double-digit growth (+16% with 2,742 bikes).

Double-digit growth was also seen in Asia, where Ducati achieved an all-time sales record (+11% with 5,787 bikes). Performance was particularly strong in Thailand (+22% with 3,057 units) and China where sales volumes, with respect to 2013, almost doubled (+97%).
Ducati also succeeded in boosting sales in Australia (+13% with 2,132 bikes) and strengthening its performance in Japan (+1% with 2,558 units).
World Superbike champion Sylvain Guintoli joins Pata Honda
Monday Nov 3rd, 2014 - The 2014 World Superbike champion Sylvain Guintoli has signed an agreement to ride for the Pata Honda team alongside Michael van der Mark in the 2015 championship aboard Honda's CBR1000RR Fireblade SP machine.

Guintoli is one of the most widely experienced riders in the World Superbike paddock and won the 2014 title in yesterday's final round at the Losail International Circuit in Qatar. The French rider, who lives in the UK with his English wife Caroline and their four children, has also ridden at the highest level in MotoGP.

The 32-year-old has a total of nine World Superbike wins to his credit, five of which have come this season: at Phillip Island in Australia, Assen in the Netherlands, his home round of Magny-Cours in France last month, and a double race win in Qatar yesterday to end the season in some style. He boasts a total of 40 WSBK podium finishes.

Although the 2015 season will be Guintoli's first ride for Honda, he has a strong historical relationship with the team's title partner Pata, having ridden for a Pata-sponsored Ducati team in 2012, taking two race victories to finish seventh that season in the World Superbike standings.

The announcement of Guintoli's appointment to the Pata Honda World Superbike team and his new partnership with 2014 World Supersport champion, Michael van der Mark, means that the team will bid farewell to both Jonathan Rea and Leon Haslam. The entire Pata Honda team and Honda Motor Europe offer their very best wishes to both riders in the future careers.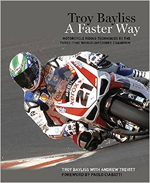 New! Troy Bayliss
A Faster Way
Track Riding Book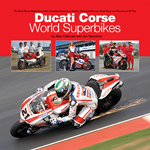 Retail $49.95 ea.
Click to Order from Amazon.com

Ducati Corse
World Superbikes
by Alan Cathcart
& Jim Gianatsis


The Official SBK
World Superbikes
1987-2012
25 Year History Book




The Official SBK
2014-2015 Yearbook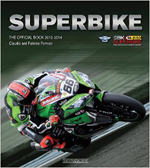 The Official SBK
2013-2014 Yearbook


The Official SBK
2012-2013 Yearbook
These SBK Yearbooks are the Best Books Ever about World Superbike. They feature awesome color photography of the riders, bike and racing action. The feature a detailed revue of the past season in pictures and statistics, with a detailed look at the bikes and riders.

Plus a technical look data all the bikes, a preview of the upcoming season's Championship!
We buy this every year ourselves and highly recommend it!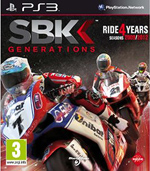 SBK World Superbike Video Game


Official Print Media Partner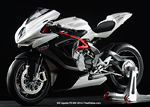 MV Agusta F3 800cc

The Devil Made Us Do It!
Testing the Ducati Diavel in Italy
Sudco Carburetor Kits & OEM Replacement Parts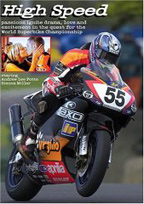 High Speed - the Movie
The best motorcycle racing movie ever made! Filmed on location at the World Superbike races , this an exciting romantic drama staring beautiful British actress Sienna Miller.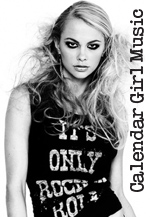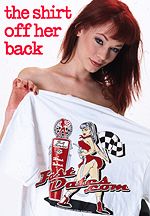 Order the Official
FastDates.com &
LA Calendar Bike Show
T-Shirts!