Calendar of the World Superbike Championship
Home of the Official SBK Fast Dates Calendar Kittens

May 2017 Page 1

Nicky Hayden Dies After Bicycle Accident
SBK World Supebike Round 6 Donnington, 5 Imola Italy
2017 MotoGP in America
2017 LA Calendar Bike Show Events Announced
Edelweiss Paris to Omaha Tour with
SBK Fast Dates Calendar Kitten Kaustin
2016 LA Calendar Motorcycle Show Winner!

Previous Week - More: Pit Lane News
New Model Sportbikes • Editorial Features: Pit Board

• 2017 SBK Superbike Season Preview & Phillip Island Race
• Marc Marquez - The Story of a World Champion
• 2016-17 IMS International Motorcycle Show
• Ownership Change for Laguna Seca?
• 2016 Intermot International Show New 2017 Bikes
• 2016 AMA MotoAmerica Season Final- Beaubier Crowned
• Edelweiss Bike Trip Paris to Omaha Beach with Kaustin
• Fast Dates Calednar Shoot Laguna Seca 2016
• 2016 LA Calendar Motorcycle Show Coverage
• 2016 Laguna Seca USA World Superbike Coverage
• 2016 Missano SBK World Superbike
• 2016 SBK World Superbike Season Opener Phillip Island
• SBK Superbike 2016 Media Guide - The Bikes, The Riders
• Jonathan Rae - 2016-17 SBK World Superbike Champion
• New 2016 Kawasaki ZX10 - New Bike for the SBK Champ
• New 2016 Triumph Bonnevilles - More Watercooled Power
• Meet 2016 2015 SBK World Superbike Champ Jonthan Rea
• Fast Dates SBK Calendar Kittens at Laguna Seca 2015
• Ducati 1199R15 FastDates Review, Seup and Test
• Honda RC213V Moto GP Streetbike Replica goes on sale
• Corsa Motoclassica 2015 Willow Springs Racway
• Fast Dates Edelweiss Tour of the Pyreness Spain & France!
• Fast Dates Shoot with Jitka & Petra 2014 Laguna Seca SBK
• FastDates Shoot 2013 Laguna Seca WSBK
• Meet the SBK World Superbike Girls! - Photo Pictorial
• FastDates.com Calendar Video Shoot - Kelsey and Jessica
• World Superbike 25 Years -Maurizio and Paolo Flammini
• Troy Bayliss Race Academy School Misano & Paris!
• Ducati Corse World Superbike Book Cathcart & Gianatsis
• NCR / Poggopolini The Exotic Ducati Custom Bike Shop
• DRE Troy Bayliss Racing Academy - Exclusive at 180mph!
• John Britten Motorcycling's Most Creative Innovator
• High Speed World Superbike Movie with Sienna Miller

NEW! FAST 2018, 2017, 2016, 2015, 2014 ...
Digital Calendar Magazine Yearbooks
the Bikes, the Builders, the Riders, the Kittens,
the Calendar Bike Show, the World Superbike races
all the Calendar Pictures, and Special Features...
We take you around the World for the making of the
2015 FastDates.com Calendars
Now in Members Corner
This Month in the Iron & Lace Calendar ...
SBK World Superbike podium girl Sara Horvath lends her support to Samuel Kao / JSK Design's
BMW HP2 Cafe Racer Custom which won its class at the 2015 LA Calendar Motorcycle Show.
Click on the Calendar Picture Above or Here to Order

See More of the Bikes and Beautiful Calendar Kittens in -
Calendar Bike Garage and Members Corner and Meet the Models
---
FAST 2017, 2016, 2015, 2014 Digital Calendar Magazines


Go Behind the Scenes for the Making of the FastDates.com Calendars!
Each year's FastDates.com Calendar Digital Yearbook features 120 pages of exciting hi-resolution digital photography that takes you with us behind the scenes to our photo shoots at SBK World and AMA Superbike, the LA Calendar Motorcyle Show, and in our photo studio. You'll meet the beautiful Calendar Kitttens in sexy biography pictorials, the top Factory Racers and Custom Bike Builders,and see detailed photo features on the top calendar and race bikes. Take a track day with World Superbike Champion Troy Bayliss at Misano, take an Edelsweiss Ducati World Superbike tour of the Ducati Factory & Museum and across Italy, ride a Vespa scooter around Paris and party at the Crazy Horse and the Moulon Rouge. Hang with beautiful teen rock star Taylor Momsen of the Pretty Reckless. Did we forget anything?

Oh yes, and you'll see every page in the new Fast Dates, Garage Girls, Iron & Lace Calendars!
All Three Editions of this new 2017 FastDates.com Calendars feature our official SBK Fast Dates World Superbike Calendar Kittens Sara Horvath, Alena Pyshnaya from the Ukraine, and Alena Sovostikova from Russia, who spent the summer in America with Calendar photographer Jim Gianatsis to shoot and work at Mazda Raceway Laguna Seca USA World and AMA Superbike, and the LA Calendar Motorcycle Show. Follow the action behind the scrnes at the link above, and in our FAST 2017 Digital Magazine Yearbook in Members Corner.
---
| Jessica Harbour | Courtney Riggs |
| --- | --- |
Fast Dates Calendar Kittens Jessica and Courtney
Featured at Mazda Raceway Laguna Seca SBK World & MotoAmerica
National Superbike Race Weekend July 7-9th 2017
Feb 15th 2017 - FastDates.com Calendar publisher and photographer Jim Gianatsis is excited to announce that one of our favorite Calendar Kittens, spokes model and Rockstar Energy Drink girl Jessica Harbour from Huntington Beach, CA, has been selected to return with FastDates.com to Mazda Raceway Laguna Seca, Monterey, CA, for the 2017 SBK World & MotoAmerica National Superbike Race Weekend July 7-9th to shoot the next edition of the Fast Dates World Superbike Swimsuit Calendar and serving as an official SBK World Superbike Podium and Umbrella Girl. Jessica previously shot for Jim with all the top factory race bikes at the 2013 Laguna Seca WSBK round and served as an official SBK girl that weekend as well, with her pictures appearing in the 2015 Fast Dates Calendar. Jessica has continued to work at Laguna Seca WSBK the last years as well, both as an SBK and factory race team umbrella girl.

Joining Jessica the July 7-9th Laguna Seca race weekend for both the Calendar Shoot and SBK Umbrella Girl duties will be a new FastDates.com Calendar Kitten rookie, fellow Rockstar Girl Courtney Riggs from Sacramento California. Both Courtney and Jessica are represented by the modeling agency Umbrella Girls USA, and work together as Rockstar Girls at the 2017 AMA Supercross Championship rounds across America.

The following weekend of July 15-17th in Los Angeles, Jessica and Courtney will again be working with FastDates.com at the annual LA Calendar Motorcycle Show, with these beautiful Calendar Kittens hosting the Calendar Show with Jim Gianatsis, and shooting with winning motorcycles for the next Iron & Lace Custom Motorcycle PinUp Calendar. For more of the beautiful FastDates.com Calendar Kittens, the LA Calendar Motorcycle Show and to order the Calendars go to - http://www.FastDates.com
---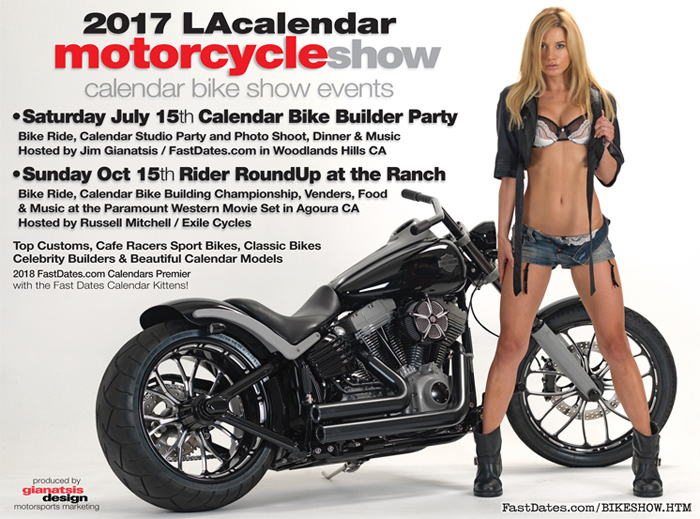 The 2017 Los Angeles Calendar Motorcycle Show
& Calendar Bike Building Championship - Featuring 2 Events This Year!

March 1st, 2017 -The 2017 LA Calendar Motorcycle Show continues its now 27-year tradition as the premier outdoor streetbike event in America at two exciting dates and venues this year. Events will feature top Celebrity Custom Bikes & Builders, selected Vendors and Exhibitors, Live Music performances. And the world premier of next year's new 2018 FastDates.com Motorcycle PinUp Calendars featuring the world's top Sport and Custom Motorcycles with the beautiful Calendar Kittens in attendance at the Show. Select Builders and their Bikes will be invited to be photographed by producer Jim Gianatsis for the next
FastDates.com Calendars.
• Saturday July 15th 2017 Calendar Bike Builder's Party
features an optional morning ride to the legenday Rock Store on Mulholland Highway with photographer Jim Gianatsis, then join us at Jim's home / studio for a private Calendar Bike Shoot with Invited Calendar Bike Builders and Calendar Kittens, followed by a Dinner Party with Live Music. It at the at the FastDates.com Calendar Photo Studio in Woodland Hills, CA. Order Calendar Bike Builder Party Tickets Here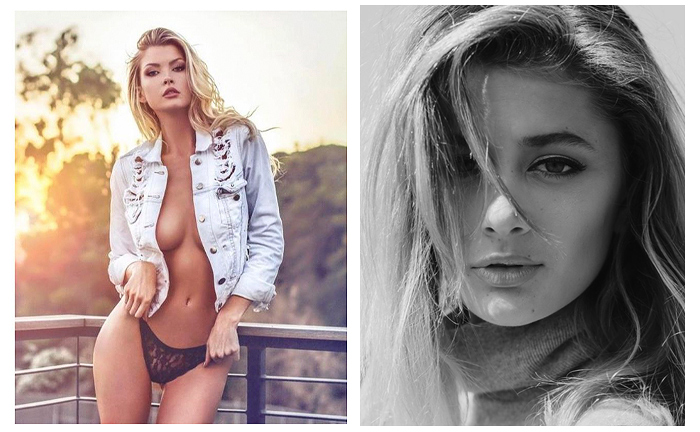 We are excited to announce some of the top custom bike builders and beautiful models joining us for the 2017 Calendar Bike Builder Party on Saturday July 2017. Top builders will include Russell Mitchell / Exile Cycles, Samuel Kao / JSK Design, Adam Bean / Custom Airbrushing, Ron Simms / Simms Customs, Tom Stevens - Exotic Sportbike Collector. Shooting with us will be top Elite supermodels Erin and Lily. And we will be announcing our live music entertaimny shortly. Tickets for this exclusive event are limited and can be purchased here - Order Calendar Bike Builder Party Tickets Here

Got an exciting Calendar Worthy Custom Bike?
Email Us a picture with details and you could earn a Complimentary Invitation to the Calendar Party.
• Sunday October 15th 2017 Rider Roundup at Paramont Ranch in Agoura, CA.
Our Calendar Bike Building Championship joins Russell Mitchell / Exile Cycles at the Paramount Western Movie Ranch in Agoura, CA, down the road from the Rock Store, for an exciting day of Custom Motorcyles, Activities, Venders,
Manufacturers and Live Music. It's a benefit to fight Leukemia.
Walk-Up Spectator Event Admission is $10. Register Your Custom Bike for the Calendar Bile Building Championship Here.

Plus there's an optional Morning Bike Ride on Mulholland Highway
and an after the event Evening House Dinner Party with Russell Mitchell of Exile Cycles.
Look for more information and limited entry tickets on the ExileCycles.com website.

---

Rimini, Italy, Wes May 17th, 2017 - Nicky Hayden (Red Bull Honda World Superbike Team) has been involved in a training incident which saw the American be hit by a car when he was out training on his bicycle. The incident occurred along the Rimini coastline this afternoon, where he has been spending time following the Motul Italian Round at Imola. Following the incident, emergency services were called to the scene and Hayden was transported to the local hospital.  Ambulances arrived and Hayden was taken directly to the hospital.

Update as of 20:00 CET: Hayden has been moved to Cesena hospital for further treatment and possible surgery.
Father Earl Hayden has said that the family has issued no statement that Hayden has died, although he is on life support.

Friday May 20th - 20.00: The Maurizio Bufalini Hospital in Cesena (Italy), where Nicky Hayden is currently in intensive care, released the following statement at 19.45 local time (GMT+2): "The clinical picture of Nicky Hayden remains unchanged. His condition is still extremely critical."He is still in the intensive care unit of Cesena's Maurizio Bufalini Hospital and the prognosis stays reserved."
GodSpeed Nicky...
Monday, 22 May 2017 17:24 Italy -Following a cycling incident close to Rimini on Wednesday 17th May, it is with great sadness that we report the passing of 35-year od Nicky Hayden (Red Bull Honda World Superbike Team, former AMA National Superbike and MotoGP World Champion passes away followinghis training accident.
Hayden was involved in a collision with a car whilst out training and was taken directly to a local hospital by ambulance. Following immediate treatment, the American was then taken to Maurizio Bufalini Hospital in Cesena for further treatment and possible surgery, where he spent the night with fiancé and team members beside him. Every effort was undergone in order to provide Hayden with the best possible care, but on Monday 22nd May it was announced he had succumbed to his injuries.
Nicky passed away at 19:09 CEST this evening at Maurizio Bufalini Hospital in Cesena, Italy with his fiancée Jackie, mother Rose and brother Tommy were at his side.
2006 MotoGP™ World Champion, Nicky burst onto the world scene in 2003 just one year after he was crowned AMA Superbike Champion. Securing two podiums in his opening season, he took his debut victory in 2005 at Laguna Seca and sensationally reached his dream in 2006 as he was crowned MotoGP™ World Champion. Making the move over to the MOTUL FIM Superbike World Championship in 2016, Nicky stood on the podium four times for Honda, one of which was his debut victory at Sepang International Circuit.
Throughout his career Nicky's professionalism and fighting spirit was greatly valued and carried him to numerous successes, including his childhood dream of being crowned MotoGP World Champion with Honda in 2006. As well as being a true champion on the track, Nicky was a fan favourite off it due to his kind nature, relaxed demeanour, and the huge smile he invariably carried everywhere.
Nothing says more about Nicky's character than the overwhelming response expressed by fellow racers and his legions of fans over the past few days. Jackie and his family are truly grateful for the countless prayers and well wishes for Nicky.
The 'Kentucky Kid' will be sorely missed by all that ever had the pleasure of meeting him or the privilege to see him race a motorcycle around a track, be it dirt or asphalt. The racing world says goodbye to one of its dearest sons. Rest in peace Nicholas 'Nicky' Patrick Hayden.
The FIM and Dorna WSBK Organization, Ten kate Honda racing, Publisher Jim Gianatsis and the SBK models and the FastDates.com Calendars wish to pass on its condolences to the family, friends and team of Nicky Hayden.
Tommy Hayden - "On behalf of the whole Hayden family and Nicky's fiancée Jackie I would like to thank everyone for their messages of support – it has been a great comfort to us all knowing that Nicky has touched so many people's lives in such a positive way.
"Although this is obviously a sad time, we would like everyone to remember Nicky at his happiest – riding a motorcycle. He dreamed as a kid of being a pro rider and not only achieved that but also managed to reach the pinnacle of his chosen sport in becoming World Champion. We are all so proud of that.
"Apart from these 'public' memories, we will also have many great and happy memories of Nicky at home in Kentucky, in the heart of the family. We will all miss him terribly.
"It is also important for us to thank all the hospital staff for their incredible support – they have been very kind. With the further support of the authorities in the coming days we hope to have Nicky home soon."

Nicky and his Ten Kate Honda are featured in the new 2018 FAST DATES World Superbike Calendar available here - http://www.FastDates.com/ FastDatesNews.HTM
---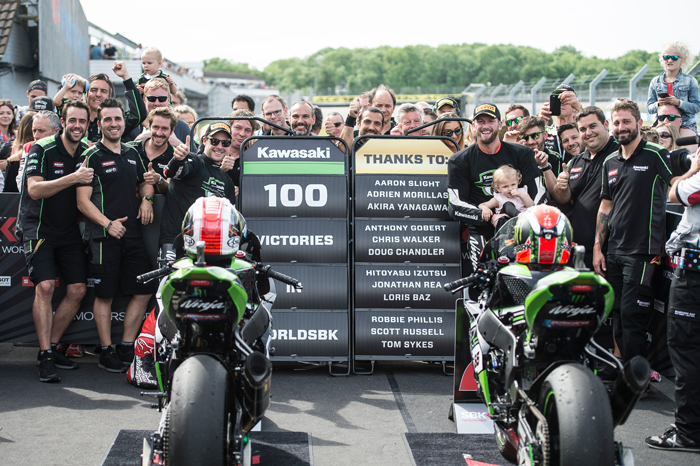 2017 SBK Motul World Superbike Championship, Donnington Park GB, Round 6 of 13

Kawasaki Returns to the Top at Donnington
"This is the first weekend where we've felt like the benchmark"

Donnington Park, Great Britain, May 26-28th, 2107 - In a Sunday contest where only 14 riders finished, Jonathan Rea, Kawasaki Racing Team, recovered from a high speed crash in Race One on Saturday to win his eighth race of the year and Kawasaki's 100th in Superbike history. Saturday's Race One was dominated by Kawasaki team mate Tom Sykes, who was was a close runner-up in Race Two on Sunday, just 1.601 seconds behind Rea after 23 laps, as KRT scored another 1-2 finish.
Jonathan Rea rode one of the most important races of his career to take the second race win at Donington Park, despite having to start from the fourth row of the grid because of his first day no-score.
 
Rea made a superb launch and was able to ride around a first corner blockage that held back the early progress of Tom Sykes. Such was Rea's early pace that he went from tenth on the grid to first place after just one complete lap and one additional corner.
 
Sykes was in fifth place in lap one and eventually got to second place on lap seven. He made up time to Rea's lead but with the laps counting down Jonathan had enough of an advantage to hold the gap and win his 46th race since he joined WorldSBK.
 
With Rea winning today and Tom victorious in Saturday's race the KRT duo sit 1-2 in the championship, with Jonathan 55 points ahead; 260 to 205. Chaz Davies, third in the race today and third in the points overall, is on 185. Now the championship will head to Italy for the seventh round, at the Misano World Circuit Marco Simoncelli. Racedays will be Saturday 17th and Sunday 18th June.
 
Jonathan Rea (Kawasaki Racing Team Rider): "I had an incredible first lap today. I had been really frustrated because I got penalised by no fault of my own yesterday in scoring no points and then penalised again with my grid position today, when I went back to tenth. I knew I had to make a good start straight away otherwise my race was over. I was really quiet today and after warm-up I was really nervous. I was going through all these scenarios in my head about what I would do with a good start, or a bad start, and then what my race plan would be. My guys worked really hard overnight to build a completely brand new bike because yesterday's was destroyed. The first time I rode it this morning, with some set-up changes from Pere. The bike was talking to me in a way I have not had this year. So I knew today was mine if I could get a good start."
 
Tom Sykes (Kawasaki Racing Team Rider! ): "I was closing the lead but with three laps to go I started to 'over-ask' from the bike in some corners. But if there were three more laps to go then I could have continued in a more calculating way and continued the progress. When I started the race I was on the inside of the grid and turn one was a complete disaster. I had to almost stop the bike because some people were trying to win the race in the first turn. We had this to deal with and then there was a crash in the last turn which made us all hesitate, so the race got off in a very bad way for me. I am disappointed to lose my Donington winning record in this way. But all things considered I was beaten fairly and Jonathan rode very well. This day had to arrive at some moment in my racing life but unfortunately it came today, even though I believe our race pace was very strong."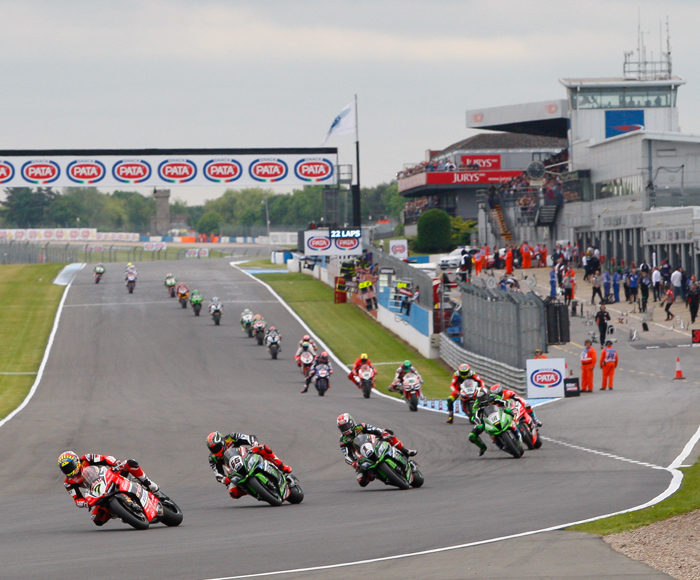 Chaz Davies leads the race going into Lap 2.
Sykes secures victory in dramatic WorldSBK Race One
Sykes wins ninth race in a row at Donington, wildcards Haslam and Lowes on podium, crashes for Rea and Davies
Saturday May 27th Race One - Tom Sykes (Kawasaki Racing Team) took a brilliant win in Race 1 of the PATA UK Round in a dramatic race which brought crashes for Jonathan Rea (Kawasaki Racing Team) and Chaz Davies (Aruba.it Racing - Ducati). Wildcard Leon Haslam (Kawasaki Puccetti Racing) and Alex Lowes (Pata Yamaha Official WorldSBK Team) made it an all-British podium, as Sykes took an amazing ninth successive victory in his home race at Donington Park.
 
An incident-packed race saw provisional leader Davies go down in the early stages at turn 12, after he lost the front end. He picked his Ducati up to rejoin,  eventually finishing eighth having crashed at the same corner as he did in last year's Race 1 at Donington and this latest incident will be a big blow to his World title aspirations.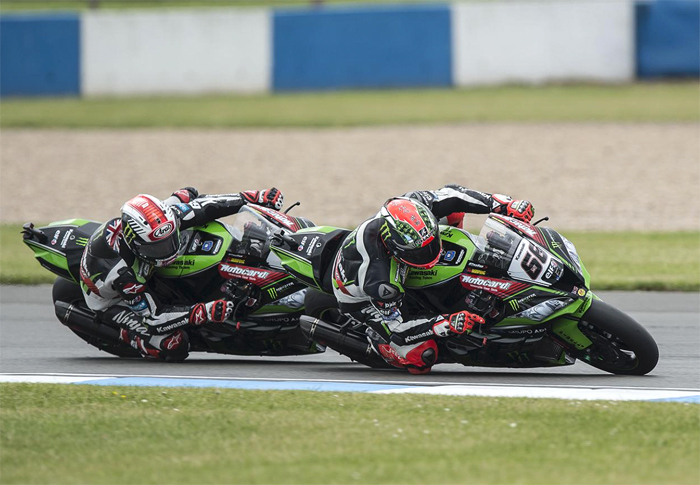 With 6 laps to go Sykes got through on his teammate Rea to lead and within just over a lap he had opened up a two second gap on his Northern Irish teammate. Rea then suffered a high speed accident at turn 3, crashing out of the race, but was soon back on his feet and was taken back to the pits on a scooter.
 
A superb ride by Haslam on his return to the series saw him take a highly creditable second place, whilst Lowes took third thanks to a late move on Marco Melandri (Aruba.it Racing - Ducati).
 
Dutchman Michael van der Mark (Pata Yamaha Official WorldSBK Team) completed the top five, with Leon Camier (MV Agusta Reparto Corse) making it four Brits in the top six to further delight the home crowd.
 
In seventh place Leandro Mercado (IODARacing) crossed the line a couple of seconds ahead of Davies, with Spaniards Jordi Torres (Althea BMW Racing Team) and Xavi Fores (BARNI Racing Team) completing the top ten after 23 breathtaking laps around the exciting 4.023km Donington Park Circuit.
 
The riders and many of the fans in attendance carried stickers and flags in tribute to the late Nicky Hayden who tragically passed away earlier in the week after a cycling accident in Italy, with Sykes quick to pay his condolences to the Hayden family after the race in parc ferme. The podium finishers all wore t-shirts carrying Hayden's famous number 69 in honour of the Kentucky Kid.
 
Stefan Bradl (Red Bull Honda World Superbike Team) and Riccardo Russo (Guandalini Racing) unfortunately suffered technical issues and ended up with DNFs.

SBK Calendar Kitten Denisa on the podium withHaslam, Sykes and Lowes at Donnington
1st - Tom Sykes(Kawasaki Racing Team)  "Fantastic, I had to work for it, but I need to pass my condolences to Nicky's family. It's very strange to not have my next door neighbour here with his great smile so it's been slightly strange all weekend. In a small way this is basically for him, and overall the weekend has been good and it's nice to continue our form."
2nd - Leon Haslam (Kawasaki Puccetti Racing)  "Yesterdays pace, I felt comfortable to fight for the podium but today we had a bit of a problem and with the track temperatures changing it was behaving very differently. Obviously Chaz and Jonny crashed but I was just working my way through, working my own race and I'm so happy for Kawasaki Puccetti Racing."
3rd - Alex Lowes (Pata Yamaha Official WorldSBK Team) "Leon came up the inside, I went off track and Eugene hit me, that's expected from Leon with a wildcard, hes one of my best mates off track. It was a fantastic base and the bike was great, we had the pace for fourth but with Marco on the last lap, you've gotta go for it."
WorldSBK at Donington Park: Race 1 - Complete Results Here
1. Tom Sykes Kawasaki
2. Leon Haslam Kawasaki +16.500
3. Alex Lowes Yamaha +19.170
Rea Secures 100th Kawasaki WSBK win in tense Race Two
Sunday May 28th Race Two - The PATA UK Round concluded on Sunday afternoon with a dramatic Race 2, which brought victory for World Champion Jonathan Rea (Kawasaki Racing Team) after a crash on Saturday, with Rea's KRT colleague Tom Sykes and Aruba.it Racing – Ducati's Chaz Davies also on the podium.
 
Rea's eighth victory of 2017 extends his lead in the standings to 55 points after six rounds and he rode brilliantly at the Donington Park Circuit to beat his teammate to the line by 1.601s and win his home race.
 
The result brought an end to Sykes' remarkable run of nine successive wins at Donington and the Yorkshireman was amongst the first to congratulate Rea on his triumph. It was also Kawasaki's 100th race win in WorldSBK.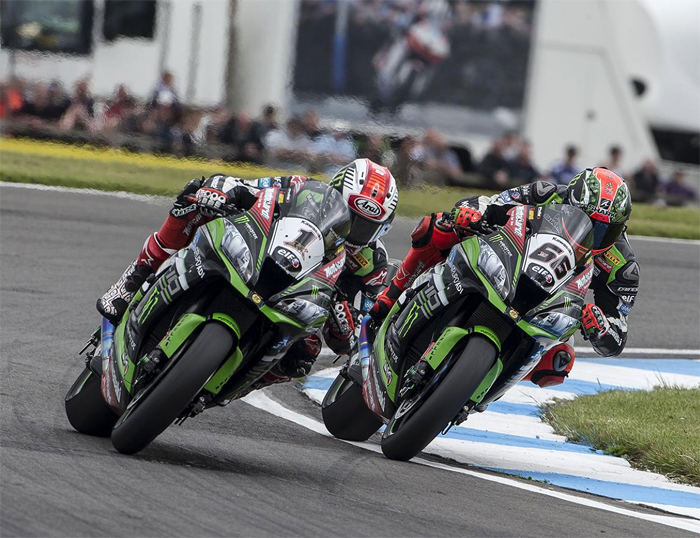 In parc ferme after the race Rea dedicated his win to the late Nicky Hayden who so sadly passed away earlier in the week after a cycling accident in Italy.
 
Michael van der Mark (Pata Yamaha Official WorldSBK Team) had looked good for a podium result but was caught for third in the final stages by a determined Davies - who had crashed and finished eighth on Saturday.
 
Alex Lowes (Pata Yamaha Official WorldSBK Team) completed the top five and Leon Camier (MV Agusta Reparto Corse) made it five Britons in the top six, crossing the line five seconds behind Lowes.
 
Xavi Fores (BARNI Racing Team) was seventh and he was joined in the top ten by Roman Ramos (Team Kawasaki Go Eleven), Jake Dixon (Royal Air Force Reg. & Res. Kawasaki) and Raffaele de Rosa (Althea BMW Racing Team).
 
Only 14 participants were able to finish the race as a number of high profile riders crashed out, including wild card Leon Haslam (Kawasaki Puccetti Racing), Randy Krummenacher (Kawasaki Puccetti Racing), Jordi Torres (Althea BMW Racing Team), Eugene Laverty (Milwaukee Aprilia), Leandro Mercado (IODARacing) and Alex De Angelis (Pedercini Racing SC-Project).
 
Meanwhile, Marco Melandri (Aruba.it Racing - Ducati) stopped on the eighth lap after the chain of his Ducati Panigale R broke and fell loose. The WorldSBK grid will be back in action at the Pirelli Riviera Di Rimini Round at Misano over the16th-18th June weekend.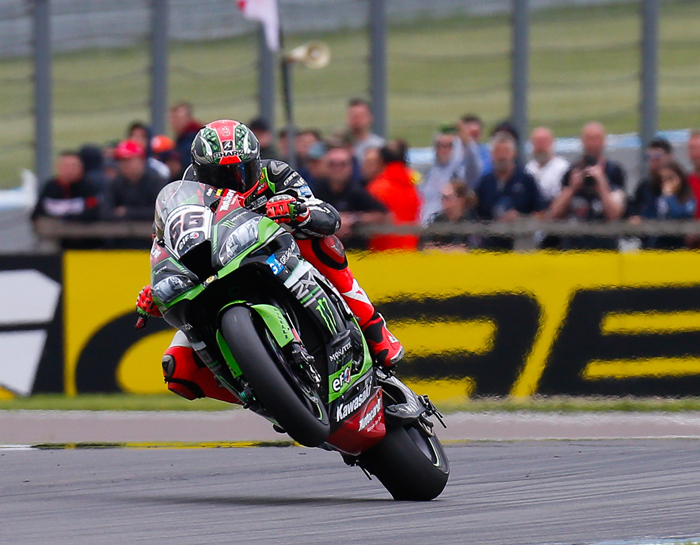 P1 - Jonathan Rea (Kawasaki Racing Team) "It means a lot to me, we had to bounce bike and overnight the guys worked so hard. I knew I could win today but coming from 10th so so difficult and I guess thats what happens when I push really. I want to deadicate this race win to Nicky Hayden, the world is a worse place without him."

P2 - Tom Sykes (Kawasaki Racing Team)  "All good things come to an end in life but I'm happy. Today I lost a fair fight, unfortunaelt I had a bad start, my position wasn't good in ninth and I got boxed in. Rea took some closing down, but I had an exciteable and enjoyable race. The character of the bike was in the ball park, and today I was beaten fair." 

P3 - Chaz Davies (Aruba.it Racing - Ducati) "I think the podium is the big bonus here from the home race, it was a really tough race.  It wasn't easy, I had to make it through a fair bit and I used up a lot of tyre. I'm really happy to be here and I want to dedicate this podium to the family of Nicky Hayden."  
WorldSBK at Donington Park: Race 2 - Complete Results Here
1. Jonathan Rea Kawasaki 
2. Tom Sykes Kawasaki +1.601
3. Chaz Davies Ducati+12.200
---
2017 SBK Motul World Superbike Championship, Aragon, Motorland Round 5 of 13

Chaz Davies Domonation at Imola
"This is the first weekend where we've felt like the benchmark"

Imola, Italy 14 May 12-14th, 2107 - Aruba.it Racing Ducati rider Chaz Davies stunded in front of his home fans, securing a stunning double victory around the Iconic circuit of Autodromo Internazionale Enzo e Dino Ferrari di Imola. Davies secured the Gentlemen's set – taking the pole position, fastest lap and two race wins at the Motul Italian Round.

At a circuit his Panigale works so well around, Davies was able to take advantage of the second race restart, following a slow start off the line in the initial race. Firing off the line for the second start of race two, Davies worked his way through the field in stunning, smooth style and made it look easy to take his second victory of the weekend – and fourth in a row around Imola.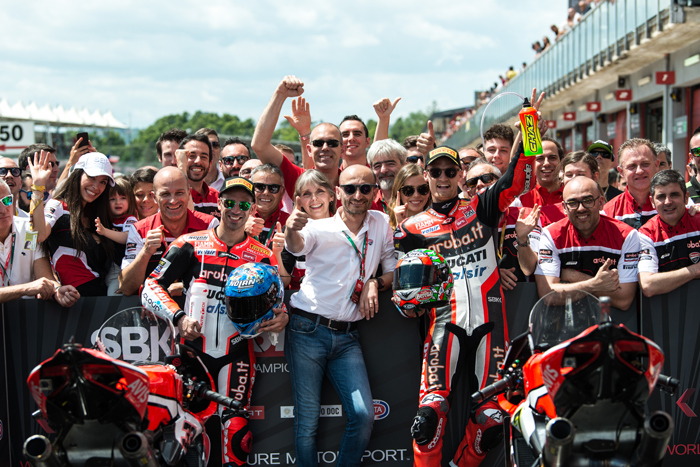 Marco Melandri, Ducati CEO Claudio Domenicali and Chaz Davies clelbrate their victory on Saturday at Imola.

Davies beamed: "What a weekend, up to this point in the season we've had a mixed bag and our biggest adversaries have come out strong - this is the first weekend where we feel like we've been the benchmark and we've been able to find a rhythm. From the second session we were able to find it and it snowballed from there into the double victory. I just can't say enough things about how the bike performed around here, it worked superb in both races. We made very little changes and although the track conditions were different today it was working equally as well. The second race was quite different to the first - I was a bit lucky for the restart because I messed it up a bit in the first start but in the restart I got a very good launch and managed to make a few decisive moves. I profited from Jonny's mistake at the chicane and then it was a question of hunting down Tom; he had a really good pace and it was a bit of a grit between the teeth to get past him. Once I did I just concentrated on setting my pace like in practise and it was enough to break away."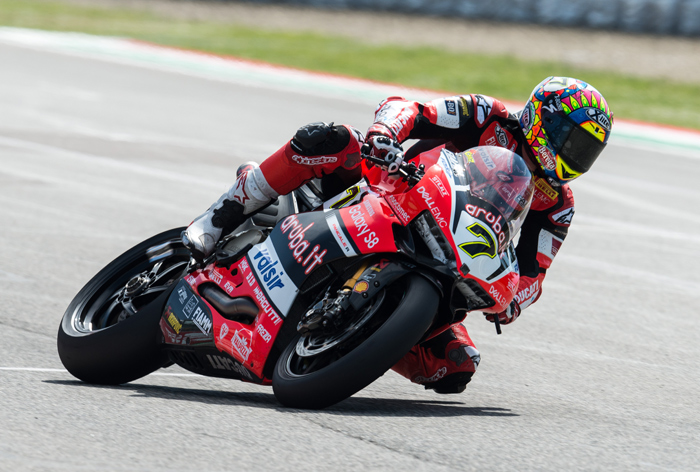 Rapid Davies Secures Pole in Italian Sunshine
Tissot Superpole 2 saw Davies top the timesheet for pole, with Sykes and Rea also on the front row
On Saturday morning at Imola it was Chaz Davies who took pole for Race 1 with a 1'45.662 lap time putting him at the head of the grid. The Aruba.it Racing - Ducati rider will be joined on the front row at the 4.936km Italian track by Kawasaki Racing Team pair Tom Sykes and Jonathan Rea.

Davies won both Imola races in 2016 and he will aim to repeat that feat this weekend starting on Saturday afternoon ahead of his rivals, after Sykes lapped just +0.032s behind the Welshman in second and Rea qualified third, being +0.324s off the pole pace.
Another British rider Leon Camier (MV Agusta Reparto Corse) was provisionally in second place before the pace increased right at the end of the session, but at his team's home race he will be pleased to have qualified fourth.

Also on the second row at the Motul Italian Round, lining up behind Camier, are top Italian qualifier Marco Melandri (Aruba.it Racing - Ducati) in fifth and Irishman Eugene Laverty (Milwaukee Aprilia) in sixth place.

Row three will feature three additional nationalities, as Spaniard Xavi Fores (BARNI Racing Team), Argentina's Leandro Mercado (IODARacing) and Dutchman Michael van der Mark (Pata Yamaha Official WorldSBK Team) line up seventh to ninth respectively.
With an ambient temperature of 22°C and the track temperature reaching 34°C in the SP2 run, it was Lorenzo Savadori (Milwaukee Aprilia), Alex Lowes (Pata Yamaha Official WorldSBK Team) and Stefan Bradl (Red Bull Honda World Superbike Team) who qualified on row four.

Earlier in the morning Jordi Torres (Althea BMW Racing Team) sat out the Tissot Superpole 1 session, not registering a lap time due to feeling unwell. In that SP1 session Bradl led the way with a 1'48.460 laptime, with Savadori also making it through to SP2 alongside the German rider with a late 1'48.572 time.

Ducati's dominated in race one with Davies (7) and Melandri (33) taking the top spots ahead of points leder Jonthan Rea (1) and Tomm Sykes, with Xavi Fores'(12) Barni Ducati in 5th.
Davies Registers Dominant Win in Curtailed Saturdy Race
Saturday, May13th SUPERBIKE RACE ONE - At the Motul Italian Round on Saturday Chaz Davies (Aruba.it Racing - Ducati) took a runaway victory in a race which was shortened due to a red flag, with Jonathan Rea (Kawasaki Racing Team) and Marco Melandri (Aruba.it Racing - Ducati) also featuring on the podium.
Davies made a brilliant start from pole and was untouchable, leading by well over six seconds when the race ended early due to a red flag, after a big crash for Eugene Laverty (Milwaukee Aprilia) at turns 17 to 18 - which meant track conditions were not safe for racing to continue. Laverty walked away from the incident which saw his Aprilia RSV4 RF go up in flames and he was taken immediately to the medical centre for a check up after the high speed incident.

With 12 of 19 scheduled laps having been completed at the time of the crash the rider placements at that stage were taken as the final race results, with Davies therefore claiming his second win of the season. The ever-consistent Rea picked up more important championship points in second, whilst Melandri made it a good day for Ducati on home territory in third place on the podium. Tom Sykes (Kawasaki Racing Team) was fourth, the Englishman trailing Melandri by less than a second, whilst Xavi Fores (BARNI Racing Team) continued his good form in fifth.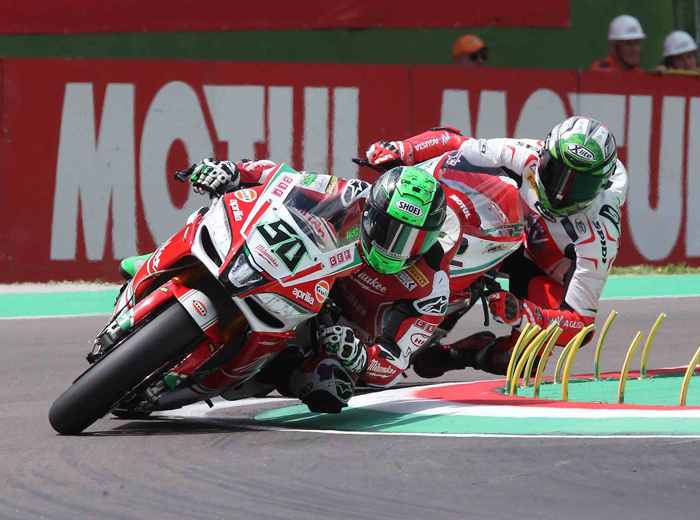 Italian Duel! Leon Camier (12) moved the MV Agusta up past Leon Camier's Aprilia(50) for 5th place.
Leon Camier (MV Agusta Reparto Corse) produced a good ride in sixth, whilst Michael van der Mark (Pata Yamaha Official WorldSBK Team) and his teammate Alex Lowes were seventh and eighth respectively. Roman Ramos (Team Kawasaki Go Eleven) and Stefan Bradl (Red Bull Honda World Superbike Team) completed the top ten.
Leandro Mercado (IODARacing) crashed out at turn 7 early in the race, with Nicky Hayden (Red Bull Honda World Superbike Team) pulling into the pits shortly afterwards due to a technical issue. Jordi Torres (Althea BMW Racing Team) was unable to participate in Race 1 due to illness. The WorldSBK riders will be in action again on Sunday with their second race taking place at 1pm local time at Imola.

ItalianWorldSBK at Imola Circuit: Race 1 - Complete Results Here
1. Chaz Davies Ducati
2. Jonathan Rea Kawasaki +6.696
3. Marco Melandri Ducati +9.287
Brilliant Davies takes commanding Imola Double Victory on Sunday
Saturday, May 13th SUPERBIKE RACE TWO - Today the Welshman grabs Round 5 Race 2 win from ninth on the grid, whilst Rea and Sykes also register podium results. Ducati rider Chaz Davies who took a superb victory in front of the fans at Imola, with the podium also featuring Kawasaki Racing Team pair Jonathan Rea and Tom Sykes.

In a restarted race - after a red flag in the first Race 2 start earlier in the afternoon – Davies produced a superb ride on the Ducati, overtaking provisional leader Sykes midrace and going on to win by just under four seconds from Rea. Davies' first double victory of 2017 was a repeat of his Imola result from 2016, the Ducati man having also picked up maximum points at the Italian track last year. Sykes had led the raceat the start, but was eventually unable to hold off his teammate Rea for second, as the Northern Irishman ultimately beat the Yorkshirman across the line by +0.603s.

Xavi Fores (BARNI Racing Team) and home rider Marco Melandri (Aruba.it Racing - Ducati) were engaged in a close fight for fourth, with Spaniard Fores finally coming out on top in that duel by less than two tenths of a second. Behind that pair Alex Lowes (Pata Yamaha Official WorldSBK Team) crossed the line in sixth place for more good points, with Eugene Laverty (Milwaukee Aprilia) close by in seventh. It was a solid result for Laverty after a difficult day for him on Saturday, with his big crash in Race 1.

Likewise an excellent performance by Jordi Torres saw the Althea BMW Racing Team man finish in eighth place having got away from the back of the grid, after he missed Superpole and Race 1 on Saturday due to illness. Michael van der Mark (Pata Yamaha Official WorldSBK Team) and Leandro Mercado (IODARacing) completed the top ten, Mercado making amends for his Race 1 DNF.

There was disappointment for Leon Camier (MV Agusta Reparto Corse) who crashed out of second place early on having made a superb start, with Alex De Angelis (Pedercini Racing SC-Project) also crashing shortly after the Englishman. Stefan Bradl (Red Bull Honda World Superbike Team) was another crasher and Randy Krummenacher (Kawasaki Puccetti Racing) was forced to retire due to a technical issue.

The initial staet of the race had earlier ended on the first lap in a red flag due to track conditions at turn 16, following an issue for Ayrton Badovini (Grillini Racing Team) with a blown engine which had left oil on track.
The WorldSBK riders will be back in action over the 26th-28th May weekend at the UK's Donington Park circuit.
ItalianWorldSBK at Imola Circuit: Race 1- Complete Results Here
1. Chaz Davies Ducati
2. Jonathan Rea Kawasaki +6.696
3. Tom Sykes Kawasaki  
---

The start of Race One at Assen with Tom Sykes (65) out front of Chz Davies (7) and Jonthan Rea (1)

2017 SBK Motul World Superbike Championship, Assen, Dutch TT Round 4 of 13

Rea Takes the Double Victory at Assen World Superbike Photos by Kel Edge

The Netherlands, April 28-30th 2017 - A 1-2 finish from KRT Riders Jonathan Rea and Tom Sykes in the second Superbike World Championship race of the Assen weekend provided great drama in the final chicane, with Sykes closing in to within 0.025 seconds of victory but Rea holding on to secure another double Dutch success.  

The classic TT Circuit at Assen provided an ideal backdrop for Rea to start the 200th WorldSBK race of his career and he duly took away his seventh race victory of 2017, his 11th at Assen since he started his WorldSBK career and his third double at this 4.542km circuit since he joined Kawasaki in 2015.
 
It was an important day of statistics for Rea, as he also secured his 45th career win in WorldSBK and his 30th individual race win for Kawasaki. Tom Sykes and his crew worked to improve his machine set-up overnight and he almost took his first race win of the year as a reward, only losing out on a last chicane attack on Rea by 0.025 seconds across the line after 21 intense laps.
 
Battling the high winds today like all his peers, Tom duly overcame his continuing physical issues to record two second places at Assen this weekend, making it six podiums from the eight races held so far this season.
 
In the championship Rea now leads by 64 points, from his team-mate Sykes, with Chaz Davies third on 111 points and second race faller Marco Melandri on 97.
 
The next races in the series will take place on Saturday 13th and Sunday 14th of May, at the Imola circuit in Italy.


Chaz Dazies and Jonthan Rea agree to disagree as Chaz complained that Jonthan blocked his Superpole run on Saturday morning. The race stewards agreed and bumped Jonthan from his winning Pole time to 4th on the grid for the start of Race One.
It hardly mattered to the 2-time Champ who would go on 2 win both days races from Rows 2 and 3 for this weekend.


Chaz's Ducati Stops on Last Lap Fighting Rea for the Win
Race One, Saturday May 29th - Jonathan Rea (Kawasaki Racing Team) took a clear victory in Race 1 at the Acerbis Dutch Round on Saturday, after a long battle with Chaz Davies (Aruba.it Racing - Ducati) ended in a frustrating DNF for the Welshman who pulled up at the end of the penultimate lap. Tom Sykes (Kawasaki Racing Team) crossed the line in second place, ahead of Marco Melandri (Aruba.it Racing - Ducati) who completed the rostrum places.
 
Rea had started in fourth place on the grid, having initially been on pole but being moved back three places to the head of row two due to a penalty, following a clash with Davies at the end of SP2. Davies then went on to lead for most of the race before Rea took over in the final stages and then the Ducati rider pulled off track due to a technical issue just before the start of the final lap.
 
Davies' misfortune saw Sykes take a lonely second, the Yorkshireman crossing the finish line 4.5s behind Rea and 13 seconds in front of third placed Melandri. It was a good performance by Sykes considering his recent issues with a stomach illness.
 
Xavi Fores (BARNI Racing Team) produced another solid result in fourth place on his Ducati Panigale R, his highest finish so far in 2017. An excellent ride by Lorenzo Savadori (Milwaukee Aprilia) to fifth on his return to action also gave him his best result of the season to date.
 
There were also season-best results for Stefan Bradl (Red Bull Honda World Superbike Team) and Roman Ramos (Team Kawasaki Go Eleven) in sixth and seventh respectively. Eugene Laverty (Milwaukee Aprilia), Leandro Mercado (IODARacing) and Leon Camier (MV Agusta Reparto Corse) completed the top ten.
 
There was frustration for Michael van der Mark (Pata Yamaha Official WorldSBK Team) who ran long on the first corner and then crashed out of his home race at turn 5 early on. That was before his teammate Alex Lowes went down at turn 10 midrace to make it a difficult day for Yamaha. Jordi Torres (Althea BMW Racing Team) and Riccardo Russo (Guandalini Racing) were both unable to finish due to technical problems.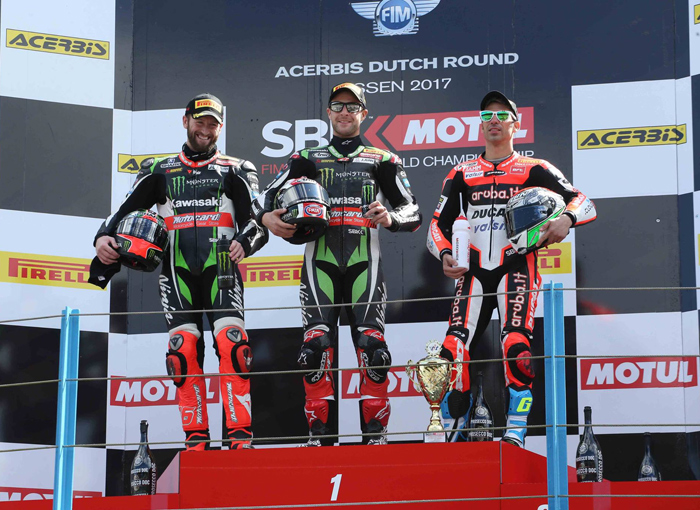 1st - Jonathan Rea (Kawasaki Racing Team) - "I'm really happy, I've had so many questions over the weekend asking why I've won so many here and I don't know why. It's just a circuit I really like, it suits my riding style a bit and to make it happen here again is great."
2nd - Tom Sykes (Kawasaki Racing Team)- "I am happy with today considering where I was on Tuesday afternoon, to be second here to Jonathan is not too bad - OK I was gifted it but I had some limitations today. I think tomorrow we need to improve, overall we're collecting as many points as we can and were close to a good set-up."
3rd - Marco Melandri (Aruba.it Racing - Ducati)- "For sure the podium here was impossible to get until this morning and my speed this morning was not good enough for top five, but then in Superpole and the feeling was back, and then in the beginning of the lap my pace was ok but not enough to stay with the front guys. Fourth for me was ok here in Assen."
Race One - Complete Results Here
1. Jonathan Rea Kawasaki
2. Tom Sykes Kawasaki +4.501
3. Marco Melandri Ducati +17.673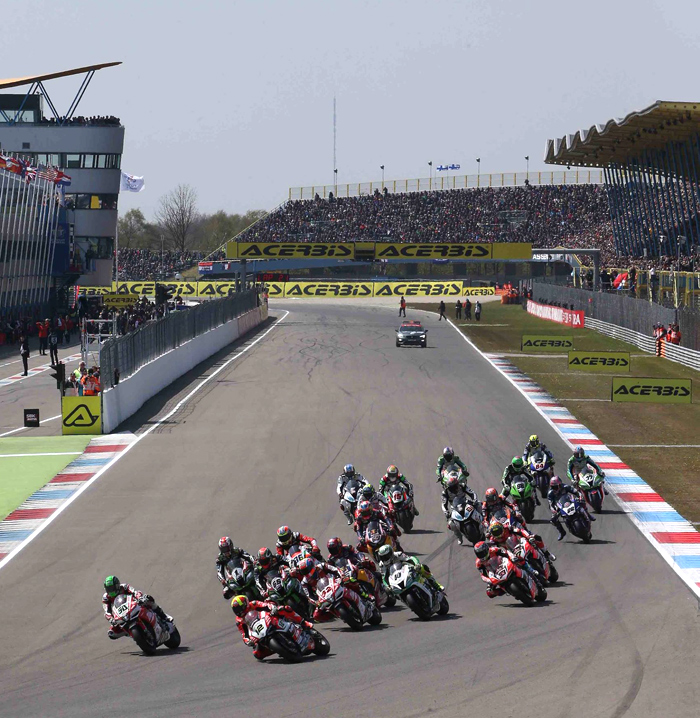 Assen Race Two - Rea takes victory in gripping 200th WorldSBK race 
RACE TWO, Sunday May 30th -In pleasant sunny conditions at the TT Assen Circuit on Sunday Jonathan Rea (Kawasaki Racing Team) gave a superb demonstration of his talent with a tight victory over second placed teammate Tom Sykes, as Chaz Davies (Aruba.it Racing - Ducati) completed the podium in third.
 
In his 200th WorldSBK race Rea held his nerve to cross the line 0.025s ahead of Sykes as the Yorkshireman applied the pressure in the final stages. It was Rea's second win of the weekend, his seventh victory from eight races so far in 2017 and his 11th career win at Assen – with maximum points from Round 4 in the Netherlands putting the KRT man 64 points clear at the head of the standings.
 
It was a valiant effort for Sykes after his recent health issues and he will aim for his first win of 2017 next time out, in two weeks time at Imola.
 
After his cruel luck on Saturday, which saw Davies pull up with a technical problem with a lap to go when fighting for victory in Race 1, the Welshman bounced back with a fifth podium result of 2017 so far, in third place.
 
A good ride by Michael van der Mark (Pata Yamaha Official WorldSBK Team) at his home round saw the Dutchman recover from a crash on Saturday to register a solid fourth place finish from 11th on the grid. It might have been even better for Van der Mark but for a big wobble for the Yamaha rider at turn 12 midrace -when he was chasing Davies for third.
 
Van der Mark's Yamaha colleague Alex Lowes (Pata Yamaha Official WorldSBK Team) also made up for his Race 1 disappointment to finish in the top five again, after crashing out on Saturday.

 
Another Englishman Leon Camier ( #2 MV Agusta Reparto Corse) rode well for sixth, finishing just over a second ahead of Spaniard Jordi Torres (Althea BMW Racing Team).
 
The top ten was completed by Eugene Laverty ( #50 Milwaukee Aprilia), Nicky Hayden (Red Bull Honda World Superbike Team) and Stefan Bradl (Red Bull Honda World Superbike Team).
 
There were crashes for Italian trio Lorenzo Savadori (Milwaukee Aprilia), Marco Melandri (Aruba.it Racing - Ducati) and Riccardo Russo (Guandalini Racing) meaning no points for any of them. They will each have a chance to make amends at their home round in Italy at Imola in two weeks' time.
1st - Jonathan Rea (Kawasaki Racing Team)- "It has been an incredible weekend of racing, of course the race wins were really nice to take away. Today was a race of two halves, in the first half I raced hard until I got a warning so in the second half I just managed things to try and be safe and bring her home."
2nd - Tom Sykes (Kawasaki Racing Team) - "It was a very close finish and I have to say thanks to my publish, my fans and all the team for being very understanding about my physical condition. Today I felt we had a package capable of winning. I always kept trying and I am obviously disappointed not to take the win."
3rd - Chaz Davies (Aruba.it Racing - Ducati)
"It was tough, I enjoyed the racing, thay was good but in terms of how my race went I can't say I'm happy with it, I didn't get the bike that I wanted so prrhaps we went the wrong way with the set-up and we struggled to get the feeling with the bike that I like. We move onto Imola, Ducati's backyard where hopefully we can be faster."
Sunday Race 2 - Complete Results Here
1. Jonathan Rea Kawasaki 
2. Tom Sykes Kawasaki +0.025
3. Chaz Davies Ducati +5.077

---
APRILIA RACING - 2017 RS-GP - TECHNICAL SPECIFICATIONS
Engine Aprilia Racing narrow V4, 81mm bore, counter rotating crankshaft, timing with pneumatic valve recall system
Power 260 HP
Electronic ECU Magneti Marelli, Dorna software
Gearbox Aprilia Racing seamless upshift and downshift, 6 speeds, removable
Lubrication Dry sump
Frame Aprilia Racing in aluminium
Swingarm Aprilia Racing in aluminium
Suspension Öhlins
Brake system Brembo, front with 320-340 mm diameter dual carbon disc, 255 mm diameter rear single steel disc
Tyres Michelin

Noale (Venice), May 2017 – Last year the RS-GP made its début in the Doha tests, the first MotoGP bike developed entirely by Aprilia Racing to compete in the premier class of Grand Prix Motorcycle Racing. Just twelve months later, the all-Italian project must now face an important final exam: the constant progress demonstrated in the first season, with 16 Top-10 finishes, was reconfirmed during the tests in Valencia, Jerez, Sepang and Phillip Island.
Aleix Espargarò, a welcome returnee to the Aprilia camp, immediately found the right feeling with his RS-GP, especially in terms of braking stability. The Spanish rider was also able to test the 2017 evolution of the Italian MotoGP bike, approving of the progress made compared with the 2016 version and demonstrating encouraging competitiveness during the official tests.
Sam Lowes, on the other hand, could not help but have a different task than his teammate's. The talented English rider must first of all become familiar with a prototype that is very different from the Moto2 bike he has ridden in the past, both strictly in terms of performance and in terms of the riding style it requires. The progress demonstrated during the tests led to reducing the gap behind the best in the category and, much more importantly, improving his sensations in the saddle. 
Roberto Colaninno, Piaggio Group CEO and Managing Director
"Aprilia Racing represents one of the Piaggio Group's points of technological excellence. In fact, racing is the highest point of experimentation and the development of technological solutions from which all the products and brands in the group then benefit. Last year, we introduced our RS-GP, the first MotoGP bike designed and built entirely here in Noale. In the second half of the season, the new bike showed clear progress, consistently finishing in the Top-Ten. This year, we want to continue our growth trend and be a threat to manufacturers who have been in this class for decades and we have everything it takes to achieve this goal: staff, technology, experience and a lot of passion.
Romano Albesiano - Aprilia Racing Manager
"For us, 2017 begins with a different situation compared with last year. We already know that we have a bike, the RS-GP, which has reached a good competitive level. The evolutions that we studied and applied in view of the new season concern every aspect of the bike, from its weight, which has been optimised, to overall balance, not to mention engine performance and the electronics package. An all-around operation but without any drastic changes, given the good starting base, with which we want to take another step toward the goals set for the Aprilia MotoGP project. The initial feedback has been encouraging. Aleix likes the new bike and has some rather clear ideas on which characteristics have the most room for improvement, so we will be working in those areas throughout the season. The racing department put in a lot of effort during the winter break. Everyone understands the importance of the challenge we are facing and our front fairing is just the most visible example of Aprilia's dedication to innovation. During the tests we stayed in a group of very competitive bikes and riders, where just a few tenths of a second can make a big difference. Our goal, after showing that we can consistently battle for the Top-10, is to improve further."
---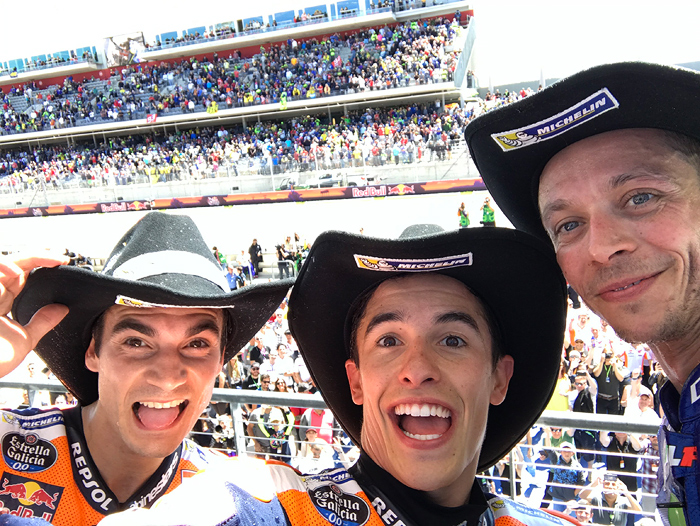 Valention takes a Race Podium Selfie with Pedrosa and Marquez.
2017 MotoGP World Championship, Red Bull Grand prix of The Americas, Round 3 of 16

Grand Prix of The Americas -
Five USGPs in a Row for Marquez, Rossi Takes Points Lead
Circuit of The Americsa, Austin, Texas, Sunday April 23rd 2017 - Marc Marquez (Repsol Honda Team) initially fought it out with teammate Dani Pedrosa for victory in the Red Bull Grand Prix of the Americas, before being able to break clear in the latter laps of the race to take his stunning fifth win in a row in Austin – his 11th straight win on US soil in an incredible statistic. Valentino Rossi (Movistar Yamaha MotoGP) then put on a late charge to take second, with Pedrosa completing the podium – and former Championship leader Maverick Viñales (Movistar Yamaha MotoGP) crashing out early on.

Elbows touching Marquez was masterful.

Off the line it was an absolutely stunning swoop around the outside for Pedrosa from the second row to lead – old habits die hard - as the Spaniard overtook teammate and polesitter Marquez to lead through Turn 1, with Rossi tucked in behind the two Repsol Honda machines.
 
Jorge Lorenzo (Ducati Team) got a great launch from P6 to overtake Maverick Viñales, and the two men dueled it out until Johann Zarco (Monster Yamaha Tech 3) got into the action and followed Viñales past the Mallorcan – before the drama struck.
 
After two wins from two in the first races of the season, Viñales then suddenly slid out of contention – lowsiding safely, but out of the fight for victory and taking home a 0 for the first time since Argentina 2016.
 
Cal Crutchlow (LCR Honda) had moved up from his P9 on the grid to take the factory Ducati duo for fifth behind rookie sensation Johann Zarco (Monster Yamaha Tech 3), with Andrea Dovizioso getting the best of Lorenzo to move into sixth.
 
A moment between Zarco and Rossi then saw the 'Doctor' taking to the run off as the rookie attempted a move, rejoining a little further ahead and subsequently receiving a 0.3 second penalty for time gained, to be applied at the end of the race. It was then the Repsol Hondas' time to duel, as Marquez and Pedrosa diced for the lead and the number 93 was able to begin pulling away with 13 laps to go.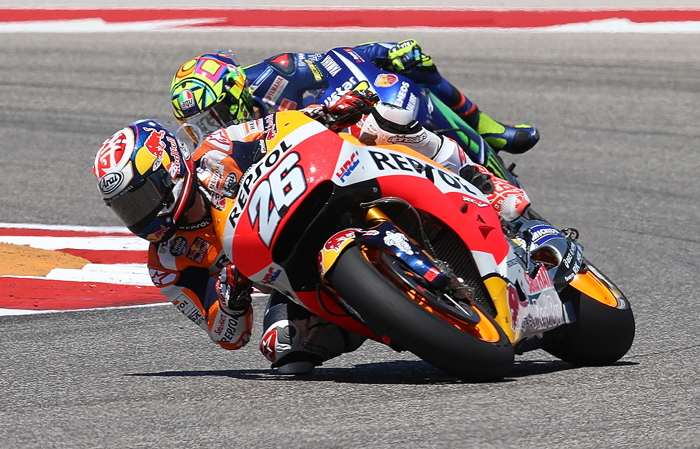 In ths closing laps of the race, Marquez pulled away from team mate Pedrosa (26) and Rossi passed him for 2nd place.

As the last laps approached, Crutchlow dueled Zarco to take fourth as Top Independent team rider fourth and Rossi struck against Pedrosa to take third, with Andrea Iannone (Team Suzuki Ecstar) also making it past Lorenzo in some late battles as the Italian crossed the line for his first points haul of the season in P7.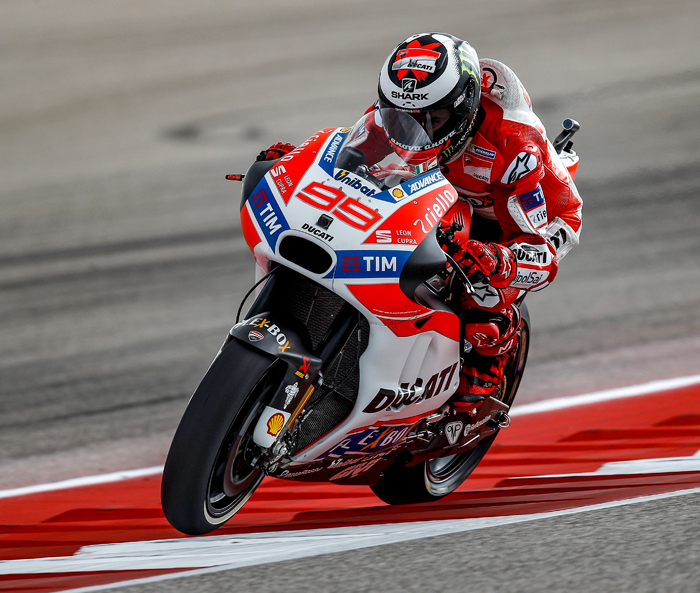 Lorenzo had his best finish of the season on the Ducati in 7th, finally beating the other Ducati riders.
 
Danilo Petrucci (Octo Pramac Racing) also made it past a Lorenzo struggling with grip to take eighth, with the five-time World Champion crossing the line in P9. Estrella Galicia 0,0 Marc VDS rider Jack Miller just beat rookie Jonas Folger (Monster Yamaha tech 3) to complete the top ten, as the Aussie fulfilled his goal for 2017 once again in the third race of the season.
 
Second Octo Pramac Racing rider Scott Redding came home in P12, with Tito Rabat (Estrella Galicia 0,0 Marc VDS) scoring points once again ahead of Hector Barbera (Reale Avintia Racing) and Alvaro Bautista (Pull&Bear Aspar Team).
 
Bautista had crashed at around half distance but rejoined to score the point, with teammate Karel Abraham leaving Texas with a DNF alongside Red Bull KTM Factory Racing's Pol Espargaro, who suffered a mechanical problem. Aprilia Racing Team Gresini's Sam Lowes and Loris Baz (Reale Avintia Racing) also crashed out, with Aleix Espargaro (Aprilia Racing Team Gresini) pulling into the pits before rejoining to get more track time – crossing the line in P17 behind Bradley Smith (Red Bull KTM Factory Racing).
 
Next stop: Jerez. Last year, Valentino Rossi took a scorching win on 'enemy' soil in Spain, and the paddock now makes the journey to the classic venue as we return to Europe. And who leads the Championship? The 'Doctor', six points clear and back on familiar, successful hunting ground...
MotoGP Race Results - Complete Results Here
1 - Marc Márquez (SPA - Honda) 43'58.770
2 - Valentino Rossi (ITA - Yamaha) +3.069
3 - Dani Pedrosa (SPA - Honda) +5.112
4 -  Cal Crutchlow (GBR - Honda) +7.638

---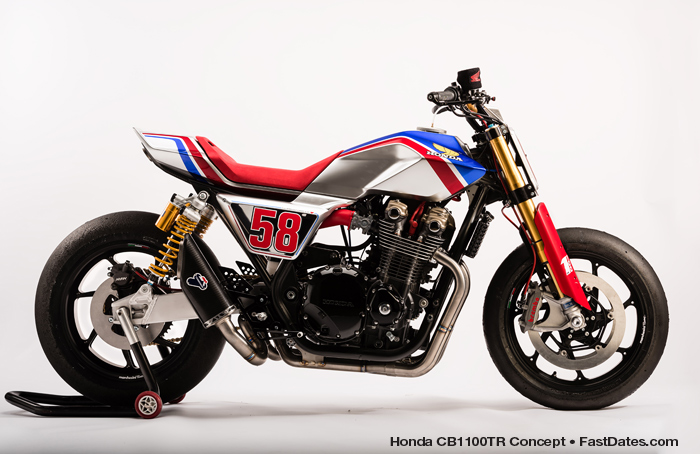 Honda CB1100TR Concept Bike which premiered at EICMA tis past winter.
---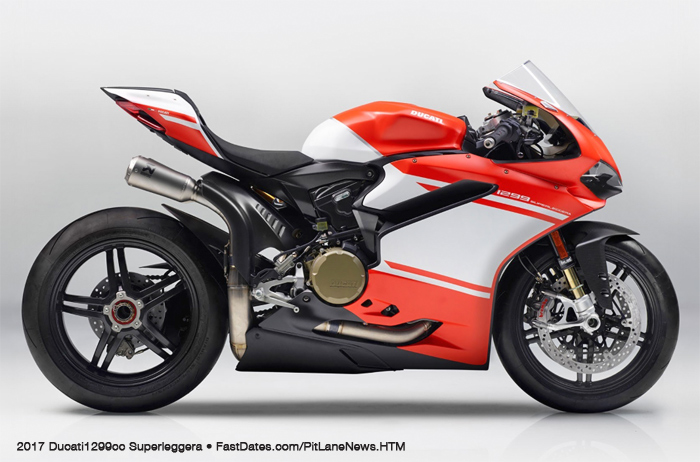 Revealed! The 2017 Ducati 215hp / 368 lb 1299cc Superleggera
Bologna Italy November 5th 2017 - Ducati has revealed a new limited edition lightweight version of their latest big bore 1299cc V-Twin Superbike, the 1299 Superlegera. The previous2014 year limited edition 11999 Superlegera retailed for USD $68,000, so expected this new model to be priced even higher with the addition of its Carbon Fiber Airbox Subframe to attach the front forks, and new lightweight carbon fiber wheels. This is a pure Collector's bike as the larger 1299cc engine dispersant and carbon fibre wheels make it ineligible for FIM / AMA racing. It should also be noted the Superquadro engine performance upgrades which premiered in the 2014 model year 1199cc Superleggera became available the following year in the 2015 homologation 1199R Superbike for $33,000.

ENGINE Superquadro: L-twin cylinder, 4 valve per cylinder, Desmodromic, liquid cooled
DISPLACEMENT 1,285 cc
BORE X STROKE 116 x 60.8 mm
COMPRESSION RATIO 13.0:1
POWER 158.1 kW (215 hp) @ 11,000 rpm
The power values indicated above are measured using a chassis dynamometer. Homologated power data, as quoted in the Bike Registration Document, are measured using an engine dynamometer according to the homologation regulation. The two power values may differ because of the different measurement equipments.
TORQUE 146.5 Nm (108,0 lb-ft) @ 9,000 rpm
FUEL INJECTION Mitsubishi electronic fuel injection system. Twin injectors per cylinder. Full Ride-by-Wire elliptical throttle bodies with aerodynamic valve and optimized trumpets
EXHAUST 2-1-2 system, primary tubes in titanium. Twin titanium mufflers. 2 lambda probes and 2 catalytic converters
GEARBOX
6 speed with Ducati Quick Shift (DQS) up/downPRIMARY DRIVE
Straight cut gears; Ratio 1.77:1
RATIO 1=37/15 2=30/16 3=27/18 4=25/20 5=24/22 6=23/24
FINAL DRIVE Chain; Front sprocket 15; Rear sprocket 39
CLUTCH Hydraulically controlled slipper/self-servo wet multiplate clutch
FRAME Monocoque in carbon fiber
FRONT SUSPENSION Fully adjustable 43mm USD Öhlins FL 936 fork with TiN treatment, billet fork bottoms and lightweight stress-optimized outer tubes, lightweight springs
FRONT WHEEL 10-spoke carbon fiber 3.50" x 17"
FRONT TYRE
Pirelli Diablo Supercorsa SP 120/70 ZR17
REAR SUSPENSION
Fully adjustable single Öhlins TTX36 shock with titanium spring, adjustable linkage between progressive/flat. Carbon fiber single-sided swingarm
REAR WHEEL
10 spokes carbon fiber 6.00" x 17"
REAR TYRE
Pirelli Diablo Supercorsa SP 200/55 ZR17
WHEEL TRAVEL (FRONT/REAR)
120 mm (4.7 in) - 130 mm (5.1 in)
FRONT BRAKE 2 x 330 mm semi-floating discs, radially mounted Brembo Monobloc Evo M50 4-piston callipers with Cornering ABS, Brembo MCS 19-21 adjustable-ratio front brake master cylinder, remote lever adjuster
REAR BRAKE 245 mm disc, 2-piston calliper with Cornering ABS
INSTRUMENTATION Colour TFT display
DRY WEIGHT 156 kg (343.9 lb)
KERB WEIGHT 167 kg (368.2 lb)
SEAT HEIGHT 830 mm (32.48 in)
WHEELBASE 1.456 mm (57.32 in)
RAKE 24°
FRONT WHEEL TRAIL 98 mm (3.86 in)
FUEL TANK CAPACITY 17 l - 4.5 gallon (US)
NUMBER OF SEATS Single seat
STANDARD EQUIPMENT Riding Modes, Power Modes, ABS cornering, DTC, DWC, DSC, DPL, DQS u/d, EBC, DDA+ w/GPS module, Fully RbW. Rapid setting DTC, DWC, DSC, EBC
ADDITIONAL EQUIPMENT Track Kit: Titanium racing exhaust, racing windshield, machined mirror block-off plates, license plate mount removal plug, side-stand removal kit, front and rear paddock stands, paddock bike cover
WARRANTY (MONTHS) 24 months unlimited mileage
MAINTENANCE (KM/MONTHS) 12,000 km (7,500 mi) / 12 months
VALVE CLEARANCE ADJUSTMENT (KM) 24,000 km (15,000 mi) - street use

---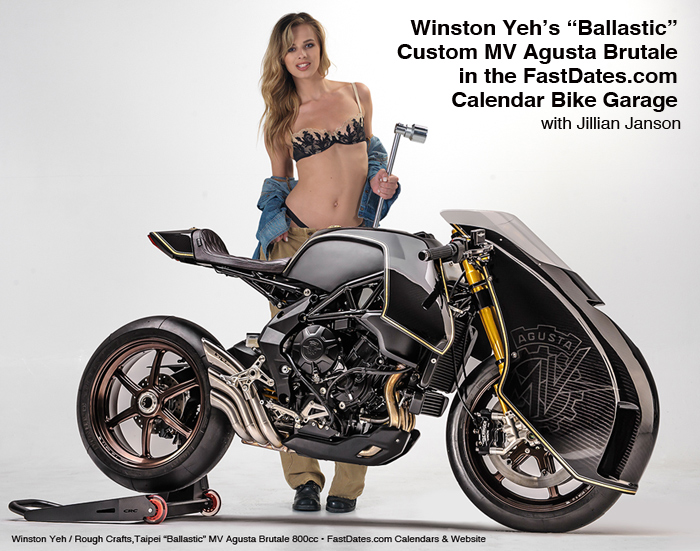 Now in the Calendar Bike Garage!
Winston Yeh's exciting new MV Agusta "Ballastic" Custom with Calendar Kitten Jillian Janson with complete Build Details and a Large Screen Size Photo Gallery. - http://www.FastDates.com/IronLaceGarage.HTM
---
---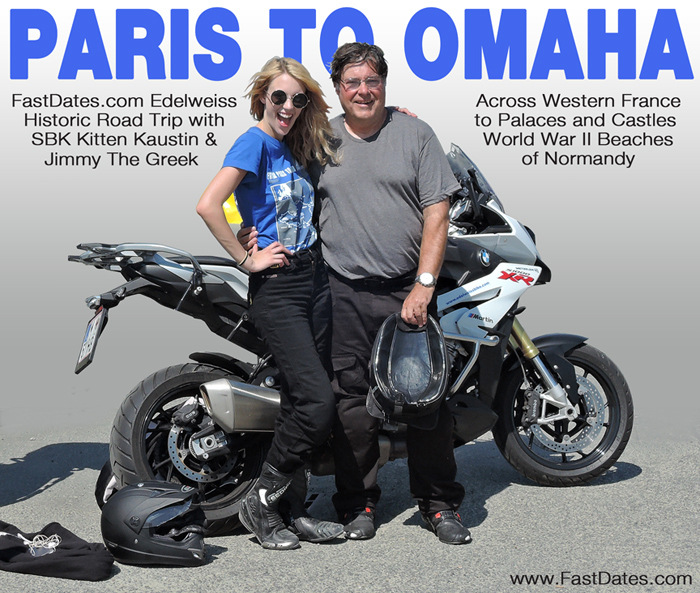 We're Back! Riding Edelweiss Motorcycle Tour - From Paris to Omaha, France
Versailles, France, August 2016 - How we spent our summer vacation! On the exciting Edelweiss Bike Travel 2016 Paris to Omaha Beach 10-day motorcycle tour across western France visiting the histroric battle sites of World War II where editor Jim Ginatsis father, B26 bomber pilot Capt. James Gianatsi played a pivital role in te D-say invasion and liberating France. We rode 2-up two-up with awesome FastDates.com SBK World Superbike Calendar Kitten Kaustin "Kaussie" Rose in a story for the FastDates.com Website. Our bike of choice would be the newly introduced BMW R 1000 XR Sport Tourer, based on the potent BMW R 1000 RR Superbike. For the Complete Story Click on the Photos or Check Out the Complete Story Here
For complete Pricing, Bikes, and Booking Information visit the Edelweiss Website Here
---
---


Now in the Calendar Bike Garage... The World's Coolest Naked Ducati!
Beauitful FastDates.com Calendar Kitten Sara takes us for a ride on the world's most exotic and expensive Ducati streetbike
ever - a $110,000 Vyrus NCR 983 Superleggera in the Calendar Bike Garage and in Members Corner.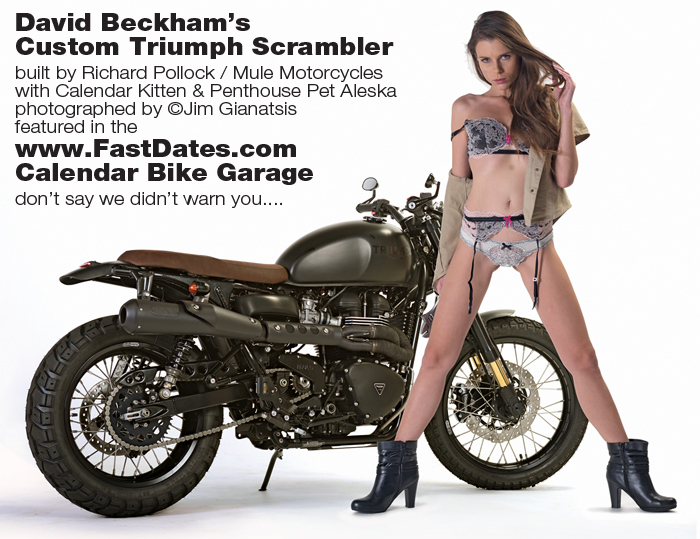 Now in the FastDates.com Calendar Bike Garage!
David Beckham's Amazon Triumph Scrambler build by legenday Calendar Bike Builder Rickard Pollock / Mule Motorcycles, photographed with Calendar Kitten and Penthouse Pet Aleska in BIG full screen saver size photos.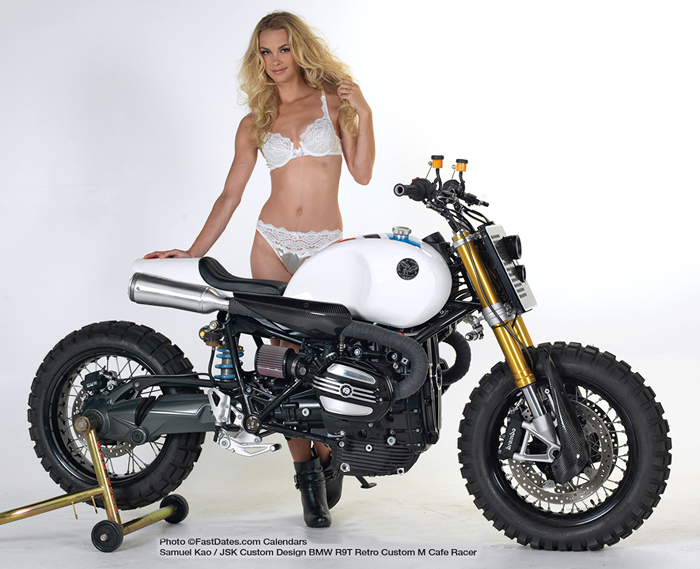 Now in the Calendar Bike Garage...
Samuel Kao's Calendar Bike Show class winning BMW R 90T Bar Hopper with beauitful FastDates.com SBK World Superbike Calendar Kitten Sara featured in the Calendar Bike Garage / Members Corner and in the new 2016 Iron & Lace Calendar
---
Fast Dates Calendar Celebrates 22 years of SBK World Superbike in America
California, USA, July 17-20th 2016 - For the 22nd year since SBK World Superbike first came to America at Laguna Seca Raceway in 1995, the FastDates.com Calendars and myself, producer / photographer Jim Gianatsis were excited to continue
our ongoing association with SBK World Superbike and the UmbrellaGirlsUSA.com to bring 2 more beautiful FastDates.com Calendar Kittens; Kaustin Lanae and Alissa Bourne to shoot with me at the 2016 Mazda Raceway Laguna Seca United States SBK World Superbike and AMA National race weekend July 8-10th. There they served as the official SBK Podium Girls and helped me shoot the next Fast Dates World & AMA Superbike Calendar. Then, two weekends later they both would work the
26th annual LA Calendar Motorcycle Show and Calendar shoot in Los Angeles on July 23-24th. Continued Here

---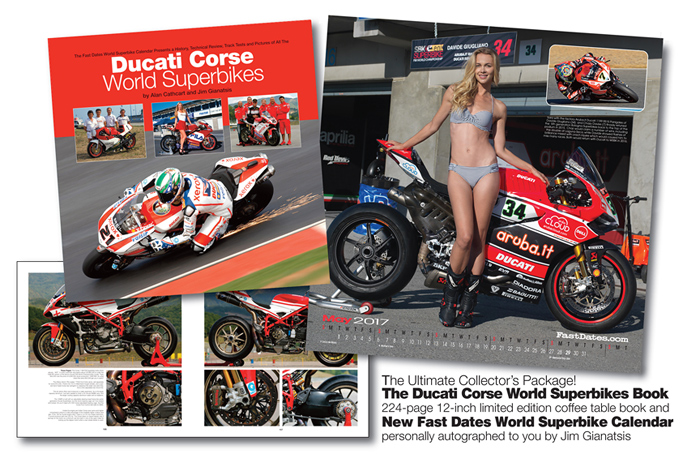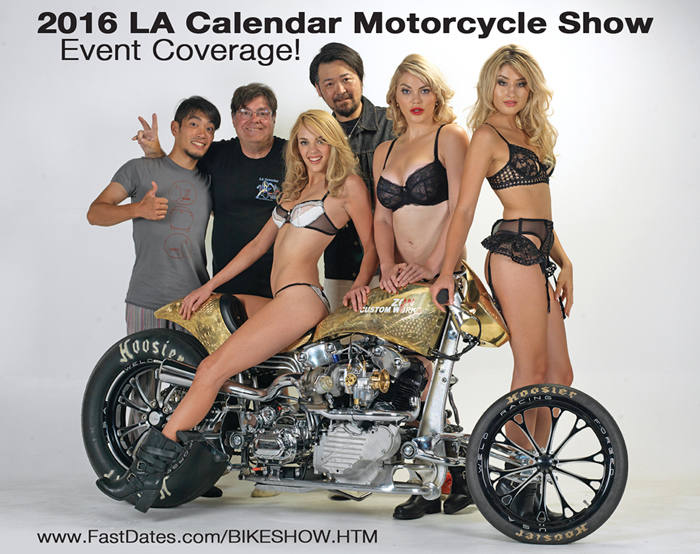 From the left: Builder Hirokai Takai, Calendar Show producer Jim Gianatsis, Calendar Kitten Kaustin Rose, Best of Show winner Yuichiti Yoshizkwa, Kittens Alissa Bourne and Daria Dali.

We Have a Winner!
Yuichiti Yoshizkwa takes 2016 LA Calendar Motorcycle Best of Show
Calabasas, CA, July 23rd, 2016 - Yuichiti Yoshizkwa / Custom Works Zou, flew his bike in from Japan to take Best of Show at the 2016 LA Calendar Motorcycle Show. This was the 5th year in a row that Asian Builders had claimed the top spot at America's premier custom motorcyce show with their unique had craft builds. Yuichiti's Cafe Racer themed bike features a front swingarm suspension with its Amrican V-Twin replica Shovel Head fed by a exhaust driver turbocharger!

Complete coverage if this year's 2016 LA Calendar Motocycle Show HERE
Calendar Bike Show Winner
Now in the FastDates.com Calendar Bike Garage!
Mike LaFountain's 2016 LA Calendar Bike Show class winning 1967 Kawasaki W1 Cafe Racer with SBK Fast Dates World Superbike Calendar Kitten Jessica Harbour in Big Screen Saver Size Pictures and bike details - http://www.FastDates.com/IronLaceGarage.HTM
---
Previous Week - More Pit Lane News
New Model Sportbikes • Editorial Features: Pit Board

Also Visit: Fast Dates Calendar News • Iron & Lace Calendar News • Calendar Girl News
Meet the Models • Paddock Garage
Get FastDates.com T-Shirts, Mugs & Photographs from Our Store


MEMBERS CORNER! Calendar Kittens, Paddock Garage, Iron & Lace Garage



Amazon.com Motorcycle Products & Apparel Store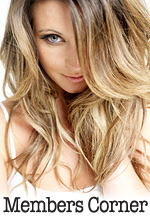 Hot Bikes, Sexy Kittens
Your Excusive Grid Pass
also includes....
---
Order the New 2017 Calendars!
with the FastDates.com Calendar Kittens - the official SBK Umbrella Girls!



Click Below for more
Calendars!



Sports Illustrated Swimsuit 2017 Wall Art Calendar Art w/Hanger 11x17

Playboy Lingerie 2017 Wall Art Calendar
Art w/Hanger 11x17

---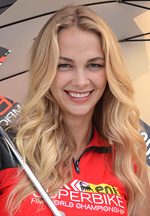 Sara Horvath
Meet the offical SBK
Fast Dates World Superbike Calendar Kittens!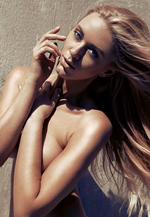 Petra Ruzickova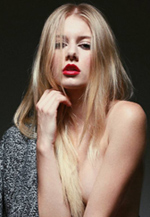 Alena Savostikova

Kaustin Rose
---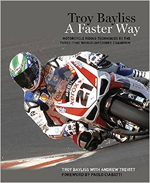 New! Troy Bayliss
A Faster Way
Track Riding Book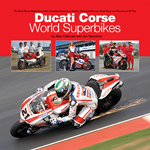 Retail $49.95 ea.
Click to Order from Amazon.com

Ducati Corse
World Superbikes
by Alan Cathcart
& Jim Gianatsis


The Official SBK
World Superbikes
1987-2012
25 Year History Book


The Official SBK
2016-2017 Yearbook
These SBK Yearbooks are the Best Books Ever about World Superbike. They feature wesome color photography of the riders, bike and racing action. The feature a deailed revue of the past season in pictures and stactics, awith a detailed look at the bikes and riders.

Plus a technical look data all the bikes, a preview of the upcoming season's Championship!
We buy this every year ourselves and highly recommend it!


The Official SBK
2015-2016 Yearbook
SBK World Superbike Video Game
---
Record Ratings On beIN SPORTS For MotoAmerica
Social Media Also Shows Huge Gains
COSTA MESA, CA (May 26, 2017) – BeIN SPORTS and MotoAmerica are pleased to announce that the 2017 MotoAmerica Series has received record high audiences on the network with ratings up a whopping 54 percent over 2016.*
"This is great news," said MotoAmerica President Wayne Rainey. "Our racing has been incredible and our partners at beIN SPORTS do a great job at every round capturing that racing and producing a show that is second to none. It's nice to see our audience grow at this sort of rate. This is great news for all of us at MotoAmerica and beIN SPORTS, and for our riders, teams, sponsorship partners and fans."
The TV audience isn't the only area of growth for the 2017 series as MotoAmerica's social media channels have grown some 43 percent in followers since last season.
"The growth in our social media is a really good sign," Rainey said. "It shows that the hard work is paying off and that our fans like what we're doing. Social media is the perfect way to keep our fans informed on our series, our riders, teams, sponsors and everybody else who makes MotoAmerica what it is."
Three rounds and six races of the 2017 Motul Superbike class are in the books with four different winners in the six races with an average margin of victory of just 1.3 seconds, including the only "runaway" victory of the season in race two at VIRginia International Raceway of 4.4 seconds by four-time series champion Josh Hayes. All of the Motul Superbike races have featured battles at the front with as many as six riders involved.
The 2017 MotoAmerica Series resumes next week with the Dunlop Championship at Road America, June 2-4, in Elkhart Lake, Wisconsin, for round four of the 10-race series.
For complete 2017 MotoAmerica Media Resources please visit - bit.ly/MotoAmericaMedia2017
* Take this stastic with a grain of salt. Last year's TV provider NBC Sports didn't cover all the races, so BeIN's full and extend multiple class and longer broadcast time coverage of the MotoAmerica Series this year would show a net growth in audience views, without necessarily more people watching it. Just the same people watching the more broadcasts. In fact, the audience numbers could be lower, since the BeIN subscriber channel is seen in fewer homes across America than NBC Sports. - Editor
The Chaz Davies/ Jonthan Rea Superpole Blocking Controversy at Assen
May 1st 2017 - Boys will be Boys and this is racing. A little controversy helps to make it even more interesting as long as lives are not endangered. SBK did a fair job to resolve the Superpole blocking bt Jonthan Rea to Chaz Davies situation with a 3 position start penalty (although Jonny has shown he can win from almost anywhere on the grid), so a monetary $$$ fine might also have been warranted to discourage others from doing the same in the future. ;)

Statement on Facebook From Chaz Davies re: ASSEN WorldSBK SUPERPOLE 2 🎙
" Now that the dust has settled on the Assen WSBK weekend I'd like to bring into context the events that unfolded during the Superpole session on Saturday afternoon. I don't feel like all the facts were obvious at the time so I think it's necessary to provide the full picture.
Firstly, I hold my hands up and apologise for my choice of language. I'm sorry it came across on live TV and to whoever it may have offended. In the heat of the moment I went 
#

nofilter
. I realise us guys are role models for young kids and that was no example to follow.
Whilst I'm sorry for my choice of language, I'm not sorry for addressing the issue in the way I did. I don't need to detail that this sport is dangerous and there isn't much more dangerous than a rider touring on the racing line. Add a touring rider into the path of other riders during the last lap of Superpole and it's another level of #Sh*ts AboutToGetReal. Sorry, there I go again with the potty mouth. I've added some context for you below, so the facts are there for all to see. 
Towards the end of Superpole 2, rider #65 set an incredible marker with his first lap on the new Pirelli qualifying tyres. These tyres aren't exactly qualifying tyres, they're called a pre-qualifying tyre and according to Pirelli should be "good for around 3 fast laps" rather than the typical 1 lap you'd usually see from a true qualifier. #65 rolled off the gas immediately after his first flying lap. That's pretty normal when you know you've got everything out of your package, which, judging by his lap time, he seemingly did.
I completed my first flying lap. The lap went OK, but I didn't feel like I perfected it and I assumed it was probably not good enough for the front row of the grid. So I pushed on for another bite at the cherry with a second lap. I crossed the line at the end of my first flying lap, 19 seconds after #65 completed his lap. 19 seconds is quite a large gap. For example, a full lap of cruising is, on average, about 15 seconds slower than an on-pace lap. So for me to catch up the full 19 seconds in less than half a lap, is quite exceptional. Add to that the fact that #65's slowest 'pit in' lap of the entire weekend was 18 seconds slower than a full on-pace lap (1'54 vs 1'36). Yet at the end of Superpole 2 somehow he managed to lose 19 seconds in the opening 40 seconds of a full 96 second lap. In Moto3, the percentage determined to be "cruising" is 10%. Applying Moto3 rules, losing just 4 seconds would have been enough for #65 to incur a grid penalty. I wonder what penalty would have been handed down for 19 seconds?
My second lap was underway and at the second intermediate split I was 0.051 (51 thousandths of a second) outside of my previous lap, a gap that I would definitely call 'in touch' to improve my own lap time. I saw #65 as I exited turn 5 onto the back straight, he took a long look over his shoulder through turn 6 and with that I expected him to move well aside on what is a seriously fast part of the circuit. As I threw my bike into into turn 7, #65 was mid corner, just wide of the ideal racing line. I'm talking a bikes width but no more, definitely far from off line. In that situation you don't know what the rider ahead is thinking or which way he's going as he hasn't clearly shown which part of the track he's heading for. He stayed on that line which then on corner exit turns into what is exactly the ideal line, where the natural line is to drift out to 3/4 track width before bringing it back to setup the entry for turn 8. I had already backed out of committing to turn 7 at the very last split second on corner entry as I could see what was about to unfold. That foresight and slight lack of commitment at the speed I was carrying gave me the time I needed to be able to pick the bike up on the early part of corner exit and give enough room to avoid what could have been a massive accident. #65 again looked behind, the opposite side to where I was and I felt the need to wake him up to the severity of what just happened. I hit him on the arm as I passed and hurtled some gestures his way.
Fast forward a couple of minutes into parc ferme and once I saw #65 I made the Italian gesture of a pinched together thumb and fingers, translate - "what the hell were you thinking?". I expected a different reaction to what came. #65 went straight on the defensive saying he hadn't seen me, claiming he was off line anyway, why was I on the outside of him, I shouldn't have been anywhere near him. It was a good attempt at turning the situation around to put the blame on me. There was everything but a simple apology, which, had it of arrived straight away, would had instantly diffused the situation. At that point I tried to put across the severity of the situation, but his arrogance was off the scale. I threw the regrettable profanities at him and finally, after heated exchanges, he begrudgingly offered his hand as an apology. As far as I was concerned it was too late and I didn't feel like it was genuine so I declined. He was happy to tell the media that is was good to see me frustrated. If you get your kicks from putting other riders' lives in danger, good for you. My reaction was genuinely not informed by any kind of frustration other than at what I perceived as dirty riding. 
Race Direction took the matter into the own hands (without any intervention from me or my team) and decided that a 3 place grid penalty was sufficient. Quite honestly, I'd have preferred to see an immediate admission of fault over the penalty that was handed down. 
After the incident, another rider who was on his 'in lap' and saw everything unfold confirmed exactly my thoughts that #65 was looking over his shoulder with intent from early in his in lap. At turn 5 it's very easy to glance across the circuit to all the way through turns 2, 3 and 4 to see which riders are coming. #65 stayed well off the gas, taking another look over his shoulder during turn 6 (seconds before the incident) which unfortunately wasn't broadcast on the replay, but it is shown on the full Superpole 2 session video on the WorldSBK website (20min 52secs into the full Superpole 2 session video). I saw this look behind on track and then again on the full video clip when I was called to Race Direction - it was clear for all of us to see. #65 knew I was coming and endangered both of us with his underhand games. Of course he will deny this, but the facts, video and Race Direction penalty prove otherwise. #65 knew I would abort my lap, but, if I had have committed to turn 7, there's a strong chance neither of us would have made the grid. I'd expect fairer play from a novice, let alone a double World Champion. 
Mistakes happen, I've unintentionally held up others before and have always held my hands up to those kind of mistakes. However, with the facts that were in front of me, I'm absolutely certain there were no coincidences on this occasion. On track it's usually clear what is or isn't intentional, I had the same situation last year with my team mate Davide Giugliano in Thailand, but I recognised it as an honest mistake and he was quick to admit fault. A number of riders messaged me on Saturday to say they have, at various points in the past, had the same issues - if #65 sees you as a threat he's willing to play those cards. 
So, to #65 - you're a good enough rider without these games so cut the crap and lets continue to put on the show that is entertaining fans of Superbike, mano a mano. I enjoy the battles, the intense rivalry and hugely respect your ability/achievements, but I strongly believe on this occasion you just took it way too far. Let's get back to old fashioned hard & fair racing at Imola.
Those are the facts, thanks for reading" - Chaz Davies on Facebook
Jonathan Rea's Assen Reply in his column in MCN
Motorcycle News, May 1st 2017- "What a weekend! I honestly can't believe we have walked away with another 50 points after an incredible double in two very different races. I always get a warm feeling driving under the tunnel and into the paddock at Assen and it didn't disappoint this year.
The weekend got off to a good start and I had a pretty smooth Friday, setting the pace in the sessions and marking our intentions for the weekend.
Next up was Superpole, and I put one hell of a lap together, possibly one of the cleanest of my career, for pole position. Unfortunately, it would be what happened next that was the talking point of the weekend.
I rolled out of my second lap and was checking around for traffic when at turn seven I got in the way of Chaz completely unintentionally. What happened next was ridiculous. After being punched on the track, I got back to parc ferme, left things a little and offered some words to Chaz. He went off on one, swearing and all sorts as I tried to remain calm. All I wanted to do was smooth things as he is a guy that I respect but even after his little dummy spat, I offered him an apology and my hand which he rejected.
After, I got asked to go to race direction and checked all the footage with them and agreed that I got in his way. It was clear to see that I was a long way off my line but he uses a pretty wide line in that corner. I got a three position grid penalty which meant I started fourth. What upset me most over the whole thing was Chaz tried to make me out to be a bad sport like I'd done it on purpose! I could go on and on about it, but I prefer to keep my opinions about Chaz to myself and hold my head high. Let's move on.
That set things up nicely for a showdown in the race and it worked out great. Both Chaz and Tom found some pace so it was a close battle but I rode shot gun for pretty much the whole race working out where I could pass. I made my moves with five to go but he made block passes straightaway. I bided my time. I could see he was so wide in turn three a few times, so I rode right inside him and took the lead and put my head down. Unfortunately for him his bike stopped entering the last lap but I am confident that we would have taken the win regardless.
Race 2 was a completely different story. The temperature increased enough to use the soft rear tyre but the wind also increased a lot making riding the bike very difficult. Starting from ninth, I made a good start and got to the front pretty quickly and put my head down. I had almost a two second gap when I had a huge moment in turn 11 when a gust of wind caught me and I almost went down.
After that I rolled the gas a bit and rode to my pit board to see it was only Tom behind, and that my rhythm was taking us away from Chaz. With two laps to go I stepped it up a bit for the win. I wasn't sure if he was right on my rear in the last sector but I covered the inside in the final chicane anyway. It completely messed up my drive and gave Tom a slingshot, it was still not enough though and we won again to take another 25 points.
Looking back, it was a great weekend for Kawasaki. 1-2 in both races for KRT and Kenan and Toprak won in the Supersport and Superstock classes, so it's fair to say Kawasaki bossed the Netherlands. And also for me, I've always away with a lap record two race wins and increased our championship lead. My best lap from Superpole officially stands too, so Tom, if you're reading this, you can deliver me the Tissot watch in Imola?
Apparently the circuit attendance was well up on last year which was easy to see. I always enjoy taking in the atmosphere there, especially around the Gert Timmer chicane area."
MV AGUSTA CONSOLIDATES ITS INDUSTRIAL PLAN
WITH NEW FINANCING
Varese, 24th March 2017 - Following the announcement of the agreement on the capital
increase of MV Agusta, signed on 17th November between MV Agusta Holding, a participation company controlled by Giovanni Castiglioni and the investment group Black
Ocean, controlled by the Sardarov family and by British financier, Oliver Ripley, the Italian motorcycle manufacturer, adds another important element for the consolidation of its plan.

On 15th March 2017, MV Agusta received from the Court of Varese the green light to the industrial plan put forward, aimed at the strategic and financial reshaping of the company,
leader in super premium motorcycle production.

Giovanni Castiglioni, stated: "In the last 12 months, the implemented measures have brought MV Agusta back in positive cash flow generation, allowing the company to accomplish the targets set in its plan and to consistently support product development and consolidation of our main markets. MV Agusta has a completely new product line, born from 5 years of heavy investments that, along with our iconic brand, represent the key elements to
support our growth and our clients demand."
MV Agusta

The Devil Made Us Do It!
Testing the Ducati Diavel in Italy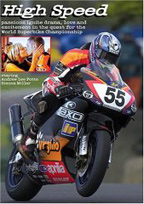 High Speed - the Movie
The best motorcycle racing movie ever made! Filmed on location at the World Superbike races , this an exciting romantic drama staring beautiful British actress Sienna Miller.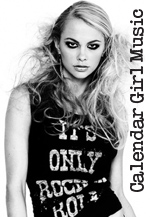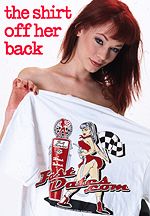 Order the Official
FastDates.com &
LA Calendar Bike Show
T-Shirts!