SBK World Superbike Fast Dates Calendar Kitten Katie gets up close and personal with Chris Vermuelin's Ten Kate Honda CBR1000RR at Brands Hatch.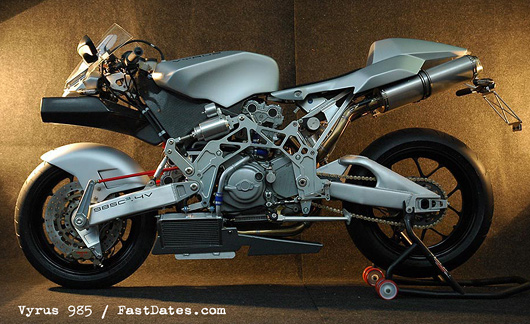 Click any picture for a bigger screensaver image.

Vyrus 985 C3 4V Superbike

It is the best of times to be a sportbike enthusiast, what with all the incredible exotics like the Ducati Desmosedici RR and the MotoCzysz C1 990, and all the World Superbike track breed low cost production Superbikes from all the big manufacturers. This is the time to step up to the plate and get one of these beauties before the impending fuel shortage, Big Brother, global warming, the crumbing roadway infastructure and over population of the planet brings an end to life as we no know it....
Heading our list of "must haves" is this beautiful conceived 2-wheel spped device premieredrecently at the International Motorcycle Exhibition in Italy. With its curiously stripped-down appearance, the Vyrus 4v is one of the most distinctive bikes on the planet. Given that the exotic Italian machine weights a claimed 157kg (346.1 lbs.) dry and is powered by the 150 bhp four-valve V-twin engine from Ducati's 999R flagship, there also not much doubt that it's also one of the fastest.
Why cover it up with a fairing when you have fascinating engineering and design to display.
This Looks Familiar
The strange, insect-like shape of the Vyrus might be vaguely familiar, even if its name is not. Two years ago Bimota unveiled a V-twin, The Tesi 2D that looked very like this. It was powered by Ducati's 992cc air cooled Monster engine, and had a chassis based on that of the Tesi 1 D, the revolutionary hub-center-steered machine whose failure bankrupted Bimota a decade ago.
This bike is similar, but different in two key respects. Firstly, its being sold under the name Vyrus - the firm that built both this bike and the Tesi 2 D (though few of those were sold). Vyrus run by racer/engineer Ascanio Rodorigo, is a Rimini-based outfit whose total staff of just five makes even Bimota seem huge.
Secondly, Ducati's 999R lump is much more sophisticated, and nearly twice as powerful as the Tesi 2D's humble air-cooled unit Vyrus buy motors directly from Ducati, and pause only to unbolt the protruding standard water pump (which is replaced by an electric pump) before bolting the 999cc V-twin into the minimalist aluminum frame.
Does It Feel As Extreme As It Looks?
Nothing quite prepares you for the sensation of riding the Vyrus. The view from the fairly tall but slim single seat is of a short perspex screen above a rectangular, high-tech instrument panel featuring a bar techo and a host of fast-moving digital numbers. A piece of tape was stuck over this prototype's row of warning lights, which were otherwise too bright - production bikes will have a more elegant Solution
The unusually slender aluminum top yoke has just a bolt-head sticking up on either side, rather than a telescopic fork-top poking through it. The clip-on bars are wide and quite low, giving a conventional sports bike-riding position. If you glance down to your right you can see a red steering rod. 0n the left a large carbon air duct stretches forward past the headlight; the front shock sits in front of your shin.
The highly-strung Vyrus sounds angry even at a standstill as its high compression Desmo motor snarls through those carbon cans. When you pull away, that sound is joined by a sharp screech as the Ducati's dry clutch struggles with the 999R's tall first gear. But once into its stride the Vyrus is very fast and responsive.
Ducati's hopped-up 999R motor is wonderfully flexible, so I don't have to pay attention to the tacho That leaves more time to concentrate on the chassis, which performs well. In hairpin bendsyou are conscious of the handlebars actually turning, because the Tesi-style steering linkage doesn't give a direct 1: 1 ratio between bar and front wheel movement. It isn't a problem, just strange and something I'm sure you'd get used to before long.
At higher speeds the cornering feel is more linear and the handling is superb, notably in the way that the reasonably soft front suspension carries on working if you brake hard into bumpy bends, keeping the bike very stable. The Vyrus's exceptional suspension control under pressure also allows maximum use of its non-radial four-caliper Brembo system, which is more than adequate for such a feather-light bike.
The air shock at the rear also does a good job, keeping the bike taut and stable when accelerating hard out of turns. Hold those clip-ons tight when I hit the occasional straight stretch and the Vyrus growls for-ward with fierce and seemingly never-ending charge. Occasional wheelies are irresistible, and inevitable given its weight and a wheelbase of just 1375mm.
When Can I Get One And What Will It Cost?
Assembly of the first batch is well under way with a couple of bikes already built. The small number of Vyrus 4v machines that will be produced this year will cost about £38,000 ($70,000 USD). At that price he's very aware that every detail has to be absolutely right.
Engineer Rodorigo is an accomplished racer and development rider, so the Vyrus 4v won't just be one of the world's most imaginative, neatly engineered, fastest, strangest looking and most expensive street bikes. It will also be one of the best. www.Vyrus.it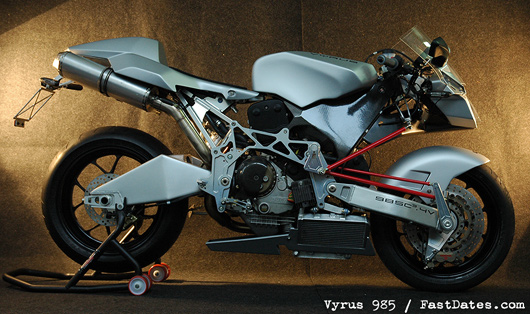 ---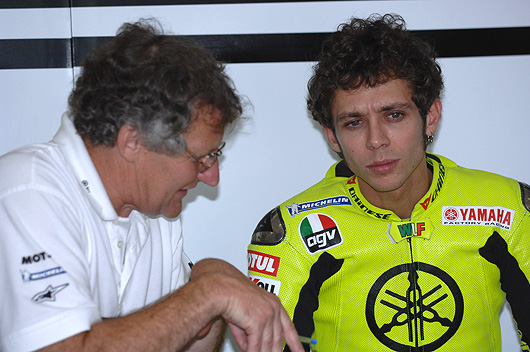 Valentino confers with crew chief Jermey Burgess
2007 MotoGP World Championship

Rossi and Yamaha Continue Together for 2007 and 2008
Thursday, 1st February 2007 - Yamaha Motor Company Ltd and Valentino Rossi have announced they will continue to race together until the end of the 2008 season. The next two seasons will see Rossi ride as part of Yamaha's Official Factory Team, with which he has already won two MotoGP World Championship titles since joining the Factory in 2004. The Italian, who turns 28 this month, has won 25 Grand Prix during his three seasons with Yamaha and currently stands third in the all-time Grand Prix winners list.
Rossi, who is spearheading the rider development of Yamaha's new 800cc motorcycle in the run-up to the new MotoGP season, will be back in action next week for Yamaha's second test of the year in Sepang, Malaysia.
Lin Jarvis, Managing Director of Yamaha Motor Racing, commented "We are thrilled to confirm that our partnership with Valentino will continue for a fifth year in 2008, and it's especially good to have completed all contract negotiations before the start of the rapidly approaching 2007 racing season. This now leaves Valentino free to concentrate solely on the job in hand – winning back the World Championship! The past three years with Valentino have been a huge success for the Yamaha brand worldwide, Valentino is a great champion and there is no doubt in our minds that he remains the best possible person to continue to lead Yamaha's MotoGP effort for the foreseeable future."
"I'm very happy I renewed the contract with Yamaha until the end of 2008 so now I can just concentrate on racing this season" said Rossi. "I think that last year, when we fought back from what seemed an impossible situation to come so close to taking the title, showed what a fantastic team we are and this is why I want to stay with Yamaha. The past three years with Yamaha have been very positive and this is why I am pleased to stay. The atmosphere in our garage is always relaxed and happy and I think that this is something very special and difficult to find. I have great faith in Yamaha and I am very excited about my future and the future of the 800cc bike with them. We are ready to challenge with the new 800cc and now this agreement gives us the chance to launch this challenge for the next two years".
Davide Brivio, Team Director of Yamaha Factory Racing, commented: "During the last three seasons we have won on our debut with Valentino in 2004, dominated in 2005 and lost in 2006: to extend the contract for a further year at the end of a difficult season like the last one is the greatest demonstration of the trust Valentino has placed in this Team. This is the great motivation for everyone; Valentino, the engineers, the mechanics, all the staff and, of course, all those who, like me, have lived and continue to live through the victories and the defeats so intensely. We will continue to enjoy ourselves on track and to provide enjoyment for the huge numbers of passionate fans of two-wheeled sport; together we will look forward to the next two seasons with great energy."
Click for a exclusive FastDates.com Calendar Screensaver of Rossi on the new M1 Yamaha
MotoGP Testing Day - Sepang, Malaysia

Yamaha and Kawasaki MotoGP Test in Sepang
Monday 5th February - Four teams and seven riders were on track today in Malaysia, for MotoGP's second visit to Sepang of 2007. The teams absent from last week's Australian excursion all continued their 800cc development in the customary humid conditions, in the first of three testing days.
Both Yamaha factory riders took the early initiative in Asia, with Colin Edwards and Valentino Rossi at the top of the timesheets. Edwards put in a lap of 2'02.175 on the latest version of the M1, edging out team-mate and five-time MotoGP World Champion Valentino Rossi by under 5 hundredths of a second. The Italian, who committed his future to the factory for the next two seasons last week, rode the fewest laps of any rider on day one, completing just 40 circuits.
Kawasaki's Randy de Puniet was the only other rider to break the 2'03 barrier, albeit over half a second slower than the two official Yamaha representatives. The Frenchman grafted hard on the opening day, and put in over twice as many laps as Rossi on the Ninja ZX-RR800.
As he continues to adapt to the Yamaha M1 with Dunlop tyres, a product of his switch this season from Luca Montiron's Michelin-shod Honda team, Makoto Tamada was fourth fastest, ahead of the French duo of Olivier Jacque and his fellow Yamaha Tech 3 rider Sylvain Guintoli. The Japanese rider already went quicker than at the opening test of the year in January.
Ilmor, making their first appearance outside of Europe, only bring rider Andrew Pitt to Sepang for this week's proceedings. His team-mate Jeremy McWilliams is still on the mend after surgery on his leg, and is expected to return to action for the Official Test in Qatar. Pitt put 49 laps worth of miles on the Ilmor GP bike's clock, adding to the small number he was able to undertake in Almeria last month.
MotoGP Test Sepang Day One: Unofficial Times
1. Colin Edwards – Yamaha Racing 2'02.175 – 47 laps
2. Valentino Rossi – Yamaha Racing 2'02.221 – 40
3. Randy de Puniet – Kawasaki Racing 2'02.966 – 85
4. Makoto Tamada – Yamaha Tech 3 2'03.219 – 68
5. Olivier Jacque – Kawasaki Racing 2'03.959 – 60
6. Sylvain Guintoli – Yamaha Tech 3 2'06.558 – 55
7. Andrew Pitt – Ilmor GP 2'08.640 - 49
Sepang Lap Record (990cc)
Loris Capirossi (Ducati) 2006 - 2'02.127

Sepang Best Lap (990cc)
Valentino Rossi (Yamaha) 2006 - 2'00.605

MotoGP Testing Day - Phillip Island, Australia
Factory Hondas with Champ Hayden Quickest in Australian Testing
Phillip Island, Australia - Thursday 1st February - MotoGP's Australian preseason testing excursion drew to a close today, as the majority of the premier class teams concluded their three-day test at the Phillip Island circuit. Riders from Ducati, Honda, Team KR and Suzuki have been putting the new 800cc bikes through their paces since Tuesday, aiming to gather vital new data and experience before the 2007 season kicks off on March 10th in Qatar.
World Champion Nicky Hayden was the outstanding rider of day three, topping the timesheets with the fastest lap of the test. Despite admitting earlier in the week that work would still need to be done to adapt the bike to his physical requirements, the Kentucky Kid didn't seem to be too hindered on the RC212V's final run-out of the week, clocking a 1'29.52 lap which signalled Repsol Honda's first top spot of 2007.
Nicky Hayden, Repsol Honda: 1m 29.52s – 101 laps "The last day here was definitely the most positive of this test and also of the year so far. We found a few settings on the bike that I liked and made some good progress. I also did a longer run and the times were pretty consistent in the 1m 30s bracket on race tyres, which is positive too. It's not like we can call the dogs off yet though because we've still got some work to do! We were fastest today on the qualifying tyre and I really think that's down to Michelin's qualifying tyre working really well here. Also, a certain somebody wasn't at this test, so just because we're quickest today we can't relax. I want to say thanks to my team because I'm really happy with how well we're working together. Plus I've got a new Showa suspension technician and that's already going well too. Now we'll head to the next two tests and see where we stand then."

With no Team Yamaha and Day 2's quickest Team Ducati doing race simulation, Honda's Haydon (1) and Pedrosa posted the quickest times.
Dani Pedrosa, Repsol Honda: 1m 29.72s – 86 laps. "We did a lot of work today on the engine and tyres, which is just what we planned from yesterday. I'm happy about the results and we improved a lot at this track over the course of the test which is important. We tested some aspects of the engine performance today and found some settings that have given us a good direction to work in. And we did quite of lot of tyre testing with Michelin that helped us too. The lap times on both race tyres and qualifying tyres were pretty good, so we have to keep on working at the next two tests to be ready for the season."
After yesterday's Ducati dominance, The Ducati Marlboro Team didn't focus on posting the quickest times, but has concluded working on race setups. Loris Capirossi and Casey Stoner did not complete as many laps today as the set-up of the Desmosedici was already at a good point, so both riders concentrated on testing the new Bridgestone race tyres and successfully concluded a 20 lap race simulation. The new qualifying tyres on the other hand did not resolve all the problems on the difficult Australian track but the data accumulated today will be fundamental for Bridgestone for development work.
The Ducati Marlboro factory team and the Pramac d'Antin satellite outfit were tightly packed together on the timesheets, with Capirossi and Stoner only slightly quicker than Alex Hofmann and Alex Barros. Brazilian veteran Barros went quickest on the first two days of testing in Australia, and the fast times from all four Desmosedici GP7s show that the new Ducati will be a competitive ride in 2007.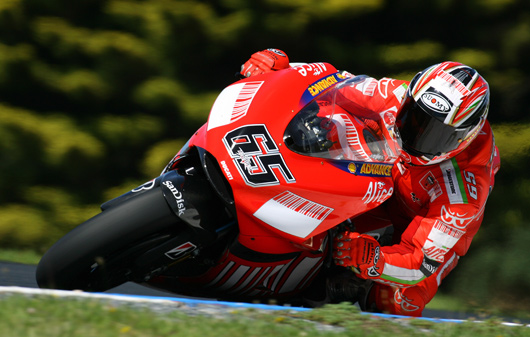 Loris Capirossi on the new paint scheme Marlboro sponsored works Ducati. With the new European TV ban on tobacco adverting beginning this year, we may not even see the sponsor name "Marlboro" appearing at Asian MotoGP rounds like in China, now the largest new market for cigarette companies.
Loris Capirossi (34 laps, best time, with race tyre, 1m30.14s) - "These have been three positive days of testing. Since last week in Malaysia we have improved the set-up of the bike a lot and now we know that we are in good shape both here at Phillip Island and at Sepang. If we confirm these good sensations in the next test in Qatar and Jerez we will be satisfied and could be competitive throughout the entire championship. Today we did a successful race simulation. I really liked the new tyres brought by Bridgestone and I am already in good shape with them even though it was the first time we used them. The information accumulated in the long-run will be useful for their development but I am really pleased with the work done. With the qualifying tyres on the other hand we haven't yet resolved the problems that we had here last year, but we are on the right track and I am sure that we will resolve these as well. A big thanks to the guys in Ducati Corse who have done a great job this winter and to my team who as always have been fantastic!"

Casey Stoner (40 laps, best time, with race tyre, 1m30.21s) - "Yesterday we were satisfied with the bike, so today we didn't do any more work on the set-up and concentrated on the race simulation which went well. I was able to lap at a good pace and I set some good times without pushing that hard, so I'm really satisfied! It was very useful to do a simulation to really get an idea of how the new Bridgestone tyres perform and I think that with the information we accumulated today the Japanese technicians will have enough data to continue the development of the new race tyres, which have great potential. I like the bike more and more and it's great working with this team! The qualifying tyres didn't perform as well as we expected but at this time of the year it's right to focus on the race set-up, and I'm really pleased with that. Now I'll be staying a few days in Australia before leaving for Qatar, a track that I really like and where I can't wait to test with the GP7".
LCR Honda's Carlos Checa cut four tenths of a second off his time from yesterday, and luckily was untroubled by seagulls today. The Spaniard was a victim of a low-flying attack on Wednesday, which contributed to the red flag being shown and a short delay to the session. He was just faster than Gresini Honda rider Toni Elias, with Rizla Suzuki's local rider Chris Vermeulen still unable to find a way to push the GSV-R800 up the timesheets at a track which they traditionally don't enjoy. The Australian finished ahead of Marco Melandri and team-mate John Hopkins over a second behind Hayden's final day time, with Shinya Nakano and Kenny Roberts Jr rounding off the list of participants.

Left: Hayden jokes with Roberts Junior.
The next test is scheduled for Qatar from 13-15 February, where all the MotoGP teams and riders will be present. The factory Yamaha team, in addition to satellite outfit Tech 3, will be on track alongside Kawasaki Racing and the first appearance outside of Europe for the Ilmor Team. Further details from Australia, and coverage of next week's proceedings, are available at motogp.com.
Phillip Island Test – Day Three Unofficial Times
1. Nicky Hayden- Repsol Honda 1'29.52
2. Dani Pedrosa-Repsol Honda 1'29.72
3. Loris Capirossi-Ducati Marlboro 1'30.149
4. Casey Stoner-Ducati Marlboro 1'30.206
5. Alex Hofmann-Pramac d'Antin Ducati 1'30.21
6. Alex Barros-Pramac d'Antin Ducati 1'30.43
7. Carlos Checa-Honda LCR 1'30.46
8. Toni Elias-Gresini Honda 1'30.5
9. Chris Vermeulen- Rizla Suzuki 1'30.72
10. Marco Melandri-Gresini Honda 1'30.80
11. John Hopkins- Rizla Suzuki 1'30.80
12. Shinya Nakano-Konica Minolta Honda 1'30.97
13. Kenny Roberts JR-Team Roberts 1'31.10
---
There's more! Go to Pit Lane News NEXT PAGE

Hot Calendar Girl and Bike News! Go to: Fast Dates • Calendar Girls • Iron & Lace





BikerKiss.com - the largest biker personals site!

Must Have New Movies...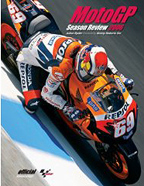 MotoGP 2006
Season Review
---
Lame Ducks
Reprinted Courtesy
RoadRacer X magazine

By Mark Gardiner
January 18, 2007 - Last week's World Superbike test at Phillip Island ended with a Ducati 999 Superbike (in the hands of Troy Bayliss) a full second faster than the best of the four-cylinder machines. All in all, the 999 flies pretty well, for a lame Duc. Still, that's what it is. The 999 is officially obsolete—replaced by the 1098.

Not that long ago, the World Superbike Championship was derided as a Ducati spec series; half the grid was 998s. This year, the permanent entry list counts only two factory 999s and three privateers. Next year, Ducati won't race or officially support the 999 at all. That means that unless the FIM and FGSport get together and allow twin-cylinder bikes larger than 1000ccs to compete, the 2008 World Superbike grid will not have any Ducatis. The series will, to say the least, be poorer for it.
Continued Here
Kawasaki and Harald Eckl Reach Undisclosed Agreement Over Termination of Eckl MotoGP Team
AKASHI, February 2nd 2007: After several months of discussions about the sudden termination of their MotoGP cooperation in November last year, Japanese motorcycle giant Kawasaki and Harald Eckl have solved their dispute. Following apologies from the side of Eckl for the situation that resulted in the termination by Kawasaki, negotiations followed in Japan and Kawasaki and Eckl worked out a solution.
They both declared that the negotiations had been "constructive" and they stated to be "happy that further legal escalation could be avoided". They agreed that further information about the deal would not be disclosed.
Kawasaki in the meantime is preparing for the first MotoGP race in Qatar in March with a new - "in house" - factory team.
Harald Eckl: "I'm really happy that after years of cooperation this could now finally be brought to a good end. I wish Kawasaki all the success for the future".
As usual in such cases, no information was disclosed as to why the Eckle team was terminated from their MotoGP contract with the Kawasaki factory. Before entering MotoGP 3 years ago, Team Eckl formerly ran the official factory Kawasaki World Superbike team.
MotoGP Performance
Riding Techniques

Constructive test for Rizla Suzuki MotoGP
Feb 1st 2007 - Rizla Suzuki MotoGP has completed the second test of the 2007 season at Phillip Island in Australia, having accumulated large volumes of important data for the forthcoming season.
Chris Vermeulen shaved nearly two seconds off his lap-times over the three days and completed his fastest ever lap of the circuit, with a 1'30.30, during his 79 laps today. The Australian star was returning to Phillip Island for the first time since last year's wet race and set about the task of improving the new GSV-R800 to make it competitive in dry conditions at the 4.4km track.
Vermeulen worked tirelessly with his crew throughout the test and completed a total of 207 laps. They tested many new chassis settings and refined the engine mapping to make the bike more rideable for the difficult and demanding Australian circuit. By the end of the third day Vermeulen and his Crew Chief Tom O'Kane were only making detailed changes to the bike and they are sure they will be in a much stronger position when the team return for round 16 of the MotoGP World Championship in October.
The ever-improving Australian star also tested a brand new heart-rate monitor system supplied to the team by Garmin. This enables Team Physio Dean Miller to track Vermeulen by GPS and record his physical performance while out on circuit.
John Hopkins was pleased with the test but frustrated with his end result, and believes he can find more from the GSV-R when the team return to race. He clocked up 55 laps today and recorded his quickest ever lap of the circuit with a time of 1'30.60. His team worked thoroughly throughout the test and managed to make many improvements that will assist the GSV-R to also perform at a higher level elsewhere. He conducted similar tests to Vermeulen, as he too set about the job of making the new bike fully competitive at all circuits.
The Anglo-American racer completed 191 laps in total as he worked on getting the consistency and durability of both machine and Bridgestone tyres right for the track. His comprehensive testing schedule highlighted many issues that Hopkins and his team were able to work on and find solutions for.
Rizla Suzuki MotoGP now travels to the Middle East for the first Official MotoGP Test at Doha in Qatar, between the 13th and 15th February. The first round of the 2007 MotoGP World Championship is also at Qatar on Saturday 10th March.
Chris Vermeulen: "When we first got here on Tuesday we struggled quite a bit, but we did expect to really. We had a similar problem to that which we had at last year's race weekend here and the bike was quite hard to ride without spinning the tyre – that obviously affected the durability. We worked a lot on that, both with chassis settings and engine mapping over the week and it got a lot better as time went on. I improved my average lap time by about one and a half seconds over the three days and that is quite a big step! I also did my fastest ever lap around Phillip Island. I also tested a new heart monitor while I was out riding the bike, this will help me to see how I can improve on my fitness over a race and show me how my body is reacting to various situations on track. So all-in-all it was a pretty good test. We have still got quite a long way to go around here but the progress we have made at Phillip Island will hopefully help us at other circuits and make the bike work even better."
John Hopkins: "Basically we have done a lot of laps, and although we found a lot of positives we didn't end up getting exactly what we wanted from here. We sorted out some of the engine mapping and power delivery issues, but this test has been a bit of a reality check. We did struggle over the three days and it showed we still have a bit of work to do on the bike before we come back here for the race in October. I still have some things to sort out with my own riding round here as well, and they can't be fixed overnight – I also have to improve at Phillip Island, not just the bike. I am now really looking forward to getting out in the desert in Qatar, we had a good 990 set-up for there and the bike usually feels good. I'm certainly looking forward to riding the new 800 there and getting back to the sharp end of the timesheets!
Ducati North American Growth Prompts New Hirings and Restructuring
Cupertino, CA (January 31, 2007) – Ducati North America announces today several internal promotions and new appointments that are strategically designed to support continued commercial success in North America. A total of six new positions have been created and filled.
"I am proud to announce the new members of the Ducati family and recognize those who have already been an integral part of our recent success" said Michael Lock, CEO of Ducati North America. "We will continue to build this team, with the emphasis on improving our level of service to the dealer network and building our business for the future."
Jason Chinnock, who was recently an Area Sales Manager covering the Midwest, has been promoted to the position of National Sales Manager. In this newly created role Jason will oversee all aspects of Ducati sales in the United States. Filling Jason's position will be Elliot Cho, who comes to Ducati from the HMC Supermoto Team, and who has significant experience in the motorcycle industry. Elliot will start with Ducati on February 1st, 2007.
On January 1st, 2007, the Ducati North America MRP Department name was officially changed to "Ducati Performance," which will allow for a stronger focus on the performance and accessory business. Supply Chain Manager Dimitre Dimitrov has been promoted to the role of Ducati Performance Manager, where he will be responsible for sales of both accessories and apparel to authorized Ducati dealers. Supporting Dimitre will be two brand new positions (and new hires) - Accessories Manager Jon Bekefy and Apparel Manager Georgina Colvin. Both Jon and Georgina come to Ducati with existing motorcycle industry experience.
The Business Development and Marketing departments will also benefit from some internal promotions and new hirings. Sian Goad has been promoted to the position of Advertising and Brand Manager, where she will oversee branding initiatives and all advertising work. Kristi Blanchard has been promoted to Network Development Manager, where she will have a direct impact on how the brand is received and promoted in dealer showrooms. John Paolo Canton has been hired to fill the position of Public Relations Coordinator and will be responsible for all media communications and press activities.
Alice extend MotoGP title sponsorship for events in Italy and France until 2009
Tuesday 30th Jan - Telecom Italia's ADSL brand Alice will continue to be title sponsor of MotoGP's Gran Premio d'Italia and Grand Prix de France until 2009 after extending an agreement that has already seen them present at the prestigious events for the past two seasons.
Italy's leading telecommunications company signed the new agreement with MotoGP's commercial right holders Dorna Sports, giving Alice the benefit of a complete sponsorship package that includes not only the right to name the events, but also trackside brand exposure presences, corporate hospitality and promotional activities in the public area.
Therefore, the races scheduled for the world-famous Le Mans and Mugello racetracks will be officially called "Alice Grand Prix de France" and "Gran Premio d'Italia Alice", scheduled respectively for May 20th and June 3rd – the fifth and sixth rounds on the 2007 MotoGP calendar. The new deal also includes a track signage package at several races through the year, boosting Telecom Italia and Alice's presence in MotoGP, which also exists through their sponsorship of the Ducati factory team.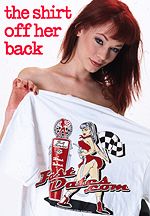 New 2007
Fast Dates Racebike,
Iron & Lace Custom
& Garage Girls Calendars
Click to Order Now!
Pegram Racing/Leo Vince Ducati Team to Offer MotoGP Weekend to a Lucky Fan
Team Announces the "Join the Team" program for Supportive Ducati Fans
Hebron, Ohio, February 3, 2007 – The Pegram Racing/Leo Vince Ducati Team announced a new program where fans can sponsor the team and automatically qualify to win prizes donated by the team's sponsors.
First prize is a VIP weekend for two at the US MotoGP at Mazda Raceway/Laguna Seca. The package includes VIP passes to the races, hotel accommodations for three nights, access to Red Bull VIP hospitality, two bike passes to Ducati Island and lunch with Michael Lock - CEO of Ducati North America. Travel not included.
Other prizes include Leo Vince full exhaust, Scorpion helmets, Fieldsheer leather jacket, Sidi boots, front and rear stands from Power Stands , Motul Oil, gift certificates for Triangle Cycles.com, and several others.
Fans who sign up as individual team sponsors will automatically qualify to win the prizes. Pegram Racing Ducati fans can sign up at the team's new web site www.pegramracing.com