Calendar of the World Superbike Championship
Home of the Official SBK Fast Dates Calendar Kittens

November 2017 Page 1

New Bike Premiers from EICMA 2017
Marquez Claims his 4th MotoGP1 Title in Valencia
SBK 2018 World Superbile Season Finale at Qatar
World Premier - New 2018 FastDates.com Calendars
2017 LA Calendar Bike Show Events
Edelweiss Paris to Omaha Tour with
SBK Fast Dates Calendar Kitten Kaustin

Previous Week - More Pit Lane News
New Model Sportbikes • Editorial Features: Pit Board

• Ducati's New Panigale Stradle V-4 Superbike
• Ducati 1299R Final Edition - the Last V2 Superbike
• Rea / Kawasaki take 3rd 2017 World Superbike Title
• Elias / Yoshimura Suzuki Take 2017 Moto America Title
• Nicky Hayden Dies in Bicycle Accident
• 2017 SBK Superbike Season Preview & Phillip Island Race
• Marc Marquez - The Story of a World Champion
• 2016-17 IMS International Motorcycle Show
• Ownership Change for Laguna Seca?
• 2016 Intermot International Show New 2017 Bikes
• 2016 AMA MotoAmerica Season Final- Beaubier Crowned
• Edelweiss Bike Trip Paris to Omaha Beach with Kaustin
• Fast Dates Calendar Shoot Laguna Seca 2016
• 2016 LA Calendar Motorcycle Show Coverage
• 2016 Laguna Seca USA World Superbike Coverage
• 2016 Missano SBK World Superbike
• 2016 SBK World Superbike Season Opener Phillip Island
• SBK Superbike 2016 Media Guide - The Bikes, The Riders
• Jonathan Rae - 2016-17 SBK World Superbike Champion
• New 2016 Kawasaki ZX10 - New Bike for the SBK Champ
• New 2016 Triumph Bonnevilles - More Watercooled Power
• Meet 2016 2015 SBK World Superbike Champ Jonthan Rea



NEW! FAST 2018, 2017, 2016, 2015, 2014 ...
Digital Calendar Magazine Yearbooks
the Bikes, the Builders, the Riders, the Kittens,
the Calendar Bike Show, the World Superbike races
all the Calendar Pictures, and Special Features...
We take you around the World for the making of the
2015 FastDates.com Calendars
Now in Members Corner


• Fast Dates SBK Calendar Kittens at Laguna Seca 2015
• Ducati 1199R15 FastDates Review, Seup and Test
• Honda RC213V Moto GP Streetbike Replica goes on sale
• Corsa Motoclassica 2015 Willow Springs Racway
• Fast Dates Edelweiss Tour of the Pyreness Spain & France!
• Fast Dates Shoot with Jitka & Petra 2014 Laguna Seca SBK
• FastDates Shoot 2013 Laguna Seca WSBK
• Meet the SBK World Superbike Girls! - Photo Pictorial
• FastDates.com Calendar Video Shoot - Kelsey and Jessica
• World Superbike 25 Years -Maurizio and Paolo Flammini
• Troy Bayliss Race Academy School Misano & Paris!
• Ducati Corse World Superbike Book Cathcart & Gianatsis
• NCR / Poggopolini The Exotic Ducati Custom Bike Shop
• DRE Troy Bayliss Racing Academy - Exclusive at 180mph!
• John Britten Motorcycling's Most Creative Innovator
• High Speed World Superbike Movie with Sienna Miller


This Month in the Fast Dates World Superbike Calendar ....
Fast DatesSBK World Superbike Calendar Kitten's Alena, Sara and Alena get playful on Pit Lane with
Niccolo Canepa's Althea Racing Ducati 1199RS World Superbike
Order the Fast Dates Calendars HERE.

See More of the Bikes and Beautiful Calendar Kittens in -
Calendar Bike Garage and Members Corner and Meet the Models
---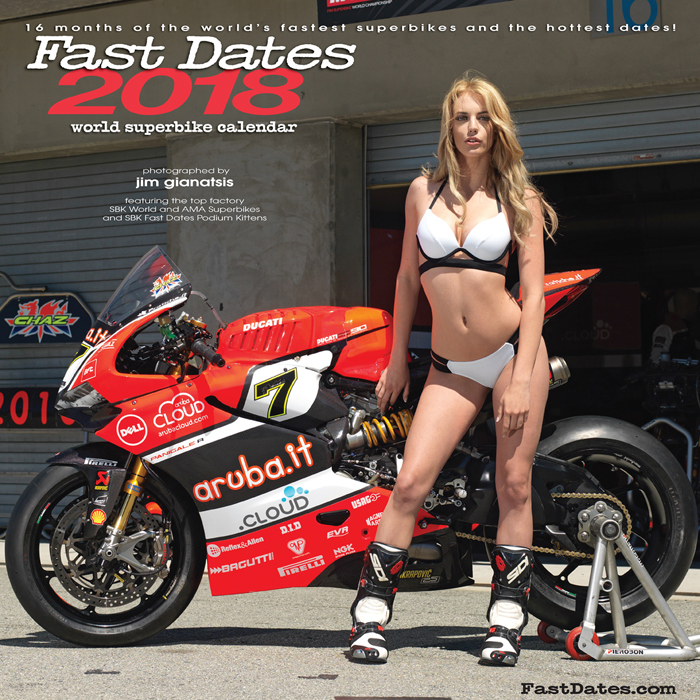 SBK Podium Kitten Kaustin Rose with Chaz Davies' factory Ducati 1199RS16 World Superbike
World Premier of the
New 2018 Fast Dates World Superbike Calendar!
The 2018 Fast Dates Calendar features the top factory race bikes and beautiful podium girls of the SBK World Superbike Championship photographed on location at the Mazda Raceway Laguna Seca USA World Superbike round by Jim Gianatsis. Featured on the cover and inside is World Superbike Champion Jonthan Rea's Kawasaki ZX10R, Chaz Davies's Ducati 1199RS, Jordi Tores' Althea BMW S1000RR, Leon Camier's MV Agusta F4, Niccolo Canepa's Cresent Yamaha R1, Nicky Hayden's Ten Kate Pata Honda CBR1000, Karel Abraham's Milwaukee BMW S1000RR and AMA Champion Cameron Beaubier's Yamaha R1. Special customs including collector Thomas Stephen's exotic Ducati NCR Hailwood Replica, Mick Wollet's MV Agusta F3 Hailwood Replica, and LA Calendar Motorcycle Show winners Nick O'Kanes's Honda CBX1100, Michael LaFountains's Kawsaki W1, and photographer Jim Gianatsis' personal Ducati 1199R15.    CLICK TO ORDER!

The beautiful Fast Dates Calendar Kittens featured with the factory race bikes are the official umbrella girls of SBK World Superbike: Kaustin Rose, Alissa Bourne and Sara Horvath, together with Jillian Janson all in skimpy swimwear!
Fast Dates Calendar Celebrates 22 years of SBK World Superbike in America
with 2018 Fast Dates Calendar SBK Umbrella Kittens Kaustin & Alissa at 
Laguna Seca World Superbike and the LA Calendar Motorcycle Show 
By Jim Gianatsis   Photos by Jim Gianatsis • Clink on any Photo to Enlarge It

California, USA, July 17-20th 2016 - For the 22nd year since SBK World Superbike first came to America at Laguna Seca Raceway in 1995, the FastDates.com Calendars and myself, producer / photographer Jim Gianatsis were excited to continue 
our ongoing association with SBK World Superbike and the UmbrellaGirlsUSA.com to bring 2 more beautiful FastDates.com Calendar Kittens; Kaustin Lanae and Alissa Bourne to shoot with me at the 2016 Mazda Raceway Laguna Seca United States SBK World Superbike and AMA National race weekend July 8-10th. There they served as the official SBK Podium Girls and helped me shoot the next Fast Dates World & AMA Superbike Calendar. Then, two weekends later the Kittens would work the
26th annual LA Calendar Motorcycle Show and Calendar shoot in Los Angeles on July 23-24th.     CONTINUED HERE
FAST 2018, 2017, 2016, 2015, 2014 Digital Calendar Magazines


Go Behind the Scenes for the Making of the FastDates.com Calendars!


Go behind the scenes for the shooting of the 2018 FastDates.comMotorcycle PinUp Calendars with photographer Jim Gianatsis and the Calendar Kittens. Travel to Laguna Seca World Superbike with the official SBK Umbrella Girls, the LA Calendar Motorcycle Show with the Top Custom Bike Builders, and take an Edelweiss Bike Tour across France from the Palace of Versailles to the World War II beaches at Normandy. Plus Editorial features on the Calendar Bikes and Kittens , and see every page in the new 2018 Fast Dates Superbikes, Iron & Lace Custom Bikes and Garage Girls Calendar.
Now in FastDates.com Members Corner
Each year's FastDates.com Calendar Digital Yearbook features 120- 138 pages of exciting hi-resolution digital photography that takes you with us behind the scenes to our photo shoots at SBK World and AMA Superbike, the LA Calendar Motorcyle Show, and in our photo studio. You'll meet the beautiful Calendar Kitttens in sexy biography pictorials, the top Factory Racers and Custom Bike Builders,and see detailed photo features on the top calendar and race bikes. Take a track day with World Superbike Champion Troy Bayliss at Misano, take an Edelsweiss Ducati World Superbike tour of the Ducati Factory & Museum and across Italy, ride a Vespa scooter around Paris and party at the Crazy Horse and the Moulon Rouge. Hang with beautiful teen rock star Taylor Momsen of the Pretty Reckless. Did we forget anything?

Oh yes, and you'll see every page in the new Fast Dates, Garage Girls, Iron & Lace Calendars!
---
The new Ducati Panigale V4 Superbike saw the Bologna compnay votd by EICMA attndee "the most Beautful Bike of the Shpw/"
November 2017, Milan, Italy - The world's premier motorcycle Show at EICMA in Italy premiered many new motorcyckes models from all the major manufacturers in both the Sportbike, Touring nd Entry level markets to show the economy has now recovered enought that the manufactuers are inveting in development and new models. The most notable being Ducai's new Stradle V4 power Panigale Superbike, the new replacment for the much loved Ducati V-twin which has garnerd countless World Superbike Championships with 5 generations over the last 28 years.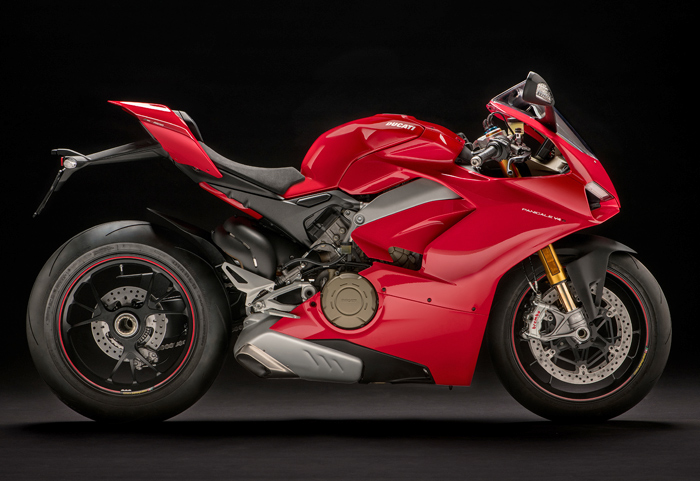 Ducati Panigale 1100 V4 Stradale Superbike
The Panigale V4.Ducati's new 6th Generation bike that begins an exciting new chapter in the Ducati story, a new "symphony" of all-Italian performance and emotion. The Panigale V4 Superbike is the first mass-produced Ducati bike to mount a four-cylinder engine, derived directly from the MotoGP Desmosedici. It's a concentrate of Ducati technology, style and performance. With an engine displacement of 1,103 cm3, 214 hp and a power/weight ratio of 1.1 hp/kg, this bike sets a new standard in the supersport production bike segment.

The Panigale V4 replaces the iconic 1299 at the top of the Ducati supersport range, doing so by enhancing performance and ridability so that riders of all skill levels can enjoy boundless fun and excitement. The Panigale V4 has been developed in close collaboration with Ducati Corse, drawing directly on know-how and technology from the racing world to provide a road bike that is the closest thing possible to its MotoGP counterpart.

Ducati will be intriducing a 1000R version of the V4 Stradale in 2019 to comply with FIM World Superbike regulations limiting 4-cylinder bikes to a 1000cc maximum cabacity. We suspect this larger 1100cc displacemt for the street bike is to try and make up for some of the lost mid-range power of the popular V2 Superbike which was allowed 1200cc displacementt for 2-cylinder bikes in roacing. The new V4 even at 1100cc is down 20 ftlbs of torue over the V2 Ducati 999R Superbike of 10 years ago, and the new V4's peak torque isn';t available until 3,000 rpm higher, at 9,000 rpm - much higher than most street riders want to rev. We certianly hope Ducat will keep and develop the Testastreta V2 as it will always stay competitiive under the FIM's Balance of Performance adjustment in SBK World Superbike.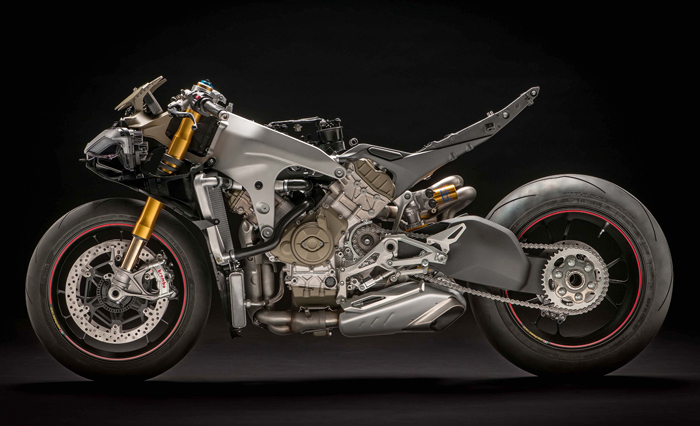 Out of the experience gained in MotoGP, where the 4-cylinder Desmosedici unleashes incomparable performance, comes a new 90° V4 engine designed to power the Ducati supersport models of tomorrow. In transferring the technology of its most cutting-edge power unit from racetrack to road, Ducati offers customers performance levels honed by years of MotoGP experience.

Called the Desmosedici Stradale, this engine is set to become yet another Ducati milestone: it will be the first time ever that the Bologna-based motorcycle manufacturer has equipped a standard production bike with a 4-cylinder engine.
 
As on the Ducati bikes used in racing, the crankshaft is of the counter-rotating type. This reduces the overall gyroscopic effect and makes the bike faster and more agile when changing direction.
 
The crank pins, offset at 70° as on the Desmosedici GP, involve a Twin Pulse firing sequence that generates easy-to-handle power delivery and optimises out-of-the-corner traction ("Big Bang" effect). This firing sequence also gives the Desmosedici Stradale a unique signature sound. A 90° V4 configuration makes the engine extremely compact, allowing centralisation of mass and smoothing incorporation on the vehicle.
 
As in MotoGP, the engine was designed with an 81 mm cylinder bore. This measurement reflects the maximum limit allowed by MotoGP rules; it's also the highest in the 4-cylinder supersport segment. Using the same bore as the Desmosedici GP engine means both power units share nearly identical in-engine fluid dynamics (i.e. on valves, intake ducts and throttle bodies, right where the power is produced).
 
Needless to say, the new engine is designed around the Desmodromic system, a key characteristic that helps make Ducati prototypes the fastest in MotoGP. On this high-revving engine the "Desmo" system achieves a degree of sophistication, lightness and compactness never before seen on a Ducati.
 
Variable-height air intake horns constitute another first for a Ducati factory bike, optimising cylinder intake across the rev range and giving significant advantages in terms of power delivery and handling. Completing the fuelling system are the oval throttle bodies, each equipped with two injectors: one above the butterfly and one below it.
                                                                        More 2018 Ducati Superbikes Continued Here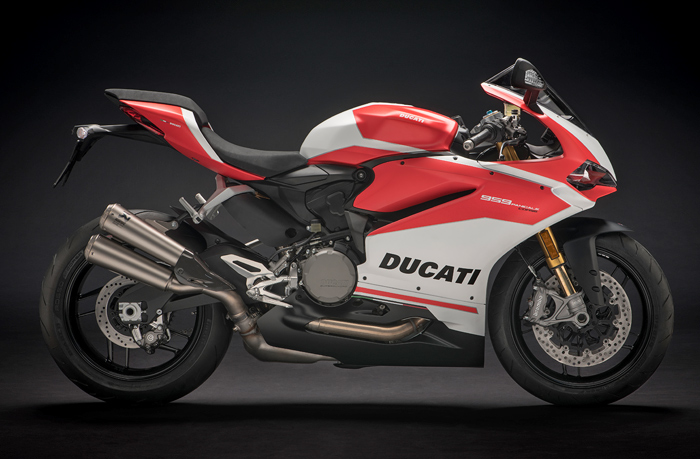 Ducati 959 Panigale Corse - the V2s last Harrah in a pint sized version
The 959 Panigale Corse is the superlative sports version of the legendary Italian twin cylinder. Thanks to suspensions by Öhlins, type-approved Ducati Performance silencers in titanium by Akrapovič, a lithium-ion battery and a dedicated colour scheme inspired by the colours of the MotoGP, the 959 Panigale Corse is ready to race.

The 955 cm3 Superquadro engine is Euro 4 type-approved and has a maximum power of 150 hp at 10,500 rpm. The maximum torque is 102 Nm at 9,000 rpm. Such characteristics enable high performance on the track and enjoyable on-road riding, without having to compromise on long maintenance intervals. The valve clearance control is in fact every 24,000 km.
                                                                       More 2018 Ducati Superbikes Continued Here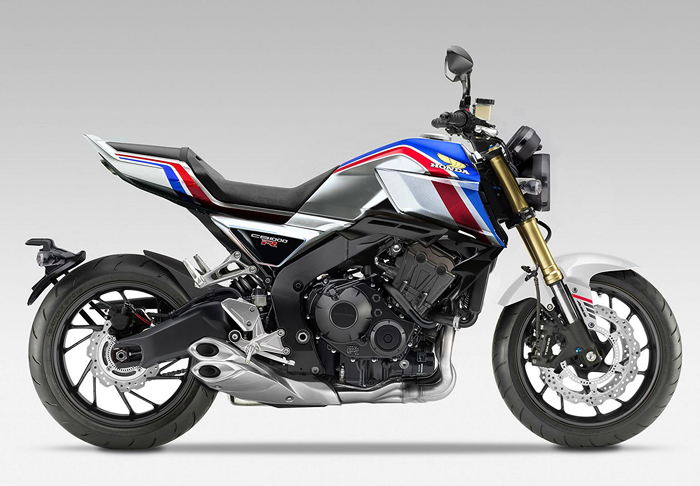 This naked streetfighter Honda CB1000R uses the current Honda Superbike engine and chassis. We love it!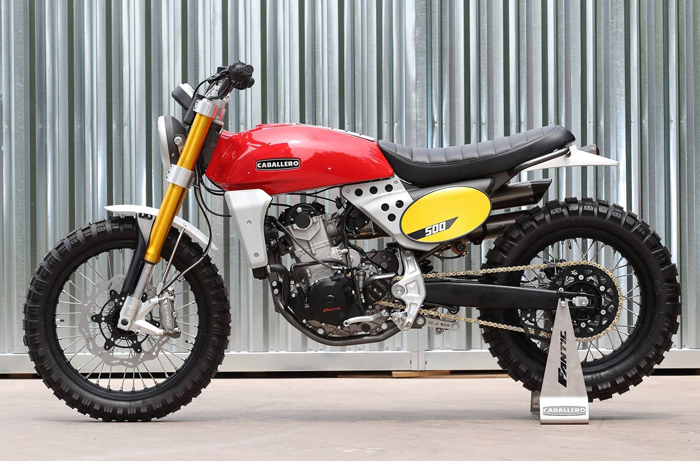 Fantic Caballero Scrambler 500 single. Switch out those knobby tires for some sportbike treads and we're ready to ride!


All the MotoGP and World Superb bike manufacturers were excited to show off their race bikes at EICMA , with their riders in attendace, but we'd rather show you this lovely spokesmodel.
MV Agusta keeps coming up with sexy special editions from their F3 and F4 platforms.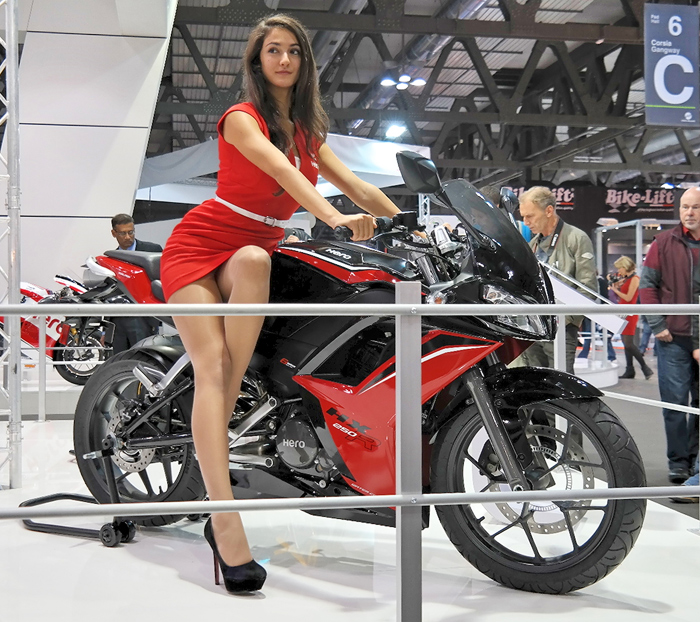 Hero's HX250R sportibke looksexciting just sitting still....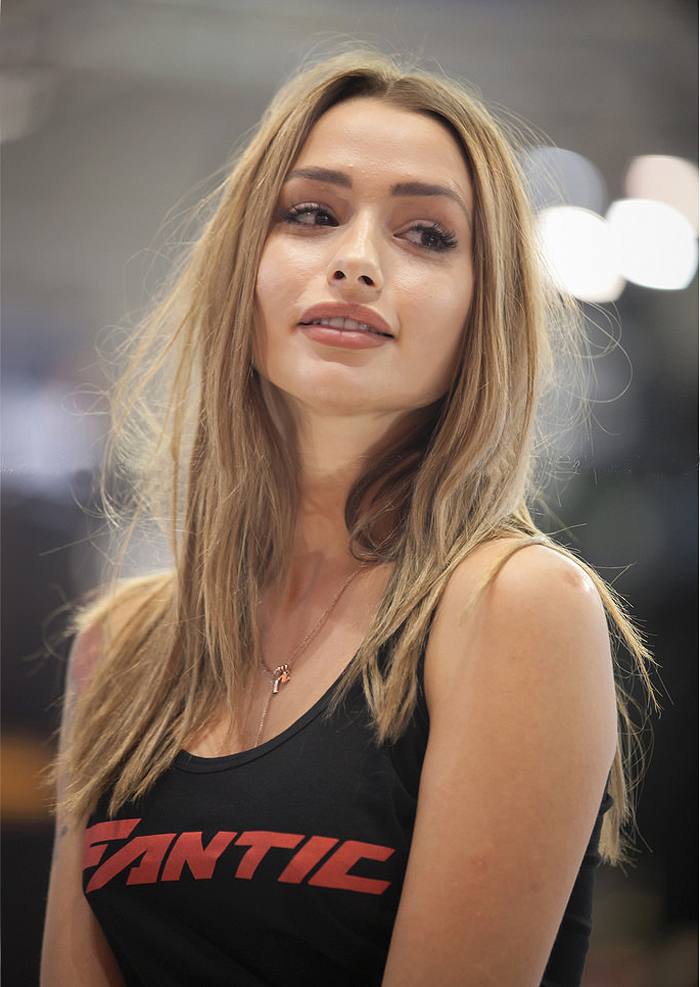 ---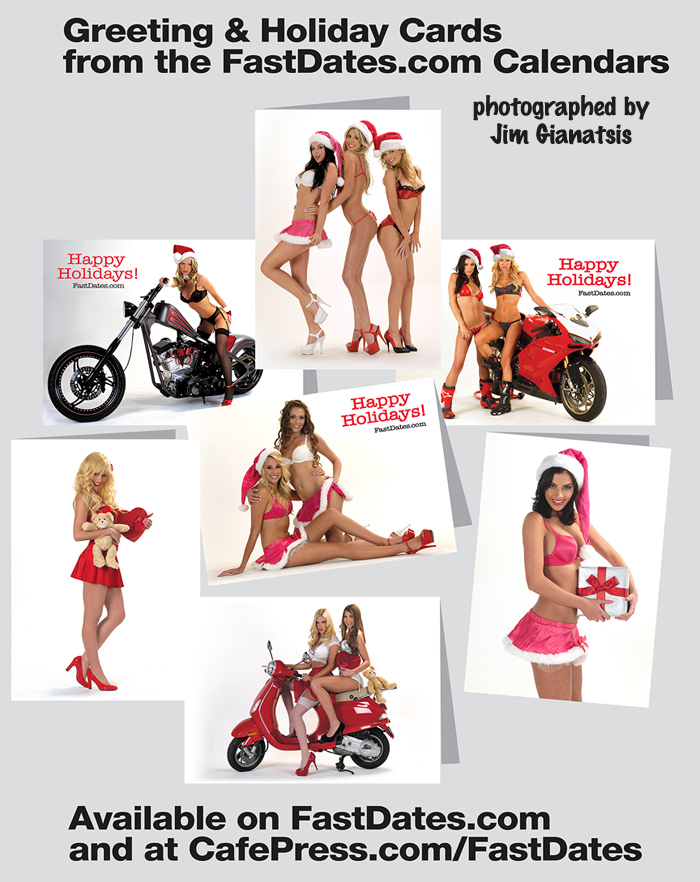 It's beginning to look a lot like Christmas and Valentine's Day! Order your FastDates.com Calendar Greeting Cards Now!
http://www.FastDates.com/Apparel.01.HTM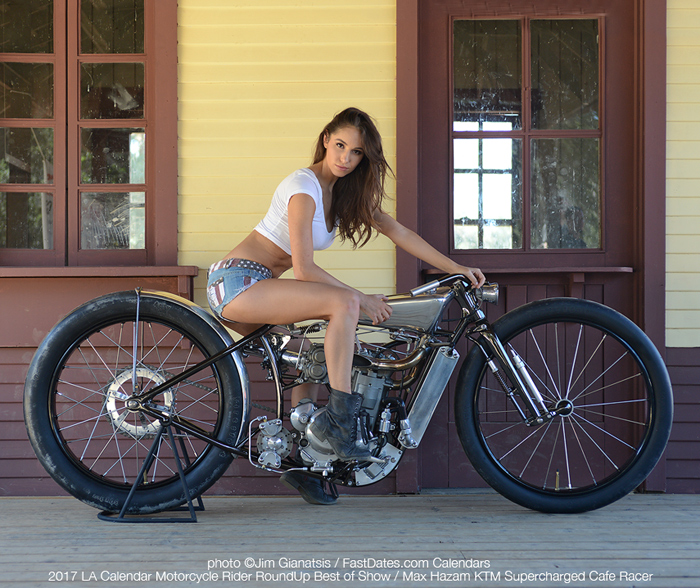 October 15th 2107 - 2017 Rider RoundUp Calendar Bike Building Championship Best of Show Winner / Max Hazan's Supercharged KTM Single Cafe Racer. Photo ©Jim Gianatsis / FastDates.com Calendars. Order the new 2018 Calendars now - http://www.FastDates.com/IRONLACE.HTM 
We Have the Winners! - The 2017 Los Angeles Calendar Motorcycle Show
& Calendar Bike Building Championship - Featured 2 Events This Year!

Sunday October 15th 2017 Rider Roundup at Paramont Ranch in Agoura, CA.
Our Calendar Bike Building Championship joined Russell Mitchell / Exile Cycles for the Rider RoundUp at the Ranch at the Paramount Western Movie Ranch in Agoura, CA, down the road from the Rock Store, for an exciting day of Custom Motorcyles, Activities, Venders, Manufacturers and Live Music. It's a benefit to fight Leukemia.
The Saturday July 15th 2017 Calendar Bike Builder's Party!
Saturday July 15th, Woodland Hills, CA - Top Calendar Bike Buider's joined Calenda photographer Jim Gianatsis at Jim's home / studio for a private Calendar BikeBuilder Party Shoot on July 15th 2017 with Invited Calendar Bike Builders and Calendar Kittens, followed by a Dinner Party with Live Music.It all took place at the FastDates.com Calendar Photo Studio in Woodland Hills, CA.
Some of the top custom bike builders and beautiful models joining us for the 2017 Calendar Bike Builder Party included former Calendar Bike Building Championship winners Samuel Kao / JSK Design, Adam Bean / Custom Airbrushing, Ron Simms / Simms Customs, Jim Giuffra / AFT Customs and Richard Jones. Shooting with us this week were former FastDates.com Calendar Kitten Sara Balint featured in our advertising campaign, and adult starlet Brittni Palmer. The live music was provided by Alex Nester, vocalist and keyboards for the legendary Carlos Santa Band, and singer songwriter Lenachka.
Complete 2017 Calendar Bike Builder Party & Rider RoundUp Show Coverage Here
---
MV AGUSTA F4 RC 2018
Special Edition Chaz Davies and Lewis Hamilton Models
Varese, 9th October 2017 - The allure and excitement of the World Superbike Championship are incorporated into the elegant yet extreme lines of the MV Agusta F4 RC. Assembled piece by piece, with the same meticulous attention to detail that is seen in Leon Camier's F4 Reparto Corse race bike. Produced in a limited series, as is becoming of such a truly exclusive bike. The F4 RC symbolises the razor-sharp racing spirit the Italian manufacturer brings to the world's racetracks with Leon Camier. For the legendary MV Agusta F4 model, the RC represents the peak of technical evolution and dynamic performance. Colours and graphics match those of the factory team, ensuring at-a-glance racing excitement. The number 37 on the fairing recalls the number of manufacturers' titles won by MV Agusta over the course of its long history.

Engine
The technical base of the F4 RC comes from that of the F4 Reparto Corse, starting with the Corsa Corta four-cylinder in-line engine (bore 79 mm, stroke 50.9 mm) with central distribution chain and radial valves. This version puts out a maximum power of 205 hp (151 kW); a dedicated kit adds a further 7 HP, giving a total of 212 hp (158 kW).

Electronics
As with the F4 Reparto Corse, the electronic platform is optimised to obtain the best possible performance on both track and road. Parameters such as throttle sensitivity, maximum torque, engine braking, engine response and rev limiter can all be customised, ensuring riders get the most out of the bike whatever the riding conditions. The F4 RC inertial platform has a lean angle sensor and three gyroscopes, as well as three accelerometers: a package designed to ensure absolute dynamic efficiency, thanks also to EAS 2.0 electronically assisted shift (as standard).


Frame and Suspension
Progressive tradition applied to racing: this concept has provided the developmental foundation for the CrMo steel tube trellis frame with TIG welding. The central part of the frame is closed with lightweight aluminium alloy plates which provide an adjustable swingarm pivot point of height. The suspension offers unparalleled quality and efficiency: the NIX 30 type USD Öhlins fork with TiN coating allows separate hydraulic compression adjustment (left leg) and rebound damping (right leg), as well as spring pre-load adjustment. The Öhlins TTX 36 shock with piggyback tank is also fully adjustable thanks to mechanical regulators. The steering damper is adjustable.

Brakes
The system that Brembo has designed for the F4 RC ensures cutting-edge braking power and excellent user-friendliness. The front end features two 320 mm discs with steel braking rotor and aluminium flange; the handlebar control activates a radial pump; callipers are Brembo 30 mm 4-piston GP monobloc. The rear brake features a 4-piston calliper and a 210 mm steel disc. The latest version of the Bosch 9 Plus Race Mode ABS features the RLM (Rear Wheel Lift-Up Mitigation) system.

The exclusive F4 RC formula makes ample use of high quality materials, characterised by excellent performance and low weight. Carbon fibre, for example, has been selected for the main parts of the fairing. As a tie-in with the 250 F4 RC, MV Agusta has prepared a sophisticated kit, housed in an elegant wooden box. Designed to increase on-track efficiency, it includes dozens of components, starting with the SC-Project full titanium single exit exhaust, designed to maximise performance when used with the specific ECU (also included in the kit).

Among the many exclusive components are a rapid release fuel cap, carbon fibre heat shields, F4 RC single seat tail cover and lightweight screws and small parts. A customised bike cover and certificate of origin, which confirms the authenticity and number of the product, complete the kit.
---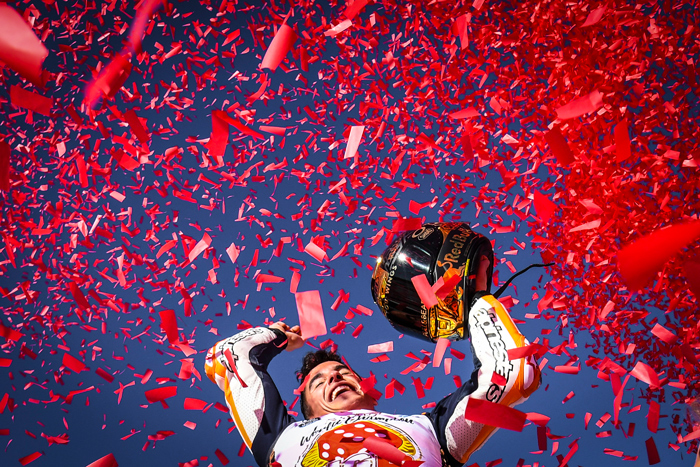 Lorenzo holds the early lead in front of team mate Dovizioso
2017 MotoGP World Championship, Gran Premio Motul de la Comunitat Valencia, Spain, Round 18 of 18

Marquez crowned Six Times Champion as Pedrosa wins dramatic race

Valencia, Dpain, Sunday, 12 November 2017 - In a stunningly dramatic and tense #FinalShowdown at Valencia, Marc Marquez (Repsol Honda Team) took his sixth world title and fourth MotoGP™ World Championship despite a huge front end moment into Turn 1 and a run off track, coming home third in the race to defend his crown. Title rival Andrea Dovizioso (Ducati Team) similarly suffered a run off from P4, but the Italian was unable to save it and sadly crashed out of contention in the race and Championship.
At the front, the race was a duel to the line between Repsol Honda Team's Dani Pedrosa and Monster Yamaha Tech 3's Johann Zarco – with the race decided in favour of the Spaniard on final lap as Pedrosa pounced and defended to perfection for his second victory of the year.
Marquez got the holeshot from pole, with teammate Pedrosa slicing through from the second row to take over in second – and Zarco pushed down to third. Dovizioso made a good start to move up to sixth, then past Andrea Iannone (Team Suzuki Ecstar) and glued to the back of the second Ducati of Jorge Lorenzo.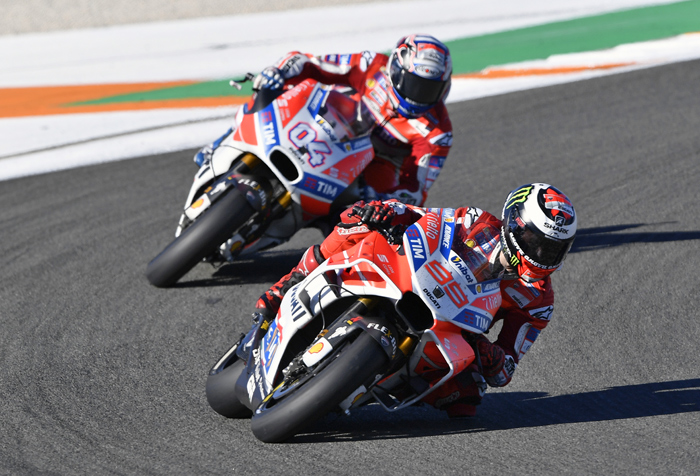 Ducati team mates Lorenzo (99) and Dovizioso (04) held down 4th and 5th places behind the leading Zarco, Marquez and Pedrosa. The Ducati team began repeatelyd sending Lorenzodashboard and pit signals to pull over and let Dovizioso past, but Lorenzo refused to, saying afterwards he was pulling Dovi along in his "slipstream' to help his catch points leader Marquez. Either way, if Dovi wasn't quick enough to pass Lorenzo, then he probably wasn't quick enough to cath and pass Marquez, nor win the race which is what he need to do if he even hoped to get enough points over Marquez for the title.
Early on, Zarco took over in the lead – with Marquez seeing him coming and slotting into second. Pedrosa remained in third, with the two Ducati machines glued together around a second behind and the tense tick of the clock counting down.
After a Zarco error, a Marquez pass and then the Frenchman hitting back, laps ticked down before Marquez struck for the lead – and ran wide. Sliding on his knee for a stunning save into Turn 1, the reigning Champion headed for the gravel – but managed to rejoin, yet behind Dovizioso.
Lorenzo then bolted to chase down Pedrosa and Zarco ahead, before the Ducati Team rider went down suddenly – and just as suddenly, the dream was over for his teammate. A run off into the gravel that couldn't be saved saw Dovizioso's title hopes disappear after a nevertheless stunning season to take the runner up spot.
Dani Pedrosa vs Johann Zarco was then the duel for the win, with Pedrosa initially attacking at the final corner but the Frenchman able to hit back. As the last lap dawned, the Spaniard tucked in and then pounced into Turn 1, managing to hold off Zarco around the tight Circuit Ricardo Tormo Circuit to take his second victory of the season.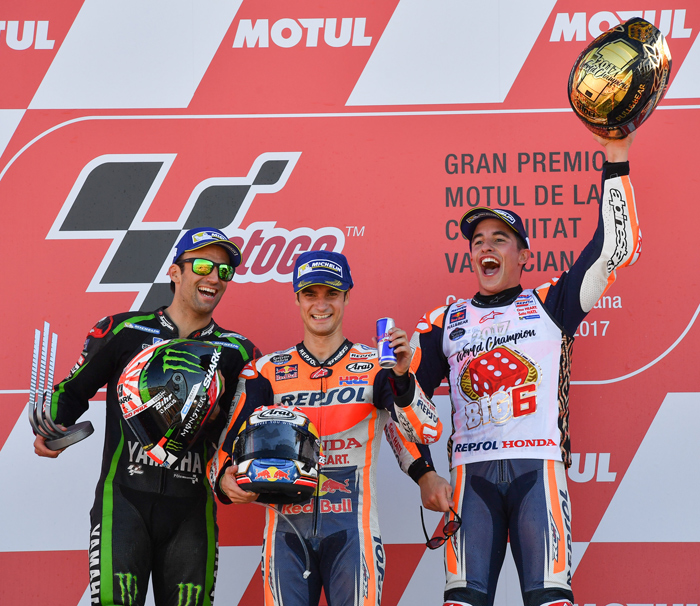 Marquez, back into the podium places after the falls ahead, kept his calm to the end to take third and the title, making him the youngest ever six-time World Champion and the youngest to take four premier class Championships.
Alex Rins (Team Suzuki Ecstar) put in an impressive rookie ride into fourth, ahead of Valentino Rossi (Movistar Yamaha MotoGP) after a more difficult race for the 'Doctor'. Iannone dropped back slightly after a run off at Turn 1 to take sixth, ahead of a great final race with EG 0,0 Marc VDS for Jack Miller in P7. Cal Crutchlow (LCR Honda) moved up after crashing out in Q1 and qualifying outside the top ten to cross the line in P8, with Michele Pirro (Ducati Team) putting in another solid wildcard appearance to come home in ninth. Tito Rabat (EG 0,0 Marc VDS) also impressed, locking out the top ten.
Bradley Smith (Red Bull KTM Factory Racing) rounded out the Austrian factory's first season in the premier class in P11, and it was a tough weekend and final race of 2017 for third-placed in the Championship Maverick Viñales (Movistar Yamaha MotoGP), as the Spaniard came home in P12. Danilo Petrucci (Octo Pramac Racing), Karel Abraham (Pull&Bear Aspar Team) and Hector Barbera (Reale Avintia Racing) completed the points in the #FinalShowdown, with the dust settling around the dramatic final race as the flag flew.
Marquez rolled the dice in front of 120 fans and came up with his sixth MotoGP World Championship
Marc Marquez (Repsol Honda) 3rd - "I pushed hard from the beginning to control the race, so I could win here in Valencia and secure my 4th championship title, but made a mistake at Turn 1 after overtaking Johann [Zarco, Yamaha]. I felt it was risky to keep on fighting him, so I concentrated on finishing the race. That's when Andrea [Dovizioso, Ducati]  retired and I realized I won the championship. The first half of the season was physically and mentally tough. I didn't felt comfortable in the first few rounds, but thanks to the team's efforts, I started to have fun in the following races. Today's race was just amazing! It only really sunk in that I became champion when I returned to the parc ferme with my team!" 
Andrea Dovizioso (Ducati Team #04) - DNF "I tried everything and I think that we have to be pleased with this weekend. We weren't as quick as Marquez but we fought to the very end. I pushed hard right from the first lap, I didn't make any mistakes and I put myself in the right position but unfortunately I didn't have many cards to play. At the start I thought I could pass Jorge but there were some points where I was losing and others were I was gaining: in the end staying behind him helped me ride in a smoother way, so it was positive he was in front of me. We were all at the limit, even Marc who managed to save himself once again from a crash, and I want to congratulate him because also this year he managed to make the difference. At any rate I'm very happy with this season and I want to thank all the guys in the team, Ducati and all those who gave their support because our season has been over the top, full of satisfaction."
Jorge Lorenzo (Ducati Team #99) - DNF "No one wants to finish the season with a crash, but apart from this retirement, I think that we must be happy with how we finished the championship, because both in Malaysia and here at Valencia we fought for the podium and this is the way we must begin next year. I pushed hard for the whole race to try and catch the leading group and towards the end I had to take a lot of risks: the front was turning in, especially in the right-handers, and in the end I lost control and couldn't avoid crashing. Half-way through the race, when Andrea was following me closely, I analyzed the situation and I though that it was better to try and give him a tow to reach the leading group. If we had caught Zarco and Pedrosa I would certainly have let him past. But I want to offer him my congratulations because this year he has had a really fantastic season."
That's a wrap on a stunning season to savour, with 2017 having provided some of the most incredible racing ever seen. Marquez retains the crown, and Dovizioso fought to the end – and on Tuesday, the clock resets once again. #2018StartsNow.
MotoGP Race Results - Complete Results Here    -    2017 Championship Final Results Here
1 - Dani Pedrosa (SPA - Honda) 42'08.125
2 - Johann Zarco (FRA - Yamaha) +0.337
3 - Marc Marquez (SPA - Honda) +10.861
---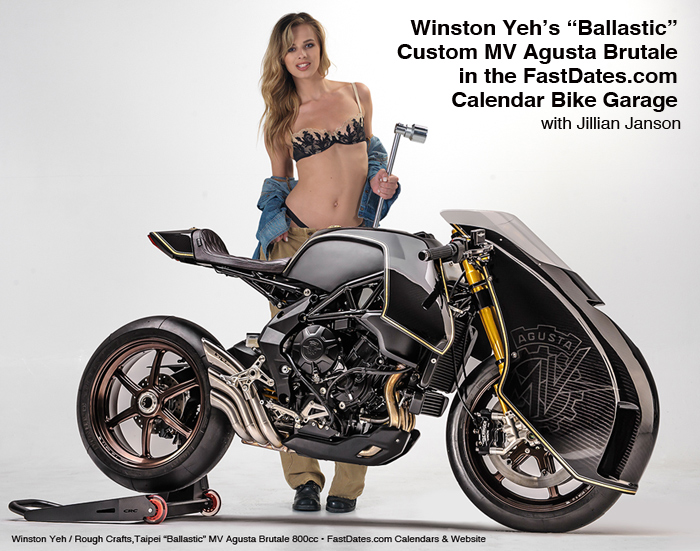 Now in the Calendar Bike Garage!
Winston Yeh's exciting new MV Agusta "Ballastic" Custom with Calendar Kitten Jillian Janson with complete Build Details and a Large Screen Size Photo Gallery. - http://www.FastDates.com/IronLaceGarage.HTM

---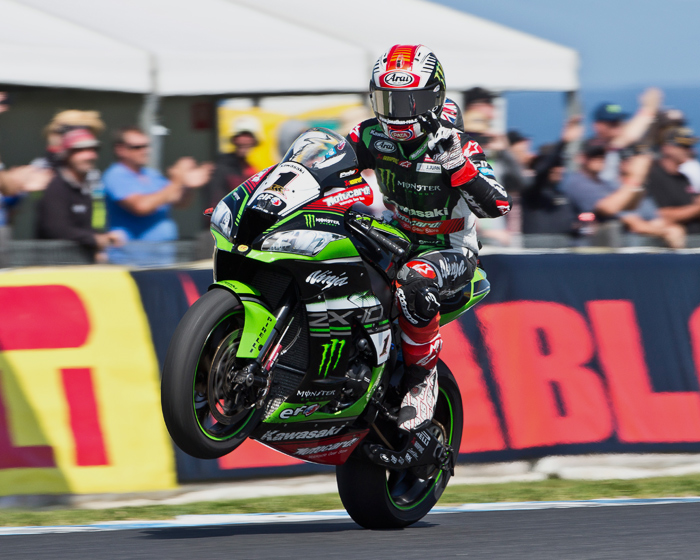 World Superbike Regulation Changes for 2018
October 25th, 2017 - The Superbike Commission composed of Messrs Rezsö Bulcsu (FIM CCR Director), Takanao Tsubouchi (MSMA Representative), Gregorio Lavilla (WorldSBK Sporting Director), in the presence of Messrs Paul Duparc (FIM CCR Coordinator), Charles Hennekam (International Technical Commission Coordinator), Daniel Carrera (WorldSBK Executive Director) and Scott Smart (FIM Technical Director) have announced the changes for the 2018 MOTUL FIM Superbike World Championship from an electronic meeting held on Tuesday 24 October 2017.
The 2018 regulations have been agreed following the consideration of multiple aspects of the Series. A detailed analysis was carried out in collaboration with teams, riders, and manufacturers, with particular focus to parity, affordability and competition. As a result, the main changes of this analysis are detailed in the points below.
2018 FIM Technical Regulations
REV LIMIT
The balancing system using air restrictors has been replaced with a rev limiting system. The rev limit can be altered at various points throughout the season and applies to each individual manufacturer.
CONCESSIONS
A concession points system will be introduced to restrict engine development of the fastest machines. At certain stages in the season teams that have achieved fewer concession points will be allowed to introduce updated concession parts.
As a secondary benefit, the private teams will get access to cost capped engine parts to help them reach performance levels similar to the factory supported teams.
FRONT AND REAR SUSPENSIONS AND APPROVED ENGINE PARTS
Price caps and approval process have been applied to several key frame, suspension and engine parts. These are called approved parts. This process ensures access and availability to all parts for all teams along with controlled pricing.
The version of the Motul FIM Superbike World Championship regulations, which contain the detailed text changes are available on the FIM website - http://www.fim-live.com/en/library/
---
The Man, The Bike, The Team.... 3-times consecutive SBK Wrold Champions.
2017 SBK Motul World Superbike Championship, Losail, Qatar, Round 13 of 13

Rea Signs off Fantastic 2017 SBK Season with a Double at Qatar
Losail, Qatar, November 2nd-4th 2017 - Three time FIM Superbike World Champion Jonathan Rea (KRT) secured his 16th race win of the season this evening in Losail to set a record total of 556 points in one year. Tom Sykes (KRT) crashed out from a podium position early in the last race of the 2017 season and no scored.
An almost perfect season for Jonathan Rea culminated with a double win at the final round in Qatar on the Ninja ZX-10RR. In winning race two by 1.961 seconds he won two more races in a single season than he had managed in his previous best winning year of 2015.
 
For the final race of 2017 Rea started from ninth place, under the reverse grid Superpole regulations, but got up to the lead on lap four. From that point he started easing his way forward and maintaining a gap to the riders behind. His strong finish saw him 153 ahead of overall second place finisher in the points, Chaz Davies / Ducati , after 13 rounds. Rea was never off the podium in any race he finished this year.
 
Sykes lost his chance of finishing the season in second place after he fell on lap three, at turn 14. His machine was too badly damaged to continue. Tom finished his season a clear third overall in the rankings, with 373 points.
 
After the finale under the floodlights KRT will now head back to Europe to make preparations for the first of the winter tests, to be fully ready for the new technical challenges that the 2018 season will bring.
 
Jonathan Rea, stated: "The points tally is nice but the championship is the main thing. To win 16 races in a season, more than 50% of the races, is not normal. That's the biggest thing I take away. This year, like I keep saying, I have no words. It has been feeling normal to be here on the podium and that is kind of scary. Right now is my time, so I really am enjoying the moment. Next year it could easily be somebody else so we really need to enjoy this and celebrate an incredible year. I know how difficult it is when things are not coming naturally, and it is an uphill struggle, so that is why I am so grateful to Kawasaki for this opportunity. It is a huge team effort. In a few weeks' time we can start turning our attention to 2018."
 
Tom Sykes, stated: "We started this final weekend so well but things just turned against us. In race two the bike felt much better. Initially I missed a bit of lap time but the bike was coming to me. I was just in a fast turn, clipped the white line and fell. People are running up and over kerbs here but I go and touch a white line and lose the front. It has been one of those things. The lap times were right there for the race today because we had made slight modifications from yesterday, so I cannot believe the way it finished. Jonathan has had an incredible season this year, he has done a fantastic job."
 
Shigemi Tanaka of Kawasaki Heavy Industries, Motorcycle and Engine Company, Marketing Department, stated: "We send our congratulations to Jonathan on behalf of KHI. It is a great achievement to score so many points, in a season which has been remarkable."
 
Jonathan Rea: World Champion 2015, 2016 & 2017
2017: Races 26, Wins 16, Podiums 24, Superpoles 6
Career Race Wins: 54 (39 for Kawasaki)
Career Podiums: 112 (70 for Kawasaki)
Career Poles: 14 (10 for Kawasaki)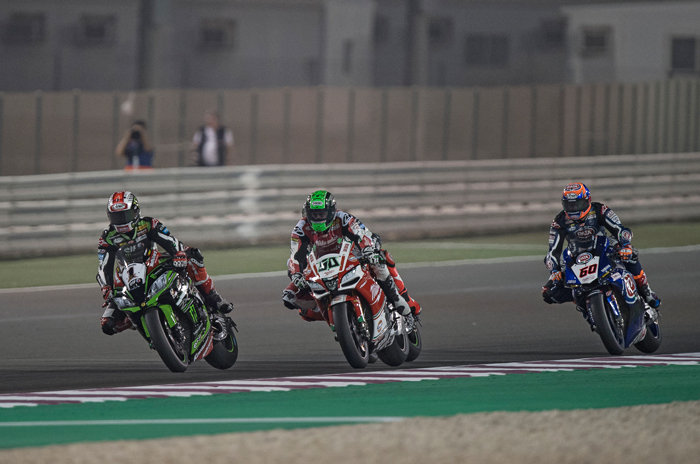 Johnny dicing with Laverty (60) and Lowes (50).
Triple World Champion takes victorin Race One
by just under five seconds from Davies, with Melandri completing the podium
RACE ONE Friday, 3 November 2017 - Jonathan Rea (Kawasaki Racing Team) produced a masterclass in the Qatari desert on Friday night at the Losail International Circuit, getting away brilliantly from pole to dominate the penultimate race of season and eventually cross the finish line a clear 4.944s distance ahead of second placed Chaz Davies (Aruba.it Racing - Ducati). The Race 1 podium at the Acerbis Qatar Round was completed by Marco Melandri (Aruba.it Racing - Ducati).

Having set a new outright circuit record lap in Tissot Superpole 2 earlier in the evening, Rea pushed his Kawasaki ZX-10RR to the limits over the course of the 17-lap contest around the 5.380km Qatari track. He was untouchable at the front as he cruised away for his 15th win of a remarkable season.

Davies did his best to chase Rea down but would eventually finish a lonely second despite his best efforts – still a good result in his bid to secure the runner-up spot in the 2017 championship. His teammate Melandri crossed the finish line a further five seconds behind him.

Eugene Laverty (Milwaukee Aprilia) produced an excellent ride to fourth, missing out on the podium by under two seconds, whilst his colleague Lorenzo Savadori (Milwaukee Aprilia) was just behind him - completing the top five. Tom Sykes (Kawasaki Racing Team), Jordi Torres (Althea BMW Racing Team), Sylvain Guintoli (Kawasaki Puccetti Racing), Leon Camier (MV Agusta Reparto Corse) and Roman Ramos (Team Kawasaki Go Eleven) rounded out the top ten.

In a drama-filled race there was cruel luck for Xavi Fores (BARNI Racing Team) who pulled off track with a technical issue when challenging for a strong podium finish with seven laps to go. Shortly afterwards Raffaele de Rosa (Althea BMW Racing Team) went down at turn 9 when riding in the top ten and then Alex Lowes (Pata Yamaha Official WorldSBK Team) crashed at the last corner of the lap when also in podium contention. Lowes picked up the Yamaha YZF R1 to go in search of valuable championship points but would crash again in the final stages.

Earlier in the race Michael van der Mark crashed at speed at turn 9 meaning it was a difficult day all round for the Pata Yamaha Official WorldSBK Team.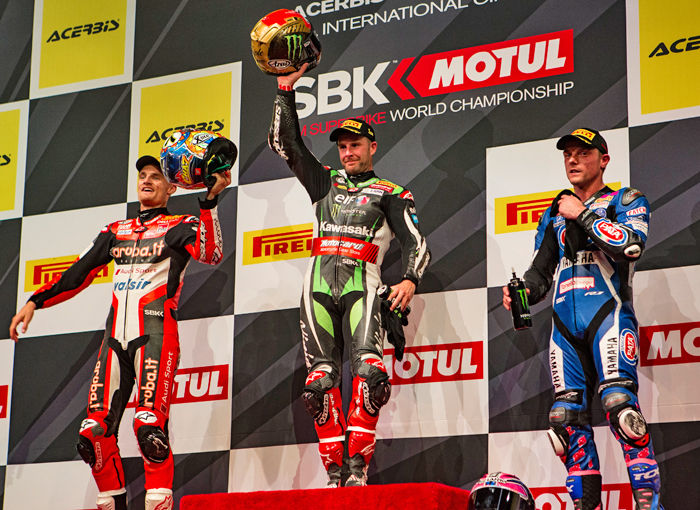 Johnny tops the race two podium again with Chaz davies, and this tie Sam Lowes.
Triple World Champion concludes 2017 Campaign with Another Win
whilst Davies and Lowes join him on the podium
RACE TWO Saturday, 4 November 2017 - The final race of the 2017 season at the Acerbis Qatar Round on Saturday night brought another win for Jonathan Rea (Kawasaki Racing Team) as he crossed the line just under two seconds ahead of Chaz Davies (Aruba.it Racing - Ducati), with Alex Lowes (Pata Yamaha Official WorldSBK Team) in third. The victory gives Rea the record of most points in a single WorldSBK season (556 points), beating the previous record set by Colin Edwards in 2002, as the Northern Irishman ends the year with 16 victories and 24 podiums in 2017.

Davies made an incredible start as he shot from eighth on the g
rid to first within the first two corners, but Rea soon took control of the race on lap four and he did not look back from there.
With 14 laps to go Welshman Davies survived a big wobble - with perhaps the biggest save of the season - holding his nerve to continue on the pace and ultimately wrap up second place in the race and second place in the final championship standings.
Lowes got the better of his Pata Yamaha Official WorldSBK Team colleague Michael van der Mark in the second half of the race and finally finished 1.658s ahead of the Dutchman.

Xavi Fores (BARNI Racing Team) ended the season on a high in fifth place, whilst Marco Melandri (Aruba.it Racing - Ducati) was 5.688s behind the Spaniard in sixth place. Eugene Laverty (Milwaukee Aprilia) beat Sylvain Guintoli (Kawasaki Puccetti Racing) to seventh by less than half a second, overcoming the Frenchman on the last lap.
Leon Camier completed his last race with MV Agusta Reparto Corse in ninth place just ahead of Roman Ramos (Team Kawasaki Go Eleven).

A huge crash for Jordi Torres (Althea BMW Racing Team) at Turn 5 in the early running meant his last race with BMW ended in the gravel, the Spanish rider seen bravely walking away after the massive highside. On the third lap Tom Sykes (Kawasaki Racing Team) crashed out of third place at turn 14, ending his hopes of challenging Davies for the championship runner-up spot.
Davide Giugliano (Red Bull Honda World Superbike Team) was declared unfit due to gastroenteritis and therefore the unwell Italian missed out on the last race of the year.

The WorldSBK riders will be back in action at the first round of the 2018 season at Phillip Island in Australia next February.
2017 Championship Final Standings - Complete Stadings Here
1. Jonathan Rea (GBR) Kawasaki(556 points)
2. Chaz Davies (GBR) Ducati(403 points)
3. Tom Sykes (GBR) Kawasaki (373 points)
---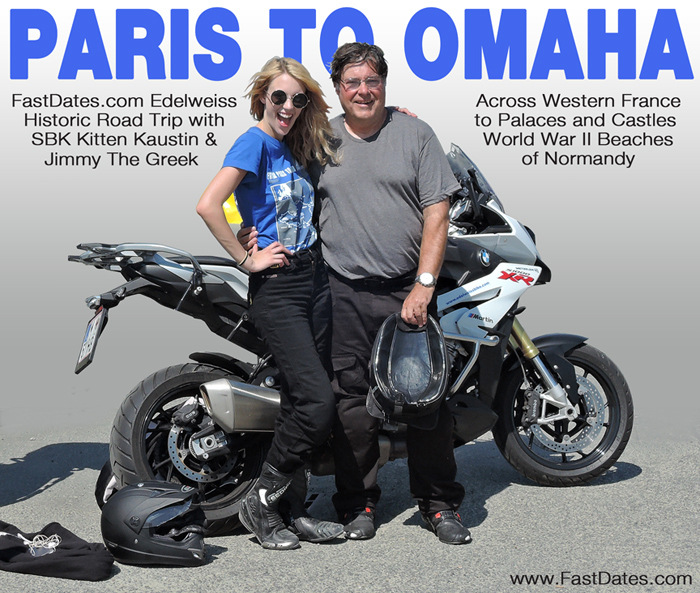 We're Back! Riding Edelweiss Motorcycle Tour - From Paris to Omaha, France
Versailles, France, August 2016 - How we spent our summer vacation! On the exciting Edelweiss Bike Travel 2016 Paris to Omaha Beach 10-day motorcycle tour across western France visiting the histroric battle sites of World War II where editor Jim Ginatsis father, B26 bomber pilot Capt. James Gianatsi played a pivital role in te D-say invasion and liberating France. We rode 2-up two-up with awesome FastDates.com SBK World Superbike Calendar Kitten Kaustin "Kaussie" Rose in a story for the FastDates.com Website. Our bike of choice would be the newly introduced BMW R 1000 XR Sport Tourer, based on the potent BMW R 1000 RR Superbike. For the Complete Story Click on the Photos or Check Out the Complete Story Here
For complete Pricing, Bikes, and Booking Information visit the Edelweiss Website Here
---


Now in the Calendar Bike Garage... The World's Coolest Naked Ducati!
Beauitful FastDates.com Calendar Kitten Sara takes us for a ride on the world's most exotic and expensive Ducati streetbike
ever - a $110,000 Vyrus NCR 983 Superleggera in the Calendar Bike Garage and in Members Corner.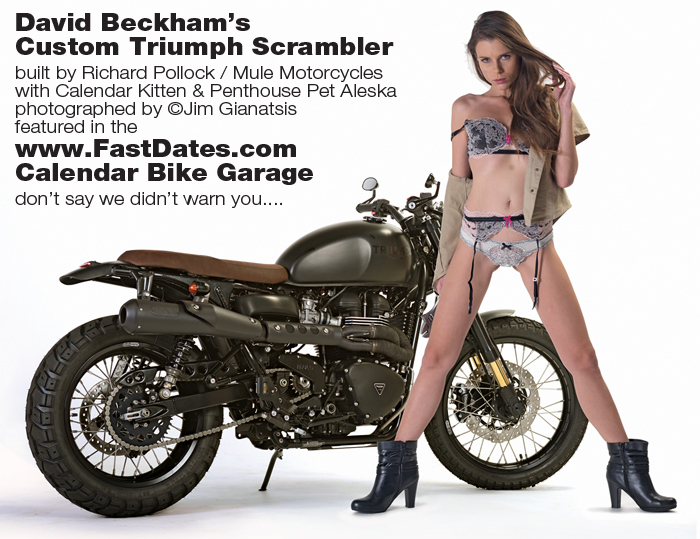 Now in the FastDates.com Calendar Bike Garage!
David Beckham's Amazon Triumph Scrambler build by legenday Calendar Bike Builder Rickard Pollock / Mule Motorcycles, photographed with Calendar Kitten and Penthouse Pet Aleska in BIG full screen saver size photos.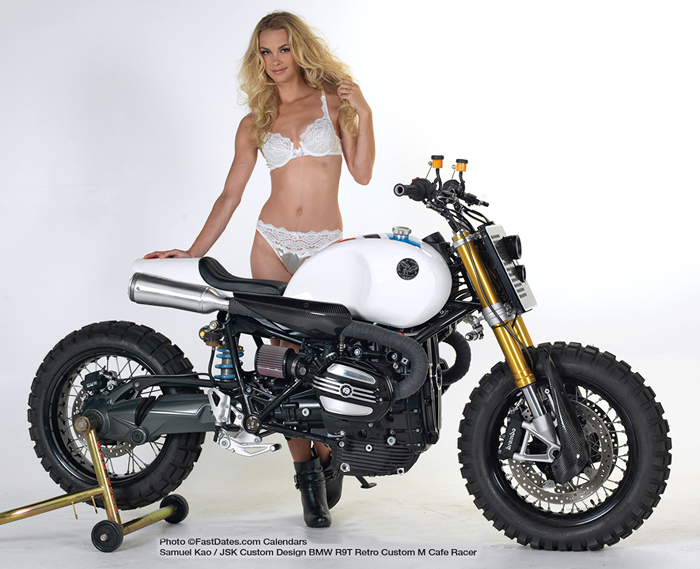 Now in the Calendar Bike Garage...
Samuel Kao's Calendar Bike Show class winning BMW R 90T Bar Hopper with beauitful FastDates.com SBK World Superbike Calendar Kitten Sara featured in the Calendar Bike Garage / Members Corner and in the new 2016 Iron & Lace Calendar
---
---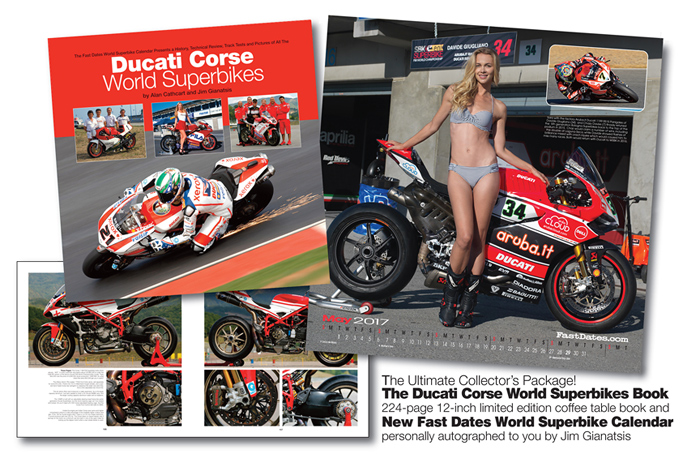 ---
Calendar Bike Show Winner
Now in the FastDates.com Calendar Bike Garage!
Mike LaFountain's 2016 LA Calendar Bike Show class winning 1967 Kawasaki W1 Cafe Racer with SBK Fast Dates World Superbike Calendar Kitten Jessica Harbour in Big Screen Saver Size Pictures and bike details - http://www.FastDates.com/IronLaceGarage.HTM
---
Previous Week - More Pit Lane News
New Model Sportbikes • Editorial Features: Pit Board

Also Visit: Fast Dates Calendar News • Iron & Lace Calendar News • Calendar Girl News
Meet the Models • Paddock Garage
Get FastDates.com T-Shirts, Mugs & Photographs from Our Store

MEMBERS CORNER! Calendar Kittens, Paddock Garage, Iron & Lace Garage



Amazom Motorcycle Products & Apparel Store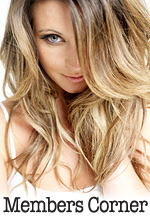 Hot Bikes, Sexy Kittens
Your Excusive Grid Pass
also includes....
---
FAST 2018
Calendars Yearbook
OnLine Digital Edition
in Members Corner
Order the New
2018 Calendars!
with the FastDates.com Calendar Kittens - the official SBK Umbrella Girls!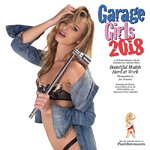 Click Below for more
Calendars!



Sports Illustrated Swimsuit 2018 Wall Art Calendar
w/Hanger 11x17

Playboy Lingerie 2018
Wall Art Calendar
Art w/Hanger 11x17

---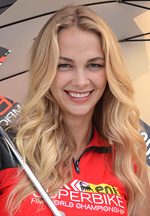 Sara Horvath
Meet the offical SBK
Fast Dates World Superbike Calendar Kittens!

Kaustin Rose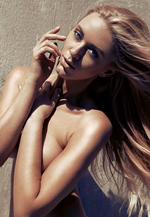 Petra Ruzickova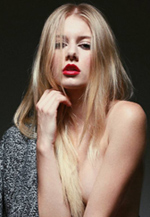 Alena Savostikova
---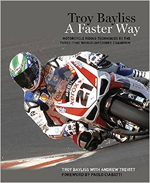 New! Troy Bayliss
A Faster Way
Track Riding Book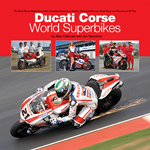 Retail $49.95 ea.
Click to Order from Amazon.com

Ducati Corse
World Superbikes
by Alan Cathcart
& Jim Gianatsis


The Official SBK
World Superbikes
1987-2012
25 Year History Book


The Official SBK
2016-2017 Yearbook
These SBK Yearbooks are the Best Books Ever about World Superbike. They feature wesome color photography of the riders, bike and racing action. The feature a deailed revue of the past season in pictures and stactics, awith a detailed look at the bikes and riders.

Plus a technical look data all the bikes, a preview of the upcoming season's Championship!
We buy this every year ourselves and highly recommend it!


The Official SBK
2015-2016 Yearbook
SBK World Superbike Video Game
---
Camier joins Honda for the 2018 FIM Superbike World Championship
October 15th 2017 - Honda Motor Europe and the Red Bull Honda World Superbike Team are pleased to announce the signing of Leon Camier, who will join the squad for the 2018 FIM Superbike World Championship. The 31-year-old from Ashford, Kent, United Kingdom, will be riding the WorldSBK-spec version of the Honda CBR1000RR Fireblade SP2 throughout the upcoming season.

British Superbike champion in 2009, Camier joined WorldSBK on a full-time basis the following year and since then he established himself as one of the most talented and quickest riders in the field. Over the years, Camier has also gathered a wealth of experience by racing on several different machines, and his combination of speed, experience and determination will be a huge asset to the team.
Camier will join the team at the end of the current season to start the winter testing programme on the Honda CBR1000RR Fireblade SP2.
Stefan Bradl to miss the final two rounds of the 2017 WorldSBK season
Sept 30th - Red Bull Honda World Superbike Team's Stefan Bradl will miss the remaining two rounds of the 2017 FIM Superbike World Championship. The 27-year-old German highsided in the early stages of race one at Portimão on September 16th and was forced to miss the second encounter due to strong pain in his right wrist. Following extensive medical checks back home in Augsburg, Germany, and being diagnosed with a torn scaphulonate ligament, Bradl underwent arthroscopy surgery on Thursday, September 28th, in which doctors inserted pins and wire to put back the two sides of the torn ligament in position – so that the healing process can begin. A seven-week full rest of the right forearm has been ordered by the group of doctors who performed the surgery, with a total of eight weeks required before Stefan will be able to begin with physiotherapy. Jake Gagne and
Davide Giugliano Fill In at Red Bull Honda WSBK
Sept 26th - A new evaluation of Bradl's injured wrist condition will be made in order to determine the exact date for the second surgery, in which pins and wire will be removed. The team has not yet determined Bradl's replacement rider for the remaining two rounds of the season. Red Bull Honda World Superbike rider Stefan Bradl will be forced to miss the 11th round of the 2017 FIM Superbike World Championship at Magny-Cours due to a wrist injury.  His place in the team will be filled by Jake Gagne, who impressed on his debut with the team at Laguna Seca earlier in the year. Following a highside in race one at Portimão two weeks ago, Bradl underwent a series of evaluations back home in Germany which revealed a scaphulonate ligament tear in his right wrist. The injury requires surgery which will be performed this Thursday morning, September 28th after which time the full extent of Stefan's injury – and the required recovery time – will be revealed. Stepping into Bradl's boots at Magny-Cours will be 25-year-old American rider Jake Gagne, who got up to speed quickly on the CBR1000RR Fireblade SP2 at the US WorldSBK round where he finished both races in the points. Gagne will join the already confirmed rider for the round Davide Giugliano. Tom Sykes Injury Update
Monday Sept 18th 2017 - The 2013 Superbike World Champion underwent successful surgery following a fracture sustained in his little finger following his free practice crash in Portugal at the Portimao circuit. The operation took place on Sunday 17th September at the iMove Traumatology department of the Clínica Mi Tres Torres in Barcelona, with a quick recovery expected.
Tom Sykes (Kawasaki Racing Team) suffered a tough crash on Saturday 16 September during the WorldSBK round 10 at the Portimao circuit in southern Portugal. The crash, which occurred as he was going through turn nine, left Sykes with a fracture in his little finger on his left hand, as well as a fracture on his fourth finger and wrist. Following the crash, he was operated on the following day.

On Sunday the 17th the 32-year-old British rider, who sits in second position in the championship standings, was transported to iMove Traumatology, in the Clínica Mi Tres Torres in Barcelona, undergoing repair surgery on his hand and left wrist. The operation lasted less than two hours, and was performed by doctors Jordi Font Segura and Enric Domínguez, from the hand and elbow unit of iMove.

"The surgery we performed consisted of the reduction and osteosynthesis of the fifth finger through the placement of a plate explained Dr. Segura. "Tom will be kept in for 24 hours for post-operative control and medical treatment; and during the next week he will have a new checkup will be made. Also with the TAC, we have confirmed that Tom had a fracture on the fourth finger and on the left wrist. The recovery will depend on the athlete, in the best scenario he could return to compete soon."
 
Tom Sykes, stated: "I have had an operation and the doctor seems to be happy with how it went. Obviously it was a nasty break and basically snapped the little finger clean in half, so it was more than a dislocation and he found a couple of other things in the hand as well – a crack in the finger next to it and a crack on the radius on the wrist. I have had that injury before and raced with it four days later in Australia, so I have been able to race with a broken wrist before. We will see what happens from now on, and see how the fingers get on in the next few days."
New Classes Introduced For MotoAmerica 2018
$1 Million In
Prize Money On Offer
COSTA MESA, CA (September 13, 2017) – MotoAmerica has announced it is making changes to its class structure for the 2018 MotoAmerica Series with the addition of three new classes and the realignment of two others.
MotoAmerica has announced changes in the class structure for 2018.|Photo by Brian J. Nelson.
The three new classes are Stock 1000, Twins and the previously announced Junior Cup, which takes the place of the KTM RC Cup. The 2018 season will also see the demise of Superstock 1000 and Superstock 600 with those two classes no longer incorporated into the Motul Superbike and Supersport classes, respectively.
The Motul Superbike class will be just that beginning in 2018 – Superbikes only. The same goes for Supersport. Supersport will see an adjustment in technical rules, blending parts of both the current Supersport and Superstock 600 technical rules.
"Our focus has always been to build the Superbike class," said MotoAmerica President Wayne Rainey. "The Superstock 1000 bikes have proven to be competitive in the Superbike class and the teams and riders who run those bikes are now racing near the front at every round. We also found that having the Superstock 1000 class inside the Superbike class was confusing for our fans and we feel the class will gain strength by being Superbike-only going forward. We look forward to having a Superbike class with top-notch motorcycles, riders and teams from the top of the field to the bottom – just as the premier class should be."
The reasoning behind doing away with the Superstock 600 class mirrors the reasons behind going to Superbike-only – to do away with the confusion of having two classes racing on track at the same time.
The Stock 1000 class is designed to be a feeder class to Superbike, giving riders the chance to gain experience on 1000cc motorcycles before making the move to Superbike. The class licensing restrictions will ensure this category will be for participants with little or no current 1000cc experience at the National level.
The new Twins class is an addition that will address one of the most popular categories of motorcycles sales, as well as giving tuners some freedom to modify suspension and engine components. The class has also shown strong participation throughout the club racing scene.
The Junior Cup will be open to manufacturers who homologate machines for the category. The class will continue to have an age limit, though that has changed from 14-22 years old to 14-25 years old.
The series will further be bolstered by an impressive offering of over $1 million in prize money for the 2018 season with over $775,000 earmarked towards the Motul Superbike class.
"We're proud to be able to announce a big increase in purse money," said Rainey. "Most notably that comes in the Superbike class as we continue to look for ways that the MotoAmerica Series can benefit teams. We are also hopeful of continuing to provide additional funds in the years to come."
The provisional technical rules for all 2018 MotoAmerica classes can be found here:
Superbike
Supersport
Stock 1000
Twins
Junior Cup
Licensing information for each of the classes can be found here: Licensing Information Valentiion Rossie Breaks His Let in Dirt Bike Accident
August 31st, 2017 - Movistar Yamaha MotoGP's Valentino Rossi sustained displaced fractures of the tibia and fibula of his right leg, following an enduro incident on Thursday evening, August 31st.
ollowing an enduro training accident on Thursday, August 31st. Movistar Yamaha MotoGP star Valentino Rossi was diagnosed with displaced fractures of the tibia and fibula of his right leg. 38-year-old Rosiwill undergo surgery as soon as possible.
Sept 1st, 2017 - Last night Movistar Yamaha MotoGP's Valentino Rossi had a successful operation on the displaced fractures of the tibia and fibula of his right leg.
The MotoGP-star was hospitalised after an enduro accident yesterday evening.
Following a medical examination at the 'Ospedale Civile di Urbino', where he was initially diagnosed, the Italian was transported to the 'Azienda Ospedaliero-Universitaria Ospedali Riuniti' in Ancona. Upon arrival, he received surgery between 2am - 3am by Dr. Raffaele Pascarella, Director of the Orthopedics and Traumatology Division. During the surgery the fractures were fixated using a metal pin - a locked intramedullary nail - without any complications.
Rossi to Miss the Misano Grand Prix
Italy, 4th September 2017 - Movistar Yamaha MotoGP Team's Valentino Rossi will be unable to take part in the Gran Premio Tribul Mastercard di San Marino e della Riviera di Rimini, this weekend.Gerno di Lesmo The Movistar Yamaha MotoGP Team regrets to report that Valentino Rossi will not be able to compete in the upcoming Gran Premio Tribul Mastercard di San Marino e della Riviera di Rimini, to be held this weekend. The Factory Yamaha team will compete in round 13 of the 2017 MotoGP World Championship with Maverick Viñales as its sole rider. Rosi Completes
Test Rides at Misano
Sept 19th 2017- Movistar Yamaha MotoGP's Valentino Rossi improved his feeling on the YZF-R1M during the second day of testing. He will make a final decision on his attempt to compete in the Gran Premio Movistar de Aragón after a further medical examination. Having ridden his first laps around the Misano World Circuit Marco Simoncelli yesterday, Movistar Yamaha MotoGP's Valentino Rossi was back aboard his YZF-R1M today at 3:30pm (GMT+2) to resume his physical test. During the two-hour private riding session the nine-time World Champion was able to complete 20 laps in total. He wrapped up this second day of testing with an improved feeling and a more positive impression compared to yesterday. Tomorrow Rossi will undergo a medical examination - to verify the positive rehabilitation progress experienced in today's session - after which he will make a final decision on his attempt to take part in the Gran Premio Movistar de Aragón. A further update will be given after the Italian's check-up.

The Devil Made Us Do It!
Testing the Ducati Diavel in Italy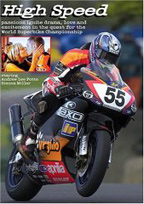 High Speed - the Movie
The best motorcycle racing movie ever made! Filmed on location at the World Superbike races , this an exciting romantic drama staring beautiful British actress Sienna Miller.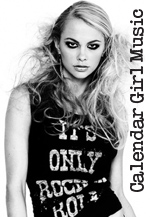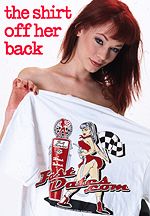 Order the Official
FastDates.com &
LA Calendar Bike Show
T-Shirts!