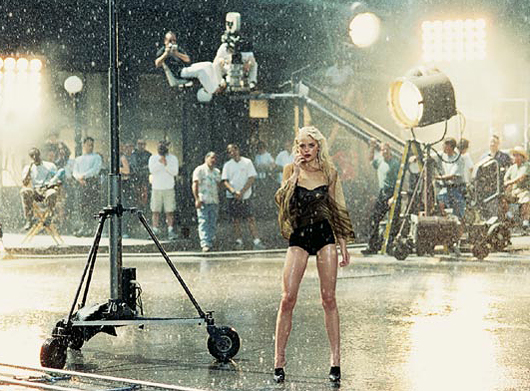 Above: Photographer Peter Lindberg's interpretation of the 2002 Pirelli Calendar paid homage to Hollywood and to seduction. For the first time actresses were used instead of models, dressed with lingerie by Giorgio Armani. The shoot took a week on the city street back lot of Universal Studios with a crew of nearly 100 people, with enough time and budget to film a movie. Above, sexy young actress James King from Pearl Harbor on the Universal Studios city set in the pose that was her calendar page shot. We're still waiting for the video that never was.
The Pirelli Calendar
the world's most exclusive and expensive pinup calendar
from the word's biggest tire manufacturer
That's exactly what tire manufacturer Pirelli (who also owns other major tire brands including Metzeler and General Tire) has been doing for the past 40 years. They produce the world's most lavish, sexy and expensive calendar that most mere mortals will never have an opportunity to own or even see except on the web or in a book years later.
Pirelli's 2002 Calendar (see the photo above) featured Hollywoods hottest young actresses including Julia Styles (10 Things I Hate About You, Save the Last Dance, Bourne Identity), Mena Suvari (American Beauty) , Rachel Lee Cook (Josie & the Pussycats), Lauren Bush (neice of the President), Erika Christensen (Traffic), Bridget Moyanhan (Coyote Ugly, Sum of all Fears), and our favorite James King (Blow, Pearl Harbor, Lonestar State of Mind).
The world's largest tire maker has been producing the world's most expensive nude pinup calendar as a promotional giveaway since the 1964. It's always a lavish production, usually featuring the world's top supermodels photographed by one of the world's premier photographers, usually in a large 20" square format with high qaulity design and printing. Pirelli's worldwide distributors usually have to pay $40 each cost for the calendars which they purchase from the Pirelli head office in Italy, and in turn Pirelli gives them away as Christmas promotional presents to their favorite people, distributors and the motorsports media.

In Italy and the rest of Westerm Europe the nude body and beautiful women are appreciated openly in public as art and good taste. Here in America where sexual harrassment lawsuits and personal injury attorneys run rampant, the Pirelli calendar is very exclusive and nearly impossible to find. You have to know someone directly at Pirelli USA to get one. Sometimes you can find an old one on E-Bay that a previous recipient is selling off if you'ld like to get one for your own pinup calendar collection.

For comparision, our own FastDates.com like Garage Girls, Fast Dates and Iron & Lace cost about $10,000 each to photograph and produce because they have to stand alone as being a profitable product to sell. That includes the cost of models, makeup and styling, clothing from Victoria's Secret and swimsuit companies, shooting location and travel costs, film and processing. Not included is the cost of our photographer and producer, calendar design, printing and advertsing which runs between $20,000 to $30,000 additional per calendar. And then once finished, you've only got 5 months to seel the calendar and turn a profit. Not very easy.


Above: Jessica Miller loosens up for the 2003 Pirelli Calendar.
2003 Pirelli Calendar
For the 2003 Pirelli Calendar (samples of the shots, shown above) it was fashion photographer Bruce Weber who got top boy and girl supermodels topless. Included was Yamilo Diaz-Rahl who just also happened to be on the cover of the 2003 Sports Illustarated Swimsuit magazine and calendar. Plus there we a lot more supermodels including Victoria's Secrect model Heidi Klum, all in the all- together photographed ina rural Italian village. The candid style shots are pretty boing, there's no concept or tie-in to Pirelli tires, but hell, Bruce only had a Million Dollar shooting budget to work with...
The 2003 calendar features some of the most celebrated top models from throughout the world: Sophie Dahl, Yamila Diaz-Rahi, Isabeli Fontana, Bridget Hall, Heidi Klum, Karolina Kurkova, Natalia Vodianova, Sienna Rose Miller, Lisa Seiffert. And, as is now traditional, there are also some up-and-coming faces, such as Filippa Hamilton, Jessica Miller and Rania Raslan.

Above: Teen models Natalia Vodianova and Frankie Ryde chose their own photo theme for their calendar picture. Born in Gorky, Russia to a poor street vender, Natalia (center above) was discovered by a model agent and moved to Paris where she now represents Gucci, Kalvin Klein and L'oreal, and has been featured on the cover of every major fahsion magazine in the world.
2004 Pirelli Calendar
On November 2003 at the historical Royal Courts of Justice building in London, the 2004 Pirelli Calendar was presented to the press, to collectors and to enthusiasts the world over. The annual event is one of the world most awaited by lovers of photography, fashion and beauty, an exclusive event that traditionally blends art with seduction. This year's issue was special: it marks the 40th anniversary of the Pirelli Calendar, a "must have" symbol, a true icon of beauty.
The 2004 Pirelli Calendar is highly innovative in its technique and artistic expression,and in its selection of protagonists fully confirms the canons of 40 years of tradition (Say what?).
It profiles innovation and technology at the service of artistic creativity of Nick Knight, world-famous British photographer who made visual sculptures, born of a symbiotic relationship between traditional photography and digital art. His taste, combined with an approach typical of "conceptual art", have produced an unprecedented Pirelli Calendar that is vibrant in its color, abstract in its design and magical to the eye.
Knight posed his models in an ambience that is dreamlike and fantastic but unequivocally feminine in which the perspective of portrayed female sexuality - as traditionally perceived by men - is reversed. "I feared that the calendar might propose a vision of woman from the exclusively masculine viewpoint," Knight explains. "So for this project I decided to ask the women what they would like to see represented in a Pirelli Calendar, leaving them to choose the theme."
This year the Calendar is embellished by a line-up of some of the world's most highly touted models, some of whom participated in previous editions: Maria Carla Boscono, Karolina Kurkova, Natalia Vodianova and Jessica Miller in 2003, Frankie Ryder in 2001 and Alek Wek in 1999 and 2000. They are joined by Liberty Ross, Amanda Moore, Pollyanna McIntosh, and promising "rookies" Dewi Driegen, Esther De Jong, Ai Tominaga and Adina.
The Pirelli 2005 Calendar
On November 18th 2004, at the Copacabana Fort in Rio de Janeiro, was revealed the world premiere of the Pirelli 2005 Calendar, the most exclusive world event for beauty lovers, fashion followers and photography connoisseurs.
So how can you get a Pirelli Calendar? You probably can't. Pirelli Corporation sells the calendars to their distributors around the world at a cost of around $40 each. The distributors, in turn, give them as promotional gifts to the media, their distributors and friends. In a country like America where there is such a huge hangup over nudity and an employer can be sued for sexual harassment if they hand out or display a nude calendar in the workplace, Pirelli USA buys and gives away only a handleful of calendars to special industry friends. Once in a while you can find an old Pirelli Calendar on Ebay.com, but your change of getting a current calendar is next to impossible.
The Pirelli Calendar Book and Website is your best opportunity to see what you've been missing.
Perhps someday Pirelli will offer their calendar for sale internationally through their website. But for now, you can find detailed information and pictures from the Pirelli Calendars on the Pirelli website at Pirelli.com