Above, Progressive insurance is the title sponsor of the International Motorcycle Shows, helping to take America's premier motorcycle show across the county to major cities during the winter months

2019 / 2020 Progressive International Motorcycle Show at Long Beach, CA
Features an Incredible Choice of Gasoline and Electric Motorcycle Models
Photos and Report by Jim Gianatsis - Click on any Picture to Enlarge
Return to Pit Lane News • Pit Board Features

Long Beach, CA - Nov 22-24th 2019 -The annual Progressive Insurance sponsored (IMS) International Motorcycle Show makes its way across America every winter, with 3-day weekend stops in every major city. It's the perfect time for motorcycle enthusiasts to come in from the cold and see the latest new 2020 bike offerings from all the major motorcycle manufacturers and fill out your Christmas wish list.

With much of the the motorcycle industry and media based in Southern California, the opening weekend of the IMS tour now kicks off in Los Angeles at the Long Beach Convention Center. It's a great reason to get together with our motor head industry friends, celebrity builders and racers, and even some of the FastDates.com Calendar Kittens working the bike displays for the top manufacturers.


2019/2020 Progressive IMS Show Dates & Cities - More at at MotorcycleShows.com
Long Beach, CA: November 22-24, 2019, Long Beach Convention Center
New York, NY: December 6-8, 2019, Jacob K. Javits Convention Center
Dallas, TX: January 3-5, 2020, Kay Bailey Hutchison Convention Center
Washington D.C.: January 10-12, 2020, Walter E. Washington Convention Center
Denver, CO: January 17-19, 2020, Colorado Convention Center
Cleveland, OH: January 24-26, 2020, International Exposition (I-X) Center
Minneapolis, MN: January 31 – February 2, 2020, Minneapolis Convention Center
Chicago, IL: February 7-9, 2020, Donald E. Stephens Convention Center

Above: One of the main Midway Isle at the IMS Show, this photo taken before the general pubic where let in. In the centers of all the Main Isles are cool custom bikes on display for the 30day weekends as part of the IMS Builder's Custom Bike Show. Trophies are award to the Class Winners at each event, and the invited bikes change from city to city, and also competing for an overall IMS Builders Tour Awards.

The current owners of the Progressive Insurance sponsored International Motorcycle Shows is MotorcycleShows.com which is doing a great job making the show tour exciting for exhisting motorcycle enthusiasts with features including the J&P Cycles sponsored Ultimate Builders Showcase and the Vintage Bike Dislays at each venue, plus New Motorcyclele Demo Rides hosted by the Motorcycle Distributors. And they are working hard to bring new riders to the fold with their New Rider Demo Course with Zero Motorcycles, the Kids Zone, and Newto2 a program to educate new riders to the world of motorcycling.
At this year's IMS Show it was again exciting to see that the proliferation of so many exciting new bikes for all the market segments - street, off-road, motocross and touring. Probably the largest selection of exciting new motorcycles every, particularly since the recession of 2008 saw many manufacturers pull back on new model development and introductions for about 6-8 years.
Some of the more noteworthy introductions a this season's IMS tour include the new MotoGP based Honda CB1000 RR Superbike which will be raced by HRC Honda in the World Superbike Championship from 2020. Harley-Davidson's reveal of a upcoming new water-cooled Over Head Cam 750cc V-Twin engine that will power an exciting new line of modern street bikes.
And of course, Ducati's return of the their naked Streetfighter which had been out of production for some 10 years, now based on their new Panigale V4 Superbike.




Suzuki
Most all the sportbike manufacturers have on display at least one of their current season MotoGP and SBK World and AMA MotoAmerica Superbikes. Here is Suzuki's 2019 MotoGP race winner.


Above: Last year Suzuki revealed their new Katana 1000 Tribute bike at IMS, based on a previous generation GSXR Superbike, but it's take a full year to get it into production and delivered to America. We are excited to say this new Katana is now available in dealers and the price is very reasonable around USD $12,000!
Naked Superbikes are all the rage this year. Kawasaki's exciting new Z1 retro introduced in 2017, got a new Cafe Racer styled brother for 2019. The new Kawasaki Z1 RS featuring a sportier vintage superbike design with a bikini front fairing, lower handlebars, aftermarket styled exhaust and old school Kawasaki Racing Lime Green. We like everything about it except the retro bodywork, which could use a more modern hard-edge look. But then, Kawasaki does offer that hard edge in their many other naked bikes, as does Suzuki does in the new Katana.


Suzuki called this race liveried V-Storm Off Road a concept bike, but we are guessing it will be going into production to compete with Ducati and BMWs very popular big twin off-road touring bikes.
With aging motorcycle enthusiast demographics and the young i-Genertion teens and twenties having no interest in owning motorized transportation, we probably won't see a return to pre-2008 motorcycle sales number s in America and Europe. But we now have even more exciting choices in the Street Cruiser, Sportbike, Bobber and Touring categories than ever before. Its really exciting to any motorcycle enthusiast to have so many exciting new choices in new and retro motorcycles today.

IMS is always an incredible Motorcycle Show. I easily enjoy spending 6-7 hours there walking the entire floor to see all the new bike displays and vendors, the attractive spokes models, and meeting with my friends in the industry. The spectator attendance numbers seems to have recovered d back up to the days before the 2008 Economic collapse, and all the motorcycle manufacturers, particularly the Japanese, are back to introducing all-new motorcycle models again, rather than just carry over exciting stock and designs with just a cosmetic face lift.
The only disappointing thing to note, in-line with industry demographics, is that the entire spectator crowd are Baby Boomers with hardly anyone under 40 years old in attendance. The computer age kids just don't care about owning cars and motorcycles. Though they do turn out to watch Supercross and Outdoor Motocross, they have no real desire to work hard at a full or part-time job like we did in our teens to buy and motorcycles.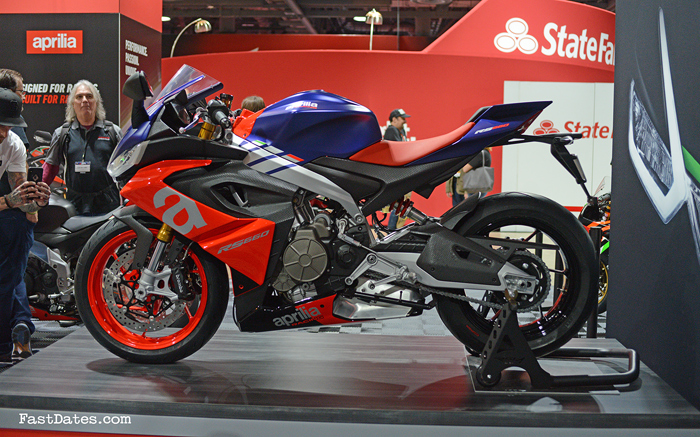 The big news over at Aprilia is their new RS660 V-Twin Supersport bike. Featuring all high-end components including Ohlins suspension, Brembo Brakes and forged race wheels, this could could be the new mid-class winner.
Return to Pit Lane News • Pit Board Features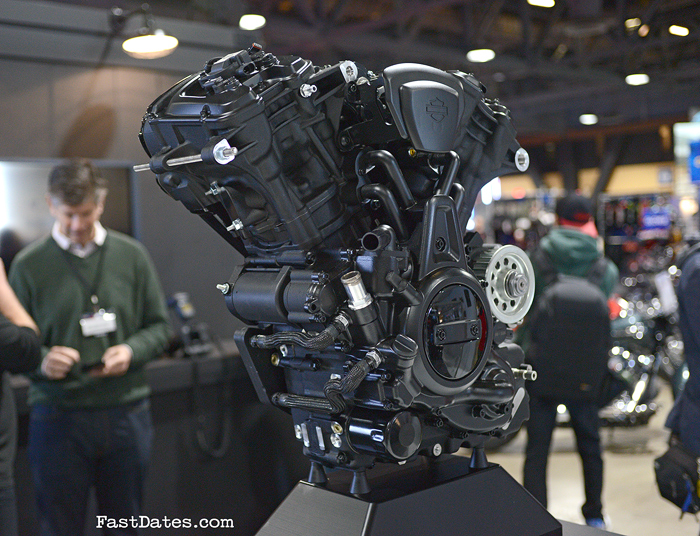 Harley-Davidson's New 750cc V-Twin Engine and Prototypes
Above: Here is Harley-Davidson's all new watercooled 750cc 4-valve V-Twin that will finally take them into the 21st Century.
The engine is designed as a stressed member so it can be hung from from a trellis type frame for more regidity, and not have to use an older, heaviercradle type frame. This engine will be used to powear a whole new generation ofmiddleweight H-D motorycle in the coming years.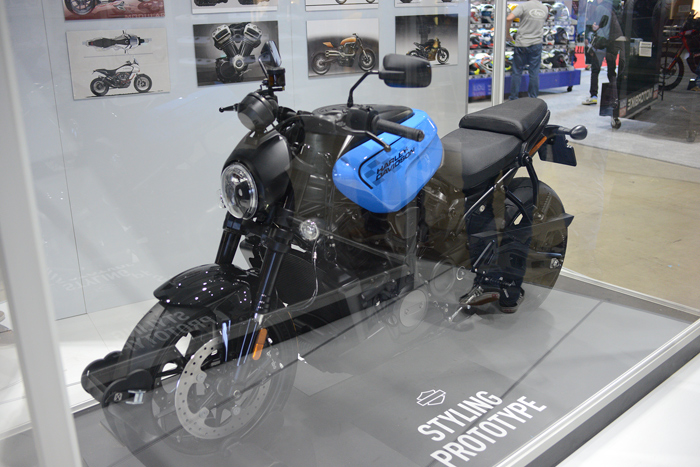 Here is Harley-Davidson's first "Styling Prototype" motorcle using their new 750cc watercooled V-Twin engine. The engine is designed to serve as a stressed member on the frame, so Harley can move away from their traditional full frame designs found on their traditional air-cooled pushrod Big Twins, to a more modern trellis-like tube frame that is lighter and offers more rigidity with the engine being used as a stressed member. This "Prototype" looks ready for production, so we'd expect this multiple purpose street bike model to go on sale sometime in 2020 as a 2021 year model.
On the wall behind Harley's new 750cc "Styling Prototype' where these design renderings of other exciting new models the new lightweight V-Twin engine could power, including a naked Superbike / Flat Track models, and an Off-Road Adventure Touring bike.
We can't wait to see what future 750cc models will be coming. Welcome Harley -Davidson to the 21st Century!!!
Harley-Davidson's electric Livewire motorcycles are back in production after a slight hold because of a charging issue on just one of the early production models. It turned out not to be any design issue, so production is back up. The only question is, who wants to pay $30,000 for a limited range American made sportbike?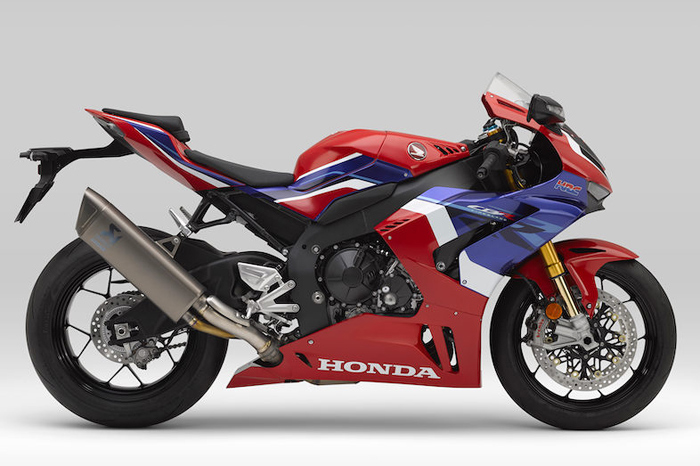 HONDA's All New CBR1000RR-R Superbike
The long anticipated new 2020 Honda Fireblade 1000RR-R has finally been revealed at EICMA and IMS, and it is an all-new ground up inline 4-cylinder design design, although not the replica MotoGP V4 bike we had been expecting, ready to battle head to head with Ducati's MotoGP replica the Panigale V4R in SBK World Superbike. Still, the new Fireblade RR-R is a potent machine with a claimed 240hp in stock form, a slight up-tick from Ducati's 234hp rated 998cc Panigale V4R. Will Alvara Bautista be disappointed he left his winning Ducati V4RS in WorldSBK for the new Team Honda bike in 2020, or will Alvaro continue his winning ways? Joining Bautista on the all new HRC World SBK race team in 2020 is Leon Haslam who has left the factoy Kawaski team alongside Jonthan Rea. The exhaust is an Alrapovic Full Titanium Systemwith a power valve to help broaden the powerband, and we assume there is a catalytic converter which will be removed for racing to add even more power.
Yamaha introduced the dual front wheel Niken Sport Touring bike in Europe in 2018, then brought it to America last year. At this year's show they displayed one of the bikes with the bodywork removed. You can see how complex all the components that are required to hold and steer 2 sets of front wheels and forks. It answers the question no one asked. It does provide more front wheel traction and braking, and possibly safety, but at a big increase in weight and complexity.



To learn more about the Progressive® International Motorcycle Shows® Tour, please visit: MotorcycleShows.com.
Return to Pit Lane News • Pit Board Features
Ducati Street Fighter
The big attraction at Ducati were some updates to their popular Multistrada Street Touring and Off-Road models, and the new V-4 Panigale Superbike based Street Fighter. Essentially a naked Superbike with higher, more comfortable handlebars for street riding. The new Streetfighter also gets dual aero dive wings, one more than the Panigale Superbike, we assume for 'Street Creds" and "Moxie." We hope Ducati will bring an optional Front Fairing / Windscreen so the 205 HP bike will be more practical and comfortable to ride over 70mph the highways as well as the city streets.
See the new FAST 2020 Calendar Digital Yearbook in Members Corner and
Order the 120-page printed Coffee Table Book here - http://www.FastDates.com/IronLaceNews.HTM
Energica Motor Company is the first Italian manufacturer of high Performance electric motorcycles and is the single manufacturer chosen by DORNA for the FIM Enel MotoE World Cup which takes place at the MotoGP European rounds. After a delayed start to the 2019 race season when a short in a charging station burned down the garage where all the MotoE race bikes were being kept, the remainder of the racing season went well and MotoE return again in the coming years.

Above is the top of the line EGO+ Superbike which i the stock spec racebike used in the MotoE Championship. It has a maximum continuous 145hp and 159 ft lbs of Torque, which of course on an electric vehicle come right off the line on idol. So it is a lot fast than the power rating implies. Top speed is limited to 150mph. Battery range is as much as 248 miles on the street, and some 120 miles on the track, good for full day of practice and racing. Even with high-end Ohlins and Bembo components the price is a very affordable USD $23.870. That's some $6000 less that then the Harley Live Wire which has high-end components and a shorter riding range. Weight is 270kg / 594lbs. Available at www.EnergicaMotorUSA.com


The The EUA Ribelle is the naked sportbike version of the Ego Superbike, with all the same specs. it's priced at USD $22,160.
There is also the EUA Esse 9 with low spec Marzocchi suspension or just $17,620.

These Energica sportbikes can be recharged very quickly, with DC Fast Charge 0-85% in just 20 minutes!
Triumph Motorcycles
The Triumph Motorcycles display at Long Beach was staffed by our good friends Cindy and Tom Hicks of Southern California Motorcycles, Brea, California, one of the biggest multi-brad dealerships in Southern California and America. Their dealership carries Triumph, Suzuki, Ducati and Royal Enfield. They are great people and know how to take care of, and treat customers right. Tell them i sent you. www.SoCalMotorcycles.com
IMS Classic Motorcycle Display
This year's IMS Classic Bike Display at Long Beach included this beautiful 1962 Honda CB92 Benly sportbike, above, and a Ducati 450 cc Bevel Drive Single road race, below.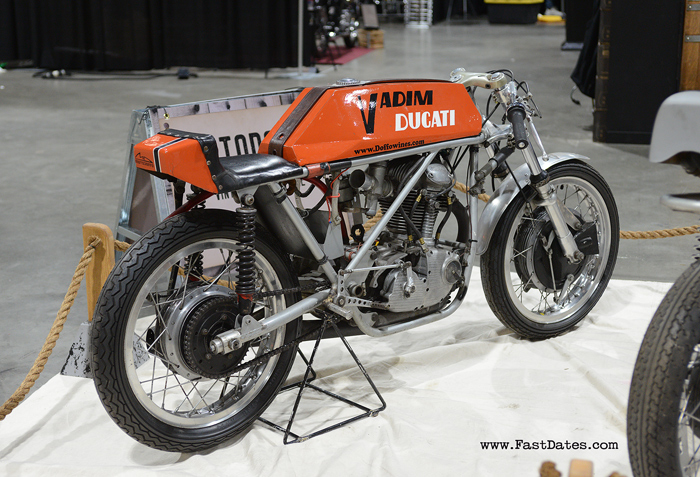 GIANT Electric Bicycles
Giant Bicycles is located in nearby Thousand Oaks, California, and is working with some famous motorcycle roadracers to help market and promote their new line of GIANT electric assisted Mountain and Off Road Bikes. One of those riders is none other than National and World Roadracing Champion Eddie Lawson, who was on hand at the GIANT display on Friday afternoon. Here is GIANT's Eddie Lawson Tribute Electric Bicycle all decked-out in Eddie's old Green/White/Blue Kawasaki racing colors from the 1980s. And next to the bicycle was Eddie's Kawasaki 500cc Grand Prix race bike So cool.
Below: Another famous American roadracer, now retired from motorcycle racing and deeply involved in bicycle racing with his big brother Ben, is Eric Bostrom. Ben now works full-time at GIANT Bicycles assisting in marketing and sales.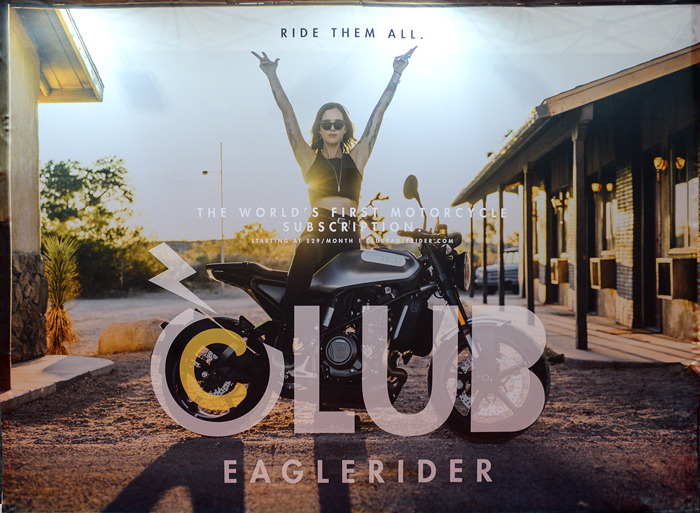 Above: When you want a cute girl who can ride, FastDates.com Calendar and bike girl Kitten Imogen Lethoen is featured in
many motorcycle advertising campaigns, including this one for Eagle Rider Motorcycle Rentals who were at IMS Long Beach.
FastDates.com Calendar Kitten Imogen Lethoen featured in the 2020 Iron & Lace and Garage Girls Calendars available here - http://www.FastDates.com/IRONLACE.HTM
And below in the Ducati Scrambler 1100 Commercial "The Getaway"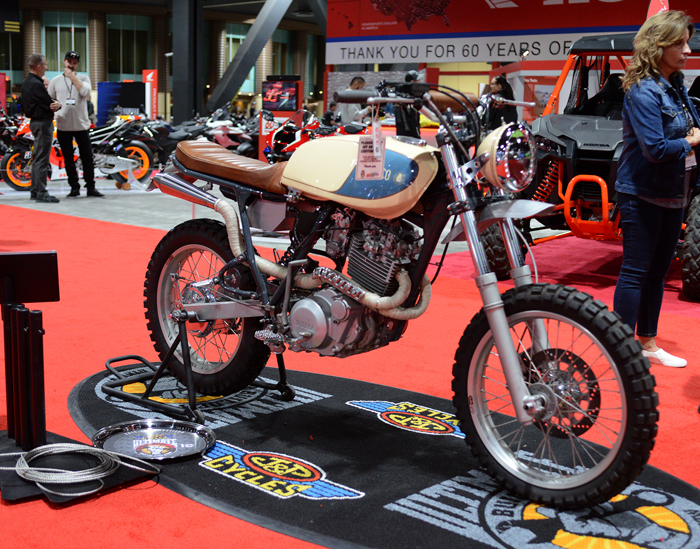 A cool looking Yamaha 450cc Single Off-Road in the Builder's Bike Show.



To learn more about the Progressive® International Motorcycle Shows® Tour, please visit: MotorcycleShows.com.

Return to Pit Lane News • Pit Board Features