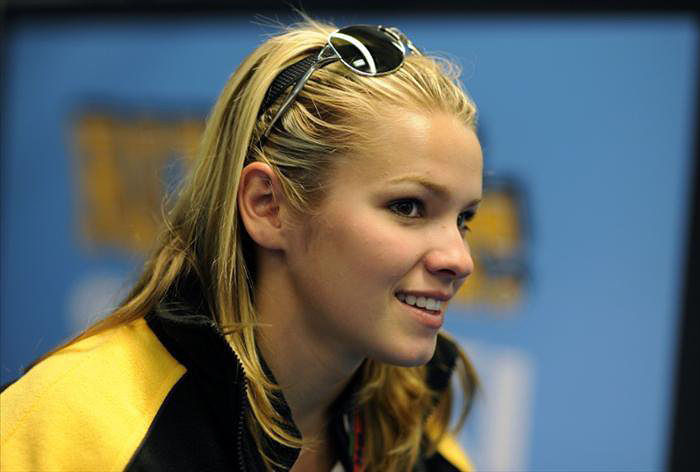 Teenage Dream Roadracer Elena Myers Interview and profile
Interview October 2011: Where are you from?
EM: Discovery Bay in California. Not a whole lot going on, but pretty central to everything.

What's your favorite food?
EM: I like everything from Japanese to Italian. I pretty much like everything, except Chinese food.

What was your first motorcycle?
EM: Hmm.. Yamaha PW50 and I had a Polini pocket bike too.

What bike do you ride on the street?
EM: I don't have my motorcycle license, believe it or not, so I don't ride on the street very often.

Out of all the motorcycles you've ridden, what's at the top of the list?
EM: The Suzuki MotoGP bike. I got to put down five or six laps on it.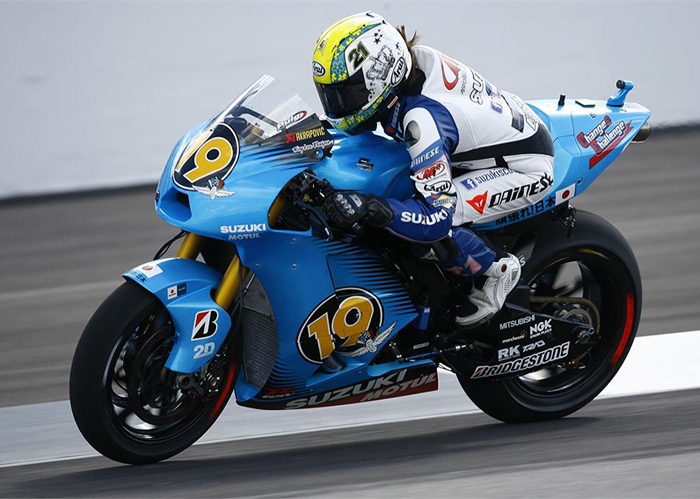 Elena at full throttle on board Loris Capirossi's Suzuki MotoGP Bike at Indianapolis 2011 as just an 17 year old.

What was it like?
EM: You know, it was a little slower than I thought it was going to be. It was the Thursday before the Indianapolis GP. They told me I could open it up on the straightaways, but not to do anything too crazy, plus the track was super slippery. I didn't want to crash their 1-2 million dollar motorcycle. Everyone was freaking out for a minute or so, because the bike shut itself off (for safety reasons) on the other side of the track, due to a throttle body sensor issue. So I was stuck on the other side of the track, and nobody knew what happened to me. some corner workers radioed in that I was sitting in the middle of the track with the bike not running. It actually worked out well, because it would've happened to Alvaro (Bautista) the next day and they would've lost the whole session. So they were happy I rode it... I was their test dummy (laughs). It was good for them, plus Indy was very cooperative, because they kept the track open while they fixed the problem on the bike so I could get my four other laps in.

How did you like the track?
EM: That was my first time at Indy and I had only gotten to do a lap and a half on the scooter that morning. I watched a video of Nicky Hayden riding around the place on my plane ride over there. Other than that, it was straight to the MotoGP bike.


What are you up to right now?
EM: I'm at Road Atlanta for the WERA Grand National Finals. Road Atlanta is one of my favorite tracks. I've had good success and bad luck, but I vote for Road Atlanta to come back on the schedule.

Other than Road Atlanta, what are your favorite tracks?
EM: Laguna is my all-time favorite track; it's only 2 hours from my house. I've been going to the GP races there since 2003. The sounds, and being able to race there is so cool. I also really like Miller, Barber and Infineon, which is my home track. I got my first win there.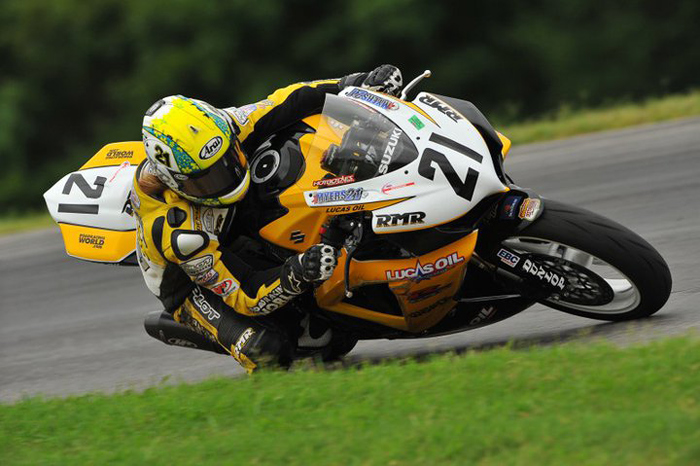 Elena during the 2011 race season on the SuzukiScoupFans.com GSXR600 Superstock bike. For 2012 she moves up into the Pro Daytons Sportbike 600cc Class.
How'd you get into motorcycle racing?
EM: Well, I started on a little dirt bike at a dirt track near my house. I did some laps and fell a few times, and got frustrated because I didn't know what I was doing. We ended up selling the bike and got some of these go-quads, kind of like go-karts without the plastic on them. A little while later there was this go-kart track in Stockton that was 30 minutes from my house. My dad spoke with the owner and got him to let motorcycles in to the place. So every Monday from 2001 to a few months ago I rode at the trackday that my dad was running. Basically free track time! A lot of people started coming out like Bobby Fong and Cameron Beaubier. We all grew up racing against each other. So, it's coming a little bit of a long way.
What draws you to the sport? The thrill, the competition, the speed?
EM: I think it's a combination of all of those things. It's the people, the speed, the fun. I've been an adrenaline junkie since I was 6 years old. I would have my hands up the scariest rollercoaster while my parents would be holding on for life. I always have liked it. When I first started, it was just a hobby. As I've kept doing, I've really come to love it. It's gone from 'I'm getting a little faster' to 'I'm battling with Cameron Beaubier on 80s'. Next we're getting on 125s and everything gets faster and more exciting. And now, I mean, I've gotten to ride one of the fastest race bikes in the world! But I think the coolest thing is having fans. I never thought I'd be signing autographs. It's all crazy to me. To think that the fans look up to me and that I inspire them, that's a big honor.
What has it been like to ride for a top-tier team and have sponsors like M4 and Suzuki Scoop?
EM: I rode for Kawasaki for three years as an amateur. The first year in AMA Pro, I ran under the GEICO tent with Danny Eslick, so it was cool taking advice from him. This year, I switched to the M4 team. John Ulrich has sponsored me since I was 12 years old. I first met him when I was 11, and he said to me, 'I have a plan for you, and when you turn 16, I'm going to take you to Daytona, and you're going to ride for my team.' Since then, it's really worked out. Suzuki's been great, and they just came out with a new bike. The first time I rode it was at Daytona. It's been a big learning year, but I couldn't have done it without my fans and sponsors behind me. With the whole Suzuki Scoop deal, Suzuki came up to me and wanted me to reach out to kids my age and in my era. They'd put a post on facebook, 'Give Elena Myers an inspirational quote, and if they like it, she'll pick it and put it on her tank.' I'd pick my favorite and put it on my tank all race weekend long. For me to get a kick in the butt from my fans and Suzuki Scoop is pretty cool.
| | |
| --- | --- |
| | |
Where do you see yourself in the long run?
EM: Like Nicky Hayden says, I'm chasing a dream. I've always dreamt of racing in MotoGP. Whether it happens or not, that's what I want to do. Whether it be in Moto2 or in the premiere class, just to be racing on the world stage and with that level of competition is my goal. I would like to be known as the best in the world at what I do. I get good grades in school. I got straight A's and graduated at the top of my class, but everything else I kind of suck at! I'm very uncoordinated at stick and ball sports. Thank God I found something I'm good at.

So racing motorcycles and making straight A's, huh?
EM: I actually got into golf recently. But just like anything, you can't show up and be amazing at it. You can be great at one hole, and be horrible the next. I'm working on it, but wouldn't say I'm good at it. Some people are just naturally good at things, like Cameron Beaubier. He'll pick up anything within a day. I'm so jealous of him. I grew up racing with him, and am in awe of his talent in everything he does.
Do you look up to him as a racer and see high hopes for his future?
EM: You know, I used to kick his butt back when we were racing 80s... a couple of times I did. He's a year older than me, so if next year I'm at where he is now, then I'll be doing ok. I hope to be within his level in the next year to two years. I see him going really far. He's raced the Red Bull 125's so he's got some experience on me.
What was it like switching from AMA Pro Road Racing to racing with AMA Pro Flat Track at Calistoga?
EM: My first race, I got third place, and I was happy about that. Thank God AMA Pro gave me my license; I don't have a whole lot of experience in flat track, but I am a safe rider. Surprisingly, I came within a half second of the pace in my first session. I ended up borrowing a friend's bike, threw some decals on it and rode it, no adjustments or anything. It was a really fun experience. I enjoy doing something new. It's a way to fall in love with racing again, because I've been doing road racing for a while, and it was a cool way to mix it up and keep it new and exciting. I've also been doing supermoto, but it's gotten a little boring for me. So Flat Track was something that I could just have fun doing on a motorcycle. It was great being at Calistoga. It was a lot slicker than I remember. I was in a transfer spot in the LCQ and got bumped to the wall, which wasn't something I was used to. Dirt trackers don't mess around!

Pro: Last question, who is your racing hero?
EM: I think my favorite racer of all time would be Troy Bayliss, I got my number from him. I'll be completely honest why I like him. It was 2002, my dad and I were watching World Superbike. My dad was rooting for Colin Edwards, and I was like, 'the heck with you dad, I'm rooting for Bayliss.' And that's where it started. I had to choose a number for supermoto; I chose 21 and I got it. Since then, it's stuck. My birthday is November 21st. I was born at 2:21PM. Every time I look around, I see 21 everywhere. I pulled into Orlando, and the building said was named Stage 21. My wristband says 21 on it. It's everywhere. In the AMA Pro paddock, I know everyone, so they're all my heroes on a personal level, for the people they are. I like Josh Hayes, because he's a very humble guy. The Haydens too, they're cool. Oh, and I was a big Hopper fan back in 2005. Last year, we were kind of teammates, since John (Ulrich) runs both M4 and GEICO trucks, which was also pretty cool.
You write articles for Roadracing World, how has that evolved from when you first started?
EM: I first started writing for them in 2006. I used to write everytime I'd race, but now it's a monthly thing. It's progressed to every single magazine. Having John (Ulrich) behind me... I wouldn't be here today without his support and knowledge.

What are your plans for next season 2012?
EM: Well, I guess it's still silly season, so nothing is finalized. Something that I will release is that I will be racing in Daytona SportBike next year, so I'm really looking forward to that! A little more TV time for me won't hurt. I'm excited to do the Daytona 200. I look forward to rising to the added speed and competition. I'm not saying there wasn't competition in the SuperSport class, but knowing that I'll be racing against the fastest 600 riders in the country, I think that will help a little bit. Other than that, I know I'll be riding for John.
Return to Pit Board Features • Pit Lane News