The 1st annual Ducati Edelweiss Imola tour group poses for a group picture on Thursday morning at the famous Assisi Cathedral and Monastery, just a block away from our hotel in the hilltop town of Assisi. I am on the right, 2nd from the end.
Another Dream Motorcycle Vacation?
The Ducati Edelweiss Imola Superbike Tour
Almost the perfect trip for any sportbike fanatic, part 1
By Jim Gianatsis, Editor
Bologna Italy, September 2010 - Once you've taken one Edelweiss Motorcycle Tour in a beautiful location somewhere in the world you'll become hooked and want to return for another, year after year. The experience is just that incredible. The chosen locations, the trip route, the bikes, the hotel accommodations, the tour guides and support vehicles, and the great people and friends you meet while on your tour. In fact, many of the riders on any Edelweiss tour are returning participants, with many of them making it their goal to try and take nearly every tour in Edelweiss' incredible world-wide catalog of tours from across Europe, to China, Africa and even the Americas.
I got hooked on Edelweiss when I took my first tour, the Western Alps Touring Center Tour in 2005 which takes place in the mountains of southern France and along its Mediterranean coast with stops in the glamorous cities of Cannes, Monaco and Saint Tropez. "Touring Center" means you are based in one resort hotel for the entire week and take daily 150-180 mile loop rides out from the hotel each day, returning to your same room each night.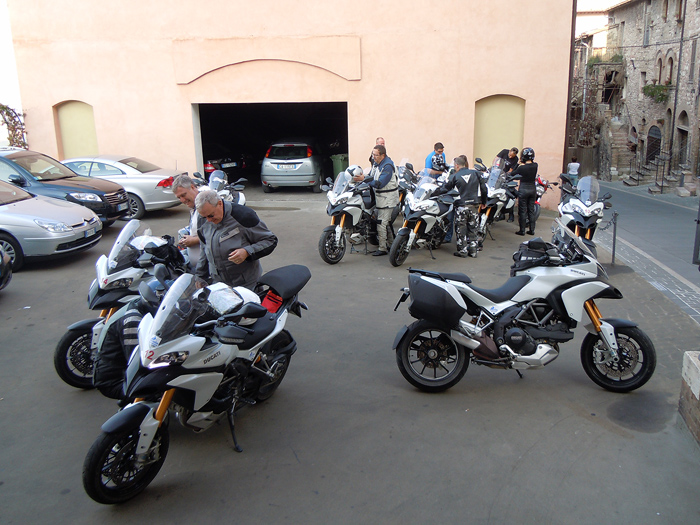 Our group saddles-up in the hotel parking lot at Assisi on Friday morning Day 6 to ride to San Marino. But first we will stop at the world famous Assisi Cathedral just down the street to shot a group picture (see above). Check out the 500 year old houses across the street! Some of us used the Luggage Bags that come standard on the Ducati MTS1200 Touring, and some of us including myself left the side bags back at Ducati. The Edelweiss Support Van on each tour transports all your luggage from one hotel to the next. Bikes were numbered on the front to tell them apart.

I hadn't been on a new Edelweiss tour in 4 years, what with the economy and tanked stock market having devastated my savings, my trying to no avail to get friends to join me, then having a major bout with cancer last year that left me hospitalized for months. It was always gong to be "Next year". Well next year was here. I really know how important it is to enjoy life, and there's no point in dying rich.
And besides, I always make lots of new friends on these Edelweiss trips!
The new for 2010 season Ducati Edelweiss Imola sounded to be the perfect tour for me, a hard core Ducati owner enthusiast and superbike fanatic. It started off with a tour of the Ducati factory and museum, pick up the new Ducati MTS1200S Touring superbike powered Multistrada, and ride across the mountain roads and through the vineyards of Tuscany in Northern Italy, finishing up with a weekend at the SBK World Superbike races at the famed Imola race circuit where we would see Max Biaggi and Aprilia clinch his first World Superbike title.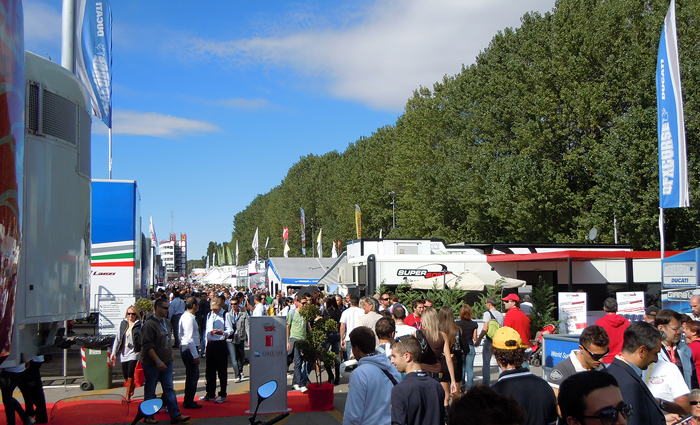 The Race Paddock at Imola World Superbike with 69,000 race fans!

The 2010 Ducati Edelweiss Imola tour kicked off a new relationship that Edelweiss World Tours has established with the support of Ducati motorcycles. In past years the Edelweiss tours had principally featured BMW R1200 GS bikes, arguably the best multi-purpose touring bike to this time. When I selected it for my first Edelweiss tour in 2005 I found it to be a fantastic bike, with its only drawbacks being it was extremely tall and somewhat heavy for a Twin cylinder bike. When I planed my return for the 2006 High Alpine Adventure Tour, I didn't want to have to be manhandle such a big bike on the tighter Alpine roads and but in a early season request to Edelweiss to offer me the then new Ducati Multistrada MTS1000. They actually bought the bike just for me, which was fantastic. At a 100 pounds lighter and much easier to ride than the GS, the Multistrada was certainly the best choice for Edelweiss's Alpine tours and they soon added more Multistradas to their fleet.
The only drawback to the 1st generation Multistrada, compared to the the bigger BMW GS, is that the Multi wasn't as comfortable on longer rides and the engine wasn't as smooth, leaving you a little more fatigued at the end of the day. But then so did the big BMW if you had to manhandle it on tight roads. The new 2nd generation watercooled Testastretta 11° powered Ducati Multistrada MTS1200 introduced this year takes it to an all new level. Just as lightweight and maneuverable as the old aircooled MTS1000, while it's even more comfortable than the former industry standard BMW GS, and it boasts some 50 more horsepower to slingshot out of a corner and in overtaking cars like its Superbike brothers.
The gang of Ducati Edelweiss Imola 2010.
In past years Edelweiss never really had a working relationship with the BMW factory. They bought their BMW bikes new from dealers, garaged them at their facility in Munich, and sold them off as used at the end of the season. I wasn't privy to Edelweiss exact deal with the Ducati factory, but the bikes seem to be maintained, if not owned by Ducati, and Ducati is actively promoting the Ducati Edelweiss Tours on Ducati.com and through their dealers world-wide.
The Ducati Edelweiss tour started in downtown Bologna at the 5-star Royal Hotel Carlton near the Ducati factory. On Monday morning after visiting the factory and its museum we headed south by mountain roads to Florence. We stayed outside Florence for 2 nights in a very funky old monastery converted to a hotel, and visited Florence during by train during the day. Wednesday night we stayed in a large modern hotel in downtown Sienna near the famous town square where they race hours in a big festival once a year. Thursday night we stayed in the famous fortress cathedral city of Assisi atop a mountain. Friday we lunched at the old fortress city of Urbino, then rode through the rain into the independent country of San Marino to stay at another modern 4-star hotel.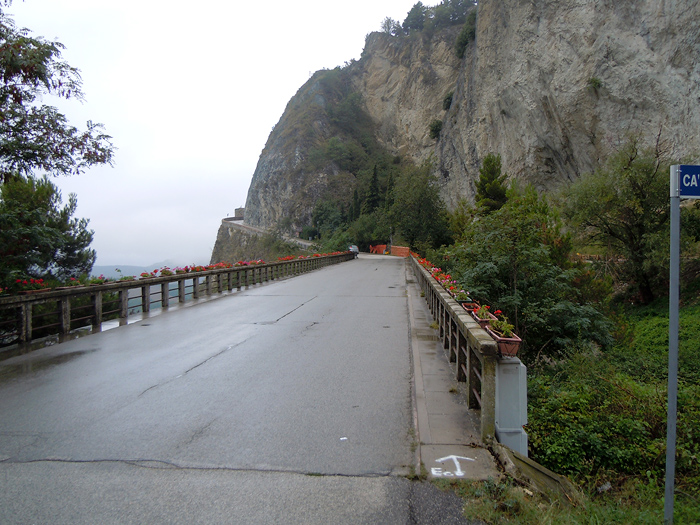 Not as frightening as my past Alpine tours, but this narrow road over a deep ravine and around the side of the mountin up to Urbino on top of this mountain overlooking San Marino, was a bit intimidating. Note the potted flowers on the bridge railings.
Saturday we rode to the racetrack at Imola to get dialed-in for Sunday's race and watch Superpole then returned to the Carlton hotel in Bologna where we would finish the tour. Sunday morning we rode down to the track to watch the World Superbike races and Max Biaggi clinch the 2010 title. On the way back from the track we stopped at the Ducati factory store in Bologna, which was closed on Monday when we had started our trip at the factory, and bought lots of T-shirts and other gear. Besides the visit to the Ducati factory and Museum (see the story on the following pages), one of the other nice perks of this being a Ducati factory sponsored ride was we got VIP parking for our bikes at the Ducati Midway, right behind the Ducati Main Grandstands at the Imola race track, right on the front straight across fro the pits. The had a riding gear check-in booth run my Elena, my tour guide at my last visit to the Ducati factory and museum back in 2004! Plus tickets to the Ducati grandstand which included the best view of the track watching a big screen TV display atop the pit garages where we could watch the complete World Superbike TV broadcast live as it took place on the track. Incredible!
The Edelweiss tour guides for our trip included veteran Marco Bauer, with whom I had taken the High Alpine Adventure tour in 2006, and new guy, Manuel Marabese. It was Marco who designed the Ducati trips, and lead us by bike on most of the days. Manuel handled driving the chase truck, delivering our baggage from one hotel to the next. Both were easy and helpful to get along with, and went out of their way to be sure we all were happy.
This particular Imola tour group was as diverse and wonderful to meet as every one that I'd been on before. There was Dean, a Triumph dealer from Albany, NY, who ride with me on the High Alpine Adventure tour in 2006. Wayne and Mary, a paramedic and psychologist couple from Taringa, Australia. Another Aussie Tony, and a Kiwi Richard. David from Canada. Kim and Choo from Beijing, China. Keiko and Kaz from Japan. Adam the restaurant entrepreneur and his friend the building contractor Tim from Bridgewater, MA, with Tim's entire family following us on the tour from hotel to hotel and city to city in a rental car! The life of our party, the Thomas and Hardy pair of Bill and Dante from South Africa. Plus freelance motojournalist Baseum Wasef and his photostylist girlfriend Anna.
Here and in the Below picture, typical of the Tuscany backroads and the scenery all week long. Automobile traffic was almost non exhistant. The roads were always in excellent, like new condition.
The 8-day tour began by flying into the Bologna Airport on Sunday, catching a taxi and meeting our group at downtown Bologna's Royal Hotel Carlton to check in for an introductory dinner that evening. The Carlton was a very luxurious 5-star hotel, all marble and chandeliers and huge modern rooms. We found our Multistradas waiting for us in the hotel garage on Monday morning for our ride to the Ducati factory. The bikes all had about 1000 miles on them so we figured they most have served as Press bikes before being given to us. At the Ducati factory front parking lot we were meet by Ducati tour guides who would take us through the factory and the Ducati Museum. We were also meet by Ducati factory photographer Tommas who would ride with us and photograph us during the week's tour.
The one fault of the Imola Tour if there was any, is that it couldn't be all things to everyone. It had to strike a compromise, which in that regard it did quite well. Lots of Italy, the Ducati factory, interesting hotels and towns, cafes and restaurants, historic cities, cathedrals and fortresses, beautiful back roads in one of the most beautiful countries in the world. For many on the tour it was a perfect compromise between motorcycles and sightseeing. Some, on the other hand, left the tour group some days to goof off their own visit museums and other places of interest, meeting us that night at the next hotel on the tour where our luggage would be waiting for us in our rooms. While for me, I wanted more motorsports enthusiast things like to visit Ferrari, Aprilia and maybe a track day. A Ferrari factory tour had actually been described in the Edelweiss tour guide, but we came to find out upon arrival from our tour guide that the Ferrari factory wasn't on the schedule, as it is only open to Ferrari owners.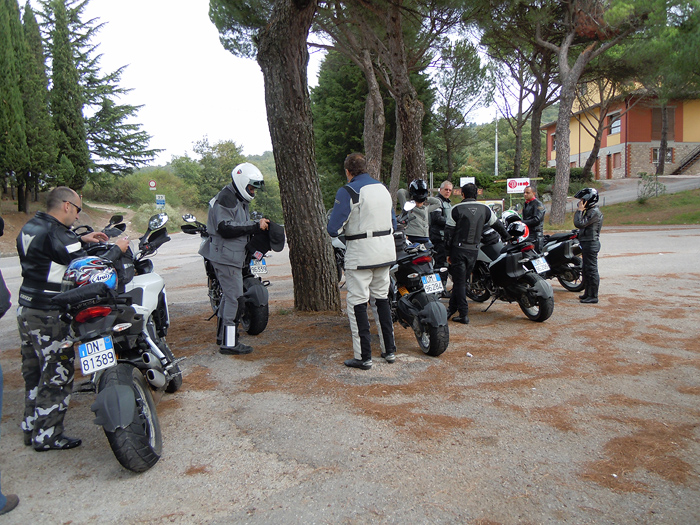 One real drawback of this particular tour was we only had one guide riding with us to lead the group. And with a wide diversity of riding skill among the participants, including couples riding 2-up, we had to ride at a pace I'd describe as 70-80%. Good for enjoying the view, not great for real riding excitement. Then every 30 minutes when we came to an intersection, we have to wait anywhere from 5-10-20 minutes for the rest of the group to catch up.
My experience on past Edelweiss tours were with the slower riders and couples usually riding together on their own, taking a shorter ride route and getting in more sightseeing. While the Edelweiss guide who knew the roads, took the faster riders on a longer, more difficult roads at a quicker 80-90% pace. Everyone arrived at the hotel at night fully satisfied. This time unfortunately, it just didn't happen. And some weren't very happy.
On Thursday I was booking through the backroads with the 2 couples from Japan and China who were riding two-up. Somehow I had gotten separated from our guide Marco and the others, and because my bike's tank bag and road map had been stolen from the bike the night before at the hotel in Sienna, I now had to follow someone else with a map as to not get lost. The Japanese couple Kaz and Keiko were riding at a pretty fast pace, say 90%, and I was having to ride at about 80% to stay with them. We had found the The backroads in Italy to be rather tricky...the asphalt consisting of small polished stones like BB pellets. And our bikes were sliding loose sideways accelerating out of corners, DTC working or not, the bikes were sliding without getting over to the edges of the tires. Grip was poor everywhere. So we're jammin' down hill on a 2-lane which turns left on a stone bridge over the creek at the bottom and Kaz looses the rear end of his bike on some gravel and cut grass on the edge of the pavement. Down they both go and bounce off the sides of the bridge.
Luckily there were no serious injuries, but Keiko injured her foot and couldn't stand up. And Kaz's Ducati was down for the count. We sit there alongside the road for the next 2-3 hours, waiting for the rest of the group to arrive, and to make arrangements for an ambulance for Keiko and the support truck to come and pick up the bike. Keiko finished up the tour on crutches with a cast on her lower leg for a broken toe, with both she and Kaz riding in the support truck. Thankfully it was just a broken toe, which might not have happened at all if she had real motorcycle boots, rather than Alpine Star woman's fashion boot with no real crash protection.
The other big complaint on this tour was the food, particularly at the hotels most nights including the 5-star Royal Carlton. In most cases we were not allowed to order off the menu, but got served a set group menu with only choice of chicken or fish, which you couldn't tell apart, and some not so great pasta. One night I finally did rebel and Marco let me order off the menu and I got a fantastic pepper sauce baked filet mignon, while every else had to suffer. On Saturday night back in Bologna, rather than eat at the Royal Carlton, Marco took all of us in to the middle of town where things were jumping and we found a crowded and popular restaurant and ate out under the stars. I ordered a mixed seafood dish which sounded excellent, but when it arrived it was mostly deep fried sardines which were not cleaned and still had the heads with them. That night I went home hungry.

I've been to Italy 3 times now and the eating experience has never been great. You can get better Italian food in America, along with ice in your Coca-Cola, and a real cup of coffee without having to ask for a bigger cup and add hot water to a cappuccino. Hamburgers and French Fries? I did find one McDonalds in Florence next to the train station.
The view out the back porch of our converted monastery to hotel Villa Pitiana with sun chairs and a swimming pool below.
Another unexpected problem, was that Ducati and Edelweiss wanted to show off the multiple personalities of the leading edge MTS 1200S with its electronic adjustable suspension and engine management riding modes for Sport / Touring / Urban / Enduro. Some 'optional" off-road riding was advertised in the Edelweiss advertising for the Imola Superbike Tour, but some participants, less skilled without dirt riding experience, didn't really realize what that meant until they came face to face with a dirt road. The MTS1200S was perfectly fine with its smooth street tires on the two well maintained dirt/gravel roads we came up on each day. But for many of the riders who had never been off pavement before it was, it was total panic as they crawled along at 10mph while being passed by cars doing 30 mph. I bypassed the first day's off-road section with a few others, as my allergies were giving me hell and didn't want to be breathing the dust of 14 bikes on a very dry and dusty dirt road.
The next day we were lead onto a dirt road again, this time without warning or being offered an alternate paved route. Most of the group panicked and proceeded at a snail's pace in Enduro mode. Having grown up motocrossing, scrambles and enduoo riding, I just left the powerful Multi in Sport mode, clicked it into 4th gear and disappeared down the winding dirt road by myself at about 50 mph. Back on pavement 10 miles later at the next intersection I had to wait another 15 minutes for the group to catch up.
Pictured above: After coming into Florence by train on Tuesday, Marco and I hiked through the city, across the Ponte Vecchio bridge, then up a big hill to to a famous view point named the Piazzale Michelangelo. Here is the views from there of Florence looking towards Ponte Vecchio, the oldest of Florence's six bridges. Probably going back to Roman times with its stone pillars and wooden planks; it was built in stone but then newly destroyed by a flood in 1333. It was built again twelve years later, perhaps by Neri da Fioravante (or Taddeo Gaddi, according to Giorgio Vasari). The five arches became three and the main part was widened. The shops, housed under the porticos, first belonged to the Commune which then rented them out. But later on, towards the 15th century, they were sold to private owners and began to change through subsequent additions, raised parts and external terraces, extending towards the river and altering the original architecture in an anarchical, suggestive way.
Just to the right of the view of Ponte Vecchio from the Piazzale Michelangelo, is this view of the the Palazzo Vecchio (far left tower building) and the veduta del Duomo (Dome church far right). The Vecchio was built around 1300 and has served as the seat of government for both Florence and Italy. The building of the dome on Florence cathedral, 1414-1436 by Filippo Brunelleschi, can be considered one of the Renaissance's main building enterprises.
At this point in the story I should mention that I had tested a new $19,995 Multistrada 1200S Sport a few months earlier when they first came out, and after trying the optional / Touring / Urban / Enduro modes which decreased the power, slowed the throttle and softened the suspension, I just put it back in Sport mode like the street bike I wanted. Then I went out to SoCal Ducati and bought a Base Model MTS1200S for $1495.
It still has the different engine management models, as well as the more important DTC (Ducati Traction Control). Just not the electronic suspension or ABS. The ABS is a $1,500 option on the Base Model if you want it. During the tour 2 of the bikes, mine included lost their ABS and DTC systems and they were never missed even in a heavy rain of Friday coming down out of the mountains into San Marino.
My previous two Edelweiss trips were a Perfect 10. Would I want to do this Edelweiss Ducati Imola tour again? No.
For me it was might be rated a 7, down 3 points for its slower pace, down time and waiting on other riders, arriving late at our hotels every night because of the rider delays, the sightseeing taking preference or motorcycle activities, and the mediocre dinners on 7 out of 8 nights.
I had actually contacted both Edelweiss and Ducati months in advance to ask if FastDates.com might co-sponsor this series of Ducati tours with our SBK affiliation bringing added perks at the Imola World Superbike race, and at the LA Calendar Show for their next Laguna Seca Ducati Tour in the uSA, as well as more motorcycle oriented themes along the way. They said they would look into it, and then never got back to us....
More of the Edelweiss Ducati Imola Italy Tour:
Edelweiss Ducati Italy Tour • The Factory & Museum & Store • Imola World Superbike Races

More Edelweiss Tours:
High Alpine Adventure • Western Alps Touring Center Tour

See More Ducati Visits
Ducati Corse MotoGP Race Shop • Ducati Factory 2004 • World Ducati Week • Ducati Racing Experience
Back to The Pit Board Index • Pit Lane News
Click on Any Picture
to Go Big

Day 1: Sunday Check-In
Bologna
Our 9-day tour week (7days riding) started on Sunday evening garage meeting at the Carlton 5-star hotel in downtown Bologna, a short taxi ride from the Bologna Airport. Here we find our nice, shiny new bikes waiting for us. Here we meet our new Multistradas in the Hotel Garage and adjust the controls to my like. These bikes seemed to have come from a Ducati Press or Demo fleet, as they came from Ducati with about 1,000 miles on them. You have the option of buying separate basic damage coverage insurance with a large deductible, or a lower deductible.
Day 2: Monday
Ducati Factory & Museum Visit and Ride to Florence
Action kicks off at 8:30 each morning after breakfast for the day's Ride Briefing. We also leave our luggage at the hotel's front door each morning for Manuel to load in the Edelweiss van and deliver it to our next hotel that evening. which on the the 2nd day would be near Florence
We rode from our Bologna hotel to the Ducati factory on the East side of town.
We rode about 1 1/2 hours after leaving the Ducati factory, then stopped for lunch at this nice hotel/restaurant along the road in the middle of nowhere for one of our our best meals of the trip, lots of pasta and lasagna and Coca-Cola. Drinking wine or other alcoholic beverages is not allowed until after the days's ride is over.


Day 3: Tuesday Florence
This is the Villa Pitiana where we stayed on nights 2 and 3 out in the countryside between a day spent in Florence. Marko told us it was a very historic monastery in the past and people came from around the world to stay here.
The outside was beautiful, but the rooms were very old and funky like storage rooms furnished with used swap meet furniture. You need a map just to get around the place.
Above is the Villa Pitiana's back porch, and Below is the beautiful view of farms and wineries from there.
www.VillaPitiana.com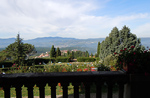 The Villa Pitiana's bar was great for beer and wine each evening, and to sit out on the back lawn and talk to our new found friends, but the banquet meals the kitchen prepared our tour group for the dining room both nights were fairly bad.
The streets in Florence are very narrow and crowded with not much chance of parking together on bikes. So Marco took me and a few others into downtown Florence on the local train which proved to be a good option.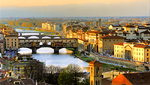 Above: A view of Florence at Ponte Vecchio, the oldest of Florence's six bridges, is one of the city's best known views from a point atop a hill we hiked. Probably going back to Roman times with its stone pillars and wooden planks; it was built in stone but then newly destroyed by a flood in 1333. It was built again twelve years later, perhaps by Neri da Fioravante (or Taddeo Gaddi, according to Giorgio Vasari)
View of Florence's Palazzo Vecchio (far left tower building) and the veduta del Duomo (Dome church far right). The Vecchio was built around 1300 and has served as the seat of government for both Florence and Italy.
Day 4: Wednesday
Florence to Sienna
This was finally a first full day of riding! All the roads were traffic-free, medium speed 30-70mph sweepers with beautiful farm and mountain scenery. We stopped for lunch in the town of Gimagano, then head for the big walled city of Siena.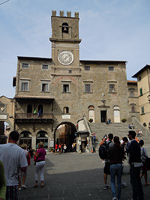 Above and below, This is Gimagano, our lunch and ice cream stop on the way to Sienna.
Siena below, where we e stayed in a big modern hotel right in the middle of the town just down the street from this, the famous Siena Piazza Campo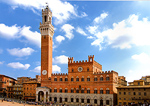 We walked over to the Siena Piazza Campo from our hotel to have beers at a cafe on the plaza right in front of this building. This is the legendary Piazzo where feuding Italian families still have a dangerous horse race each year around the brick plaza to prove who is the better.
Kaz and Keiko from Japan enjoy Castiglione del Lago and the view overlooking lake Tasimeno.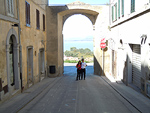 Day 5: Thursday
Sienna to Assisi
Our 2nd full day of riding on some very amazing roads. We get a chance to try the off-road settings of our Multistradas on a a very dusty dirt road, but a few others and I opt to look for a pavement section instead, getting lost in a small back road village atone point before hooking back up with the others again.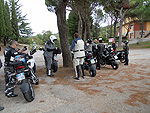 The group is pretty scattered at this point, thanks to another unexpected dirt road section, but we accidentally all meet again at an unplanned lunch stop at a nice outdoor restaurant in the old walled city of Castigone del Lago overlooking huge lake Lago Tasimeno.
After leaving lunch at Castigone del Lago we get back on the road to Sienna. The tour group gets scattered again, we've lost novice tour guide Marko who was leading us this day. Without a map of my own I latch onto the Japanese couple Kaz and Meiko, and the Chinese couple Kim and Eilene from Beijing, who have the girls on back to help the guys map read and navigate.
We get into a nice fast twisty section and Kaz is leading us at a fast 90% pace. The roads we've been on are polished smooth and don't offer much grip as it is. As a downhill section turns into a tight sweeper across a stone bridge, Kaw hits some very light gravel and grass on the edge of the road and goes down at about 30 mph. Kaz gets some abrasions on his chest through his jacket, but is Ok. Keiko seems to get her left foot caught under the bike as it slides and gets a bad abrasion on her boot which doesn't offer much impact protection.
It's Keiko's first serious bike crash so it's very traumatic for her. Her foot is swollen and she's in pain and can't walk on it. So we get her into the shade on the side of the road and try to phone Marko in the chase van for help.
Within the next hour the entire tour group comes up on our location and we all end up hanging out on the side of the road for another hour or so. Wayne is a paramedic back home in Australia, and deems it is best to call and ambulance and get Keiko to the nearest hospital for X-rays.
Marko would arrive later to pick up the crashed bike and join Kaz and Meiko at the hospital. Meiko had a broken toe and was put in a cast up to her knee and would be walking with crutches. They 'ld be finishing up the tour riding in the van with the crashed bike in back.
We had another major issue before leaving the crash scene on the side of the road. Both Dean and Bill had been complaining about not having any working rear brake on their bikes, with the pedal going all the way down about 3 inches and not biting. So while we were waiting around I tried to remedy their rear brake problem by turning the adjuster rod on the rear brake reservoir. I did the same on my bike which also had a lot of slack in it. I adjust all our bikes to a normal 1-inch of brake pedal play and tested them by riding their bikes up the road and back and theirs both seemed fine. Then the rest of us not going to the hospital with Keiko, mounted up and head towards the hotel at Assisi.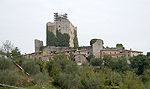 We got spread out again as I was in the front of the group at a quicker pace. Unfortunately Dean and Bill only got about 2 miles up the road when their rear brakes started smoking and then locked up solid. Thankfully they had the wrench in their tool kit to remove the seized rear brake reservoir from their bikes so they could back off the adjust rods and get riding again. But they lost another hour on the road, arriving in Assisi at dark.
Hopefully I sorta made up for it by buying them all their beers that night. Sorry guys!
Day 6 Friday:
Assisi to San Marino
On leaving the hotel this morning we rode our Ducati Multistradas up the street to the Assissi Cathedral so photographer Thomas could do a nice group shot for Ducati Edelweiss promotional purposes. Then we were back to riding again on some great, smooth, fast mountain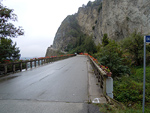 This scary mountain side road lead up to this town and church on top o the mountain, I think called Sant'Angeleo In Vado.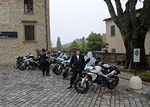 Tourists! We parked our bikes in the middle of Sant'Angeleo In Vado in another prime "no parking" spot!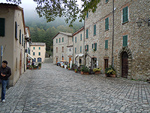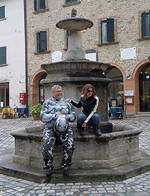 Canadian Dave poses with Aussie Mary at the Sant'Angeleo town fountain.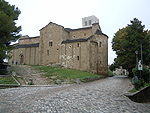 The church in Sant'Angeleo In Vado



Back on the road again for a couple of hours, lunch of pizza at another roadside restaurant, then 2 more hours to our next coffee break here in Urbino.


Afte Urbino we made our final ride of the day into the independent country of San Marino, inside italy, near the hoe of Valentino Rossi and the Misano Race track. The final half hour riding down our of the mountains towards the coast it started raining and our normal riding gear proved not to be fully waterproof. Our rain gear was packed in our luggage in the van.
We also discovered the brake pads on the Multistradas, great in the dry, did not work in the rain. Braking distances had to be increased about 3x further and engine braking was much more effective.
Luckily our hotel at San Marino had a nice dry underground garage to park in, and an elevator straight up to our rooms for a hot shower and dry clothes.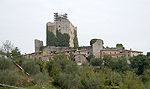 Day 7 and 8
Friday and Saturday
Imola World Superbike


Click to See
Max Biaggi winning the 2010 World Superbike Championship at Imola, 69,000 crazy race fans and a few pretty girls