Max celebrates his 2010 World Superbike Championship win on the podium after Race Two with his Italian fans who have spilled onto the Imola track from the Aprilia grandstand across the track. Our Ducati Covered grandstand was just to the right of this one. Click to GO BIG.
Ducati Edelweiss Imola Superbike Tour
The perfect trip for any sportbike fanatic, part 3
Imola World Superbike Weekend
By Jim Gianatsis, Editor
Bologna Italy, September 2010 - Friday night a heavy rain caught us riding into San Marino. The next day Saturday, because there was still a small chance of continues rain, rather than stick to the Edelweiss tour / schedule route of taking back country mountain roads back to the Carlton Hotel in Bologna where we started the week, a few of us decided to go straight to the racetrack at Imola (also on in the same direction to Bologna) to watch Saturday Superpole get dialed-in for Sunday's race. That turned out to be a great idea as it gave us a chance to check out the track, the Ducati midway area where we could part our bikes right next to the Ducati Grandstands, and for me to check out the Race Paddock, Pits and Press Building before it got too crowded. I stopped by the BMW pits to say "Hello" to Troy Corser and his wife Sam, a former Fast Dates Calendar Kitten herself. By noon the before Superpole the rain had ended, the sun was out and the track dried quickly, it had turned into a beautiful weekend.
After Superpole ended with Kawasaki's Michael Laverty surprising everyone by taking the Pole. We collected our Multistradas and riding gear from the security guarded Ducati Parking Area and Gear Check Booth, then got on the nearby the Autostrada for about a 15 miles return ride to the Carlton Hotel in Bologna for Saturday and Sunday night where we would finish the tour.
The Ducati display and hospitality area behind th Ducati Grandstand at Imola. We parked out bikes in a secure area right behind the tents.
Sunday morning we rode back down the Autostrada to Imola to watch the World Superbike races and Max Biaggi clinch the 2010 title. On the way back from the track we stopped at the Ducati factory store in Bologa, which was closed on Monday when we had started our trip at the factory, and bought lots of T-shirts and other gear. Besides the visit to the Ducati factory and Musem (see the story on the following pages), one of the other nice perks of this being a Ducati factory sponored ride was we got VIP parking for our bikes at the Ducati Midway, right behind the Ducati Mian Grandstands at the Imola race track, right on the front staight across fro the pits. The had a riding gear check-in booth run my Elena, my tour guide at my last visit to the Ducati factory and museum back in 2004! Plus tickets to the Ducati grandstand which included the best view of the track wacing a big screen TV display atop the pit garages where we could watch the complete World Superbike TV broadcast live as it took place on the track. Incredible!


Hannspree FIM Superbike World Championship, Imola Italy, Round 13 of 18

Max Biaggi & Aprila's first World Superbike Rider's Championship
Carlos Chca scores Double Wins for Althea Ducati at Classic Imola Circuit
Imola, Italy, Sept 24-26th 2010 - Max Biaggi (Aprilia Alitalia) did enough during a tough Imola race day to earn his, Aprilia's and Italy's first Riders' World Championship in WSBK. Biaggi had to work hard for his title on home soil, finishing in 11th place in race one and enduring another dramatic race to fifth that finally gave him the title. Once his only title rival, Leon Haslam (Suzuki Alstare), was forced out of race two at mid-race distance Biaggi did not need to finish to be crowned champion, but he crossed the line fifth in any case, to the roars of the 69,000 strong weekend crowd. Biaggi now has 413 points to Haslam's 350, with one round and a maximum of only 50 points remaining.

Carlos Checa (Althea Racing) won both Imola races, the first after a race-long fight, the second after breaking away early. He is now only 14 points behind the injured Jonathan Rea (Hannspree Ten Kate Honda) in the fight for an eventual third place, with Rea not racing today and also not sure if he will be racing in the final round or not. Cal Crutchlow is in overall fifth, 35 points behind Checa, posting tenth and third places today. Haga's double podium today puts him one point behind Crutchlow, in sixth. James Toseland (Yamaha Sterilgarda) is seventh, but only three points up on Sylvain Guintoli (Suzuki Alstare) due to two crashes and non-finishes today.

Raceday in Italy was all about Biaggi and Aprilia, but in one way the job is not quite finished, as the Manufacturers' Championship is still to be decided at the final round, with Aprilia currently 41 points ahead of Ducati.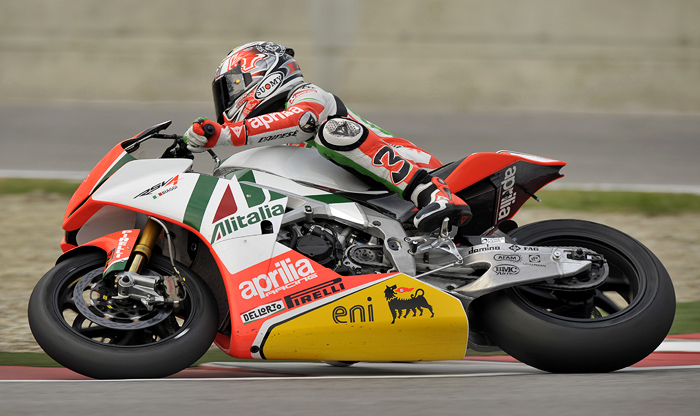 Max rode easy at Imola on his way to 11-5 placings, not great finishes, but more than enough to clinch the 2010 Championship with one race remainingg when points challenger Leon Halsem had his Alstare Suzuki blow up while fighting Checa for the lead in Race 2.
Max Biaggi: "I'm so happy, it's a big emotion through all my body. This is fantastic. It's like a dream come true, I never stopped to dream to make it happen. It was always in my mind. In fair conditions I expected it myself, OK this year we at Aprilia did a good job, there are tough riders out there, I don't want to take anything away from them, some are more consistent than others but they are all fast and this championship is very competitive. I had so many problems in Race 1, off the track, on the track, the bike sideways but I didn't crash.
It was very tough, for sure we didn't get the best set-up here at Imola, it's not an easy track but I never stopped to try. In Race 2 we changed the bike and I attacked from the first lap. This is a really great day for me, for all my team, for Aprilia Alitalia, my sponsors, everyone who supported us to make this dream come true. We really made it happen."
See Max Biaggi's SBK Championship Success on YouTube
Welcome to Autodromo Internazionale Enzo e Ferrari Dino Ferrari di Imola!
We love the Edelweiss Motorcycle Tours, especially across Europe. Their new Ducati sponsored Edelweiss Imola tour this year across beautiful Tuscany in Northern Italy, starts off with a visit to the Ducati factory in Bologna to pick up new Multitstrada 1200s, and ends the following weekend at the Imola World Superbike races. This was a must-do working vacation for any hardcore sportbike enthusiast! We had never been to Imola before, and were excited to find it was another classic european race circuit like Monza, Le Mans and Nuremberg Ring, set in a beautiful forest in the middle of the city. We picked up our Media Credentials in the middle of town at the local town hall, then crossed a nearby bridge half a block away over a river right into the track's Paddock Area.
The Paddock at all European SBK World Superbike races has all the factory race transporters backed up to the garages, the Pirelli tire transporters and changing facilities, the team hospitality trucks and tents which serve lunch to the team personnel and their special guests, and the SBK Paddock Show. The Paddock Show is the center point for Spectators who have purchased a Paddock Pass. It displays replicas of all the factory race bikes, features Playstation SBK video games and a race simulator, the SBK apparel store, and let's you sit with the winning riders as they are interviewed for the TV broadcasts by SBK's Jillian Thomas or Kel Edge after each race. Many of the factory riders also appear for autograph sessions in the Paddock Show or in front of their opened Team Garages on Pit Lane during the lunch break Pit Walks which is also available to paddock Pass Holders.
In Europe the TV viewers get to see all race weekend from Friday Practice, Saturday Superpole and all 3 Race Classes live. The Superbike Race broadcastsalso include a 1-hour pre-race show with rider interviews, pit visits and grid girls that SpeedTV never shows us in the USA.


Once it came to action on the track our Ducati Grandstand ticket provided by the Edelweiss Tour was the best seat in the house. Located right across from the Pits on the Front Straight, the front straight grandstands had 2 huge video screens mounted atop the Pit Garages facing towards us to watch all the track action live from the SBK TV broadcasts. So you never missed a moment of the action from Friday Practice, to Saturday Qualifying & Superpole, to Sunday's races including a 1 hour pre race show. You also got all the pre race programming including visits with the riders in their garages and the mechanics working on the bikes, to close up looks at the beautiful SBK and Alfa Romeo Girls.
Making the Front Grandstand seating even more exciting, unlike most tracks, Imola has installed its "Variante Bassa" which translates to "Low Chicane" in the middle of the Front Straight where much of the race action from passing, crashing and overrunning the chicane into the gravel traps takes place. After experiencing the viewing and racing action that Imola's Front Straight chicane adds for spectators, we'd like to see every race track in the world adapt a similar approach. If all a front straight grandstand ticket purchases you is a quick look of racer going past at 150mph in view for just a few seconds, then you're better off staying home and watching the race on TV. Whereas Imola gives you see all the action, all weekend long, on the track right in front of you and on the Big Screen displays. It is fantastic. We sat in the Ducati Grandstands for all the races and never once used our SBK Track Photographer's Pass. See Imola's Variante Bassa on YouTube
Another cool think about Imola, after the 2nd Superbike Race on Sunday the track's front straight was opened to all the spectators so they could come over to the Victory Podium and celebrate with Max Biaggi his new World Superbike Championship.

Sykes masters the conditions to take Superpole win for Kawasaki
Imola, Saturday 25 September 2010 - Kawasaki took its first Superpole win since 2007 when Tom Sykes (Kawasaki Racing Team) lapped the damp Imola circuit in 2'07.341, holding off a late charge from Pata B&G Aprilia rider Jakub Smrz. Sykes is now the seventh rider to have earned a pole position in 2010, in 12 rounds so far. Championship challenger Leon Haslam (Suzuki Alstare) went third and the last place on the front row will go to local regular, Luca Scassa (Supersonic Ducati). This is Scassa's first front row in WSBK racing.

The second row for Sunday's races will be headed up by Lorenzo Lanzi (DFX Corse Ducati), with the smooth riding-style of Troy Corser taking him to sixth fastest for the BMW Motorrad Motorsport Team. Max Biaggi (Aprilia Alitalia) was seventh fastest and starts the races from the second row, as he tries to win the championship tomorrow. Eighth was the second official BMW, ridden by a former race winner here, Ruben Xaus.
In damp conditions Superpole two was treacherous and Carlos Checa (Althea Racing) fell from his big vee-twin exiting a chicane, as did many other riders. Fastest going into Superpole, Carlos was therefore ninth fastest overall, ahead of the factory Ducati Xerox machine of Michel Fabrizio.

Superpole Times: 1.Sykes T. (GBR) Kawasaki ZX 10R 2'07.341; 2.Smrz J. (CZE) Aprilia RSV4 Factory 2'07.392; 3.Haslam L. (GBR) Suzuki GSX-R1000 2'08.273; 4.Scassa L. (ITA) Ducati 1098R 2'08.427; 5.Lanzi L. (ITA) Ducati 1098R 2'08.490; 6.Corser T. (AUS) BMW S1000 RR 2'09.842; 7. Biaggi M. (ITA) Aprilia RSV4 Factory 2'09.924; 8.Xaus R. (ESP) BMW S1000 RR 2'10.482; 9.Checa C. (ESP) Ducati 1098R 2'11.117; 10.Fabrizio M. (ITA) Ducati 1098R 2'11.130; 11. Neukirchner M. (GER) Honda CBR1000RR 2'11.150; 12.Crutchlow C. (GBR) Yamaha YZF R1 2'11.271; 13.Byrne S. (GBR) Ducati 1098R 2'11.395; 14.Rea J. (GBR) Honda CBR1000RR 2'11.558; 15.Haga N. (JPN) Ducati 1098R 2'11.601; 16.Guintoli S. (FRA) Suzuki GSX-R1000 2'11.706; etc.

Privateers take the top two steps of the Podium in Race One for a Ducati 1-2-3. Who needs a Ducati factory team in 2011? Lanzi's DFX Corse team will switch to Aprilia RSV4s for next season, though.
Superbike Race 1
Carlos Checa (Althea Racing Ducati) put in a cool-headed win despite great pressure from eventual fifth place man Leon Haslam (Suzuki Alstare) in the final few laps. Haslam ran on trying to pass Checa into the first Rivazza corner of the final lap, and dropped back as a result, allowing Lorenzo Lanzi (DFX Corse Ducati) to finish second and Noriyuki Haga (Ducati Xerox) to go third. Jakub Smrz (Pata B&G Aprilia) was fourth and long-time race leader from pole, Tom Sykes (Kawasaki Racing Team), was sixth, ten seconds down on the winner. Haslam was fifth.

Carlos Checa: "Fantastic race, we struggled yesterday for qualifying in the wet but today it was more hard for the Ducatis and the top guys because it's not easy trying to pass and everyone is going fast in the beginning. I didn't want to make any mistake. Right to the very end I was pushing quite strong, at the end I didn't expect Haslam to push so strong. I saw him braking very late, but I was able to have a clean track and finish a special and nice victory. This was like a home race for the team so a big race for them."
Lorenzo Lanzi: "Today was a very beautiful day for me, an Italian on the podium so fantastic. My team have worked very well this weekend, conditions were difficult, rain no rain, so it was very strange. Yesterday in Superpole I worked a lot because I wanted to finish on the podium in the race, which is important for next year. I was in the lead for a few laps, which was very good, It's been so long I don't remember what it's like!

Noriyuki Haga: "It's a very good result after a really tough race, because also conditions were hard by getting hot: And I was starting from 14th on the grid. Here the first lap is very dangerous but I was looking for a good pace for the race, finally I could not catch up with Lorenzo, but I was very happy with the result. Like last year, this year I went well at Imola, the top 3 were all Ducati bikes so I am very happy."
Race 1 Highlights on YouTube.com

Superbike 1 Results (with Pirelli Race Tyre Selection - Front/Rear): 1.Checa C. (ESP) Ducati 1098R 38'27.631 (161,708 kph) (C/A); 2.Lanzi L. (ITA) Ducati 1098R 1.171 (B/A); 3. Haga N. (JPN) Ducati 1098R 1.472 (A/A); 4. Smrz J. (CZE) Aprilia RSV4 Factory 6.691 (B/A); 5. Haslam L. (GBR) Suzuki GSX-1000 9.584 (A/A); 6. Sykes T. (GBR) Kawasaki ZX 10R 10.979 (C/A); 7. Fabrizio M. (ITA) Ducati 1098R 15.023 (A/A); 8. Byrne S. (GBR) Ducati 1098R 15.913 (B/A); 9. Guintoli S. (FRA) Suzuki GSX-R1000 17.025 (B/B); 10. Crutchlow C. (GBR) Yamaha YZF R1 20.795 (B/A); 11. Biaggi M. (ITA) Aprilia RSV4 Factory 21.243 (B/A); 12. Xaus R. (ESP) BMW S1000 RR 25.860 (B/B); 13. Scassa L. (ITA) Ducati 1098R 31.551 (A/A); 14. Neukirchner M. (GER) Honda CBR1000RR 31.689 (C/B); 15. Corser T. (AUS) BMW S1000 RR 44.349 (B/B); 16. Sandi F. (ITA) Aprilia RSV4 1000 F. 58.693 (B/A); 17. Lowry I. (GBR) Kawasaki ZX 10R 1'10.388 (A/A); 18. Baiocco M. (ITA) Kawasaki ZX 10R 1'13.648 (C/A); 19. Lai F. (ITA) Honda CBR1000RR 1'15.939 (C/A)

Carlos leads Lanzi and Haga through the front chicane in a Ducati 1-2-3.
Superbike Race 2
Leon Haslam's hopes of taking this year's Superbike World Championship title ended in the second race at the penultimate round at Imola in Italy today. The Suzuki Alstare rider started the race in second place behind fellow countryman Tom Sykes (Kawasaki) and was battling with the lead group after seven laps, but went in a bit too hot at the final chicane and had to go across the gravel trap. He rejoined the track in sixth place and was fighting his way up again when he suffered with a mechanical issue that saw the bike trailing a huge cloud of oil smoke, possibly connected to his off-track excursion.
Tom Sykes on the Paul Bird team factory Kawasaki, for the second time, showed true competitive pace on his Kawasaki Racing Team machine, leading the first four laps from Pole, before dropping back to still finish a strong 4th.
Tom Sykes on the factory Paul Bird Kawasaki headed the world's best at Imola. Next season they will have the all new more competitive 2011 ZX10.
Checa was a clear race winner and new lap record holder in race two, setting a new best of 1'48.877, while Noriyuki Haga (Ducati Xerox) and Cal Crutchlow (Yamaha Sterilgarda) took podium finishes in second and third place respectively. Leon Haslam had been in a strong position to take the championship all the way to France and the final round, but when his engine let go, the championship was over there and then.

Carlos Checa: "It's a fantastic weekend, I can't remember one like that. It was a very good job by the team. Yesterday I was struggling on the wet, but today they were two exciting races, more the first than the second. But the second I could see that I could win, I just had to keep my concentration. Anyway it was fantastic, for all my team, for Ducati, for everyone here, congratulations to Max for the title and a shame for Leon Haslam."

Noriyuki Haga: "I am very happy today, and the bike was much better than in the first race. I was approaching Carlos in the last laps but couldn't catch him. Now I try my best at Magny-Cours to improve my position."

Cal Crutchlow: "After a tough race 1 for me, to come from 12th on the grid with such close racing this weekend and such a depth of field was a very good result. I really had to work for it so all credit to Yamaha Sterilgarda, they did a good job for me especially in the second race. We made a few changes in the meantime, it was a bit of a gamble but a good job all round."
Leon Haslam - Race 1: 5th, Race 1: DNF: "It is frustrating that it has ended the way it has because I was hoping to take the fight to Magny-Cours, but that's racing. We always knew it was going to be a hard task because Max's lead in the points was so great, but while there was hope, we kept fighting. I should've won the first race and I would've won it if I hadn't made a mistake on the last lap. I was chasing Carlos and confident that I could pass him and take the win. I had a bit of a lunge, but lost the front a bit and that was that. I managed not to crash, but lost some positions. I saw that Max had only finished 11th, so at least the fight would carry on and maybe I could get a podium and Max would have another low finish.
"I was chasing Tom Sykes in race two. He was fast on the straights, but holding me up in the turns, so I thought I'd have a go at him in the final chicane. I went for it, but got in a bit too hot and had to straighten up and go across the gravel. I rejoined the track and probably let too many people pass before getting back up to speed. I was using the same bike as race one and it had been OK at the end of the race, so there were no thoughts of changing it for race two. The set-up was the same, but the bike felt different and I knew something was up, but my first thought was that it was a tyre problem. When something happened (the engine putting out a huge smoke screen forcing following riders off the track) I pulled off the track as soon as I could.
"Obviously, I hadn't wanted the title fight to end this way, but I knew that this weekend was all about having to go for it - and that's what I did. I am a bit ticked off because this is only the second race weekend when I have not been on the podium. So I better make up for it in Magny-Cours by winning both races!"
Race 2 Highlights on YouTube.com

Superbike Race 2 Results: 1.Checa C. (ESP) Ducati 1098R 38'24.452 (161,931 kph); 2.Haga N. (JPN) Ducati 1098R, 2.129; 3.Crutchlow C. (GBR) Yamaha YZF R1 3.926; 4.Sykes T. (GBR) Kawasaki ZX 10R 5.762; 5.Biaggi M. (ITA)Aprilia RSV4 Factory 7.025; 6.Byrne S. (GBR) Ducati 1098R 12.147; 7.Lanzi L. (ITA) Ducati 1098R 14.212; 8.Guintoli S. (FRA) Suzuki GSX-R1000 18.029; 9.Xaus R. (ESP) BMW S1000 RR 18.249; 10. Scassa L. (ITA) Ducati 1098R 19.446; 11.Corser T. (AUS) BMW S1000 RR 23.674; 12.Neukirchner M. (GER) Honda CBR1000RR 34.804; 13.Sandi F. (ITA) Aprilia RSV4 1000 F. 53.540; 14.Lai F. (ITA) Honda CBR1000RR 1'03.102; 15.Baiocco M. (ITA) Kawasaki ZX 10R 1'07.185; 16.Lowry I. (GBR)Kawasaki ZX 10R 1'08.926
Pirelli: Race Tyre Selection (Front/Rear): All riders on same solutions with the exception of Corser, Xaus, Guintoli and Neukirchner who changed to the "A" rear for Race 2.

Superbike Rider's Points (after 12 rounds of 13): 1. Biaggi 413; 2. Haslam 350; 3. Rea 288; 4. Checa 274; 5. Crutchlow 239; 6. Haga 238; 7. Toseland 187; 8. Guintoli 184; 9.Fabrizio 169; 10.Corxser 165. Manufacturers: 1. Aprilia 433; 2. Ducati 392; 3.Suzuki 379; 4.Yamaha 307; 5.Honda 305; 6. BMW 201; 7. Kawasaki 100.

Michele Pirro went from 4th to 1st place in the last corner of the last lap.

World Supersport 600cc - Points leaders Laverty takes Sofuoglu in Final Corner, Pirro Wins
Michele Pirro from the Hannspree Ten Kate Honda team took his first World Supersport race win, on home ground, after a last corner clash between the two main championship contenders allowed him to sweep past and cross the line unopposed. He moved up to fifth on the championship rankings, on 91 points. He had qualified in third place, on the front row.
Sofuoglu (54) and Laverty were this close trading the lead the entire race in their battle for the Supersport Championship, right down to the last corner where Laverty attempted an inside pass over this curbing which took both riders out.
Pole man Kenan Sofuoglu (Hannspree Ten Kate Honda) and second fastest qualifier Eugene Laverty (Parkalgar Honda) were the long time leading duo, swapping the advantage with regularity. A deep lunge by Laverty at the final chicane, in an attempt to pass Kenan at the flag, saw him fall and take out Sofuoglu as well, the riders tumbling with their machines to halt just metres from the finish line. They each restarted, Sofuoglu was quickest to get going and he crossed the line 2.888 seconds after Pirro, but crucially ahead of Laverty, who was classified third.
3rd place runner at the time Chaz Davies (Triumph BE-1 ParkinGo) who was ahead of Pirro,might have been given Triumph its first win it World Supersport, but pulled off the track on the last lap with a possible mechanical issue. The main outcome of the way the race finished is that Sofuoglu and Laverty will continue their battle for the 2010 Supersport World Championship crown all the way to the final round, in France, next weekend. Sofuoglu now has 243 points to Laverty's 227, a difference of 16 points with a maximum of 25 to play for.
Michele Pirro, Hannspree Ten Kate Honda CBR600RR: Race Winner - Points 5th overall. "I am so happy to have won because this is my home race and the rest of the season has not been very good. OK, I was able to win because Kenan and Eugene crashed at the last corner but I am still very happy. Congratulations to all the team who did a great job today to get a win and a second place. Now we can move to the last race in Magny-Cours and aim for another podium to finish the season in a good way."
Kenan Sofuoglu, Hannspree Ten Kate Honda: 2nd - 1st overall. "All weekend I was very confident and it was the same for the race today. We were definitely ready to go for the win but I am not sure that Eugene had enough speed to go with me. He was able to follow but his aim in the race when he was leading seemed to be to slow me and to block me. I pushed hard for the last few laps and he was still able to follow me but I think that the final attack he made was too much on the limit. I was very lucky and my bike was still able to run and I could get back up to finish in front of Eugene. Of course, I really wanted to win this weekend but it didn't happen. The positive thing is that I have a 16-point advantage going to Magny-Cours."

Supersport Results: 1.Pirro M. (ITA) Honda CBR600RR 36'07.906 (155,737 kph); 2.Sofuoglu K. (TUR) Honda CBR600RR 2.888; 3.Laverty E. (IRL) Honda CBR600RR 4.569; 4.Parkes B. (AUS) Kawasaki ZX-6R 4.865; 5.Fujiwara K. (JPN) Kawasaki ZX-6R 5.718; 6.Roccoli M. (ITA) Honda CBR600RR 6.102; 7.Aitchison M. (AUS) Honda CBR600RR 9.977; 8.Migliorati C. (ITA) Kawasaki ZX-6R 18.563; etc.

Supersport Rider's Points (after 12 rounds of 13): 1. Sofuoglu 243; 2. Laverty 227; 3. Lascorz 168; 4. Davies 137; 5.Pirro 91; 6. Salom 90; 7.Harms 87; 8. Rea 83; 8.Pirro 66; 9. Fujiwara 71; 10. Roccoli 71 . Manufacturers: 1. Honda 270; 2. Kawasaki 185; 3. Triumph 146; 4. Yamaha 22
European Superstock 1000cc
Ayrton Badovini (BMW Motorrad Italia STK) made it nine wins in nine attempts after a long battle with Lorenzo Zanetti (SS Lazio Motorsport Ducati) was effectively ended on lap nine, when Badovini made a pass into the final chicane and gapped Zanetti right away. Maxime Berger (Ten Kate Race Junior Honda) had an eventually lone race in third, nine seconds behind the lead on the final lap. In the championship, Badovini has 225 points, a perfect score, and Berger is now guaranteed second, with 122.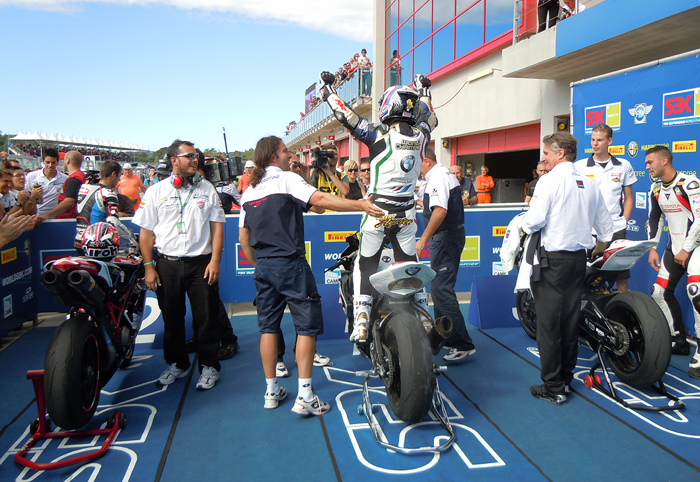 Aryton Badovini pulls into the victory box after his 9th straight win on the new BMW 1000RR. Note the smoke still billowing off his rear tire after his victory burnout down the front straightway. Having clinched the 1000cc European Superstock title the round before, Badovini has "World Champion" stitched to the back of his leathers. Nice. We wish AMA Pro Racing in the USA would adapt the same exciting FIM classes used at World Superbike.
Results: 1.Badovini A. (ITA) BMW S1000 RR 22'32.770 (157,629 kph); 2. Zanetti L. (ITA) Ducati 1098R 0.960; 3.Berger M. (FRA) Honda CBR1000RR 9.632; 4.Giugliano D. (ITA) Suzuki GSX-R 1000 19.747; 5.Barrier S. (FRA) BMW S1000 RR 20.836; 6.Baroni L. (ITA) Ducati 1098R 28.627; 7.Petrucci D. (ITA) Kawasaki ZX 10R 29.700; 8.Savary M. (SUI) BMW S1000 RR 29.841; etc.

Points (after 9 rounds of 10): 1. Badovini 225; 2. Berger 122; 3. Magnoni 94; 4.Antonelli 89; 5. Giugliano 84; 6. Barrier 71; 7.Baz 65; 8. Petrucci 55; 9. Zanetti 53; 10. Baroni 43. Manufacturers: 1. BMW 225; 2. Honda 165; 3. Suzuki 87; 4.Ducati 79; 5.Yamaha 67; 6. Kawasaki 58; 7.KTM 36; 8. Aprilia 21.
More of the Edelweiss Ducati Imola Italy Tour:
Edelweiss Ducati Italy Tour • The Factory & Museum & Store • Imola World Superbike Races

More Edelweiss Tours:
High Alpine Adventure • Western Alps Touring Center Tour

Back to The Pit Board Index • Pit Lane News
Walking the Pits & Paddock at Imola WSBK
Click to Enlarge


Pirelli Tires
The official and exclusive tire supplier in SBK, Pirelli brings 2 big rig trucks to the European races with tires and an installation team to handle all 3 race classes.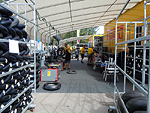 Manufacturers Displays
Ducati, BMW and Aprilia had nice manufacturers' displays at Imola, right behind the main grandstands in the vendors area.
BMW offered up this hotted up version of the 1000RR Superbike.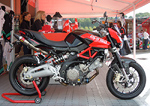 Aprilia 750s
Above, Aprilia Shiver 750 ABS
Below, Dorsoduro 750 Factory with optional Race Exhaust. Just behind is the RS125 2-stoke street sportbike.
Umbrellas and Girls
The factory Umbrella Grid Girls were well equipped to handle Friday and Saturday mornings' rain. By noon on Saturday the skies had cleared to a wonderful sunny weekend and their umbrellas went back to their usual job of providing shade to the riders on the starting grid.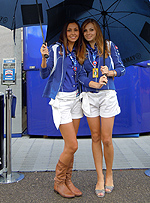 Oh, to be a VIP!
Every major team has a hospitality big rig in the Paddock at the continent races with full kitchen, staff and dining area furnature that opens into big tents on each side to serve the team and VIP sponsors and guests during the 3-day race weekend. The team's umbrella girls pose out front until they're needed at the starting grid on race day.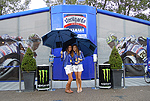 1198R Corse Edition
This super sexy carbon and aluminum limited edition Ducati got fondle and sat on my nearly every spectator at the track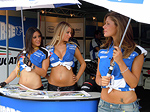 Triumph Supersports
The factory 675cc Triumphs triples are now top five regulars in the 600cc Supersport Class. American Chaz Davies was running 3rd in Sunday's race and might of won, but he had to retire to the pits on the last lap just as the two race leaders crashed out.


Trick Ohlins
This latest TXX shock features separately adjustable Rebound and Compression Damping right on the reservoir, and easily adjust hydraulic spring pre load.


BMW Dominates European Superstock
Ayrton Badovini (BMW Motorrad Italia STK) made it nine wins in nine attempts to clinch the 1000ss European Superstock title. Stock bikes with racing exhaust systems, this is essentially what the AMA Pro Superbike Class is in America.