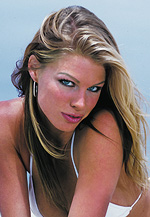 Robin's Bio Continued...
Despite her very busy schedule Robin still has time to work for us and has been assisting with many of our new motorcycle tests here at FastDates.com, she has been doing more calendar shoots for us including Garage Girls and Iron & Lace, and she is our first choice for hostess of a possible upcoming new TV series on the making of the FastDates.com Calendars .
Rockin' Robin was featured in the advertising campaign for our 2005 Los Angeles Calendar Motorcycle Show where she served as Master of Ceremonies on the Main Stage all weekend long. You'll also find Robin's Carmel Beach swimsuit shoot from World Superbike featured in Members Corner.
Robin worked hard focusing on a TV and movie career in Los Angeles and during 2005 had three new TV shows or pilots producedor in production, a horor movie named Campfire, along with hosting including X Music on the WB Channel which begins airing in June 2005 where our girl interviews hot up and coming new rock bands. One proposed series was called Black Belt TV for a new martial arts network which will be premiering soon, where Robin just might get to show us her Texas bar room brawling and beer bottle bashing skills, learned in part from fending off Hawaiian Tropic pageant celebrity judges and drunken sport bike riders at the Blue Fin Bar on Cannery Row during race weekend at Laguna Seca.
Robin's third new TV series was called Underwater Goddess on the ABC Family Channel which begins airing May 7th. We will be watching intensely to see if those playful dolphins she's cavorting with in the Pacific Ocean might accidentally dislodge her bikini top. With this being the Family Channel, the chances are slim to none for an on air wardrobe malfunction, but just seeing our perky Robin in a soaking wet swimsuit emerging from the chilly ocean is more than enough to restore our family values and viewing habits.
Unfortunately none of the pilots and TV shows made it into regular production or national syndication and by the fall of 2005 the fustrations of trying to make it in Hollywood got to Robin. Being a small town girl at heart she moved back to her favorite town, Vail, Colorado. There she is involved in a number of projects from filming to making guest appearances on FX radio including Electric Rodeo with Shooter Jennings, and drop by appearances by
Robin Saturday and Sunday nights on Sirrus Satellite Radio's Outlaw Country
station.
Robin has also launched her own website in the fall of 2006 when you can go to catch up with her latest exploits, and get autographed copies of her latest posters and calednar. Check it out- Robin's Website:
RockinRobinLynn.com