With about 5 laps to go Pedrosa (26) closed to within striking distance of race long leader Capirossi (65), but the Ducati veteran was able to get back on the gas and pull away again by over 4 seconds at the finsih.
2006 MotoGP World Roadracing Championship, Round 1

Rookie Dani Pedrosa takes 2nd in his first race
Capirossi & Ducati Nail MotoGP Season Opener at Jerez

Jerez, Spain, Sunday March 26th -The opening race of the 2006 MotoGP season, the Gran Premio betandwin.com de España took place today under clear blue skies and in front of 131,162 fans who packed the banked grandstands. In a dramatic start to the season, Ducati's Loris Capirossi led the race from start to finish, but needed to use all of his experience to hold off young local rookie Dani Pedrosa.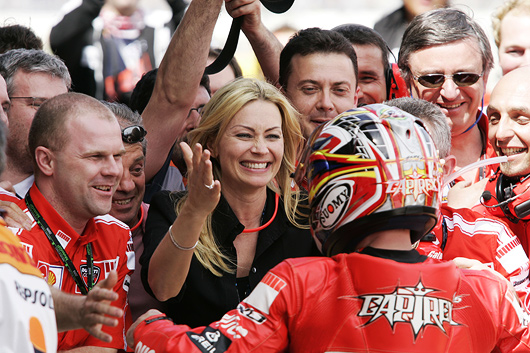 Capirossi is great by his team and girlfriend in the pits, including Ducati CEO Frederico Minoli in the sun glasses, upper right.

Capirossi takes first MotoGP pole of 2006
With the 2006 MotoGP World Championship's first race, the Gran Premio betandwin.com de España, just hours away, today saw an exciting qualifying session in front of a packed crowd of racing fans. The weather was excellent throughout the afternoon qualifying session at the Jerez Circuit in southern Spain, after slightly overcast skies dulled the morning practice hour.
Loris Capirossi and Sete Gibernau will start tomorrow's season-opening Grand Prix as the top two on the grid, whilst reigning World Champion Valentino Rossi will surprisingly start from the third row in ninth. The Ducati riders continued their excellent preseason form, which included their topping the timesheets nearly two weeks ago at Jerez testing, Capirossi putting in a fastest lap of 1'39.064 to take the pole position.
The Italian's team-mate Sete Gibernau will be looking to take the win at his home circuit after last year's unforgettable final lap drama. Kawasaki's Shinya Nakano, so impressive at the final test, completed an all-Bridgestone top three on his boss Harald Eckl's 50th birthday.
Honda will occupy the entire second row of the grid, with official factory riders Nicky Hayden and Dani Pedrosa ahead of satellite rider Toni Elias. Elias' team-mate Marco Melandri had headed the timesheets during the final free practice, but slipped down to seventh in the running for tomorrow's race.
Kawasaki's young rookie Randy de Puniet will start from eighth, despite being part of a number of riders involved in crashes caused by oil left behind by Alex Hofmann's bike. De Puniet, Rossi, Nakano, Kenny Roberts Jr. and Elias all fell foul of the slick, which had halted proceedings early on in the hour as the area was cleaned.
Rossi, fastest yesterday in free practice, will start from the third row in ninth in his quest for a sixth consecutive opening-race victory. The Italian's third row start places him alongside team-mate Colin Edwards, who completes the top ten.
Suzuki were unable to continue their good run of results during the session, but will hope to push for high finishes with Chris Vermeulen and John Hopkins starting from eleventh and Hopkins from twelfth.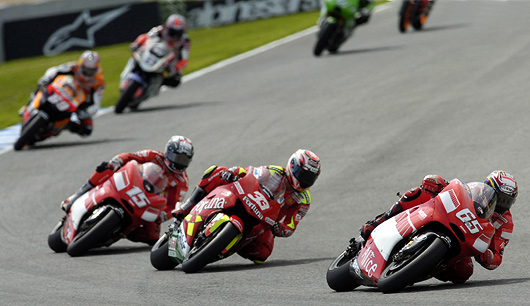 Capirossi out front on lap 2 ahead of Elias, Giberneau, Hayden, Stoner, Nanko on the Kawasaki and Pedros just out of the frame.
Race Day, Rossi Knocked Down in Turn One

Loris Capirossi won today's season-opening Spanish GP in brilliant style to put the Ducati Marlboro Team at the top of the MotoGP points table for the first time in history. The remarkable rise of 'rookie' Dani Pedrosa (Repsol Honda RC211V) continued today in Andalucia in front of a crowd of 131,000 when the 20-year-old finished second to Loris Capiorossi (Ducati) – his first competitive ride on a 990cc machine. Today's victory was the Italian's fourth MotoGP success for the Ducati Marlboro Team, his sixth premier class triumph and his 26th career win.
Honda's policy of backing youth paid off handsomely in this the first of 17 track showdowns. There were five Honda riders among the top six finishers: Pedrosa second, then Hayden, Toni Elias (Fortuna Honda RC211V) in fourth, Marco Melandri (Fortuna Honda RC211V) fifth and Casey Stoner (LCR Honda RC211V) sixth. And both Pedrosa and Stoner are MotoGP rookies.
For Team Marlboro Ducati i t was a day of mixed emotions for the team with Sete Gibernau withdrawing due to a gear sensor problem which affected his bike's electronics. Capirossi and Gibernau had qualified first and second fastest, with Gibernau quickest in this morning's warm-up session, so the team had high hopes of a double podium result.

Beside the incredible story at the front of the race, the action at the first corner was the scene of another of the day's major talking points. As several riders battled for scarce space on the track, reigning World Champion Valentino Rossi was knocked to the ground, sliding along the tarmac and into the gravel on turn one. His Yamaha was left stricken on the side of the track but he managed to pick it up, and despite being 40 seconds behind the pack, finished the race in 14th.
An eventful weekend at Jerez ended in disappointing fashion today as both Valentino Rossi and Colin Edwards got caught in a first corner melee that ended their hopes of glory in the opening round of the 2006 MotoGP World Championship. The Camel Yamaha Team pair made good starts from ninth and tenth on the grid respectively but a collision between Rossi and Toni Elías (Honda) on the inside of turn one saw the Italian knocked from his YZR-M1 and sent Edwards wide into the gravel trap.
Despite some damage to his bike, Rossi showed the character of a true World Champion as he returned to the track, battling his way back into the field and picking off several riders to secure two championship points in fourteenth place. Edwards, meanwhile, fought from second last to eleventh by the end of the 27-lap encounter. Victory went to pole setter Loris Capirossi (Ducati) in a race time of 45'57.733, but he was pushed hard by second-placed Dani Pedrosa (Honda) on his debut in the MotoGP class. Nicky Hayden (Honda) completed the podium.
Colin Edwards (11th; + 37.930) - "I probably made the best race start of my whole life, Valentino got away well too and we went together into the first bend. Elias came up on the inside and I actually saw everything happen but to be honest I thought Vale would be able to stay on the bike so I kept my corner speed and tried to just run it around the outside. Unfortunately he went down and I had nowhere to go but the gravel. It really capped the weekend off for us but the truth is that we weren't fast enough to challenge today. This track has been a real pain for us and I can't wait to get away. We've got a test tomorrow but I'll be happy when we get to Qatar, where the bike worked really well in testing."
Valentino Rossi (14th; + 1'05.766) - "We knew this was going to be a difficult race but maybe not so difficult! I saw Toni come up on the inside and he hit me; this is racing and these things happen. I have known Toni for many years and he is a good rider. He apologised to me after the race so I told him not to worry - only to remember to brake next time and if it is too late then to hit another bike instead of me! Anyway I came back on the track and had a nice battle with Alex Hofmann. I am disappointed because I wanted to win the first race of the season but there is nothing we can do now. Only work hard to make sure we don't have these problems again and look forward to the next race in Qatar."
Rossi bites the asphalt in Ture One after being tagged by Marco Melandi, now hard on the brakes of his Fortuna Honda to avoid the Champ.

Up front, the Ducati riders held their top two places from the front row of the grid, but Sete Gibernau was to suffer misfortune just two laps later, almost coming into contact with third placed Nicky Hayden after a mechanical problem. The Spaniard was disconsolate as he was forced to return to the pits, whilst his teammate Capirossi used his pole position to maximum advantage by opening up a three-second gap.
Behind him, rookie Dani Pedrosa looked to be making a move for the lead. In the early stages he had put the pressure on American team-mate Nicky Hayden, aware that Capirossi was making a break. The young Spaniard pulled a daring manoeuvre early on and then set about making up ground on the leader. Towards the middle of the race the debutant was within sniffing distance of Capirossi, but after the Italian resisted his brief attack, Pedrosa settled for an incredible second place in his first ever MotoGP race.
Hayden continued his streak of five podium finishes, although third place was by his own admission distant. The Honda riders came back from a relatively disappointing test in Jerez two weeks ago to claim five of the top six places.
Spaniard Toni Elias was one of those Hondas, and gave an impressive performance in his first race on the RC211V. He overtook fellow Honda Gresini rider Marco Melandri to the delight of the masses of fans at Nieto corner, and subsequently closed in on Hayden's third position in the final laps. He eventually had to settle for fourth by just 0.139 seconds, after having proved his value to his new team, whilst rookie Casey Stoner showed no ill-effects of his recent shoulder operation as he finished in sixth behind Melandri, holding off Shinya Nakano for the entire race.
Fourth-placed Elias rode a determined race. He was mixed up in the Rossi melée on lap one, but managed to claw his way back through the field and only just missed out on third place as he hounded Hayden across the line.
But the day belonged to debutant Dani, who said, "To start like this is amazing for me! I want to thank my team because they have worked really hard all this weekend and during the winter. And also a big thank you to Michelin because they gave us really good tyres. The race was difficult for me because at the end I was really tired and the tyre was spinning and sliding, so I think this result is very good."
His team-mate Hayden said, "It wasn't pretty with a few guys dropping out, but nonetheless we'll take the 16 points and the podium. Last year I crashed out so it's nice to get off and running with some momentum. We were testing here two weeks ago and at that point we didn't have a chance. But we've made a big step, so thanks to the team and Honda and all my guys who worked really hard this winter."
"It was a really tough race," said Elias. "But one of the best of my life. I feel sorry for Valentino, but it was a really close start and we all reached the end of the straight bunched together. I was right next to Shinya Nakano and when I tried to avoid him I clipped Valentino. I went to apologise to him after the race. After that I managed to find a good rhythm and was able to fight back. I want to thank the fans for being the best in the world."
Melandri said, "It was a very difficult race, but at least we have taken some very important points. The changes we made to the bike during the warm-up did not work as well as we hoped and we took a bit of a backwards step. I made a good start but did not want to push too hard and risk the points. I am still not very comfortable with the front end of the bike so we'll have to work on that."
Rookie Stoner, in sixth, said, "I honestly didn't expect that after missing nine days of testing, but thanks to the LCR team for giving me a good bike to be able to do it. I got a good start and when the Rossi crash held people up I got away with the leaders and held on."
"I knew a top ten was possible," said Kenny Roberts (Roberts KR211V), who finished eighth. "When I saw Rossi go down I knew this would be a tough race. The front was moving every time I pushed but we know what we've got to do to improve the bike and we'll get better than this."
Makoto Tamada (Konica Minolta Honda RC211V) finished tenth and said, "I hope the situation improves. Tomorrow we will remain here testing and the team has many solutions to try. The main problem occurs in the first phase of the corner and this slows me down considerably. I don't want to be struggling for the 10th and the race results of the other Honda bikes shows we must be able to exploit the potential we have."
Nakano, Kenny Roberts Jr, John Hopkins and Makoto Tamada completed the top ten, with Randy de Puniet and Jose Luis Cardoso the only other riders to join Gibernau on the list of retirees. Capirossi thus heads the points table from Pedrosa as the MotoGP paddock prepares to head to Qatar for the next race on April 8.
RESULTS MotoGP
Race Classification MotoGP : (27 laps = 119.421 km)
Pos/ Rider / Nat / Team / Motorcycle / Time/ KM/H / Gap
1 / Loris CAPIROSSI / ITA / Ducati Marlboro Team / DUCATI / 45'57.733 / 155.894 /
2 / Dani PEDROSA / SPA / Repsol Honda Team / HONDA / 46'02.108 / 155.647 / 4.375
3 / Nicky HAYDEN / USA / Repsol Honda Team / HONDA / 46'07.729 / 155.331 / 9.996
4 / Toni ELIAS / SPA / Fortuna Honda / HONDA / 46'07.868 / 155.323 / 10.135
5 / Marco MELANDRI / ITA / Fortuna Honda / HONDA / 46'17.280 / 154.797 / 19.547
6 / Casey STONER / AUS / Honda LCR / HONDA / 46'18.970 / 154.703 / 21.237
7 / Shinya NAKANO / JPN / Kawasaki Racing Team / KAWASAKI / 46'19.105 / 154.695 / 21.372
8 / Kenny ROBERTS JR / USA / Team Roberts / KR211V / 46'30.147 / 154.083 / 32.414
9 / John HOPKINS / USA / Rizla Suzuki MotoGP / SUZUKI / 46'30.392 / 154.069 / 32.659
10 / Makoto TAMADA / JPN / Konica Minolta Honda / HONDA / 46'33.716 / 153.886 / 35.983
11 / Colin EDWARDS / USA / Camel Yamaha Team / YAMAHA / 46'35.663 / 153.779 / 37.93
12 / Chris VERMEULEN / AUS / Rizla Suzuki MotoGP / SUZUKI / 46'37.247 / 153.692 / 39.514
13 / Carlos CHECA / SPA / Tech 3 Yamaha / YAMAHA / 46'40.562 / 153.51 / 42.829
14 / Valentino ROSSI / ITA / Camel Yamaha Team / YAMAHA / 47'03.499 / 152.263 / 1'05.766
15 / Alex HOFMANN / GER / Pramac d'Antín MotoGP / DUCATI / 47'21.033 / 151.323 / 1'23.300
Pole Position:Loris CAPIROSSI - 1'39.064 - 160.732 Km/h
Fastest Lap:Lap 2 - Loris CAPIROSSI - 1'41.248 - 157.265 Km/h
Circuit Record Lap:2005 - Valentino ROSSI - 1'40.596 - 158.284 Km/h
Circuit Best Lap:2006 - Loris CAPIROSSI - 1'39.064 - 160.732 Km/h
World Championship Positions:
1 CAPIROSSI Loris 25, 2 PEDROSA Dani 20, 3 HAYDEN Nicky 16, 4 ELIAS Toni 13,
5 MELANDRI Marco 11, 6 STONER Casey 10, 7 NAKANO Shinya 9, 8 ROBERTS JR Kenny 8,
9 HOPKINS John 7, 10 TAMADA Makoto 6, 11 EDWARDS Colin 5, 12 VERMEULEN Chris 4,
13 CHECA Carlos 3, 14 ROSSI Valentino 2, 15 HOFMANN Alex 1.
GP 250cc
Jorge Lorenzo took victory with an awesome display at the Jerez circuit, giving the home crowd two winners out of the first two races of the day. With Alex de Angelis for company at the halfway stage of the race, Lorenzo pulled away from the San Marino rider, and opening up a lead which took him to the flag. De Angelis rode a solid race into second, whilst a late charge by Yuki Takahashi kept the interest up for third place.
Andrea Dovizioso and Hector Barbera had battled for the entire race for third spot, but when the Japanese rider arrived to the chasing group he was lapping a second quicker. A fiery last lap saw Dovizioso and Barbera bashing fairings, with Takahashi also involved in the battle. In the end Barbera was forced wide and a defensive last corner manoeuvre saw Dovizioso hang on to the final podium spot from Takahashi. Barbera and Aoyama completed the top six, leading Locatelli, Cardenas, Guintoli and Vincent.
250cc
Race Classification 250cc: (26 laps = 114.998 km)
Pos / Rider / Nat / Team / Motorcycle / Time / KM/H / Gap
1 / Jorge LORENZO / SPA / Fortuna Aprilia / APRILIA / 45'57.390 / 150.139 /
2 / Alex DE ANGELIS / RSM / Master - MVA Aspar Team / APRILIA / 46'02.309 / 149.872 / 4.919
3 / Andrea DOVIZIOSO / ITA / Humangest Racing Team / HONDA / 46'06.255 / 149.658 / 8.865
4 / Yuki TAKAHASHI / JPN / Humangest Racing Team / HONDA / 46'06.312 / 149.655 / 8.922
5 / Hector BARBERA / SPA / Fortuna Aprilia / APRILIA / 46'06.905 / 149.623 / 9.515
6 / Hiroshi AOYAMA / JPN / Red Bull KTM GP 250 / KTM / 46'21.012 / 148.864 / 23.622
7 / Roberto LOCATELLI / ITA / Team Toth / APRILIA / 46'31.910 / 148.283 / 34.52
8 / Martin CARDENAS / COL / Wurth Honda BQR / HONDA / 46'48.288 / 147.418 / 50.898
9 / Sylvain GUINTOLI / FRA / Equipe GP De France - Scrab / APRILIA / 46'53.704 / 147.134 / 56.314
10 / Arnaud VINCENT / FRA / Arie Molenaar Racing / HONDA / 47'01.472 / 146.729 / 1'04.082
11 / Manuel POGGIALI / RSM / Red Bull KTM GP 250 / KTM / 47'06.702 / 146.457 / 1'09.312
12 / Arturo TIZON / SPA / Wurth Honda BQR / HONDA / 47'25.191 / 145.506 / 1'27.801
13 / Chaz DAVIES / GBR / TicinoHosting Campetella Racin / APRILIA / 47'27.856 / 145.369 / 1'30.466
14 / Alvaro MOLINA / SPA / Andalucia Team Mas / APRILIA / 47'32.267 / 145.145 / 1'34.877
15 / Dirk HEIDOLF / GER / Kiefer - Bos - Racing / APRILIA / 47'36.504 / 144.929 / 1'39.114
Pole Position:Jorge LORENZO - 1'43.270 - 154.186 Km/h
Fastest Lap:Lap 2 - Hector BARBERA - 1'45.037 - 151.592 Km/h
Circuit Record Lap:2001 - Daijiro KATO - 1'44.444 - 152.452 Km/h
Circuit Best Lap:2005 - Dani PEDROSA - 1'42.868 - 154.788 Km/h
World Championship Positions:
1 LORENZO Jorge 25, 2 DE ANGELIS Alex 20, 3 DOVIZIOSO Andrea 16, 4 TAKAHASHI Yuki 3,
5 BARBERA Hector 11, 6 AOYAMA Hiroshi 10, 7 LOCATELLI Roberto 9,
8 CARDENAS Martin 8, 9 GUINTOLI Sylvain 7, 10 VINCENT Arnaud 6, 11 POGGIALI Manuel 5,
12 TIZON Arturo 4, 13 DAVIES Chaz 3, 14 MOLINA Alvaro 2, 15 HEIDOLF Dirk 1.
---



Reigning British Superbike Champ Gregoria Lavilla on the Airwaves Ducati took the new season early lead at Brands Hatch.




Bennetts British Superbike Championship, Round 1 of 12



Lavilia, Kiyonari Take Wins at Brands Hatch British Superbike Opener


Brands Hatch, Great Britain, March 26th - RIZLA SUZUKI racers James Haydon and Shane 'Shakey' Byrne scored valuable points in both races at the opening round of the Bennetts British Superbike Championship at Brands Hatch Indy circuit.

Lavilla, who had set the fastest ever lap of the Indy circuit to claim pole start, won the opening race comfortably, having shaken off the early leader, his Airwaves Ducati team-mate Leon Haslam. The race was stopped at two thirds distance when Haslam crashed heavily out of second place at Paddock Hill, with Karl Harris taking over, just ahead of Michael Rutter as the red-flags came out.

In the first dry race Shakey battled to sixth while James recovered from a poor start to claim 10th. The race was cut short after 20-laps when Ducati rider Leon Haslam suffered a spectacular crash going into Paddock Hill bend. He was unhurt and his Ducati team mate Gregorio Lavilla won the race.

RACE TWO
The second race started in damp conditions and the weather played havoc with tyre choice for all teams. Haslam, in his words, had taken a bruising, but he was fit to return for the second 30 lap race, the conditions for which posed real problems for all of the racers, as light rain fell, leaving the track damp, but with the prospect of more rain to come. It was a time for everyone to gamble. HM Plant Honda rider Ryuichi Kiyonari opted for full wet tyres while Lavilla gambled on slicks, with the rest of the starting grid chosing various combinations of tyres.

Kiyonari charged into the distance, making full use of his tyres as the conditions deteriorated, but Lavilla was demonstrating remarkable skills and control as he stayed on the pace, conceding second place to Australian Billy McConnell for a dozen laps in mid race before the Virgin Mobile Yamaha rider crashed out.

By now, Kiyonari had lapped the former champion Shane Byrne, as he romped to a 19 seconds victory, but, on the final lap, Haslam, shrugging aside the intense pain from his injured wrist and ankle, grabbed second place from Lavilla. 'I had to do that to redeem myself,' Haslam explained. 'I was trying to push too hard, the rear came round and it caught me out big time. Instead of settling for safe points, I wanted more, so I cursing myself.'

It was a brave ride, but for sheer skill Lavilla's third place was amazing: 'I had no grip at all - it was just a case of being smooth and not wor

Both Rizla Suzuki racers started with intermediate front and slick rear tyres anticipating the weather to improve but the rain continued to fall throughout the 30 lap race. Both riders showed immense control and maturity with James coming home in seventh and Shakey in 11th. Honda's Ryuichi Kiyonari won the race.

Defending Champion Lavilla heads the Championship table and the Rizla Suzuki racers are equal seventh. Rizla Suzuki races at Donington Park in Derbyshire at the second round of the Bennetts British Superbike Championship on April 9th.

Race One Result: 1: Gregorio Lavilla (Ducati) 15:28.510, 2: Karl Harris (Honda) +4.222, 3: Michael Rutter (Honda) +8.758, 4: Ryuichi Kiyonari (Honda) +8.891, 5: Jonathan Rea (Honda) +12.363, 6: SHANE BYRNE (RIZLA SUZUKI) +18.556, 7: Michael Laverty (Honda) +18.793, 8: Dean Thomas (Kawasaki) +19.171, 9: Glen Richards (Honda) +19.285, 10: JAMES HAYDON (RIZLA SUZUKI) +20.402.

Race Two Result: 1: Kiyonari (Honda) 25:39.805, 2: Leon Haslam (Ducati) +10.069, 3: Lavilla +19.240, 4: Craig Coxhell (Kawasaki) +21.922, 5: Harris +23.918, 6: Tommy Hill (Yamaha) +25.842, 7: JAMES HAYDON (RIZLA SUZUKI) +48.840, 8: Thomas +53.371, 9: Richards +1 lap, 10: Ollie Bridewell (Suzuki) +1 lap, 11: SHANE BYRNE (RIZLA SUZUKI) +1 lap.

Championship Positions after Round 1 of 13: 1: Lavilla 41, 2: Kiyonari 38, 3: Harris 31, 4: Haslam 20, 5=: Rutter, Thomas 16, 7 = SHANE BYRNE (RIZLA SUZUKI), JAMES HAYDON (RIZLA SUZUKI) 15, 9: Richards 14, 10: Coxhell 13
---
New Benelli TNT and Tornado Superbike Bikes
Here's a preview of the new Binelli sportbikes headed for America this spring. The new TNT 1130cc naked bike (above) and the fully faired Tornado Superbike (below) features the Italian manufactuer's trademarek DOHC 4-valve 3-cylinder engineswith fuel injection and specs include slipper clutches. Both bikes feature very unique Tinker-Toy style frame construction with large diameter bent frame tubes joined at steering head and swingarm pivot with cast aluminum sections. The TNT has a tube swingarm, while the Toranado gets an cast aluminum constructed banana swingarm.
The TNT Naked Bike is all sharp angles in its styling is very futuristic space age, Darth Vader looking. We saw the bikes in person at the Rock Store last week, our favorite bike hangout in Los Angeles, where the US Importer had brought them by to show off. The TNT is definetly at striking, if not strange looking bike. And it certainly looks to be in direct competition with the Triumph 1050 Speed Triple and the MV Brutale 1000cc naked bikes. We should have more on availability and the US Distributor contact information in a few weeks in our New Bikes Section.
---
2006 SBK CORONA EXTRA SUPERBIKE WORLD CHAMPIONSHIP 3-Day Test
Bayliss Blisters to New Valencia Track Record on 3rd day of SBK Testing
BAYLISS BREAKS NEW GROUND WITH A 1'33.758 LAP

Valencia, Spain March 27-29th 2006The current championship leader Troy Bayliss (Ducati Xerox) once more proved his unadulterated pace against the entire World Superbike field, setting a new all time Superbike best at the 4.005km Valencia circuit. He is the first rider to official break into the 1'33s, and he simply smashed his way to an eventual 1'33.758. On a superb final day for Ducati 999 riders, Ruben Xaus (Sterilgarda Berik Ducati) was second fastest, with a 1'434.659, which, like most of his peers, he set in the cooler morning session. Xaus's impressive return to action in SBK is made all the more noteworthy as the tough Spaniard is still relying on crutches to get around off the bike, after an of-season training accident. In third place overall, Lorenzo Lanzi (Ducati Xerox) made it a top three sweep for the big desmo twins, outpacing reigning World Champion Troy Corser (Alstare Suzuki Corona Extra) who was over a second from his Aussie rival Bayliss.
MARTIN DAZZLES US WITH PACE THEN FALLS IN FINAL SESSION
Aussie rider Steve Martin (Petronas Racing) ignored the handicap of having 100cc less engine displacement at his disposal than most of his competitors to put the unique Petronas FP-1 fifth - out of 28 competitors. His brilliant display in the morning continued in the afternoon, and even a late fall failed to dampen his team's ebullient spirits. His team-mate Craig Jones made great improvements across the three sessions, despite finishing 28th overall. Unlike almost every other rider, Noriyuki Haga (Yamaha Motor Italia) beat his previous personal best in the final afternoon session, despite the track grip degrading as the day went on. He was sixth overall.

NIETO THE TOP KAWASAKI RUNNER Fonsi Nieto (PSG-1 Kawasaki Corse) scored seventh in the overall classification, with his team-mate's Chris Walker and Regis Laconi 12th and 17th respectively. The entire Kawasaki crew tested a significant amount of new materials and components, and early season struggler Laconi declared himself particularly pleased with progress in his side of the garage at this particular test. Andrew Pitt, Haga's team-mate, secured eighth fastest time overall, but spent most of his time working to ensure that he will have a fast and consistent set-up for the Valencia race itself. Top Honda rider on show was a pleasant surprise to some, as young Italian Michel Fabrizio (DFX Honda) overturned Klaffi Honda rider Alex Barros's good first day start, to take a top nine classification. Barros was to finish 11th, and the top ten was rounded out by Corser's team-mate, Yukio Kagayama.

MUGGERIDGE INJURED AS TOSELAND STRUGGLES Winston Ten Kate Honda rider Karl Muggeridge suffered a fracture of his fifth vertebrae in a crash during a slow-down lap in the morning session, and was immediately taken to hospital. Preliminary checks showed that he is in no danger of further injury, but he is expected to spend two months immobile while the bone heals. James Toseland (Winston Ten Kate Honda) expected a tougher then normal test at Valencia, to some degree, and he had to battle to set a 1'35.879, good enough for 16th place. A very positive testing outcome for SBK rookie and former World Supersport champion Fabien Foret (Alstare Corona Engineering Corona Extra) saw him 13th out of 28, one place ahead of the experienced Marco Borciani (Sterilgarda Berik Ducati) and two ahead of former Superstock king Vittorio Iannuzzo (Celani Suzuki). Despite a strong start to his rookie SBK season thus far, Roberto Rolfo (Ducati SC Caracchi) scored only 21st on the Valencia testing timesheets.

SUPERSPORT WORLD CHAMPIONSHIP Sebastien Charpentier (Winston Ten Kate Honda) could not improve on his day two best after only riding in the morning session of the final day at Valencia, but nonetheless won the battle of the transponders, with the fastest Supersport lap of 1'37.437 a truly impressive achievement.
Kevin Curtain (Yamaha Motor Germany) was fastest in the final session, which was interrupted near the end before a frantic final five minutes of track time was completed. Curtain finished the tests second overall. Kenan Sofuoglu (Winston Honda Ten Kate) was third fastest, despite a late fall which brought out the red flags. Broc Parkes (Yamaha Motor Germany), added a second Yamaha to the top four, Massimo Roccoli (Yamaha Team Italia) a fifth, with top Ducati rider proving to be Christian Zaiser (LBR Ducati). Josh Brookes was a disappointed 23rd out of 29 on his Ducati SC Caracchi 749.

SUPERSTOCK 1000 FIM CUP Alessandro Polita (Team Celani Suzuki Italia) left the Valencia tests secure in the knowledge that he is the fastest Superstock rider at the present time, after setting a 1'39.018 on the morning of the final day. Almost 0.6 seconds behind, Claudio Corti (Team Lorenzini by Leoni Yamaha) was the testing runner-up, and Ayrton Badovini (Biassono Unionbike MV Agusta) raised another Italian tricolore in third place. Continuing the machinery variety, Matej Smrz (MS Racing Honda) was fourth. US rider Jason Perez (HP Racing Suzuki) finished 12th out of 23 entrants.

MISANO TEST NEXT APPOINTMENT FOR SBK After the Valencia tests, Misano is the next testing venue, on 12 and 13 April, before the series returns to Valencia on 23rd April for Round One of Superstock, and round three of World Superbike and World Supersport.
Fast Dates Calendar Motorcycle Roadracing News. Complete coverage of the SBK World Superbike, AMA National Superbike and MotoGP World Championship. Superbike, SBK, FIM, AMA, American Superbike, superbike planet, American Roadracing, sportbike, grand prix, MotoGP, race, racing, news, superbike news, sport bike, motoGP news, photography coverage, photos, pictures, Fast Dates Calendar and Umbrella Girls. Racing, road race, track, motorcycle, news, results, girls, models, Mat Aladdin, Max Biaggi, Valentino Rossi, Troy Baylis, Ben and Eric Bostrom, James Toseland, Chris Vermeulen, Maria Sharapova, Kristen Bell, Regis Laconi, Loris Capirossi, Troy Bayliss, Troy Corser, Noriyuki Haga. Ducati 999 Monster Multistrada, Yamaha R6 R1, Honda CBR600RR CBR1000RR, Kawasaki ZX6 ZX6RR ZX10, Suzuki GSXR600 GSXR750 GSXR1000, Aprilia Mille, MZ Agusta F4 Brutale. Los Angeles Calendar Motorcycle Show.


World's Richest Bike Contest features Sportbikes and a
$70,000 Purse!


Fast Dates Racebike Pinup
& Garage Girls Calendars
Click to Order Now!


Factory Teams Test at Jerez on Monday after MotoGP
Jerez de la Frontera, Monday 27 One-Day Test - Just 24 hours after the celebrations over the victory of Loris Capirossi in the opening round of the 2006 MotoGP season, all the MotoGP teams team was back at work at Jerez for a one-day scheduled test on the Andalusian circuit.
Repsol Honda's Nicky Hayen, who finished 3rd in Sunday's race, set the quickest time of the test day with a 1'39.910, about .9 seconds off Capirossi'r record time from practive the week before of 1'39.064
Sunday's race winning Ducati team focussed mainly on testing new Bridgestone tyres and continuing the Ducati Desmosedici GP6's development schedule. Loris lapped consistently around the 1m41s mark, ending the day with a best time of 1m40.798s.
Sete Gibernau put aside his Jerez race disappointment to immediately set the quickest time of 1m40.504s on the fourth lap of his opening run of the day. A harmless slide interrupted the Spanish rider's session for a few minutes but the Spanish rider was able to successfully conclude the test in preparation for the next round of the championship in Qatar.
1) Nicky Hayden (Honda) 1m39. 910s
2) Sete Gibernau (Ducati) 1m40.504s
3) Loris Capirossi (Ducati) 1m40.798s
4) Casey Stoner (Honda) 1m40. 821s
5) Daniel Pedrosa (Honda) 1m40. 845s
6) Carlos Checa (Yamaha) 1m40. 932s
7) Valentino Rossi (Yamaha) 1m40. 966s
8) John Hopkins (Suzuki) 1m41.096s
9) Shynja Nakano (Kawasaki) 1m41.178s
10) Toni Elias (Honda) 1m41.193s
11) Makoto Tamada (Honda) 1m41. 234s
12) Marco Melandri (Honda) 1m41. 400s
13) Colin Edwards (Yamaha) 1m41. 442s
14) Cris Vermullen (Suzuki) 1m41. 554s
15) Kenny Roberts (KRHonda) 1m41.861s
16) James Ellison (Yamaha) 1m42.924s
Winning Quotes from
the Jerez MotoGP
1st, Loris Capirossi - "I got away well, and didn't see the incidents behind me at turn one. I pushed hard and tried to open up a gap, but then I was surprised to see Nicky and then Dani coming up close behind me. I tried to extend the gap once again and I think the fact that we prepared really well in the test here showed through. We have the perfect bike and the perfect tyre for the job and I hope it is the start of many more victories for us this year."
2nd, Dani Pedrosa - "It was a fantastic race for us today. I think I was lucky not to get involved in the first crash, and then seeing Gibernau go off let me make up the places. I had to regain positions after a bad start, but then I had a few problems with the front tyre. I thought maybe I could catch Loris, but then I decided to give up the chase and settle for second place. Anyway, it's the first race, the team and Michelin have done really well and there are still 16 races to go. I think we will get better. I'm really happy with this second place.
3rd, Nicky Hayden - "I tried to keep up during the early part of the race, but I knew I didn't quite have the pace. We were just missing that last little bit of speed today. However, two weeks ago I didn't have a chance in tests here, and we've made a lot of progress since then. Its a distant third but I'll take it and run with it. It's just the first of sixteen races, so let's see where we go from here. The fans here in Jerez are crazy, I've really enjoyed riding in front of them.

MotoGP 2006 XBox!
---


Hire a FastDates.com
Calendar Angel
Now available for your special event and booking needs direct from CaliforniaHostess.com!
Ask for a FastDates.com Calendar Kitten when you call
Dominique at 1-310-430-4301
Ducati's Thrilling
Season Opener
Giberneau Eliminated by Electronic Sensor Problem
Loris Capirossi won today's season-opening Spanish GP in brilliant style to put the Ducati Marlboro Team at the top of the MotoGP points table for the first time in history. But it was a day of mixed emotions for the team with Sete Gibernau withdrawing due to a gear sensor problem which affected his bike's electronics.

Capirossi and Gibernau had qualified first and second fastest, with Gibernau quickest in this morning's warm-up session, so the team had high hopes of a double podium result. Capirossi led the race from start to finish to beat runner-up Dani Pedrosa by 4.375 seconds and completed a perfect weekend: pole position, race win and fastest lap. Today's victory was the Italian's fourth MotoGP success for the Ducati Marlboro Team, his sixth premier class triumph and his 26th career win.
FEDERICO MINOLI, Ducati CEO and president
"Winning today's race is the perfect end to a hard winter's work. Everyone who believes in this project has worked so hard and today all that work paid off. Loris rode like a lion, he gave us an amazing race. It's a pity for Sete, he's shown that he's strong and that he's fast and I'm sure we could have had both bikes on the podium today, but he still has 16 races ahead of him."
LIVIO SUPPO, Ducati MotoGP project manager
"It's a day of mixed emotions for us - Ducati deserved a double podium today. I'm so happy for Loris, he did a great job and rode a wonderful race, he had the situation under control. On the other hand, I'm really sorry for what happened to Sete. My thanks to our technical partners Bridgestone and Shell Advance who have done so much in contributing to this victory."
LORIS CAPIROSSI, winner
"This is my fourth year with the Ducati Marlboro Team and this is the best start we've had to a season, today's win was just the best. The team has done a great job all winter, especially at the tests we did here two weeks ago. After that we knew we had a good opportunity to win and after practice and qualifying we were quite confident.
"My target today was to not try too hard in the early laps, but I got away in first place, so I tried to make a gap on the others. First it was (Nicky) Hayden behind me, then Pedrosa came at me. I decided to make a good rhythm that wouldn't stress the tyres too much, then during the last six or seven laps I pushed again and was able to take the advantage once more.
"I have to say thanks to everyone at Ducati who worked so hard for this and also to Bridgestone who have made big improvements over the winter. This is our second season with Bridgestone and our collaboration is working so well. I will try to repeat today's result as often as possible but it won't be easy!"
SETE GIBERNAU, DNF
"I've no words really, we've all been working so hard over the last few months but we're leaving the first race with no result. It's a real pity, everything had been going so well. My congratulations to Loris and Bridgestone for a fantastic win, now we look forward to the next race in Qatar in two weeks time.
Championship Points Leader Troy Bayliss leads Opening Day of Superbike Testing at Valencia
Valencia (Spain), Monday 27 March: Troy Bayliss continued his superb run of form in this early part of the season when he set quickest time for the Ducati Xerox Team on the opening day of a three-day test in Valencia, Spain.
The test, together with the subsequent one at Misano Adriatico on April 12/13, has been slotted into the calendar schedule after the opening two rounds of the series by FG Sport to enable all the Superbike teams to reach peak preparation in view of the remaining rounds of the 2006 series.
Points leader Bayliss showed more of his recent race-winning form as he lapped the 4.005 km Ricardo Tormo circuit in 1m35.220s, set during the morning session, to head the timesheets on the first day of action. His time was a full eight-tenths of a second quicker than second-placed Troy Corser (Suzuki). Ducati Xerox team-mate Lorenzo Lanzi was in sixth position, but just three-tenths off the pace of Corser.
"Everything went OK for me today" declared Bayliss. "The only problem is the track, which is slower than when we tested here in February because it's a lot hotter and windier. Even though we don't have anything major to test, I went well in the morning and was on the pace right away. Then in the afternoon the track was dirtier and I was unable to improve so we packed in half-an-hour before the end of the session."
"I am quite pleased with the way things went today" declared Lanzi. "We immediately found the right settings and I was one of the few riders who managed to lower their times in the afternoon session. There are still a couple more days left to improve but for the moment I'm pretty sure we're going in the right direction".
TIMES: 1. Bayliss (Ducati Xerox) 1m35.220s; 2. Corser (Suzuki) 1m36.080s; 3. Barros (Honda) 1m36.292s; 4. Haga (Yamaha) 1m36.309s; 5. Muggeridge (Honda) 1m36.327s; 6. Lanzi (Ducati Xerox) 1m36.360s; 7. Walker (Kawasaki) 1m36.420s; 8. Kagayama (Suzuki) 1m36.725s; etc.
Dorna and Red Bull join forces to promote growth of new talent
The commercial rights-holders for the MotoGP World Championships, Dorna Sports, continue in their quest to seek out the future stars of MotoGP through various projects aimed at youth development. With successful ventures in the past which have seen the likes of three-times World Champion Dani Pedrosa emerge onto the world stage, they continue to provide a platform for young talents to sharpen their motorcycling skills from an early age.
In a special event at the Jerez circuit today, Dorna announced they will enter into a partnership of youth development with energy drink manufacturer Red Bull, with the joint aim of discovering and developing riders from all backgrounds and all corners of the globe.
Whilst Dorna has its own experience within the motorcycling field, Red Bull has been involved in many other youth sports projects across the world, and by uniting these two experienced partners the hope is to create a unique and innovative series of projects which will inspire and encourage young talents to follow a career in MotoGP.

Red Bull MotoGP Academy
The first stage of the process is Red Bull's support of the MotoGP Academy project, which continues in 2006 after a successful first year which saw riders collecting a total of three race victories and four podium finishes in the CEV Spanish 125cc Championship.
The Red Bull MotoGP Academy is an initiative from Dorna to foment and foster young motorcycling talents and to provide them with a platform by which to progress into the MotoGP World Championships.The academy offers the youngsters specialist training in the many facets of the sport, which include such diverse areas as psycho-physical preparation, racecraft and language learning.
Six young talents hailing from Europe and Asia will be aiming to take their first steps on the path to a successful motorcycle road racing career, following in the footsteps of last year's success story, 15 year-old Bradley Smith. The young Briton took three race wins and a championship runners-up spot by just a single point in the CEV, and subsequently graduated by winning himself a place in the 125cc World Championship with the Repsol Honda Team.
The Red Bull MotoGP Academy is run under the expert guidance of former GP star Alberto Puig, whose experience has helped bring into MotoGP young racing talents such as Dani Pedrosa (twice 250cc World Champion, once 125cc World Champion), Casey Stoner (250cc and 125cc GP winner), and Toni Elias (250cc and 125cc GP winner), amongst many other youngsters.
Two more Britons, Danny Webb (aged 15) and Kev Coghlan (17), return for their second year in the Academy in 2006, where they will be joined by four young riders who successfully came through December 2005's selection process. Jonas Folger (12, Germany), Isaac Viñales (12, Spain), Takaaki Nakagami (14, Japan) and Scott Redding (13, Great Britain) will embark on their first season in the MotoGP Academy hoping to emulate the likes of Bradley Smith.

Red Bull MotoGP Rookies Cup
As an extension of the collaboration between Dorna and Red Bull, during 2006 the companies will also work together in the selection process for an innovative new race series, the Red Bull MotoGP Rookies Cup. The series will run from its own paddock at seven European Grands Prix in 2007, and will pit 20 youngsters on standard specification 125cc Grand Prix machinery, supplied by cup partners KTM.
The Red Bull MotoGP Rookies Cup would be seen as the first rung on the ladder for young racers, and any potential talents that catch the eye of the organisers would move on through the support ranks, from Rookies to Academy, and if successful, then on to the Red Bull KTM Junior 125 Team in the MotoGP World Championships, with the Austrian manufacturer's expertise and support representing the final piece in the puzzle.
The first part of the creation of the series would be the selection process which will take place at three Grand Prix racetracks around Europe in 2006. Sachsenring, Donington Park and Valencia will host the three selection events, where hundreds of entrants will get their chance to shine in front of the selection panel, which includes experienced talent hunters Alberto Puig and KTM Team Director Harald Bartol.
The Red Bull MotoGP Rookies Cup is open to youngsters from anywhere in the world aged between 13 to 16 (born between January 1st 1990 and December 31st 1992). Those interested in participating need not have experience in motorcycle road-racing, but must demonstrate the necessary drive, ambition and raw talent to learn the skills needed to become a racer.
Between the selection process, the Red Bull MotoGP Rookies Cup, the Red Bull MotoGP Academy and the Red Bull KTM Junior 125 Team, a pioneering project for unearthing new young talents from across the globe is created. Youngsters who are financially restricted are no longer excluded as only travelling costs need to be funded, the only necessary requirements are fulfilling the criteria of selection and being able to attend one of the selection events.
Bayliss Smashes unofficial Valencia Track Record,
Lanzi into 3rd Behind Xaus for a Ducati 1-2-3 at SBK Valencia Tests
Testing - Valencia - Wed Mar 29
Troy Bayliss (Ducati Xerox Team) smashed the unofficial Superbike lap record at Valencia today to complete his total domination of the three-day FGSport official test. The Australian's time of 1m33.758s, set on qualifying tyres in the morning, was almost one second quicker than the rest of the 28-strong field of riders and was six-tenths of a second under the time he set during February testing at the same circuit. Troy's performance on race tyres was also impressive, his time of 1m34.60s a fraction under 2003 Ducati champion Neil Hodgson's mark.
"When I woke up this morning and saw that the conditions were good, I knew I could do some quick times" declared Bayliss, "and I immediately did a 34.7 on my first exit on race tyres. We tried a few more things this morning and then I put on a Q-tyre to set the time. My first long-run in the afternoon was not as good as we expected, but we made a few changes to the front and rear and did a great full-race simulation. My last lap was one-tenth of a second slower than my best lap so we did everything we set out to do. I've been wanting to do a lap in the 33s here for some time and I'm feeling great about it. Ruben also looked good today, it feels really strange to have my former team-mate and my current team-mate behind me!".
Ducati Xerox team-mate Lorenzo Lanzi made a further step forward today, the Italian recording third-quickest time behind Ruben Xaus on the F05 version of the Ducati 999.
"We have improved a lot over the last three days and the results are clear to see because I set third quickest time so I am pleased with my performance" commented Lanzi. "This afternoon in the long-run I wanted to lap in the same times as the front-runners but I struggled a bit, maybe because it was so warm out there. We have changed my 999 a lot in these tests, but now I believe we are going in the right direction. It's always a pleasure to be ahead of guys like Corser and Haga in the standings, but I can't say the same about Ruben who is using my bike from last year!"
World Superbike now heads to the Santamonica circuit in Misano Adriatico, Italy for a further two days of testing on April 12-13 before the championship resumes on April 23 with the Spanish Round at Valencia.
OVERALL TIMES:
1. Bayliss (Ducati Xerox) 1m33.758s
2. Xaus (Ducati) 1m34.659s
3. Lanzi (Ducati Xerox) 1m34.848s
4. Corser (Suzuki) 1m34.933s
5. Martin (Petronas) 1m35.178s
6. Haga (Yamaha) 1m35.295s
7. Nieto (Kawasaki) 1m35.377s
8. Pitt (Yamaha) 1m35.423s
9. Fabrizio (Honda) 1m35.437s
10. Kagayama (Suzuki) 1m35.538s
Image
TELEVISION AUDIENCES ROCKET FOR MotoGP OPENER
Wed 29th March - Leading broadcasters from around the world have reported excellent audience data for their coverage of the opening round of the MotoGP World Championship at Jerez on Sunday. The leading figures came, not surprisingly, from Italy, where an impressive 6,974,000 viewers enjoyed a memorable victory for a national rider and factory in Loris Capirossi and Ducati through the Mediaset network (Italia 1), representing a 34.68% share.
Interest was even higher in Spain, where a stunning MotoGP debut from Dani Pedrosa helped to secure an audience share of 44.20% for Televisión Española (TVE) – up more than 6% on the famous Rossi-Gibernau duel from last season – with an average of 48.31% during the race. Home victories for Álvaro Bautista and Jorge Lorenzo in 125cc and 250cc no doubt stoked the interest of the Spanish fans as up to 5,579,000 viewers tuned in to live action from Jerez, representing a peak share of 50.3% and adding to a record race-day crowd of 131,162 at the track itself.
In the UK viewing figures peaked at 1,300,000 on BBC2, representing a 30% rise on last year's average for all races and a 3% rise on average audience share, which registered at 15.1%..
This data reflects the massive interest in the 2006 MotoGP World Championship, with fans across the globe eagerly awaiting the next round, which takes place in Doha on Saturday April 10th at the Commercialbank Grand Prix of Qatar.