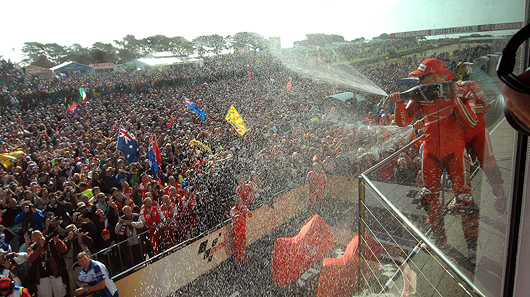 New World Champion Casey Stoner on his home country race podium with team mate Capirossi and Rossi.

MotoGP World Cjampionship, Phillip Island, Round 16 of 18

Casey Stoner's Victorious Homecoming to Australia puts Ducati on Cloud Nine with Manufacturer's Title as Capirossi takes 2nd
Phillip Island, Australia , October12-14thth - A triumphant homecoming for Casey Stoner at Phillip Island, at the head of a Ducati one-two with Loris Capirossi, gave the Italian factory the Constructors and Teams World Championship in perfect fashion at the GMC Australian Grand Prix.
In his first race since clinching the riders World Championship at Motegi from outside the podium spots, Stoner was able to start the celebrations in earnest with victory number nine of his flawless 2007 season. The Australian joins the likes of Mick Doohan and Wayne Gardner in winning his home race after taking the premier class title, and did so by storming away from the pack right from the off. Given some early trouble by World Championship predecessor Nicky Hayden, once the American had been eliminated from the equation with a mechanical problem Stoner could go about his business without needing to look over his shoulder too frequently. He eventually took victory by nearly seven seconds.
Following on from his own 2007 highlight at Motegi –his only win to date with an 800cc machine- Loris Capirossi ensured his presence at the forefront of the Ducati celebrations by bursting through the field and taking second place. The Italian, who has been one of the key factors behind Ducati's success since the creation of the MotoGP project, battled with old rival Valentino Rossi and Honda rider Dani Pedrosa for the podium place and continued his recent resurgence of form.
Rossi, never off the podium in his seven visits to Phillip Island in MotoGP, completed the rostrum places and all but confirmed his second place in the 2007 standings. The Yamaha factory man was eventually too much for poleman Pedrosa, whose strange crash in the morning warmup when undertaking a practice start may have been the cause of a nervous opening for the Spaniard.
Alex Barros took fifth from his highest grid placing of the season, ahead of Randy de Puniet, whilst the Suzuki duo of John Hopkins and Chris Vermeulen sneaked up the standings from lowly qualifying positions. The two remain virtually inseparable in the battle for fourth place in the overall classification, experiencing their best ever seasons in MotoGP.
Colin Edwards and Marco Melandri completed the top ten, with the latter making an unfortunate drop down the placings after providing much excitement in the early going.
"Welcome to my world." The hero returns home a World Champion.

Sunday Race, Stoner's Homecoming
World Champion Casey Stoner (Ducati) MotoGP emphasized his talent with a lights-to-flag win here at Phillip Island, with his team-mate Loris Capirossi second and Valentino Rossi (Yamaha) third. This is Stoner?s ninth win of the season so far. Dani Pedrosa (Repsol Honda RC212V) rode as hard as he ever has to manage fourth place after histeam-mate Nicky Hayden (Repsol Honda RC212V) was forced out of this 27-lap race on lap 13 with a mechanical problem.
Stoner rocketed off the line to lead into the only turn one on the superb MotoGP circuit with a sea view. He was pursued by the fast-starting Hayden, who leapt from fourth to second in that short burst from the line. Poleman Dani Pedrosa lay third with Rossi on his tail. Dani and Rossi spent the first few laps juggling third place between them, while Nicky stalked Stoner. Both of those riders were desperate for victory, former World Champion Nicky to record the first win of his troubled title defence season, Stoner to win in front of his massed fans.
Marco Melandri (Gresini Honda RC212V) made a fantastic start to move up to fourth place from 12th on the grid and set a fastest lap of the race while doing it. As the field settled down to engage in the fastest race of the season, it was clear Stoner was unassailable here barring disaster.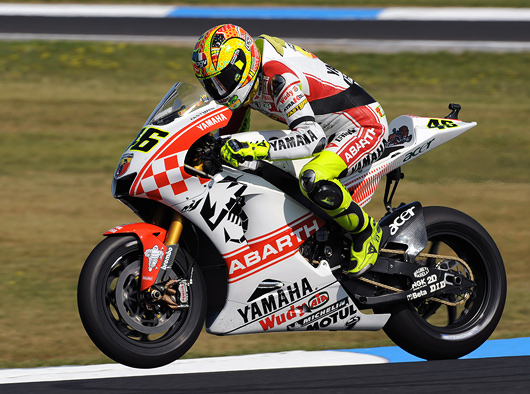 Starting second on the grid, Rossi slipped to fourth but passed Dani Pedrosa on lap two, only to make a small mistake at the end of the lap, briefly touching the grass at the start of the main straight and letting Pedrosa back past. On lap four of 27 he managed to get in front of the Spaniard once again and he then set off after Nicky Hayden, who was running second behind Stoner.
The fight would be for scraps behind the Aussie Champ. By mid-race Rossi had relieved Hayden of second, with Stoner already enjoying a 2.5 second lead. Dani held fourth, with Merlandri now fifth and Capirossi sixth. Here, from approaching mid-race distance, Capirossi would begin his charge.
Despite setting the fastest lap on lap seven, Rossi was unable to make much headway until lap 11, when he passed Hayden for second. As Stoner gradually extended his advantage in front however it became clear that Rossi's fight would be for the runner-up spot as he became embroiled in a three-way battle with Capirossi and Pedrosa. After several changes of position between the trio Pedrosa tailed off and it briefly looked like another being another vintage Rossi-Capirossi showdown, but with little grip left in his tyres Rossi was unable to keep pace with his compatriot and he eventually crossed the line three seconds adrift, with Stoner several seconds ahead of Capirossi.
As he dropped off the leades pace, mid-race too would spell disaster for Nicky and it was an angry Hayden who trudged back to his pit garage when his RC212V expired with a puff of oil smoke then locked up. Having qualified in the top four for six successive races.
By lap 15 Stoner had put five seconds between himself and Rossi with Dani third and a determined Melandri fourth, but on the next lap Melandri ran wide and let Capirossi through to take his place. Dani took second back off Rossi on lap 17, but there was more action to come as the strain on tyres for the Michelin runners took its toll again this season.
Valentino almost gets pitched off his bike as Capirossi blows byon the front straight to pass him on top speed and into the first corner. The factory Fiat Yamaha squad sported special edition "Abarth Performance" red/white livery on thier bikes and leathers for this one race only. For you kids that don't remember when Fiats were sold in America, and Abarth of Italy was a special tuning shop for Fiat performance parts back in the day.

The three way dice for second, third and fourth places was a highlight of the race with Capirossi taking both Rossi and Dani?s places in the space of the final turn on lap 19 and the entry to turn one on lap 20 ? and racing doesn?t come much more spectacular than that. Rossi then stole third off Dani on the same lap.
Stoner was well away by now and at the flag he was 6.763 seconds ahead of his team-mate. Dani in fourth was 11 seconds away from the Aussie victor. Melandri would drop to 10th at the flag as his tyres deteriorated towards the end of this gruelling race.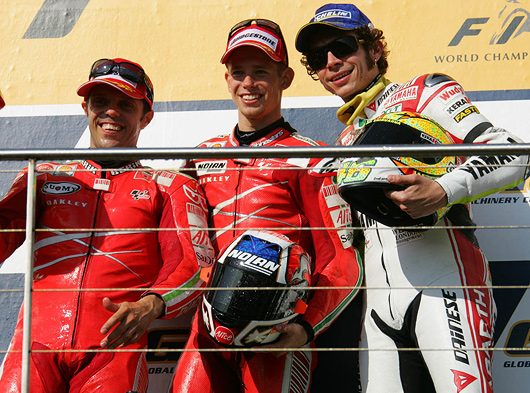 New World Champion Casey Stoner on his home country race podium with team mate Capirossi and Rossi.
CASEY STONER, winner, 2007 World Champion on 322 points - "Being up on the podium was just unbelievable, I've never felt anything like it. I've been working very hard for a lot of years trying to win here. This whole season has been magical for us, we came here with a lot less pressure after winning the title in Japan, so I could really enjoy this race. It's definitely my best victory so far. I have to thank the Australian fans, it's good to see so many of them here and I hope they've had a lot of fun, I really appreciate it. I made one of my best starts, I had the first corner to myself so I could concentrate on getting the tyres warmed up and ready to go. Nicky [Hayden, who DNFed] was really pushing in the beginning, he was on my rear wheel for a while but I managed to get away. I was really hoping, more than ever, that Loris would get on the podium here, so it's been another great weekend for the team and for Ducati."
LORIS CAPIROSSI, 2nd place, 7th in World Championship on 150 points - "My start wasn't really good, so in the early laps I had to fight a lot with Marco [Melandri] and in my opinion he was little bit too aggressive. I had to push really hard to overtake him and then I said 'please take it easy'. After that I tried to keep my pace and I finished second, so I'm really, really happy and a big thanks to my team who worked so hard all weekend. This is another great moment, especially after my win at Motegi. I am trying to end my five years with Ducati in the best way possible. Ducati has won everything this year - the riders', constructors' and teams' championships, which proves that everything's working 100 per cent at the factory."
GABRIELE DEL TORCHIO, CEO Ducati Motor Holding - "Winning the constructors' and teams' titles confirms and strengthens the value of the goal conquered three weeks ago by Casey. We have a great team of men and women who, with courage and warmth, have made a dream come true."

Valentino Rossi, Position: 3rd Time: +10.038 - "Honestly I'm not too disappointed today because I know I did everything I could have possibly done. I started okay and in the opening laps I felt like I could go quite fast and have the chance to fight at the front. I passed Pedrosa and at that stage I was quite close to Hayden and Stoner, but then I made a small mistake coming onto the straight and lost a bit of time. I managed to pass Pedrosa again but then I wasn't able to close the gap to Stoner, even though I was riding at the maximum. In places I had fun and I made some good passes; at the end especially I was hoping for a great battle with Capirossi, like the old days, but by then the grip from my rear tyre was very poor and I had to slow down to make sure I would arrive to the end. I am very happy that I was on the podium because this is a special place and it's always a big emotion to stand there with all the crowds in pit lane. Today with Casey I think it was a bit like for me in Mugello! Anyway, now we go straight to Malaysia, where our bike usually goes well, so once again we will do the maximum and try for the win."
Dani Pedrosa , still fighting Rossi for second overall in the Championship with 201 points to Rossi's 230 - "This is not really the result we wanted here. We had an issue with the machine on my practice start in the warm-up this morning and so I was racing my second bike today. The feeling was not perfect but still I was able to push hard and fight for positions for most of the race. However in the last ten laps the grip from the tyres began to fall away quite quickly and I had a lot wheelspin and the machine was sliding when I tried to open the throttle. Casey was very fast again here and I don't think we could have stayed with him today but it's a shame not to be on the podium today."
Nicky Hayden, Outgoing 2006 World Champion - "That's a tough one to swallow. That hurts because we were having a really good race and the bike was feeling by far the best it has all season without a doubt. Stoner was setting a hot pace – he was a little bit quicker in some places and I was quicker than him in a few places. I was trying to hang in there and ride smoothly and try to preserve the tyres and not get too crazy too quickly. It's easy to speculate on what would have happened at the end of the race… After a few laps I was still right on him but all of a sudden the engine started to get tight and started slowing down. I was nervous but it kept running and I wasn't going to pull over so I kept one hand on the clutch. Eventually she tied up and that was it – another goose egg in the points column."
Race Classification MotoGP: (27 laps = 120.096 km)
Pos/ Rider / Nat / Team / Motorcycle / Time/ KM/H / Gap
1 / Casey STONER / AUS / Ducati Marlboro Team / DUCATI / 41'12.244 / 174.879 /
2 / Loris CAPIROSSI / ITA / Ducati Marlboro Team / DUCATI / 41'19.007 / 174.402 / 6.763
3 / Valentino ROSSI / ITA / Fiat Yamaha Team / YAMAHA / 41'22.282 / 174.172 / 10.038
4 / Dani PEDROSA / SPA / Repsol Honda Team / HONDA / 41'23.907 / 174.058 / 11.663
5 / Alex BARROS / BRA / Pramac d'Antin / DUCATI / 41'31.719 / 173.512 / 19.475
6 / Randy DE PUNIET / FRA / Kawasaki Racing Team / KAWASAKI / 41'39.557 / 172.968 / 27.313
7 / John HOPKINS / USA / Rizla Suzuki MotoGP / SUZUKI / 41'41.487 / 172.835 / 29.243
8 / Chris VERMEULEN / AUS / Rizla Suzuki MotoGP / SUZUKI / 41'47.077 / 172.450 / 34.833
9 / Colin EDWARDS / USA / Fiat Yamaha Team / YAMAHA / 41'47.317 / 172.433 / 35.073
10 / Marco MELANDRI / ITA / Honda Gresini / HONDA / 41'49.215 / 172.303 / 36.971
11 / Carlos CHECA / SPA / Honda LCR / HONDA / 41'49.965 / 172.251 / 37.721
12 / Anthony WEST / AUS / Kawasaki Racing Team / KAWASAKI / 41'50.670 / 172.203 / 38.426
13 / Shinya NAKANO / JPN / Konica Minolta Honda / HONDA / 41'59.674 / 171.587 / 47.430
14 / Sylvain GUINTOLI / FRA / Dunlop Yamaha Tech 3 / YAMAHA / 42'06.568 / 171.119 / 54.324
15 / Toni ELIAS / SPA / Honda Gresini / HONDA / 42'22.715 / 170.033 / 1'10.471
Pole Position: Dani PEDROSA 1'29.201 179.513 Km/h
Fastest Lap: Valentino ROSSI 1'30.801 176.350 Km/h Lap 7
Circuit Record Lap: Marco MELANDRI 1'30.332 177.266 Km/h 2005
Circuit Best Lap: Nicky HAYDEN 1'29.020 179.878 Km/h 2006
World Championship Positions:
1 STONER 322, 2 ROSSI 230, 3 PEDROSA 201, 4 HOPKINS 165, 5 VERMEULEN 160,
6 MELANDRI 154, 7 CAPIROSSI 150, 8 EDWARDS 115, 9 HAYDEN 112, 10 BARROS 102,
11 ELIAS 88, 12 DE PUNIET 88, 13 HOFMANN 65, 14 CHECA 59, 15 WEST 58.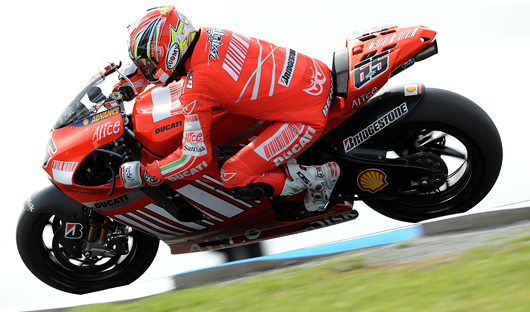 Lorenzo Runs Away with 250cc GP
A dominant win for Jorge Lorenzo in the 250cc category, nearly 20 seconds ahead of his nearest rival in the race, took the Spaniard one step closer to retaining his quarter litre title. As with all his victories this year, the Aprilia rider took the triumph from pole position, and never looked to be in trouble en route to win number nine of the 2007 season.
Alvaro Bautista's last gasp move to snatch second, at the scene of his 2006 125cc world title victory, further helped out his countryman Lorenzo. The Aspar rider's relegation of Andrea Dovizioso to third place stretches the gap between the Italian and the current series leader to 45 points with only 50 more up for grabs.
The final two rostrum places could have been anybody's in a closely packed top six, with Hiroshi Aoyama, Thomas Luthi and Julian Simon all battling amongst themselves and with the duo of Bautista and Dovizioso. Alex de Angelis' slim chance of becoming World Champion was put to rest following his ninth place finish, behind Marco Simoncelli and Shuhei Aoyama. Yuki Takahashi completed the top ten.
Race Classification 250cc: (25 laps = 111.2 km)
Pos / Rider / Nat / Team / Motorcycle / Time / KM/H / Gap
1 / Jorge LORENZO / SPA / Fortuna Aprilia / APRILIA / 39'25.727 / 169.216 /
2 / Alvaro BAUTISTA / SPA / Master - Mapfre Aspar / APRILIA / 39'45.361 / 167.823 / 19.634
3 / Andrea DOVIZIOSO / ITA / Kopron Team Scot / HONDA / 39'45.451 / 167.817 / 19.724
4 / Hiroshi AOYAMA / JPN / Red Bull KTM 250 / KTM / 39'45.524 / 167.812 / 19.797
5 / Thomas LUTHI / SWI / Emmi - Caffe Latte
Aprilia / APRILIA / 39'45.793 / 167.793 / 20.066
6 / Julian SIMON / SPA / Repsol Honda 250cc / HONDA / 39'46.772 / 167.724 / 21.045
7 / Marco SIMONCELLI / ITA / Metis Gilera / GILERA / 39'58.687 / 166.891 / 32.960
8 / Shuhei AOYAMA / JPN / Repsol Honda 250cc / HONDA / 39'58.770 / 166.885 / 33.043
9 / Alex DE ANGELIS / RSM / Master - Mapfre Aspar / APRILIA / 39'58.778 / 166.884 / 33.051
10 / Yuki TAKAHASHI / JPN / Kopron Team Scot / HONDA / 40'10.541 / 166.070 / 44.814
11 / Roberto LOCATELLI / ITA / Metis Gilera / GILERA / 40'14.460 / 165.801 / 48.733
12 / Jules CLUZEL / FRA / Angaia Racing / APRILIA / 40'19.737 / 165.439 / 54.010
13 / Karel ABRAHAM / CZE / Cardion AB Motoracing / APRILIA / 40'28.945 / 164.812 / 1'03.218
14 / Aleix ESPARGARO / SPA / Blusens Aprilia Germany / APRILIA / 40'35.095 / 164.396 / 1'09.368
15 / Dirk HEIDOLF / GER / Kiefer - Bos - Sotin Racing / APRILIA / 40'43.534 / 163.828 / 1'17.807
Pole Position: Jorge LORENZO 1'32.884 172.395 Km/h
Fastest Lap: Jorge LORENZO 1'33.761 170.783 Km/h Lap 5
Circuit Record Lap: Sebastian PORTO 1'33.381 171.478 Km/h 2004
Circuit Best Lap: Sebastian PORTO 1'32.099 173.865 Km/h 2004
World Championship Positions:
1 LORENZO 287, 2 DOVIZIOSO 242, 3 DE ANGELIS 215,
4 BAUTISTA 181, 5 BARBERA 146,
6 AOYAMA 129, 7 KALLIO 119, 8 LUTHI 115, 9 SIMON 103, 10 AOYAMA 87,
11 SIMONCELLI 84, 12 TAKAHASHI 75, 13 LAI 49, 14 LOCATELLI 47, 15 ESPARGARO 37.
---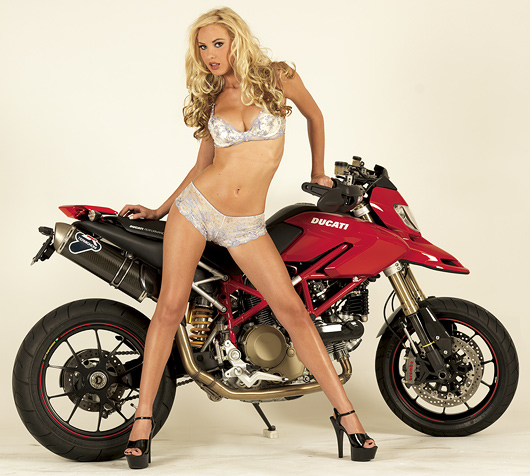 The Ultimate Naked Riding Experience
Ducati Hypermotard R We build the sport's most fun bike

No other motorcycle (other than argueably the Ducati Desmosedici RR MotoGP street bike) has been waited on for so long, with so much anticipation, than the newly released 2008 model Ducati 1080 Hypermotard. Ducati has a way of teasing us years in advance by giving us a preview of their latest prototype concept at bike shows and in the media, and then making us wait 3 years as they guage opinion, decide, design and tool up for production.

The Complete Story with sexy Tiffany Toth Screensavers in New Bikes HERE.
---



Click to Listen & Buy It Now

Click Above to Vote for our Favorite Pop Country Singer Taylor Swift for the America Music Awards!

And click at left to order her first album which is now Platinum and Number One on the Country Music Charts.

Chicks That Kick Ass!
More Taylor Swift biography, music videos and and photos HERE

Tear Drops on my Guitar - Music Video
---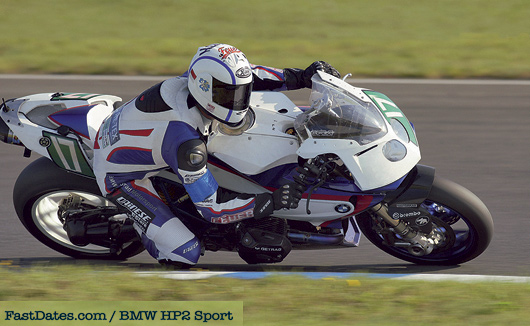 HP2 Sport is the latest edition to the HP2 range of high performance motorbikes from BMW. Their future Superbike may look similar to this, but will still need an all-new watercooled engine to make the maximum power need to be competitive in WSB. Cornering clearance could be a major issue for the Boxer, so we would expect thier future Superbike to be based on their in-line four MotoGP project bike.
BMW to race WSBKs from '09, targets sportsbike sales
BMW unveiled the latest addition to its HP2 line-up of high-performance models at the Mondial du Deux Roues, Paris. The BMW HP2 Sport, based on the company's R1200 S, is the third bike in the HP2 range, and is claimed to be the most powerful and lightest 'Boxer' series on the road yet.
Alongside the launch of the new model, BMW further strengthened its commitment to move into sportsbike sales with the announcement of plans to enter the 2009 World Superbike Championship. Peter Müller, Vice President Development and Model Lines BMW Motorrad, said: "In 2007 BMW returned to road racing after a gap of more than 50 years with the sports Boxer. In 2008 we will continue our activities in the Endurance categorys at the same time though we will be preparing our entry into the Superbike World Championship in 2009."
BMW's sporting intentions can clearly be seen in the specification of the HP2 Sport, which includes carbon fibre bodywork, a MotoGP style dash, Öhlins suspension and radial mount Brembo brake calipers.
The most striking difference on the BMW HP2 Sport is the new cylinder heads. Each of the double overhead camshafts (DOHC) uses a drag lever to actuate the valves that are larger than in the BMW R1200 S. Further modifications such as the flow-optimised intake and outlet, new forged pistons and adapted connecting rod help the engine to achieve the necessary higher output compared to the basic engine.
The new stainless steel exhaust system is placed below the engine for the first time. This keeps the construction of the lower area of the motorcycle extremely slim, enabling great freedom of movement for the familiar 'hanging off' riding.
Complete Report: BMW HP2 Sport
---
A Hypermotard Birthday for Casey Stoner
Monday, October 15th, in Melbourne, AU - Casey Stoner officially inaugurated "Ducati City", the new Ducati Store in Melbourne, in the presence of 150 passionate Australian Ducatisti. The young World Champion played a part in the splendid double win that granted Ducati, two races in advance, the Constructor and Team titles, at Phillip Island on Sunday, along with Loris Capirossi. On top of that, he turns 22 today, October 16th and received a flaming Hypermotard (See our test in New Bikes) as a surprise gift - something both appreciated by Casey and something that he has wanted for some time.

"Thanks so much to Ducati; I really appreciate this surprise gift even if you all make me become redder than the bike", he said, shy but clearly happy after the traditional "Happy Birthday, Casey" that welcomed the entrance of the cake. "Sunday was an incredible day for me with everyone under the podium singing the Australian national anthem", he said. "But in retrospect, this season was perfect. After Qatar, I thought, 'wow, we won a race', in the middle of the season, I thought, 'wow, we can win the title' and yesterday, 'wow, we won my home GP!' "

At the question if, for next year, he would keep number 27 or if he would move to 1, the public is divided over who prefers the first proposal and who prefers the second. "I am very attached to 27," responded Casey, "because that is the number that I got when I was racing with the team of Alberto Puig, a person that I highly regard and that helped me in the beginning of my career in Europe. However, I also think of all of the people that have worked so hard, just like my team, Ducati and I have done to obtain this result, deserving number 1. I haven't made a definite decision yet, but I am leaning more towards number 1".

Casey will spend his birthday on a plane flying to Malaysia where, next Sunday, the 17th race of the season will take place before returning to Europe for the closing of the wonderful 2007 season in Valencia, Spain on November 4th.
---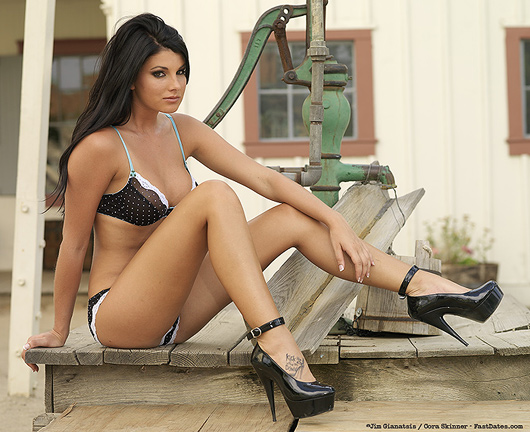 Too Sexy for Her Shoes?
Calendar Kitten Cora Skinner

Cora, who is featured in the 2007 and 2008 editions of the Iron & Lace and Garage Girls Calendars, is a 5'9' raven haired stunner with probably the most perfect body in the world - except for that damn tattoo. We're talking about that one on her right foot (click for a closeup) which reads, "Kick Him When He's Down." Talk about a ball breaker!

You can find out more about Cora in her Meet the Models profile, and see more of this and her other photo shoots in Members Corner.
---
There's more! Go to Pit Lane News NEXT PAGE

Hot Calendar Girl and Bike News! Go to: Fast Dates • Calendar Girls • Iron & Lace

Calendar Kittens, The Paddock Garage, Screensavers, Iron & Lace Garage



Many of our Calendar Kittens can also be seen at Playboy's website...

BikerKiss.com - the largest biker personals site!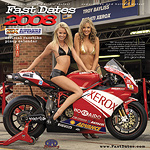 Now Available!
16-month Calendar starts Sept
2008 Fast Dates &
Garage Girls Calendars
MotoGP heads to Sepang in a flash for penultimate race of 2007.
Use of Control Tires Beginning in 2008 to Be Determined
Polini Malaysian Motorcycle Grand Prix - Tuesday 16th October
Race preview
Oct 13th - MotoGP takes in two continents in as many weeks as the 2007 season draws to a close, moving from Australasia to Asia for the Polini Malaysian Motorcycle Grand Prix on October 21st. The penultimate round of the year, which takes place at the Sepang Circuit close to Kuala Lumpur, sees the riders and teams preparing for a final push for pride, points and positions in the MotoGP World Championship.
With the individual, team and constructors title already in the bag for Casey Stoner and Ducati, the main interest in the MotoGP class lies in whether the Australian can add to his win tally, and to whom will take second place in the premier class. Valentino Rossi currently holds a 29 point advantage over Dani Pedrosa with 50 still up for grabs, heading to a track where both riders were on the podium last season.
The most recent Malaysian Grand Prix was also won by Yamaha, with Valentino Rossi taking his fourth premier-class win at Sepang following a stunning battle with Loris Capirossi last season. Rossi is keen to repeat that performance this weekend as he aims to become the first MotoGP rider ever to score 100 career podiums in the class - his third place finish at Phillip Island last Sunday having taken his tally to an unsurpassed 99. Rossi's team-mate Colin Edwards is also targeting a return to the podium after a dry spell of eight races since his last top-three finish at Donington Park.
Sepang is one of the widest tracks on the calendar, measuring 16 metres across in some areas, and high track temperatures are always a factor in the tropical climate. With four major hairpins, and some fast and frequent changes of direction in its 5,542m layout, Sepang provides a stern workout for the entire bike set-up and its largely consistent, if demanding, climate makes it the ideal winter testing venue. However, after being completely resurfaced since preseason testing back in February, the teams will have to wait until first free practice on Friday morning to see how useful previous data will be for set-up this weekend.
Valentino Rossi - "Our target is unchanged"
Valentino Rossi's impressive career podium tally in MotoGP includes six from the past six seasons at Sepang, including those four victories. After extending his advantage over Dani Pedrosa in the battle for the important runner-up spot in the championship at the last round, the Italian is again targetting the top step of the podium as he aims to finish a difficult season on a high note.
"I did everything I could in Australia but we couldn't challenge Stoner so our target for the final two races is unchanged - to fight for the win," says Rossi. "Sepang is another of my favourite tracks and I've had some great races there. Last year's battle with Loris was especially memorable, and I would really like to have the chance to fight like that with my rivals again this year.
"We know that our bike generally goes well there and we have a lot of data from so much testing there, even if our bike has changed quite a bit from the start of the year when we were last there and the track has also, but hopefully we will be able to find a good package and be competitive. We have two races left and we are going to be doing everything we can to win them both so we can end the season in a good way."
Behind Rossi and Pedrosa, a battle between team-mates rages for fourth in the championship. Suzuki's John Hopkins and Chris Vermeulen have been virtually inseparable over the course of the season, and are split by only five points in their battle to be the top finisher in their internal duel. A dip in form from both riders has seen Marco Melandri and Loris Capirossi get back amongst the contenders for fourth, and the quartet are now within just fifteen points of each other.
The remainder of the top ten consists of Colin Edwards, 2006 MotoGP World Champion Nicky Hayden, and Brazilian veteran Alex Barros.
On 12pm on Saturday afternoon, an announcement will also be made regarding the recent control tyre proposal made by Dorna CEO Carmelo Ezpeleta. The deadline for the decision taken by the Grand Prix Commission consisting of Dorna, IRTA, the MSMA and the FIM will have arrived, and the much rumoured tyre situation for 2008 will become clearer for all involved.

Motocourse 2008 Deluxe Wall Calendar

Sports Illustrated Swimsuit 2008 Deluxe Wall Calendar

Sports Illustrated Swimsuit 2008 Wall Calendar
---
Tech 3 Yamaha MotoGP Team Signs James Toseland and possibly Colin Edwards
Oct 1st - Tech 3 Yamaha would like to announce that it has secured the services of James Toseland for the 2008 season. The British rider will begin his MotoGP career with the Yamaha factory supported organisation next year.
Toseland – who is currently leading the Superbike World Championship by 43 points – has already proved his racing credentials. He was the youngest ever World Superbike Champion in 2004 and is aiming to secure the title once again this season.
"I am delighted to have secured a rider of James' calibre and am looking forward to working with him," says Team Principal Herve Poncharal. "Procuring James is a major coup for Tech 3 Yamaha and for the MotoGP championship in extending our reach into Northern Europe. It is an exciting time for us all and I am certain that he will be an integral part of the team's future."
Further details, including James' team structure will be announced in due course. It is expected that Colin Edwards will be leaving the factory Fiat Yamaha team and will join Toseland at Tech 3. The official announcement can't be made until the end of the race season.
Loris Capirossi
Moves to Suzuki with Chris Vermeulen,
Marco Melandri to Ducati MotoGP team in 2008
Loris Capirossi's late season MotoGP comeback on the factory Ducati with his most recent Phillip Island runner-up spot behing team mate Casey Stoner was just a few races too late. Ducati would have liked to have kept their favorite Italian rider who has been with their GP team since the beginning, but Loris' lack luster performances in mid-pack earlier this season while Casey Stoner was scoring week after week wins, caused Ducati to start looking elsewhere during the summer for a fresh young rider like Stoner to replace the veteran Capirossi who's contrast is expiring the end of this season.
So during the Augut break Ducati signed another Italian, younger Marco Melandri fromthe Gresini Honda team. We know that Capirossi would have prefered to stay at Ducati, but he had no choice but to take the open seat at Team Suzuki for 2008 that had been vacated by John Hopkins. But the past two MotoGP race weekends at Motegi and Phillip Island with Capirossi scoring podium wins, and Melandi finishind down in 10th spot this weekend, you know that Ducati might be regretting their decision.
Yamaha MotoGP Team signs Jorge Lorenzo
Yamaha Motor Co., Ltd announces that it has concluded a two-year agreement with 250cc World Champion Jorge Lorenzo. The 20-year-old Spaniard will make his MotoGP debut in 2008 aboard a YZR-M1, with direct Factory support.
Lorenzo, who won the 250 title in 2006, is currently leading the championship, after winning six out of the first ten races this season.
"Yamaha has been watching Jorge's career with interest for some time and we are delighted that he will be joining our MotoGP line-up from next season" - commented Lin Jarvis, Managing Director of Yamaha Motor Racing. "We are sure that he will be a valuable asset for the future and we look forward to the commencement of his MotoGP career with Yamaha."
The exact structure of Yamaha's team and rider organization is still under consideration at the present time. Further details, including Lorenzo's team structure, will be announced in due course.
First Look!
Inside the new Ducati Desmosedici RR
Going into production next month for a lucky few!
Click the Photo for More
Ducati Confirms Increasing Desmosedici RR Production to 1500 with 500 Deliveries this Year
Ducati Press Release Oct 8th - The Desmosedici RR – the ultimate expression of Ducati Corse's racing experience and technology transferred to a road bike – has become the new benchmark for performance, components and style for the entire sector.

Since the RR's launch in June 2006 on the eve of the Italian GP at Mugello and the possibility to reserve the bike in Ducati Stores throughout the world, the hundreds of requests received mean that the bike has become an immediate commercial success. Production of the first true MotoGP replica will begin in a few days time.
Never before has so much expectation surrounded a bike destined for road use. The RR is an exclusive and esoteric product that also deserves some sort of safeguard for those enthusiasts who have ordered it.
Following the recent victory of the MotoGP world title and with requests continuing to pour in from the dealer network in addition to the 1250 orders already received, Ducati has decided to limit the total number of Desmosedici RRs produced in the Borgo Panigale factory to 1500.
Once again, Ducati wishes to reward the trust and loyalty of all those customers who made an early reservation and who can now see the value of their purchase increase even before collecting it from their dealer.
At this point, with very few bikes still available, anyone who is still undecided is advised to hurry, as Ducati expects to bring an end to reservations soon.
Production will begin in the second fortnight of the month of October 2007 and, as promised, Ducati will give delivery priority to the approximately 500 owners of the 999R who have ordered the Desmosedici RR and who will receive it before the end of this year. For the remaining reservations, Ducati guarantees the delivery of the entire production run by the end of 2008.
When then Ducati CEO Frederico Miloni first announced the Desmosedici RR at World Ducati Week back in 2004 it was to be priced at $50,000 each in a limited production run of just 200 bikes to be hand built in the Ducati Corse race shop at a pace of 1-2 bikes per day.
Then last summer for the lucky few who qualified to by a Desmosedici because they also owned a 999R Superbike, the price had been raised to $65,000 for the first 100 bikes to be delivered by this Christmas, followed by 100 more bikes in the spring of 2008 with the price increased $10,000 more to $75,000.
And now,Ducati has confired that orders are still open worldwide for the Desmosedici at the full list price of $75,000. With production starting now in mid October, and with 500 bikes to be delivered by Christmas, this means the 500 bikes need to be built in about 30 work days, then shipped, so production on the factory assembly line is now closer to 17 bikes a day, and not the 2 bikes hand built per day as previously stated.
For compete details and photos of the new bike go to our
New Sportbike Index
Ducati Desmosedici RR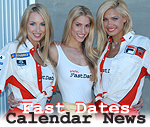 Eend of the Line for the Ducati 999
Magny-Cours (France), Sunday 7th October: The final round of the 2007 World Superbike Championship at Magny-Cours also marked the end of the line for one of the most successful racing machines ever built by the Borgo Panigale manufacturer.
Since it made its triumphant debut in the opening round of the 2003 championship at Valencia with a 1-2 finish for Neil Hodgson and Ruben Xaus, the 999 has won three of the last five Riders' titles, with Neil Hodgson (2003), James Toseland (2004) and Troy Bayliss (2006).
In that period Ducati also won three WSBK Manufacturers' titles in the same years, although in 2003 and 2004 points for this particular title were also earned by the venerable 998, with wins on five occasions for Toseland, Shane Byrne and Pierfrancesco Chili.
The 999 won a total of 63 WSBK races in its history, in the hands of eight different riders - Troy Bayliss (19), Neil Hodgson (13), R?gis Laconi (10), Ruben Xaus (8), Noriyuki Haga (6), James Toseland (4), Lorenzo Lanzi (2) and Garry McCoy (1).
Factory Ducati 999 machines have appeared in the colours of two different sponsors - Fila in 2003 and 2004 and Xerox from 2005 to 2007.
Ducati Corse Superbike Technical Director Ernesto Marinelli has been responsible for the development and evolution of the 999 since it was introduced.
"It brings a tear to my eye!" commented Ernesto. "For sure the 999 is a bike that has given us a lot of satisfaction since 2003, when it came to us, until this year. Even in its last year, it is still proving to be competitive. On the engine level, there has been only one intermediate horsepower 'step' between the 2004 and 2005 seasons, when power output went up from 189 HP to 194HP, after which the engine did not undergo any more development. The other fundamental change came with the electronics, again between 2004 and 2005, with the switch from the Marelli MF5 to the Marvel4 with all the electronic updates."
With the change in regulations for 2008, next year the Ducati Xerox Team will take part in the World Superbike Championship with the new 1098 F08.
---


NEW! FastDates.com
Cell Phone Wallpapers!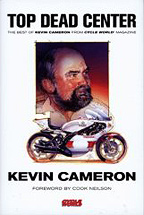 Design & Tuning
for Motocross
The ultimate book on motocross bike technology & performance
by Jim Gianatsis

Click for Classic MX photos

One Chance to Win
Motocross Movie
Scripted by
by Jim Gianatsis
It took 30 years to get it released, but a feature length movie which I wrote over 30 years ago is finally being released and shown, and will soon be available on DVD.
"One Chance to Win" covers the final round of the 1975 AMA 500cc outdoor National Championship on the New Orleans levee river banks of the Mississippi River with a 5-way points battle right down to the final round for the Championship between Jimmy Weinert, Tony DiSefano Pierre Karsmakers, Marty Smith and Brad Lackey. The film will premier in a theatre in San Bernandino on the weekend of the Legends of Motocross Race Weekend out at Glen Helen Raceway, all the old motocross stars are expected to attend including Tony D and Bob Hannah. I hope you will join me and all the old motocross greats.
Premier of "One Chance To WIn" on November 3rd at 6:00pm at the California Theatre in San Bernardino. The doors will open at 6:00pm and the program begins at 7:00. We will show the original 77 minute film and then the 47 minute "Behind The Battle-The Making of One Chance To WIn". Many of the riders and mechanics who raced at that famous "Battle of New Orleans" in 1975 will be in attendance that night. There is a bar and concessions. More details and buy tickets at the theatre or online at:
OneChanceToWin.com
About the Passing Away of Norifumi (Norick) Abe
It is with great sadness that we learn of the death of Norifumi (Norick) Abe (32) on October 7, 2007, following a traffic accident. Norick Abe, as he is fondly known by motorcycle race fans around the world, was competing this season in the JSB1000 class of the All-Japan Championships from the "Y'S GEAR Racing" team. Norick was riding a motorcycle in Kawasaki City, Kanagawa Pref. when he met with an accident at about 6:20 pm and he was pronounced dead at 8:50 pm at the hospital where he was taken for treatment.
In 1993, Norifumi Abe became the youngest rider ever to win the pinnacle 500cc class of the All Japan Road Race Championships. The following year he was competing in the All Japan Superbike Championship when he joined the Yamaha camp and started competing in the World GP500cc class. From 1995 he began competing full-time in the World GP500cc class, where he eventually compiled a record of three wins, four 2nd places and 10 3rd places in his GP career. This year he returned to the All Japan Championships and also competed in the Suzuka 8 hours World Endurance Championship race in July. During his career Abe was widely known and loved by the fans as a leading figure in the domestic race scene as well as abroad.
Norifumi Abe Profile
Place of birth: Tokyo, Japan
Born on Sept. 7, 1975
2007 team: Y'S GEAR Racing
Career:
1993: Champion of All Japan GP500 class
1994: World Road Race Championships GP500 class debut
1995: 9th in World GP500 class
1996: 5th in World GP500 class (won Japan GP)
1997: 7th in World GP500 class
1998: 6th in World GP500 class
1999: 6th in World GP500 class (won Rio GP)
2000: 8th in World GP500 class (won Japan GP)
2001: 7th in World GP500 class
2002: 6th in MotoGP
2003: 16th in MotoGP (spot participation)
2004: 13th in MotoGP
2005: 13th in World Superbike Championship
2006: 13th in World Superbike Championship
2007: Ranking 3rd in All Japan JSB1000 class (at the end of round 6)