Stoner leads the first lap through the Corkscrew ahead of Pedrosa, Vermeulen, Rossi and Edwards as the ghost of Nicki Hayden looks on. GO BIG

MotoGP World Championship, Red Bull U.S. Grand Prix at Laguna Seca , Round 11 of 18

by Jim Gianatsis
Casey Stoner and Ducati Dominate the Red Bull U.S. MotoGP at Laguna
Sunday July 20-22nd, Monterey, CA - 21-year old Australian Casey Stoner on the factory Marlboro Alice Ducati Desmosedici GP7 dominated the Red Bull U.S. MotoGP weekend at Laguna Seca from Friday Practice to Sunday's Race where he won in convincing fashion by leading every lap. Fellow Australian Chris Vermeulen took a secure second on the factory Suzuki, with Marco Melandri (Gresini Honda RC212V) finishing third ahead of Valentino Rossi. Stoner became the first foreign rider to win the GP at Laguna Seca since Luca Caldora won here back in 1995.
This year's U.S. MotoGP has not a good one for the American riders who usually dominate at Laguna, with wild card entry Roger Hayden on a third factory Kawasaki GP bike finishing 9th, while his older brother, last year's winner and reigning MotoGP Champion Nicky Hayden (Repsol Honda RC212V) being involved in a turn two incident which left him 5-seconds off pace all race, and eventually retiring 6 laps before the finish.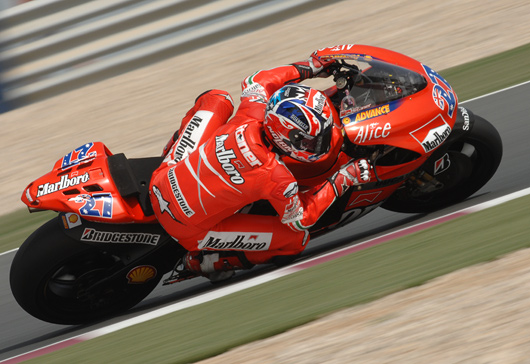 The invincible Casey Stoner and the Ducati Desmosedici available at a Ducati dealer near you this fall.
Race winner Casey Stoner was ecstatic as he and underdog Ducati continue to steamroller this year's MotoGP series. "I really enjoyed the track and the fans here last year (when he rode for Honda and crashed out of the race). We were pretty quick last week in Germany, but the race didn't go as planned. So i wanted to make sure we had everything ready for today. I went out, had a reasonable start, got past Danny (1st turn leader Pedrosa) in the 2nd-3rd turn and I just tried to ride my own race from there, and we just managed to pull it off. So it's just unbelievable!"

The bets had Hayden 3-peating this weekend at Laguna Seca. His DNF on Sunday and a fall way back down the points standing could leave him without a factory ride next year.
Preview: MotoGP comes stateside for Red Bull U.S. Grand Prix July 22nd
Red Bull U.S. Grand Prix - Tuesday 17th July - MotoGP action returns to Mazda Raceway Laguna Seca this week for the third time since the reintroduction of the U.S. round to the World Championship calendar in 2005. The Red Bull U.S. Grand Prix takes place on Sunday July 22nd at the famous American track, and could prove to be one of the crucial races of 2007.
Casey Stoner arrives at Laguna Seca as the MotoGP World Championship leader, and whatever happens he will enjoy his summer break at the top of the classification, courtesy of a 32 point gap between himself and second placed Valentino Rossi. The Ducati rider has been on top form this season, taking five victories in the class and holding a lowest finish of fifth on race day. Last year he crashed out in the U.S. round, but it is a more mature Stoner who is taking MotoGP by storm in 2007, and he will surely be one of the front runners at this latest visit stateside.
Five-time MotoGP World Champion Valentino Rossi failed to finish at the last Grand Prix in Germany, allowing Stoner the chance to extend his lead in the title hunt. He suffered a mechanical problem last year in America when leading the race, and will be hoping that history doesn't repeat itself this year as he looks to regain his crown.
Dani Pedrosa finally ended both his and Honda's winless streak in Germany, and he currently lies third in the standings. The Spaniard trails Stoner by 52 points, and will have to maintain his form to get back in the race for his first MotoGP title.
One of a number of home riders set to start at Laguna Seca, John Hopkins is currently on a rich run of form in his most successful MotoGP season to date. The Anglo-American's move to Kawasaki next year was announced at Sachsenring, but Hopkins remains as driven as ever to get results whilst with Rizla Suzuki until the end of the season. He lies just ahead of Marco Melandri and team-mate Chris Vermeulen in the classification, with the latter having taken pole last year at the U.S. Grand Prix.
Colin Edwards took second place on his first MotoGP visit to his home track in 2005, and knows the circuit well, something that will aid him in the battle with figures like the resurgent Loris Capirossi, reigning World Champion Nicky Hayden and Alex Barros. Hayden has been the revelation of the past two races, starting 13th and 14th on the grid respectively and reaching the third step on the podium. The 'Kentucky Kid' has won both battles of Laguna Seca since MotoGP returned in 2005, and has to be considered one of the favourites for victory this weekend.
Two riders also well-acclimatised to the circuit will be making one-off appearances at the Red Bull U.S. Grand Prix. The World Champion's brother Roger Lee Hayden will make it a family affair when he takes a wild card spot for Kawasaki in one of their key markets, whilst AMA Superbike legend Miguel DuHamel will undertake his first MotoGP race since 1992 when he stands in for Toni Elias in the Gresini Honda team. Both riders are also entering the AMA races on July 22nd, making them the first riders to compete in both championships on the same day and the first to ride an additional race to MotoGP since Chris Walker at Donington in 1995.
The 250cc and 125cc World Championships take a break from competition until the next round at Brno in August.
Circuit Info: The Red Bull U.S. Grand Prix takes place on July 22nd, with practice beginning on the preceding Friday at Mazda Raceway Laguna Seca.
Mazda Raceway Laguna Seca played host to Grand Prix events between 1988 and 1994, but advancements in MotoGP racing machines required the event to be put on hold while the track was modified and adapted to meet present day safety requirements.

Since December 2004 the circuit has undergone major changes, primarily to increase track safety. The first phase of modernisation included an expanded exit lane, replacement of the kerbs and widening of the main straight, whilst more recent changes involved moving back walls to create bigger run-off areas. The circuit's principal features, however, remain the same, with 3,58 km of track and 11 curves. Temperatures at the track reach scorching levels, and last year the track had to be repaved in preparation for the MotoGP race, with another resurfacing project having taken place since then.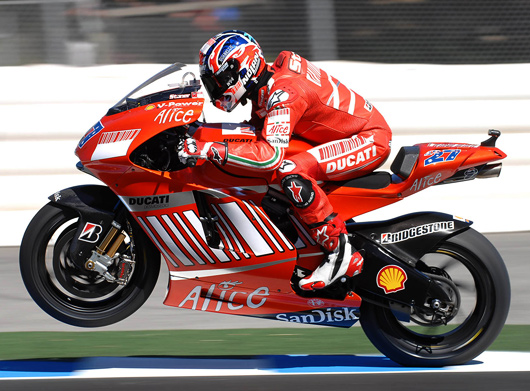 Casey Stoner Makes a Great Start to the Weekend, Shatters Lap Record
Friday Jul 20 2007, USA GP - Free Practice 1, Friday Morning : Ducati Team rider Casey Stoner got another great start to the weekend at Laguna Seca this morning, ending the first free practice session fastest. Team-mate Loris Capirossi, fresh from his brilliant podium result at last Sunday's German Grand Prix, was 12th quickest.
In warm Californian sunshine, World Championship leader Stoner was in masterful form around Laguna, a tortuous, undulating and bumpy racetrack that rewards riding finesse and commitment. Capirossi was also quick through the first two sections of the track but needs to refine his GP7's set-up to improve his pace through the crucial final split.
Although the new Laguna track surface is even bumpier than before, the track seems faster, with Stoner's best lap already less than one tenth of a second outside the existing lap record, established in last year's race.
CASEY STONER, fastest, 1m 23.410s - "This morning we had a few difficulties getting used to the track. For sure, the conditions feel a lot worse than they did last year. The surface is maybe a little better but the bumps are worse, the track is really bumpy now. Anyway, about halfway through the session we found a little bit better setting and we just slowly improved from there, and we ended up quite happy with the set-up we've got. This afternoon we will do some more tyre testing in hotter conditions and we'll see where we are. We will work at finding a bit more traction and improving the turning. Overall, we are fairly happy with everything, we just need to test the tyres some more."
Free Practice 2, Friday Afternoon: World Championship leader Casey Stoner continued his impressive performance at sun-baked Laguna Seca this afternoon, upping the pace aboard his Ducati Desmosedici GP7 to lap three tenths inside the lap record and once again set the practice pace. Team-mate Loris Capirossi meanwhile continued working on the set-up of his GP7 and is confident of a good race pace on Sunday.
CASEY STONER, fastest, 1m 22.997s - "It's not too bad so far - we tried a different rear this afternoon and we've already done over race distance on the front. The new surface is better than last year out of the Corkscrew but it's worse everywhere else, but it's the same for everyone so we've just got to make the best of it."
Free Practice Session 3, Saturday Morning: Ducati Team rider Casey Stoner this morning continued his dominating performance at the ultra-challenging Laguna Seca MotoGP venue, topping the timesheets in the third practice session aboard his Desmosedici GP7, almost four tenths ahead of his nearest challenger. Team-mate Loris Capirossi was 14th quickest, continuing his session-by-session improvements towards tomorrow's race, round 11 of the 18-round 2007 MotoGP World Championship. World Championship leader Stoner has led each of the three sessions so far, his best Saturday morning lap time an impressive 0.968 seconds inside the existing Laguna lap record.
New Pole Record gives Stoner the advantage at Laguna Seca
Saturday 22nd July - Two monstrous consecutive laps in the closing stages of the qualifying session for the Red Bull U.S. Grand Prix gave Casey Stoner his third pole of the 2007 season. The Australian put in a new pole position record at the Mazda Raceway Laguna Seca with a 1'22.292 lap, smashing Nicky Hayden's 2005 watermark by over three tenths of a second on his final attempt.
Stoner has now been the fastest in every practice and qualifying session of the last two races, and his performances in the latter now allow him to leapfrog over Valentino Rossi in the BMW M Award for combined qualifying times. It was a particularly impressive performance from the stunningly quick Australian who ran off the track at turn six during his first run on qualifiers, but superbly maintained his composure to win pole position in the final moments of the session, then better his time once more on his final lap. This is Stoner's third pole of the year and his second in a row. Could the 21 year-old finally break the longest run without a win from pole in MotoGP history?

CASEY STONER, pole position, 1m 22.292s - "We basically did at least race distance this morning, then we were pretty much using all the old tyres we had to get a better set-up for the last part of the race. We were still doing high 1m 22s on tyres with 32 or 33 laps on them, which isn't too bad, so I'm feeling pretty confident for tomorrow. On my out lap with my first qualifier I held up Dani [Pedrosa], I looked behind me and there were a bunch of riders waiting to get a tow, I didn't know who was going fast or slow, so my apologies. Then I made a big mistake going into turn six, I went up too many gears and ran in there with a little bit too much pace, so that run didn't really go to plan. I came back out with a second qualifying tyre, I wasn't feeling too confident because I'd had a couple of front tucks on the run before, but we managed to pull it off. The qualifying tyre was pretty good for two laps. I'm really happy."
The top four riders would all have taken the top spot two years ago with their lap times today, with Dani Pedrosa the closest to Stoner's time at just over two tenths slower. Last year's poleman Chris Vermeulen completes the front row onboard the Suzuki GSV-R800, and has the opportunity to finally complete the job that was just a small step too far for him back in 2006.
Second fastest man Dani said: "Today we improved the set-up a lot, which was the most important target of the day. I'm also happy to be starting from the front row of the grid again because that's always an advantage and gives you a chance of getting in front in the first few laps. The race set-up we've found is not bad and we've got a good idea on the race tyres too so we'll just be making a few minor adjustments according to what we've learned today. My qualifying laps weren't bad, but I hit some traffic on the first one which cost me time – the second qualifying lap was a little better."
Chasing a hat-trick of victories at Laguna Seca, Nicky Hayden starts from the second row after a much-improved qualifying performance. 'The Kentucky Kid' will have a tough job if he is to complete an historic home hat-trick and maintain his 100% record. Nicky, heading row two, as fourth fastest qualifier, said: "In the morning we made quite a lot of progress and put in some decent lap times. Thanks to Pete and the boys because they did an awesome job to improve things this morning. When the conditions change in the afternoon it seems to go away from me though and I'm a little way off with the race set-up. I really wanted to get a little higher in qualifying today and I think we had the bike and the tyres to do it – I just didn't get the most out of the package. I'm a little worried about the race because I seem to be struggling in the afternoons."
Having taken a small tumble this morning, suffering contusions to his shoulder and removing the nail of his left little finger, Valentino Rossi dusted himself off to put himself on the second row, alongside former Laguna Seca 250cc winner Loris Capirossi.
Anglo-American John Hopkins was seventh quickest, having become embroiled in an on-track discussion with Carlos Checa when attempting to improve his times. Colin Edwards and Shinya Nakano will line up with the second Suzuki rider.
The top ten is completed by Marco Melandri, who suffered an early crash which postponed the session until 14.20 local time. The Italian had been expected to challenge for pole after some strong showings in qualifying, but experienced difficulty riding after landing hard on his leg in the incident.
Rossi has his injured hand taped.

Casey Stoner and Ducati Again Prove to be the Class of the MotoGP Field,
Outging Champ Nicky Hayden has his hopes for redemption shattered
The Race, Sunday July 22nd -This was probably not the U.S. MotoGP spectacular that many American roadracing fans had hoped for with Nicky Hayden being unable to return home to victory and redeem himself from a miseable season that just could see him loosing his Hondar factory ride for next year. However, the race result did confirm the reality of the current situation, that Casey Stoner and the Ducati Desmosedici are the master of this MotoGP season as they won comfortably from Chris Vermeulen (Suzuki) with the fighting Marco Melandri (Gresini Honda RC212V) in third, and an injured Valentino Rossi (Yamaha) riding at his and the limit of his bike for fourth.
Casey Stoner put on a stellar performance at Laguna Seca to take victory number six of the 2007 season, extending the gap between himself and Valentino Rossi in the MotoGP World Championship to 44 points.
The Australian had laid out his stall early this morning, becoming the only rider to ride a lap of the American circuit in under 1'22. Having set the tone for the day in the warm up, Stoner then went about smashing the circuit record and the 12 race MotoGP pole jinx en route to a memorable victory at the Red Bull U.S. Grand Prix. Leading every one of the race's 32 laps, his only moment of worry came when Dani Pedrosa took the holeshot, although the lead was soon relinquished as the 21 year-old Ducati rider began to run the show.
Vermeulen ran a strong 2nd, as was confirmed after the race by Suzuki to ro be signed with them for 2008 while team mate John Hopkins moves to Kawasaki.

Another Australian joined Stoner on the podium, as Chris Vermeulen confirmed the potential that he had shown at Laguna Seca last year. In that race he led for over half the race before suffering a mechanical problem, but today the Suzuki GSV-R800 was in fine form and allowed him to take a comfortable second place.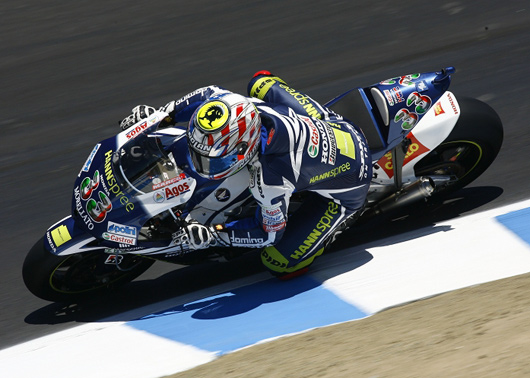 Melandri finised second at Laguna behind Stoner, with Ducati announcing after the race that he and Stoner will be racing for them next year.

Marco Melandri rounded off the rostrum places, once again demonstrating that he is as tough as they come by taking a top three finish from tenth with an injured ankle. The Italian was unable to ride this morning after a crash yesterday, but gritted his teeth for another display of determination and talent. Both he and Vermeulen now lie level on points in fourth in the overall standings.
Stoner continued with a run-away lead from lap one, and by lap 25, was enjoying an 8.6 second lead over the persistent, yet distant, Vermeulen. This was how it would finish with World Championship points leader Stoner out front by 9.8 seconds from Vermeulen, then Melandri. Rossi robbed Dani of fourth, while the next Honda man home was Shinya Nakano (Konica Minolta Honda RC212V) in 12th.
Also riding injured from his Saturday practive crash , Valentino Rossi fell just short of a podium spot, but gathered vital points in his title challenge to limit the damage of Stoner's back-to-back victories and Rossi's own DNF in Germany last weekend. He came in ahead of current third placed rider Dani Pedrosa, who had looked on course for a podium until Melandri and Rossi showed their cards and the Spaniard did not have the hand to answer them.
The Repsol Honda duo gave everything to continue their recent revival, but the unfortunate Nicky Hayden (Repsol Honda RC212V) tangled with a fellow American John Hopkins (Suzuki) in the crowded Turn 2 sweeper off the start and Nicky's race for a podium or better was effectively over. Hopkins was tossed to the ground and though he remounted quickly, his bike was too crash damaged to continue further than back to the pits. Hayden saved a highside to recover in last place, but the bike and his confidence were shattered enough that he ran some 4 seconds off the race pace before pulling in to retire at 3/4th distance. Nicky pulled into the pits on lap 22 knowing his quest for points would be fruitless and with a brake problem sustained in that first lap clash, the reigning World Champion pitted wanting to avoid becoming a becoming a hazard if encountered by the leaders.
Dani Pedrosa (Repsol Honda RC212V) rode a typically dogged race having fired his RC212V off the line to lead into turn one by some distance. But Stoner made it his mission to get past Dani on lap one and the Aussie was never again troubled despite Dani's best efforts. Pedrosa would eventually finish fifth.
The pattern for this 32-lap encounter was set early, and as Nicky got himself going again in 18th place after the Hopkins episode, the front men were out on their own. Vermeulen, third on the opening lap, was now working on Dani for second place and on lap four he squeezed past him.
Valentino Rossi (Yamaha) had consolidated fourth place by this stage, but Melandri was in the groove and had the former World Champion in his sights. By lap nine Marco had edged past him and was now after Dani in third. Stoner meanwhile had set an early fastest lap of 1m 22.570s and was long gone. Melandri was riding with considerable bruising to his left lower leg after running off track and crashing in yesterday's timed qualifying session, it's a measure of the Italian's mental and physical toughness that he could show so well today.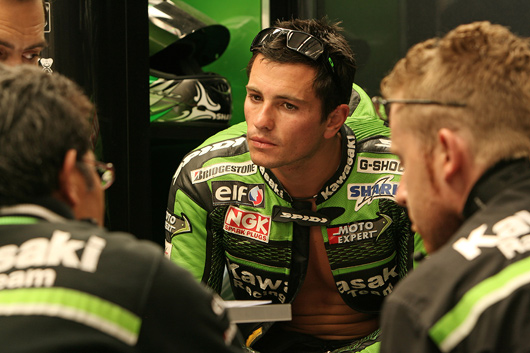 Above: Kawasaki's Randy dePuniet was 6th.

Randy de Puniet was the highest finisher from Kawasaki Racing, on a fantastic day for 'Team Green' in which all three of their riders crossed the line in the top ten. Regular team-mate Anthony West continued his consistent race-by-race form by adding a seventh place to his ninth and eighth results at the last two Grands Prix.
Above: Kawasaki's Anthony West was 7th.

Taking advantage of Dunlop's intimate knowledge of the Laguna Seca circuit, Makoto Tamada earned his best result of the season onboard the Yamaha satellite M1 in eighth. Alex Barros and Roger Lee Hayden were involved in a late tussle for ninth place, with the Brazlian's experience showing through as he edged out the Kawasaki wildcard on the final lap. The younger Hayden brother was the highest finishing American at his home race, with sibling Nicky and John Hopkins involved in a first lap racing incident which left both out of the running for victory.
Miguel Duhamel, riding in replacement of the injured Toni Elias (Gresini Honda RC212V), retired on lap 12 to save himself for the AMA Superbike race which followed, while Melandri was now coming into closer contact with Dani for that rostrum spot in third. By lap 18 he had that podium position stolen from Pedrosa.
Carlos Checa (LCR Honda RC212V) brought his machine home in 14th place while Kurtis Roberts (Roberts KR212V), employing a new chassis here, retired on lap five. Stoner's relentless ride to victory resulted in a fastest lap of 1m 22.542s on lap 19. No one could come close to him here today.
A solemn face Kurtis Roberts in last place on Sunday's grid. The team brought an expensive, all-new chassis to Laguna without testing. Kurtis retired on the 5th lap. On Saturday during practice Kurtis was running slow on the race line and race contender Marco Melandri clipped him, causing Melandri having a serious crash. When will the KR Team stop bleeding money and run at a competive pace, at least for safety's sake? Brother Kenny Roberts Jr is expected to announce his retirement soon.

Wild Card rider Roger Hayden was suprisingly the the top finishing American in 10th at the U.S. MotoGP.

But Stoner and his old 250cc class sparring partner Dani Pedrosa are the only riders to have scored points at every race so far this year. With seven rounds to go and with Stoner on 221 points, Rossi on 177 and Dani with 155 there is still everything to ride for. Melandri and Vermeulen are tied in fourth on 113 points apiece.
Marco Melandri 3rd, who has now finished in the top ten at the last 20 races, said: "An amazing race for me. I couldn't ride without an injection for the pain this morning, so a big thanks to the Clinica Mobile. I didn't feel any pain when riding, I just kept my rhythm, and in the end I did feel a bit of pain in my ankle. I started quietly and after a few laps I started to feel comfortable, got my rhythm and passed some guys till I caught Valentino. The bike and the tyres were working really well, I had a good pace so I decided to try to overtake him and go for third position. Ten laps to go, I started to suffer more, especially in breaking, but I was so motivated that I succeeded to maintain a good pace. I'd like to thank Honda for the new parts that arrived in Germany, Fausto and the team for the great job that have done during all this part of the season. I'm happy to give Fausto and the team a great result.".
Valentino Rossi 4th - "Today was incredibly disappointing because, with the tyre situation like this, it was like our rivals were in a different race. My team and I worked very hard, especially after yesterday's crash, and we did the maximum we could to have our bike in the best possible condition. However without grip it was impossible to fight with the leaders. I rode the best race I could and I was very happy to pass Pedrosa, but I couldn't catch Melandri; we just didn't have the right rhythm or grip today. I'm very sad for last weekend in Sachsenring because there Michelin was strong and we missed a chance to make up some important points there. After today we can see just how important! It seems that tyres are the deciding factor for this season and this is a pity for the fans and for the show. We are not giving up; there are seven races left and we know that Michelin are going to work as hard as they possibly can in order to make the situation better for the second part of the season, but Stoner is very strong and we know it will be very hard. Anyway, we have some holidays now and we will be back in Brno to fight as hard as we can until the end."
Dani said: "This was a very hard race for us and I'm not really satisfied with fifth after winning the race last week and qualifying second here. I made a good start and was leading on the first lap, but I was never able to push as hard as I wanted today. We had quite a few problems with the tyres and pretty much from the start I had a lot of chatter at the rear, which increased throughout the race. Riders came past me, I was trying to stay with them, but I simply wasn't able to – I would have crashed. So I just concentrated on staying on the bike because I couldn't do more than that. It's quite disappointing after the win in Germany and we have to make sure we improve the situation before the next race."
The unlucky Nicky said: "It's such a shame to get this result at my home race, for me, the team and for the fans. It's certainly been a tough season and this is just the way things seem to be going – another turn one incident. I don't want to say too much about that because it isn't going to make things any different so we'll leave the incident at that. My brakes just went softer and softer and the adjuster was broken which meant I couldn't take any of the slack out of it. I carried on riding in case there was a red flag, but once I went a lap down I wasn't going to get in the leaders' way with the brakes going off, I'm not going to do that to anybody, so I brought it in the pits."
Results MotoGP: (32 laps = 115.52 km)
Pos/ Rider / Nat / Team / Motorcycle / Time/ KM/H / Gap
1 / Casey STONER / AUS / Ducati Team / DUCATI / 44'20.325 / 156.323
2 / Chris VERMEULEN / AUS / Rizla Suzuki MotoGP / SUZUKI / 44'30.190 / 155.746
3 / Marco MELANDRI / ITA / Honda Gresini / HONDA / 44'45.966 / 154.831
4 / Valentino ROSSI / ITA / Fiat Yamaha Team / YAMAHA / 44'50.989 / 154.542
5 / Dani PEDROSA / SPA / Repsol Honda Team / HONDA / 44'55.947 / 154.258
6 / Randy DE PUNIET / FRA / Kawasaki Racing Team / KAWASAKI / 44'58.631 / 154.104
7 / Anthony WEST / AUS / Kawasaki Racing Team / KAWASAKI / 45'01.747 / 153.927
8 / Makoto TAMADA / JPN / Dunlop Yamaha Tech 3 / YAMAHA / 45'02.680 / 153.873
9 / Alex BARROS / BRA / Pramac d'Antin / DUCATI / 45'03.845 / 153.807
10 / Roger Lee HAYDEN / USA / Kawasaki Racing Team / KAWASAKI / 45'04.045 / 153.796
11 / Colin EDWARDS / USA / Fiat Yamaha Team / YAMAHA / 45'07.701 / 153.588
12 / Shinya NAKANO / JPN / Konica Minolta Honda / HONDA / 45'13.173 / 153.278
13 / Sylvain GUINTOLI / FRA / Dunlop Yamaha Tech 3 / YAMAHA / 45'18.735 / 152.965
14 / Carlos CHECA / SPA / Honda LCR / HONDA / 45'35.691 / 152.017
15 / John HOPKINS / USA / Rizla Suzuki MotoGP / SUZUKI / 45'35.595 / 142.521
Pole Position: Casey STONER 1'22.292 157.925 Km/h
Fastest Lap (New record) Casey STONER 1'22.542 157.447 Km/h Lap 19
Circuit Record Lap: Dani PEDROSA 1'23.333 155.952 Km/h 2006
Circuit Best Lap: Casey STONER 1'21.975 158.536 Km/h 2007

World Championship Positions:
1 STONER 221, 2 ROSSI 177, 3 PEDROSA 155, 4 VERMEULEN 113, 5 MELANDRI 113,
6 HOPKINS 104, 7 EDWARDS 93, 8 CAPIROSSI 77, 9 BARROS 76, 10 HAYDEN 73,
11 HOFMANN 60, 12 DE PUNIET 50, 13 ELIAS 49, 14 TAMADA 31, 15 CHECA 29.
Wild Card rider Roger Hayden was suprisingly the the top finishing American in 10th at the U.S. MotoGP.
---

The Good, the Bad, and the Beautiful. Tiffany takes the new Ducati 1098S Tri Colore for a spin.... Click HERE

And meet our newest Calendar Kitten Tiffany Toth in person
at the LA Calendar Motorcycle Show Weekend July 14-15th!
Ducati's new 1098 Superbike - It's Not a Perfect Beauty
Exclusive First & Last Test ! Ducati Limited Edition Tri 1098S Tri Color
"If you are waiting to get a 4th generation Ducati Superbike model,
wait a little longer until they get it right."
Current magazine tests (Motorcyclist, Sportrider) are finding the new sexier, lighter, faster 1098S Ducati turns significantly slower track lap times and it is harder to ride than the latest Japanese Superbikes or the out going Ducati 999S in side-by-side comparisons. They also won't tell you they totaled their bikes during testing. However, the magazines won't tell you why because they just don't know, or for fear of loosing Ducati advertising. Here at FastDates.com we have nothing to fear and tell you why the new 1098 needs help....HERE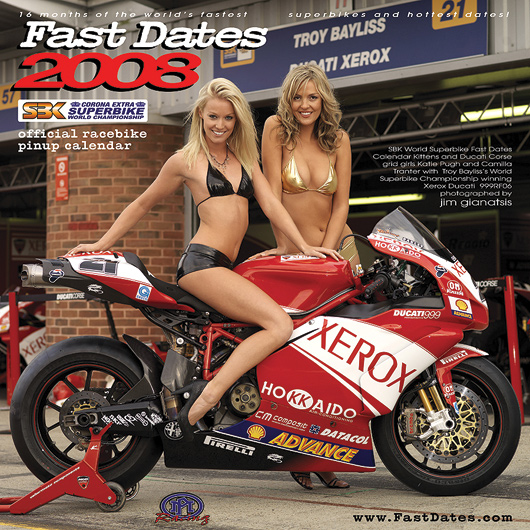 LA Calendar Bike Show Hostess and Playboy Playmate Tamara Witmer featured
The NEW 2008 Fast Dates Racebike Pinup Calendar!

World Premier July 1st 2007 - The SBK World Superbike endorsed 2008 Fast Dates Race Bike Swimsuit Pinup Calendar sponsored by Performance Machine and photographed by Jim Gianatsis features all the top factory race bikes of the SBK World and AMA National Superbike Championships together with the beautiful SBK Fast Dates World Superbike / Ducati Corse girls Katie Pugh and Camilla Tranter, along with Playboy Playmates Tamara Witmer and Athena Lundburg.
Featured are all the top factory Superbikes from Yamaha, Honda, Suzuki, Kawasaki, and Ducati including double World Champion Troy Bayliss' 2006 title winning Xerox Ducati 999F06 and Troy Corser's Suzuki GSXR1000, as well as Noriyuki Haga's Yamaha R1 and James Toseland's Ten Kate Honda CBR1000RR. You can read about all the drama and excitement that went into photographing this year's Calendar at Brands Hatch World Superbike in Fast Dates Calendar News July-August 2006.
Also featured are Biker Build Off TV Show challengers Roland Sands' "No Regrets" American V-twin powered sportbike, together with his contender on the show, 3-time LA Calendar Motorcycle Show winner Jesse Rooke's KTM V-twin retro board track racer. Plus, there's Roland Sand's incredible Kenny Roberts commissioned KR 990cc 5-cylinder 230hp MotoGP engine powered retro board track streetbike. Both bikes are feratured with FastDates.com Calendar Kitten and Playboy Playmate Tamara Witmer, currently featured on the MTV reality dating show Rock of Love.
This is a 16 month clanedar starting September 2007 so don't delay and order now. Last year's 2006 calendar sold out well before Christmas! ORDER HERE
---
There's more! Go to Pit Lane News NEXT PAGE

Hot Calendar Girl and Bike News! Go to: Fast Dates • Calendar Girls • Iron & Lace

Calendar Kittens, The Paddock Garage, Screensavers, Iron & Lace Garage



Many of our Calendar Kittens can also be seen at Playboy's website...

BikerKiss.com - the largest biker personals site!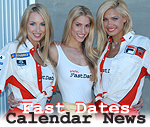 Ducati Announces its 2008-2009 MotoGP LineUp with Stoner & Melandri
Monday Jul 23 2007, Laguna Seca, USA - The Ducati Team announces that Casey Stoner and Marco Melandri will be its riders for the next two seasons of the MotoGP World Championship. World Championship leader Casey Stoner has renewed his agreement with the Borgo Panigale-based factory for the 2008 and 2009 seasons, with an option for the 2010 championship. 24-year old Italian Melandri will join the Australian with a two-year contract. With this announcement the small Italian manufacturer will have the strongest 2-rider team in current points against the major Japanese teams, going into next season.
Next week Loris Capirossi and his manager will meet with Ducati representatives to evaluate the possibility of preparing a third official Desmosedici MotoGP bike for the Italian rider to use in the 2008 World Championship.
BMW Motorad Buys Husqvarna Motorcycles
Munich, July 20th - BMW will acquire the renowned motorcycle company Husqvarna Motorcycles. Dr. Herbert Diess, General Director of BMW Motorrad, and the
Italian industrialist Claudio Castiglioni signed a contract on 19.07.2007 in Italy. The contractual agreement will come into full effect upon final approval of the EU cartel authorities. Both parties agreed that the purchase price was to remain confidential.
Chris Vermuelen Re Signs with Suzuki for 2008
Team Suzuki Press Office - July 23, 2007. Suzuki and Chris Vermeulen are pleased to announce that they have agreed terms to continue with their partnership into the 2008 MotoGP season and beyond.
Vermeulen joined Suzuki at the end of 2005 and has been heavily involved in the development of the Suzuki GSV-R during the past two seasons. The 25-year-old scored a podium for the team in his rookie season and has followed that up this year with Suzuki's first-ever four-stroke MotoGP victory.
The ever-improving Australian has decided that he wants to stay with Suzuki despite attempts from other manufactures to tempt him away. Team Manager Paul Denning has been in negotiations with Vermeulen for some time and the number 71 racer put pen to paper shortly after today's American Grand Prix, which saw Vermeulen take a stunning second position.
Chris Vermeulen: - "I am very excited to be staying with Suzuki. I really enjoy working with the whole team, especially my Chief Mechanic Tom O'Kane. The involvement of the Factory staff has also been a big factor in my decision, in particular Sahara-san and our Racing Group Leader Oonishi-san. The way the development has gone since I first rode the GSV-R in 2005 is incredible! I am sure if we can continue in that direction we will be pushing up to the front every weekend. That has got to be the goal; I want to be World Champion and if I can do it with Suzuki I will be so happy!"
With Chris' current team mate John Hopkins moving to Kawasaki for 2008, the second spot on the Suzuki MotoGP most likely will go to American Ben Spies, the Yoshimura Suzuki rider currently dominating the AMA Superbike Championship.
American John Hopkins to Ride for Kawasaki in 2008
The Kawasaki Racing Team can confirm that John Hopkins will be one of the riders who will spearhead Kawasaki's assault on the 2008 MotoGP world championship, after securing the Anglo-American's signature on a two-year contract ahead of this weekend's German Grand Prix at Sachsenring.
With his name at the top of most team managers' wish lists, Hopkins turned down a number of lucrative offers from other teams in order to sign with Kawasaki. Securing the 24-year-old Californian's services for the next two years was the culmination of weeks of negotiations between Hopkins' management company and Kawasaki's Competition Manager, Michael Bartholemy.
"We have had our eye on John for some time, so we didn't hesitate to open negotiations with him as soon as we heard he was considering his options for the next two years," explained Bartholemy.
"The discussions haven't been easy, as John is probably the most sought after rider in the paddock at the moment, but we are happy that, of all the options open to him for next year, he finally chose to join Kawasaki."
Hopkins, who hails from San Diego in California, made his Grand Prix debut in 2002 for the WCM Red Bull team, for whom he raced a 500cc two-stroke against the new breed of four-stroke MotoGP machines.
After impressing during his rookie year, for the following season Hopkins secured a seat alongside former 500cc world champion, Kenny Roberts, in the factory Suzuki MotoGP squad, for whom he is now in his fifth season.
While he's undoubtedly made progress during his time in the premier series, Bartholemy believes Hopkins will at last be able to fully realise his considerable talents aboard Kawasaki's rapidly evolving, and improving, ZX-RR. The American already has a head start, being familiar with Bridgestone tyres, which he currently runs, and on which the Ninjas have been making continuous steps forward this season.
"John has both the ability and the determination necessary to win races but, before this year, he maybe hasn't had the machinery necessary. I'm confident that the combination of John Hopkins and Kawasaki's Ninja ZX-RR will be a potent one next year, and we're looking forward to seeing John realise both his and Kawasaki's full potential," continued Bartholemy.
"For me, John's decision to join Kawasaki for the next two years is a clear indication of just how far we've come with the new team infrastructure and the 800cc Ninja ZX-RR. Just twelve months ago we wouldn't have been in a position to attract a rider of John's calibre, but the situation is very different now. We have proved that Kawasaki has a professional set-up and a competitive package in the Ninja ZX-RR, which is why we now have the option of also signing a proven MotoGP race winner to ride alongside John Hopkins next season.
"Signing two top riders to campaign our bike in 2008 was always one of Kawasaki's primary goals for this year and, thanks mainly to the trust shown in the team by our colleagues in Japan, we are close to achieving this target before the midseason break. Once we've finalised our rider line-up for next season we will then look closely at our current team set-up, to see if there is a way to improve even further the level of support we are able to offer to our two riders next year," concluded Kawasaki's Competition Manager.
The Kawasaki Racing Team expect to announce their full rider line-up for the 2008 season shortly after next weekend's U.S. Grand Prix at Laguna Seca, where Roger Lee Hayden will make his premier class debut as a wild card entry aboard Kawasaki's Ninja ZX-RR.


Design & Tuning
for Motocross
The ultimate book on motocross bike technology & performance
by Jim Gianatsis

NEW! FastDates.com
Cell Phone Wallpapers!
---
Laguna Seca Rider Quotes
Colin Edwards, Position: 11th Time: +47.376 - "I think it was pretty obvious today to everyone that we were struggling and why. We had a problem all weekend and we changed the bike in every possible way to try to work around it but unfortunately it proved impossible. We went round in circles but we couldn't change the underlying problem and the basic fact is that we had no grip. Of course I'm pretty disappointed that this happened at my home race, with all my family and friends here and it's a great pity we couldn't give the American fans more to cheer about today. My guys worked really hard all weekend, they all deserve their holidays now and then we'll all be fresh for a new start in Brno."
Vermeulen storms to stunning second place at Laguna Seca
Rizla Suzuki MotoGP's Chris Vermeulen raced his Suzuki GSV-R to a fantastic second place in today's American Grand Prix.
Starting from third on the grid, Vermeulen settled into that position for the first three laps and then passed Dani Pedrosa and set about chasing race leader Casey Stoner. Vermeulen and Stoner quickly pulled away from the rest of the field and as hard as Vermeulen tried he couldn't quite catch the current World Championship leader.
Vermeulen's second place is his third podium of the season following a win in France and third in the UK, and it is the first one he has achieved on a dry track.
John Hopkins had the worst possible start to his home GP. He got off the line well from the third row and was up at the front going into the second turn, but a collision with another rider left Hopkins on the floor with significant damage to his bike.
The gutsy Anglo-American picked himself and his bike up and made it back to the pits. Hectic running repairs from his mechanics got him back on track and Hopkins continued in the race. His lap-times for the rest of the race were well on podium pace and but for the crash a top-three position would certainly have been within his grasp. His efforts were rewarded at the end as he crossed the line in 15th place to claim a vital championship point.
Rizla Suzuki MotoGP now goes into the season break in fourth place in the team's championship, with Vermeulen also in fourth and Hopkins in sixth in the riders' classification. The next round of the MotoGP World Championship will be at Brno in the Czech Republic on Sunday 19th August.
Chris Vermeulen: "I am absolutely over the moon to be on the podium here at Laguna! Last year we had a lot of pace as well, but it didn't quite work out in the race. Suzuki has overcome that and we have had a trouble free weekend. The Bridgestone tyres worked great and only myself and Casey had the pace to do the lap-times at the beginning. Unfortunately I couldn't quite hang with him all race but I am very happy to be second and now let's go forward and get a few more of these."
John Hopkins: "What can I say? It definitely sucks and I'm really disappointed. It was especially disappointing that it was my home Grand Prix and I was out of it so early on. Up until the crash everything was going well. I got a good start and went into the turn right up there. Somehow Nicky came wide and I went up the inside of him, but as I did that I guess he didn't see me and as he cut back in we came together. He hit my front brake lever and I went down. I got back to the pits and the crew did an awesome job changing the parts so quickly so that I could get back in the race. I wanted to carry on and use the race as a simulation, but now that I have come in and seen my times compared to others I'm a bit more disappointed – but hey that's racing! The Suzuki and the Bridgestone tyres worked really well today, and thanks to Stuart and all the guys for a great job all weekend. I'd like to congratulate Chris on his podium, he should have had one last year so he deserved that today, I'm pretty sure I'd have been there with him as well if other things hadn't have happened!"
LORIS CAPIROSSI, DNF, 8th in World Championship on 77 points - "The weekend had been going very well, so I'm sad not to finish the race. In morning warm-up we were faster than yesterday so I was confident I could have a good race. Casey and Chris were very fast but I believe I could have fought for another podium finish. After a couple of laps the gearbox stuck in second gear and that was that. It seems like it was only a tiny little fault, but sometimes things like that can happen in racing."
LIVIO SUPPO, Ducati MotoGP project manager - "We are so happy for Casey today because once again he dominated the weekend and today he got the victory he deserved. He has been incredibly fast all weekend. Bridgestone gave us fantastic tyres, but it was Casey who made the difference today, he finished almost ten seconds ahead of the next guy, who was also on Bridgestones. We are very, very sorry for Loris. For sure he could have ridden another great race, but he was stopped by a broken gear lever return spring. Now we go into the summer break - it's great for us to go into the break ahead in the three championships, so we can relax a bit before coming back next month. As always, a big thank you to our technical partners Bridgestone and Shell Advance."
Yamaha Signs 250cc GP Champ Jorge Lorenzo to its 2008 MotoGP Team
Yamaha Motor Co., Ltd announces that it has concluded a two-year agreement with 250cc World Champion Jorge Lorenzo. The 20-year-old Spaniard will make his MotoGP debut in 2008 aboard a YZR-M1, with direct Factory support.
Lorenzo, who won the 250 title in 2006, is currently leading the championship, after winning six out of the first ten races this season.
"Yamaha has been watching Jorge's career with interest for some time and we are delighted that he will be joining our MotoGP line-up from next season" - commented Lin Jarvis, Managing Director of Yamaha Motor Racing. "We are sure that he will be a valuable asset for the future and we look forward to the commencement of his MotoGP career with Yamaha."
The exact structure of Yamaha's team and rider organization is still under consideration at the present time. Further details, including Lorenzo's team structure, will be announced in due course.
We know that Valentino Rossi is in the first year of his latest 2-year contact with Yamaha, so Lorenzo is likely to replace American Colin Edwards as Rossi's team mate on the main factory team.
Suzuka 8 Hours
Race Preview
July 26 – 29, 2007
Superbike Champ
James Toseland to head Honda's Assault
Team HRC go to Suzuka aiming to regain the 8 Hours trophy
The 30th running of the Suzuka 8 Hours race takes place on Sunday, July 29 at the 5.821 km classic Japanese circuit that is synonymous the event. Team HRC have entered two formidable rider combinations for the race eager to regain 8 Hours honours following the disappointment of last year. On that occasion the two HRC teams could manage no better than fourth and fifth places in the race after running into niggling problems requiring time consuming unscheduled pit stops.
The event is the biggest and most prestigious two-wheel race held in Japan and attracts a huge entry from the leading World Endurance Championship teams, the best Japanese Superbike teams plus several riders campaigning in the major road racing championships who have elected to compete in the gruelling ultra-fast race.
Honda tams have recorded unrivalled success in the gruelling high-speed marathon during the 29-years it has been contested taking the winners spoils on no less than 21 occasions. On Sunday Honda teams have every chance of extending the current 10-year winning streak in this edition of the Japanese classic.
This year Team HRC have chosen to team experienced former 8 hour race winners and track specialists with fast new comers. Reigning British Superbike Champion Ryuichi Kiyonari, race winner in 2005 teams with current World Superbike Championship leader James Toseland racing with the fabled number 11 that has carried many Honda teams to victory. Former 250cc and 500cc grand prix rider, and two-time 8 hours victor, Tadayuki Okada will race alongside LCR Honda MotoGP rider Spaniard Carlos Checa. Young Irishman Jonathan Rae, Kiyonari's British Superbike team-mate, will act as reserve rider for both HRC teams.
The CBR1000RR machines the teams will race have been extensively tested over recent months and put to the test at the Suzuka 300km race last month. The 300kmrace was held in difficult constantly changeable conditions but the Kiyonari – Rae combination emerged victorious giving the CBR1000RR the ideal shake down test for the Suzuka 8 Hours.
All Team HRC riders, except Checa, have experience of similar versions of the bike. Okada, HRC RC212V GP test rider, raced a CBR1000RR to fourth place last year at Suzuka, Toseland, Rae and Kiyonari race nothing else but CBR1000RRs.
"The bike is very similar to last year, it looks exactly the same." Said Kiyonari. "Last years machine was very smooth and quite easy to ride. This year's bike is smooth but has better feeling and more power. There isn't really a massive change from this year to last year."
Kiyonari's team-mate James Toseland will make his 8 Hours debut on Sunday but the Englishman is not overawed by the importance of the event nor the competition he faces. He said: "This will be my first time at the 8-Hours of Suzuka I understand the importance of this race to Honda and everyone in Japan. They work all year just for this race, and I don't have to be told the expectations they have. I have expressed my sentiments that if I am flying around from Europe to Japan and doing testing and set-up with Honda, it is to win. I was happy with the times I did in testing on the single dry day and I have, and I will, put everything into it. I never really thought about doing the 8-Hour in my earlier career, I was never considered for it. So when I was considered for it, and saw a list of riders who had won, it was obviously pretty special."
Double race winner Okada has vast experience of the race and the circuit while racing 250 and 500cc machines at the track. He raced at the last Suzuka 300km event but collided with an errant back marker and crashed out of second place.
"I am very happy being selected for a regular team rider." Said veteran Okada. However, as a regular rider I will have to put in my every effort considering my fourth place in last year's Suzuka 8 Hours and my crash in the Suzuka 300km race last month. Up until the last test I am experiencing constancy in the long runs and with a good pace, while the machine is also running very well. I have a great understanding of the difficulty of 8 Hours, but will be working together with Carlos and do my best for a race victory."
Carlos Checa has no previous Suzuka 8 Hours experience but has raced a GP 500cc machine at Suzuka taking seven top 10 finishes, including a podium place, from seven starts. The Spaniard is looking forward to making his debut having learned to get the best out of the CBR during testing.
"This is a really good opportunity for me to take part in such a prestigious race. Suzuka is a very nice track and with this team and this bike we have a high chance of success, and to possibly fight for the win." Said the Spaniard. "The CBR1000RR is quite neutral and the base set-up we have is pretty good. We've already gone very fast in testing so it's looking promising. Of course it's really important to get a set-up that works for both riders on the team. And in fact, when I tested we hardly touched the settings - I just worked with the tyres, that's all. Of course we can fine-tune the set-up further and maybe we can be half a second per lap quicker, but this is not the key to the race. The most important thing is to be consistent and find a good balance for both riders. Compared to the RC212V the CBR feels a little heavier and with less power of course, but the basic feel of the bike is good and I'm looking forward to racing it."
Rae was obviously disappointed at being nominated as team reserve rider but has kept a positive outlook. He said: "It's very important for me to do well for HRC in Japan. I understand how important it is for Honda to win at this race and I hope we can achieve that.
The bike is good, engine spec is decreased a little from BSB because obviously for endurance racing the machine has to be very good on fuel consumption. The fuel tank is quite a bit bigger so I have had to adjust my riding position. The bike is very easy to ride and to get on the throttle because it's specification is a little down. We have the same tyre technicians in Japan working with us as in the UK so we can find a good tyre to use."
The Team HRC riders will be aiming to join the long list of illustrious names that have won the race in previous years. However, to do so they have to overcome stiff opposition from several quarters both rival manufacturers and a host of strong Honda equipped teams.
Yamaha Racing field two teams, the Japanese – Australian partnership of Norifumi Abe and Jamie Stauffer will be backed up by the Japanese pairing of Katsuyuki Nakasuka and Nobuyuki Osaki. The experienced duo of Norihiko Fujiwara and Noriyasu Numata will race a Yamaha for Team Challenger.
The stiffest, predictable opposition for Team HRC will come from the Yoshimura Suzuki. The hard charging Yukio Kagayama and Kosuke Akiyoshi will attack at every opportunity and will have the backing of Atsushi Watanabe and Daisuku Sakai. Yoshimura ran Team HRC close at the Suzuka 300km race and will relish the chance to reverse their fortunes.
Kawasaki will look to the talent and experience of Ryuji Tsruta, the former All Japan Champion and Ken Eguchi to give them their second ever victory in the race.
However, the team all must fear is the F.C.C TSR ZIP-FM team, the 2006 Suzuka 8 Hours race winners. That day Takeshi Tsujimura partnered Shinichi Ito, but Tsujimura is carrying a long-term injury and will not make the start. Ito, a triple 8 Hour winner, will now be partnered by Yusuke Tashima.
Sakurai Honda have tasted success in the event with a victory in 2003 and send two teams to the start with the sole aim of repeating that success. Team fortunes lay in the hands of Chojun Kameya and Australian Russell Holland, the second machine entrusted to Yuichi Takeda and Kazuma Tsuda.
Should the major teams, man or machine, falter during the gruelling eight hours of high 30 degrees plus temperatures and humidity close to 70% two well equipped Honda teams will be waiting to pick up the spoils. The Masked Rider pairing of Kazuki Tokodome and Gaku Kamada have been close to victory in the passed and will be a definite threat. While Australian Joshua Brookes and Japanese star Takashi Tsujimura have the desire and talent to spring a surprise on Sunday.
The race will be one of the best of recent years and race strategy of vital importance. Changeable weather and crashes have often influenced race strategy but HRC are confident that the experience gained during the long winning streak will be of crucial importance on Sunday.
The last word goes to race favourite Ryuichi Kiyonari: "I enjoy riding and hopefully the jet lag won't be a problem. Obviously I really want to win as the Suzuka 8 Hours is so important to both me and Honda. With James I have good riding partner, we have good machine, good mechanics and good set-up. Our overall feeling about the package is very positive but anything can happen as it is a long race."

Suzuka 8 Hours race winners 1978 – 2006.
1978: Wes Cooley, USA – Mike Baldwin, USA Suzuki GS1000 194 laps.
1979: Tony Hatton, AUS – Michael Cole, AUS Honda CB900 197
1980: Wes Cooley, USA – Graeme Crosby, NZ Suzuki GS1000 200
1981: Mike Baldwin, USA – Dave Aldana, USA Honda RS1000 199
1982: Shigeo Iijima, J – Shinji Hagiwara, J Honda CB900F 120
1983: Herve Moineau, B – Richard Hubin, B Suzuki GS1000R 190
1984: Mike Baldwin, USA – Fred Merkel, USA Honda RS750R 192
1985: Wayne Gardner, AUS – Masaki Tokano, J Honda RVF750 195
1986: Wayne Gardner, AUS – Dominique Sarron, F Honda RVF750 197
1987: Martin Wimmer, D – Kevin MaGee, AUS Yamaha YZF750 200
1988: Kevin MaGee, AUS – Wayne Rainey, USA Yamaha YZF750 202
1989: Dominique Sarron, F – Alex Vieira, Por Honda RVF750 202
1990: Tadahiko Taira, J – Eddie Lawson, USA Yamaha YZF750 205
1991: Wayne Gardner, AUS – Mick Doohan, AUS Honda RVF750 192
1992: Wayne Gardner, AUS – Daryl Beattie, AUS Honda RVF750 208
1993: Scott Russell, USA – Aaron Slight, NZ Kawasaki ZXR – 7 207
1994: Doug Polen, USA - Aaron Slight, NZ Honda RVF/RC45 183
1995: Aaron Slight, NZ – Tadayuki Okada, J Honda RVF/RC45 212
1996: Colin Edwards, USA – Noriyuki Haga, J Yamaha YZF750 214
1997: Shinichi Ito, J – Tohru Ukawa, J Honda RVF/RC45 186
1998: Shinichi Ito, J – Tohru Ukawa, J Honda RVF/RC45 212
1999: Tadayuki Okada, J – Alex Barros, Bra Honda RVF/RC45 213
2000: Tohru Ukawa, J – Daijiro Kato, J Honda VTR1000SPW 215
2001: Valentino Rossi, I - Colin Edwards, USA Honda VTR1000SPW 217
2002: Daijiro Kato, J - Colin Edwards, USA Honda VTR1000SPW 219
2003: Yukio Nukumi, J - Manubu Kamada, J Honda VTR1000SPW 212
2004: Tohru Ukawa, J – Hitoyasu Izutsu, J Honda CBR1000RRW 210
2005: Ryuichi Kiyonari, J - Tohru Ukawa, J Honda CBR1000RRW 204
2006: Shinichi Ito, J - Takeshi Tsujimura, J Honda CBR1000RR 214