Two of our sexiest Calendar Kitens are returning for 2021 are Sara Balint (left) and adult film starlet Riley Ann (right). You'll find them in the 2021 Garage Girls and Iron & Lace Calendars, and in some very revealing features and pictorialsd in the
FAST Calendar Yearbooks in Members Corner.
Meet the FastDates.com Calendar Kittens
Model Portfolios • Model Submission Information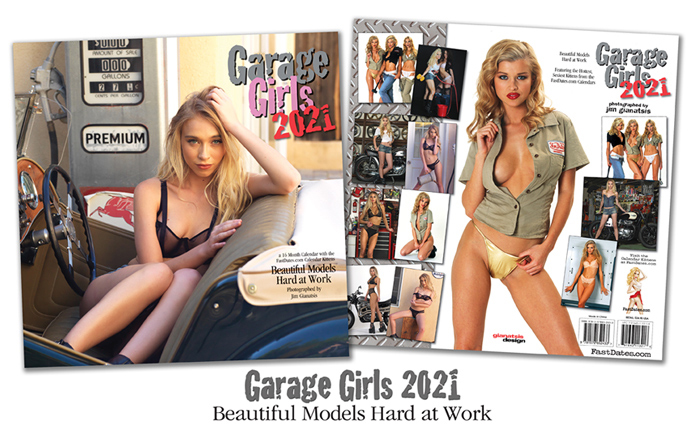 You can see all the FastDates.com Calendar Pages in Large Screensaver Size in Members Corner
Purchase the Latest FastDates.com Calendars Here • Order Past Edition Calendars in Collectors Corner
Introducing the new 2021 FastDates.com Calendar Kittens
by photographer Jim Gianatsis
This year's 2021 FastDates.com Calendars feature new photo shoots with our favorite Calendar Kittens including adult film starlet Riley Ann and her girlfriend Sara Balint, plus Corle Bunch and Sara Horvath. You'll also find past edition favorites Janelle Perzina, Jopanna Krupa, Chandi Mason, Layla Bela, Candice Dakota, Aline Saupe, Shannon Baucomb, Adriana Alexander, Juliana Jone, Heather Caroline, Cora Skinner, and Andra Cobb returning for encore performances! I'm proud to say we have again featured many of the most beautiful girls in the world in the 2021 Calendars. - Jim Gianatsis, photographer and producer.
Above: hree legendary FastDates.com Calendar Kittensin the new 2021 Iron & Lace and Garage Girls Calendar include
Janelle Perzina from TV's Big Brother, 2-time Playboy cover and supermodel Joanna Krupa, and Calendar Kitten Chandi Mason.
Riley Anne

Sara Horvath

Brennah Black

Sara Balint

Corle Bunch

Liz Leyda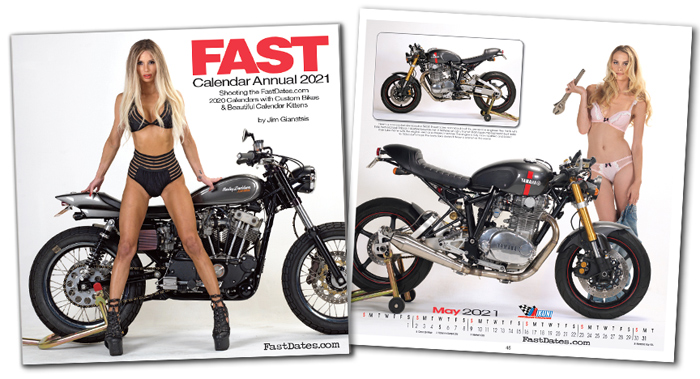 Each year the FAST Calendar Online Digital Yearbooks take you behind the scenes with special features
on the Calendar Shoots, the Bikes and the Models. Plus it includes every page of the new
FAST DATES, IRON & LACE and GARAGE GIRLS Calendars.
FAST Calendar Online Digital Yearbook Available in Member's Corner
Order from BLURB Printed Coffee Table Books and Digital Downloads here:
FAST 2021 Yearbook - https://www.blurb.com/b/10150329-fast-2021-calendar-yearbook
FAST 2020 Yearbook - https://www.blurb.com/b/9750303-fast-2020-calendar-yearbook
FAST 2019 Yearbook - https://www.blurb.com/b/9311625-fast-2019-calendar-

Click on the Calendar Covers to Order Now!
---


Watch a Fast Dates.com Calendar Video Shoot with Jessica & Kelsey!
Go behind the scenes at the glamorous Gianatsis Design Studios with beautiful new Calendar Kittens Jessica Harbour and Kelsey as they shoot for the FastDates.com Motorcycle PinUp Calendars with photographer Jim Gianatsis. Order the Calendars!

You'll find all the pages of the Garage Girls Calendars in larger Screen Saver Size
our Calendar Kittes in revealing pictorials in MEMBERS CORNER
More Recent FastDates.com Calendar Kittens...
| | | | |
| --- | --- | --- | --- |
| Imogen Lehtonen | | Blake Eden | Denisa Rosinská |
| Caitlin O' Conner | Chrissy Blair | Alena Savostikova | Jitka & Petra |
| Kristy Taylor | Sara Baliant | Bree Daniels | Aleksa Slusarchi |
| Hannah Flattery | Rebekah Davis | Kinsey Ray | Camilla Chiniquy |
| Mosh | Shannon Baucomb | Tiffany Toth | Heather Rae Young |
| Jaime Edmonson | Jaimie Pressly | Joanna Krupa | Sabella Shake |
| Lindsay Hancock | Aleksa Slusarchi | Elenya Pyshnaya | Jessica Harbour |

Members Corner Includes the - FAST Digital Yearbooks
We take you behind the scenes for the making of the FastDates.com Calendars!
Each year's FastDates.com Calendar Digital Yearbook features 120 pages of exciting hi-resolution digital photography that
takes you with us behind the scenes to our photo shoots at SBK World and AMA Superbike, the LA Calendar Motorcycle Show,
and in our photo studio. You'll meet the beautiful Calendar Kittens in sexy biography pictorials, the top Factory Racers and Custom Bike Builders,and see detailed photo features on the top calendar and race bikes. Take a track day with World Superbike Champion Troy Bayliss at Misano, take an Edelsweiss Ducati World Superbike tour of the Ducati Factory & Museum and across Italy, ride a Vespa scooter around Paris and party at the Crazy Horse and the Moulon Rouge. Hang with beautiful teen rock star Taylor Momsen of the Pretty Reckless. Did we forget anything?
Oh yes, and you'll see every page in the new Fast Dates, Garage Girls, Iron & Lace Calendars!
There's More! Meet the Calendar Models:
Current Calendar • 2020 • 2019 • 2018 • 2017 • 2016 • 2015 • 2014 • 2013 • 2012 • 2011• 2010 • 2009
• 2008 • 2007 • 2006 • 2005 • 2004 • 2003 • 2002

And Visit : Calendar Girl News
See much more of our all our beautiful Calendar Kittens
in their sexy pictorials in FastDates.com Members Corner...