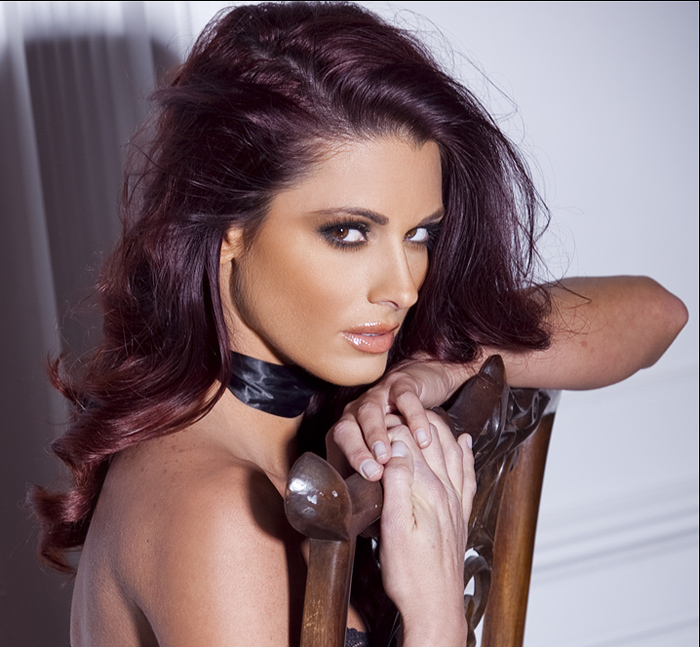 photo curtesy JoshRyanPhoto.com
PLAYBOY PLAYMATE JAIME FAITH EDMONDSON
Playboy Playmate, Model and FastDates.com Calendar Kitten
Jaime Edmonson (On the left) is best friends with another FastDates Calendar Kitten of ours, Heather Rae Young (on the left). They first met at a Playboy Mansion party where Heather, then the new Playboy Playmatefor February 2010, followed our Miss January 2010 by just a month! We had already been shooting with Heather for a year as a FastDates.com Calendar Kitten, and Heather's picturs alway came out great and she was just so rasy to work with. So when we booked Heather to shoot the 2012 Fast Dates racebike Calendar at Miller Motorsports USA World Superbike in May 2010, we asked Heather who she'd like to work with that weekend, and Jaime was her instiant nomination. We couldn't have been more excited.

Besides doing a great job in shooting the Fast Dates calendar with us, on race day the two girls also served as the offical Team Ducati Corse grid girls for racers Noriyuki Haga and Michel Fabrizio.

Miller Motorsports 2010 Fast Dates Calendar Shoot

Like a blazing one-woman fireworks show, our radically accomplished Calendar Kitten and Playboy Playmate for January 2010, rockets herself into everything she does . "No resolutions," says Jaime Faith Edmondson, "and no fear of the unknown. I'm a doer. When I see something I want, I go for it, and nothing can get in my way. I don't half-ass anything!"
Don't believe it? Consider this: Jaime is a former cop. And a former NFL cheerleader. And a reality-TV hotshot. Last seen conquering the world with fellow former Miami Dolphins cheerleader Cara Rosenthal on TV's The Amazing Race, Jaime fought her way through more than 40,000 miles of travel and backbreaking tasks, making hers only the second all-female team to score a second place on the show.

After college joined the Boca Raton police force. " I loved the work. I had no problem with the criminals. It was the cops who made me miserable because they wouldn't accept me as anything but a cheerleader." She left the force and battled her way onto The Amazing Race. That's when Playboy came into the picture. "I got a call," Jaime says. Hef wanted to know if she'd be interested in a test shoot. Now she finds herself living out one of her fantasies. "I'm amazed I'm here. I'm fastening my seat belt and looking forward to a year of amazing adventures. This is going to be the best New Year's ever!"
Look for more sexy photos of Jaime in the 2012 FastDates.com Calendars
and in Members Corner.
Return to Meet the Models • Members Corner Pictorials
Jaime Edmondson from "The Bunny House" stars in the E! reality docu-series. Previously, she and Cara Rosenthal were the runner-ups in Season 14 of CBS's "The Amazing Race."
Jaime Edmondson is a southern gal by nature. Jaime Edmondson grew up splitting her time between quiet Southern Georgia and bustling South Florida. You could say Jaime Edmondson is "a little bit country, a little bit rock and roll." In true southern tradition, Jaime Edmondson comes from a very large family and is the oldest of seven. Jaime Edmondson started modeling in her teens before trying out and making the iconic Miami Dolphins Cheerleaders. Jaime Edmondson danced with them for six years and was named an NFL Pro Bowl Cheerleader for the year 2007.
Along with cheerleading, Jaime Edmondson grew up with the dream of becoming an undercover spy, so it's no wonder she majored in Criminology while attending Florida Atlantic University. Jaime Edmondson also comes from a long line of police officers, so she followed another southern tradition and became one!
Jaime Edmondson loves Miss Molly, her miniature dachshund. Jaime Edmondson enjoys mint M&M blizzards, anything animal print, twinkle lights, sunflowers, fantasy novels (especially "Harry Potter"), being Playboy's first Playmate of the decade, tattoos on men, and big trucks.

AMBITIONS: To do a PETA "Angels for Animals" ad, host a sports show.
TURN-ONS: Big trucks, big men, guys who are athletic, tattooed and can fix anything.
TURN-OFFS: Men who wear bedazzled clothing and men who are easliy offended.
FAVORITE BOOKS: The Harry Potter series because I want to go to Hogwarts!
HOW MUCH SEX IS ENOUGH: I prefer quality over quantity. I wouldn't trade great sex once a month for subpar sex seven days a week.
MY DREAM GIG: I would love to be a Bond Girl.
---