Cora Skinner
Lingerie Bowl Tight End, Hooters Honey and Fashion Model
Cora Skinner was born June 18th in Alexandra, Virgina (coincidentaly, also the childhood home of FastDates.com Calendar photographer Jim Gianatsis). Her family lived there for about a year before returning to their national home in Switzerland, and then a year after that returning to America to settle in a newpermanent childhood home, a ranch in Creston, California.
Her family's ranch included cattle, sheep, pigs, coasts and chickens, and Cora grew up a tomboy as she loved to feed the animals and help out in the fruit orchards. She became involved in gymnastics for 6 years, and while attending Atascadero High School. became active in choregraphing for the school dance team and competing a cheerleading competitions. She was also involved in the school's diving and track teams, where on the track her long legs saw her specializing in the long jump and sprints.
After graduating school, like many beautiful girls, Cora moved to Los Angeles to persue modeling and acting, and has been feature in several magazines and in the Hooters Calendar. In fact, Cora was working as a waitress at one of the Los Angeles area Hooters to help pay her bills between modeling gigs, but she recently she quit to persure modeling full time while also attending community college part time working towards an Accounting Bachelor's degree.
Cora loves going out dancing, Boogie Boarding at the beach, and of course anything country! Show also completed in the 2006 Lingerie Bowl for the LA Temptation team on Pay Per View TV during their alternate half time show for the 2006 Super bowl. Since 1998 Cora became a full-time professional model based in Los Angeles, Cora regularly shoots with such clothing comapnies as Frederick's of Hollywood and BEBE.
Calendar photographer Jim Gianatsis was first introduced to Cora by Dominique Lafayette, owner of our affiliate FastDates.com Calendar agency, CaliforniaHostess.com. In the SoCal sea of stereotypical California blond models, the strikingly beautiful, raven haired Cora offered a welcome change. She would prove a perfect compliment to pose with "Lethal Strike", John Franco of Wicked Brothers winning Pro Custom bike at the 2005 LA Calendar Motorcycle Show, in our first shoot with Cora for the 2007 Iron & Lace Calendar.
Cora proved the perfect model with an easy going attitude, a flawless face, a perfectly proportioned body with legs that go on forever, and breasts that any girl would envy and any guy would die for. Even before we saw the finished photos from our first shoot together on the computer we knew we would continue to work with Cora, and would have her back at our studio in a few months to shoot the 2007 Garage Girls Calendar. Cora would be the pepper in our 3-girl sweet as sugar shoot with another favorite, Irish Supermodel Gemma Gleeson, and Playboy Playmate from August 2005, Tamara Witmer.
While you're waiting to get your own personal copies of Cora's very sexy 2007, 2008 and 2009 FastDates.com Calendars, you can join her right now with the other Kittens in Members Corner.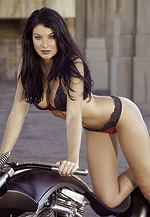 "Though not a girly-girl, fashion has always been a part of my life. With my sister studying fashion design, I was the designated guinea pig, who would try on her designs and strut down the hallway. I had always been a ham in front of the camera and my overactive imagination had me constantly acting out stories. I was fascinated by the beautiful models I saw on TV and dreamt about one day seeing myself on there. In high school, at 5'8 and 105 pounds, it seemed common sense to those around me to get me involved in modeling. My mother got me involved in some runway and print modeling classes, which did little to advance my dream, but helped give me an idea about the business."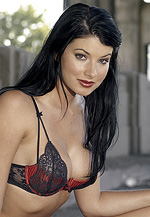 Overwhelmed by the masses of other girls competing for the same dream, I decided to focus on school instead of something so uncertain. Not until I moved down to Los Angeles to attend Long Beach State did I realize there were open opportunities for me to do what I love! This re-ignited my desire to be a model. Right now, I am still working towards receiving my BA in accounting and am hoping to be a certified public accountant within two years, but I love the fact that my hobby of strutting around in front of the camera is paying my tuition! Although I have only been actively pursuing modeling for a couple months now, I have had the opportunity to work with some amazing people in the industry and have been featured on Muscle and Fitness, Foreplay Catalogue, HardCore Muscle, Skinnie Magazine, The Best Damn Sports Show, Hooters Calendar, Joey, MTV, Monster Energy Drinks, and of course the FastDates.com Calendars "