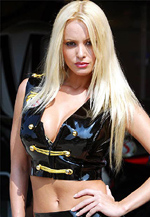 Zdenka also accompanied us to World Superbike 2001 at Laguna Seca Raceway where we photographed her with all the top factory race bikes for the 2003 Fast Dates Calendar. There Zdenka serves as our Team EBSCO Corona Suzuki umbrella girl on Saturday, and then World Superbike Champion Troy Corser's umbrella girl on Sunday.


A few weeks later Zdenka returned to the Czech Republic and attended the World MotoGP where she served as the Red Devil girl. In 2002 and 2003 Zdenka served as the official Team Aprilia Umbrella Girl at her home Czech Republic Bruno MotoGP. Zdenka is also returns in Iron & Lace 2003 You can preview Zdenka in the 2003 Fast Dates Calendar photos right now in the Calendar Index.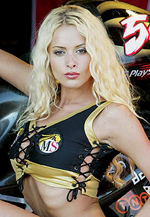 My name is Zdenka Podkapova and I'm from the Czech Republic in Europe. I live in the second largest city in the Czech, called Brno.
When I was younger I never thought or imagined I would become a successful model.
I was a professional gymnast for more than ten years and this sport was my whole world. I wasn't the best gymnast in the world but I did have some success; I was in the Czech national team for five years and I became the Czech national champion four times during my young career.
But when I gave up gymnastics my life completely changed and I began another new and exciting chapter. At 18 I was approached by a photographer, but I hung back because
I was studying Economics at the time. When I finished school I contacted him and we made some test pictures. At that point I was still unsure, but he liked my look and we went from there.
My first professional photoshoot was in October 1996 on Gran Canaria Island. We worked flat out every day for two weeks shooting new pictorials. It was a very good experience for me and I learned a lot there.When we got back to the Czech Republic I started to collaborate with this photographer not just as a model but as a computer assistant and later as a make-up artist. We were good friends and worked very hard together for two years. Later I grew more ambitious and tried contacting USA Penthouse.
It worked and I soon went to work with them.
My first pictorials for USA Penthouse came out in April 1998. I was chosen as Penthouse Pet of the Month. Two years later I won USA Penthouse Pet of the Year 2001. I never thought that I could win. It was a very big surprise for me and I cried like a baby.
I was the first girl in history from the Czech Republic to win the title as Pet of the Year and the second girl from Europe.