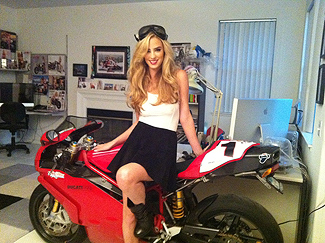 FastDates.com Calendar Kitten Liz
We were excited to work with Liz, one of our prettiest Calendar Kittens ever, for the 2014 and 2019 edition FastDates.com Calendars. Born and riaised in Utah, Liz attended the University of Utah where she graduated with a degree in Communications Arts. From there she set her sights on Los Angeles to persue a career in television broadcasting. While serving as an intern at the popular TV show Entertainment ToNight! to land her dream job, she works as a successful print model to help pay the bills.
Jim Gianatsis photographed Liz in the Gianatsis Design studios with a late model Triumph Bonneville turned into a retro cafe racer by Calendar Bike Building Championship winner Richard Pollock / Mule Motorcycles. Her photos from theat shoot appear in the 2014 & 2019 editions of the Fast Dates,
Iron & Lace and Garage Girls Calendars.
We are glad Liz joined us on her way towards making her big dream come true and we wish her all the success.