Meet our
FastDates.com Calendar Angel
and official
SBK World Superbike Girl

Janelle Pierzina

We love Janelle, one of the sweetest, most beautiful models we've ever had the pleasure to work with. Born and raised in Grand Rapids, Minnesota, a small city in the nothern land of lakes region, Janelle swears she's never been to nearby Frostbite Falls nor ever met its most famous residents Rocket J. Squirel and Bullwinkle the Moose. But she did warm up those cold winter nights for a lot of lucky sports fans who got to watch this athletic and talented high school cheerleader who went on to compete in the Miss Minnesota Pagent in 2000.
After finishing high school and liking the excitement of being in the spotlight of the Miss Minnesota Pageant, Janelle moved to Los Angeles to persue a career in modeling and acting. Besides being featured in a lot of print modeling work, Janelle has appeared in numerous bit parts in TV Soap Operas, the series Son of the Beach and a few movies on her way towards making it big. Her most exciting project yet has Janelle staring in her own new TV cooking show on Comedy Central beginning January 2004. Never one to be taken too seriously, Janelle's show on Comedy central is called National Lampoon's Infamous Cuisine.
Janelle is represented in Los Angles by the agency Cunningham • Escott • Dipene.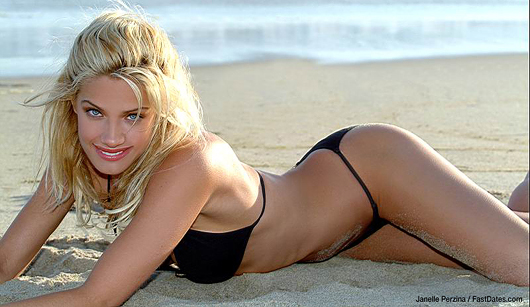 FastDates.com Calendar photographer Jim Gianatsis found Janelle through a model agency submission in September 2002 and booked her directly off her Zed card for a 2004 Iron & Lace Calendar shoot with bikes from top custom builder Paul Yaffe. Besides being a real sweetheart, beautiful with the most perfect hard, sexy body of any model we've ever seen, Jim and Janelle really hit it off and had a great time working together. Needless to say, Jim brought Janelle back again to photograph the rest of our 2004 Calendars including Garage Girls and Berm Busters with 2 of our other favorite models Chandi Mason and Joanna Krupa.
Janelle, together with Chandi Mason and Nicki Lane, as one of our 3 official SBK World Superbike Fast Dates Calendar Girls on July 2003 at Laguna Seca World Superbike where we photographed her for the 2005 Fast Dates Calendar. She served as an offical Team Ducati Corse umbrella girl for Ruben Xaus. Janelle also appears at many of our events including the LA Calendar Motorcycle Show in July, and at our LA Calendar Import & Sports Car Show in August.