Calendar Kitten Cindy Margolis
I don't remember how I met Cindy Margolis, but it was probably through a local Los Angeles modeling agency some time in 1991. It turned out she had been working as a glamour and swimsit model since about 5 years already after having graduating at Northridge University in the San Fernando Valley, just north of Los Angele, where we both lived. I really didn't know a lot about Cindy other than she was beautiful with an incredible busty swimsuit body, and that she had a hot swimsuit poster or two on sale in local gift stores. I once picked up Cindy for a shoot at her mom's apartment , and I remember her showing me many of her published greeting cards and posters. She explained she had started the lingerie pinup greeting cards herself as a school project, and then with her mom's help, they had really taken off commerically and expaned into posters.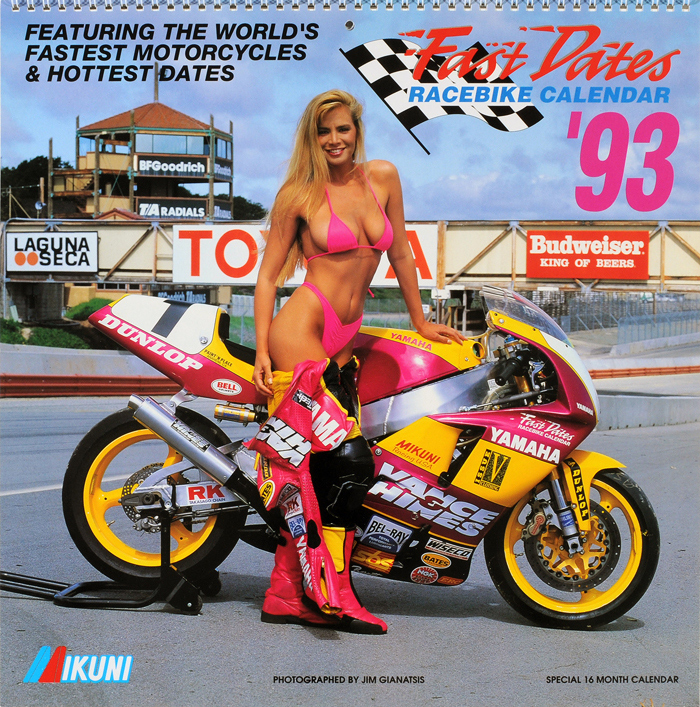 I shot with Cindy a number of times during 1991 and 1992 for the upcoming 1993 Fast Dates Racebikes, Iron & Lace Custom Bikes, and Hot Waves Personal Watercraft Calendars.
One shoot I did with Cindy involved a same day plane flight up from Burbank to Laguna Seca Raceway, Monterey, and back, to shoot the AMA 1991 Number One plate Superbike, the Vance & Hines Yamaha OWO1 of Thomas Stevens. It was quirt a big production to fly in with an expensive model to shot just one calendar bike, and assisting me at both Laguna Seca and the Point Mague Beach shoots was Mikuni Sales Manager Lee Chapin. It was a really incredible shot posing the race bike and Cindy on the Pit Lane Exit to the race track with the landmark Toyota Bridge in the background. So incredible it ended up our cover shoot! I can remember why we didn't shoot any other bikes at the track that day, but judging by the deserted track in the background it must have been a private test day for the Vance & Hines race team.
Cindy Margolis (yellow suit) and Jennifer Campbell (orange suit) hit the beach for their 1993 Hot Waves Calendar shoot
Another exciting shoot I did with Cindy was for the Hot Waves Calendar and took place at a Point Mague State Beach north of Malibu, CA, with many of the top racing Jet Ski's in the county, and another beautiful model and actress, Jennifer Campbell. The pictures of Cindy and Jennifer on the beach together with the Jet Ski's and the surf crashing in the background were really incredible.
Cindy later joined us at the 1993 LA Calendar Motorcycle Show to meet with fans and sign the Mikuni Calendars. I soon lost track of her after that as her career took off and she gained world-wide recognition as "The Most Downloaded Model on the Internet, as beautiful girls and the Internet seemed to be the perfect match, and television appearances and Howard Stern radio interviews catapulting her to Supermodel status for the rest of the '90s. You can follow all her career in the story column on the right.
In 2006 at the age of 40 Cindy finally accepted the ongoing offers over the years from Hush Hefner to appear nude in Playboy. You can see Cindy's Calendar photos and Pictorials in FastDates.com Members Corner, and her Pictorials at Playboy.com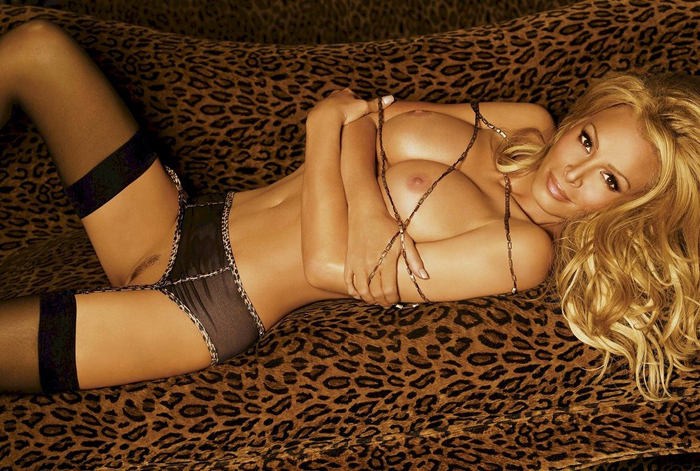 Look for more sexy photos of Cindy in the 1993 FastDates.com Calendars available in Collectors Corner, and in the Cindy Margolis Photo Galley and the Calendar Archives in Members Corner.
Return to Meet the Models • Members Corner Pictorials • Collectors Calendars
Some of our Calendar Kittens can also at Playboy's website...
The Cindy Margolis Story
Cindy was born in Los Angeles, California, the daughter of Karyn O. (née Cleere) and William C. Margolis. According to an interview in Playboy, her career began with a business class project on greeting cards at the California State University at Northridge, where she produced cards with a photograph of herself wearing lingerie and including her phone number.

Cindy Margolis was raised Jewish and was married to restaurateur Guy Starkman, owner of the Jerry's Deli chain in the San Fernando Valley. Following in-vitro fertility treatment, she gave birth to son Nicholas Isaac in 2002. Their twin daughters Sabrina and Sierra were born in 2005 with the incubation of a surrogate mother. Margolis and her husband separated in 2008.
Cindy's Career
Her modeling career took off when agents started asking about the woman on the cards. She has modeled in advertising for companies such as Reebok, Vidal Sassoon, Coors, Frederick's of Hollywood, Hanes, and Sunkist. She was Miss Makita Power Tools 1986 and did appearances at woodworking trade shows. In 1991 and 1992 she was photographed by Jim Gianatsis for the, then owned, Mikuni Calendars.

Among late night television viewers, she is best known as an infomercial co-presenter including work with Tony Robbins and Don Lapre. Margolis also appeared briefly as one of Barker's Beauties in 1995 on the game show The Price Is Right. She also appeared as a fembot in Austin Powers: International Man of Mystery. She had a late night Saturday talk show in 2000 called The Cindy Margolis Show, which was filmed in Miami Beach, Florida.

Margolis emerged as a star in the early days of the Internet. She was named Yahoo! Internet Life magazine's "Queen of the Internet" from 1996–1999. She also found her way into the 2000 Guinness Book of World Records as a result of being the "most downloaded" person in 1999. At the age of 34, the peak of her popularity, images of Margolis were downloaded 70,000 times in a span of 24 hours.

In November 2005, Margolis teamed up with the World Poker Tour to become the new hostess for Chipleaders.
In an April 2006 interview with The Washington Post, Margolis discussed her nude photo session for the December 2006 issue of Playboy, saying that she had posed for Playboy many times in the past, but never completely nude. She cited her good looks at age 40 and wanting to be an inspiration to mothers and women her age as the reason she chose to finally pose nude. "It will be fun to go up against the 20-year-olds and show them that they don't have anything on me!" she told the AP.
In an interview with EXTRA! magazine she said that Desperate Housewives had been an inspiration for her as it showed that mothers her age can also be fit and sexy. A portion of the proceeds from the issues sold will go to a charity for which Margolis is a spokeswoman, "Resolve". This charity aims to get fertility treatment better covered by insurance companies.
Margolis posed for a second Playboy pictorial for the July 2008 issue. This pictorial was held in conjunction with a competition where the winner would accompany Margolis to a party at the Playboy mansion.

A portion of the sales of her issue went to her charity, the Cindy Margolis Get a Download of This Fertility Fund. She was very proud to have posed, stating:
" Me, of all people, the ultimate girl next door, the one who made it by not taking off her clothes. And now my crowning achievement is doing Playboy and being comfortable in my own skin "

In spring 2006, Margolis was the winner of NBC's Celebrity Cooking Showdown. She teamed up with the celebrity chef Wolfgang Puck to win both the first and final rounds.
In 2008 production began on a new Fox Reality Channel original series, Seducing Cindy, a dating reality show in which male contestants, aged 18–49, will battle to win the affection of Margolis.] The show premiered on January 30, 2010.