Lindsay Hancock, aka Luci Ford
Lindsay White, Lindsay Marie
FastDates.com Calendar Kitten

Lindsay Hamcock moved to Los Angeles after high school from her home in Scottsdale, Arizona, to become a model. Her shorter 5' 6" height prevented her from being signed with a top fashion print agency, so she turned to nude and glamour modeling. She appeared in some well known men's magazines and adult websites under the stage names Lindsay Marie and Lindsay White.

In more recent years Lindsay has moved away from nude modeling and is concentrating on commerical modesling and becoming a professional makeup artist. We discovered her on the ModelMayhem.com website, and working as an event spokesmodel for custom bike builder Canyon Motorcycles.
You can find Lindsay featured in all 3 editions of the 2016 FastDates.com Calendars - Iron & Lace, Garage Girls and Fast Dates. We asked Lindsay to tell us about herself...
"There is a lot more to me than meets the eye! Besides modeling, I'm also an artist & fashion designer, and I work as a freelance makeup artist as well. I'm a quadruple threat,…Haha! Other than that I'm just a down to earth girl that loves to have a good time & live the good life.
I'm always on the go!!! My schedy can be pretty crazy sometimes and each day is a new adventure. Weather I'm attending castings, on the set of a photo-shoot or doing hair & makeup, my life is nonstop!
Once I had to shoot with a live tiger once & even though there were 4 trainers there to control the situation, it was still very scary! They were like "don't act scared, the animal can sense your fear" and I'm like are you kidding me!? The thing didn't stop growling the whole time & I had to stand there & act sexy! HaHa!
I'm a total health nut & love to workout. I exercise everyday and it's a big part of my routine.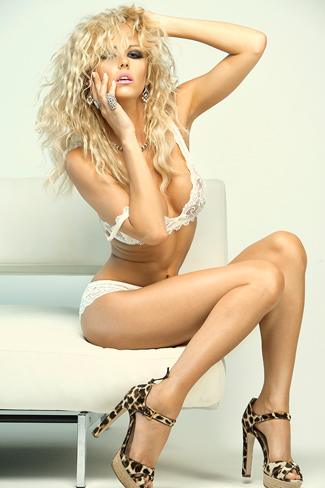 I am happiest when I am able to be creative, especially with my photo shoots. . I'm a total artist & love to paint, draw, sew, cook, just about anything that allows me to get my creative juices flowing.
You'll find more of Lindsay in her
Members Corner Portfolio