Heather Carolin
FastDates.com Calendar Kitten and Playboy Playmate
Firey little redhead Heather Carolin was the featured Playboy magazine centerfold in April 2002. When her issue came out we we struck by her innocent, yet sexy schoold girl beauty and that RED hair, but we never expected to get the chance to shoot with her. That is until we came across her 2 years later in the spring of 2004 at a Los Angeles modeling agency. Needless to say, we jumped at the chance to book Heather to join some of Playboy's other top centerfolds who have also been featured in the FastDates.com Calendars.
Right after her FastDates.com Calendar shoot Heather left Los Angeles and moved to Northern California, somewhate retiring from modeling for 2 years except for maintaining her website. She then retured back to Los Angeles and started modeling again, now for much more explicit adult content than Playboy, including girl-girl films with other adult starlets like our FastDates.com Calendar Kitten, Jamie Langford.
You'll find Heather featured in the 2007 Iron & Lace and Garage Girls Calendars. And you'll find much more of Heather with even less clothes in FastDates.com Members Corner.
Above, Heather strips down for her FastDates.com Calendar photo shoot!
See where she ends up in Members's Corner.

Below, click on the photo to see Heather working out on her own website....
Look for more sexy photos of Heather Carolin including nude pictorials
and in Members Corner.
Return to Meet the Models • Members Corner Pictorials
Visit Heather's official website at www.VIP.HeatherCarolin.com
Many of our Calendar Kittens can also at Playboy's website...
Heather's Story
Born in the Los Angeles area of California, Heather has many fun filled memories of her early childhood. "Most of my favorite memories are of building sand castles on the beach and of course Disneyland," Heather tells us. "I remember being so mad when we moved to northern California." They had moved to a very small town in the foothills near Yosemite National Park.
At 8 years old Heather was given a new beginning she would not come to appreciate until much later. "Now I look back and I am so thankful to have been raised in a small town. It gives you a remarkable sense of reality and good values. I know that the important things in life don't come with price tags, " she says.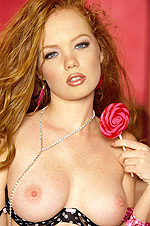 Heather's Playboy
Pictorial Story
Heather Carolin Miss April isn't the life of the party, she is the party. Heather Carolin has the mantra to kick a party into high gear. "Sex, drugs and rock and roll, baby!" she chants. "I canget a little roudy, but I live my life so I don't regret anything. I lost some friends a few years ago in a car accident. They were only 14- a blonde, brunette, and a redhead. Just like my best friends and I. It made me realize that you have to live for the moment."
The 19 year old wild child from California started to rock out at an early age. "My parents are old hippies and I listened to their records when I was growing up," she says. "Were good friends and they supports my decision to appear in PLAYBOY. And I'm all natural- not just the red hair." Now she's thinking about moving to Los Angeles, but she can't keep her car under 65 when she travels there. "It takes me five and a half hours to drive to LA, but I think it's supposed to take seven," she giggles.
"My dream car is a 1967 Chevy Camaro SS. I'll have to start with a frame and have a new engine put in. I want to be a race- car driver and take classes at Laguna Seca." Miss April isn't afraid of getting her hands dirty either. "I don't like girly girls," she says. "My best friend is a girl and I have 20 guy friends. They're more fun and like to party all night with me. Most girls come off too prissy- they whine about spilling a little beer on their shirts. I don't understand them at all. I love four wheeling in a field with lots of mud."