Above: Jitka (left) and Petra (right) are the offical podium models for SBK World Superbike Championship at many of the races across Europe. We brought them to America to shoot for all 3 editions of the 2016 Fastdates.com Calendars.
Meet the FastDates.com Calendar Kittens
Model Portfolios • Model Submission Information
Jitka and Petra Rev-Up Our Word
Introducing the new 2016 FastDates.com Calendar Kittens
by photographer Jim Gianatsis
This year's 2016 FastDates.com Calendars are both dedicated to and feature the two beautiful 6-foot 2-inch tall models Jitunka Pralinka and Petra Ruzinka from the Czech Repulic. I first saw them together some 4 years earlier on the SBK World Superbike Television broadcasts of the races, as the two strikingly beautiful tall blonds girls in SBK short mini skirt uniforms with platform boots, towering with their umbrellas at the front of the race strating grids. I had to know who they were and feature them in the Fast Dates Calendar, so I contacted my friends at SBK World Superbiketo find out.
I then booked and the girls through their model agency Petra's Angeles in Prauge, Czech Republic, which supplies the models for many of the SBK and MotoGP rounds throughout Europe. Then I asked Fast Dates Calendar collector pen pal and highly talented Italian Superbike photographer Massimo Oliana to photograph Jitka and Petra for the 2014 and 2015 Calendars with incredible results.
Needless to say, I was quite jealous of Max being able to shoot with these beautiful models, so for for this year's 2016 FastDates.com Calendars I though it would be incredible to bring them both to America for the month of July to shot with me at Laguna Seca World Superbike, the LA Calendar Motorcyel Show, and in my Los Angeles photo studio for all three editions of the 20166 FastDates.com Caledars - Fast Dates World Superbikes, Iron & Lace Custom Bikes, andthe Garage Girls Calendars.
When we weren't on the road for World Superbike in Monterey, California, the girls stayed as guests at my home studio. On the off days when we weren't working, I got to show them the exciting sights of Los Angeles including Griffith Observatory and the Hollywood sign, the Los Angeles Zoo and Train Town, and Universal Studios. And on a couple of days when I was busy, I let them borrow my car car to go shopping and hang out at the beaches. They both were great models, the nicest of people and we became the very best of friends and had an incredible time working and playing togther. I now miss Jitka and Petra so much, and look forward to working and having fun with them again, either back her in the USA or in their own country of the beautiful Czech Republic. Thanks girls, these 2016 FastDates.com Calendars are dedicated to you!

Our beautiful Calendar Kittens for 2016 didn't stop with our two beauties from the Czech Republic. Also back by popular demand are Jessica Harbour, Kelsey Sliwinsky, Sara Horvath and Caitlin O'Conner. Plus we discoved two newbies for your viewing pleasure, Jacqueline Pabst and Lindsay Hancock. Check out their Profile Links on this page, and be sure to order thier new 2016 FastDates.com Calendars if you haven't already! - Jim Gianatsis, photographer and producer.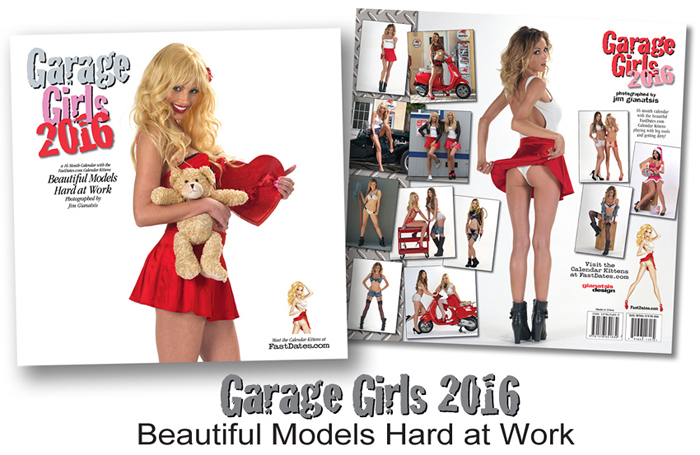 You can see all the FastDates.com Calendar Pages in Large Screensaver Size in Members Corner
Jitka & Petra

Sara Horvath

Lindsay Hancock

Jessica Harbour

Jacqueline Pabst




FastDates.com Calendar shoot with Jessica and Kelsey!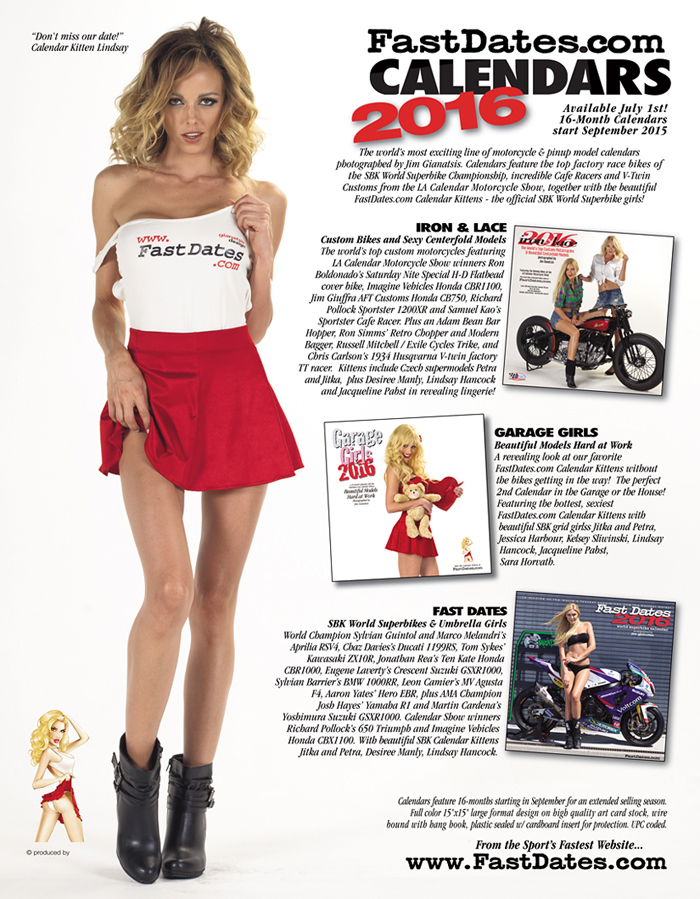 Click on the Calendar Covers to Order Now!
---
More Recent FastDates.com Calendar Kittens...
| | | | |
| --- | --- | --- | --- |
| Caitlin O' Conner | | Kinsey Ray | Camilla Chiniquy |
| Kristy Taylor | Sara Baliant | Bree Daniels | Jaime Edmonson |
| Mosh | Shannon Baucomb | Tiffany Toth | Heather Rae Young |
| Hannah Flattery | Rebekah Davis | Alena Savostikova | Rachel Bernstein |

Members Corner Includes the - FAST Digital Magazines
We take you behind the scenes for the making of the FastDates.com Calendars!
Each year's FastDates.com Calendar Digital Yearbook features 120 pages of exciting hi-resolution digital photography that
takes you with us behind the scenes to our photo shoots at SBK World and AMA Superbike, the LA Calendar Motorcyle Show,
and in our photo studio. You'll meet the beautiful Calendar Kitttens in sexy biography pictorials, the top Factory Racers and Custom Bike Builders,and see detailed photo features on the top calendar and race bikes. Take a track day with World Superbike Champion Troy Bayliss at Misano, take an Edelsweiss Ducati World Superbike tour of the Ducati Factory & Museum and across Italy, ride a Vespa scooter around Paris and party at the Crazy Horse and the Moulon Rouge. Hang with beautiful teen rock star Taylor Momsen of the Pretty Reckless. Did we forget anything?
Oh yes, and you'll see every page in the new Fast Dates, Garage Girls, Iron & Lace Calendars!
There's More! Meet the Calendar Models:
Current Calendar • 2015 • 2014 • 2013 • 2012 • 2011• 2010 • 2009 • 2008 • 2007 • 2006 • 2005 • 2004 • 2003 • 2002

And Visit : Calendar Girl News
See much more of our all our beautiful Calendar Kittens
in their sexy pictorials in FastDates.com Members Corner...