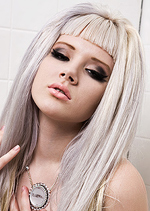 I was born in Russia, then Soviet Union. I moved to the States at a very young age. From that young age, my parents started training me in gymnastics. I did it for over 10 years. My parents did not have a lot of money to give for my future education, so they provided me with the best they possibly could, a professional training to earn the funds for school through gymnastics.

Originally, the plan was to reach the final levels in the sport to attract a full-tuition-paid University sports scholarship. In addition to the gymnastics, I joined competitive cheerleading squads in the area. All this changed one day after my first competition for another sport, Acrobatics. During the warm-up session I slipped off of the second person and fell directly on one arm, causing my elbow to dislocate, ligaments to snap, and my growth plate to chip. After 10 years of gymnastics, I got away with minor cuts and burns. After less than 1 year of Acrobatics, I completely destroy my right elbow. That end my gymnastics future.
My mother decided one day that we need to move to Virginia. After moving to my new area, I joined the cheerleading squad at the high school. During the school year at probably my Sophmore or Junior year, one of my friends at the time was taking photography classes and constantly needed to shoot images. She asked me to pose for her next project.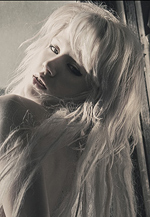 Some time before I started modeling I had fallen in love with the erotic, exotic, and beautiful images that were called 'fetish'. I was fascinated with vintage Bizarre Mag illustrations and photographs, in addition to modern photographers such as Lithium Picnic, Steve Diet Geodde, Christine Kessler, Bob Carlos Clarke, Irving Klaw, Helmut Newton, and the list goes on. The images brought much more than just a pretty picture to my imagination, and it provoked a lot more than just an erotic shot.
My addiction to these images led me to my own fetishes of corsets, heels, latex, leather, stockings, and more. I used this wardrobe to create what I believe a fetish image was or could be. I began modeling simple fashion and incorporated latex and leather into the mix. I put myself to work on my portfolio any chance I could. Any spare time I had on the weekends and sometimes weeknights I put towards modeling, this doesn't include the endless hours I spent at work and school thinking about my next project or shoot. The hard work certainly paid off.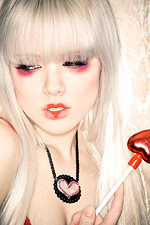 By the second year I could start officially modeling fetish and more erotic beauty. The following week after my birthday, Vance and I had already set up a shoot to model latex, bondage, and my bare skin. The shots ended up being published on TheFetishistas.com, who graciously also did an interview with me. Some of these images were later printed in A Magazine and Marquis Magazine, some of my favorite fetish magazines in print. Thanks to Vance's alluring, erotic, and colorful images, fetish could exist in DC! In some ways, Vance really put me on the correct path to fetish-modeling.
I continued to work with photographers producing fetish images relating more so to the beauty and fashion aspect. Eventually I started to work with the photographers who's images inspired me originally, Lithium Picnic, Christine Kessler, and many others. To this day I am honored to have the opportunities that I've had working and collaborating with these artists. Obviously without them I couldn't be the model that I am today. I was offered many more opportunities such as performing at fetish event, modeling for talented designers and artists, as well as appearing in some magazines and gracing the covers of others like Advanced Photoshop and Bizarre!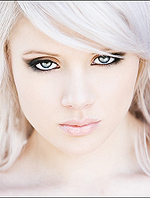 For now this is where my story as a model leaves off. I recently relocated to beautiful Los Angeles, CA with my cat Kiska. I am currently working full-time as a model and run/maintain my website!

Vist me at
www.TheMoshRoom.com