Blake Eden

Beautiful Blake Eden grew up in Phoenix, Arizona in a big family with 4 brothers and sister. Problems between her parents caused her to leave home when she turned sixteen and she tried to finish school while working part time to support herself, but without much parental guidance, she did begin to live a life that was pretty much out of control. She told us she moved to Southern California to work in child care for a while with a relative, but issues with relative she was staying with forced her to retuned back home to Phoenix.

When Kaussie turned 18 she moved back to Los Angeles, and knowing it would be difficult to support herself in such an expensive city, she made the decision to enter the adult film industry under under the stage name "Blake Eden". When you can get paid $1500 a day to have sex on camera and you enjoy it, getting to fly across America and around the world on photo shoots, the choice wasn't very difficult compared to being a former restaurant hostess at $12/hr.

"Blake" has also been featured as cover model and centerfold in Hustler and Penthouse magazines.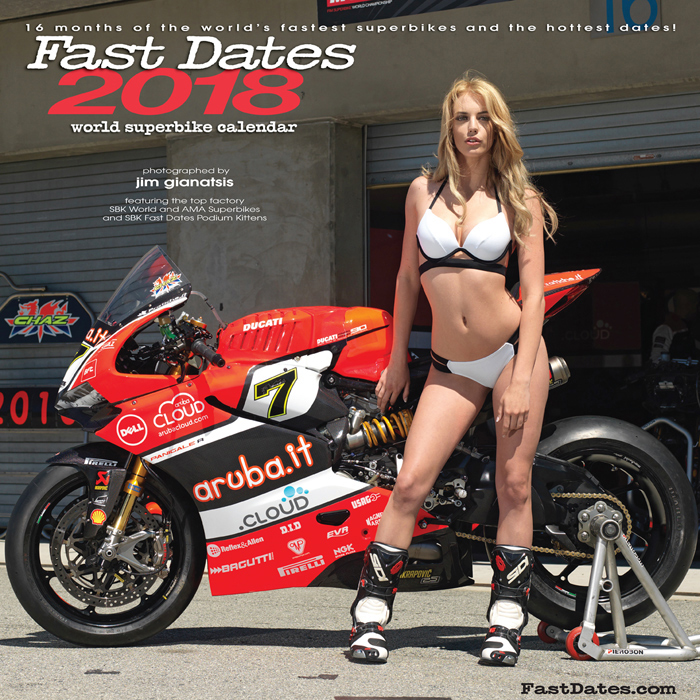 Blake joined us on our trip to Laguna Seca USA World Superbike in July 2016 to shoot the Fast Dates World Superbike Calendar and to serve as one of our two official SBK World Superbike grid and podium girls. And then the following weekend Blake worked with us again at the 2016 LA Calendar Motorcycle Show, and shot with the Show's winning custom bikes for the 2018 Iron & Lace Calendar.
A very beautiful and sweet girl when I first met and worked with her, we struck up a friendship and had wanted to help Kaussie realize her dream of getting into legitimate modeling, beginning with the FastDates.com Calendars working at World Superbike and the LA Calendar Bike Show. I wanted to help her return to school to get a degree in Professional Nursing which she had told me was her goal.

Blake served as official SBK Podium Girl at at Laguna Seca World Superbike - http://www.FastDates.com/FastDatesNews2016/LagunaSeca2016/FastDatesCalendarShoot2018.HTM

Blake at the LA Calendar Motorcycle Show -
http://www.FastDates.com/BikeShow2016/BIKESHOW2016.HTM

Blake on Our Motorcycle Trip Across France - http://www.FastDates.com/PitBoardFeatures/EdelweissParisOmaha/EdelweissParisOmaha2016.htm
With our 2 important weekends of Calendar shoots having gone really well, and with my learning from Kaustin that she was a motorcycle and sports car fanatic like myself, I invited her to join me in August on the Edelweiss Motorcycle Trip "From Paris to Omaha" to the legendary World War II beaches in Normandy. Unfortunately Kaustin had many personal issues which got the best of her and we ended our personal and working relationship during the Edelweiss Paris to Omaha Motorcycle Trip across France that summer. We wish Kaustin the best, and hopefully she will find the better future she says she wants to have.
Blake Edden is featured on many Adult websites including our Affiliates X-Art.com, Collette.com and WOWGirls.com. Click on the links below for some of her hottest Videos and Stills on X-Art.com
X-Art.com - Jillian, Van Wylde, Blake Eden : The Pussy Cat Burglar
The Pussy Cat Burglar is one of the hottest - and most entertaining - films in X-Art history. Gorgeous blonde Blake and her lucky man Van settle in for a romantic night of champagne, strawberries and sex. But wait! What's that? They hear a sound... Kitted out in a sexy black catsuit, it's super stunning Jillian Janson on the prowl, robbing them blind. Caught in the act, Blake and Van shove Jillian down, ass up - and dole out the punishment she deserves (and obviously craves).
FHG: http://hosted.x-art.com/galleries/the_pussy_cat_burglar/index.php?PA=2178558
Colette.com - Blake Eden, Jana Jordan : Naughty Blondes Blake Eden welcomes our newest blondie -- Jana Jordan -- to the wonderful world of Colette.com. Forget formal introductions; these girls knew they wanted each other as soon as they met eyes (and their eyes met each other's incredible bodies). With each move, this scene gets hotter and hotter...maybe even one of the best lesbian sex scenes ever! You'll be craving some pretty pussy after watching this one, I guarantee it. Naughty blondes are the BEST, aren't they?
FHG: http://hosted.colette.com/galleries/naughty_blondes/index.php?PA=2178558
Return to Meet the Models • Members Corner Pictorials