Meet the FastDates.com
Calendar Kittens
Front Page Current
• 2008 Calendar Models
• 2007 Calendar Models
• 2006 Calendar Models
• °•2005 Calendar Models
• 2004 Calendar Models
• 2003 Calendar Models
• 2002 Calendar Models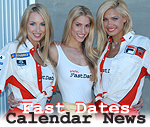 Visit a Calendar Girl Shoot!
Go behind the scenes with the beautiful models and bikes as we shoot for our next calendars!
• Iron & Lace
• Fast Dates
• Calendar Girl News
• Calendar Girl Chain Links
• Calendar Girl Pageant
• Chick's That Kick Ass!
---
FastDates.com
Calendar Model Submissions
You must be at least 5'7'' or taller, between 16 - 26 years old, have a great look and figure. Note: we do prefer experienced, professional models. Our regular shoots pay around $500 for a 4 hour shoot and require you to be available in Los Angeles at your own expense. Extended shoots and celebrity models may be paid more.
Models wishing to be considered for our pinup calendars and website can contact us by Email by sending sending a link to your website /online portfolio, or sample JPG images include a close-up head shot and a full figure swimsuit photo. You must include your height, age, body measurements, and direct contact information with address, Email and phone number.
And tell us if you do just swimsuit / lingerie additional tasteful nudity for Members Corner.
Contact@FastDates.com
If postal mailing, include a Zed Card or at least one good head shot, one good swimsuit body shot, your height / weight / size measurements, and contact information. Mail to:
Gianatsis Design
4801 Reforma Road
Woodland Hills
CA 91364-4017 USA

Click for Pageant Details

LA Bike Show Calendar Girl Model Search Pageant
3rd Weekend of July
Become a FastDates.com Calendar Girl! Join us at the LA Calendar Bike Show in July to win prizes, paid calendar shoot.
Sports Illustrated and Pirelli Swimsuit Calendar
Model Photo Books
Click to order from Amazon.com



Webmasters Money!
Make Money by linking to our FastDates.com website and selling our Calendars!


Copyright Notice
All photos and information on this website is copyrighted by ©FastDates.com and may not be reproduced, posted on other websites or user groups without permission. Some images and information may appear here for news and promotional purposes of the models and publications in which they have appeared, and are credited accordingly.