Aleksa Slusarchi

Aleksa is a sultry sexy petite Brunette model from the Ukraine who we discovered on our affiliate website X-Art.com. There, under he stage name "Jessica", beautiful Aleksa is featured in some very erotic pictorials and movies seen pleasuring herself, some very beautiful other models, and her boyfriend Alex.
It's obvious that both she and Alex come from very athletic dance backgrounds, both because of their perfect bodies, and because they get into some mind blowing and very athletic sexual positions we'd never seen before.

After discovering "Jessica" on X-Art we did a little research to find out her real name and her website www.AleksaSlusarchi.com. We learned that she and boyfriend Alex travel around the world from their home in Ukraine on what they call "Photo Tours" for scheduled photo shoots with both adult and art photographers.

While nudity is very much accept in Europe, it is difficult to find attractive nude models in other areas of the world including America, so they are able to book a lot of work when they travel. They typically spend about a month in each county they visit. On their most recent visit to America they worked a week in New York, a week in Miami, flew to Las Vegas where they rented a Mustang convertible and after seeing the sights there, drove to San Francisco for a few days, then down the Pacific Coast to Los Angeles where they worked for 3 weeks including for FastDates.com, before flying off to the next worldly destination.

Photographer Jim Gianatsis hosted Aleksa and Alex at his house in Los Angeles for those 3 weeks while also shooting Aleksa for the FastDates.com Calendars.



Aleksa has been a featured cover and centerfold model in both Playboy and Penthouse.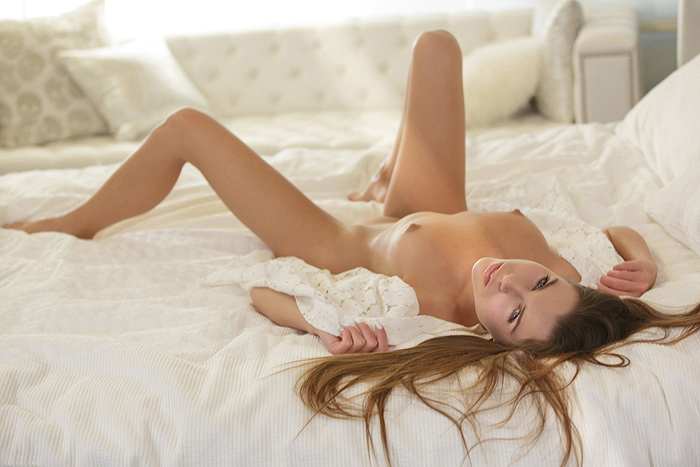 A very beautiful and sweet girl


Aleksa has three featured pages both in the 2018 Iron & Lace Custom Motorcycle Calendar, and in 2018 Garage Girls.
Above, Aleksa as the subject of Vampire lust, and below, enjoying some Auto Erotica at X-Art.com.


Aleksa aka Jessica, is featured on many Adult websites including our Affiliates X-Art.com.
Click on the links below for some of her hottest Videos and Stills on X-Art.com
X-Art.com - Jessica : Dressed to Kill
Jessica is formulating a dark erotic fantasy in the back of her mind. Seeing her seated a sleek silver luxury coupe exudes 'sex with class'. The car's smooth lines and Jessica's slender body fit like a glove. Jessica's mind floats off to a wicked place as she opens her dress and let's her hands wander.
Her hard nipples, those killer legs and her wet pussy are something to behold. Jessica begins fingering her clit and finger fucking herself in a sexual reverie all her own. She imagines the warm blood pumping through her lovers' veins - and his raging hard cock. She's a Black Widow, waiting for the right moment ...
FHG: http://hosted.x-art.com/galleries/dressed_to_kill/index.php?PA=2178558
For more sexy photos and videos of Aleksa
visit her photo galley in FastDates.com Members Corner
Return to Meet the Models • Members Corner Pictorials