Above: Sara Horvath(left), Alena Pyshnaya (center) and Alena Savostikova (right) were the official podium models at 2016 Laguna Seca USA World Superbike Championship round and are featured in all 3 editions of the 2017 FastDates.com Calendars.
Meet the FastDates.com Calendar Kittens
Model Portfolios • Model Submission Information
Sara and the 2 Alenas Rev-Up Our World
Introducing the new 2017 FastDates.com Calendar Kittens
by photographer Jim Gianatsis
This year's 2017 FastDates.com Calendars are both dedicated to and feature beautiful model Sara Horvath from Livingston, Montana. Sara first shot with Calendar photographer Jim Gianatsis back in 2013 for the 2015 Calendars where she was first featured in all three editions of the Calendars and on the cover of Iron & Lace 2015. At 5' 9" high with blond flowing hair, the sweetest face and perfect body with petite breasts, she looks like a dream Victoria's Secret model. We area also excited to find such perfect models like Sara, who seemingly can never take a bad photo and always look perfect standing next t to or sitting on any motorcycle.
Shooting with Sara and for the 2017 Calendars were to Russian born models Alena Pyshnaya and Alena Savostikova. Pyshnaya had just arrived in the United States from Belarus the previous year and was attempting to get a Green Card to settle and work In America. Savostikova had been brought to Miami when her parents immigrated there when she was just a little girl. She trained to become a professional tennis player in her teenage years, but an ankle injury injury that was taking long to heal found her using her beautiful looks to try modeling, so she moved to Los Angeles and never looked back. We had actually shoot with Savostikova 3 years earlier ay age 19 when she had just moved to LA, for a Shorai Lithium Battery calendar ad campaign. Some of the out takes from that shoot with Alena and two other models appear in the 2013 Garage Girls Calendar.
All three models, Sara, Alena P and Alena S shot with us in July 2015 at Laguna Seca World Superbike and the LA Calendar Motorcycle Show, and in my Los Angeles photo studio for all three editions of the 2017 FastDates.com Calendars - Fast Dates World Superbikes, Iron & Lace Custom Bikes, and the Garage Girls Calendars.
Also appearing in the 2017 Garage Girls Calendar is Czech model MotoGP grid girl Denisa Rosinski who shot with us for a day while on vacation here in the States. And the adorable Jacqueline Pabst with some previously unseen photos from her previous year's Calendar shoot with us. - Jim Gianatsis, photographer and producer.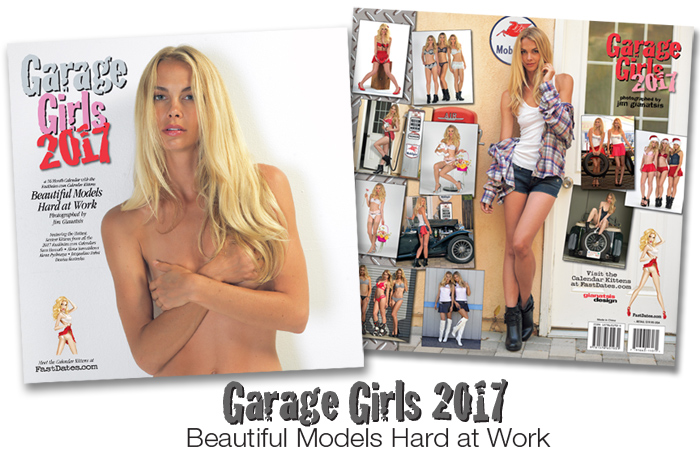 You can see all the FastDates.com Calendar Pages in Large Screensaver Size in Members Corner
Purchase the Latest FastDates.com Calendars Here • Order Past Edition Calendars in Collectors Corner
Alena Pyshnaya

Alena Savostikova

Jessica Harbour

Sara Horvath

Denisa Rosinská
The FAST 2017 Calendar Online Digital Yearbook takes you behind the scenes with special features on the Calendar Shoots, the Bikes and the Models. Plus it includes every page of the 2017 FAST DATES, IRON & LACE and GARAGE GIRLS Calendar.
FAST 2017 Calendar Online Digital Yearbook Available in Member's Corner
Click on the Calendar Covers to Order Now!
---

Watch a Fast Dates.com Calendar Video Shoot with Jessica & Kelsey!
Go behind the scenes at the glamorous Gianatsis Design Studios with beautiful new Calendar Kittens Jessica Harbour and Kelsey as they shoot for the FastDates.com Motorcycle PinUp Calendars with photographer Jim Gianatsis. Order the Calendars!

You'll find all the pages of the Garage Girls Calendars in larger Screen Saver Size
our Calendar Kittes in revealing pictorials in MEMBERS CORNER
More Recent FastDates.com Calendar Kittens...
| | | | |
| --- | --- | --- | --- |
| Jessica Harbour | | Lindsay Hancock | Denisa Rosinská |
| Caitlin O' Conner | Chrissy Blair | Alena Savostikova | Jitka & Petra |
| Kristy Taylor | Sara Baliant | Bree Daniels | Aleksa Slusarchi |
| Hannah Flattery | Rebekah Davis | Kinsey Ray | Camilla Chiniquy |
| Mosh | Shannon Baucomb | Tiffany Toth | Heather Rae Young |
| Jaime Edmonson | Jaimie Pressly | Joanna Krupa | Sabella Shake |

Members Corner Includes the - FAST Digital Magazines
We take you behind the scenes for the making of the FastDates.com Calendars!
Each year's FastDates.com Calendar Digital Yearbook features 120 pages of exciting hi-resolution digital photography that
takes you with us behind the scenes to our photo shoots at SBK World and AMA Superbike, the LA Calendar Motorcycle Show,
and in our photo studio. You'll meet the beautiful Calendar Kittens in sexy biography pictorials, the top Factory Racers and Custom Bike Builders,and see detailed photo features on the top calendar and race bikes. Take a track day with World Superbike Champion Troy Bayliss at Misano, take an Edelsweiss Ducati World Superbike tour of the Ducati Factory & Museum and across Italy, ride a Vespa scooter around Paris and party at the Crazy Horse and the Moulon Rouge. Hang with beautiful teen rock star Taylor Momsen of the Pretty Reckless. Did we forget anything?
Oh yes, and you'll see every page in the new Fast Dates, Garage Girls, Iron & Lace Calendars!
There's More! Meet the Calendar Models:
Current Calendar • 2016 • 2015 • 2014 • 2013 • 2012 • 2011• 2010 • 2009 • 2008 • 2007 • 2006 • 2005 • 2004 • 2003 • 2002

And Visit : Calendar Girl News
See much more of our all our beautiful Calendar Kittens
in their sexy pictorials in FastDates.com Members Corner...