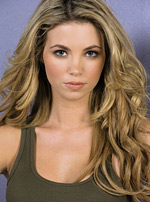 Amber Lancaster
Birthday: 9/19/80
Born: Tacoma Washington

Height: 5'5"
Size: 34C - 25 - 34
Dress; 2
Eyes: Blue
Weight: 115lbs
Hair: Blond
MySpace.com:
myspace.com/amberlancaster
FastDates.com Calendar publisher Jim Gianatsis photographed Amber for the 2009Garage Girls Calendar where she appears on the cover with other Calendar Kitten Tiffany toth
Click to order
Amber's Calendars
Jim shot with Amber for the 2009 Garage Girls Calendar with Tiffany Toth
1/09/08 Interview on
HotJewishGirls.com
Amber Lancaster
ZODIAC SIGN: Gemini
OCCUPATION: Student/Model
ABOUT ME:
I'm graduated from CSU with a bachelors in psychology. I plan to move to San Diego to attend grad school. I love college football, and I love to have fun and laugh! I love to Dance, play
rugby and work out…and cook!
HOBBIES AND INTERESTS: WVU football, dancing, cooking, decorating, psychology,
snow boarding, rugby, cheerleading, four wheeling, working on cars with my dad,
being outside, getting muddy!!
MUSIC: Everything…Paramour, Cascada, Country, Linkin Park, John Mayer, Damien
Rice, T.I., Young Joc, seriously everything….
TV SHOWS: Family Guy, The Office, Entourage, anything on Discovery Channel,
history or Nat Geo..and MTV! COLLEGE FOOTBALL…so ESPN
BOOKS: I only read when its absolutely necessary…
HOW JEWISH ARE YOU: I'm not orthodox. I keep kosher and I live a good life…
CRAZIEST THING YOU HAVE EVER DONE: Sky diving…it was an amazing rush!!