The all Italian podium at Motegi sponsored by A-Style apparel (note the adult sex-book stick figure logo) with a thankful Loris on his knees.

2006 MotoGP World Championship, A-Style Grand Prix of Japan Round 15 of 17
Rossi cuts Hayden's Championship Lead Nearly in Half
Loris Capirossi's 2nd Ducati Runaway of the Season at Motegi in Japen
Japanese MotoGP at Motegi, Japan , Sunday Sept. 22-24, 2006 -This key MotoGP race was won by pole-sitter Loris Capirossi (Ducati) from Valentino Rossi (Yamaha) in second and with Marco Melandri (Fortuna Honda RC211V) third. World Championship points leader Nicky Hayden (Repsol Honda RC211V) was fifth at the flag.
But as Hayden watched his points lead shrink to 12 points over his nearest challenger and the reigning World Champion Rossi, Honda clinched both the Constructors' World Championship and the Team prize via the Repsol Honda outfit. With two rounds to go Honda cannot be caught in the manufacturer's Championship, but with a further 50 points up for grabs in the Riders' Championship, Hayden is now under acute pressure, having lost nealy half his points lead in today's race with two more rounds remaining for Rossi to close the gap on keeping his title.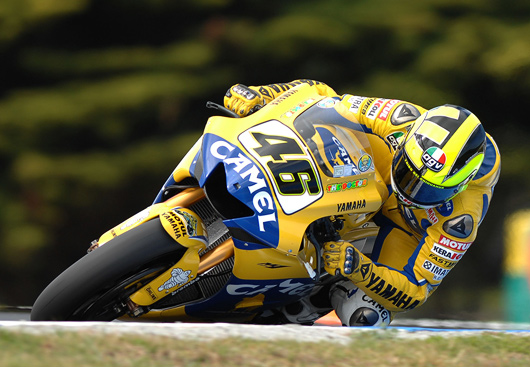 Rossi gets the low down with the quickest practice time at Motegi as the title chase heats up.
Title Chasing Rossi Quickest at Motegi After Day One
Practice, Friday 22nd - On the first day of practice sessions for Sunday's A-Style Grand Prix of Japan, the home fans got an indication of what could be both a successful date for the local riders and a pivotal moment in the premier class title chase. Continuing a recent trend in MotoGP, the premier class riders took to the track for the first day of practice today and finished off the session with a late burst on qualifying tyres on their bikes. It was another frenetic pair of sessions, one which Valentino Rossi took by the scruff of the neck with a scorching 1'46.981 lap to top the timesheets.
Normally very reserved in practice all this season, and even in qualifying posting lackluster times that have kept the 6-times World Champion off the pole, Rossi's quicket time right out of the garage on Friday showed his serious intent to reel in Nicky Hayden's 21-point lead (Hayden 225 to Rossi's 221) with 3 races remaining in the 2006 Championship. Hayden has been averaging 4th place finishes all season and can succomb to pressure, so we can expect a the title chase between the two to go right down to a near tie at the checkered of the final race at Valencia in Spain.
It was inside circuit record pace, as were the top eight riders, but Rossi was the only rider able to break the 1'47 barrier, with home rider Shinya Nakano the best of the rest on the Kawasaki Ninja ZX-RR. Marco Melandri was also on the pace fresh from his win last weekend at Phillip Island, just over half a second behind his fellow Italian. Camel Yamaha's Colin Edwards joined his team-mate in the upper section of the leaderboard, with World Championship leader Nicky Hayden and Fortuna Honda's Toni Elias rounding off the top six.
Having been expected to do well at Motegi after Ducati's dominant showing last season, Loris Capirossi could only manage seventh, ahead of this morning's fastest rider John Hopkins, Randy de Puniet and Kenny Roberts Jr.
Light showers are forecast for the next couple of days at Motegi, which could make tomorrow afternoon's qualifying session particularly interesting. With 21 points separating Hayden from Rossi at the head of the MotoGP standings, every result is crucial, beginning with the chance to start from pole position on Sunday.
Nicky Hayden Re-Signs With Repsol Honda Team
Friday September 22, 2006. Motegi Circuit, Japan - Ending weeks of speculation that he might not be re-signed by team Honda after 4 years of lower than expected performances, it is now confirmed that Nicky Hayden will continue to ride for the Repsol Honda Team in MotoGP next season having signed a new two-year deal with Honda Racing Corporation (HRC) at the Grand Prix of Japan. The talented 25-year-old American, who leads this season's riders' world championship based on constancy rather than outright wins, put pen to paper at the Motegi circuit today to extend a partnership with the factory Honda team that began in his rookie season in 2003.
The agreement ensures Repsol Honda retains its strong rider line-up for next year, with Hayden once again joined in the garage by young Spaniard Dani Pedrosa. Today's announcement also guarantees important stability as MotoGP enters an exciting new era with the new 800cc rules coming into effect in 2007.
Nicky Hayden: "It's an honour to be with the HRC factory team for another two years in MotoGP – it doesn't get a lot better than that – so I'm really excited and really happy. Everything came together and I'm happy with the deal and I'm happy with HRC. I feel like I took a big step forward this year and I feel that I'm still climbing up the learning curve so I don't want change anything. I want to keep learning, continue growing and keep this momentum going into next year. I'm really happy with the team around me, we're all clicking and working well together. I've been a Honda guy for quite a few years and they're the ones who brought me over to MotoGP – and now I just want to repay them with the championship."
Tsutomu Ishii – HRC General Manager : "Honda and HRC are very pleased that Nicky will remain with the Repsol Honda Team for two more years. Nicky has been with us for four seasons and during that time he has evolved and continually improved. His results this year have been excellent and he has led the world championship for much of the season. The feeling within the team is very strong at the moment and this season Nicky and Dani Pedrosa have established a positive relationship. As MotoGP enters the new 800cc era it is important for the Repsol Honda Team to enjoy this stability, not only with the rider line-up but also with our sponsors and partners."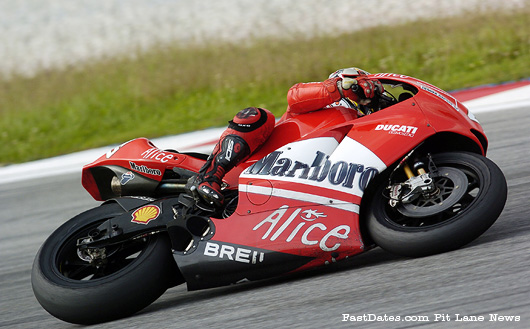 Qualifying Practice - Motegi
Capirrosi Charges to his 2nd Pole of the Season
Saturday 23rd - Loris Capirossi took pole for the A-Style Grand Prix of Japan with a storming lap of 1'45.724, as he looks to repeat his 2005 win at Twin Ring Motegi tomorrow. The Italian followed on from his timesheet-topping performance in the morning free practice session to become one of only two riders to break the 1'46 barrier, with championship contender Valentino Rossi putting on a late charge to take the second spot on the grid.
Pole sitter and winner here last year, Capirossi was at his aggressive best on qualifying tyres as he rode the fastest-ever lap of Motegi, bettering his 2005 pole time by 0.639 seconds. This is the Ducati Marlboro Team's first pole since Gibernau topped qualifying at June's Italian GP and Capirossi's first pole since he was quickest at Jerez in March.
Loris Capirossi, Ducati Marlboro Team, pole position, 1m 45.724s - "My best lap was amazing, seven tenths faster than last year's pole, incredible! I did my best but a big part of this is down to my crew, they've done a great job today and all weekend. Step by step we have worked towards a fast, consistent pace on race tyres. Me and my crew have worked together for four years and there is so much respect and friendliness in our relationship. Even when things aren't going so well they still manage a smile and that's important. We really deserved today's pole. As always, tomorrow is another day. We'll see what happens with the weather. I know I can also be fast if it rains but as usual I would prefer a dry race."
Rossi had previously emphasised that a good qualifying position in the remaining races would be essential for his title chances, and with series leader Nicky Hayden only able to put himself at the head of row three the charismatic Italian is in the driving seat at Motegi.
Marco Melandri, victorious in Australia a week ago and still including himself in the list of title hopefuls, completes an all-Italian affair on row one, followed by home rider Shinya Nakano and the Spanish duo of Sete Gibernau and Toni Elias. Hayden's fastest lap was just over half a second slower than Capirossi's, leaving him ahead of Kawasaki's Randy de Puniet, team-mate Dani Pedrosa and Camel Yamaha's Colin Edwards.

Loris steadily pulled out a 5-second lead over Rossi in the closing laps. A street legal version of Loris' Desmosedici will go on sale to wealty Ducati fanatics next summer.

Capirossi Repeats His Ducati Win on Japanese Home Turf
Rosssi 2nd on an all Italian Podium, cuts Hayden's lead in half.
Race Day Sunday 24th - Loris Capirossi repeated his 2005 victory at Twin Ring Motegi in the A-Style Grand Prix of Japan today, doing so in a similar fashion to his runaway win in the Czech Republic a month ago. The Ducati rider, starting from pole, was only troubled in the early stages by Marco Melandri with Rossi stalking close behind in 3rd waiting for the race to play out, but with about 6 laps remaining in the 24 lap conterst, Capirossi broke free and never looked back en route to a third win of 2006. Rossi would pick up his pace and paseed Melandi with 4 laps remaining, but the reigning champ could never match Capirossi's lap record breaking pace .
Loris Capirossi, winner - "I think that was a pretty amazing race. It all started on Friday when my team immediately found a good setting and Bridgestone came here with many good new tyres. I was able to find a good rhythm in practice and we were very fast in warm-up, so our target was to get a great start and just go. I got the start, but Marco tried to overtake me on the first lap. I said to myself it's better he doesn't come past because I didn't know if his pace was as fast as mine. After six or seven laps I started to take a small advantage, then after half-distance my pitboard told me Valentino was coming. At that moment I was going a little bit slow and when I saw Valentino coming very quick I had to go faster again. My pace was very good, 47s all race. This victory is very important to us and I don't think the championship will be over until the last race. To win here in Japan is a fantastic thing for us to do, and also for Bridgestone. My thanks to all my team and to all our sponsors."
Unlike most of the races so far this season it was hardly a classic, but the Japanese race was extremely tense and added further excitement to the battle for the world title, as Valentino Rossi took second place and cut the gap between himself and Nicky Hayden to 12 points with the American finishing off the podium once more. An all-Italian podium was completed by Marco Melandri, who gave Honda the 2006 constructor's title at their home circuit and himself moved up to a definitive third position in the classification having started the race level on points with Dani Pedrosa. Both Melandi and Rossi ran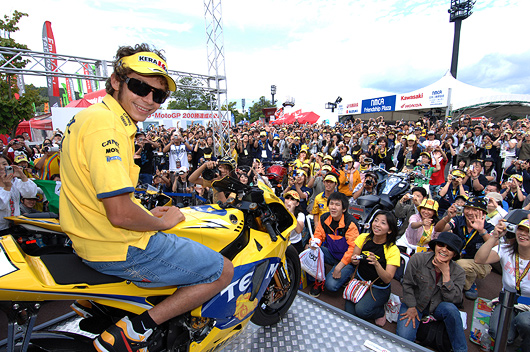 Valentino Rossi (2nd; +5.088) - "I'm really happy with this second position today. It wasn't a great battle like in Sepang, but my rhythm was really good and my bike worked very well. We had a few problems in warm-up this morning and, like always, my mechanics, the Yamaha engineers and Michelin did a great job to make some last-minute changes to our race set-up. At the start my M1 was a little bit hard to ride but slowly I found my rhythm and then bit by bit I started to come closer to Marco. Once I passed him I started pushing to try to reach Loris and made the fastest lap, but once he realised I was coming closer he opened the throttle again and he was just too fast for me to catch. My bike worked brilliantly since Friday morning and I want to thank everyone for all their hard work, it seems that when everything is working for us then it's hard for the others! 20 points is a great result for me at this track, which isn't one of my favourites, and now we're only 12 points behind in the championship. We have two races left and if we can continue in this way then it's possible!"
Sete Gibernau took another fourth spot, holding off a last lap challenge from Shinya Nakano that saw the local hero crash his Kawasaki out of the race and allowed Hayden to move up a place to fifth, preventing his lead in the standings being cut even further. Hayden had suffered a from a lackluster 9th place start and was never able to match the pace of the front runners during the race.
Toni Elias rounded off the top six with one of his finest rides of the season, the Spaniard having made it hard for Hayden to pass him early on. Dani Pedrosa, who never really took to the circuit this weekend, came in seventh after having dropped right down the order on the first lap, finishing ahead of Colin Edwards. Kenny Roberts and Makoto Tamada, the highest placing home rider, rounded off the first ten across the line.
Aside from Nakano's late crash, there were also incidents for Jose Luis Cardoso, Casey Stoner and Randy de Puniet, without serious consequences for either rider, whilst John Hopkins ran off track before recovering impressively to finish 12th. Despite early predictions of a typhoon approaching the remote Japanese track, the crowd were treated to glorious sunshine with hardly a cloud in the sky.
Results MotoGP
Race Classification MotoGP : (24 laps = 115.224 km)
Pos/ Rider / Nat / Team / Motorcycle / Time/ KM/H / Gap
1 / Loris CAPIROSSI / ITA / Ducati Marlboro Team / DUCATI / 43'13.585 / 159.935 /
2 / Valentino ROSSI / ITA / Camel Yamaha Team / YAMAHA / 43'18.673 / 159.622 / 5.088
3 / Marco MELANDRI / ITA / Fortuna Honda / HONDA / 43'21.963 / 159.42 / 8.378
4 / Sete GIBERNAU / SPA / Ducati Marlboro Team / DUCATI / 43'23.297 / 159.338 / 9.712
5 / Nicky HAYDEN / USA / Repsol Honda Team / HONDA / 43'25.529 / 159.202 / 11.944
6 / Toni ELIAS / SPA / Fortuna Honda / HONDA / 43'31.693 / 158.826 / 18.108
7 / Dani PEDROSA / SPA / Repsol Honda Team / HONDA / 43'33.522 / 158.715 / 19.937
8 / Colin EDWARDS / USA / Camel Yamaha Team / YAMAHA / 43'36.077 / 158.56 / 22.492
9 / Kenny ROBERTS JR / USA / Team Roberts / KR211V / 43'40.409 / 158.298 / 26.824
10 / Makoto TAMADA / JPN / Konica Minolta Honda / HONDA / 43'44.555 / 158.048 / 30.97
11 / Chris VERMEULEN / AUS / Rizla Suzuki MotoGP / SUZUKI / 43'52.848 / 157.55 / 39.263
12 / John HOPKINS / USA / Rizla Suzuki MotoGP / SUZUKI / 43'53.025 / 157.539 / 39.44
13 / Kousuke AKIYOSHI / JPN / Team Suzuki MotoGP / SUZUKI / 43'59.180 / 157.172 / 45.595
14 / Carlos CHECA / SPA / Tech 3 Yamaha / YAMAHA / 44'03.156 / 156.936 / 49.571
15 / James ELLISON / GBR / Tech 3 Yamaha / YAMAHA / 44'22.670 / 155.785 / 1'09.085
Pole Position: Loris CAPIROSSI 1'45.724 163.478 Km/h
Fastest Lap (New record): Valentino ROSSI 1'47.288 161.095 Km/h Lap 16
Circuit Record Lap: 2005 - Loris CAPIROSSI 1'47.968 160.080 Km/h
Circuit Best Lap: 2006 - Loris CAPIROSSI 1'45.724 163.478 Km/h
World Championship Positions:
1 HAYDEN 236, 2 ROSSI 224, 3 MELANDRI 209, 4 CAPIROSSI 205, 5 PEDROSA 202,
6 STONER 119, 7 ROBERTS 110, 8 EDWARDS 104, 9 HOPKINS 101, 10 GIBERNAU 95,
11 VERMEULEN 91, 12 NAKANO 83, 13 ELIAS 81, 14 TAMADA 81, 15 CHECA 60.

The Ducati grandstand at Motegi celebrates Capirossi win. Japan is Ducati's 4th largest world market after Italy, USA and France, selling 3,000 bikes per year (5% of the over 400cc market).

Aoyama's GP 250cc
Hiroshi Aoyama was the crowd-pleasing victor of the 250cc A-Style Grand Prix of Japan this afternoon, edging out Alex de Angelis at his home race. Meanwhile in a tense duel behind the lead pair, Jorge Lorenzo extended his lead over Andrea Dovizioso in the championship by three points to 27, after relegating the Italian to a second consecutive fourth place when he passed with just over three laps to go.
After de Angelis took the holeshot with a fantastic reflex start, a four-rider pack developed as the San Marino rider duked it out with Aoyama, Yuki Takahashi and Dovizioso. Takahashi would prove pivotal to the race, as a crash at the midway point directly in front of Dovizioso slowed the Italian down, allowing him to be caught by the previously off-pace Lorenzo. Roberto Locatelli, who also had one of his trademark shotgun starts, took fifth, ahead of Shuhei Aoyama, Hector Barbera and wild card rider Ryuji Yokoe. Marco Simoncelli and Ratthapark Wilairot completed the top ten.
GP 250cc: (23 laps = 110.423 km)
Pos / Rider / Nat / Team / Motorcycle / Time / KM/H / Gap
1/Hiroshi AOYAMA/JPN/Red Bull KTM GP 250/KTM/43'36.310/151.94/
2/Alex DE ANGELIS/RSM/Master - MVA Aspar Team/APRILIA/43'37.651/151.862/1.341
3/Jorge LORENZO/SPA/Fortuna Aprilia/APRILIA/43'40.659/151.688/4.349
4/Andrea DOVIZIOSO/ITA/Humangest Racing Team/HONDA/43'40.840/151.677/4.53
5/Roberto LOCATELLI/ITA/Team Toth/APRILIA/43'51.174/151.081/14.864
6/Shuhei AOYAMA/JPN/Repsol Honda/HONDA/44'00.421/150.552/24.111
7/Hector BARBERA/SPA/Fortuna Aprilia/APRILIA/44'17.743/149.571/41.433
8/Ryuji YOKOE/JPN/RT Morinokumasan Sendai/YAMAHA/44'18.059/149.553/41.749
9/Marco SIMONCELLI/ITA/Squadra Corse Metis Gilera/GILERA/44'18.191/149.546/41.881
10/Ratthapark WILAIROT/THA/Thai Honda Castrol Endurance/HONDA/44'18.364/149.536/42.054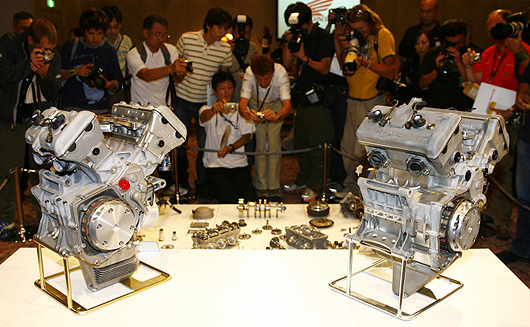 Normally secretive Honda was happy to show off their top secret RC 211 V-5 cylinder engine and all its internal parts to spectators at Motegi. With just 2 races left in the current MotoGP 990cc formula these engines are soon to become very expensive paperweights and doorstops.
---
Chicks That Kick Ass!

Maria Sharapova Claims US Open Title
New York City, Sunday, 10 September 2006 - Maria Sharapova defied the odds by beating Justine Henin-Hardenne in the final round of the US Open held at the Billy Jean King Tennis Center outside New York City, in an hour and a half, 6-4, 6-4. Proving to everyone, fans and detractors alike, that she is not just a one grand slammer from her last major win at Wimbledon 2 years ago, the young 19-year old Russian brushed aside a 4-1 record in head-to-head wins that Henin-Hardenne holds over her in collecting her second grand slam title.
The beautiful teenager is considered to be the world's 3rd richest professional athlete behinds Formula One's Michael Schumacher and Golf's Tiger Woods, with Maria earning close to $30 million per year in prize money and endorsements. The U.S. Open is one of the premier Grand Slam events on the World Tennis Association pro tour.


Click to order the 2007 Maria Sharapova Wall Calendar.

More 2007 PinUp Calendars.

See and read more of sexy Maria Sharapova in her Chicks That Kick Ass profile.
---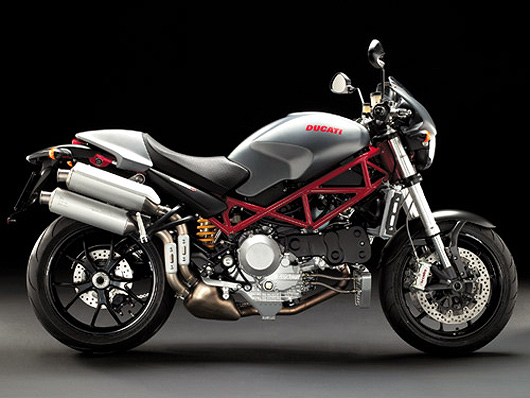 Early Release 2007 Ducati Monster base model S4R Testastretta
The Monster 2007 range is now bigger and better with the new S4R Testastretta. This new bike gains the famous 130 Hp Testastretta low sump L-twin Superbike engine, previously introduce this past spring in just the top higher proced version S4R S model Testastretta with Ohlins suspension.
Founder of the SR family, this bike takes upon a very important role, coming up alongside the S4R S Testastretta which represents the current performance and equipment apotheosis. The S4R develops and increases in power going from 117 Hp of the previous engine, to the 130 Hp of the Testastretta, maintaining its' very important role in the SR family: its two sided mufflers, the aluminium trellis single-sided swingarm, the small fairing, the exclusive paint schemes, the high quality suspensions, joined together with the powerful low sump Testastretta engine, is a milestone in the development of the Monster S4R Testastretta.
A bike that, in the new Ducati 2007 range, has a very important role, catching the attention of the most exigent performance –oriented "ducatista".
The S4R Testastretta is different from the "S" version due to the suspension. The front forks are now fully adjustable upside- down Showa's, giving the customer the possibility of a perfectly balanced bike. The rear is fully adjustable with piggy back shock absorbers by Sachs, allowing modification of suspension settings. The height of the rear of the bike is adjustable too by the modification of the length of the push rod. Whilst respecting the previous version, the S4R MY '07, has, like the S4RS, the prestigious Brembo front brake system too. The front has now a prettier look thanks to the new front fork bottom end, purposely created to fit the Brembo radial callipers.
The new S4R Testastretta is now available in two new colour schemes Titanium with central black stripe, and in the traditional Ducati red with central white stripe. Both colour versions have the red frame with the black painted swingarm, just like the new Showa front fork bottom end. A lot of the other components are black painted: the headlamp support, the steering plates, the risers, the footrests and the water cooler side covers.
The bike will be available in the early October. All 2007 Ducati models require less frequent service, less parts and labour during each service and, as a result, greatly reduced scheduled maintenance costs – by as much as 50%.
---
13 years and 169 World Championship Superbikes and MotoGP machines, as well as about 60 of the hottest Playboy Playmates, Penthouse Pets and swimsuit models on the planet....

Fast Dates Collector Writes From Down Under
G'Day, My name is Mark Kaim, and I have been a fan and collector of your Fast Dates calendars for a while now, 13 years to be precise. Hope you keep them coming. What I was wondering is if you have a loyalty or incentive program such as buy 13 calendars over 13 yrs and get the 14th for free. or perhaps free membership to your website, or both. If you have such a scheme or think you might start one, you can contact me on

Mark Kaim
Noble Park, Victoria
Australia
______
Hi Mark, Thanks for your letter and picture. It's nice to make the acquaintaince of one of our really dedicated fans and collectors of the Fast Dates Calendar! I know it's difficult at present finding the FastDates.com calendars in Australia at present, but they are available from our distributor Northern Accessories in nearby New Zealand.
As far as any reward for your dedication, I will have to place that on hold until you can complete your collection by going back to the first 1991 edition of the Fast Dates Racebike Pinup Calendar featuring Pamela Anderson with Miguel Duhamel's Big Poppa Yoshimura Suzuki on the cover. Past edition FastDates.com Calendars to complete your collection are available in our Collectors Corner
We will award anyone who has a complete collection of Fast Dates and can E-mail us a picture of them with all the front covers will receive a Free FastDates.com Members Corner Entry for 12 months valued at $19.95 per month!
Good luck! Jim Gianatsis, Producer
FastDates.com Calendars & Website
FastDates.com Screensavers
Candice and Andra with Brad Pitt's custom! Get up close and personal every day of the month with the hottest bikes and pinup models featured in the FastDates.com Calendars by joining our Monthly Screen Savers & Members Corner
New 2007
Fast Dates Racebike,
Iron & Lace Custom
& Garage Girls Calendars
Click to Order Now!



2007 SI Swimsuit 15-inch Wall Calendar w/poster


2007 Hot Rides Calendar
Aprilia Hires New Design Manager Miguel Galluzzi
Sep 21, 2006 - Italy's Piaggio Group has hired former Honda and Ducati designer, Miguel Galluzzi, as head of the Aprilia Style Center.
A graduate of the Pasadena Art Center's College of Design, Galluzzi began his career with two-wheelers in 1989 when he joined Honda as a motorcycle designer and was given the tasks of following the latest European style trends and working on a 600cc project.
In 1989, he teamed with the Cagiva Group and subsequently designed the Ducati Monster, 900 SS and 944 ST, the Cagiva Planet, Raptor and Xtra-Raptor, and all the Husqvarnas from 1997 on.
Galluzzi will report directly to Aprilia Brand Manager Leo Francesco Mercanti.
"The arrival of Miguel Galluzzi is an extremely important step in our development of different competences within Aprilia," Mercanti said. "Our strategy now is to achieve a more extensive and more aggressive coverage of the main segments of today's motorcycle market through a range of easily identifiable products, advanced technology and innovation, and unmistakable style."
"Joining the Aprilia team is going to be a great creative stimulus for me," Galluzzi said. "I was well aware that joining Aprilia meant joining a dynamic and high-tech company within the context of one of Italy's top industrial groupings. I'm convinced we can achieve great things together."
Steve Martin signs for WSB Team DFX for 2007
Steve Martin has signed for the DFX Treme team for the 2007 World Superbike season.
The Foggy PETRONAS Racing rider received a number of offers following two years of impressive displays on the PETRONAS FP1.
However, with the PETRONAS sponsorship finishing at the end of this season and with Carl Fogarty's outfit still closing in on new sponsorship opportunities, the experienced Australian felt compelled to secure a guaranteed ride for next season.
Steve said: "This has been an incredibly difficult decision for me to make because I have enjoyed every minute with the FPR team and, in an ideal world, I would have liked to have stayed with them for next season. But the future of Carl's team is still not clear and I had to make sure I did not miss out on a ride for next season as I still believe that I have a lot to prove and that I am capable of challenging for race wins on competitive machinery. I would like to thank Carl and everyone at the team, PETRONAS and all the fans for their support over the last two years at FPR."
Carl said: "Steve did not want to leave but he also knows that our future is still to be decided so I told him that he should take the ride. He has done a fantastic job for our team and has shown himself to be a real all-rounder, with commitment to racing, qualifying, testing and development of the bike. We all wish him the best of luck for the future."
Riding the 900cc PETRONAS FP1 triple against a field of 1000cc machinery, Steve achieved four front row positions during his time with FPR. He rejoins the DFX team after four years with them prior to joining FPR. He will join forces with rising Italian star Michel Fabrizio riding Honda machines.
Steve and team-mate Craig Jones complete the 2006 season at Imola and Magny-Cours in October.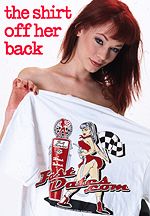 ---
Texas Tea Anyone?
Check it Out!
Our World Superbike Fast Dates Kitten and Miss Texas Rockin' Robin Cunningham has a new Website, 2007 Calendar
and Radio Show!!!
Photo Highlights from
Brands Hatch 2006
staring the Fast Dates Calendar Kittens
The Complete Story Here
So cute and oh so deadly, the Calendar Kittens on Friday afternoon before or annual Fast Dates calendar shoot.
Read the complete story HERE
Camilla and Katie in their Team Ducati uniforms on Sunday in from of the Pit Garage.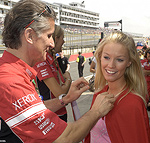 Paolo Ciabatti adjusts Katie's Supergirl cape as they head out to the starting grid for the Superbike race.
Katie on the starting grid with Troy Bayliss and his wife Kim, Paolo.
The very popular andlegendary 43-year young Franki Chili waves "good bye" to the fans during a parade lap to honor his final race at Brands Hatch.
Camilla helps keep Lorenzo Lanzi cool in the shade just before the start of Race One.
---
Notes and Comments from Motegi MotoGP
The Constructors' Championship is now Honda's. The factory has amassed 319 points to Yamaha's 262, with Ducati third on 218 points. Repsol Honda has won the Teams' prize with 438 points to Camel Yamaha's 328, with Ducati again third on 307.
Marco Melandi, 3rd place said, "It's nice to be on the podium at Honda's home race and I'm happy to have given them the Constructors' title. Today the pace set by Loris was extremely fast but the balance of my bike was also good and the tyres worked really well. After a tough warm-up, when we struggled a little to get the right feeling with a harder rear tyre, I went for slightly softer rubber for the race. At the start I felt I had the pace to lead the race because the feeling with the bike and tyres was perfect. Then when the tyres started to go off I first took some risks to maintain my position but then I decided not to take any further risks and to bring it home in third place."
Nicky Hayden, 5th place said, "Well that's another fifth place which isn't great obviously. Lap one was pretty wild and luckily in the first couple of corners I made up a lot of positions because my start was a bit of a disaster – that was the worst part of the race for me. Luckily that first lap turned out as good as it did because otherwise the result could have been much worse. I tried to come through the pack but it's hard – you're coming past fast guys and in this class it's really tough. Luckily we've got a couple of days here to test now."
Toni Elias (Fortuna Honda RC211V), who was sixth, said, "I'm happy with sixth place, even though I was hoping for better. I started well and tried to go with the leading group but it wasn't possible because they had a pace that was a couple of tenths quicker than I was capable of. I got involved in the second group with Gibernau, Hayden and Nakano, focused on my rhythm and pushed as hard as I could, even though I was missing a little rear traction. Now I am looking forward to Portugal because we have taken another step forward here."
Dani Pedrosa (Repsol Honda RC211V) finished seventh, and said, "My race didn't go well at the beginning. In the first left-hander Elias made a mistake, I was just behind and I couldn't avoid him so I went off track. Everybody passed me, I was near the back of the field and I was making mistakes trying to pass people. My race pace was quite good but the problem was we didn't manage to get this pace early in the practice sessions this weekend. I'm happy to have won the Rookie of the Year though because I got it in the 125cc and 250cc classes, so it's nice to get it also in MotoGP."
Colin Edwards (8th; +22.492)
"I got off the line pretty well but then (Dani) Pedrosa pushed me out a bit on the exit of turn one and I had to chop it. I lost speed and then about three people went by me so I was playing catch-up from then on. I had to spend some time getting past (Makoto) Tamada and (Randy) De Puniet but then I got my head down and just kept going in the same rhythm. I was doing good lap times, consistent with what we were doing all weekend, but it wasn't enough to make up for our grid position and the problems in turn one. About 15 laps in I hit a bit of a wall, couldn't hold the load on the rear tyre and started losing corner speed, so life was more difficult from then on. Of course I'm really disappointed; we had a plan but it was messed up by our starting position and turn one. On the bright side we were able to run the same good pace we ran all weekend for most of the race, but it seems a few others, my team-mate included, found a bit extra today and what we had just wasn't enough!"
Ninth-placed finisher Kenny Roberts (Roberts KR211V) said, "Felt great this morning. Seems like when I get out on my own and get in my own rhythm and I don't have to slam the brakes on or really accelerate hard, I'm OK. But when I've got to start doing that I start getting sucked in and it feels like I'm going to run into the back of people. And when I get on the gas at the same time I just spin, so it's like I keep a certain distance and then I'm OK. It's like I'm riding just too much corner speed. And we've been trying to fix that. That was obviously one of the things we were trying – to get more rear grip so I can avoid doing that."
"I'm really sorry for my home race result," said tenth-placed Makoto Tamada (Konica Minolta Honda RC211V). "I was competitive at the start and I made up some positions during the first lap. The feeling with my bike was better than yesterday but not sufficient to turn with the necessary pace to stay with the leading group. It's very sad for me to race like this but the worst thing is that I have not found the way to overcome this situation yet."
A dejected Stoner said, "For two laps from the start the bike felt OK, and I was up to fourth place after passing Gibernau. Unfortunately in the morning warm-up the team decided to put an extra turn of preload on the front and it was fine with a full load of fuel. But as the fuel went down I had no feeling at the front, the rear was lifting under the brakes and I was running wide. I'm disappointed, because since free practice 3, we had the perfect set-up and we didn't need to change anything. I wasn't happy with the race, I should have been able to run low 1'47s, and I really have no explanation for the crash, I don't know what I did wrong."
KAWASAKI STILL POSITIVE AFTER DIFFICULT MOTEGI RACE
The curse of Motegi struck again for the Kawasaki Racing Team today as, for the second year in succession, all three Kawasaki riders failed to finish in this afternoon's Japanese Grand Prix.
But, despite the obvious disappointment of the final results, both Shinya Nakano and Randy de Puniet showed the potential of Kawasaki's latest Ninja ZX-RR, fighting for top ten positions before crashes brought their Japanese Grand Prix weekend to a premature close.
Nakano was quick away from the line, slotting in behind the leading group of riders and matching their pace during the opening laps of the race. As the leading trio managed to pull out a gap at the front of the race, Nakano was quick to pass Casey Stoner, who crashed out of the race shortly afterwards, and started to close on Sete Gibernau in fourth place.
The 28-year-old Kawasaki rider waited until the final lap before trying a pass on Gibernau, diving up the inside of the Spaniard at the end of the back straight. Nakano got into the turn a little too hot, and was left with no option but to pick his bike up mid-corner, as Gibernau cut across his front wheel to firmly close the door.
Nakano's front tyre touched Gibernau's rear wheel as he attempted to recover, launching the Kawasaki pilot over the top of his Ninja ZX-RR and out of the race.
Randy de Puniet's crew were forced to change the engine on his Ninja ZX-RR after this morning's 20-minute warm-up session, and the 25-year-old Frenchman noticed an immediate difference on the opening lap of the race.
The more aggressive power delivery of the replacement engine caused his rear Bridgestone to spin up out of the turns, forcing the Kawasaki pilot to ride more on the front tyre, with predictable results. De Puniet lost the front of his Ninja ZX-RR and crashed out of the race on lap nine, while fighting for ninth place with Colin Edwards and Makoto Tamada.
Kawasaki's wild card rider, Naoki Matsudo, was also forced to retire from the race on lap nine, after a mechanical failure on his Ninja ZX-RR left him with no other option but to return to the pits.
Despite the disappointment of the Motegi weekend, the Kawasaki Racing Team are confident that the latest specification Ninja ZX-RR is capable of allowing Shinya Nakano and Randy de Puniet to end the season on a high, with strong performances in the final two races at Estoril and Valencia.