Corser's wheelie big show in practice on the Alstare Corona Suzuki GSXR1000R on his way to secure the crown.
SBK World Superbike Championship, Imola Round 11 of 12

Vermeulen Edges Out Corser in Race One
Rained Out Second Race at Imola Awards Troy Corser his 2nd SBK World Superbike Championship, Suzuki's 1st

Report by Andy Rixon, Kel Edge, Julian Thomas and Friends

Imola Italy , Sept 30, Oct 1-2nd - Imola (Italy): Troy Corser on the Team Alstare Corona Suzuki GSXR1000R has awarded the 2005 World Superbike Rider's Championship after the second Superbike race at Imola was abandoned due to heavy rains and flooding on the track. With a 55 point lead in the Championship over nearest rival Chris Vermeulen, and with only 50 points up for grabs at the next and final round at Magney-Cours, the battle for the 2005 SBK title was over. This marks Corser 2nd World Superbike title, his first having come with Ducati back in 1996, and the first World Superbike Rider and Manufacturer title for a Suzuki rider. Troy was also previously the AMA National Superbike Champion in 1994 and 1995 on Fast by Ferracci Ducati bikes.
The weather conditions at Imola had gotten worse as the day went on after Race One where Chris Vermeulen on the Ten Kate Honda narrowly beat out Corser at the flag for the win after an exciting race long battle. The following Supersport race had to be stopped when it started raining, and restarted as a Wet Race as the rain kept coming down. For Superbike Race Two the riders were able to see the conditions first hand as they took to the grid. It was obvious that the conditions were too dangerous, particularly with standing water which was inches deep in some places.
Corser and other leading riders all stopped their bikes on the grid and after a brief discussion amongst themselves, and with various team managers, they signaled their decision to stop the race to the SBK Race and Track Directors. The safety car was deployed to check the track and it was clear that the conditions were too dangerous. Even Chris Vermeulen, who knew that if the race was abandoned his championship hopes were blown, made it clear that it shouldn't take place.
After a delay of just over 30 minutes, and another inspection by the saftey car, race direction signalled that the race had been abandoned which means that Corser is the new champion. There is no doubt that Troy would have liked to win the championship on the track but at the end of the day his performance throughout the year has got him to where he is and he is a thoughly deserving champion.
Next weekend sees the final round at Magny-Cours in France, lets hope the weather stays fine and we can finish the season with two great races. All the action will be here at FastDates.com as it happens. Congratulations from everyone here at FastDates.com to Troy and the team.
Troy on the starting grid with wife Sam (left) and Miss Graet Britain Nicki Lane (right), former and current Fast Dates Calendar models.

Superbike Season Nears Conclusion at Imola - the Ultimate Circuit
Coming into being in the mid-fifties, Imola is a classic circuit of classical proportions, and this year it hosts the penultimate round of the 2005 World Superbike Championship. The final event takes place at Magny Cours in France, one weekend hence, lending Imola an additional air of urgency and drama. The 4.933 km circuit features frequent changes in elevation, high speed and ultra-slow sections, and an outstanding atmosphere – partly due to its city centre location and vociferous Italian crowd.
Will Troy Corser Go for the Win? After a disappointing recent race weekend at Lausitzring, including his first race crash and subsequent off podium finish of the entire year, Troy Corser (Alstare Corona Extra Suzuki), dropped more points to his closest rival Chris Vermeulen (Winston Ten Kate Honda). He nonetheless still enjoys a 60-point buffer, with a maximum of 100 points left to be gained by any single rider who wins the last four races. Vermeulen, winner of three of the last four, is very much the rider to watch in terms of individual race wins, but safe points scoring finishes will still be enough for Corser to take his second World Championship, following on from his 1996 crown.
Ducati plans to attack viciously with a 3 rider lineup. Ducati Xerox rider Regis Laconi has now recovered sufficiently to reclaim his factory ride for the last two races on the calendar, after a nasty elbow injury that ruled him out of the Assen and Lausitz contests. His replacement at Lausitz, Lorenzo Lanzi, scored a superb win in the second race of the day, but now returns to ride for his regular outfit, the SC Caracchi Ducati team, but will now be on a full factory 999F05 like he won on in Germany. Laconi is one of the most successful Imola riders of the modern era, winning his first ever World Superbike race at this venue when riding for Aprilia in 2001. World Champion in 2004, James Toseland also has some good Imola memories from the recent past, as he goes to after third place in the championship.
Noriyuki Haga (Yamaha Motor Italia) has been on outstanding form since his season ignited at Brno in mid July, and since his win in race two at the Czech circuit, he has taken a further victory and no finish less than third. His run of seven straight podiums has pushed him into a clear third over Toseland, with his battling team-mate Andrew Pitt (Yamaha Motor Italia) now up to seventh, but still looking for SBK podium number one. Norick Abe (Yamaha Motor France) lies 12th in the series, his team-mate Sebastien Gimbert 16th.
Yukio Kagayama (Alstare Corona Extra Suzuki) has been a proven race winner in his rookie SBK season and as his top five finishes at Lausitz demonstrated, he is approaching podium form once more. Karl Muggeridge (Winston Ten Kate Honda) is one SBK rookie looking for his first podium finish of the year, while regulars Chris Walker (PSG-1 Kawasaki) and Mauro Sanchini will be returning to the fray for the Italian-based PSG-1 team.
Max Neukirchner (Klaffi Honda) is aiming to return to podium form before the season ends, and as yet his team-mate Pierfrancesco Chili (Klaffi Honda) has not been able to project himself into the leading three positions. In front of a home crowd, however, Chili may find an irresistible inspiration in his quest to join the elite once more. Ben Bostrom (Renegade Honda Koji) has prior knowledge of Imola, a valuable commodity at this most difficult of circuits.
Steve Martin and Garry McCoy (Petronas FP-1), have battled strongly all season on their 900cc machines, and with some points scoring results mixed in with occasional disappointment, each rider knows that Imola offers the chance of more tangible rewards. The FP-1s will be joined at Imola by more exotic and unique machinery, as Michele Gallina and Andrea Mazzali bring their MV Agusta F4s to the biggest Superbike stage of all.
Corser, Vermeulen and Lanzi Quickest in Friday Practice
Friday Practice: In an exciting Friday first qualifying session at Imola, title contenders Troy Corser (Suzuki) and Chris Vermeulen (Honda) were the only riders to dip under 1m50s and they were followed by Lausitz winner Lorenzo Lanzi (Ducati SC Caracchi) who is running a third factory Ducati 999F05 bike with additional Xerox logos. In a susprising turn of events Steve Martin on the FP1 Petronas was 4th quickest, well ahead of Ducati's factory team riders.
Toseland, on good form throughout the session, was on course for a top 3 time when he lost the front of his Ducati 999F05 on the entry into the Variante Bassa five minutes before the end and crashed. A visit to the Clinica Mobile revealed a slightly swollen right hand but no broken bones.
"The session was going really well, we tried something new with the front fork that seemed to work" explained Toseland. "I put the qualifier in and was confident of getting in the top 3 positions. I did a good lap then went into the last chicane. I was pushing hard, I felt it go, go, go, then caught it but it just kept on going. There were ten yards to the line and the bike nearly set third fastest time on its own! I was sliding along the floor and Chili was right behind so I tried to get up but didn't realise I was still rolling along at 50 mph! I just tripped up, bumped my head, slapped my hand on the floor and bent my fingers back. I still have to work on the acceleration into the second Rivazza left but generally the bike feels good all around the circuit".
Règis Laconi returned to the track for the first time since damaging the tendons in his right arm one month ago at Assen but appeared to show few ill-effects as he eased his way back into the action, ending up tenth quickest.
"I feel pretty good and I'm just pleased to be back on the track after a month's inactivity" commented Laconi. "With my arm I'm not riding the way I usually do, I try to compensate with the rest of my body, but all things considered things are not that bad. We worked calmly today, I wanted to try a different tyre but so far we haven't seen much of a positive result. I only did 14 laps because we changed a lot of things. I'm losing a bit of time in the final part of the circuit so we have some work to do to improve in that sector. But I'm pretty happy overall".
FRIDAY PRACTICE TIMES: 1. Corser (Suzuki) 1m49.161s; 2. Vermeulen (Honda) 1m49.280s; 3. Lanzi (Ducati SC) 1m50.007s; 4. Martin (Petronas) 1m50.028s; 5. Chili (Honda) 1m50.029s; 6. Kagayama (Suzuki) 1m50.126s; 7. Pitt (Yamaha) 1m50.142s; 8. Toseland (Ducati Xerox) 1m50.487s; 9. Muggeridge (Honda) 1m50.537s; 10. Laconi (Ducati Xerox) 1m50.560s.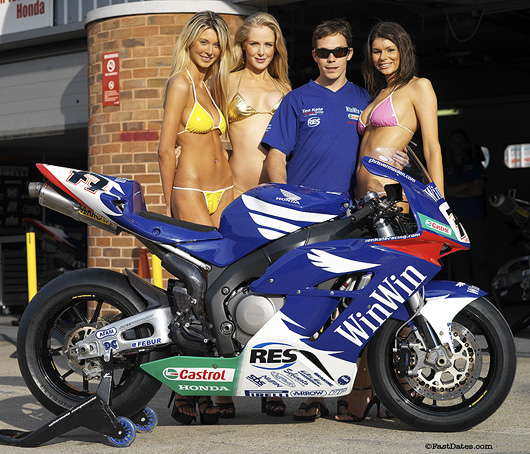 With a Fast Dates Calendar Angel or three in his pocket, Chris dominated Saturday Super Pole.
Vermeulen Snares Superpole, Corser Cautious After a Spill
Saturday: Chris Vermeulen on the Ten Kate Honda CBR1000RR handily secured Super Pole today, nearly half a second quicker than his closest rivals for tomorrow's eleventh and penultimate round of the World Superbike Championship at Imola's Enzo & Dino Ferrari Circuit. Ducati Xerox Team riders Régis Laconi and James Toseland were sandwiched around series poitns leader Troy Corser for the other three spots on the front row of the grid.
A small crash in the afternoon untimed qualifying today was just enough to make Team Alstare Suzuki Corona Extra rider Corser Troy start his Superpole lap a bit cautiously. He was down on time in the first split and that probably cost him the Superpole win. But he is on the front row and well-placed to contest the lead right from the start of tomorrow's pair of 21-lap races.

"In the afternoon untimed session we did a simulated race distance and I was pretty happy with my lap times on race rubber, explained Troy. "Right at the end of the session I slipped off going into turn one and that affected my approach to that turn when I did my Superpole lap. Obviously the crash was in the back of my mind and so my first split suffered. I think my second and third splits were pretty much the same as Chris Vermeulen, so if I could've done a better first split, I would've been on pole. But, the front row is good enough and the four of us and any on row two are in with a chance. I don't think anybody is going to make a real break, so it looks like it's going to be two long, hard races."
Laconi was half-a-second off the record pace set by poleman Chris Vermeulen (Honda), but the Frenchman clinched the second slot on the grid ahead of championship leader Troy Corser (Suzuki), while James Toseland was just a fraction slower in fourth place with a time of 1m48.867s. Lorenzo Lanzi, riding for the Ducati SC team but carrying extra Xerox logos on the bike's front and side fairings, completed an excellent day for the factory F05 machines around Imola with fifth place on the grid for tomorrow's two races.
STARTING-GRID: 1. Vermeulen (Honda) 1m48.075s; 2. Laconi (Ducati Xerox) 1m48.506s; 3. Corser (Suzuki) 1m48.649s; 4. Toseland (Ducati Xerox) 1m48.867s; 5. Lanzi (Ducati SC) 1m48.923s; 6. Haga (Yamaha) 1m49.094s; 7. Kagayama (Suzuki) 1m49.271s; 8. Bostrom (Honda) 1m49.300; 9. Pitt (Yamaha) 1m49.601s; 10. Muggeridge (Honda) 1m49.845s.
TV COVERAGE: Eurosport (Europe) - Sunday 2 October, 1200 Race 1 (live), 0030 Race 2 (delayed). Eurosport 2 (Europe) - Sunday 2 October, 1530 Race 2 (live). La7 (Italy) - Saturday 1 October, 1700 Superpole (delayed); Sunday 2 October, 1150 Race 1 (live), 1700 Race 2 (delayed).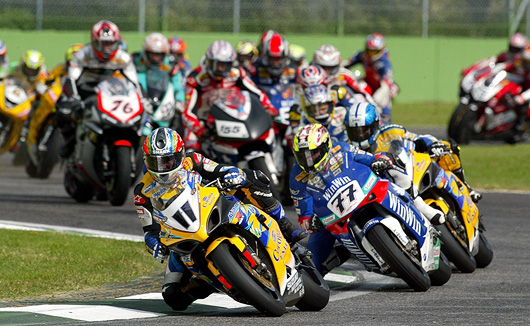 Race One was a Corser (11) and Vermeulen (77) fight right from the start.

Race One: Vermeulen on Top in a Race Long Battle in the Wet with Corser
Sunday, Race One: In a race that saw many riders crash out in the damp conditions Vermeulen and Corser put on a titanic battle and showed why they are currently battling for the championship. Chris Vermeulen took the win in race one after a massive battle with Troy Corser whish lasted from the start to the finish. In treacherous conditions, the track was damp after torrential rain this morning, the Ten Kate Hondarider fought with everything he had to hold off Corser.
Corser took the lead from the start but was passed on the first lap by Vermeulen. After seven laps the two lead riders had pulled out a big lead over the chasing pack. Corser managed to get past on the eighth lap but
couldn't get away from the Honda rider. On lap 13 Vermeulen threw his Fireblade underneath Corser and from there on he managed to hold off Corsers challenge. At the final corner it looked like Corser would manage to get up the inside of Vermeulen but he just couldn't manage it and Vermeulen took the win closing the gap to Corser in the championship to 55 points with a total of 75 available.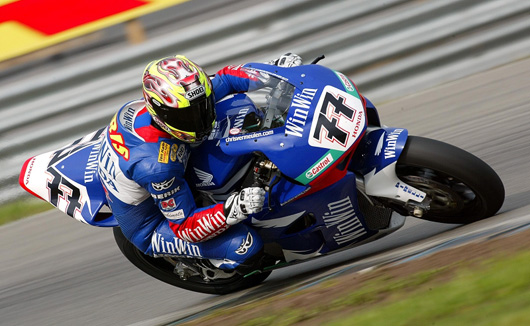 The battle for third place had been just as intense with at times five riders in the fray, Chris Walker, James Toseland, Nori Haga, Yukio Kagayama and Andrew Pitt. Chris Walker ran wide and rejoined further down the pack, Pitt crashed but managed to rejoin and Kagayama crashed out on lap 5. The fight came down to James Toseland and Nori Haga. Both riders were giving it everything they had and on lap 16 the pressure was too much for Toseland and he ran wide allowing Haga through. Toseland managed to keep his Ducati upright and rejoined in fourth where he finished. Haga continued to push to try and catch the leaders but in the final few laps he dropped off the pace a little and crossed the line to take the final podium position.
Steve Martin gave the Foggy Petronas team something to smile about bringing his machine home in fifth place after a determined ride that saw him get his best result of the season. He managed to get past Chris Walker, who had rejoined after running wide, in the final couple of laps. Walker should be happy with sixth place as he's riding with an arm that was broken in two places during the previous round.
Much was hoped of Lorenzo Lanzi but the talented Italian back with his normal team, albeit on a full factory machine, couldn't seem to get to grips with the conditions. Dropping back to 12th at the start, Lanzi had his work cut out if he was to catch the front runners. Unfortunately the conditions got the better of him and he crashed out on the seventh lap.
Regis Laconi had a brave ride to finish in ninth place. The Ducati rider has returned after missing the last round at Lausitzring but his injuries are still causing him problems, particularly his tricep injury which limits the
amount of muscling around he can do.
Another rider to have a brave ride was Ben Bostrom. Ben had a huge highside at the British Superbike round at Silverstone and was thought to be gettingover his injuries however a scan this week has revealed that he has a cracked vertebrae. His 13th place and qualifying performance show a determined attitude and hopefully he'll be fully fit soon.
SUPERBIKE Race 1: (Laps 21 = 103,593 Km)
Pos /Rider /Nat. /Team / Time /Gap
1 / VERMEULEN / AUS / Winston Ten Kate Honda / 39'35.789 /
2 / CORSER / AUS / Alstare Suzuki Corona Extra / 39'36.086 / 0.297
3 / HAGA / JPN / Yamaha Motor Italia WSB / 39'44.102 / 8.313
4 / TOSELAND / GBR / Ducati Xerox / 39'51.128 / 15.339
5 / MARTIN / AUS / Foggy Petronas Racing / 40'25.427 / 49.638
6 / WALKER / GBR / PSG-1 Kawasaki Corse / 40'25.861 / 50.072
7 / NEUKIRCHNER / GER / Klaffi Honda / 40'27.964 / 52.175
8 / GIMBERT / FRA / Yamaha Motor France-Ipone / 40'28.170 / 52.381
9 / LACONI / FRA / Ducati Xerox / 40'33.623 / 57.834
10 / VIZZIELLO / ITA / Italia Lorenzini by Leoni / 40'41.516 / 1'05.727
11 / BUSSEI / ITA / Kawasaki Bertocchi / 40'44.121 / 1'08.332
12 / SANCHINI / ITA / PSG-1 Kawasaki Corse / 40'46.078 / 1'10.289
13 / BOSTROM / USA / Renegade Koji / 40'46.575 / 1'10.786
14 / BORCIANI / ITA / DFXtreme Sterilgarda / 41'03.694 / 1'27.905
15 / KAGAYAMA / JPN / Alstare Suzuki Corona Extra / 41'09.229 / 1'33.440
Fastest Lap 20° Troy Corser 1'50.632 160,521 Km/h
1 / VERMEULEN / AUS / Winston Ten Kate Honda / 39'35.789 /
2 / CORSER / AUS / Alstare Suzuki Corona Extra / 39'36.086 / 0.297
3 / HAGA / JPN / Yamaha Motor Italia WSB / 39'44.102 / 8.313
4 / TOSELAND / GBR / Ducati Xerox / 39'51.128 / 15.339
5 / MARTIN / AUS / Foggy Petronas Racing / 40'25.427 / 49.638
6 / WALKER / GBR / PSG-1 Kawasaki Corse / 40'25.861 / 50.072
7 / NEUKIRCHNER / GER / Klaffi Honda / 40'27.964 / 52.175
8 / GIMBERT / FRA / Yamaha Motor France-Ipone / 40'28.170 / 52.381
9 / LACONI / FRA / Ducati Xerox / 40'33.623 / 57.834
10 / VIZZIELLO / ITA / Italia Lorenzini by Leoni / 40'41.516 / 1'05.727
11 / BUSSEI / ITA / Kawasaki Bertocchi / 40'44.121 / 1'08.332
12 / SANCHINI / ITA / PSG-1 Kawasaki Corse / 40'46.078 / 1'10.289
13 / BOSTROM / USA / Renegade Koji / 40'46.575 / 1'10.786
14 / BORCIANI / ITA / DFXtreme Sterilgarda / 41'03.694 / 1'27.905
15 / KAGAYAMA / JPN / Alstare Suzuki Corona Extra / 41'09.229 / 1'33.440
Fastest Lap 20° Troy Corser 1'50.632 160,521 Km/h

Race Two, Rain Awards the 2005 Championships to Corser
The start of race two was delayed, and the near 80.000 spectators were looking at the sky asking for a break, but there was to be no break. After the warm up lap riders interrupted the starting procedure, saying that weather conditions were so bad that it was impossible to go on with the race. A difficult situation for a potentially title deciding race.
The track in some points could not drain the deluge of water that was still falling relentlessly, creating puddles of 7-8 cm in some corners. Riders almost unanimously asked not to race, mostly because the visibility was so that it was impossible to see while following another rider. In the case of a crash, it would be impossible to avoid a fallen opponent.
Even Vermeulen, who was in the position of needing a victory and nothing less to maintain his championship challenge, agreed not to race until things improved. They were not to improve. After a sighting lap Race Direction decided the race would be cancelled, and Corser could wear the champion's T-shirt that the team prepared in time for Lausitz. The celebrations were carried out in a subdued tone, as Troy declared that it was not the way he wanted his title to be awarded, and the appointment book is now ready for the Magny Cours finale next week, during which he will receive the great trophy.
Current Superbike Championship standings:
| | | | | |
| --- | --- | --- | --- | --- |
| | Rider | Bike | Team | Points |
| 1 | Corser | Suzuki GSXR | Alstare Suzuki | 409 |
| 2 | Vermeulen | Honda CBR 1000 RR | Winston Ten Kate | 354 |
| 3 | Haga | Yamaha YZF R1 | Yamaha Motor Italia | 255 |
| 4 | Toseland | Ducati 999 F05 | Ducati Xerox | 228 |
| 5 | Laconi | Ducati 999 F05 | Ducati Xerox | 221 |
| 6 | Kagayama | Suzuki GSXR | Alstare Suzuki | 212 |
| 7 | Walker | Kawasaki ZX10 | PSG-1 Kawasaki Corse | 140 |
| 8 | Pitt | Yamaha YZF R1 | Yamaha Motor Italia | 137 |
| 9 | Chili | Honda CBR 1000 RR | Klaffi Honda | 125 |
| 10 | Lanzi | Ducati 999RS | Ducati SC Caracchi | 118 |
An interesting and thrilling weekend for Supersport also came to pass at Imola.
Team Ten Kate, already confirmed as World Champions, saw both its riders out after practice falls: first Fujiwara on Friday morning, than Charpentier on Saturday, during the first lap of the second qualifying session. In the previous one he had completed only seven laps, enough to set the best time of 1'51.788 (less than two tents from the record of Karl Muggeridge). It was a time that none could repeat. Once more the weather played a decisive role, so the race was interrupted and aggregated, with one contest of 13 laps and a restart of eight.
The winner on time and on the road in race two proved to be Gianluca Nannelli, who took his first victory in the World Championship, after beating Curtain and Corradi.
Supersport Race results:
| | | | | |
| --- | --- | --- | --- | --- |
| | Rider | Bike | Team | Race time |
| 1 | Nannelli | Ducati 749R | Ducati SC Caracchi | 42'55.695 |
| 2 | Curtain | Yamaha YZF R6 | Yamaha Motor Germany | +2.452 |
| 3 | Corradi | Ducati 749R | Ducati Selmat | +4.201 |
| 4 | Fabrizio | Honda CBR 600RR | Team Megabike | +7.965 |
| 5 | Parkes | Yamaha YZF R6 | Yamaha Motor Germany | +10.506 |
---

7-Time World Champion Rossii ahead of Giberneau (15) and team mate Edwards (5).

MotoGP World Championship, Qatar Round 14 of 17

Rossi Takes Revenge at Dohar with 10th Victory of the Season
Dohar, Qatar, Sept 29-30, Oct 1st-Valentino Rossi added the Losail International Circuit to his long list of Grand Prix conquests today as he banished the memory of his crash here last season with his tenth victory of the season in the Marlboro Grand Prix of Qatar. Rossi passed Marco Melandri with three laps remaining, just two laps after Sete Gibernau had buckled under pressure from his Honda team-mate and run straight into the gravel. The Italian pair rubbed elbows in an intense battle over the last fifteen kilometres of the race, with Melandri making a desperate surge just three corners from the end but running out of track on the exit of the turn and conceding victory to his compatriot.
"What a race!" said Rossi, who has now won at every circuit on the Grand Prix calendar except Laguna Seca and Istanbul, which will host the series for the first time in three weeks. "For me that was the best of the season, it was so much fun. I had bad memories from this circuit from last year so I really wanted to win and after practice yesterday I knew it was not impossible. I have to thank my whole team because my bike was very fast over the final few laps, which it needed to be because Marco Melandri was very strong and we had a great battle. He tried to pass me on the last lap but I was able to hold on and win."

Rossi Returns to top Form at Qatar
Thursday Practice - Valentino Rossi arrived in Doha last night after spending three days celebrating his latest MotoGP World Championship title in his native Italy but showed no signs of a hangover as he bounced back to the top of the time sheets on the opening day of free practice for the Marlboro Grand Prix of Qatar today. In ambient temperatures of 37ºC the Italian left it until his final lap to clock the fastest time of 1'58.714, inside Carlos Checa's pole record from last season and 0.146 seconds quicker than the day's surprise package Toni Elías, who briefly occupied top spot with a record lap of his own until Rossi's late charge.
"For sure myself and the whole team are more relaxed now that we have won the World Championship," said Rossi, who was one of a number of riders to run off track and into the gravel trap as they searched for their bearings at a circuit used for the first time last season. "We have had a lot of problems for the past two races. It has been difficult and we have never found a good setting for the bike but here in the afternoon we found a good way. The track conditions are better than they were last season – they're still not 100% but compared to the first practice last year there is much more grip. As long as there is no wind or rain overnight it should improve a lot more by Saturday."
Nicky Hayden had dominated for much of the session, showing good consistency aboard the Honda before the late push for times. The American eventually set the third fastest time ahead of Ducati riders Loris Capirossi, who is looking for a hat-trick of victories after consecutive wins at Motegi and Sepang, and Carlos Checa. Last year's race winner Sete Gibernau was second quickest in the morning free practice behind Hayden but could only manage the twelfth fastest time in the afternoon.
Olivier Jacque did not take part in this afternoon's session after injuring himself in a crash during the morning. The Frenchman was taken to hospital after hurting his back and his participation in the rest of the event is currently unclear. Alex Barros also crashed in the morning although the Brazilian escaped unhurt.
Jorge Lorenzo made a stylish return from suspension by setting provisional pole position for the 250cc race with a time of 2'03.727. Lorenzo, who was given a one-race ban for his part in a last-lap collision with Alex de Angelis at Motegi two weeks ago, seemed to have benefited from the extra rest as he lapped 0.178 seconds quicker than current series leader Dani Pedrosa. Last year's winner Sebastián Porto and Alex de Angelis complete the provisional front row whilst Casey Stoner, who trails Pedrosa by 38 points in the championship, was fifth fastest in the afternoon after setting the pace in morning free practice.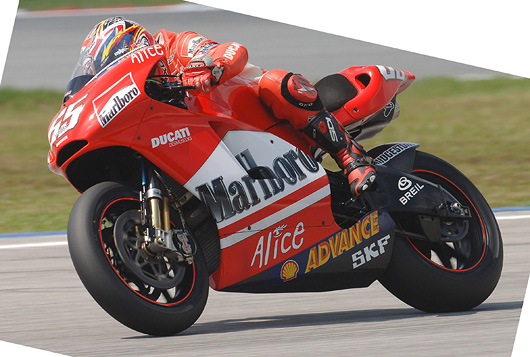 Ducati's Capirossi on top of the world again....
Capirossi seals third straight pole in Qatar
Friday Qualifying - Loris Capirossi took his third pole position in as many weeks with a scintillating series of laps at the end of today's qualifying session for the Marlboro Grand Prix of Qatar. After starting from the front of the grid and going on to win the race at both Motegi and Sepang, the Ducati rider is on course for an incredible hat-trick at the fourteenth round of the season, where he will be joined on the front row by Sete Gibernau and Valentino Rossi.
"This is a difficult track for us but we made quite a good job during the practice," said Capirossi, who's time of 1'56.917 was more than two seconds quicker than last year's pole time, set by his current team-mate Carlos Checa. "We tested a lot of rear tyres and found the best solution for the front one, but for the race it will be very difficult. For sure, 21 laps in these conditions will be tough for everybody but we will see in the morning. I am very happy with this pole position, especially because it's not so easy to overtake at this track."
Gibernau, the winner of last year's inaugural race at the Losail International Circuit, ended the session just 0.077 seconds adrift of the Italian and was the only serious challenger for pole, with recently-crowned World Champion Rossi a further 0.366 seconds back. Colin Edwards, who finished second to Gibernau last season, had held on for top spot for lengthy spells during the session but eventually dropped back to fourth place in the late push for times on qualifying tyres.
Edwards is joined on the second row of the grid by Marco Melandri, who set the quickest time in the morning free practice session despite still riding with 35 stitches in the foot injury he sustained in a crash with Rossi at Motegi less than two weeks ago. Carlos Checa snatched the final second row spot from Shinya Nakano on the factory Kawasaki with a quick final lap that saw the Japanese rider relegated to seventh place.

Above: Marco Melandri fought hard for the lead with Rossi.

Rossi's 10th Victory of the Season
Saturday Race Day -Just six days after lifting the MotoGP title with Valentino Rossi in Malaysia, the Gauloises Yamaha Team were celebrating again today as Valentino Rossi's record-breaking tenth victory of the season secured the Teams' World Championship at the Qatar Grand Prix. Rossi became the first Yamaha rider ever to take his win total for a single season into double figures after an exhilarating last-lap battle with Marco Melandri (Honda), whilst his team-mate Colin Edwards boosted the team's points tally to unbeatable status with a determined ride to fourth place.
Rossi's 79th victory of his career came after 22 dramatic laps of the Losail International Circuit, with Loris Capirossi (Ducati) taking an early lead from pole position before Sete Gibernau (Honda) took over. The Spaniard had built up a solid advantage by the halfway stage but he was eventually reeled in by the chasing pack and made a critical error with five laps remaining, running into the gravel when trying to repel an attack from Melandri. With Nicky Hayden (Honda) in close attendance, Rossi closed in on Melandri and the two Italians went head to head in a gripping finale, Rossi taking the lead with three laps remaining and holding off one last attempt from Melandri just two corners from the end to secure victory. With the riders' and teams' titles now in the bag, Yamaha needs to be just 50 points clear after Phillip Island to clinch the Manufactures' Championship.
"What a race!" said Rossi, who has now won at every circuit on the Grand Prix calendar except Laguna Seca and Istanbul, which will host the series for the first time in three weeks. "For me that was the best of the season, it was so much fun. I had bad memories from this circuit from last year so I really wanted to win and after practice yesterday I knew it was not impossible. I have to thank my whole team because my bike was very fast over the final few laps, which it needed to be because Marco Melandri was very strong and we had a great battle. He tried to pass me on the last lap but I was able to hold on and win."
Nicky Hayden was the only other rider capable of following the intense pace at the front, the American youngster setting a new lap record of 1'57.903, faster than his time in qualifying, to seal the final podium position in third place. Colin Edwards was unable to repeat his podium finish from last season, bringing his YZR-M1 home in a distant fourth place but adding valuable points to Rossi's tally and securing the Teams' World Championship for Gauloises Yamaha.
Gibernau returned to the track to pick up his first points in over two months as he crossed the line in fifth place, with Carlos Checa taking sixth on a relatively disappointing day for Ducati. After taking his third consecutive pole position yesterday, Checa's team-mate Loris Capirossi was unable to follow up with a third straight win as he struggled to tenth place, despite leading in the early stages. Capirossi's problems, combined with a mechanical breakdown for Max Biaggi and those podium finishes for Melandri and Hayden, mean that just eleven points now separate five riders in the chase for the runner-up spot with three rounds remaining.
Dohar MotoGP RESULTS - Official RESULTS
1. Valentino Rossi (ITA) Gauloises Yamaha Team 43'33.759
2. Marco Melandri (ITA) Movistar Honda MotoGP +1.670
3. Nicky Hayden (USA) Repsol Honda Team +5.536
4. Colin Edwards (USA) Gauloises Yamaha +14.737
5. Sete Gibernau (SPA) Movistar Honda MotoGP +20.431
6. Carlos Checa (SPA) Ducati Marlboro Team +31.432
7. Shinya Nakano (JPN) Kawasaki Racing Team +32.983
8. Toni Elias (SPA) Fortuna Yamaha Team +39.888
9. Alex Barros (BRA) Camel Honda +41.792
10. Loris Capirossi (ITA) Ducati Marlboro Team +44.252

WORLD CHAMPIONSHIP STANDINGS
1. VALENTINO ROSSI (ITA) 306
2. Max Biaggi (ITA) 159
3. Marco Melandri (ITA) 157
4. COLIN EDWARDS (USA) 152
5. Nicky Hayden (USA) 150
6. Loris Capirossi (ITA) 148
7. Alex Barros (BRA) 129
8. Sete Gibernau (SPA) 126
9. Carlos Checa (SPA) 98
10. Shinya Nakano (JPN) 78
Casey Stoner takes 4th 250 GP Victory
Casey Stoner continued his quest to hunt down 250cc World Championship leader Dani Pedrosa with a convincing fourth victory of the season, his second in just six days. Pedrosa, who was leading by 63 points before his crash in Malaysia last weekend, could only manage fourth place today and has seen his advantage reduced to just 26 points, with Stoner's home race at Phillip Island in Australia next on the calendar. Jorge Lorenzo marked his return to action from a one-race ban with a second-place finish from pole position, whilst Andrea Dovizioso stole the final podium spot with a draught pass on Pedrosa at the line.
---



2006 BMW F 800 S
Pushing into the mid-range: The new BMW F 800 S twin-cylinder.

Munich, Sepr 29th 2005 - With its completely new mid-range sports bikes, BMW Motorrad is ringing in the next round of its model offensive. In the first half of 2006, the F 800 will be the fourth model series to come off the Berlin assembly lines and it is sure to stir up the middle class. The F 800 S is an 800-cc twin which offers lots of character, an excellent suspension and typical BMW properties.The athletic F 800 S sports bike has a dry weight of under 419 lbs. (approx. 441 lbs. ready-to-ride) and is the first model of the new and separate model series. The precise suspension is designed for high directional and cornering stability as well as optimum handling. The classic BMW qualities such as safety, compliance with the highest environmental standards, ergonomic seating position and comfort also for the passenger define the new standard in the mid-range bike. A closed-loop three-way catalytic converter, state-of-the-art digital engine electronics and optional ABS are also a matter of course for this motorcycle. More Details and pictures in Pit Lane News New Bikes HERE.
---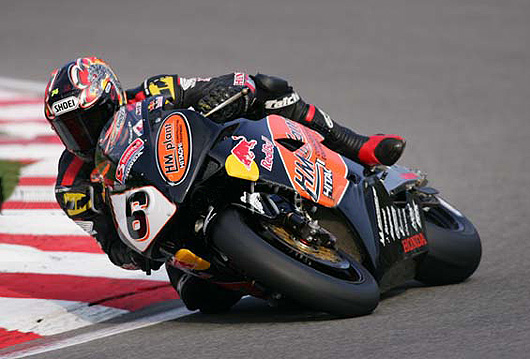 Gregorio Lavilla earlier this year in British Superbike on the HM Plant Ducati.

Gregorio Lavilla Leads British Superbike Championship
Joins Ducati Corse Shopping List for 2006
Oct 1st, Great Britain - Something of interest with the current rumours swirling around about who goes where. This weekend just gone saw the British Superbikes at Donington Park where Gregorio Lavilla took the double on the Airwaves Ducati (formerly the GSE WSB team). But who should be in the pits to watch and have lunch with the Spainish rider, none other than Ducati Corse Superbike team director Paolo Ciabatti & team mahnager Davide Tardozzi.
Lavilla has had a brilliant season and can wrap up the championship at Brands Hatch this month. Who knows where he'll be going next year? He did well in WSB 2 years ago on an underpowered 750 against the 1000cc bikes so who knows?
Ducati's shopping list certainly is full for next season with just 3 slots to fill, that of the official Ducati SBK Team in World Superbike, and a needed team mate for Neil Hodgson in AMA Superbike. Besides Lavilla, current SBK Ducati team members Regis Laconi and James Toseland remain unsigned, as is Lorenzo Lanzi whoDucati Corse's their hottest new prospecct after winning in Lausitzring 2 weeks ago. Plus former Ducati SBK stars Troy Bayliss and Ruben Xaus need to return to World Superbike where they are proven winners after their disappointing seasons away in MotoGP.
If we were to guess at it all, we'd think English speaking James Toseland would get set to America to join fellow Brit Neil Hodgson. Lavilla might be left in Great Britain to defend his pending BSB title on a more competive factory supported works 999F05. While in World Superbike we'd have Lorenzo Lanzi join Regis Laconi on the Corse factory team, and place Bayliss and Xaus on a factory support team like GSE or HM Plant with works bikes. Ducati Corse's final rider placments though, will wait for the results of the final two WSB and MotoGP rounds this month (only Capirossi has been resigned so far for Ducati's 2006 GP team).
---
Fast Dates Calendar Motorcycle Roadracing News. Complete coverage of the SBK World Superbike, AMA National Superbike and MotoGP World Championship. Superbike, sportbike, grand prix, MotoGP, race, racing, news, coverage, photos, pictures, Fast Dates Calendar and Umbrella Girls. Racing, road race, track, motorcycle, news, results, girls, models, Mat Aladdin, Max Biaggi, Valentino Rossi, Ben and Eric Bostrom, James Toseland, Regis Laconi, Loris Capirossi, Troy Bayliss, Troy Corser, Noriyuki Haga. Ducati 999 Monster Multistrada, Yamaha R6 R1, Honda CBR600RR CBR1000RR, Kawasaki ZX6 ZX6RR ZX10, Suzuki GSXR600 GSXR750 GSXR1000, Aprilia Mille, MZ Agusta F4 Brutale. Los Angeles Calendar Motorcycle Show.


Click to Order Now!
14 month 2006 Calendars
start November 1st 2005

Fast Dates World Superbike Girls
Chandi, Andra and Taylor in
Iron & Lace, Garage Girls


2006 FastDates.com Calendars World Premier
at Brands Hatch
World Superbike England
Complete Coverage Here
Ducati Xerox Team Ready for Home Race in Italy
Laconi and Toseland Battle for Third in Championship
Lonzi Earns a Factory Bike
Imola (Italy), Thursday 29 September: Following the German Round at the Eurospeedway, the Ducati Xerox Team will return to its regular line-up for this weekend's upcoming eleventh round of the World Superbike Championship at Imola. Régis Laconi takes his place alongside James Toseland after recovering from the arm injury he suffered at Assen. .
Ducati's home event (the Enzo & Dino Ferrari circuit is just half-an-hour down the motorway from the factory in Bologna) marks the penultimate round of this year's championship. Even though the title appears to be in the hands of Troy Corser (Suzuki), with Chris Vermeulen (Honda) still in with a chance, both Toseland and Laconi will be aiming for third place in the championship to finish the season on a high note.
Three weeks ago Laconi was replaced for the German Round by Lorenzo Lanzi, who went on to take pole and score a sensational victory at the Eurospeedway. Lanzi now returns to his usual team, Stefano Caracchi's SC Ducati, but for the final two rounds of this year's championship the 23-year-old Italian will have at his disposal a full-factory 999F05, which he will race in SC colours with additional Xerox logos on the side and front fairings.
Ducati Corse Superbike technical director Ernesto Marinelli illustrates the characteristics of the Imola track, a circuit where twin-cylinder machines have always dominated in the four editions held so far. "Imola is a complicated track for bikes because it is very old and the track surface is particularly rough" he explains. "Because of the nature of the circuit the bikes become particularly nervous, so you have to work a lot on the suspension and sometimes quite radically on the structure of the bike, because if the set-up is too rigid, the bike becomes too nervous. We have all the data from last year, and although this bike is different, it's still a 999 so in reality there won't be that many changes from 2004. We went well then so hopefully we can do the same again this year!"
James Toseland twice finished on the podium last year in his resurgence towards the 2004 title and once again the 24-year-old Brit wants to finish the season with a rush of positive results, starting at Imola. "I'm looking forward to Imola, it was a great weekend for me last year" he declared. "There are two races left, we've got a chance of finishing third in the championship and that's my aim. It's been a disappointing year as far as wins go, just one at Silverstone, but I can't think of a better place to increase my total than in front of the home crowd for Ducati. Imola is a truly exciting track, with the undulations and all the history behind it. It used to be a bogey track for me in previous years, but last year we pulled it all together. To go well around Imola you need a pretty standard set-up and we won't really be changing the base set-up too much. You need a bit more support on the front because of the hard braking but other than that the geometry will be pretty similar to what we've had and on Friday morning we'll be looking to go out and set some quick times straightaway".
Last year's Imola double race winner Règis Laconi has spent the month since Assen in a race against time to get fit for the final back-to-back championship events at Imola and Magny-Cours. "Now my arm is starting to get better" commented the 30-year-old Frenchman. "It's still not at 100% and probably won't be for the race but we knew that it would be like that. The important thing is to try and get the arm to work calmly and find the right feeling with the bike this weekend, despite the fact that there will still be a bit of pain. This last month I've worked hard with the physiotherapist to get into the best possible condition. At least I'm going back to a track that I know well and where I won last year and in 2001 because that makes things a bit easier. It might be possible for me to get third in the championship but it's not going to be easy because Haga is 25 points ahead with four races left. But I love the Imola track and we'll do our best to get some good results there".
CIRCUIT INFO: Although located right in the centre of Imola, the Autodromo Enzo & Dino Ferrari has been permanent ever since 1979, when it was updated and modified to become an established Formula 1 venue. The first World Superbike round was held there in 2001, and this year's edition will be the fourth. The 4.933 km sloping circuit has 10 left and 6 right-hand corners and a start-finish straight measuring 358 metres. Ducati hold the lion's share of the eight wins at Imola with 5 to Honda's 2 and Aprilia's 1, while the most victorious riders are Ruben Xaus (3 Ducati) and Régis Laconi (2 Ducati, 1 Aprilia) on 3, and Colin Edwards with 2 for Honda.
CHAMPIONSHIP POINTS (after 10 of 12 rounds) : Riders - 1. Corser (Suzuki) 389; 2. Vermeulen (Honda) 329; 3. Haga (Yamaha) 239; 4. Toseland (Ducati Xerox) 215; 5. Laconi (Ducati Xerox) 214; 6. Kagayama (Suzuki) 211. Manufacturers - 1. Suzuki 408; 2. Honda 345; 3. Ducati 331; 4. Yamaha 280; 5. Kawasaki 153; 6. Petronas 37.
Imola Stats : Lap record: Bayliss (Ducati) 1m48.389s (2002). Qualifying record: Edwards (Honda) 1m48.336s (2000). Superpole: Xaus (Ducati) 1m48.636s (2003). Race distance: 2 x 21 laps/103.593 km/h.
2004 Imola Results: Race 1 - 1. Laconi (Ducati); 2. Vermeulen (Honda); 3. Toseland (Ducati). Race 2 - 1. Laconi; 2. Toseland; 3. Martin (Ducati).
Imola TV COVERAGE: Eurosport (Europe) - Sunday 2 October, 1200 Race 1 (live), 0030 Race 2 (delayed). Eurosport 2 (Europe) - Sunday 2 October, 1530 Race 2 (live). La7 (Italy) - Saturday 1 October, 1700 Superpole (delayed); Sunday 2 October, 1150 Race 1 (live), 1700 Race 2 (delayed).
Rossi to Ferrari
Formula One in 2007!
Sept 10th - Velentino Rossi is looking to move to Formula One in 2007 after his recently re-signed 1-year contract for 2006 MotoGP with Yamaha expires.No official announcemen has been made about the move to F1 since it all remains tenative based on future testing results and how Rossi and the Ferrari team feel around this time next year.
But it is clear that there is an agreement in place for Rossi to test at Ferrari's Fiorano test track on a regular basis from now thoughout next year. Rossi has already driven a Ferrari F1 car on the Fiorano track 3 times, the most recent being a secret test during the recent August summer break.
"He is already as quick as an F1 driver in the slower corners," Ferrari technical director Ross Brown told the Associated Press."He is not obliged to race in F1. If he decides to, it is because he decides he is ready to win. He knows he must do some tests, and a champion like him goes to Formular One if he chooses to do so, if he feels he is going there to win.
""Neither he nor we have a pistol to our heads, "said Ferrari Chairnman Luca di Montezemolo. "If something comes of it, it will above all be his decision. If Ferrari and Rossi come together, it will be to win the World Championship, and not to put on a show that we do not need."
It has been 40 years since a motorcycle World Champion has made a successful move to F1, the world's premier 4-wheel roadracing class. Britain's John Surtees won 7 races for Ferrari and went on to win the F1 World Championship for them in 1964, after having become motorcycle World Champion on another legendary Italian brand, MV Agusta.
An Italina newspaper published an undisclosed source that Rossi was offered a 3-year contract by Ferrari worth $80 million Euros / $100 million US dollars. Kimi Raikkonen, currently driving for McLaren, would probably be his team mate as reigning Ferrari 2004 World Champion Michael Schumacher suffers a disasterous 2005 season.
Suzuki History in World SBK 1988-2004
Race wins 8
Seconds 10
Thirds 24
Total podiums 41

Suzuki's first ever WSBK win was by Kiwi Gary Goodfellow in the first race of the fifth round at Sugo, Japan in 1988 on a Don Knit Suzuki.
Former Alstare Suzuki rider Frankie Chili has been on the podium for Suzuki on 18 occasions.
Suzuki's race wins from 1988-2004 have been split across four nations, New Zealand, USA, Japan and Italy
1988 - Gary Goodfellow (New Zealand) in round 5, Sugo, Japan
1989 - Doug Polen (USA) in round 7 (Sugo, Japan)
1998 - Keichi Kitagawa (Japan) in round 12 (Sugo, Japan
1999 - Akira Ryo (Japan) in round 13 (Sugo, Japan)
1999 - Frankie Chili (Italy) in round 10 (Zeltweg, Austria), round 12 (Hockenheim, Germany)
2000 - Frankie Chili (Italy) in round 5 (Monza,Italy)
2001 - Frankie Chili (Italy) in round 6 (donington, GB)
Suzuki WSBK history (up to and including round 11, Imola, 2005)
Suzuki has won 16 SBK races, up to and including WSC round 10, Lausitz.
Out of these 16 wins, 12 have been on Alstare Suzuki bikes.
When Troy Corser won in the opening race of this year, it was the first Suzuki WSBK victory since Frankie Chili in the second race at Donington in 2001.
Troy Corser has been on the podium 18 times and Yukio Kagayama 6 this season - up to and including WSC round 11, Imola.
This is the first time that Suzuki have won the manufacturer's title in World Superbikes, This year they have racked up 428 points, 58 ahead of therir nearest rival.
Cool Chick Rock Music
from The-N TV's
"Instant Star" "Radio Roscoe" Pop Dramas


Alexz Johnson
Sex Starved Star of Instant Star




Skye Sweetnam
Os So Sweet CoStar and Music source for Radio Roscoe


Megan Slankard
More great pop rock

Hope Partlow
Click to listen to her hit song
"Who We Are"
Charlotte Martin
On Your Shore

Join FastDates.com at a Live Charlottte Martin Recording and DVD Release Party in Hollywood Nov 17th!
Join us live as Charlotte invites you to the intimate recording of her debut DVD, Something Like A DVD. The private recording is slated for Thursday, November 17, 2005 at The Silent Movie Theatre and the $40.00 USD ticket price includes entrance to the DVD recording, access to the autograph signing, and one autographed copy of Something Like A DVD.
"Hi everyone! I miss you so much and am so excited to see you on this fall tour and at the DVD show. This tour kind of wraps up the On Your Shore thing for me and I'm sad about that, but at the same time am very excited to pre-release Veins to you all on the road. It will also be available for presale on iTunes and Musictoday in November.
It's time to close and open a new chapter, and I'm grateful to all of you who have stayed on this journey with me and to those of you who just joined me.
I'm super excited about Something Like A DVD!!! It is going to be a lot of things-string sessions from On Your Shore, tour footage from my past tours over 2003-2005, some interviewing and of course...the LIVE TAPING which you are all invited to be at!"

Complete details with ticket ordering on Charlotte's website at:
charlottemartin.com
THQ and Climax announce new MotoGP game for XBox 360™
THQ Inc. have announced that the MotoGP Ultimate Racing Technology game will have next-gen audiences racing on the Xbox 360™ video game and entertainment system from Microsoft.
Combining fast-paced, knee-scraping racing action with the very latest technology, the next installment of MotoGP URT looks set to bring motor sport to an unprecedented level of realism and intensity. The MotoGP URT franchise has met with worldwide critical acclaim with MotoGP URT 3 (launched on September 2nd 2005) being hailed by experts as "the best racing game on Xbox" and "the best motorcycling simulation game".
"We're excited to be working with Climax to deliver the greatest motor racing franchise to gamers," said Kelly Flock, executive vice president, worldwide publishing, THQ. "The next-gen technology allows us to focus on developing an incredible visual experience with the unparalleled sensation of speed and adrenaline that is an inherent part of MotoGP, while also retaining the depth of realism that our relationship with Dorna Sports awards us."
"We're delighted to be working with THQ on another groundbreaking edition of MotoGP URT," said Tony Beckwith, president, Climax. "Over the last few years, we've worked hard on taking the MotoGP URT franchise forward with innovative gameplay features and jaw-dropping graphics. With the advanced technology of the Xbox 360, gamers can now look forward to an even more amazing racing experience with breathtaking visuals and edge-of-the-seat, wheel-to-wheel racing unlike anything they've ever seen before!"
Climax has grown to become a leading independent video game developer by working with major worldwide publishers such as Microsoft, SCEA, Buena Vista Games and THQ to create hit titles for all major console platforms.
THQ is a leading worldwide developer and publisher of interactive entertainment software. The company develops its products for all popular game systems, personal computers and wireless devices.