Now the biggest Sportbike Show in America!
World Record Jardine Dyno
2-Wheel Tuner Sportbike Class
MotoCreations.com Ducati Class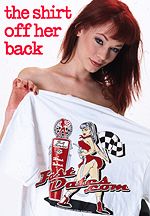 Hot Chicks that Kick Ass in FastDates.com T-shirts
Justine Jolie
Aprilia USA Racer
Contingency Program
and Bike Discount
Aprilia USA announces the 2005 Aprilia Racing Contingency Program. Based on year end championship, the 2005 contingency program rewards Aprilia racers with up to $10,000.00 in clubs across the country.
Aprilia World Service USA, Inc. is pleased to announce the 2005 Racer Purchase Program in order to assist local Aprilia dealerships with its support of local racing. This program enables dealership to sponsor local racers who have long been Aprilia most enthusiastic and loyal customers, in their 2005 season.
Program Outline:
• Availability is limited to a US total of 40 units while in stock (any combination of 2004 RSV R or RSV R Factory) for those dealers who wish to participate.
• Program start date is: January 1, 2005. Units must be purchased after the start date 2005. Units purchased prior to start date are not eligible.
• Units must come from AWS new inventory. A VIN will be assigned after order is received from participating dealer.
• Customers must be currently licensed racers and must provide copy of racing license, as well as a 2003 and/or 2004 results summary. Purchaser and Racer must be the same person.
• Racer purchases the RSV R or RSV R Factory from dealer at dealer cost including freight, tax, tag and title. The current combined incentive of $1,600 on RSV R and $2,000 on RSV R Factory, taken at time of wholesale to dealer.
• Total advertised Racer discount from MSRP as follows:
2004 RSV R - $4,500
2004 RSV R Factory - $6,000
• Dealer will order and pre-register Racer Purchase Program unit with AWS by forwarding copy of Racer's license, racers 2003/2004 results, and purchase agreement. AWS will ship unit to participating dealer.
• New motorcycle limited warranty will be in effect for 30 days after delivery.
• Racer must register the Aprilia VIN purchased under the Racer Purchase Program, personally race the VIN and provide documents in connection with the 2005 Contingency verification form for two races prior to July 31, 2005.
• Upon finishing two races, Racer forwards the following to AWS to receive additional rebate from Aprilia of $800 for RSV R and $1,600 for RSV R Factory:
- Copy of sales receipt
- Copy of Racing License
- Copy of Drivers License
- Copy of Racing Organization Race Results History
- Completed 2005 Aprilia Contingency Verification Form
- Sales receipt and racing license must match registration documents and race results must be confirmed with racing organization's online reports.
Contact your US Aprilia dealer and visit the ApriliaUSA.com website for additional details.
MotoGP Introdues new rule regarding bike changes during a race
Catalunya, Spain 20/3/2005 - The Grand Prix Commission, composed of Messrs. Carmelo Ezpeleta (Dorna, Chairman), Claude Danis (FIM), Sito Pons (IRTA) and Takanao Tsubouchi (MSMA), in the presence of Mr Paul Butler (Secretary of the meeting), in a meeting held yesterday in Barcelona, unanimously decided to introduce the following modifications to the MotoGP World Championship Regulations (for immediate application):
Sporting Regulations:
Unless the race is interrupted, after the leading rider has passed the finish line at the end of his first lap, no further changes of machines are permitted. After this time, in the MotoGP class only, the 2 following bike change procedures will apply:
- If the race has been declared wet (Art. 1.20), changing from a machine equipped with rain tyre to a machine equipped with intermediate or slick tyre, changing from a machine equipped with intermediate tyre to a machine equipped with rain or slick tyre, and changing from a machine equipped with slick tyre to a machine equipped with intermediate or rain tyre is permitted at any time during the race.
- If the race has not been declared wet (Art. 1.20), the same machine changes as mentioned above are permitted only after the white flags have been displayed around the track.
In both cases, tyre warmers, changing tyres and adjustments are permitted on the machine in the pit-lane.
FIM announcement.


HURRY - ALMOST GONE! 2005 Fast Dates, Garage Girls Calendars!


---
Reynolds rides again -
BSB Round One
March 26th -RIZLA SUZUKI British Superbike Champion John Reynolds battled against injury to complete 53-laps during today's first practice for the opening round of the 2005 British Superbike Championship at Brands Hatch in Kent. His team mate Scott Smart continues to grow in confidence on his GSX-R1000 Superbike.

JR, who broke his right leg in five places only 37-days ago in a testing accident at Valencia in Spain, continued his miraculous recovery to spend nearly two-hours on his Rizla Suzuki during free practice. He finished 21st on the time sheets and found a comfortable setting on his bike that will help him to improve tomorrow.

Smart made changes to his GSX-R1000's base suspension settings and tested different rear tyre compounds, completing 90-laps in the practice sessions. The Rizla Suzuki debutant finished eighth on the time sheets and within close striking distance of fastest man of the day, Honda's Ryuichi Kiyonari.

There are two qualifying sessions tomorrow with the racing starting at 13:45pm on Bank Holiday Monday, March 28th, on the fast and furious 1.22-mile long Brands Hatch Indy circuit.
John Reynolds:

"I am pleased to have finished today with a comfortable setting on my Rizla Suzuki and now I am exhausted. I have only completed a handful of testing and practice laps since last September and it is amazing how much riding hard takes out of you physically and mentally.
"My setting on the GSX-R lets me feel completely in control and now I am going to have an early night and come back tomorrow refreshed and ready to cut my lap times. My leg is holding up well, in fact it is easier to ride the bike than walk."
Scott Smart:

"We were able to run consistent mid 46-second laps today, which is very encouraging. We also completed a series of Dunlop tyre tests and found a preferred option for the race.
"We still have some work to do, but a lot of the improvement will come from me personally - I was trying too hard today. I have spoken with my crew and the plan for tomorrow is to go for smooth lines rather than trying to push too hard. One thing's for sure, my Rizla Suzuki is a missile and doesn't lack horsepower in a straight line."

Simon Green, Team Co-ordinater:
"JR has been inspirational to the entire team just by being here and riding despite his injury - normal people would take around five months to walk again but JR has beat the odds and is here racing after just five weeks. He's found a comfortable setting on his bike and while he is disappointed not to be closer to the front times, after a good night's sleep he will come back stronger tomorrow and we are confident he will continue to go faster.

"Scott is happy with his Rizla Suzuki and is just over half a second away from the fastest time of the day. He was trying very hard today - too hard when we analysed his performance after the sessions. It sounds bizarre, but if he slows down into the corners slightly, he'll go a lot faster through and out of them and that's the plan for tomorrow."

Practice Times:
1: Ryuichi Kiyonari (Honda) 45.974, 2: Leon Haslam (Ducati) +0.314, 3: Karl Harris (Honda) +0.335, 4: Michael Rutter (Honda) +0.380, 5: Jeremy McWilliams (Honda) +0.400, 6: Sean Emmett (Yamaha) +0.485, 7: Glen Richards (Kawasaki) +0.655, 8: SCOTT SMART (RIZLA SUZUKI) +0.680, 9: Gregorio Lavilla (Ducati) +0.703, 10: John McGuinness (Yamaha) +0.884, 21: JOHN REYNOLDS (RIZLA SUZUKI) +1.700.

Now in Solid Colors, too!
Dealers Welcome
hot off the mouse pad from Sudco....
Daijiro Commerative GP Helmet Computer Mice
GP Helmet Mouse is available in the two different trademark Blue / Yellow and Red / Yellow color schemes worn by Daijiro, and have all the hot race features like an 800dpi optical laser for smooth tracking, left/right click functions for precise turn-in, and a quick throttle scrolling function. Included is a long, 36in. detachable USB cable for stealth operation when the tech inspector stops by. The GP Mouse is compatible with both superstock Windows (98 and later) and superbike Apple OS machinery.
Get your entry in now before the grid is full. The Daijiro Commerative Grand Prix Mouse is only available in America from Sudco International to Dealers,
and Retail direct for $47.00.

Phone weekdays
1-323-728-5407 8am -6pm PT
SUDCO INTERNATIONAL
www.Sudco.com
Honda CBR1000RR
Race Preparation
We show and tell you how you can modify your own CBR1000RR to Ten Kate World Superbike, and Al Ludington's Miguel Duhamel AMA Superbike specs exclusively in
Paddock Garage.
Supermodels who
like to get wet...
Sports Illustrated
Swimsuit 2005 DVD
Maxim Swimsuit DVD
hosted by MTV's Rachel Perry
---
More Riders Quotes
from Jerez Tests
Colin Edwards (Gauloises Yamaha Team) - 1'41.284
"I'm pleased because, other than Valentino, all the seven riders above me in the timings put on a qualifying tyre. I had a really good pace on the race tyres, consistently in the low 1'41s, and this bodes well for the race in two weeks time. However it took a lot of work to get to this point. We tried so many things today but finally we hit the nail on the head and now the bike works really well. I've got pretty much the same setting as Valentino, we're very similar in the way we ride the bike. I am now ready for a quick break at home and then, finally, the first race! It's been a long winter of testing!"
Hopkins on fire as Suzuki goes to the sharp end of the time sheets
Mar 26th - Team SUZUKI MotoGP racer John Hopkins finished the last day of the Official MotoGP pre-season test at Jerez in Spain with the third fastest time on Suzuki's GSV-R990 prototype racer.
Hopkins improved on his quickest lap from Friday by nearly half a second to record a time of 1min40.418. His lap was over 2.5-seconds faster than his qualifying time during the 2004 Jerez race weekend and comfortably faster than the pole position set by Valentino Rossi at 1min40.818.
In warm and sunny conditions, the 21-year-old Anglo-American was able to test many of the latest generation of Bridgestone race tyres at varying track temperatures and was impressed with the results.
John Hopkins (1'40.418):
"This test has been really good for me and the team. I proved that I can go as fast as anybody on race tyres and we have also showed that we were able to step it up in the rain and run in the top places. The biggest achievement for me this weekend was showing that I could ride as fast as any other rider in the wet. I am now looking forward to racing, I can't wait!"
Kenny Roberts Jr worked on his GSV-R tirelessly throughout the final day's testing. He fine tuned his suspension and chassis settings and found a rear tyre that will allow him to run fast laps over race distance at the Jerez circuit.
More Honda Rider Quotes
Max Biaggi, Repsol Honda: 1m 41.431s.
"This was a really hard weekend. The good bike I had in Barcelona disappeared. Since Friday I carried on new problems until Sunday evening. The settings that were working on all the other tracks here didn't respond and it's difficult to know why. I have chattering troubles entering the corners and traction troubles going out like. Anyhow I don't give up. In this moment, more than ever, I must be strong and work with my team to move towards the best solution."
Makoto Tanaka, Repsol Honda Team Manager:
"This test has been very successful for Nicky, his crew arrived with a plan, moved step by step and continued to improve the Repsol RC211V throughout the weekend here at Jerez. Nicky was also in a strong position when it came to using a Michelin qualifying tyre this afternoon and he made full of that with a good lap time."Max has had a very difficult test and eventually found some direction this afternoon. Max and his crew have had a demanding time here at Jerez but finally they found a good setting and his lap time wasn't too bad in the end - considering the time lost working on settings and the fact that he did not use a qualifying tyre."
Marco Melandri, Telefonica MoviStar Honda:
1m 40.291s – 93 laps.
"This test has been very positive for us we did a lot of good work over the three-days. I ran a race simulation and was able to run in 1m 41s consistently. Maybe I could have been faster if I had used a set of tyres with a softer compound. Michelin gave me some qualifying tyres to test and they were impressive. We have a break before the GP but I can't wait for the race."
Sete Gibernau, Telefonica MoviStar Honda: 1m 40.662s – 73 laps.
"I'm very satisfied with the results of this test, everything went very well for us. The work we have done has given us a very good base set up to start the season. We lost most of yesterday to the rain so it was important to get everything done today. I didn't have time to run the race simulation that we needed but I have a good set up and I didn't want to change it just to run a fast lap on qualifying tyres."
Alex Barros, Camel Honda: 1m 40.569s - 100 laps.
"In these Jerez tests we have really worked hard, especially today when I did over a hundred laps. We have honestly explored every avenue: electronics, front tyres, rear tyres, suspension, various geometric settings and at the end we managed to improve the bike where I wanted. Friday I was very nervous, today meanwhile I was able to ride cleaner, with a used tyre over 15 laps old I did a 1'41 and a half. With the qualifier I rode a 40.5 but I used my spare machine, so I think we can safely say things have gone well."
Capirossi Up to Speed with Ducati as Team continues testing engine braking system
The three-day Jerez test concluded with a generally positive balance sheet for the Ducati Marlboro Team, which could only count on the services of Loris Capirossi and test-rider Vittoriano Guareschi as Carlos Checa is recovering from a dislocated left shoulder.
Today Loris concentrated mainly on testing several types of tyres, and the Italian obtained positive impressions from the qualifying and front tyres.
"I am very satisfied with the qualifying tyres: the ones I tested were really excellent" commented Loris. "Even the front tyres go well here at Jerez and the rear race tyres are already pretty good. We felt the absence of Carlos over the last three days, and with him for sure we could have got through a lot more work. However I gave everything I could, now all we have to do is wait for April 10."
Loris completed a total of 93 laps of the Spanish track, setting a best time of 1m40.55s.
Teame Corse test rider Vittoriano Guareschi was also on the track for the final day of the test, and amongst other things the Italian completed a long-run with the new engine braking system.
"These were three hard days of work", declared Filippo Preziosi, Director of Ducati Corse, who has been present at both of the tests at Barcelona and Jerez. "We return home with a massive amount of data accumulated by Loris and Vitto, who were both tireless in their work as always. I would like to thank Loris for his dedication and professionalism: he worked really hard and that allowed us to make the most of this important test session, even in Carlos's absence".
The MotoGP Teams' next appointment will be on April 10, again at Jerez, for the opening round of the 2005 MotoGP World Championship!