Los Angeles, CA, July 16-17th. - It was an an impressive lineup of America's top celebrity custom bike builders with the hottest new bikes, free Iron & Lace Calendar Builders Seminars and literally hundreds of beautiful girls at the big Los Angeles Calendar Motorcycle Show Weekend. In fact, many of these top name builders made their first ever pubic appearance as builders at the LA Calendar Show, and garnered world wide recognition of their leading edge bikes in the FastDates.com produced Iron & Lace Calendar photographed by Show producer Jim Gianatsis.
The Los Angeles Calendar Motorcycle Show Weekend presented by Performance Machine continued to grow again this year as the most popular consumer street bike show in America. Always the 3rd weekend of July at the Queen Mary Event Park in Long Beach, CA,, the Show offers a huge weekend of activities with sold out participation from 195 major motorcycle and product companies, up 30 more from last year in an expanded event layout. The Show again featured leading custom bike builders from across America and around the world, and hotested a 2-day near capacity crowd of 18,000, up another 20% over last year.


The Show is produced by Jim Gianatsis of Gianatsis Design Associates, also producer of the renown FastDates.com Motorcycle Pinup Calendars and Website for which the Calendar Bike Show marked the 2006 FastDates.com Calendars' World Premier.
A new addition to the Show this year was its affiliation as an Official Qualifying Round of the American Motorcycle Dealer World Championship of Custom Bike Building, with the top placing bikes in the Performance Machine Bike Show Contest receiving a confirmed invitation to the AMD World Championship Final at Big Twin West in Las Vegas the weekend of November 18-20th.
The Performance Machine LA Calendar Motorcycle Best of Show trophy and a big chunk of the $70,000 purse went to Dreamcraft Studios and their new "Rapture" Billet bike.
The LA Calendar Show has become one of America's premier Custom, Sportbike and Classic Bike Contests featuring many of top bike Pro and Amateur builders in America -and now from around the world vying for the prestigious Performance Machine Best of Show Trophy. Winning the coveted top spot this year was Larry Nagel and Paul Yang of Dreamcraft Studios with their radical new $250,000 billet bike "Rapture" featuring a 1-piece frame which was CNC machined over 2-days from a 900 lb.s solid chunk of aluminum. Among Rapture's many other unique features were the scratch built quad tube front forks, a through the swingarm exhaust system, and dual raised windscreen fuel tanks. Whew!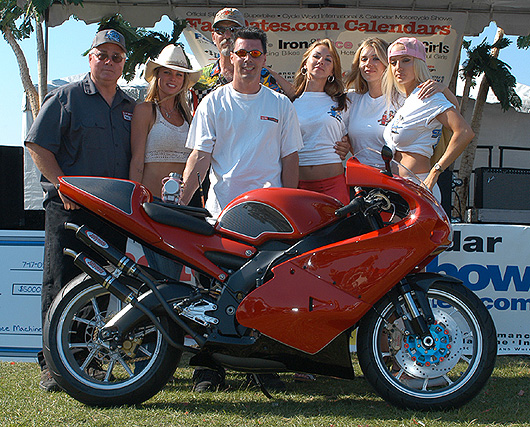 1st Place in the 2Wheel Tuner Magazine Sportbike class went to Mike Witte who came all the way from Roseville, Michigan, with this very unique machine - a Suzuki RG500 Gamma square 4-cylinder engine mounted in a lightweight and modern Aprilia RS250 chassis. Beautiful! Mark poses with one of our Show's unique Mikuni Carburetor Desk Pen Set award Placques.
Above: Stage activities were hosted throughout the weekend by FastDates.com Calendar Angel, Miss Texas, Miss Harley-Davidson and SBK Fast Dates World Superbike and Ducati Corse girl (in cowbow hat) "Rockin' Robin" Cunningham. Robin was assisted for the trophy presentation on Sunday by (left to right) Performance Machine marketing director Ted Sands and Bikernet.com's Keith "Bandit" Ball, and our other Calendar Angels assisting with stage activities included Andra Cobb, Christina Lindley and California Hostess.com director Dominique Lafayette.

Calendar Show Model Search runner up Natalie Green (left) and SBK Fast Dates World Superbike and Ducati Corse girl Andra Cobb (right) pose with Jesse Rooke's latest 2 wheeled creation which premiered a week earlier at Laguna Seca MotoGP, a Yamaha 50th Anniversary inspired street rod sponsored by Dunlop tires.
The Show weekend offered an incredible lineup of activities including the Jardine Performance West Coast Horsepower Dyno Shootout - an exclusive feature attraction at the Show. The dyno was hosted by Jardine Marketing Director John Gunter, together with Kerry Bryant and Cycle News editor Scott Rousseau. The dyno ran some 80 bikes non-stop thoughout the 2-day weekend to a standing room only crowd of spectators. The strongest running Harley was East Side Performance's Turbo Nitrous Harley 107 ci with 283.7 hp. World Record holder John Noonan returned to try and breakhis record of 545 hp, but could only manage this year to get his Turbo Nitrous Suzuki Hyabusa up to 339.0 hp to win the unlimited sportbike class.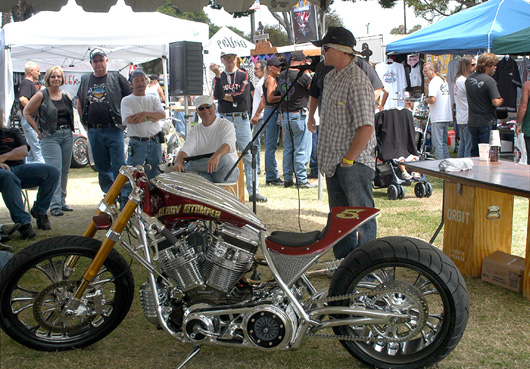 Former AMA 250cc GP Class roadracer Roland Sands of Performance Machine fame, now turned custom bike builder and TV star, takes questions from the audience during his Iron & Lace Calendar Builder Seminar at the Show, with his latest custom "Glory Stomper" in the foreground. Look for "Glory Stomper" in the next Calendar as well.
Fans got to meet many Discovery Channel and Speed TV featured celebrity custom builders from the programs American Thunder, Great Biker Buildoff, and Build or Bust including Russell Mitchell, Jesse Rooke, Roland Sands, Mitch Bergeron, Mike Stafford, and Harold Pontarelli. The builders were featured in Iron & Lace Calendar Bike Builder's Seminars held hourly throughout the weekend in the midway tent located in the center of the Show Park. Each builder explained their own personal style for building world class custom bikes, then they answered questions from enthusiastic fans. The Iron & Lace Calendar Bike Builder Seminars were a big hit among fans and are a regular feature of the Calendar Show.
The LA Calendar Bike Bike show featured 2 days of incredible live music and entertainment. Both days featured classic rock with the hugely popular Unauthorized Rolling Stones out of San Francisco, together with the Janis Joplin style rock/blues vocals of the beautiful Boudeeka. Alternating with the Stones on Saturday was beautiful blues rock singer Jessie Payo from Jessie and the Rain Dogs, On Sunday it was sexy Pat Benatar stylings of Heather of the band Balentine who traded sets with the Stones.

The Purrfect Angelz performed their own special rendition to music of Madona's "Like a Virgin." Needless to say, all the guys in the audience were ready to propose matrimony!
And really bringing down the house in 2 different performances each day to showcase the PinUp Model calendar theme of the Calendar Show were the the beautiful Purrfect Angelz with their sizzlin'' Las Vegas style stage performances. Along with a Calendar Girl Model Search Pageant each day with $70 0 in prize money that revealed beautiful bikini girls Holly Webber, Natalie Green and Candice Curtis as the winners. Candice's beautiful attributes also earned her a paid calendar shoot the following day with photographer Jim Gianatsis for the next Iron & Lace Calendar. Bikes selected from the Show for the Calendar shoot included a retro hot rod from Zero Engineering of Japan, and a just completed pop stylized bar hopper built by Bob Phillips of Wizard Creations for actor Brad Pitt.

Associate Sponsorship support for the premier street bike event weekend in America is provided by Iron Works magazine, Jardine Performance, 2Wheel Tuner magazine, Hooters, Trader Publications, Bikernet.com, FastDates.com Calendars & Website, ReCycler / Cycle Buys, Quick Throttle magazine, CaliforniaHostess.com, Events by Noonan and SPEED TV's American Thunder. The 2007 LA Calendar Motorcycle Show is scheduled for July 15-16th. Spectators and Exhibitors can find out more about The Show, the Bike Contest and all the available weekend activities online at www.FastDates.com.
For additional LA Calendar Motorcycle Show Coverage, Contents Results and
Information on next year's Show go HERE
---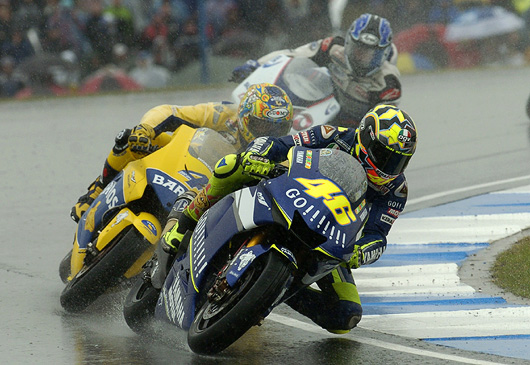 Rossi struggles in the wet ahead of Honda's Alex Barros and Suzuki's Kenny Roberts.


MotoGP World Championship Championship Round 9 of 17
Rossi Wins Rain Sodden Donnington MotoGP
as his contenders and pretenders sink and tumble
Donnington Park, GB , July 22-24th - Gauloises Yamaha rider Valentino Rossi extended his advantage at the top of the MotoGP World Championship to 104 points, with his seventh victory from nine races this season in the British Grand Prix today. The Italian splashed his way through several centimetres of standing water and lashings of torrential rain to clinch his fourth MotoGP win at Donington Park after a treacherous race that saw no fewer than eleven riders crash.
Rossi didn't get the best of starts as he dropped from pole position to seventh but fought his way back to the front by the fourth lap. A slight mistake at the midway point saw him lose ground on the lead group but two fast laps brought him back into contention. Another burst from the Italian seven laps from the end shaved over 2 seconds from the fastest lap of the race up to that point and left Kenny Roberts (Suzuki) and Alex Barros (Honda) trailing in his wake. Rossi's Gauloises Yamaha team-mate Colin Edwards joined in the battle for a top three finish but settled with fourth place at the end of the intense race, another solid points haul moving him up to third in the championship, just one point behind Marco Melandri (Honda), who crashed out of the race.
"That was one of the most difficult races of my career - the conditions were incredible," said Valentino. "It was very, very cold and the track was very slippery. At the beginning I was lucky because I made a mistake on the start and spun the tyre but after that I came back fast to the front. Biaggi crashed in front of me, then Gibernau. there were a lot of people making mistakes, also me, so I preferred to wait. Alex had a good rhythm so I stayed behind him but I made a mistake at the chicane when I was fighting with Kenny and locked the brakes.
Today was not like riding a bike, it was like riding a boat because there was a lot of water between the wheels and the track - always spinning the rear and locking the front. I tried to understand the points where I could push more and said to myself: 'Now I try and we see what happens!' I was able to go a lot faster and keep the advantage. It was a great job by the team because the bike worked well even though we only had 20 minutes this morning to find the wet-weather set-up. Yesterday when I looked at my best lap time I thought it was like a symphony of violins - perfect, so I decided that if I won I would do this celebration across the finish line!"
Friday Starts Out Wet
The opening day of the BetAndWin.com British Grand Prix was interrupted by rain today as the clouds hovering above the Donington Park circuit eventually gave way to light showers during this afternoon's second free practice session. Whilst Alex Barros was leading the time sheets at that point, the fastest time of the day went to Colin Edwards, who had been the only rider to dip beneath his own lap record in the morning's first practice. Flying high on the confidence of consecutive podiums in the last two races, Edwards is now targeting his first ever MotoGP victory in front of a supportive British crowd.
"I finished third at Assen and second at Laguna Seca so I'm guessing it must be time for a first!" smiled the American. "I like Donington, I always get along with it and it's been one of my favourite tracks for a long time. I've spent a lot of time working in England in the past so I'm getting an extra push from the fans. The bike has gotten better and better over the past few weeks so the aim today was to continue along that line. I felt comfortable from the first lap and when I came in and saw the lap times I was doing I decided to put my head down for a couple of laps and see what I was capable of."
Edwards' Yamaha team-mate Valentino Rossi was second fastest today, just 0.025 seconds down on the American's best lap of 1'29.960 at a circuit where he has celebrated victory on four of his last five visits. John Hopkins completed the hypothetical front row in third place riding the Suzuki, although grid positions will not be decided until tomorrow's single qualifying practice session, which takes place at 14.00h BST.
Despite setting the fastest time in the afternoon, Barros was unable to improve on his own best effort from the morning and ended the day fourth fastest on the combined time sheets. The Brazilian, who is suffering from slight back pain after his crash on the opening lap of the race at Laguna Seca in the last round, is making his 250th Grand Prix appearance this weekend and is searching for his fourth podium finish at this circuit.
Marco Melandri was involved in the collision with Barros that saw both riders end up in the gravel two weeks ago but the Italian returned to form with the fifth fastest time of the day at a circuit that lies just two kilometres from his adopted home village. Melandri was just 0.060 seconds faster than his Honda team-mate Sete Gibernau, with the Spaniard followed by Kenny Roberts, Troy Bayliss, Nicky Hayden and Loris Capirossi – all separated by less than a tenth of a second each. Hayden was literally brought back down to earth after the joy of his debut win at Laguna Seca two weeks ago when he was caught out by the afternoon rain and crashed. The American escaped uninjured, as did fellow crashers Roberto Rolfo, Carlos Checa, Makoto Tamada and Rubén Xaus, who all tumbled out during the morning practice.
Jorge Lorenzo set provisional pole position for the 250cc race on his first ever visit to Donington Park on a quarter-litre machine, overshadowing the performance of last year's pole man Alex de Angelis. Hiroshi Aoyama and Dani Pedrosa completed the front row after a crash in qualifying saw Casey Stoner drop to fifth. Pedrosa had also crashed in the morning session but escaped unhurt as he prepares to defend a 37-point lead over the Australian in the championship. Whilst Stoner is aiming to grab the headlines from Pedrosa this weekend, most eyes during today's 250cc action were on his compatriot Anthony West, who rode the new quarter-litre KTM for the first time. The Austrian factory machine made a belated but impressive debut, with West able to clock up a total of 43 laps and qualify 15th fastest in a field of 32 riders.

240 horsepower and no way to use it! Rossi comes up on a sliding Sete Giberneau who went down early in the opening laps. Rossi also lost control a number of times, butt always managed to save it. Giberneau on the Honda was expected to be Rossi's main rival in this year's Championship battle, but after their altercation at Quatar last year, Rossi vowed that Sete would never win again, and Sete hasn't in 12 races, either by beaten directly by Rossi or crashing out.
Rossi Claims His 5th Pole of the Season
Saturday 23rd - Gauloises Yamaha Team rider Valentino Rossi will start tomorrow's British Grand Prix from the front of the MotoGP grid after clocking his fifth pole position of the season in this afternoon's qualifying practice at Donington Park. The Italian smashed his own pole record at the Nottinghamshire circuit by almost a second when he clocked a time of 1'27.897 on his 27th lap of the afternoon session. Rossi's effort put him over half a second clear of his rivals just two minutes from the end of the session, with Sete Gibernau (Honda) reducing the gap to 0.285 seconds on the final lap.
After setting the pace in yesterday's first free practice sessions, Rossi's Gauloises Yamaha team-mate Colin Edwards was unable to continue his dominance today, slipping to sixth place on the grid but securing a valuable second row start. The American continued to work from the excellent base set-up he found yesterday and put in a scorching race pace during the morning session, when he was second fastest behind Rossi. However, a rear tyre experiment in the afternoon did not go as Edwards had hoped and he lost a handful of positions in the late push for times. Rossi and Gibernau will be joined on the front row of the grid by Marco Melandri (Honda), whilst Alex Barros and Nicky Hayden (both Honda) start immediately ahead of Edwards on row two.
VALENTINO ROSSI (1st; 1'27.897 – 30 laps) "For sure this is a very special pole position because I live here and I am having a lot of fun. I think for tomorrow everybody will wake up and hope for good weather because yesterday we lost a lot of time because of the rain. Today the situation was better, it was a few degrees warmer and when the conditions are like this it is a great pleasure to ride at Donington Park. With the MotoGP bike it is incredible, one of my favourite tracks, and I always go very well here. I am happy because I was able to do a great lap – almost one second faster than last year. The bike is quite good and the feeling is not bad, also with the race configuration. For sure the race will be hard but we will try to fix a few last things in the morning and I hope to do well."
FRONT ROW:1. VALENTINO ROSSI (ITA) Gauloises Yamaha Team, 1'27.897; 2. Sete Gibernau (SPA) Movistar Honda MotoGP, 1'28.182; 3. Marco Melandri (ITA) Movistar Honda MotoGP, 1'28.295
SECOND ROW: 4. Alex Barros (BRA) Camel Honda, 1'28.394; 5. Nicky Hayden (USA) Repsol Honda Team, 1'28.415; 6. COLIN EDWARDS (USA) Gauloises Yamaha Team, 1'28.656
THIRD ROW: 7. Troy Bayliss (AUS) Camel Honda, 1'28.720; 8. Max Biaggi (ITA) Repsol Honda Team, 1'28.726; 9. Makoto Tamada (JPN) Konica Minolta Honda 1'28.976
Rossi extends MotoGP lead in drenching Donington Rain
Valentino Rossi came through one of the most accident-strewn races in MotoGP history to seal his seventh win of the season in today's betandwin.com British Grand Prix at Donington Park. With torrential rain throughout the day leaving several centimetres of standing water on the track, Rossi was one of only ten riders to stay on two wheels throughout the race although he had to avoid several scares before eventually shaking the attentions of Kenny Roberts and Alex Barros with a breathtaking surge to victory seven laps from the end.
"That was one of the most difficult races of my career – the conditions were incredible," reflected Rossi, who crossed the line imitating a violin player by way of celebration. "It was very, very cold and the track was very slippery. Today was not like riding a bike, it was like a boat because there was a lot of water between the wheels and the track – always spinning the rear and locking the front. I tried to understand the points where I could push more and said: 'Now I try and we see what happens.' I was able to go a lot faster and keep the advantage. It was a great job by the team because the bike worked well even though we only had 20 minutes this morning. I did the violin celebration because after my pole lap yesterday I decided it was a fine art – like the violin!"
Second place for Roberts represented a first podium for the former World Champion and his Suzuki team since Rio in 2002, whilst Honda's Alex Barros was able to celebrate his 250th Grand Prix appearance in style by joining the rostrum in third place. However, the biggest celebrations in the paddock took place at Yamaha, where Rossi's team-mate Colin Edwards picked up fourth place to move ahead of Max Biaggi and Sete Gibernau into third in the championship, just one point behind Marco Melandri in second.
Biaggi, Gibernau and Melandri all fell victim to the treacherous weather conditions, with Biaggi the first rider to crash out at the end of the opening lap. Melandri soon followed, crashing at the same point as his compatriot on the exit of Goddards corner and taking Troy Bayliss with him into the dirt, whilst Gibernau, who was leading the race, went down on lap four. John Hopkins briefly led on the Suzuki before gradually losing positions and then himself sliding out of fifth place at the chicane, returning to the track to take eleventh.
By that time local favourite Shane Byrne was already dreaming about what might have been after delighting the 75,661 home crowd with a charge to sixth place on the Proton KR-KTM machine before also crashing out, following Rubén Xaus, Nicky Hayden, Shinya Nakano, James Ellison and Franco Battaini back to the pits. Carlos Checa and Loris Capirossi produced a late charge to close the gap to Edwards but were forced to accept fifth and sixth place respectively ahead of Makoto Tamada, Alex Hofmann, Toni Elias, Roberto Rolfo and Hopkins – the only eleven riders to finish the race.
250cc GP to de Puniet
The 250cc event was equally chaotic, with several riders falling by the wayside before a four-way battle for victory ensued between Hiroshi Aoyama, Randy de Puniet, Casey Stoner and Anthony West, riding the quarter-litre KTM machine on its race debut. When Aoyama crashed out with fifteen laps remaining it was left to the other three to do battle in a race decided on the final lap, when Stoner ran straight into turn one and West had a major slide in Craner Curves to hand victory to De Puniet. Pedrosa came home in fourth place to maintain his championship lead over Stoner, which now has now been reduced to 34 points after the Australian returned to the track to take third place behind his compatriot West.
Round: 9 - British MotoGP Donington


Circuit Length: 4023, Lap Record: 1' 29.973 (Colin Edwards, 2004)
Fastest Lap Ever: 1' 27.897 (Valentino Rossi, 2005)

MotoGP Race: 29 Laps
Pos. Rider Manufacturer Nat. Total Time
1 V. Rossi Yamaha ITA 52' 58.675
2 K. Roberts Suzuki USA +3.169
3 A. Barros Honda BRA +4.006
4 C. Edwards Yamaha USA +10.292
5 C. Checa Ducati ESP +13.020
6 L. Capirossi Ducati ITA +23.321
7 M. Tamada Honda JPN +37.833
8 A. Hofman Kawasaki GER +44.617
9 T. Elias Yamaha ESP +1 lap(s)
10 R. Rolfo Ducati ITA +1 lap(s)
11 J. Hopkins Suzuki USA +1 lap(s)

Fastest Race Lap:
Pos. Rider Manufacturer Nat. Total Time
1 V. Rossi Yamaha ITA 1' 45.377

Riders Championship Standings MotoGP
1 Valentino Rossi Yamaha ITA 211
2 Marco Melandri Honda ITA 107
3 Colin Edwards Yamaha USA 106
4 Max Biaggi Honda ITA 100
5 Sete Gibernau Honda ESP 95
6 Alex Barros Honda BRA 90
7 Nicky Hayden Honda USA 85
8 Loris Capirossi Ducati ITA 65
9 Shinya Nakano Kawasaki JPN 55
10 Carlos Checa Ducati ESP 51
11 Troy Bayliss Honda AUS 47
12 Makato Tamada Honda JPN 36
13 Ruben Xaus Yamaha ESP 33
14 John Hopkins Suzuki USA 32
15 Kenny Roberts Suzuki USA 31
17 Toni Elias Yamaha ESP 25
21 David Checa Yamaha ESP 4


Manufacturers Standings MotoGP
1 Yamaha 215; 2 Honda 182; 3 Kawasaki 83
4 Ducati 75; 5 Suzuki 55; 6 Blata WCM 4
7 Proton KR 1; 7 Moriwaki 1
---
Mladin disapeared with Saturday's win leaving Bostrom (32) Spies (11) and DuHamel (17) to battle over 2nd place on the hilly Mid-Ohio race course.
AMA Superbike Championship Round 9 of 11

Mladin and Bostrom Trade Superbike wins at Mid Ohio
Mid Ohio Raceway, Lexington, Ohio, Saturday July 23rd - Yoshimura Suzuki team mates Matt Mladin and Ben Spies pulled a 1-2 punch in this weekend's Saturday opening AMA Superbike round on Saturday at Mid-Ohio. Parts Unlimited Ducati Austin's Eric Bostrom earned his third podium finish in five races . In the hot Ohio conditions, Bostrom put his Ducati 999 "on the box" once again as he continued his run of recent competitiveness. Neil Hodgson was fifth as he made a run at fourth place as the checkered flag fell, ending up just 0.041 behind a rival. Suzuki's Aaron Yates had the front end of his Yoshimura Suzuki wash out in a downhil corner to crash out of the race uninjured.
Bostrom stayed out of trouble, unlike several of the other riders in the race held on the notoriously difficult surface. He kept his Dunlop-shod Ducati 999 on two wheels and was consistent to the end. "I'm happy to be here and I'll take it any way I can get it. The race pace was impressive, especially considering the heat of the track," said Bostrom. "I didn't quite have the setup I thought I'd have today, but it was still a very good bike. I got a good start. Ben (Spies) came around me and we moved up some positions. I just followed right by when he made the pass for third. I tried to stay on his tail to make it a better race but I lost him in traffic."
Eric climbed to third place in AMA Superbike points with the result. His team mate Neil Hodgson had a difficult race to fifth place on Saturday, and after falling to ninth, fought for fourth with a late charge in his first race at the difficult circuit.
"I had a good start off the line, but I backshifted all the way down to first gear for turn one. That dropped me back. The first couple of laps, I was cursing myself for changing the setup for the race. But I caught a couple of riders and my strategy was to stay consistent and keep my head down. I looked at my pit board one time the whole race because I hoped I was riding hard and pulling away from people behind me. I'm learning the circuit and it's slowly coming to me. No excuses, but it's different than any track I've ever been."
"Both riders can feel good about the race today," said team owner Terry Gregoricka. "While Neil and Eric both are used to winning races and never truly satisfied unless they finish first, today was a tough day. Eric was able to start strong and finish on the podium again and Neil really rode hard at a circuit he had never raced on before. The team can build on these results for tomorrow."
Saturday Mid-Ohio AMA Superbike results - 1. Mat Mladin, Suzuki 396 2. Ben Spies, Suzuki 3. Eric Bostrom, Ducati 999 4. Miguel Duhamel, Honda 5. Neil Hodgson, Ducati 999 6. Josh Hayes, Kawasaki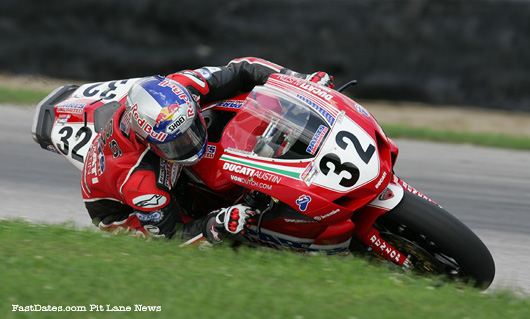 Bostrom was in total control on Sunday with the Ducati Austin 999. Suzuki team riders Yates and Mladin were in close persuit the opeing laps, then Yates crashed out for the send day in a row and Mladin was forced off the track to avoid him, crashing as well on the slippery grass.
Bostrom and Ducati take their 3rd Sean Win on Sunday
Sunday July 24th Parts Unlimited Ducati Austin racer Eric Bostrom won his third victory of the season at Mid-Ohio on Sunday, leading all 26 laps on his Ducati 999 Superbike. Neil Hodgson augmented the team's fourth win of the year with a solid fourth place at the notoriously difficult Mid-Ohio circuit.
Bostrom, after quickly taking the lead from his second row starting position, felt the heat in the first eleven laps as he was under pressure from the factory Suzukis. Bostrom managed to keep the lead despite intense competition for the spot, however. After Bostrom's two rivals crashed, Eric managed a sizeable gap through traffic to take the win by 3.085 seconds, becoming the first Ducati rider to win at the track since Doug Polen won in 1992.
"It's exhilarating," said Bostrom of the win. "What a crazy race! A lot of strange events and that's kind of the way the season has gone. The pace was pretty strong, that's why I was so pumped at the end. They were pushing hard and I gave it everything I had. I wanted to win, but I was just so happy to be doing 1:26 laps. That was almost good enough for me. My goal was to be able to run a competitive pace and we did that. Then to win another race made it even sweeter."
Eric, the winner at Pikes Peak, Laguna Seca, and now Mid-Ohio this season, said the getting off the line at the start was the key. "This is the best-starting bike I've ever ridden," said the 15-time AMA Superbike race winner, considered the "holeshot" artist of the AMA field. "I'd like to give a big thanks to the crew, all my guys for working so hard all year and keeping the faith," added Bostrom after the 26-lap race.
Team Owner, Terry Gregoricka, was pleased to see the Italian L-twin powered 999 Superbike cross the line first once again. "It was an awesome race. The team has been doing well lately, winning four of the last six races this year. Eric showed what he could do again today and it really fired up the team, watching him out there winning again. Neil had a tough weekend, but he finished respectably in fourth today despite the fact that he faced a steep learning curve here."
Although Neil Hodgson finished a solid fourth on the day, he wished to contend for the victory and was not satisfied with his result. "I'm disappointed I didn't have a little better pace today," said Hodgson. "We missed a chance at an even better result with the way the race went for some of the others. This track was a difficult one for me and I'm glad to put it behind us. We never really found our form here. As far as the race went, it was pretty lonely for me out there, not many battles for position. We'll go on to Virginia and Atlanta now. We hope to close out the season with some nice results and I feel good about those tracks."
The AMA Superbike Championship will next race August 26-28 at Virginia International Raceway in Alton, VA.
Sunday AMA Superbike Results: 1. ERIC BOSTROM, PARTS UNLIMITED DUCATI AUSTIN 999 2. Miguel Duhamel, Honda 3. Ben Spies, Suzuki 4. NEIL HODGSON, PARTS UNLIMITED DUCATI AUSTIN 999 5. Kurtis Roberts, Honda 6. Steve Rapp, Suzuki
AMA Superbike Points (After 13 of 17 rounds) 1. Mat Mladin, Suzuki 397, 2. Ben Spies, Suzuki 388, 3. Eric Bostrom, Ducati 999 334 4. Aaron Yates, Suzuki 316 5. Neil Hodgsonm, Ducati 999 302, 6. Miguel Duhamel, Honda 288