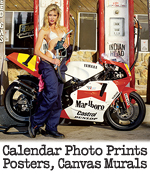 Continued...
In late 1979, after 10 years of traveling the national motocross circuit, jim was turning 30 and thinking it was time to settle down with a full time job again. He liked the central region of California around San Francisco and had built up a close working relationship with Geoff and Bob Fox, the owners of Moto-X Fox, one of the premier emerging motocross product companies of the time with their Fox Shox and motocross apparel. Jim went to work at Moto-X Fox as their first Marketing Director, assisting Geoff with designing the motocross apparel ine, while handling all the advertising and catalog design and photogaphy for the company.
At Motocross Fox, Jim began photographing a featuring attractive young girls in the Fox Catalog and magazine ads, the first time this was ever done in what was thought of as a "male only" sport. But it made good sense in that guys like looking at pretty girls. It would provide a huge marketing advantage, one that would be copied years later by all the major motocross apparel companies.
With his experience as a test engineer and being a pro motocrosser, Jim also became heavily involved in Fox Shock testing and design. With Jim's inside contacts at the factory motocross teams it wan't long before team Honda and other motocross teams were racing with the new Fox Twin Clicker Shox.
Still racing motocross, Jim suffered a couple of serious injuries in 1981 that regretabbly forced his retirement from motocross. He also wrote a book at this time "Design & Tuning for Motocross: published by Classic Motorbooks, which remains today, the only technical book on motocross bikes ever written.
Jim's attention shifted back to the street where he got back into sportbike riding with a Suzuki GS750E, and into car racing with a street legal Camaro Z28 in SCCA Solo II autocross where he clinched runnerup in the highly competivie BP race car class with Trans-Am spec cars.
Jim introduced the new Fox Factory Twin Clicker Motocross Shox to reigning Trans-Am sports car champion Greg Pickett who becan running and winning with the Fox Shox on his Corvette which proved to be the best shocks of any type on the market at that time. Within 3 years all the major race teams from Ford in IMSA to Penske in CART were running Fox Shox. Eventually Penske would steal the Fox Shox Design and sell it under his own name.
But Jim didn't stop there. Why not introduce the Fox Shoxs to motorcycle roadracing as well? Jim approached and tested with all the major factory roadrace teams including Suzuki, Honda and Kawasaki and within 9 months all the roadracing teams were running Fox Shox that Jim built, test and set up for them Wes Cooley wom the 1981 AMA Superbike Championshipon his Yoshimura Suzuki Katana 11000, and Eddie Lawson won the 1982 AMA Superbike Championship on his Kawasaki KZ1100, both on Jim Gianatsis prepared Fox Resevoir Piggyback Shox
In January 1983 Jim had taken Moto-X Fox in just 3 years from 3 million in sales annually to 12 million. And made them the leader in the world motocross and suspension markets. But owner Geoff Fox was wanting to turn over the reigns of his company to his wife and children and fired Jim. Within 2 years Fox fell out of the streetbike market and lost their automotive Shock market to Penske.
Jim moved to Los Angeles in the winter of 1983 and began his own advertising, photography and design agency specializing in the motorsports market. Clients included Yoshimura, White Brothers. O'Neal USA, Body Glove and Mikuni Carburetors.
Today Gianatsis Design Associates with Jim at he helm has expanded its market base with the worlds most popular line of motorsports pinup calendars, the FastDates.com Calendars and Website. And into event promotion with the Los Angeles Calendar Motorccyle Show, which started out as a barbeque party at his house to celebrate the first release of the first Calendar, to now become the biggest custom and performance streetbike show in America.
Jim lives in Woodland Hills, CA, just northeast of los Angeles in the San Fernando Valley. He remains a hardcore sports car and sportbike enthusiast. His cars include a highly modified late model BMW M3 good for 190mph, a modified Mini Cooper S and a classic 1946 MG TC. Jim's modified sportbikes once included an array of the best Japan had to offer (a GSXR750 streetbike Jim built and was test by Motorcyclist in 1984's bested Eddie Lawson's Rob Muzzy built ZX750 championship winning AMA Superbike tested by Cycle magazine. Jim's favorite bikes today are Ducati and his garage is home to previous generation 916 and 996R Superbikes, and the new 999R05 Superbike (all highly modified), plus a Multistrada S and an Aprilia Mille R converted to a Tuono R. And now most recently a Ducato 1098R 08 and Hypermoto R.
To Still Be Continued . . . .