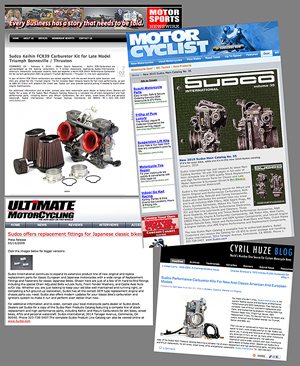 Now with all print magazines also having their own websites, your Gianatsis Design produced News and New Product Releases are published almost immediately online when sent, and come up on world wide Search Engines within a few days. Click to ENLARGE
Gianatsis Design Associates
Digital Product Release Service
Get Dozens, if not Hundreds of Full-Page ads in Industry Publications for your Products for Free!*
Product Release "Ads" that start running Immediately online and in print, that Show Up in All Search Engines, and Stay Online for Years!
If you want to stay in business you can't afford not to use this low cost Product Release Service from Gianatsis Design
The publication of Product Releases is one of the 3 important ways your company has available to promote its products in the news media (the others being Paid Advertising and Magazine Editorial Product Testing/Reviews). Product Releases are very important because they are your most cost effective (read Free!) form of advertising, while giving the impression to readers that it is the magazine's unbiased editorial endorsement of your product. This gives your company more credibility, supports your paid advertising, introduces new products to the market quickly and generates direct sales you can track.


An example of one of our professionally produced New Product Releases for client Mikuni American featuring a concise, well written and attractive. Digital Email Release is on the client's letterhead, together with an attractive product photo, both as an easy-open low-res file in the Email, and with a easy open URL link to the hi-resolution print image.








Gianatsis Design produced Product Releases are among most effective in the industry, garnering an 80% publication rate because we follow the proper style favored by editors ( we are former magazine editors). And the quality of our accompanying photography showcaes your product to its best, which regularly sees our published Releases receiving large 1/4 to 1/2 page editorial features.

We provide complete New Product and News Release Services with Hi-Resolution Pictures by E-mail, with our editorial E-mail list of some 400 Motorcycle Print Magazines and Internet Online Magazines in the United States and World Wide.
Our Product Releases service takes place once a month on a 12x contract and targets approximately 100-400+ editors, consumer, trade and web based publications in your respective market. With our 80% publication rate that's like having some 80 magazine ads each month at a normal ad placement cost of maybe $400 for each 1/4 page magazine ad, or $32,000 total, all for FREE!
Within 48 hours of Gianatsis Design Emailing out your latest New Product Release to the world wide industry, a web search in Google.com will show it posted on literally hundreds of websites! Followed in print publications a few months later.And the advantage of our submitting your Product Release to today's new On Line Publications is it remains on-line indefinitely, so a Google Search now or next year or in 5 years will have your company's "Handlebar Wing Nuts" come up with information on where to buy.
Gianatsis Design provides this Product Release service to you for just $400 a month on a 12 month contract. Included is one (1) free multiple product shoot to photograph up to all 12 products for the 12 months.
Many small companies think they can take care of their own product releases, but then they never get around to it... it just never gets done. With Gianatsis Design it will get done every month like clockwork, at an easily affordable cost you can't afford postpone any longer. Give us a call right now and watch your sales grow!
NEW PRODUCT RELEASE SERVICE
$400 per month
w / FREE Product Photography on a 1-year contract