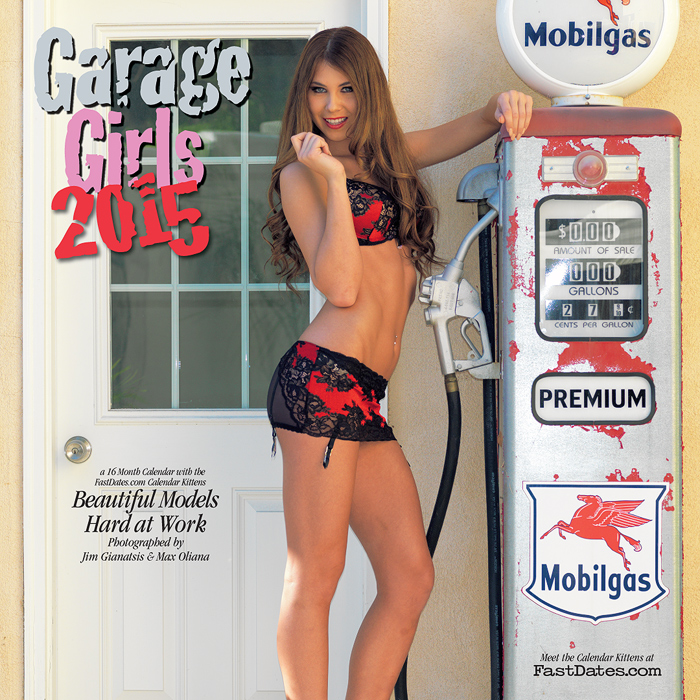 2015 Garage Girls Calendar - Beautiful Models Hard at Work!

Sorry, 2015 Garage Girls is now sold out, but the same Kittens are also featured in the
2015 Iron & Lace and Fast Dates Calendars still availabe below...

"All Killer, No Filler" is the only way to describe the exciting Garage Girls motorsports themed pinup Calendar photographed by Jim Gianatsis and Max Oliana featuring a close-up look at this year's most beautiful FastDates.com Motorcycle Calendar Kittens, but without the motorcycles getting in the way! The perfect 2nd Calendar to keep up to date in the Garage, in the House or at work! Our beautiful Garage Girls cover model this year is beautiful brunette Kelsey Sliwinski.
Featuring the hottest, sexiest new FastDates.com Calendar Kittens including beautiful SBK World Superbike 6'2" tall Grid Girls Jitunka and Petra from the Czech Republic as seen on TV race coverage, plus Jessica Harbour, Halle,
Hannah Flannery plus Kelly Sliwinski and Sara Horvath. You'll also find these beautiful models featured in
the other 2015 Fast Dates and Iron & Lace Motorcycle Calendars. They can't change a flat tire, but does it realy matter?
This is your exclusive 16-month pit pass to some of the world's sexiest models in revealing swimwear and lingerie.
Calendars are highest quality full color 15 x 15" wire spiral bound printed on heavy art stock
revealing 16 months beginning with September. $17.95 each - Click on the Calendar Covers below to Order Now
You'll also find our Garage Girls in revealing pictorials in MEMBERS CORNER

Click to Order Now

2015 Garage Girls
The FastDates.com Calendar Kittens play dirty without the bikes getting in the way!
ISBN 1578651735


Click to Order Online

2014 Garage Girls
15-inch Spiral Bound
ISBN 1578651638


Click to Order Online

2015 Iron Lace
Centerfold Models and Custom Bikes
15-inch Spiral Bound
ISBN 578651727


Click on Cover to Order Now

2015 Fast Dates
SBK Racebike Pinup Calendar
SBK World Superbike & Cafe Bikes w/Models
ISBN 1578651719


Click to Order Online

2014 Iron Lace
Centerfold Models and Custom Bikes
15-inch Spiral Bound
ISBN 157865162X


Click on Cover to Order Now

2014 Fast Dates
SBK Racebike Pinup Calendar
SBK World Superbike, Performance Machine
ISBN 1578651611
Order Online Now !
Click on the Small Calendar Covers Above or the Amazon.com Link below:

also Mid-USA 1- 800-527-0501/ 1-800-632-0024
Additional Sources Worldwide:
| | | |
| --- | --- | --- |
| Amazon.com USA & Canada / Online Ordering | USA 1-800-366-3645 | USA 1-877-668-6872 |
United Kingdom & Europe: Crossbow +44 (0) 208-669-6400
Duke Video +44 (0)162-464-0000 • W&W Cycles, Germany +49 (0) 931-250-6116
Zodiac, Europe +31 (0) 297 28 86 21 • Custom Chrome Europe, +49 (0) 671 88888 0
Worldwide visit: Chain Links page • New Distributor inquires go HERE
Notice: Please do not use the 2015 FastDates.com Calendar Mail Order Cards which are bound into the 2014 FastDates.com Calendars. These are addressed to Van Leeuwen Distributing who is no longer selling the Calendars and these orders will not be processed. We appologise for any inconvience.
Order Direct from FastDates.com
Be sure to specify USA or International Shipping
12/25/2014 NOTICE: 2015 Garage Girls is SOLD OUT including
the PayPal / Gianatsis Design Shopping Buttons Below.
Dealer Orders: Order Quantities of 10+
Past Edition 1991-2015 Calendars: Visit Collectors Corner
FastDates.com Calendars are a high quality 15 x 15" wire spiral bound calendar printed in full color
on premium art card stock revealing 16 months beginning with September preceeding the cover year, sealed in clear plastic with carboard insert. When ordering by mail please specify the calendar name, quantity, your name, address, and phone number.
Order Online by Charge Card. Postal Mail Orders should include check or money order - ONLY, no charge cards. Calendars are $17.95 each, plus USA Priority Mail $10 S&H for the 1st Calendar, and $3 for each additional Calendar. International orders require a higher shipping cost - Email us with your order for an International Shipping Quote - Contact (at) FastDates.com.
Send USA Postal Mail Orders to:
FastDates.com Calendars, c/o Gianatsis Design, 4801 Reforma Road, Woodland Hills, CA 91365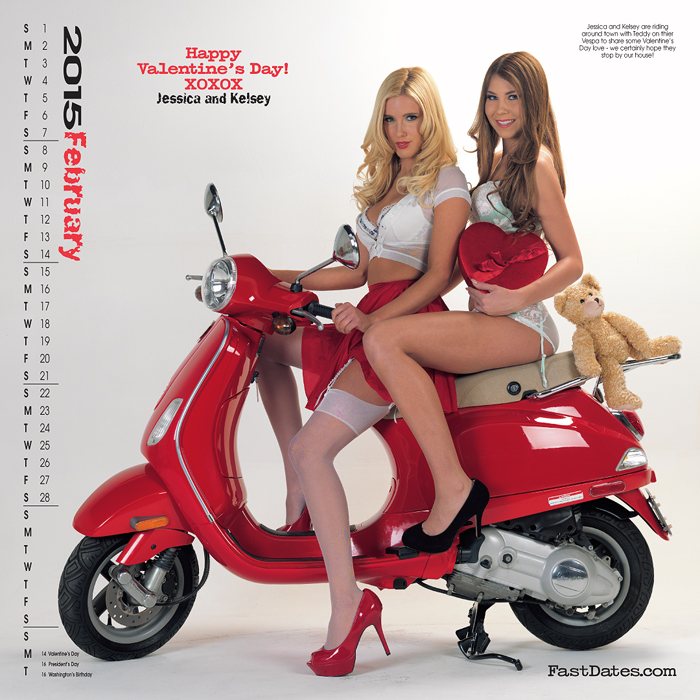 Above: Calendar Kittens Jessica and Kelsey are offical Rockstar Girls at the Supercross races, SBK World Superbike Grid Girls, and the like to ride around town on Valentine's Day
on their Vespa scooter!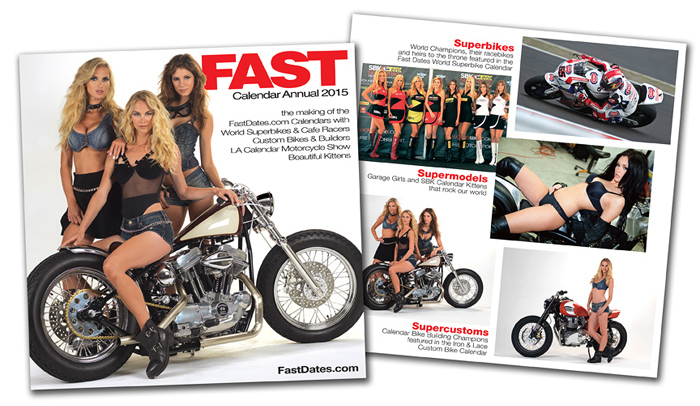 NEW! FAST 2015, 2014 Calendar Digital Yearbook
Go behind the scenes of the FastDates.com Calendar photo shoots at the SBK World Superbike races, the Los Angeles Calendar Motorcycle Show & Concourse d' Elegance, and inside the FastDates.com Studio of famed photographer Jim Gianatsis. Meet the official SBK World Superbike Calendar Kittens who also serve as the official SBK podium and grid girls, the top factory riders of World Superbike, and America's top custom bike builders. You'll find detailed editorial photo features on the Calendars' top Custom and Race bikes, and on the Calendar Kittens.
Did we forget anything? - Oh yes! The new FAST 2015 Calendar Yearbook Digital Edition features in high resolution every page in the new 2015 Fast Dates World Superbike, Iron & Lace Custom Bikes, Garage Girls and Cafe Racers Calendars featuring the world's top race and custom bikes and the beautiful Calendar Kittens!
Read and Download it now in MEMBERS CORNER
Holiday Greeting Cards from FastDates.com
Jack Frost might be nipping at your toes, but a sure way to warm up the holidays is with the sizzling hot FastDates.com Calendar Greeting Cards featuring the Calendar Kittens from the legendary Fast Dates Race Bikes, Iron & Lace Custom Bikes and Garage Girls Motorcycle PinUp Calendars. Order now to receive them well in time to send out to your deserving freinds for this Holiday season. Order online at - http://www.FastDates.com/CalendarPhotos.HTM
---
You can view and download all the FastDates.com Calendar pages as full size screensavers,
and see many of our Calendar Kittens in sexy pictorials in Member's Corner
Hot Calendar Girl and Bike News! Go to: Fast Dates • Garage Girls • Iron & Lace
Click here to see even more Calendar Bikes and Calendar Kittens...