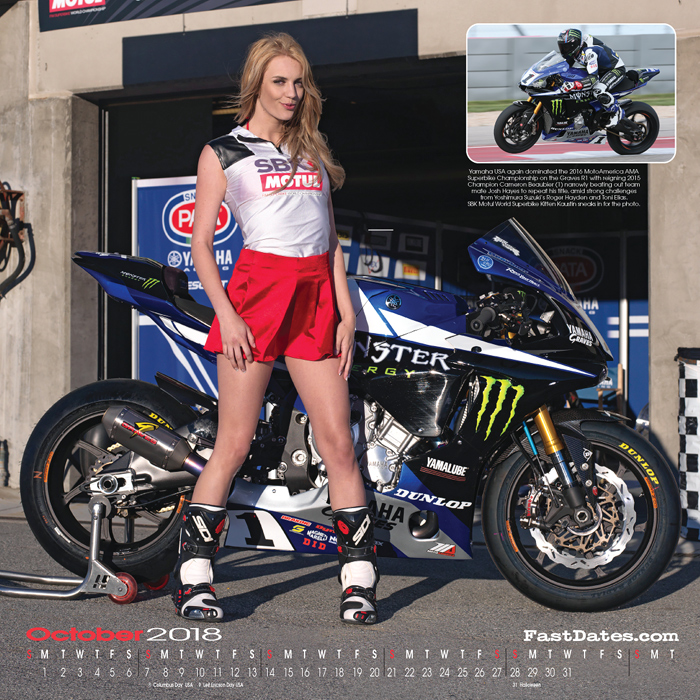 This Month in the Fast Dates World Superbike Calendar ....
SBK Fast Dates World Superbike Calendar Kitten Kaustin Rose with
2016 MotoAmerica Champion Cameron Beaubier's 2016 Graves Yamaha R1 Superbike.
Order the Fast Dates Calendars HERE.

See More of the Bikes and Beautiful Calendar Kittens in -
Calendar Bike Garage and Members Corner and Meet the Models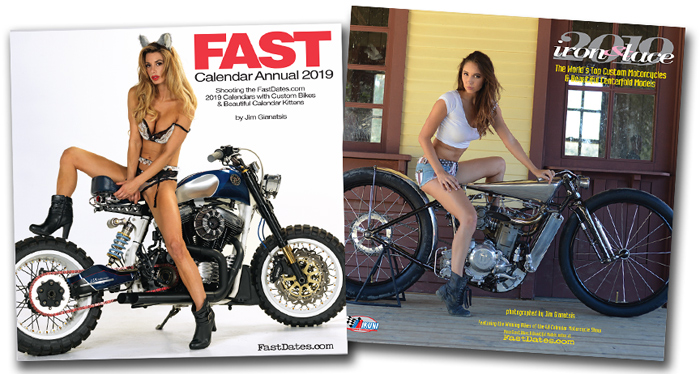 FAST 2019, 2018, 2017, 2016, 2015, 2014 Digital Calendar Magazines


Go Behind the Scenes for the Making of the FastDates.com Calendars!


Go behind the scenes for the shooting of the 2018 FastDates.comMotorcycle PinUp Calendars with photographer Jim Gianatsis and the Calendar Kittens. Travel to Laguna Seca World Superbike with the official SBK Umbrella Girls, the LA Calendar Motorcycle Show with the Top Custom Bike Builders, and take an Edelweiss Bike Tour across France from the Palace of Versailles to the World War II beaches at Normandy. Plus Editorial features on the Calendar Bikes and Kittens , and see every page in the new 2018 Fast Dates Superbikes, Iron & Lace Custom Bikes and Garage Girls Calendar.
Now in FastDates.com Members Corner
Each year's FastDates.com Calendar Digital Yearbook features 120- 138 pages of exciting hi-resolution digital photography that takes you with us behind the scenes to our photo shoots at SBK World and AMA Superbike, the LA Calendar Motorcyle Show, and in our photo studio. You'll meet the beautiful Calendar Kitttens in sexy biography pictorials, the top Factory Racers and Custom Bike Builders,and see detailed photo features on the top calendar and race bikes. Take a track day with World Superbike Champion Troy Bayliss at Misano, take an Edelsweiss Ducati World Superbike tour of the Ducati Factory & Museum and across Italy, ride a Vespa scooter around Paris and party at the Crazy Horse and the Moulon Rouge. Hang with beautiful teen rock star Taylor Momsen of the Pretty Reckless. Did we forget anything?

Oh yes, and you'll see every page in the new Fast Dates, Garage Girls, Iron & Lace Calendars!
---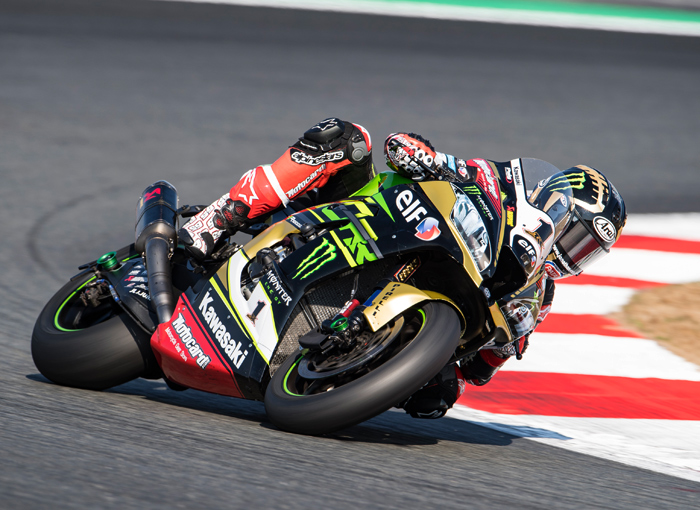 Good as Gold, Jonthan Rea rode a gold livery ZX-10R in the race on Sunday to commerate his 4th World Championship win.

2018 SBK Motul World Superbike Championship, France , Round 11 of 13

Jonthan Rea Clinch his 4th Staright World Superbike Champinship
Magny Cours, France, September 28-30th, 2018 - Kawasaki Racing Teams' Jonthan Rea secured his fourth FIM Superbike World championship title at Magny Cours this weekend by winning his 13th race of the season on his Ninja ZX- 10R in Race One on Saturday. Rea joined carl Fogarty to be the only rider in SBK history to win four titles, and the onlyh one to win all four titles in succession on the same brand of bike. Kawasaki Team mate Tom Sykes was a close second to Rea in Race One, having earleir in the day set a new lap record at Magny Cours for his 47th career Superpole win. 2 months previous Kawasaki had announced they would not resign their former 2014 World Champion for the 2019 season, curently leaving Tom without a ride for next year.

With Sykes and Rea 1-2 after Superpole, and both well under the existing lap record, the KRT duo took the race to their competitors from the startline. Rea passed Sykes early in the race, into the Estoril corner, and he ran up front from then on, sometimes at lap record pace. Rea set a 1'37.152 on his eighth tour of the 4.411km circuit to score his new lap record.
 
Rea's win gave him 130 podiums in WorldSBK, bringing him level to the all time record, which he now shares with Troy Corser.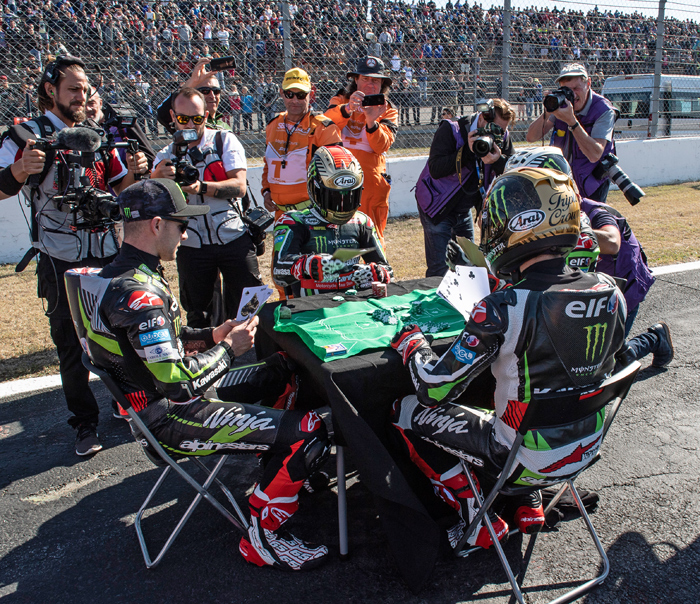 On the slowdown lap Rea celebrated his championship win with a game of cards against three of his own 'alter egos', wearing his racing suits and crash helmets representing each of Rea's championship winning season with KRT, from 2015 onward.
 
Sykes, who has now recovered well from a training injury in the long summer break, pushed as hard as he could to stay in contention with Rea. He had to settle for second place after almost losing the front more than once, but recorded his first podium since Brno in July.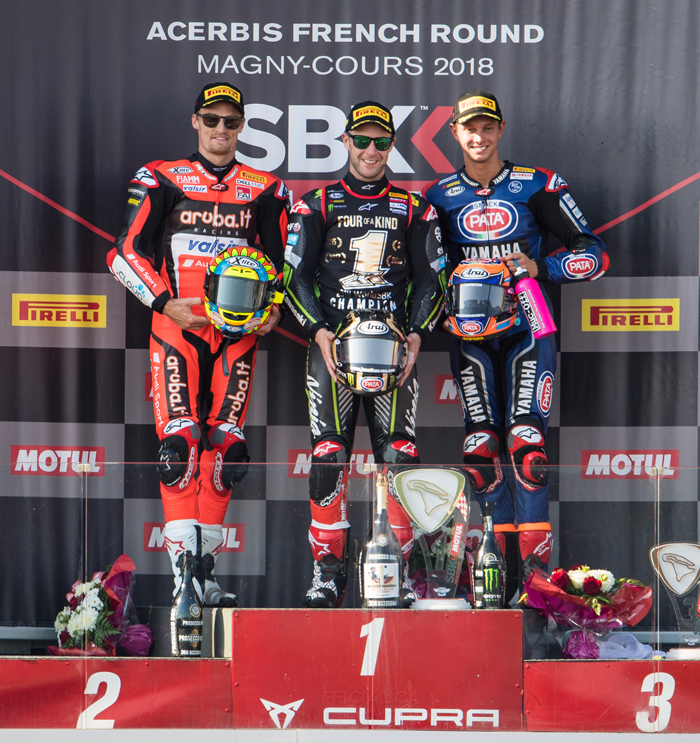 Jonathan Rea, stated: "It is absolutely incredible to win four.  Sometimes even after winning back-to-back championships, or three in a row I have to say it is hard to find words to speak about what you have just done. It is like we are riding the wave now with our Ninja ZX-10RR, with incredible people around me. Whilst I always dreamed of being in this position I never thought it to was realistic. It was so fitting that Guim, the team manager, allowed my dad to come and collect the team award on the podium. I got really choked up when he came up because it just reminded me of growing up in Northern Ireland and travelling all round with my parents to motocross races. Then getting my first pro ride in roadracing, and my parents letting go. But they have always had my back. So that was super-nice. Pere and my team gave me a great bike this weekend and the target was clear. We have been in this position before, so there was no kind of nervousness or anxiety around, it was really positive energy. On track Fabien has been analysing what we can do and the team worked super-hard all weekend to get the best out of the bike when the tyre was dropping. In the hot conditions, at the end of the race, that is what we worked towards today. The feeling with the bike just kept coming and I was able to knock it off on the last lap and take it all in. I was aware of the crowd there and what I was about to achieve so that last lap there I thought about winning the championship. It is incredible, and incredible journey."
 
Tom Sykes, stated: "Not a bad day but I am slightly disappointed that we suffered a little bit during the race. I settled into a good rhythm but when I wanted to attack, we missed it. I have spoken to the boys and I think we know what it is. I certainly enjoyed that race. When I tried to push I lost the front a couple of times. I am happy with the way the race went today, with this in mind. I am excited and motivated for tomorrow. I think we can improve our set-up a little bit. We need to start from the third row so it is all about a little bit of aggression. Today is a day for Jonathan Rea. He has had four fantastic years, kind of flawless years, and he has pushed very hard and made a very good job. Congratulations to him, his family and his side of the garage. Tomorrow we will have a go and try to win."

Tom Sykes (66) broke the lap record Saturday morning to secure pole, and challeged team mate Rea all race logn.

Team Kawasaki Domonates in Race One
RACE ONE  Saturday, 29 September 2018 - Jonathan Rea (Kawasaki Racing Team) took the 2018 WorldSBK crown in style at the Acerbis French Round, slicing past teammate Tom Sykes in the early stages of Race One and imperious from there on in to take victory number 13 of the year. Unlucky for some, but far from it for the now four-time Champion. Sykes took second from his record-breaking pole, with Xavi Fores (Barni Racing Team) completing the podium after a three-way fight for third.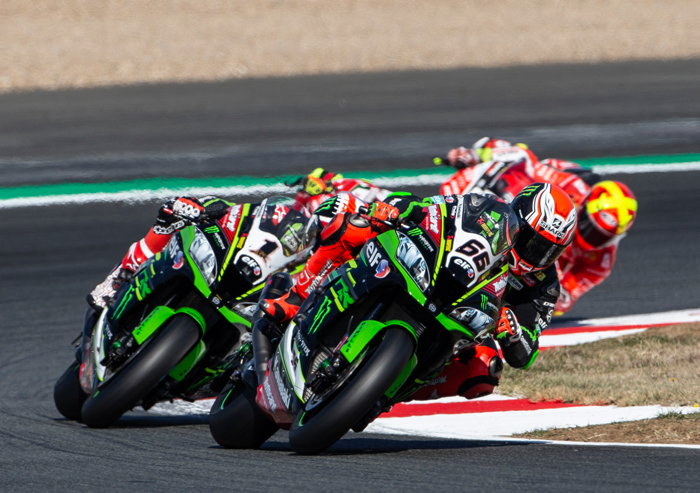 It was Sykes who got the holeshot from pole, getting a lightning start and leaving teammate Rea to trail him in second – albeit in very close company. Lorenzo Savadori (Milwaukee Aprilia) kept his P3 from the front row as they shot off the line, with Xavi Fores (Barni Racing Team) slotting into fourth as the field made their way around Lap 1. But Rea remained threatening in second and feinted a number of moves, before the reigning Champion pounced for the lead not long after.
Just off that fight at the front, Alex Lowes (Pata Yamaha Official WorldSBK Team) took an early tumble, followed not long after by a DNF for Michael Ruben Rinaldi (Aruba.it Racing – Junior Team) in that same mid top ten group. Rea was then pulling away from Sykes and Sykes from those on the chase as Fores hustled past Savadori and took over in third, but the Italian stayed close and Chaz Davies (Aruba.it Racing – Ducati) was beginning to hone in on that battle.
Rea crossed the line for win number 13 and his fourth crown in style, with Sykes just behind his teammate in another impressive 1-2 for Kawasaki. Fores was able to fight off Savadori, and both just stayed ahead of Davies by the flag. Davies needed to finish second to stop Rea taking the crown, but after a mid top ten qualifying and still recovering from a broken collarbone, it was a tall order. The Welshman nevertheless put together an impressive ride in difficult circumstances – much like his races in Portugal. His teammate Marco Melandri , after a tough qualifying, moved through from p12 on the grid to take sixth.
Seventh went to Michael van der Mark (Pata Yamaha Official WorldSBK Team) as he moved up from tenth on the grid, getting past Toprak Razgatliouglu (Kawasaki Puccetti Racing) at mid-distance and steadily pulling away from the Turk, who came home in P8. Loris Baz (GULF Althea BMW) had been fighting him in the latter stages but couldn't make it stick, and just at the end was pipped to ninth by Eugene Laverty (Milwaukee Aprilia). 
Leon Camier (Red Bull Honda World Superbike Team) took P11, ahead of Jordi Torres in P12 for MV Agusta Reparto Corse.
Four titles in a row, 13 race wins this season and two rounds still to go make for another amazing season for Jonathan Rea. See him race as the 2018 champion for the first time on Sunday in Race Two from Magny-Cours.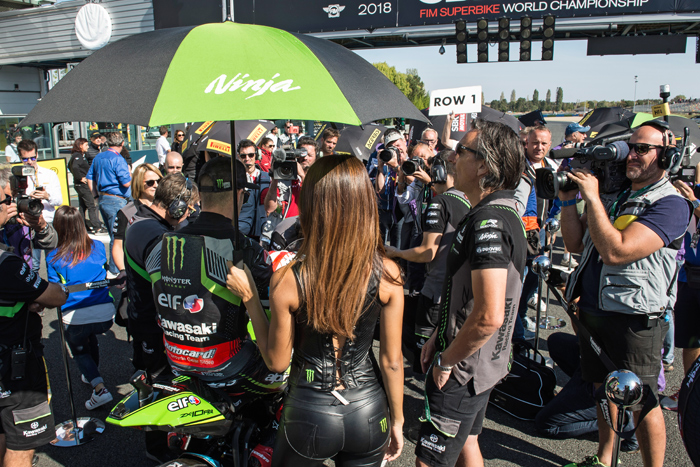 P1 - Jonathan Rea (Kawasaki Racing Team WorldSBK)
"It's absolutely incredible, I don't have many words, we just played our cards perfectly this weekend with one lap pace and trying to be fast over the race but  feel so blessed and lucky right now. I was just a young kid with a dream from Northern Ireland and now I'm four times world champion and its beyond my wildest dreams. Thanks to everyone for believing in me over the years, I couldn't have done it without you all. Thank you."

P2 - Tom Sykes (Kawasaki Racing Team WorldSK)
"Not a bad but slightly disappointed, for whatever reason we struggled a little bit in the race, we struggled at the beginning and when I wanted to attack we missed it. I spoke with the boys and I think we know what it is, but I enjoyed the race and like I said, when I tried to push I lost the front a couple of times and couldn't do what I wanted. I am happy with the race and for tomorrow I am very excited and motivated, starting from the third row tomorrow is all about aggression. But today is all about Jonathan Rea!"

P3 - Xavi Fores (BARNI Racing Team)
"It was a very hard race because the pace was so fast during all the race. At the beginning I was able to stay with Tom, but I felt a small drop on the front tyre and I decide to make my rhythm to the last part of the race. In the final laps I tried to defend my position and it was so good for me to be back on the podium after some hard races, and its good for me to have a good feeling for the rest of the season, and I am looking forward to tomorrow."

French WorldSBK Magny-Cours: Race 1 - Complete Results Here
1. Jonathan Rea (Kawasaki Racing Team WorldSBK)
2. Tom Sykes (Kawasaki Racing Team WorldSBK) +3.091
3.  Xavi Fores (BARNI Racing Team) +8.558

Sunday Race Two - Rea makes it a double in France
RACE TWO Sunday, 30 September 2018 - The champion is not taking an early vacation just yet: Jonathan Rea (Kawasaki Racing Team WorldSBK) roared ahead to grab a phenomenal double at the Circuit de Nevers Magny-Cours as the MOTUL FIM Superbike World Championship shut up shop for Round 11 and the European season. The Northern Irishman has now made it eight consecutive victories in a row, matching the best WorldSBK winning streak since Troy Bayliss did the same back in 2006.

Chaz Davies (Aruba.it Racing – Ducati) started from second on the grid and immediately grabbed the holeshot, powering away from Michael van der Mark (Pata Yamaha Official WorldSBK Team) and Marco Melandri (Aruba.it Racing – Ducati), while Race Two polesitter Lorenzo Savadori (Milwaukee Aprilia) quickly fell down the order. But inside just half a lap Rea had already managed to climb into third position and set his sights on the race lead, eventually managing to outpace van der Mark at the Imola chicane in lap 3.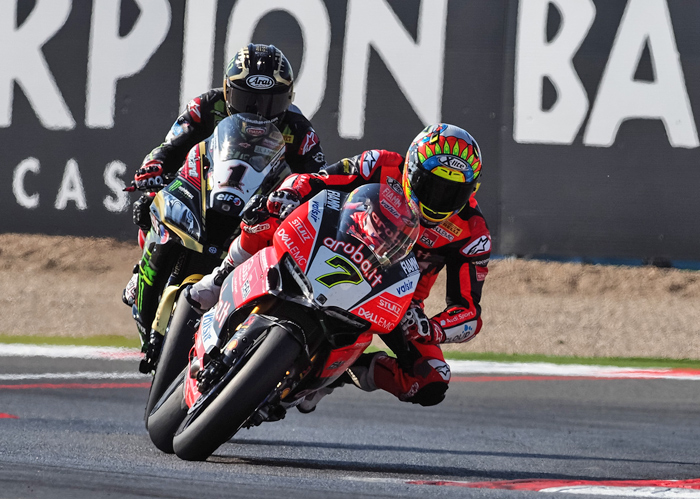 Davies leading, Rea in hot pursuit – the same scenario we've witnessed countless times across the years, and as recently as Race Two in Portimao. Even with an unassailable margin of points separating them in the standings, the pair fought as fiercely as ever. Rea singled out the Adelaide hairpin as the point to make his pass, but lap after lap the moment didn't come, the Welshman forcing his Ducati in front on the exit every time, with the Kawasaki rider twice running in too hot. But then Davies opened the door in lap 12 through turn 9, and Rea emphatically put his foot in, flying into the race lead. With an open track ahead, the KRT rider was just too strong to match, with Davies crossing the line in second and van der Mark putting his R1 onto the podium again in third.
Tom Sykes (Kawasaki Racing Team WorldSBK) couldn't return to the rostrum after his P2 yesterday, but the move he put over Marco Melandri (Aruba.it Racing – Ducati) with one lap on the clock did net him P4 in Race Two, with the Italian following behind and completing the top five.
Savadori managed to steady his pace after a few dubitative opening laps and claimed sixth place, closing off his best weekend of the season. Alex Lowes (Pata Yamaha Official WorldSBK Team) crossed the line in seventh and saves some points from a mostly disappointing weekend, with Xavi Fores (Barni Racing Team) in eighth and as the top independent rider.
Leon Camier (Red Bull Honda World Superbike Team) returns to the top ten for the first time since his injury in July, leaving Magny-Cours with a P9, with hometown boy Loris Baz (GULF Althea BMW Racing Team) closing out the top ten. Eugene Laverty (Milwaukee Aprilia) crossed the line in 11th, with Toprak Razgatlioglu (Kawasaki Puccetti Racing) in 12th.
That's a wrap in France! WorldSBK now leaves Europe behind until 2019, but there's still two rounds more to come, Round 12 kicks off at the brand-new San Juan Circuit in Argentina in just two weeks' time.
P1 - Jonathan Rea (Kawasaki Racing Team WorldSBK)
"It's incredibly, absolutely unbelievable and I want to thank all my team for getting me here today. I made some smart choices on the opening lap, and then I had a little tussle with van der Mark which let Chaz get a bit further away, but once I got onto the back of him he was so difficult to pass as he rode a perfect race, but I picked my moment after a few failed attempts and then got my head down. It was unbelievable. I was really worried about using the gold fairings today and the team were pushing really hard, so I thought I'd use my gold helmet as well and it paid off. I'm going to forget today, think about yesterday and go out and party really, really hard tonight."

P2 - Chaz Davies (Aruba.it Racing - Ducati)
"It was tough, very tough! I'm super happy and I knew it was possible to have a good rhythm at the start, but I needed to make a good start in itself, which I did and then put in a move at the first corner. Then I got my head down early to try and make a bit of a gap as I didn't know how I was going to fair in the latter half of the race; I could see on my pit board that Jonny was closing but not overly quickly, and once he got side-by-side with me it was all about trying to make life as difficult as possible for him and hit my marks so that if he tried to overtake he'd run deep, which happened plenty of times. Once he got past I didn't really have an answer for him, but overall I'm very happy for him as it's been a long few months since Misano – it felt like we really earned this one."

P3 - Michael van der Mark (Pata Yamaha Official WorldSBK Team) 
"Really happy with today's result as yesterday wasn't so good. We changed a lot on the bike this morning but it didn't feel so good, however for the race I got a really good start and was really aggressive; I thought my pace was good but Jonny and Chaz had a little bit extra. But anyway, I'm really happy to be on podium and hopefully next time out in Argentina we can be on the podium again."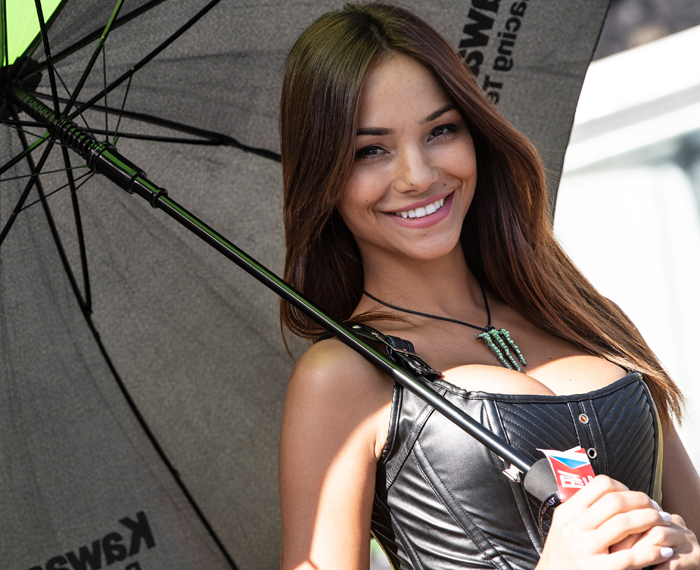 French World SBKMagny-Cours Race 2 - Complete Results Here
1. Jonathan Rea (Kawasaki Racing Team WorldSBK) 
2. Chaz Davies (Aruba.it Racing - Ducati) +1.804
3. Michael van der Mark (Pata Yamaha Official WorldSBK Team) +3.552
---
October 2nd, 2018 - The original Suzuki GSX1100S KATANA caused a sensation when it launched in 1981. It won the hearts of riders around the world and forever changed street motorcycle trends. The impact was so great, the KATANA continues to influence motorcycle designs even today.
Having poured its heart and soul into forging the original KATANA, Suzuki never lost its passion for the model. The legend of the KATANA lived on within the company as successive generations of designers and engineers anticipated the day they might get to work on new version.
Fast forward to the fall of 2017 when the KATANA 3.0 CONCEPT model was introduced at EICMA in Milan. Designed by famed motorcycle designer Rodolfo Frascoli and built by Engines Engineering, this new vision of a thoroughlymodern KATANA sparked a fire in the hearts of all.
Listening keenly to the feedback from EICMA and excited about the potential demonstrated by the KATANA 3.0 CONCEPT, Suzuki felt this was the right time to introduce a thoroughly modern version of the legendary KATANA. Development began soon after, with a team of designers and engineers burning the midnight oil in Hamamatsu until satisfied they had brought together all the elements necessary to create a new legend with the 2020 KATANA.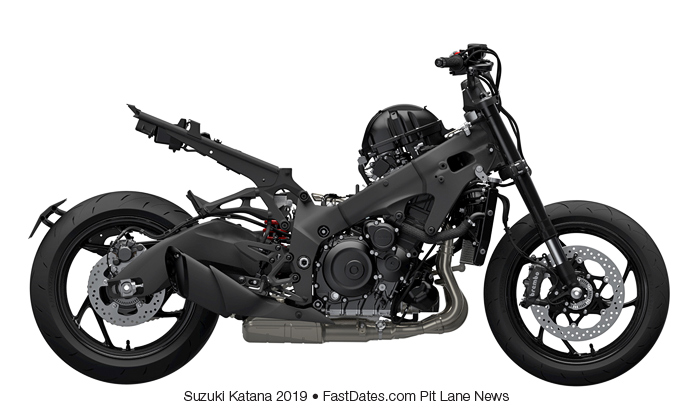 Each of the styling features and performance components that distinguish the KATANA underwent many iterations to achieve the desired level of refinement and functional beauty. Overall, the development process came to closely resemble the arduous process of creating the Japanese sword from which the model's name is derived.
Introduction
The 110kW (150PS) inline-four engine that powers the KATANA is directly inherited from
the one that has long earned popularity and a solid reputation on the GSX-R1000.
However, a few minor modifications were implemented to realize even smoother
throttle response and a wider torque band, as well as to optimize the induction roar
and exhaust note.

Engine design - outline
Power is supplied by a four-stroke, liquid-cooled, DOHC, 999cm3 inline-four engine. It is a
street-tuned version of the legendary 2005-2008 GSX-R1000 engine designed to provide
smooth throttle response and immediate, controlled acceleration. The result is exciting
and thoroughly satisfying performance with characteristics that make it easy to control.
The reasons Suzuki chose to use the GSX-R1000 engine (from 2005-2008) are as follows:
Its long stroke design delivers broad low-to-mid range power and torque that is well
suited for street riding.

Its crankshaft/gearbox layout allows the use of a frame design that runs straight from
the steering head to swing-arm pivot. This results in realizing a lighter weight main
frame design.

The 2005-2008 generation GSX-R1000 won a number of racing championships around
the world. The engine has great reputation in the market, it is reliable, and "it delivers plenty of power."
"Forging a New Street Legend"
The KATANA was developed to be a sporty-looking standard street motorcycle that
takes lean, mean retro flair and evolves it to offer thoroughly modern styling and
performance. Built to deliver the exciting ride one would desire in a current 1000cm3
class motorcycle, the KATANA is also designed to provide easy control over that power
and a comfortable riding position.
In paying due tribute to Suzuki's legendary KATANA while updating both the looks and
level of performance to a leading standard for today's street scene, the KATANA reflects
Suzuki's ongoing commitment to fine craftsmanship and its willingness to sweat every
detail to get them right.
Major features of the KATANA
Design features:
Sleek, sporty profile with sharp, sweeping lines
Gives the distinctive design of the legendary KATANA a totally modern look
Sharp front end and clean, taut-looking rear end
Distinctive new LED headlight and LED front position lights design
Unique satellite rear fender extending from the swingarm
Red logo decal inherited from the legendary 1980s KATANA
Two-tone seat designed for comfort and good looks
Custom black upswept muffler
Performance features:
High-performance 999cm3 liquid-cooled inline-four engine
Inherited from the GSX-R1000 and custom-tuned for the street
Precision fuel injection system
Advanced engine control management
Suzuki Dual Throttle Valve (SDTV) system
Suzuki Exhaust Tuning (SET) system
Custom 4-2-1 exhaust system
Lightweight, compact and highly rigid aluminum frame
Lightweight, ruggedly braced aluminum swingarm
Fully adjustable Ø43mm KYB inverted front forks
Radial mount 4-piston Brembo front brake calipers
Controllability features:
3-mode traction control system
Low RPM Assist
Suzuki Easy Start System
Back-torque limiting clutch
Tubeless Dunlop tires with custom-designed pattern
Antilock Braking System (ABS)
Comfortable upright riding position
Informative full-LCD instrumentation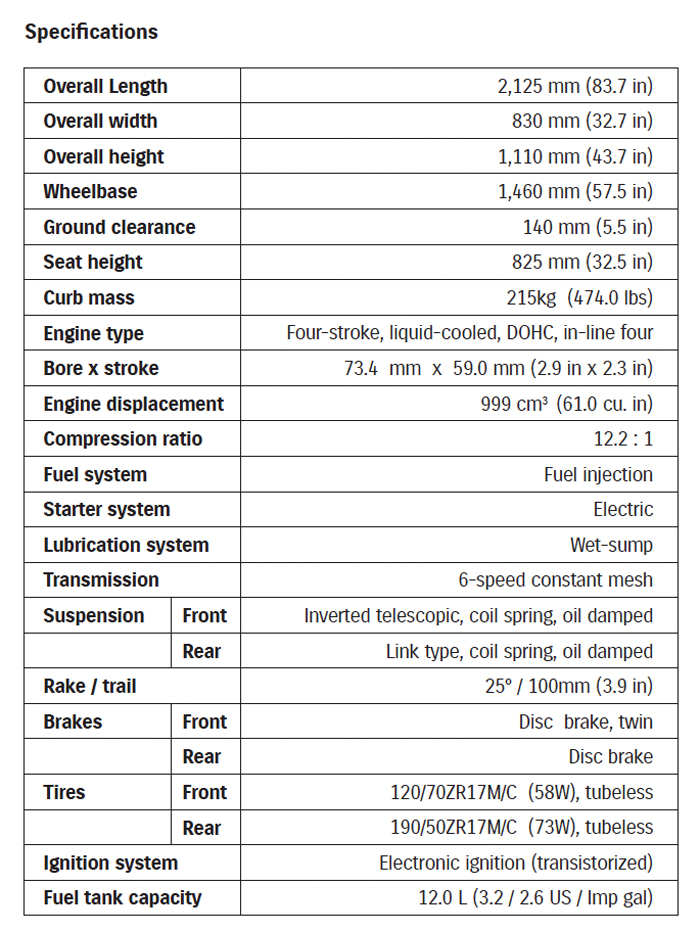 ---
By Jim Gianatsis and Elia Mirashi 
photos by Jim Gianatsis, Ducati Communications Dept. - Click on any Photo to Enlarge it 

The Adriatic Coast and Misano World Circuit, Italy, July 20-22nd 2018 - What better way for a hard core Ducatista to spend their summer vacation than attending the 10th edition of World Ducati week for 2018 at Misano Adriatico on the north east coast of Italy at the famous race circuit Marco Simoncelli. This was my 3rd visit to a World Ducati event weekend which normally takes place every 2 years, having last attended when the event was less well known back in 2004 and then in 2012 when it had really grown. Needless to say, this year's 2018 event was even bigger and offered up more activities and sights than you could handle during the expanded 3 day weekend. Making it even more enjoyable, i always fly in a few days early from my home in Los Angeles to Ducati's home in nearby Bologna, Italy, to tour the factory, its museum, its factory retail store for bikes and official apparel, and now a cool American 1960's diner restaurant named Cafe America with a full menu of American burgers, diner food classics and drinks.

Complete WDW2018 Coverage HERE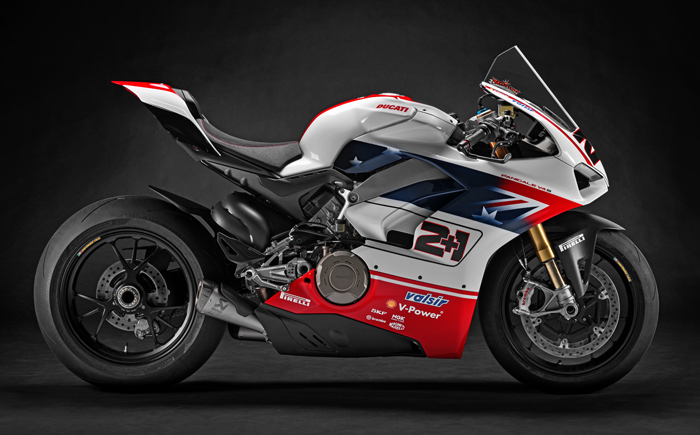 Troy Bayliss' Battle of the Champions Ducati Panigae V4S sold after WDW2018 on eBay for $144,000!
Ducati invoted a few of it closest friends which this year included MotoGP race winners Jorge Lorenzo and Andrea Dovizioso, superbike riders Chaz Davies and Marco Melandri, along with legendary retired riders included Casey Stoner and Troy Bayliss, to meet with fans and put on display races. On Friday the riders took to the track for a few exhibition laps on their race bikes. Then on Saturday they returned to the Misano track for a 12 lap race on the new production Panigale V4S Superbikes in the "Race of Champions".
Complete WDW2018 Coverage HERE
---
---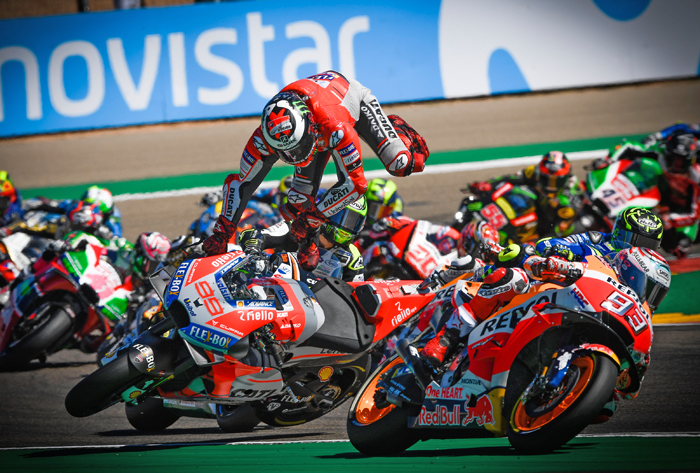 Lorenzo (99) and Marquez (93) tangked in Turn One, guess who came out the winner?

2018 MotoGP World Championship, Gran Premio Movistar de Aragon, Round 14 of 19

Three factories battle at MotorLand,
but it's Marquez who takes the spoils
Sunday Sept 23rd, 2018 - Three factories, three riders, a dash of controversy and one of the most incredible moments of the year - that was the Gran Premio Movistar de Aragon. In the end it was a masterclass from Marc Marquez (Repsol Honda Team) as the reigning Champion and Championship leader fought off old foe Andrea Dovizioso (Ducati Team) to emerge victorious, with Andrea Iannone (Team Suzuki Ecstar) completing the podium, but the headlines weren't all written in the battle: a first-corner crash for Jorge Lorenzo (Ducati Team) saw him highside out after starting from pole.
Lorenzo was imperious on Saturday but it was Marquez who got a great launch from P3 and dived up the inside to grab the holeshot on Sunday, before both he and Lorenzo headed wide. That's when the 'Spartan' crashed, suffering a dislocated toe in the process. Opinions on the incident differed between the two men but it did leave Dovizioso in the driving seat as he capitalised on the scruffy start for his two biggest rivals, taking the lead as Marquez slotted back into second.
Behind the drama, Iannone and Alex Rins (Team Suzuki Ecstar) bolted out the blocks to move forward into the fight, with Dani Pedrosa (Repsol Honda Team) and Aprilia Racing Team Gresini's Aleix Espargaro hot on their heels. Cal Crutchlow (LCR Honda Castrol) was also in that tousle in the early stages, but the Brit crashed out five laps in.
So began the battle for Aragon. Rins was looking menacing behind Marquez, feinting numerous overtaking attempts into the first corner as both Suzukis kept tabs on the leading duo and by lap 11, Dovi, Marquez, Rins and Iannone had edged out two-second gap to Pedrosa and Espargaro. The stage was set.
As if someone had flicked a switch and turned it up to 11, 'DesmoDovi' made his move and posted the fastest lap of the race a lap later – a 1:48.3. Marquez responded to stay with the Italian and the two looked to have broken clear of the Suzukis on the chase, but not so as the gloves came off between the leading duo. The number 93 carved past at Turn 12, but on Lap 16 Dovizioso got the drive up the hill to attack Marquez back at Turn 4. Never one to refuse a challenge, the Repsol Honda rider immediately responded up the inside at Turn 5, with the Italian then biting straight back at Turn 7. Stunning it was, but it also allowed Iannone to close the gap...
A number of laps later Marquez pounced again at Turn 12 and set off another flurry of dueling. This time, however, Iannone was able to get involved and as Dovizioso took the inside at Turn 15, Iannone took the outside and it made for a stunning sight as Marquez was briefly swamped by both. The Ducati and Honda were back in the lead soon after, but Marquez was about to play his ace.
The race-defining move finally came from the number 93 at Turn 5, and the reigning World Champion held firm until the chequered flag to take a third straight win in Aragon, equaling Mike Hailwood's win tally of 41 for Honda. Dovi was forced to settle for second but equaled Casey Stoner's Grand Prix podium count, with Iannone earning his third podium of the year and Suzuki's first at MotorLand. The rostrum was also enough to mean the Hamamatsu factory will now lose concessions.
Fourth was local hero Rins as he took a second consecutive P4, with Pedrosa securing his first top five since the Catalan GP at his penultimate home Grand Prix. Espargaro excelled in sixth to pick up the Aprilia's best result of the season and their best result so far, with the Spaniard beating Danilo Petrucci (Alma Pramac Racing) to top Independent rider as the Italian came home seventh.
Valentino Rossi (Movistar Yamaha MotoGP), meanwhile, was another headline act as 'The Doctor' sliced through the field from P17 on the grid to take eighth, ahead of Jack Miller (Alma Pramac Racing) after the two battled in the latter stages. Rossi's teammate Maverick Viñales (Movistar Yamaha MotoGP) rounded out the top ten.
Franco Morbidelli (EG 0,0 Marc VDS) won the battle of the rookies in P11, with Takaaki Nakagami (LCR Honda Idemitsu) 12th. Bradley Smith (Red Bull KTM Factory Racing) had a solid race to take 13th, ahead of a tough day for Johann Zarco (Monster Yamaha Tech 3) in 14th and a points finish for Karel Abraham (Angel Nieto Team)  in 15th.
A monumental Marquez victory on home soil leaves the Honda rider with one hand on the title as the premier class head to Thailand for the first time. Will it be another Marquez vs Ducati contest? Will the Championship get closer once again? Or can a last chance saloon for Dovizioso deny the six-time World Champion? In two weeks, all will be revealed at Chang International Circuit...

MotoGP™ Race Results - Complete Results HERE
1 - Marc Marquez (SPA) HONDA +2.822
2 - Andrea Dovizioso (ITA) DUCATI +0.648
3 - Andrea Iannone (ITA) SUZUKI +1.259
---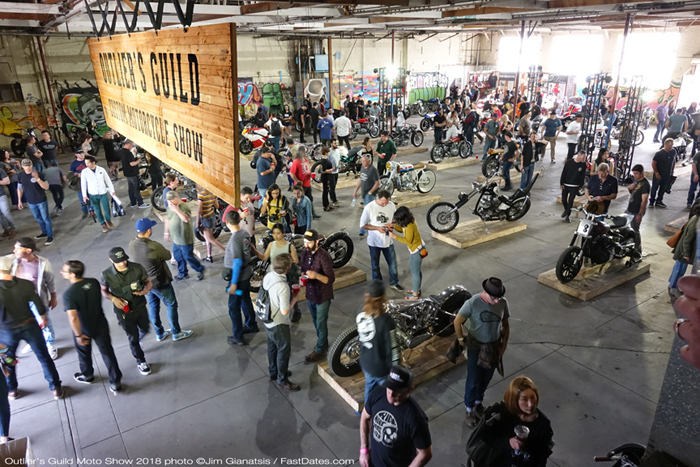 Outlier's Guild Moto Show Los Angeles 2018
Photos and Report by Jim Gianatsis - Click for Complete Story and Photos
Return to Pit Board Features

Los Angeles Downtown Arts District, CA - March 31st 2018 -The 2nd annual Outlier's Guild Moto Show held in the old warehouse district of downtown Los Angeles, now being revitalized by the City as the "Arts District" with upscale Apartments,Restaurants and Art Galleries, blew the lid of the retro custom bike scene, drawing tsome 3,000 spectators and the nicest turnout of custom built bikes on the West Coast since the heyday of the legendary LA Calendar Motorcycle Show until the 2008 Recession decimated America's big ticket custom bike industry.
---

The 2018 Rider RoundUp at the Ranch
& Calendar Bike Building Championship! • Sunday Oct 7th 2018

The 2018 LA Calendar Motorcycle Show continues its now 28-year tradition as one of the premier outdoor custom street motorcycle events in America now in partnership with the Rider RoundUp at the Ranch & Calendar Bike Building Championship taking place on Sunday October 7th 2018 in the Western Town movie set at Paramount State Park, Agoura, CA, produced by Calendar Bike Builder Russell Mitchell / Exile Cycles and Jim Gianatsis / FastDates.com. Featuring top Celebrity Custom Bikes & Builders, selected Vendors and Exhibitors, Live Music performances. And the world premier of next year's new 2019 FastDates.com Motorcycle PinUp Calendars featuring the world's top Sport and Custom Motorcycles with the beautiful Calendar Kittens in attendance at the Show. Select Builders and their Bikes will be invited to be photographed by producer Jim Gianatsis for the next FastDates.com Calendars. More Information on our Bike Show Page
Complete 2017 Calendar Bike Builder Party & Rider RoundUp Show Coverage Here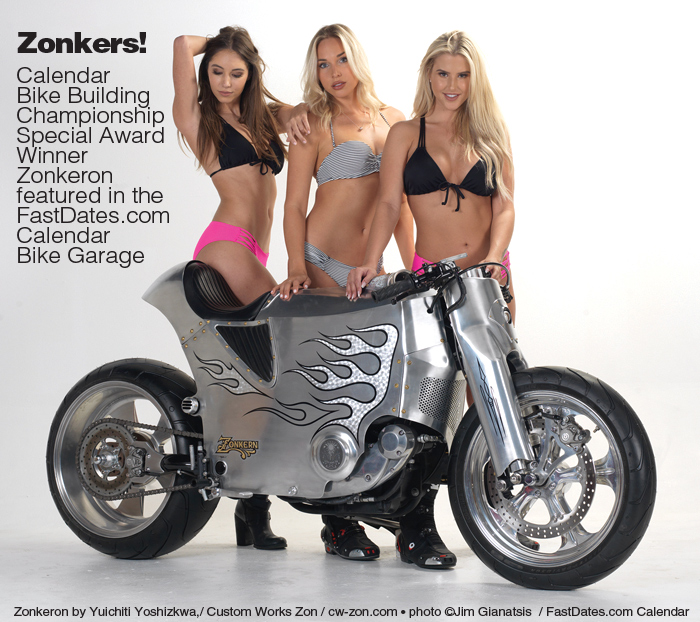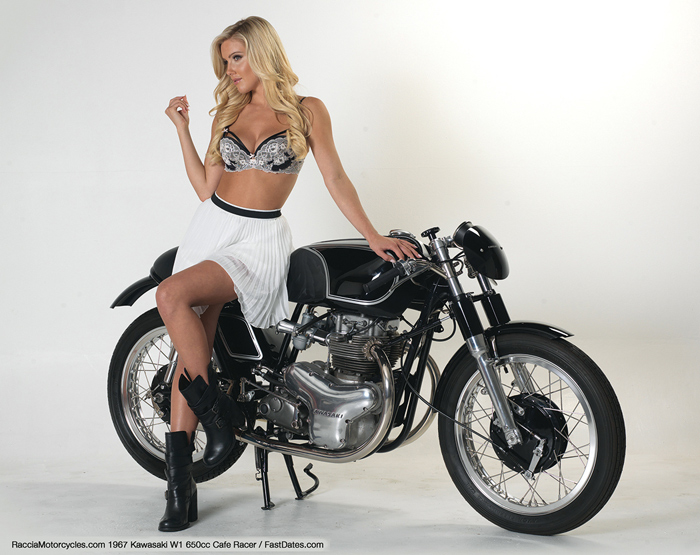 Now in the FastDates.com Calendar Bike Garage!
Mike LaFountain's 2016 LA Calendar Bike Show class winning 1967 Kawasaki W1 Cafe Racer with SBK Fast Dates World Superbike Calendar Kitten Jessica Harbour in Big Screen Saver Size Pictures and bike details - http://www.FastDates.com/IronLaceGarage.HTM
---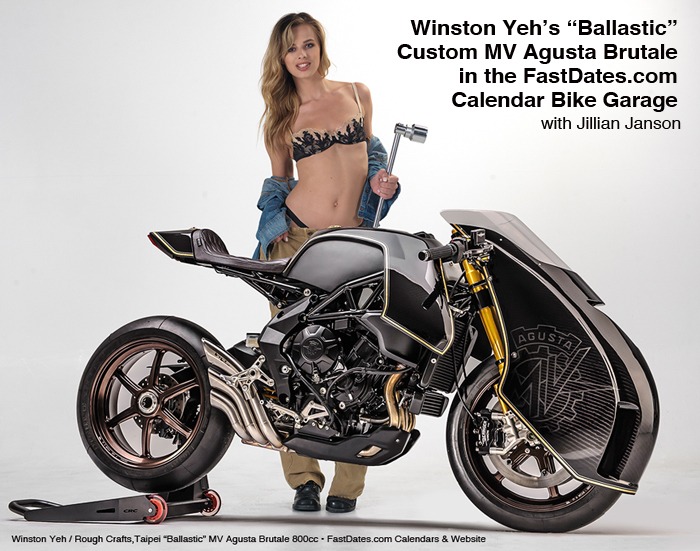 Now in the Calendar Bike Garage!
Winston Yeh's exciting new MV Agusta "Ballastic" Custom with Calendar Kitten Jillian Janson with complete Build Details and a Large Screen Size Photo Gallery. - http://www.FastDates.com/IronLaceGarage.HTM

---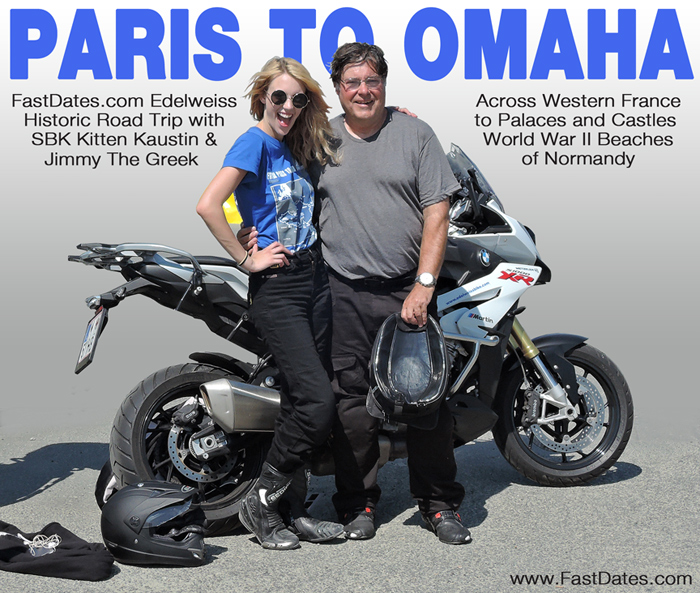 We're Back! Riding Edelweiss Motorcycle Tour - From Paris to Omaha, France
Versailles, France, August 2016 - How we spent our summer vacation! On the exciting Edelweiss Bike Travel 2016 Paris to Omaha Beach 10-day motorcycle tour across western France visiting the histroric battle sites of World War II where editor Jim Ginatsis father, B26 bomber pilot Capt. James Gianatsi played a pivital role in te D-say invasion and liberating France. We rode 2-up two-up with awesome FastDates.com SBK World Superbike Calendar Kitten Kaustin "Kaussie" Rose in a story for the FastDates.com Website. Our bike of choice would be the newly introduced BMW R 1000 XR Sport Tourer, based on the potent BMW R 1000 RR Superbike. For the Complete Story Click on the Photos or Check Out the Complete Story Here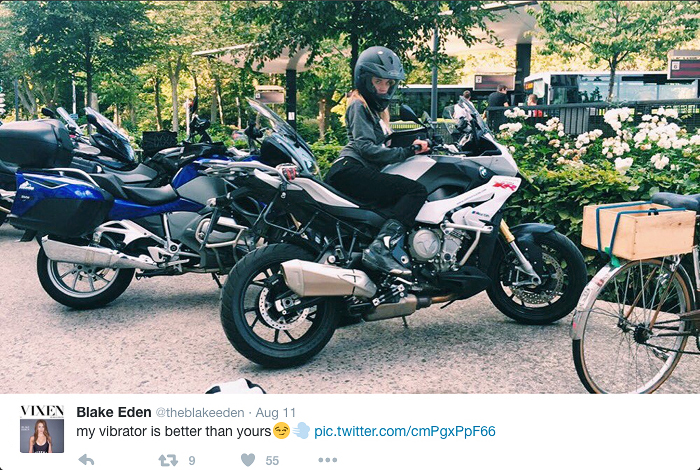 For complete Pricing, Bikes, and Booking Information visit the Edelweiss Website Here

---
Fast Dates Calendar Celebrates 22 years of SBK World Superbike in America
with 2018 Fast Dates Calendar SBK Umbrella Kittens Kaustin & Alissa at 
Laguna Seca World Superbike and the LA Calendar Motorcycle Show 
By Jim Gianatsis   Photos by Jim Gianatsis • Clink on any Photo to Enlarge It

California, USA, July 17-20th 2016 - For the 22nd year since SBK World Superbike first came to America at Laguna Seca Raceway in 1995, the FastDates.com Calendars and myself, producer / photographer Jim Gianatsis were excited to continue 
our ongoing association with SBK World Superbike and the UmbrellaGirlsUSA.com to bring 2 more beautiful FastDates.com Calendar Kittens; Kaustin Lanae and Alissa Bourne to shoot with me at the 2016 Mazda Raceway Laguna Seca United States SBK World Superbike and AMA National race weekend July 8-10th. There they served as the official SBK Podium Girls and helped me shoot the next Fast Dates World & AMA Superbike Calendar. Then, two weekends later the Kittens would work the
26th annual LA Calendar Motorcycle Show and Calendar shoot in Los Angeles on July 23-24th.     CONTINUED HERE

---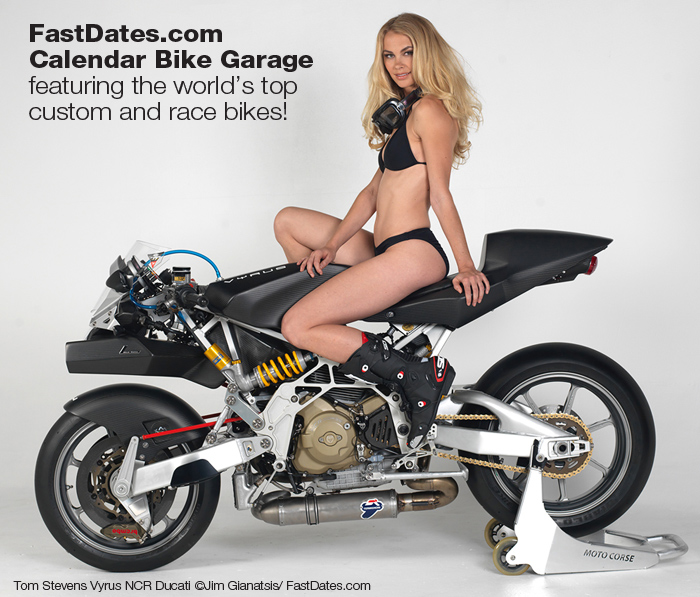 Now in the Calendar Bike Garage... The World's Coolest Naked Ducati!
Beauitful FastDates.com Calendar Kitten Sara takes us for a ride on the world's most exotic and expensive Ducati streetbike
ever - a $110,000 Vyrus NCR 983 Superleggera in the Calendar Bike Garage and in Members Corner.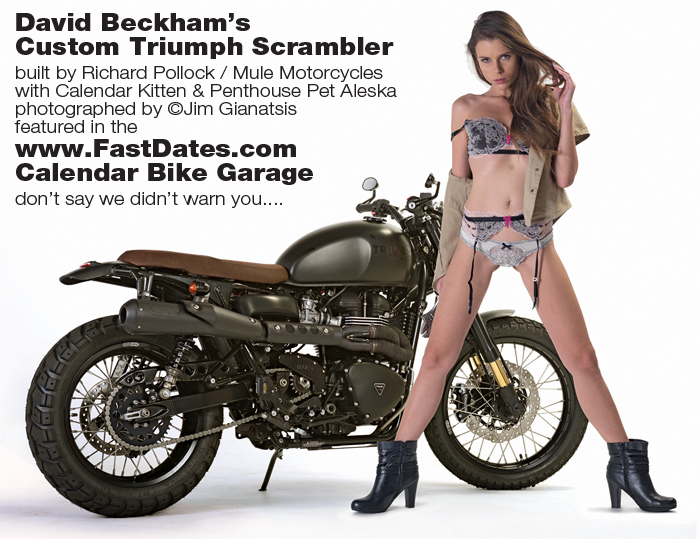 Now in the FastDates.com Calendar Bike Garage!
David Beckham's Amazon Triumph Scrambler build by legenday Calendar Bike Builder Rickard Pollock / Mule Motorcycles, photographed with Calendar Kitten and Penthouse Pet Aleska in BIG full screen saver size photos.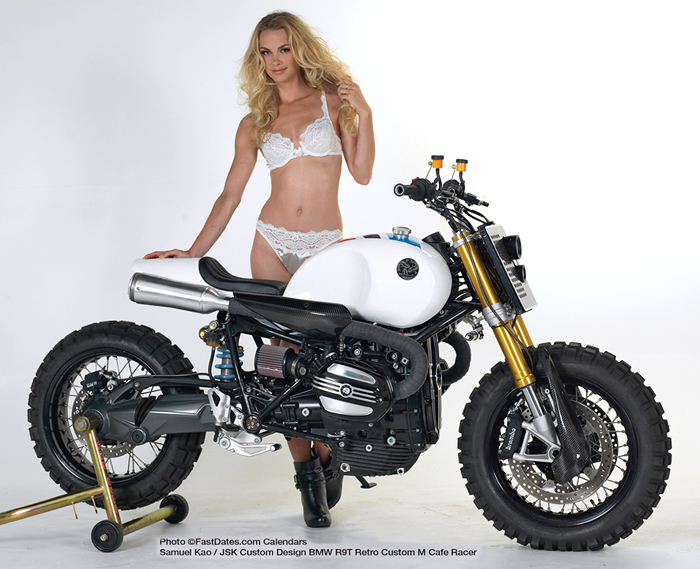 Now in the Calendar Bike Garage...
Samuel Kao's Calendar Bike Show class winning BMW R 90T Bar Hopper with beauitful FastDates.com SBK World Superbike Calendar Kitten Sara featured in the Calendar Bike Garage / Members Corner and in the new 2016 Iron & Lace Calendar
---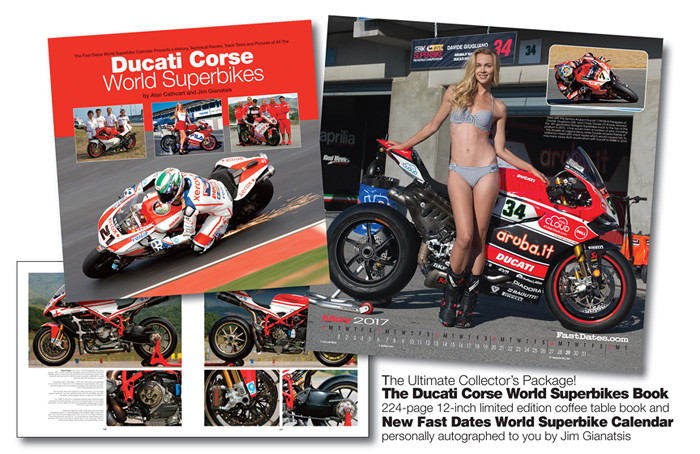 ---
Previous Week - More Pit Lane News
New Model Sportbikes • Editorial Features: Pit Board

Also Visit: Fast Dates Calendar News • Iron & Lace Calendar News • Calendar Girl News
Meet the Models • Paddock Garage
Get FastDates.com T-Shirts, Mugs & Photographs from Our Store

MEMBERS CORNER! Calendar Kittens, Paddock Garage, Iron & Lace Garage



Amazon Motorcycle Products & Apparel Store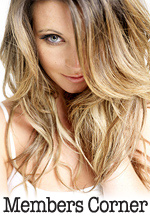 Hot Bikes, Sexy Kittens
Your Excusive Grid Pass
also includes....
---
FAST 2019
Calendars Yearbook
OnLine Digital Edition
in Members Corner
Order the New
2019 Calendars!
with the FastDates.com Calendar Kittens and Top Custom Bikes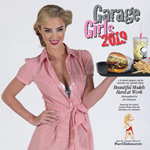 Click Below for More
Motorccyle & PinUp Model Calendars!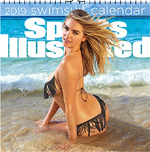 ---

Sara Horvath
Meet the offical SBK
Fast Dates World Superbike Calendar Kittens!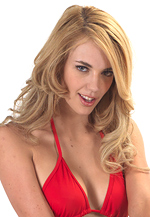 Kaustin Rose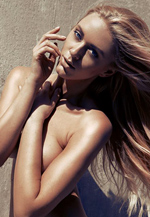 Petra Ruzickova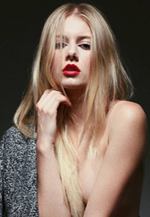 Alena Savostikova
---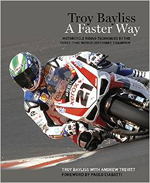 New! Troy Bayliss
A Faster Way
Track Riding Book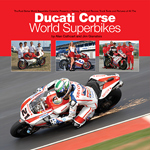 Retail $39.95 ea.
Click to Order from Amazon.com

Ducati Corse
World Superbikes
by Alan Cathcart
& Jim Gianatsis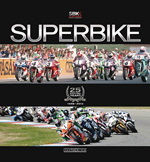 The Official SBK
World Superbikes
1987-2012
25 Year History Book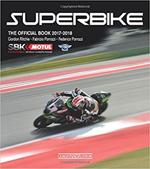 The Official SBK
2017-2018 Yearbook
These SBK Yearbooks are the Best Books Ever about World Superbike. They feature wesome color photography of the riders, bike and racing action. The feature a deailed revue of the past season in pictures and stactics, awith a detailed look at the bikes and riders.

Plus a technical look data all the bikes, a preview of the upcoming season's Championship!
We buy this every year ourselves and highly recommend it!


The Official SBK
2016-2017 Yearbook


The Official SBK
2015-2016 Yearbook
SBK World Superbike Video Game
---
Ducati Sales Down First Half of 2018
August 1st - When analysts said regarded the worldwide motorcycle as "soft," they weren't kidding. Ducati Motor Holdings is the latest to announce a sales decline of 7.4% in the first half of 2018 compared to the same period last year.
Total units sold were 32,250 motorcycles, representing €448 million revenue for the Audi-held motorcycle brand.
To analyze further, Ducati's second quarter sales were down by 8.9% compared to Q2 2017, translating to 20,319 units compared to 22,300 in the same quarter last year.
Sales in all segments took a hit except for the manufacturer's sport category which includes the SuperSport and superbike models. This sport category is what keeps them doing reasonably well despite the slump in sales for the other models, as there was a 29% increase with 7,683 units sold in the first half of this year.
That report leads to the Panigale V4 being the key driving force. Sportbikes are dead? We don't think so. The manufacturer had also iterated that the Mutlistrada 1260 had also performed well.
Leon Haslam to Replace Tom Sykes at Ream Kawasaki WSK for 2109
July 19th - Currently leading the British Superbike Championship on his JG Speedfit Kawasaki Leon is set to join Rea and Kazuma Watanabe next week to compete in the 41st Coca-Cola Suzuka 8-Hour race as part of the official Team Green effort. Haslam has been Rea's WorldSBK team-mate before, shortly before Rea first joined Kawasaki.
 
Leon is an experienced WorldSBK campaigner, with five race wins and 39 podiums to his credit. He has recently competed as a wild card for Kawasaki at selected WorldSBK events, in between his regular commitments in BSB for Kawasaki Motors UK. Haslam has won six races from twelve in the British championship so far and enjoys a lead of 80 points.
 
A rider of vast experience in almost all forms of racing, Haslam's best WorldSBK season to date was 2010, when he finished championship runner-up. Leon will begin his working relationship with KRT during this year's winter test programme.
 
Guim Roda, KRT Team Manager, stated: "It's understandably tough to replace a rider of Tom's quality and the final decision to sign Leon for 2019 was made after considering many factors, some obvious and others to answer internal team factors. There's a complex sporting strategy behind this decision, and to satisfy our team goals we felt that Leon was the best possible rider for the job. Rumours and speculation have filled many of the last weeks and we are happy to finally confirm Leon as the KRT choice.

KHI knows, I know, he knows, and crew chief Marcel Duinker knows that he takes onto his shoulders a big responsibility and, at 35 years of age, to get this opportunity is his best chance to prove he still has something extra to contribute. We have a clear idea where to find this contribution and I'm personally motivated to use his experience matched to ours to try to make a stronger package that nobody has yet witnessed from Leon. As we say in KRT… "Results are the greatest evidence of endeavour".
 
Steve Guttridge, KME Racing Manager, stated: "Bringing Leon into the KRT WorldSBK team is a great way to show that within the Kawasaki racing structure there is a pathway to the top! Since he joined Kawasaki UK's BSB team, we've enjoyed a very fruitful relationship that included Leon assisting KHI inside our Team Green squad at Suzuka and with additional rides and good feedback in WorldSBK for the Puccetti and Pedercini teams. Most important to us is his enthusiasm to work hard, his boundless energy, proving age is just a number. I have no doubt that his personal motivation will be to push Jonathan at every round next season for podium places. From the upcoming winter test onwards I'm excited to support the very best potential from Leon, back inside the World Superbike arena but now on our Championship winning KRT machinery.
 
Ken Ondo, Senior Manager Kawasaki Heavy Industries Racing Department, stated: "It is a great pleasure for all at Kawasaki to have Leon as a KRT rider. He is on the top of current BSB ranking and put Team Green on the Suzuka podium twice as well as helping development in KHI Japan through his wild card entry in the JSB series. The upcoming Suzuka 8 hour race will be a very good preview for the 2019 KRT duo. Leon, together with Kazuma Watanabe, has spent a lot of time in Suzuka to develop the 8-Hour machine. Now is harvest time!"
 
Leon Haslam, stated: "I have to say a big thanks to Kawasaki for this opportunity. Returning to the World Superbike Championship is something I'm really looking forward to. After scoring race wins, lap records, pole positions and a championship runner-up position in my seven years there it's going to be great to get back to WorldSBK. The support of Kawasaki throughout my three years in the British Superbike Championship and via KHI at the Suzuka 8-Hour race has been exceptional. The like-minded approach from Kawasaki UK and KHI in Japan has been really appreciated and I'm now hoping to repay them with the 2018 British Superbike title and then to challenge for next year's WorldSBK Championship. The 2019 season will throw up some new challenges as the competitiveness between the manufacturers continues to be at the highest level but I'm confident that with the professional and successful team behind me we can enjoy plenty of success."

Tom Sykes and Kawasaki to part ways after 2018 WSBK Season
July 18, 2018 - After nine successful years on Ninja machinery and with the official factory Kawasaki Racing Team in WorldSBK, Tom Sykes and the Kawasaki Racing Team have mutually agreed to end their sporting relationship at the end of the 2018 season.  Credited with changing the way Kawasaki approached the rigours of superbike racing while playing a large role in the development of the Ninja ZX-10R racing package, Tom will seek a new challenge for 2019 having delivered maximum effort across a total of nine years of racing and development on Kawasaki machinery in WorldSBK. As the 2018 season is far from over, Sykes is still pushing with KRT in a bid to add to his landmark 2013 WorldSBK championship, the first title for Kawasaki after 20 years following the 1993 success of Scott Russell.

Not simply a winner, Tom also achieved championship second place status in 2012, 2014 and 2016 with the 2012 attempt being closest ever runner up finish at just 0.5 points between himself and a second world championship. With the remainder of the 2018 season yet to be completed the most successful Superpole winner in WorldSBK history still has a chance to increase his amazing tally of qualifying and race successes on KRT machinery. Fully motivated and with the full support of the Kawasaki Racing Team and his pit crew, Tom remains a racing force to be admired by fans and feared by rivals in equal measure.

Tom Sykes: "I feel the time has arrived; the moment to make a change in my career and seek new challenges. Having the motivation to push to your limits and that of your machine is all the more important when you look for the victory at every race and I feel I have given all I can within KRT. I am now the best rider I have ever been, and I have the experience and performance to keep winning.

So now I have decided to make a step away from the KRT project for 2019 and look for new goals and challenges. I will now concentrate to finish on the podium for the last four rounds of 2018. I am determined to enjoy my racing and making this announcement effectively ends all speculation. The timing of this big career decision is never easy but it is especially difficult as my personal life also faces big changes. Regarding this I feel the weight of pressure has been slightly lifted from my shoulders and I am sure 2019 will allow me to operate at full capacity".
 
Guim Roda - KRT Team Manager : "It has been a busy few weeks recently and for sure we have talked many hours internally. In the most recent rounds Tom's concentration was not able to be the best, as he was dealing with a big decision - apart from some family points to solve - this has taken a lot of his concentration over the past two years. I hope this final confirmation will give us room to finish the year in the same way we dominated in Assen. We have big job to do until end of year, so is not time to say good bye yet. Of course this is an announcement of intentions for 2019 but the more important is to work hard to finish the year with the same determination that we started with".

Rea and KRT Join Forces Again for 2019-2020
June 1st 2018 - Jonathan Rea has signed a new contract with Kawasaki to remain in the WorldSBK championship as an official KRT rider for two more years. This is an agreement that seals the commitment of both the three-time World Champion and the most successful WorldSBK manufacturer of recent years to each other - and to WorldSBK racing. 

Rea had several options for 2019 and beyond, including possible MotoGP rides, but has elected to stay loyal to Kawasaki and the WorldSBK championship paddock he has ridden in since 2008. Rea has secured three consecutive World Championships since he joined the Akashi based manufacturer in 2015.
 
Rea and Kawasaki has been a winning partnership since their first season together, with Rea becoming the most successful WorldSBK rider ever, in terms of race wins, at the most recent event in Brno.
 
Jonathan's legendary self-belief is mirrored by his confidence in the future of both Kawasaki's WorldSBK racing efforts and the increasing profile of WorldSBK racing.
 
Over the past three-and-a-half seasons Jonathan has enjoyed a wins-per-race ratio of just under 50% since he joined Kawasaki. He is already the most successful Kawasaki WorldSBK rider in history, with his 45 victories taken on either the Ninja ZX-10R or Ninja ZX-10RR.
 
Re-signing Rea underlines Kawasaki's commitment to be an integral part of the WorldSBK Championship itself and its desire to continue its development of ever-improving machines for both the marketplace and WorldSBK racing use.
 
Jonathan Rea, stated: "I am more than happy to continue in these next two seasons with the Kawasaki Racing Team. Since the end of last season we have already started to talk about continuing our partnership, so it's nice to finalise everything now, so that we can concentrate on the remaining races of 2018. From the moment I arrived at the end of 2014 I was welcomed into the Kawasaki family and since then we have achieved success beyond our wildest dreams. Here is where I want to stay. Of course it feels natural to keep writing this incredible story together, and I want to thank everyone in the Kawasaki Racing Team for believing in me and for this opportunity. Together we will work harder than ever to keep the ZX-10RR at the front of WorldSBK in the future. I have the best team of people around me to ensure that we can continue fighting for the World Championship."
 
Steve Guttridge, Kawasaki Race Planning Manager, stated: "Signing Jonathan originally was so cool. The foundation for his dominance was built up very quickly. JR deciding to say with KRT after three World Championships and breaking records is actually even cooler. All those strong relationships can remain in place. It is the same goals and motivations that we share with JR, and the dedicated KRT crew, engineers and team staff. To continue making history together with Kawasaki inside WorldSBK."
 
Guim Roda, KRT Team Manager, stated: "We can celebrate that Johnny decides to stay two more years in Kawasaki and running in WorldSBK. It is important that he has decided that WorldSBK is the place that still makes him motivated. I'm sure many fans would like to see him running with the top guys in MotoGP, but we can ask the guys from MotoGP to come here to see the battle too. The level Rea has now is so high and this only will make the level of other riders and manufacturers in WorldSBK increase. All will be forced to give their maximum to beat Johnny, so we all must be happy and motivated. Of course, we all will continue working to improve the package so I'm sure the show will continue. Other riders and manufacturers will need to work hard if wants to have the honour of being a WorldSBK Champion. The show must go on."
Desmo Dovi Sets new MotoGP Top Speed Record of 356.4 kmh / 220.968 mph at Mugelo!
Friday June 1st 2018, Gran Premio d'Italia Oakley. Mugelo, Italy - It was a dramatic Friday at the Gran Premio d'Italia Oakley, with some big headlines, a shake-up on the timesheets and a record broken as Andrea Dovizioso (Ducati Team) became the fastest man in MotoGP™ when he set a new top speed record of 356.4km/h – up from the previous best of 354.9km/h set by compatriot Andrea Iannone in 2016. 
For comparison, the higest top speed for the equivalent premier 4-wheel car Formaula One race cars was set by Juan Pablo Montoya. A year after setting F1's fastest ever lap at the 2004 Monza GP at 262.242kph (162.950mph), Juan Pablo Montoya returned to Monza in to set another all-time record during the 2005 Italian Grand Prix weekend, hitting a top speed of 372.6kph (231.523mph) the fastest ever recorded in Formula One which still stands today.
Friday MotoGP Practice News continued...
Team Suzuki Ecstar's Iannone was, however, the quickest man overall on Day 1 at Mugello – 0.387 ahead of Maverick Viñales (Movistar Yamaha MotoGP), with reigning Champion Marc Marquez (Repsol Honda Team) less than a tenth further back to make it three different bikes in the top three. Marquez did crash on Friday and suffered a run off, rider ok, but some bigger headlines instead came from two Red Flags in FP2.
The first went out following a high-speed crash for Michele Pirro (Ducati Team) into Turn 1, with the Borgo Panigale factory's test rider tumbling through the gravel following a highside. After being treated by the track, it was confirmed that Pirro was conscious and the Italian was then transferred to Ospedale Careggi in Florence for further checks.
Action then got back underway, but not for long – with Dovizioso then suffering a mechanical problem into Turn 1 and flames briefly appearing around his Desmosedici. After going third in the morning and setting the fastest top speed, the incident put a dent in the day for the 2017 Italian GP winner and he was P13 on the combined timesheets on Friday – with fellow big name Dani Pedrosa (Repsol Honda Team) also out of provisional Q2 graduation in P14, 0.022 off the Italian.
Back at the top behind the fastest trio and the headline incidents, it was a solid day for top Independent Team rider Johann Zarco (Monster Yamaha Tech 3) in fourth overall, with Jack Miller (Alma Pramac Racing) confirming more good speed on the Ducati to complete the top five just 0.038 in arrears. Cal Crutchlow (LCR Honda Castrol) was also in close company, however, just 0.030 behind the Queenslander to take P6 and show some good pace as he gets back to full power following his highside at Le Mans.
Home favourite Valentino Rossi (Movistar Yamaha MotoGP) closed the gaps up even more as he took seventh only 0.012 back, edging out VR46 Academy and EG 0,0 Marc VDS rookie Franco Morbidelli by less than half a tenth on home turf. Danilo Petrucci (Alma Pramac Racing) made for more home delight in ninth, with the top ten completed by multiple-time Mugello winner Jorge Lorenzo (Ducati Team).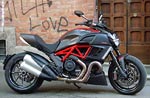 The Devil Made Us Do It!
Testing the Ducati Diavel in Italy
High Speed - the Movie
The best motorcycle racing movie ever made! Filmed on location at the World Superbike races , this an exciting romantic drama staring beautiful British actress Sienna Miller.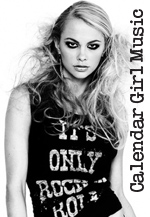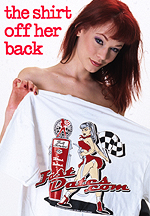 Order the Official
FastDates.com &
LA Calendar Bike Show
T-Shirts!