Click on Any Picture for Hi-Resolution Download


The 2017 Los Angeles Calendar Motorcycle Show
& Calendar Bike Building Championship - Featuring 2 Events This Year!

• Saturday July 15th - Calendar Bike Builders Party at the Calendar Photo Studio
• Sunday October 15th - Rider RoundUp at The Ranch

The 2017 LA Calendar Motorcycle Show continued its now 27-year tradition as the premier outdoor street bike event in America at two exciting dates and venues this year. Each Event featured top Celebrity Custom Bikes & Builders, selected Vendors and Exhibitors, Live Music performances. And the world premier of next year's new 2018 FastDates.com Motorcycle PinUp Calendars featuring the world's top Sport and Custom Motorcycles with the beautiful Calendar Kittens in attendance at the Show. Select Builders and their Bikes were be invited to be photographed by producer Jim Gianatsis for the next FastDates.com Calendars.

The 2017 LA Calendar Motorcycle Shows celebrates the premier of the new 2018 FastDates.com Calendars including Iron & Lace with the winning bike sof the 2106 LA Calendar Motorcycle Show's Calendar Bike Building Championship.
Click To Order the New Calendars Here!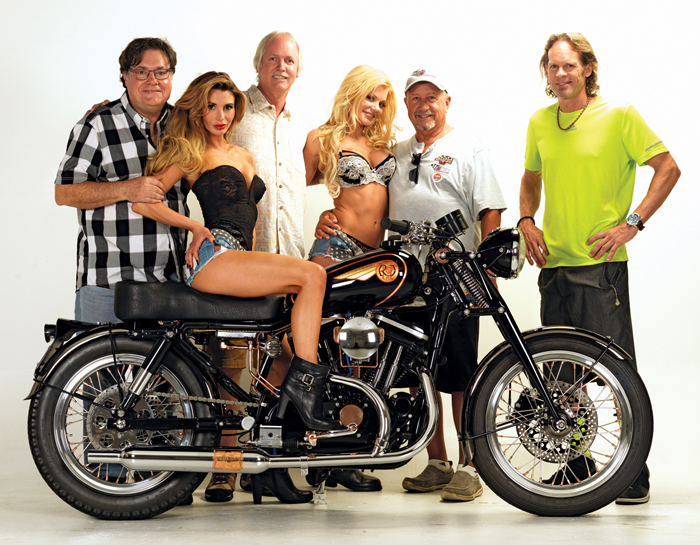 Meet the Calendar Bike Builder Party Crew! From left: FastDates.com Calendar producer and photographer Jim Gianatsis with Sara Balint, Mikuni Carburetor sales manager Steve Webb, Brittni, Mikuni Carburetor and Calendar Show marketing assistant Lee Chapin, and Jim Giuffra of AFT Customs.

Saturday July 15th 2017 Calendar Bike Builder's Party
Woodland Hills, CA, Saturday July 15th, 2017 - FastDates.com Calendar fans and legendary Calendar Bike Builders spent the day with legendary FastDates.com Calendar photographer Jim Gianatsis at Jim's home / photo studio for a private Calendar Bike Shoot with Invited Calendar Bike Builders and Calendar Kittens, followed by a Dinner Party with Live Music. It all took place at the FastDates.com Calendar Photo Studio in Woodland Hills, CA.. July Saturday 15th, 5-9pm
Some of the top custom bike builders and beautiful models joining us for the 2017 Calendar Bike Builder Party included former Calendar Bike Building Championship winners Samuel Kao / JSK Design, Adam Bean / Custom Airbrushing, Ron Simms / Simms Customs, Jim Giuffra / AFT Customs and Richard Jones. Shooting with us this week were former FastDates.com Calendar Kitten Sara Balint featured in our advertising campaign, and adult starlet Brittni Palmer. The live music was provided by Alex Nester, vocalist and keyboards for the legendary Carlos Santa Band, and singer songwriter Lenachka.
Earning a special invitation to the Party and Calendar shoot was local custom Harley enthusiast Todd Daniel with an incredible jaw dropping Candy Apple Red custom Bagger built for him by BX Custom Design in Gastonia, North Carolina. Todd himself is an Insurance Agent and Financial Consultant at his own company, TBD Insurance Services, Woodland Hills, CA.

"I chose BX Custom because of their reputation and the tremendous number of great builds they have down. I wanted the newest, baddest bagger they had ever made, so we sat down and decided on all the components, color and design before even starting the build."

"My two biggest priorities were the Candy Apple Red paint, ,the 30-inch front wheel, and a turbocharged engine - and they came through!"

The engine itself is a 103ci Evo Big Twin with a Black Trask Assault Turbo Kit that is guaranteed to haul the baggage.
The Flat Black engine paint really makes it look just as mean as it is, with just a few Stainless Steel bits to make it pop out.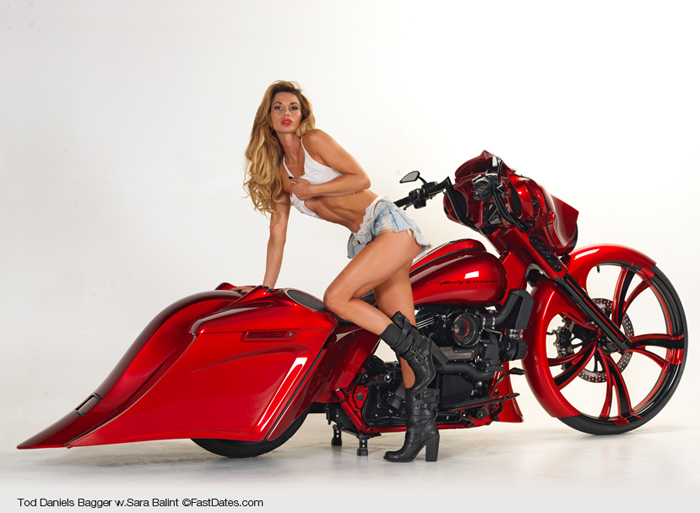 Sara likes it too!

Return to the LA Calendar Motorcycle Show Main Page
---
In 2014 the Calender Show found a more affordable and beautiful location as it move to at the Malibu Gold Course in the Santa Monica Mountains near the Rock Store. Vendors numbered 22 with a paid attendance now down around 500. Following the Show that year the Malibu Golf Course announced it would close for 2 years for a major renovation. It would later declare bankruptcy and close for good, probably in part because the long running California draught made in cost prohibitive to water a small private gold course.

This required the Show to move again to a new venue in 2015, this time being the popular biker weekend hangout in Calabassas again, this time at the Sagebrush Cantina. The Show remained at the Cantina for 2 years until 2016, but attendance continued to decline.

One of the biggest changes and challenges from the 2008 recession which really impacted paid admission events like the LA Calendar Motorcycle Show was that local motorcycle dealers became very aggressive in trying to draw potential customers to their dealerships on weekends. Many dealers began holding Open House events in their parking lots on the weekends with free live music, free food and beverages, vendors and demo bike rides.

Plus the internet with its free content of motorcycle pictures and information, pretty models, and product vendors has impacted attendance at paid motorcycle events as well.

These two factors, free competing events by dealers in Southern California and free content on the web, has became the big challenge for the LA Calendar Show, that even its exclusive featuring of many the world's top custom bike builders with their latest custom bikes, beautiful Calendar models, and top name female performers can not overcome.

For 2017 Jim Gianatsis moved the Calendar Show on Saturday July 15th to his home studio in Woodland Hills, and invited his favorite Calendar Builders and singers to come for a calendar Shoot, Concert and House Party. And then on October 15th would partner with long tome friend and Calendar Bike Builder Russell Mitch to hold a 2nd Show at Paramount Western Movie set in Agoura, CA.

For now, FastDates.com Calendar photographer and Calendar Show producer Jim Gianatsis will continue the Show as an annual tribute to the world's top custom bike builders and beautiful models and music performers in support of the FastDates.com Motorcycle PinUp Calendars. It may return full circle to that back yard BBQ at Jim's house where it first started some 25 years ago, but it will continue. And hopefully the industry and motorcycle enthusiasts will still want to be a part of it.

Mikuni American still remains a Associate Sponsor of the Iron & Lace Calendar, and the Calendar Bike Building Championship at the LA Calendar Motorcycle Show Weekend. - Jim Gianatsis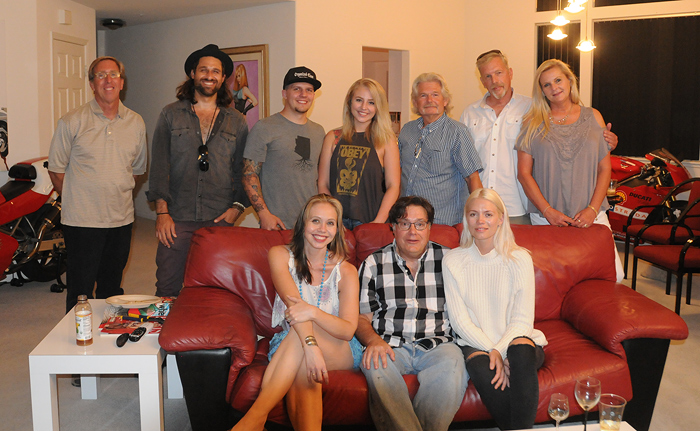 Jim seated on the couch with favorite singer songwriters Alex Nester and Helene Himmel aka Lenachka.
Standing behind from the left is Show assistant Mark McDonald, Alex's guitarist, builder Adam Bean and his wife,
builder Richard Jones, motorsports photographer Brian Mayfield and his wife.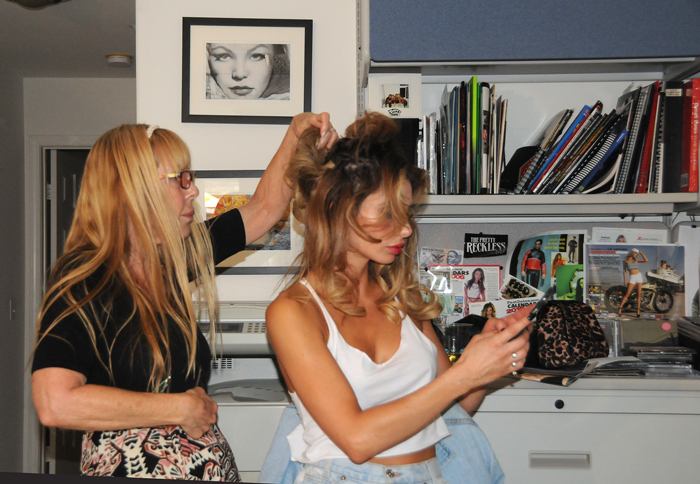 Our favorite Calendar shoot MakeUp and hair stylist Victoria Rubell works on Sara Balint's hair in the office.

While in makeup for the day's shoot, Sara looks at her pictures featured in the 2012 Garage Girls Calendar.

An incredible day of live Calendar Girl Music featured American Idol contender Alex Nester and her band performing two exciting sets of rock classics and her own original songs. Alex also serves as vocalist and keyboardist in the band of legendary guitarist Carlos Santana and his son Salvador Santana. Also performing was incredibly talented 22-year old singer songwriter Lenechka.


Sara and Brittni with Richard Jones' newest custom, a retro British themed cafe racer with a springer front end and a modern Harley Evo engine. Richard is not a professional builder, and this was just his 2d ever build for his own collection. His first custom build was an aluminum framed Harley custom which won the Street Custom Class at the 2015 LA Calendar Motorcycle Show, and is featured in the 2018 Iron & Lace Calendar.
Lenachka sings at the Calendar Bike Builder Party. Click to view her music video below.


Sara shoots with one of two beautiful customs which Ron Simms sent to the shoot.
Jim jumps in for picture with Calendar Kitten Sara and Ron Simm's other bike at the shoot, a classic '60s Pan Head.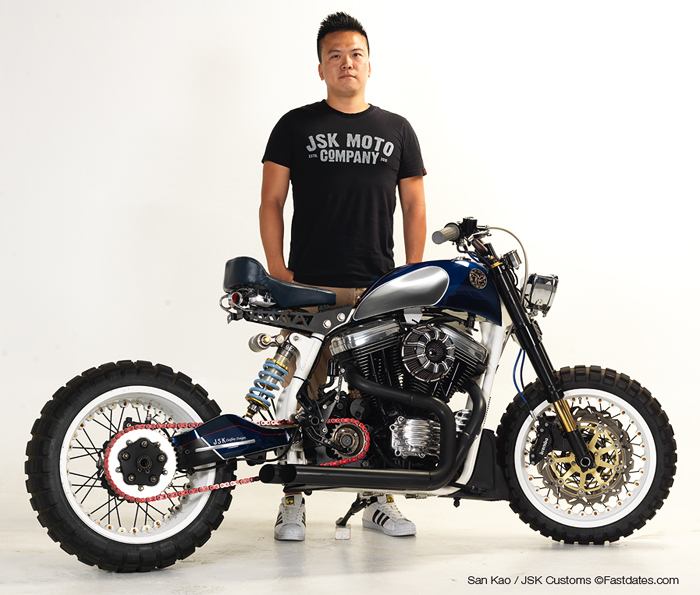 Sam Kao of JSK Custom Designs brought his latest build, a monoshock Harley Evo off-road racer!
Jim and Sara with Jim Giuffra / AFT Custom's latest build, a Honda CL350 with a single shock rear suspension and customized to Cafe Racer styling.
Alex Nester is the singer and keyboardest for the legendary Carlos Santana. She also performed at our 2016 LA Calendar Motorcycle Show.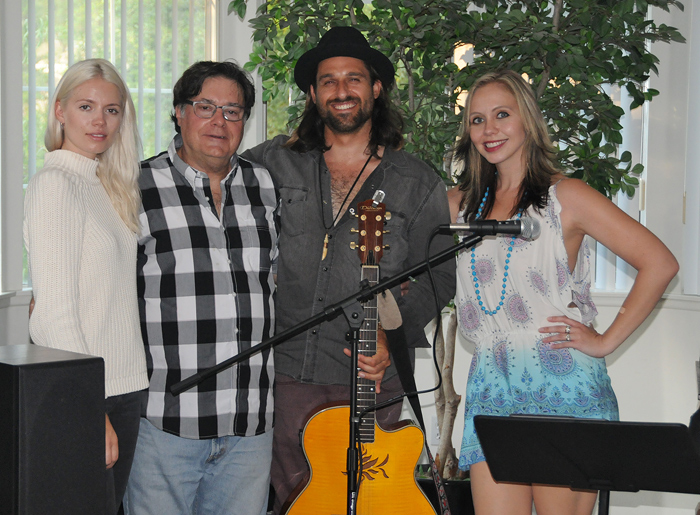 Jim Gianatsis with Lenachka (left) , and Alex Nester (far right) and her guitarist.
Return to the LA Calendar Motorcycle Show Main Page


Gianatsis Design is a full service event production, advertising, graphic design and photography agency serving the motorsports and sports fashion markets. Please consider Gianatsis Design and world renown photographer Jim Gianatsis for your company's advertising design, editorial and photography service needs.
Click on our logo below to preview our work and client list.

The Los Angeles Calendar Motorcycle Show is produced by
Jim Gianatsis, Gianatsis Design Associates


Photos and story for the October 15th 2017 Rider RoundUp at Paramount ranch coming here soon....
Sunday October 15th 2017 Rider Roundup at The Ranch at Paramount Ranch, Agoura, CA.
Our Calendar Bike Building Championship joins Russell Mitchell / Exile Cycles at the Paramount Western Movie Ranch in Agoura, CA, down the road from the Rock Store, for an exciting day of Custom Motorcycle Activities, Food and Beer, Venders,
Manufacturers and Live Music. It's a benefit to fight Leukemia. Spectator Admission $10 at the Gate.

BIke Contest Pre-Registration Online is $40 and includes (2) Spectator Admissions. Additional Contest Bikes $20 each.
Bike Contest Load-In is 9:30-11am. Awards at 3pm. Event ends at 5pm Winners may be invited to have their bikes
photographed for the FastDates.com Calendars. Please Bring your Prepaid Registration with you for Entry.
Regular Spectators can pay the $10 General Admission at the gate day of the event.
Look for the complete Rider RoundUp story and photos after October 15th 2017....





The 2016 AFT Customs Visionary Award presented by AFT's Jim Giuffra to Nick O'Kane and his Honda CB1100

.

Pro Builder 1st Place: Gustavo Penna & Oliver van Anhault / Apogee Motor Works, Ducati 1098 Superbike Cafe Custom

Street Custom 1st Place: Yuichi Yoshizkwa and Yoshikazu Ueda / Custom Works Zon, Harley-Davidson Street 750 Tracker

Cafe Racer 1st Place: Michael LaFountain / Raccia Motorcycles.com, 1967 Kawasaki 650cc W1 Cafe Racer

Sportbike 1st Place: Adam and Lisa Gasperic / Gasser Customs, Honda CB700 Cafe Racer

Classic Metric: 1. Nick O'Kane, Honda CB1100 Cafe Racer

Classic American: Joe Chavez, Beer Can Willy 1957 Panhead / 1966 Shovelhead custom

Legendary Calendar Bike Builder: Jim Gianatsis and Jim Giuffra award Ron Simms/ Ron Simms Customs for his
22 Years at the LA Calendar Motorcyle Show with his winning bikes featured in the FastDates.com Calendars
The once Mikuni American sponsored LA Calendar Motorcycle Show saw its glory days from 1996-2008 as the premier custom street bike event in America when the custom bike market was at its height. The Calendar Show spanned two days at major Southern California venues the Santa Monica Airport Museum of Flying and The Queen Mary Event Park in Long Beach, drawing anually some 10,000 paid spectators and 190 major motorcycle and parts companies. Then with the Economic Downturn of 2008 much of people's expendable income went away, and with it some 80% of the custom motorcycle industry going away, causing the LA Calendar Motorcycle Show to downsize as well.
Show funder, producer and FastDates.com Calendar photographer Jim Gianatsis has endeavored to keep the Show continuing these last 6 years as the last independently produced street bike event on the west coast. It has been difficult because of high event location costs, staffing and advertising. While today, on any given weekend in Southern California many Motorcycle Dealers, Cities and Indian Casinos, in an attempt to pull in the few motorcycle baby boomers and customers left after the economic downturn, put on free Open Houses and competing Events with their own staff, in their own parking lots, with live music, free BBQ, sale prices and demo rides. It is nearly impossible for an independently produced bike event on the West Coast like the LA Calendar Motorcycle Show to convince spectators to pay a low $20 admission, and to encourage the few remaining manufacturers and sponsors to support it.
The LA Calendar Show and the associated FastDates.com Calendars produced by Jim Gianatsis / Gianatsis Design Associates has seen a rich history over its last 25 years. It pioneered Supermoto races at the Show, innovative features like its Calendar Bike Building Championship, World Record Dyno Shootout, Builders Seminars, the Calendar Girl Model Pageant and its Calendar Girl Music Festival which many other International Motorcycle Events have copied. And it help to launch the careers of many celebrity builders including Jesse James, Russell Mitchell, Roland Sands, Russ Tom, Harold Pontarelli, AFT Customs, Richard Pollock and so many others who had their first custom bikes featured at the show and in the Calendars. Not to forget the legendary builders who have also have been an important part of the Show and featured in the Calendars - Ron Simms, Arlen Ness, Paul Yaffe, Jim Nasi, Shinya Kimura, Chica, Todd's Cycle and so many more. As long as Show producer Jim Gianatsis can afford to keep the LA Calendar Motorcycle Show alive to support the custom and street sport bike market we all love, he will try to do so. Any supporters who would like to help keep the LA Calendar Motorcycle Show and the custom bike building industry alive, your support is invited and welcome.


World Premier of the New FastDates.com Calendars!
The Show features off the premier of next year's new 2018 FastDates.com Motorcycle PinUp Calendars featuring the world's top road race and custom motorcycles with the Bikes. Builders and beautiful Calendar Kittens featured in the Calendars in attendance at the Show. Click above to find out more and to order.



Return to the LA Calendar Motorcycle Show Main Page