July - August 2008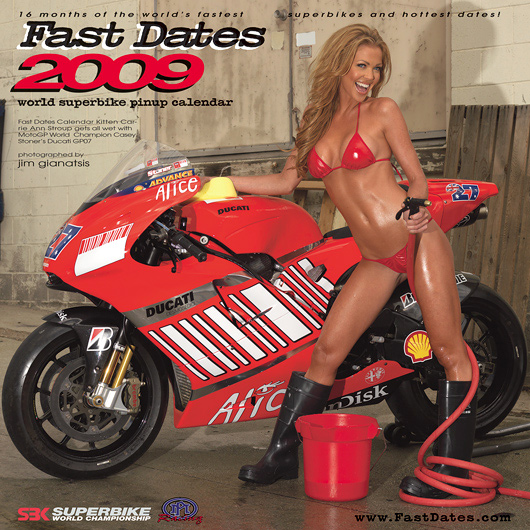 Carrie with Casey Stoner's 2007 MotoGP World Championship winning Ducati GP07.

World Premier! 2009 Fast Dates Racebike Pinup Calendar
July 1st 2008 - The SBK World Superbike endorsed 2009 Fast Dates Race Bike Swimsuit Pinup Calendar sponsored by Performance Machine and photographed by Jim Gianatsis offers a special treat this year with the cover bike being Casey Stoner's 2007 MotoGP World Championship winning Ducati GP07 bike photographed with sexy swimsuit and Calenar vover model Carrie Ann Stroup. We've got Carrie washing down the world's winningest MotoGP bike in a secret back alley location that's guaranteed to steam up any sportbike fan!
Of course, there's all all the top factory race bikes of the SBK World Superbike Championship photographed on location last year at Brands Hatch World Superbike in Great Britain with beautiful SBK Fast Dates World Superbike girls Rhian Sugden and Gemma Louise Henry. Featured are all the top factory Superbikes from Yamaha, Honda, Suzuki, Kawasaki, and Ducati including double World Champs James Toseland's Ten Kate Hannespre Honda CBR1000, Troy Bayliss' Xerox Ducati 999F07, Max Biaggi's Suzuki GSXR1000, and Regis Laconi's Kawasaki ZX10.
Rhian with James Toseland's 2007 World Superbike Championship winning Ten Kate Honda CBR1000RR

We also did some smokin' hot sportbike studio shots back in Los Angeles with Playboy model and Calendar Kitten Tiffany Toth with our own limited edition Fast Dates project bikes, a Ducati 1098S Tri Colore and Hypermoto R, plus a wild Shinya Kimura retro V-Twin sport custom that was just selected to appear in Legend of the Motorcycle at the President Clinton Library in Atkansas this fall! These ARE the world's top racing bikes in MotoGP and World Superbike, together with beautiful swimsuit models, that are that are guaranteed to have you bouncin' off the rev limiter and blowin' a head gasket.
Buy the 2009 Fast Dates Calendar • Download Big Screensaver Photos in Members Corner
---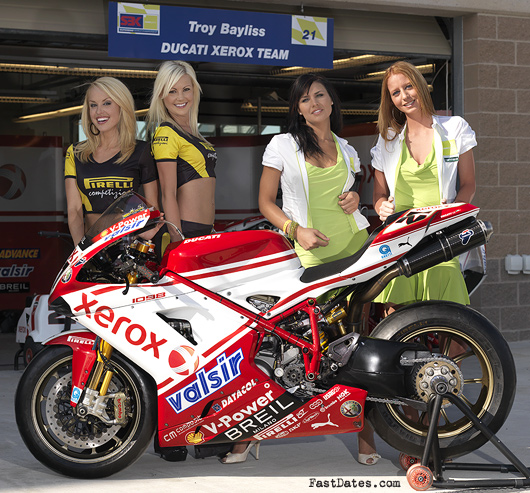 Our 2010 Fast Dates Calendar Kittens were, from left to right, Pirelli girls Lauren Brooke and Jamie Jungers, Hannspree girls Shona Kay and Kami Wilson, here with World Champion Troy Bayliss's Ducati 1098F08 Superbike.
CLICK to GO BIG
The Mormons try to sabotage our sexy
2010 Fast Dates Calendar Shoot at America's
SBK World Superbike Round at Miller Motorsports, Utah
May 30-June 1st 2008, Toole, Utah, USA - The return of World Superbike Championship to America at Miller Motorsports Raceway in Utah, after a 3 year absence stateside, gave us an exciting new venue to shoot the next edition of the SBK World Superbike endorsed Fast Dates Calendar. Once again calendar photographer and producer Jim Gianatsis was able to photograph all the top factory World Superbike on pit lane with some very beautiful Calendar Kittens for the world's premier sportbike calendar, now celebrating it's 18 year!
The newly constructed Larry H Miller owned Miller Motorsports Raceway, in Toole, Utah, some 30 miles west of Salt Lake City, first got to play host to a AMA Superbike round last year, in a warm up to this year's dual SBK Superbike / AMA Superbike Weekend. The 2 different series used2 different track configurations on the weekend so comparisons between different spec bikes and tires couldn't be directly made. However, the World Superbikes this year did use last year's AMA course and the lap times were effectively quicker despite the World Superbikes being on spec tires. Last year Yoshimura Suzuki's Mat Mladin established the AMA Superbike track record on the 4.907 Kilometer course with a 1:49.585 lap in practice. This year in SBK Superpole that lap recorded was shattered in the 1:48's by the front half of the SBK grid with pole sitter Carlos Checa establishing a new lap record of 1:48.193.
Everything you have heard about the Miller Motorsports facility is true. It has been built as as a World class roadracing facility with no expense spared, and along with Laguna Se ca and Indianapolis is one of only 3 FIM approved racetracks in America. Everything is exceptional from the road course layout and and construction, to the Spectator Grandstands and Pit Garages, to the Administration and Press Facilities. The track was way overstaffed with very courteous personnel, making a visit there a wonderful experience. It was incredible to see every team bike even had their own personal Fire Marshal with hand carried fire extinguisher.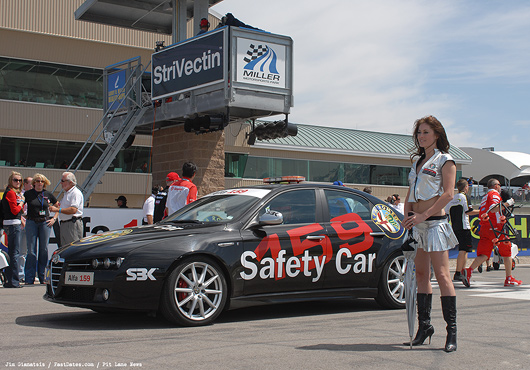 Alfa's important talent, the 159 Sports sedan and accompanying grid girl.

We can only guess how much it must cost to put on a World Superbike race in America when we saw that SBK even flew in the 2 obligatory official Ala Romeo 159 pace cars, and had a full compliment of Alfa grid girls to go with them.
My own personal favorite was the track's on site Museum which features millionaire real estate developer Larry Miller's personal race car collection featuring Ford race cars from the 1960s, in particular 427Shelby Cobras and GT350 Mustangs, and the World Sportscar Championship winning LeMans Ford GT MkII and Mk V racers. The 427ci Mark V long-tail LeMans cars is one of the most beautiful, and now value race cars ever built.
If any criticisms can be lodged against Miller Raceway is the fact it is not a spectator friendly track, as the track design is too expansive, and the grandstands are too far back for the course. You are not a part of the action, and you miss most of the racing taking place on more distant portions of the track. It might have been built more like a European stadium track like for better spectator viewing. As it is, it is an excellent facility for track schools and such where you go there to participate and race on the track. One plus for Miller was the open spectator access to visit the AMA garages throughout the weekend, along with SBK Pit Lane at select times and see the bikes being worked on. While more personable SBK riders like Troy Corser made themselves available to fans at the back of the SBK Pit Row Garages throughout the weekend.
The beautiful Alfa Grid Row Girls, 20 minutes before the start of Sunday's first World Superbike race, and the main spectator viewing area behind them is empty.

The other criticism of Miller is its location in the middle of nowhere Utah, with no access by mass public transportation. The nearest metropolitan area is Salt Lake City, 30 miles away, which is also where the International Airport, and all the hotels and restaurants are located. So the choice for visiting motorsports fans a 1-2 day drive from major cites on the west coast and the mid-west, or now a costly airplane flight, hotel and rental car. It's fine for private track days and testing, and even television race viewing, but as a go-to destination for weekend race spectators, one of the best roadrace facilities in America quickly drops to the bottom of the list.
The published attendance figures for this year's SBK/AMA race weekend at Miller was 51,000. In reality, we roughly counted at most 2,500 people on Friday for Practice, possibly increased to 3,500 on Saturday, and then 4,500 returning / total spectators on Sunday. World Superbike has a 3-year contract for Miller Motorsports Park and next year they plan to return with their 600cc SBK Supersport Class, which will add to the race weekend.
This year we decided to book our Fast Dates Calendar Kittens locally from the largest, supposedly most reputable modeling agency in Salt Lake City, Urban Talent Wilhelmina. We showed the agency president. Tina Bullen, photography by Email of our current calendars with the models posing in swimsuits with the World Superbike on Pit Lane. Tina approved of the shoot and said she'd be happy to work with us. I prepared a list of models I wanted to hire from the portfolios on the Urban Talent website, but the first 10 girls on my list said they weren't available for our Calendar. The fact that of the some 200 models listed on the Urban website, not one had a swimsuit or body photo in their portfolio made me think these might be very conservative Mormon girls. But Tina assured me otherwise. Final after about 4 weeks of going back and forth trying to find models, just 2 weeks before the race weekend I was able to lock down 3 girls for the Calendar shoot, who would also serve as umbrella girls for team Alstare Suzuki on Sunday.
The 2 Mormon models on Friday from Urban Talent.

I arranged for 2 of the models to meet me at our hotel, the Airport Marriott, to stay for the weekend starting on Thursday Evening, so we could get acquainted, I could explain to them about the shoot which was planned for the nest day, Friday evening after WSB Practice on Pit Lane in front of the team garages , and I could get them to the track on time each day in my car. I also showed them samples of the current Fast Dates Calendars just to confirm to them what we'd be shooting. Later that evening we met up with my buddy, "High Speed" movie producer Jeff Jenkins, and the girls took us into downtown Salt Lake City where we had dinner on the patio of a fantastic Japanese restaurant at a cool outdoor shopping mall. We had a great evening, the girls were beautiful, and I was looking forward to a great Calendar Shoot the next day.
The next day at the hotel we meet for breakfast, and then by 10am we were in my rental car and off to the track about 30 days away. We were on the Interstate driving past the Great Salt Lake, and despite their living here in salt Lake City, one of the models said this was the first time she had ever been west of town seen the Great Salt Lake, the biggest and most notable natural attraction in the state! When we got to the track we first stopped at the Administration Building to pick up our SBK credentials. From there we went into the track with a case of the new 2009 Fast Dates Calendars I had brought, as i do every year, and walked down Pit Lane to meet all the SBK factory teams and managers, give them a copy of the new Calendar with their bikes I shot the year before, and schedule to shoot their bikes again this year after Practice starting around 5:30 pm.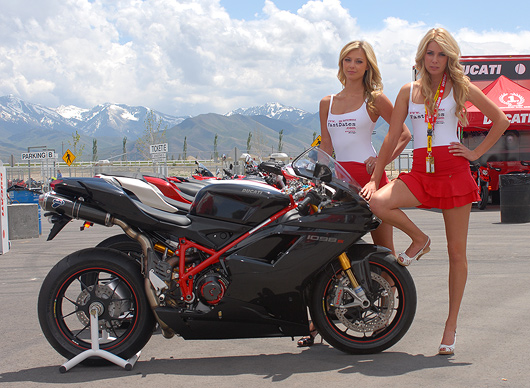 The Mormons, original settlers of Salt Lake City, Utah, also came to Miller Motorsports Park to practice their unique religious beliefs.
Once we had all the team bikes lined up to shoot, the models and Ii had the rest of the afternoon to kill, so we walked the spectator side of the track, first visiting the Miller Race Car Museum, then walking down to the far end of Spectator row were Ducati was the lone manufacturer to setup a creditable manufacturer's display .It was quite a hike, nearly half a mile, and during the lunch break both Troy Bayliss and Lorenzo Lanzi were there to autograph posters. Then we hiked back towards the pits, stopping at a concession stand for a corn dog lunch and then went into the Main Grand stand to watch WSB Practice. After practice i walked the girls back to our ar by the pits so they 'ld have a hour to get ready for the all important Calendar shoot. I left them alone for about45 minutes to get ready, freshen up and do their makeup while i went back to the pits to check on the team bikes.
I returned to the parking lot to get the models and my cameras at 5pm for our shoot, and found them standing outside the car, talking in heated voices and animated gestures on their Apple i-phones to the model agency. It seems in the 45 minutes I left them alone at the car, they got bored, and decided to search the internet to see just what the FastDates.com Calendar website, which they were advertising on the front of their Calendar Kitten Uniforms, was all about. And in scrolling through the pages of the world's most popular motorcycle and pinup calendar website they came across some banner link ads for Playboy.com. The models clicked on the Playboy ads and - "Oh My God, this is a pornographic website! We can't model for this. We're good Mormon girls. Our families and husbands / boyfriends would never accept this, and neither will we"
And no amount of convincing, explaining and conjoeling could convince them otherwise. That this was just swimsuit calendar shoot. The fact that the Fast Dates calendar is sold on a website which has paid ads from a nude sites like Playboy has nothing to do with it. Is it any different than Playboy having a paid member channel on Warner Cable or Direct TV, right there next to SpeedTV, the Disney Channel, and their own church channels where they advocate violations of mankind and the law? The Mormon bitches hitched a ride back to Salt Lake City and were gone until Sunday, when they would return to complete the booking Ii had arranged for them to be the Alstare Suzuki Grid Girls.
Meanwhile i was stranded with a World Superbike Calendar to shoot, right now, in the middle of nowhere and without no models after 5pm on a friday night. My buddy Jeff offered that there were a lot of other attractive sponsorship models and riders girlfriends wandering the paddock and should approach to them. So I raced back to the Pit Boxes where the teams were waiting for us and told them the Calendar models had gotten sick from being out in the heat all day and the shoot was postponed until the next evening, Saturday.
Then I went to work looking for new Fast Dates Calendar Kittens. Miller Motorsports had six grid girls of their own, but really not up to calendar standards. Racer Steve Rapp's attractive girlfriend was up for it an I enlisted her. But I left the track on Friday evening about 7pm still needing 1 to 2 more good models.
When Ii returned to the track on saturday morning I set about again looking for the prettiest girls i could fine. Eric Bostrom's girlfriend was a definite 10 in the model department, but said she was just too shy to shoot for a swimsuit calendar. I looked for Steve Rapp's girlfriend all day, leaving word with his mechanic at his team garage and couldn't find her. It was looking bleak. But then I ran into the PR Managers for SBK sponsors Pirelli and Hannspree with their very attractive Promo Girls. I asked them and they were excited and honored to be Fast Dates Calendar Girls, and the $300 each, I offered to pay them to shoot the calendar that evening after they got off their Promo duties, was just an added bonus they weren't expecting!
In the end it worked out great for almost everyone. We at FastDates.com got 4 wonderful models in Pirelli girls Lauren Brooke and Jamie Jungers, Hannspree girls Shona Kay and Kami Wilson, all who really wanted to be featured in the 2010 Fast Dates Calendar. And World Superbike sponsors Pirelli and Hannspree got to receive some great publicity by having their models photographed in their team uniforms, as well as in sexy swimsuits for the Calendar. And I instead, got 4 Calendar Kittens for less cost than the original 2 models who quit. In the end, it was the 2 up tight Mormons who lost a day of work on location Friday at the track, without getting paid. God does work in mysterious ways!
---
FastDates.com Calendars Co-Star with actress Gabrielle Anwar
on TV Show "Burn Notice"

Sept 1st 2008 - Over the years, the FastDates.com Calendars have served as props in television shows and movies where they support the story line or set background. Our calendars are ideal for filming purposes as they are big, large format calendar pages with great photography printed on high quality, non reflective art board. Past TV shows and movies our calendars have appeared on include Melrose Place (staring a previous Calendar Kitten Josie Bisset) and Gone In 60- Seconds with Nicholas Cage and Angelina Jolie.

The producers of any commercial film production have to contact the owners of a trademarked product ( be it a bottle of beer or a car) to get a signed usage release before it can be used in the film, which is why we know of it months in advance. Here's the update on the TV show "Burn Notice" using our calendars:

HI Jim, Yes, I ordered the calendars from your site and received them on Friday. Thanks so much! I had them on my desk and all the guys at the office kept stopping by, trying to slyly walk away with them.The episode is titled "Hot Spot" and will air in either January or February 2009. "Burn Notice" is on the USA Network and airs Thursday nights at 10pm. Our website is www.usanetwork/series/burnnotice

I gave the calendars to the director, along with some others. The will either be used as a "prop" in which Gabrielle Anwar's character, who poses as a publisher from a calendar company, shows them to a potential client. OR they will be displayed on the walls of a billiards club or a cigar bar. It is up to the director. I wish you all the luck and everyone loves the calendars!

Best Wishes, Sarah Ananties
Production Assistant, Burn Notice

Actress Gabrielle Anwar is the sexy smart co-star on Burn Notice which is crime drama simialr to Miami Vice and filmed in Miami Her past credits include many TV shows and movies including : The Three Musketeers, For Love or Money, Scent of a Woman, and HBO's The Tudors.
---

5 Sexy New Pictorial galleriess Added in Members Corner!
Fast Dates World Superbike Calendar Kitten Gemma Gleeson
She was the hottest thing to ever hit the starting grid 2 years ago at Brands Hatch World Superbike. Fast Dates Calendar Kitten Gemma Gleeson was your typical long-legged beautiful 19-year old runway supermodel from County Cork, Ireland and we brought her to Brands with 2 other models to shoot the 2007 Fast Dates Calendar.
It proved difficult to get any work done that weekend as we (actually Gemma and the other 2 models) were constantly mobbed by the race teams, media, TV and fans for pictures and to be chatted-up. European TV fans got to see a lot of Gemma on screen that weekend, much of it in the SBK's 1-hour Saturday Practice and Sunday's Pre Race Show coverage which we don't get here in America on SpeedTV, and with all the grid girls being edited out of the 1-hour race coverage we are shown. See more here: Brands Hatch 2005.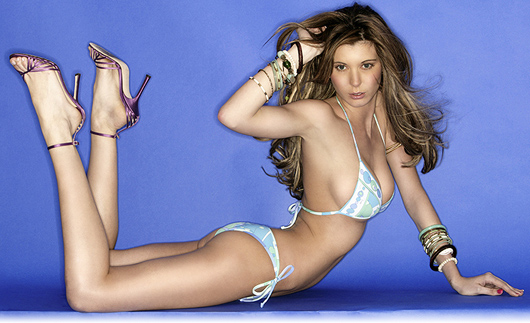 However, we've been able to get together with Gemma again to shoot some incredible photos of our Irish goddess for FastDates.com which you'll find in Members Corner. Now you can get an exclusive look at one of our most beautiful Calendar Kittens ever in 5 very sexy and revealing new pictorials! Members Corner.
FastDates.com Members Corner Updates
Much More New Content, New Lower $9.95 Monthly Price
If you've never joined our Members Corner before, or it's been a while since you have been a member, now's the time to join us. Along with a new low monthly membership rate, we've got a lot more content you don't want to miss! Included with your Membership is:
• Members Corner - Sexy and Reveal photos of the prettiest fastdates.com calendar Kittens including Playboy Playmates Tamara Witmer, Athena Lundburg, and the world's sexiest actresses and models Jamie Pressly, Joanna Krupa and LeeAnn Tweeden. Plus archives of all the Fast Dates, Iron & Lace, Garage Girls Calendars.
• Met-Art Affiliate Model Galleries - Normally $29.95 a month to join Met-Art alone!
• Paddock Garage - Sportbike and V-Twin Engine Tuning and Suspension Se Up.
• Iron & Lace Garage - Feature custom bike pictorials including our beautiful Calendar Kittens
• FastDates.com Calendar Screen Savers - The hottest Bikes, Riders and Calendar Kittens
Cora says "Don't let me have to kick your butt, - join me in Members Corner now!"
---
There's more! Go to Fast Dates Calendar News NEXT PAGE

Hot Calendar Girl and Bike News! Go to: Fast Dates • Garage Girls • Iron & Lace

click here to see even more of our sexy Fast Dates Calendar Kittens...





Some of our Calendar Girls can also be seen at Playboy's website...