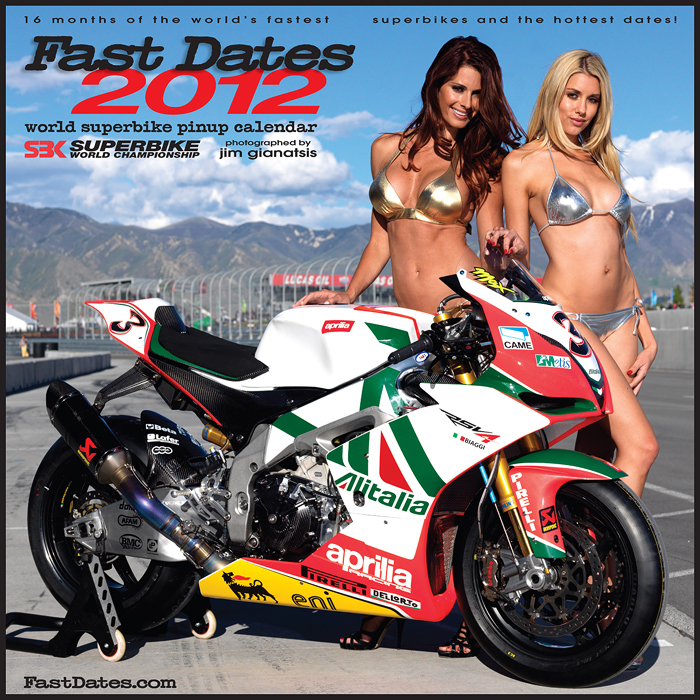 July - August 2011 Fast Dates Calendar News
This Month in the Fast Dates World Superbike Calendar ...
World Premier of the new 2012 SBK Fast Dates World Superbike Calendar
World Superbike Calendar Kittens and Playboy Playmates Jamie Edmonson and Heather Rae Young rock our world
with Max Biaggi's 2010 World Superbike Championship Aprilia RSV4
Fast Dates is the Official Calendar of the SBK World Superbike Championship photographed on location at the Miller USA World Superbike race by Jim Gianatsis. Featured on the cover and inside is Max Biaggi's 2010 World Superbike Championship winning Aprilia RSV4. Inside you'll also find Nori Haga's Ducati 1198RS, Carlos Checa's Althera Ducati 1198RS, Leon Haslam's Alstare Suzuki GSXR1000, Jonthan Rea's Ten Kate Honda CBR1000RR, Chris Vermeulen's Kawasaki ZX-10, and Troy Corser's BMW S1000RR. There's also the top MotoGP bikes with 2010 World Champion Jorge Lorenzo's Yamaha M1, and Valentino Rossi's radical frameless Ducati GP11 bike. An added bonus is Chris Redpath's 1st Place Sportbike Class winner "Katana Wes Cooley" at the 2010 LA Calendar Motorcycle Show and a rare 1993 Ducati 888 SPO.
The the beautiful SBK Fast Dates Calendar Kittens photographed at Miller World Superbike in sexy swimwear and serving as the official Ducati Corse grid girls fro Nori Haga and Michel Fabrizio are Playboy Playmates Heather Rae Young and Jaime Edmonson. Also included in the Calendar are sexy Kittens Jennifer Englund and Sara Balint, MotoGP grid girl Brit Shelstad and Hustler centerfold and Girls Gone Wild's Sexiest Girl In America Bree Daniels. This is your exclusive 16-month pit pass to the world's fast roadracing motorcycles and beautiful grid girls in sexy swimwear!
Order the 2012 Fast Dates Calendar • Screensavers in Members Corner
---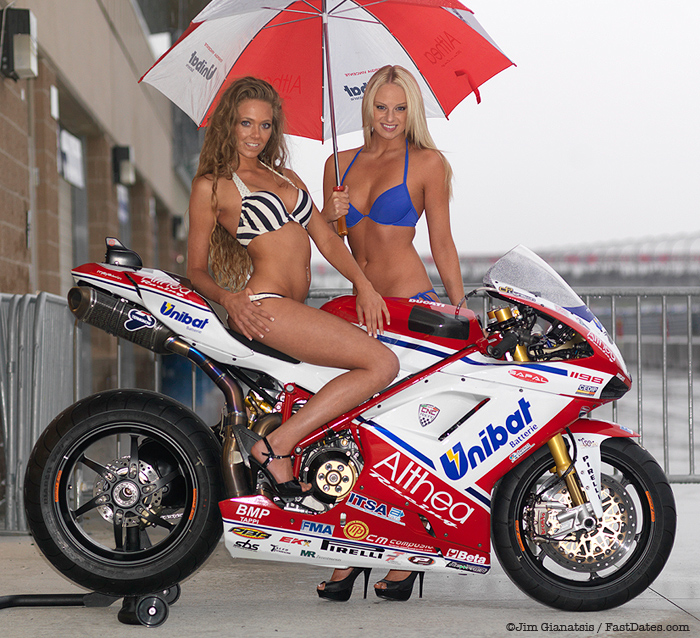 Our newest Calendar Kittens, college co-eds Camilla Hahn Chiniquy (brunette) and Taylor Gunnin (blond) standing in the pouring rain, help warm up Carlos Checa's Althea Ducati for Monday's Memorial Day World Superbike race. It must have helped as Carlos would go on to post double race win on this bike.
SBK World Superbike Championship, Round 5 of 10, Miller USA
Our 2011 Miller USA Fast Dates World Superbike Calendar Shoot by Jim Gianatsis
Miller Motorsports Park, Tooele, Utah, USA), Memorial Day Weekend May 28-30th 2011 – FastDates.com was again excited to attend the Miller Motorsports Park USA round of the World Superbike Championship this year to cover the exciting race weekend and photograph the next edition of the official SBK Fast Dates World Superbike Calendar. I had just found Taylor a few months earlier through one of my favorite local model agencies, Brand Model and Talent, and booked her then to be sure I'd have her confirmed for the trip to Salt Lake City, Utah, and the Miller WSBK race weekend.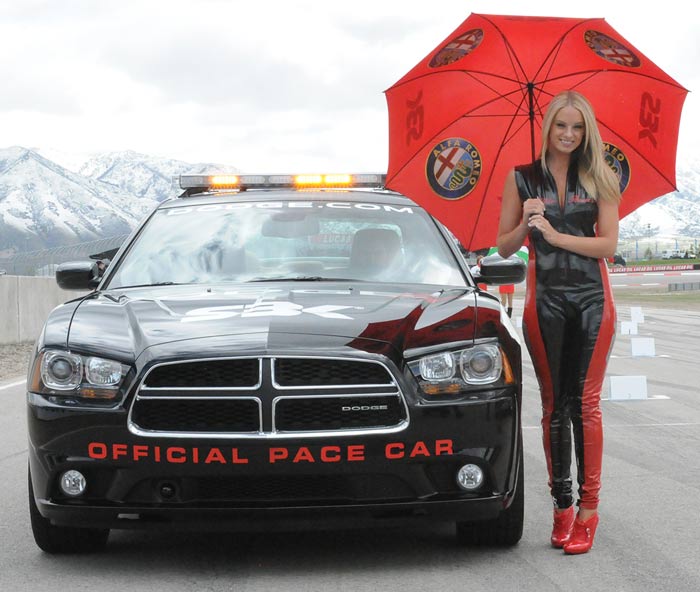 This year's SBK Fast Dates Calendar Kitten, Taylor Gunnin, served as the official Alfa Romeo SBK grid girl on Race Day. This year it wasn't in the budget to fly-in Alfa Romeos track cars from Italy, so pretend the Dodge Charger is an Alfa in disguise.
Once I had Taylor booked for the Calendar shoot and race weekend, I forwarded her picture with our Media Credential request to InFront Sports, producers of the World Superbike Championship. They liked Taylor's look so much, like many of my models in previous years before Taylor, they asked if she could work as one of the official SBK Umbrella Girls for Monday's World Superbike race. I was happy to do so and then coordinated it through Anne and Jenna at Umbrella Girls USA who handle most all the Grid and Promotional Models for Miller/SBK and Monster Energy Drink.
Our weekend started off on Friday afternoon at Los Angeles International Airport when I meet our newest Calendar Kitten, beautiful 5'8' California blond Taylor Gunnin from nearby Anaheim Hills. We meet for the first time and checked in at the Delta Airlines terminal. On our 1 hour 45 minute plane ride up to Salt Lake I learned that Taylor was a soon to be graduating Senior at a local University, she was completing her major in Marketing, and had just started an internship at mid-size event production company.
I had checked the weather report for Salt Lake prior to leaving Los Angeles that morning and saw the forecast was for cold and rain. I wisely decided to pack a waterproof Ducati enduro jacket for myself, and a Ducati thermal jacket for Taylor. They would prove to be very necessary.
The next day, Saturday, Timed Practice Day for World Superbikes, the weather began turning unusually cold and the skies started darkening. Saturday evening after Practice from 5:45 until dark around 8pm is the usual time I try to photograph as many of the factory World Superbikes as I can. Usually a team will have one of their top rider's 2 race bike available for me to shoot on Pit Lane for a few minutes. I have to catch the bikes between their being rebuilt after Practice and the team mechanics going back to their hotels for the night. Any bikes we miss, I'll try to reschedule to shoot during the lunch break on Sunday, just before Superpole. Usually the Spectator Pit Walk is going on the same time as the track's lunch break, so many fans get the added bonus of seeing a Fast Dates Calendar shoot taking place.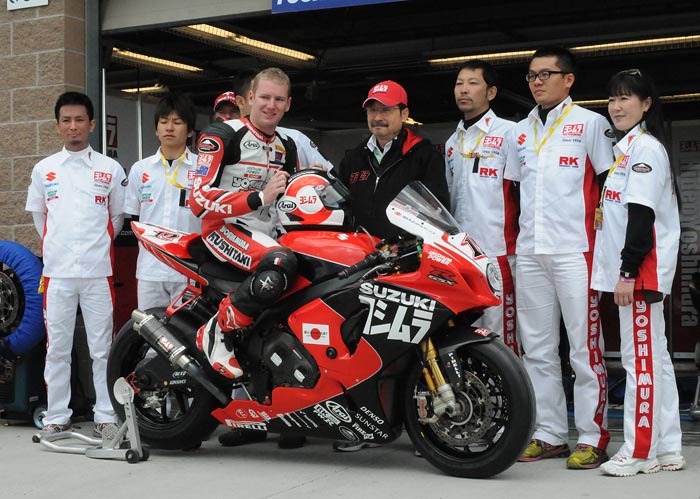 The Return of Fujio Yoshimura!
It's been 28 years since we last saw Yoshimura R&D founder Fujio Yoshimura (above on the left) in America and we were excited to see him back at Miller WSBK. He doesn't look a day older then when he left California in 1984 to manage the family business from its home base in Japan. Yoshimua of Japan is contesting just three World Superbike rounds this year on a Suzuki GSXR1000 as a wild card entry with Australian rider Joshua Waters. On the right is Fujio's nephew, the grandson of Fujio's dad, the legendary "Pops" Yoshimura. Fujio told us that this year is just to get their feet wet, and if he can find additional sponsorship support next year (hopefully with Suzuki of Japan) he would like to contest the full 2012 WSB Championship. At Miller this weekend Waters finished a respectable 12th and 15th in the two races.

We remind the factory teams of our upcoming Calendar shoot on Saturday evening, by going by their Pit Garages during Saturday's lunch break. This year with lovely Taylor in the cute FastDates.com Calendar Kitten uniform to get their attention, and we give them copies of the newest 2012 Fast Dates World Superbike Calendars I photographed with their bikes last year, now just hot off the press and air freighted in from our printer in China.
Needless to say the Calendar is a big hit with the teams and it quickly goes up on the back wall of their Pit Garages, before being brought back to their factory workshops in Europe.
After our Lunch hour visit to the teams to set up the evening's shoot, Taylor and I headed up to the Media Room above the Pit Garages where we hang out for the rest of the afternoon watching Practice on the overhead flat screen TV monitors. Other monitors show every riders' lap and track section times, top speed on the front straight, and their ranking from their quickest lap time on down. Miller Track Media Manager John Gardner makes sure we are well informed, well fed with food and beverages, and very comfortable.
Normally I book two models for the annual Fast Dates Calendar shoot, but this year I had couldn't find a local model in Salt Lake that I liked, and my budget didn't have room to bring up a second model from LA this year. To kill some time during the afternoon before our shoot I was wandering the Paddock to visit the AMA race teams, check out the stunt bike show, and browse the vendors. The local Big Dog custom motorcycle dealer was there in the paddock and had two very pretty models working his display, one being a drop dead curly haired brunette with a rocking' body packed in the tiniest spandex boy shorts and tank top. She looked to be the perfect match to my blond hair Taylor so I walked over and asked her when she got off work, and if she might like to shoot with us for the Calendar that evening. She said yes, a deal was struck in an instant, and 19-year old Miss Camilla Chinquiy agreed to meet us up in the Media Center at 4:30pm when she got off work! It proved to be an incredible stroke of luck as you can see in the photos here, and you will see in the next Fast Dates Calendar., Camilla looks just as incredible as Taylor, and they contrast and match each other perfectly.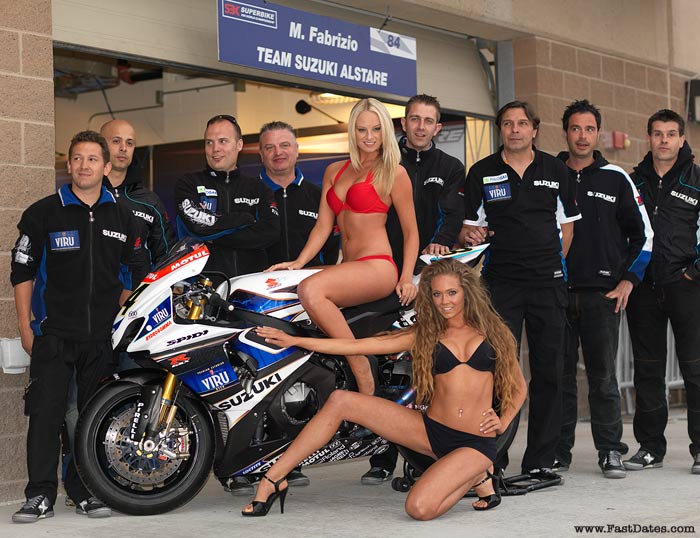 Taylor and Camilla create a little excitement at the Alstare Suzuki garage.
Then it was time to set up all my camera gear which includes a Hasselbald HD39 digital (the world's best quality, most expensive still camera) and remote wireless triggered Quantum Flash unit. The girls checked their makeup and start changing it their swimsuits. Then we walked down to the pits just as Practice ended and the skies opened up in a downpour of rain and temperatures dropped towards the 50s. We had no choice, the principal shoots for the race weekend had to take place then and there.
I set up our shoot right in front of the Althea garage which had a slight roof overhang above it, leaving a 2x6 foot dry spot on Pit Lane to pose the bikes and the models while I stood in the rain with my camera covered. The factory teams had to push their bikes down the Pit Lane in the rain to get where we were set up. Some of the teams had already closed up their garages and left the track, and we would have to try and shoot them on Sunday during the Lunch break. But that evening we did manage to shoot 6 bikes beginning with Carlos Checa's championship points leading Althea Ducati 1198RS.
Famed World Superbike photojournalist Kel Edge helped with our shoot and keeping the Calendar Kittens dry.
| | | | |
| --- | --- | --- | --- |
| | | | |
| | | | |
| | | | |
| | | | |
| | | | |
As soon as the shoot finished that evening, Camilla told us she had to drive back to Salt Lake City to start her third job of that day, performing as a disco dancer at a club rave. I asked her if she was available to come back to the track the next day to shoot with us again and she said she'd love to. I learned the next day that she danced at the rave club until 5am on Sunday morning, maybe getting 2 hours sleep at home, eating and showering, then driving back to Miller on Sunday to meet us again at 11am.
By then then the weather had gotten even worse, the temperature dropping even more and the rain turning to hail and snow that nightfall. There was no way we could shoot outside on Pit Lane any more the cold rain was coming down so hard. So we moved inside the cramped team garages at BMW and Aprilia, moved their backup bikes out od the way, and photographed both Troy Corser and Max Biaggi's bikes. These girls were doing an incredible job and looking great in the process!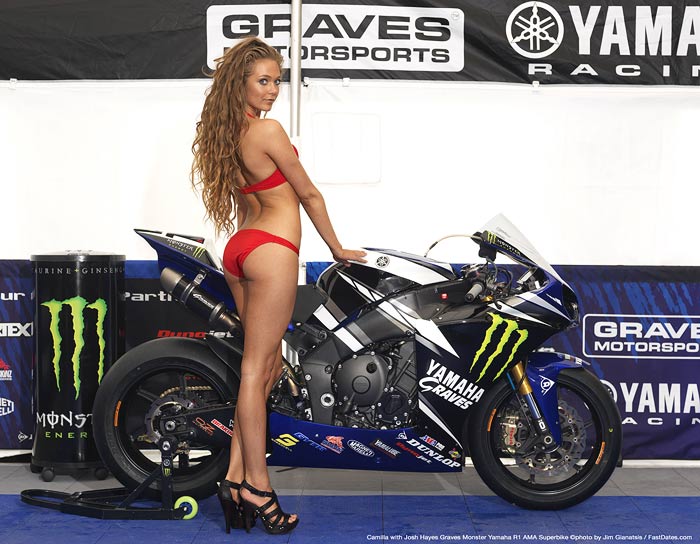 Camilla looks great with reigning AMA Superbike Champion Josh Hayes Graves Monster Yamaha R1. ©FastDates.com Click for BIG SCREENSAVER
Then we moved over to the Team Graves Monster Yamaha transporter and tent in the paddock, hooked up with AMA Superbike Champion Josh Hayes and the Monster Girls, and photographed them with Josh's bike for the Calendar. Then a Team Vance & Hines XR1200 Class bike in the pouring rain for good measure. And the Fast Dates Calendar shoot was a wrap for another year!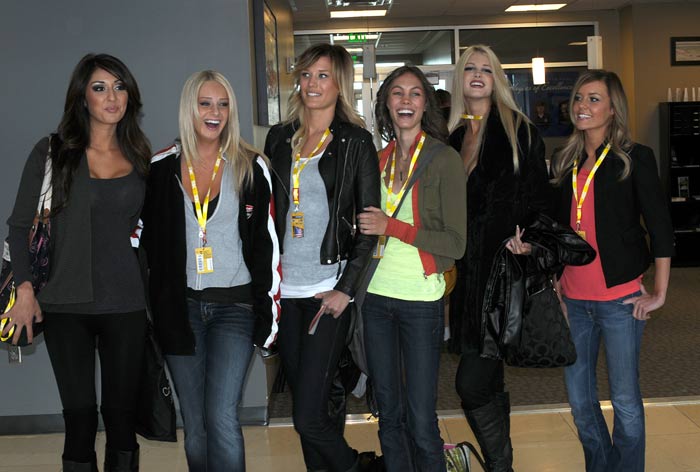 The SBK Umbrella Girls meet up at the track office on Monday morning to get ready for work. Calendar Kitten Taylor Gunnin is 2nd from left.
Race day Monday, Memorial Day, was Taylor's turn to go to work for SBK as a grid girl. I turned her over to Umbrella Girls USA that morning where Ann and Jenna paired the girls up according to their height and hair color to be SBK Podium Girls, Tissot Girls, Pirelli Girls, with Taylor ending up as one of the Alfa Romeo Girls. You may have caught Taylor on screen for a brief moment in Speed TV broadcast of WSBK Race 2. Unfortunately Speed TV makes it a point of editing out all the hot girl and rider shots on the starting grid of their delayed broadcasts of the SBK supplied TV feeds so we lucky Americans can see and hear Greg White and Scott Russell talking about nothing. While in the Europe the fans get full race coverage with the grid girls at the start, plus a 1-hour SBK Superpole program the day before, and a pre-race show on race day with rider's interviews. At the very least, we wish Speed TV would let us have the same great British TV commentators who report on the rest of the Championship series as it travels around the world.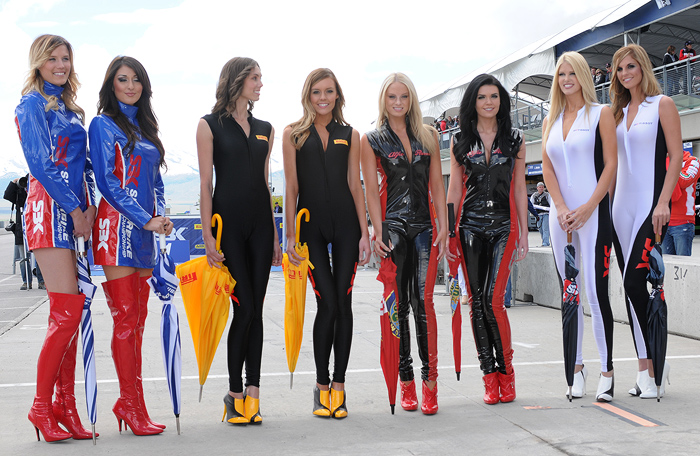 Now hard at work, the beautiful Miller USA World Superbike grid girls provided by Umbrella Girls USA included our own Fast Dates Calendar Kitten Taylor Gunnin, 5th from left. How tall are these girls? Our Taylor is 5'8" and wearing 5-inch heels. The two SBK girls on the right in White suits are 6'2" in their bare feet! We're thinking of starting our own SBK Fast Dates Women's Volleyball team.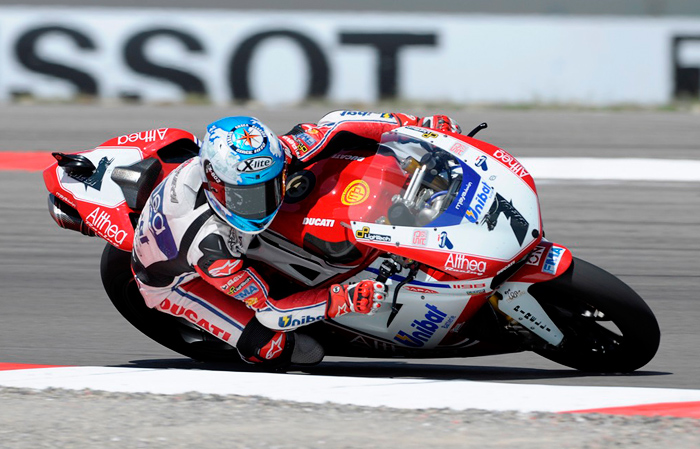 World Superbike Championship points leader Carlos Checa has dominated at Miller in previous years, and just as we predicted did so again this year on the privateer Althea Racing Ducati 1198RS.
On the American Memorial Day holiday enthusiastic Superbike fans fans were treated to a double win from a rider who was robbed of a double last year by simple bad luck, Carlos Checa (Althea Racing Ducati). The Spaniard, who entered this event as championship leader, had a dose of good luck this time as his two main rivals had difficult race day experiences. Marco Melandri (Yamaha World Superbike) was tenth and then sixth, while Max Biaggi (Aprilia Alitalia) crashed out of race one after colliding with Jonathan Rea (Castrol Honda). Reigning champion Biaggi recovered good ground in race two, taking third place.
COMPLETE MILLER WSBK and AMA RACE COVERAGE HERE.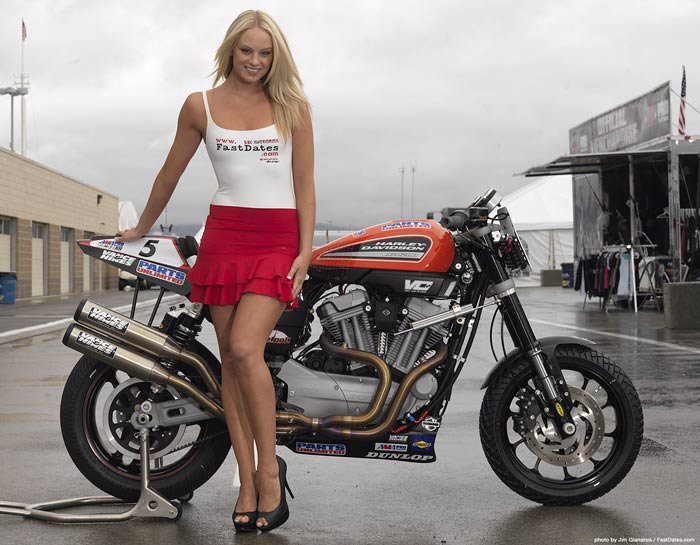 AMA Pro Vance & Hines XR1200s Set for Brickyard Debut at Red Bull Indianapolis GP
June 4, 2011- AMA Pro Racing is proud to announce that its newest class, the AMA Pro Vance & Hines XR1200 division, will soon become part of Indianapolis Motor Speedway's legendary motorsports history. On August 27 and 28, 2011, the AMA Pro series will make its Brickyard debut at the fourth running of the Red Bull Indianapolis GP, the roar of big, V-twin engines joining more than 100 years of IMS motorcycling records.

As the only non-MotoGP class invited to participate in the Midwest and East Coast's sole world championship road racing event, the Vance & Hines XR1200 series will carry the flag for the intensely competitive, spec-based racing the AMA Pro championship has become known for. With a full field of nearly identical Harley-Davidson XR1200s, the class features handlebar-to-handlebar, footpeg-dragging action that highlights rider skill and strategy.

For Red Bull Indianapolis GP ticket and event info, visit www.indianapolismotorspeedway.com. To learn more and become a part of the AMA Pro Road Racing Championship, visit www.amaproracing.com and join us on Facebook and Twitter.
---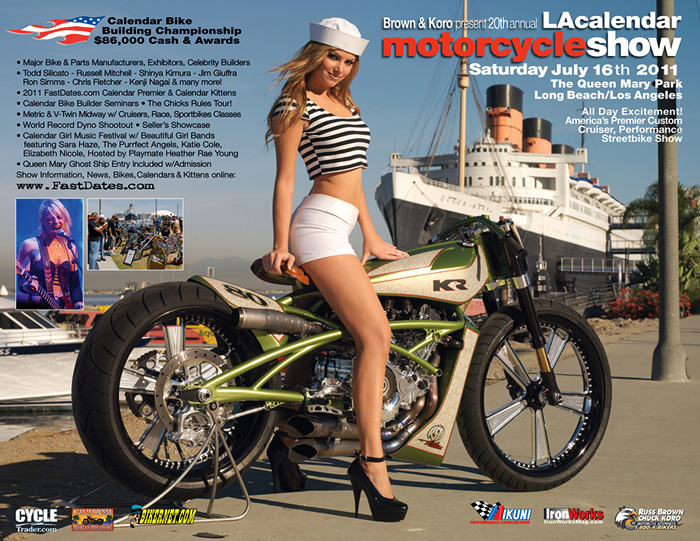 20th Anniversary Celebration! A New Location, a New Show Day,
and Lower Admission Prices as the 2011 LA Calendar Motorcycle Show & Calendar Gir Music Festival,
Saturday July 16th 2011 the Queen Mary Seawalk Village, Long Beach
Celebrity Builders AFT Customs, Jim Nasi
Bike Premiers for 2011 LA Calendar Motorcycle Show July 16th
Los Angeles, CA, April 11th, 2011 - The 20th annual Los Angeles Calendar Motorcycle Show presented by Russ Brown Motorcycle Attorneys, America's premier custom, cruiser, performance streetbike event returns to the Queen Mary in Long Beach, CA on Saturday July 16, 2011. The Show features many of the world's top Pro and Amateur custom street bike builders in attendance with their newest 2-wheeled creations of rolling art to compete in the Calendar Show Bike Building Championship for cash and awards including the coveted Best of Show Trophy. Making a return to this year's Show are two legendary custom bike builders which have been featured in the popular FastDates.com Iron & Lace Custom Motorcycle PinUp Calendars over the past 20 years.
Jim Giuffra (middle) and the AFT Model Agency girls took 1st Place Metric custom at the 2010 Calendar Show, joined from left to right by singer/songwriter/actress and hostess Elizabeth Nicole, magician Krystan Lambert, Keith "Bandit" Ball, magician Krystan Lambert, Keith "Bandit" Ball, Calendar Kittens Melody Schuster and Candise Lakota.

Builder Jim Giuffra and the AFT Customs Motorsports Models return to this year's Calendar Show on a 4-year winning streak which has already seen them take home a Best of Show and three 1st Place Metric Custom titles. All of the custom bikes emerging from AFT Customs shop in Jackson, CA, are the creation of shop owner Jim Guiffra, but are hand craft from the ground-up by the beautiful motorsports savvy trade show models represented by the AFT Modeling Agency. In fact two of the girls, Cyndi and Kristen, recently returned from Miller Electric Welding's corporate headquarters in Wisconsin where they received their TIG Welding Certifications. All of the Agency's girls are fully versed in motorcycle tuning, repair,and custom bike fabrication, making them the perfect spokes models for motorsports manufacturers at trade shows and consumer events.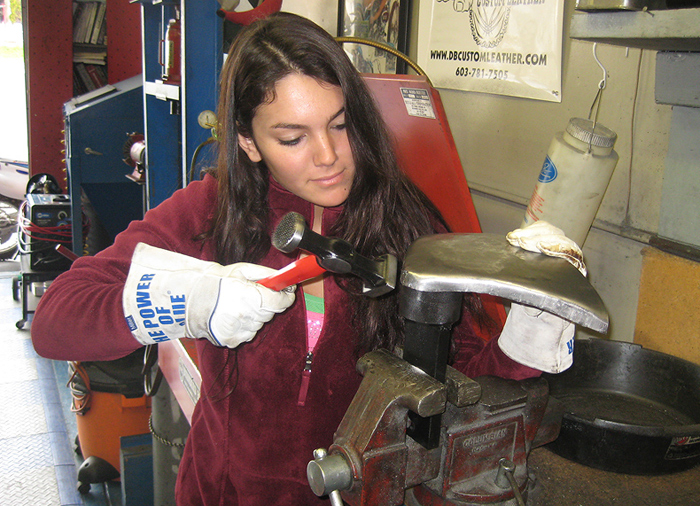 AFT Customs will be premiering two new customs at this year's Calendar Show. "'Senthoh' is based on a 1975 Honda CB750 SOHC, my first streetbike in high school and the first bike I ever customized, " explains Giuffra. "The name in Japanese means 'beginning' both for me as a builder back then, and for the AFT girls today. I'm keeping the bike's specification quiet for now, but I will tell you it is a cafe racer."
"Our second bike premiering is named 'Azumati' - its a VT750 Bobber/Street tracker being built on commission for the Jackson Rancheria Indian Casino. Asumati is a Miwuk Indian word meaning grizzly bear, the monarch of the forest. In Miwuk stories the bear is a symbol of great strength and courage. This bike will be just as fierce with a Yamaha R1 front end, Race Tech Piggyback Rear Shocks, a hidden radiator, CR450 front hub and brake."
---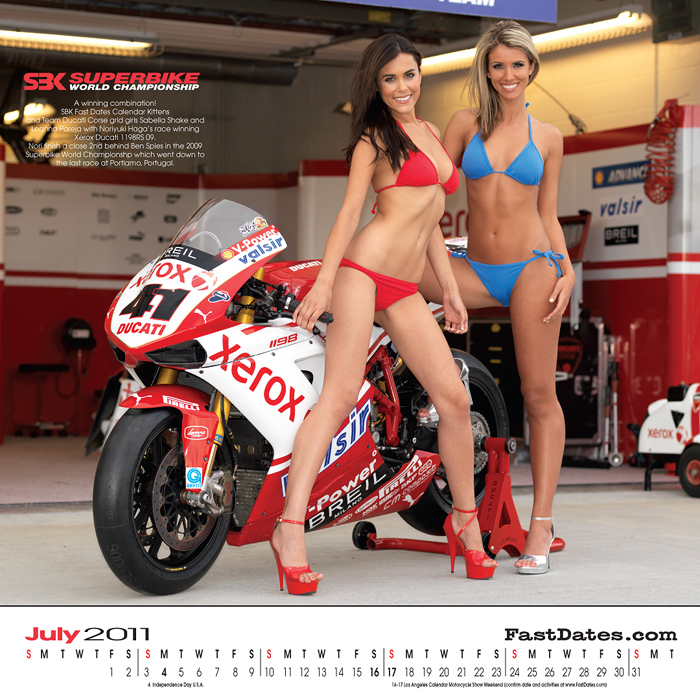 This Month in the Fast Dates World Superbike Calendar ....
World Superbike Calendar Kittens Sabella Shake Leanna Pierjena get up close and personal with
Noriyuki Haga's factory Ducati Corse 1198RS 09 Superbike.
Order the 2011 Fast Dates Calendar • Screensavers in Members Corner
---
There's more! Go to Fast Dates Calendar News NEXT PAGE

Hot Calendar Girl and Bike News! Go to: Fast Dates • Garage Girls • Iron & Lace

Click to see even more of our sexy Fast Dates Calendar Kittens...


And visit these great Fast Dates recommended partner websites...
Some of our Calendar Kittens can also at Playboy's website...

FREE! New Met-Art Model Galley Updated Daily - Stop Back Each Day





MotorcycleSuperstore.com