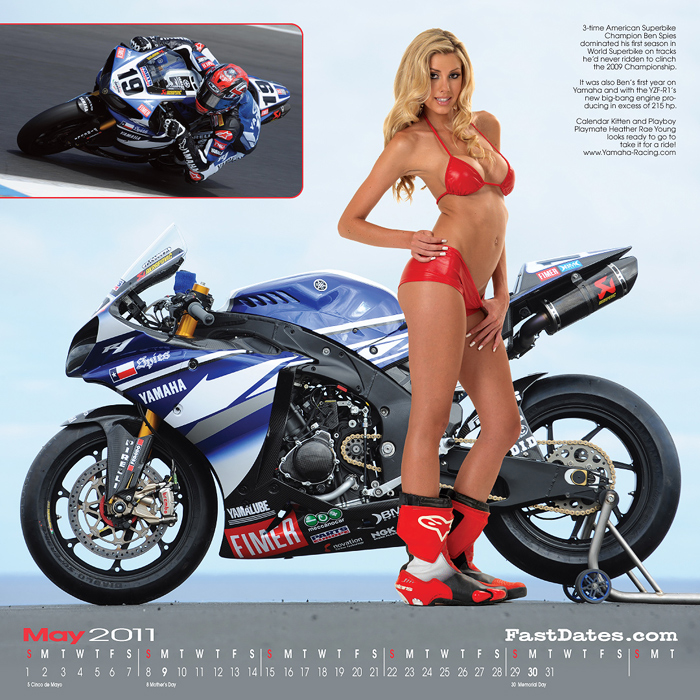 May - June 2011 Fast Dates Calendar News
This Month in the Fast Dates World Superbike Calendar ...
World Superbike Calendar Kitten and Playboy Playmate Heather Rae Young rocks our world
with Ben Spies' 2009 World Superbike Championship Yamaha YZF-R1
Order the 2011 Fast Dates Calendar • Screensavers in Members Corner
---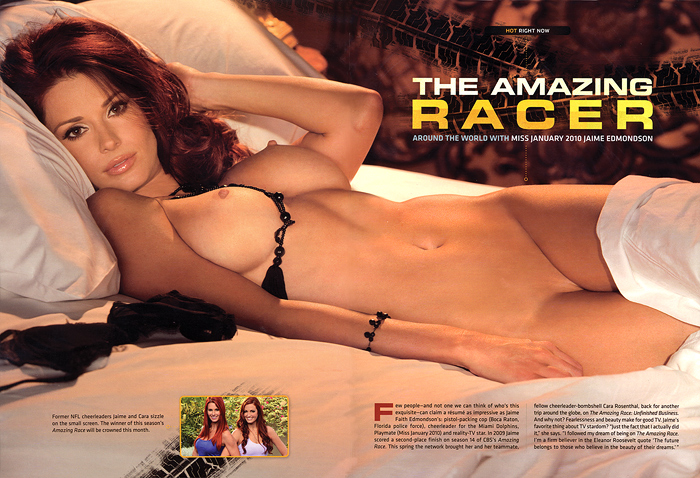 Click on any picture to ENLARGE
Fast Dates Superbike Kitten Jamie Edmonson returns on TV's Greatest Race
Los Angeles, April, 2011 – You'll have to wait 2 more months before Playboy Playmate Jamie Edmonson makes her premier in the new 2012 Fast Dates World Superbike Calendar, but you might have caught Jaime this past month on CBS TV's The Great Race as she and girlfrind Carla Rosenthal returned to the program for the second year in a row on Season 14. Last season Jaime and Carla finished the televised race competiton around the world in 2nd place overall, but in this year's competition their undoing was trying to assemble a huge wooden dinosour puzzle that left them well behind the other teams of players, missing a flight to their next destination and being eliminated after 4 weeks.
Jaime on the starting grid last year at Miller USA WSBK with Nori Haga
In between her two seasons on The Greatest Race, February 2010 Playboy Playmate Jaime Edmonson and Playboy Playmate March 2010 Heather Rae Young accompanied FastDates.com publisher Jim Gianatsis to the Miller Motorsports USA round of the World Superbike Championship in May 2010 to shoot the 2012 Fast Dates World Superbike Calendar. The shoot took place on Pit Lane with all the top factory race teams each evening after Saturday and Sunday's Practice and Superpole sessions. Then on race day the two beautiful Calendar Kittens and Playmates were provided to the Ducati Corse Superbike team to serve as their offical grid girls for riders Noriyuki Haga and Michel Fabrizio.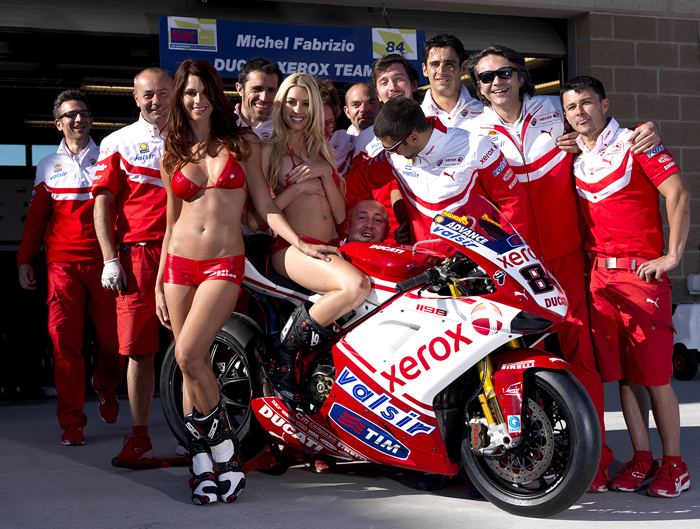 Above: Jamie and fellow Playboy Playmate Heather Rae Young mug with the Ducati Corse factory Superbike team at last year's Miller World Superbike round while shooting the upcoming 2012 Fast Dates World Superbike Calender. Below: Jamie with best friend and Miami Dolphins cheerleader, Carla Rosenthal, who was her team mate for two seasons, 2010 and 2011 of The Greatest Race.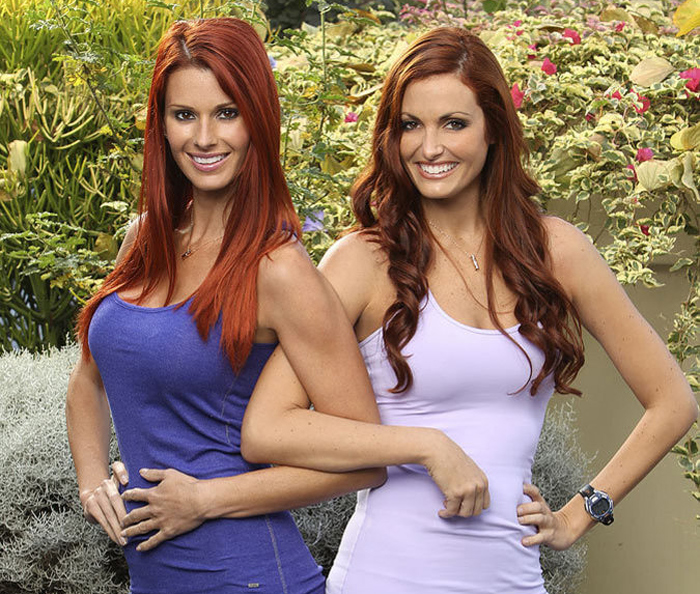 After a grueling double leg in China involving completion of a large dinosaur skeleton, Jaime and Cara were eliminated from The Amazing Race: Unfinished Business, in the season's 4th episode just a few weeks ago. We caught up with them and found out more about their experience the second time around and what they're up to now.
What was it like going into the Race a second time against other returning teams?
Jaime: It was exciting and an honor to be invited back for such an amazing adventure!
Cara: It was really exciting! I was really surprised there were so many from our season, but it was cool to have an opportunity to run against teams that I have watched and admired in their seasons.
It seemed like there were a lot of factors that held you up in that final leg; what do you think slowed you down the most?
Jaime: The stopping for gas was really a killer. It took about an hour and that's about how far we ended behind Justin and Zev at the Pit Stop ... it would have been interesting.
Cara: Ultimately, the dinosaur task was our downfall. We had withstood and overcome a great deal of adversity that day, with the Double U-Turn and our cab driver getting lost and a gas stop, but when all is said and done, we arrived before the other teams and left after them.
What was your favorite part or challenge?
Jaime: I actually loved the yak. I am such an animal lover and I take a lot of comfort from them.
Cara: I loved being in the shark tank and we both enjoyed the skiff sailing in Australia.
We'll miss seeing you on The Amazing Race, but what are you up to now?
Jaime: Since becoming a Playmate my schedule has been non-stop with travel and events, it's been fun! Plus coming up in July is the world premier of my new 2012 Fast Dates World Superbike Calendar. I'm sure the guys will be amazed to see that I may be a Calendar Kitten, but I'm no pussy when it comes to taking on 240hp 200mph World Superbikes with just a bikini and a smile....
Cara: Work! Work! Work! I'm carrying a full time job as a government relations consultant and a law student by night. In addition to being a newlywed since last race, I am keeping quite busy!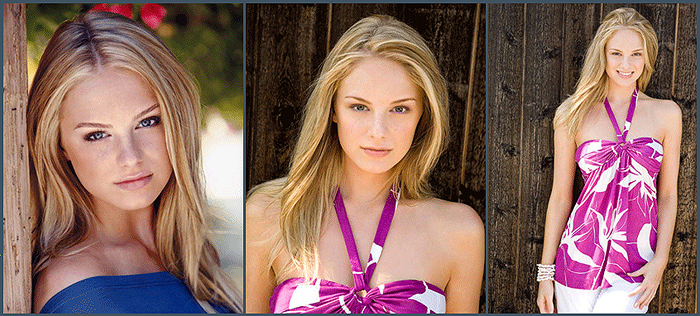 Newest Fast Dates Calendar Kitten Taylor Gunnin
selected as official InFront Superbike Grid Girl for Miller USA Race Weekend May 28-30th
Los Angeles,CA, May 1st 2011 - The FastDates.com Calendars, the world's premier brand of motorsports and pinup model wall calendars is excited to announce that beautiful Southern California model and actress Taylor Gunnin has been selected to accompany photographer publisher Jim Gianatsis to the Miller Motorsports USA World Superbike Race Weekend in Utah, May 28-30th to shoot the next edition of the Fast Dates World Superbike Calendar with all the top factory race team bikes. This marks Taylor's first shoot for the renown motorcycle pinup calendars which have seen some of the world's most beautiful models grace its pages together with the world's top racing and custom motorcycles. Celebrity models that have included Hollywood actresses and Playboy cover models Pamela Anderson, Jaime Pressly, Josie Bisset, LeeAnn Tweeden, Cindy Margolis, world's sexiest supermodel Joanna Krupa, along with other beautiful women like Miss Great Britain Nicki Lane and Miss Texas Robin Cunningham.
InFront Sports, producers of the World Superbike Championship, upon learning of Taylor Gunnin's attendance with Jim Gianatsis at the Miller USA race weekend, made a specific request that Taylor be one of their official grid girls for the races. For additional information on the Fast Dates World Superbike Calendars and complete race coverage in the Pit Lane News section go to www.FastDates.com
And for more race information visit www.WorldSBK.com and www.MillerMotorsportsPark.com
---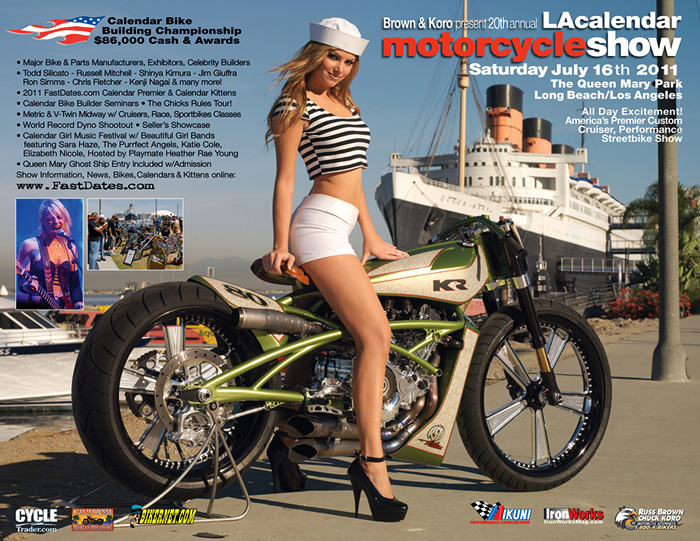 20th Anniversary Celebration! A New Location, a New Show Day,
and Lower Admission Prices as the 2011 LA Calendar Motorcycle Show & Calendar Gir Music Festival,
Saturday July 16th 2011 the Queen Mary Seawalk Village, Long Beach
Celebrity Builders AFT Customs, Jim Nasi
Bike Premiers for 2011 LA Calendar Motorcycle Show July 16th
Los Angeles, CA, April 11th, 2011 - The 20th annual Los Angeles Calendar Motorcycle Show presented by Russ Brown Motorcycle Attorneys, America's premier custom, cruiser, performance streetbike event returns to the Queen Mary in Long Beach, CA on Saturday July 16, 2011. The Show features many of the world's top Pro and Amateur custom street bike builders in attendance with their newest 2-wheeled creations of rolling art to compete in the Calendar Show Bike Building Championship for cash and awards including the coveted Best of Show Trophy. Making a return to this year's Show are two legendary custom bike builders which have been featured in the popular FastDates.com Iron & Lace Custom Motorcycle PinUp Calendars over the past 20 years.
Jim Giuffra (middle) and the AFT Model Agency girls took 1st Place Metric custom at the 2010 Calendar Show, joined from left to right by singer/songwriter/actress and hostess Elizabeth Nicole, magician Krystan Lambert, Keith "Bandit" Ball, magician Krystan Lambert, Keith "Bandit" Ball, Calendar Kittens Melody Schuster and Candise Lakota.

Builder Jim Giuffra and the AFT Customs Motorsports Models return to this year's Calendar Show on a 4-year winning streak which has already seen them take home a Best of Show and three 1st Place Metric Custom titles. All of the custom bikes emerging from AFT Customs shop in Jackson, CA, are the creation of shop owner Jim Guiffra, but are hand craft from the ground-up by the beautiful motorsports savvy trade show models represented by the AFT Modeling Agency. In fact two of the girls, Cyndi and Kristen, recently returned from Miller Electric Welding's corporate headquarters in Wisconsin where they received their TIG Welding Certifications. All of the Agency's girls are fully versed in motorcycle tuning, repair,and custom bike fabrication, making them the perfect spokes models for motorsports manufacturers at trade shows and consumer events.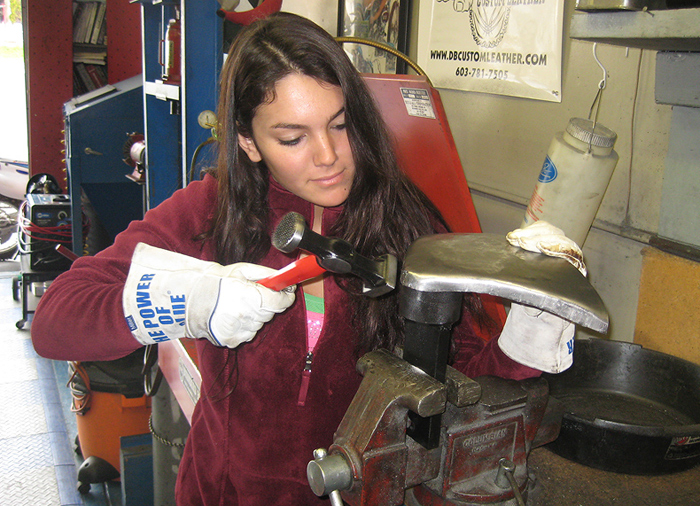 AFT Customs will be premiering two new customs at this year's Calendar Show. "'Senthoh' is based on a 1975 Honda CB750 SOHC, my first streetbike in high school and the first bike I ever customized, " explains Giuffra. "The name in Japanese means 'beginning' both for me as a builder back then, and for the AFT girls today. I'm keeping the bike's specification quiet for now, but I will tell you it is a cafe racer."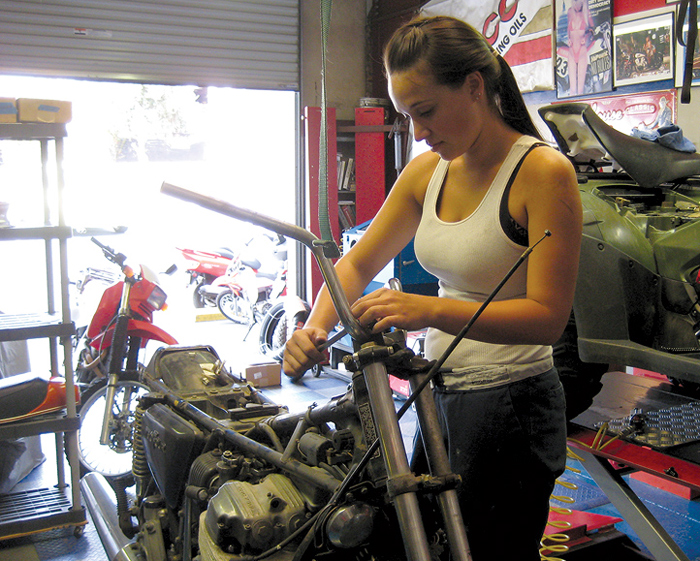 "Our second bike premiering is named 'Azumati' - its a VT750 Bobber/Street tracker being built on commission for the Jackson Rancheria Indian Casino. Asumati is a Miwuk Indian word meaning grizzly bear, the monarch of the forest. In Miwuk stories the bear is a symbol of great strength and courage. This bike will be just as fierce with a Yamaha R1 front end, Race Tech Piggyback Rear Shocks, a hidden radiator, CR450 front hub and brake."
---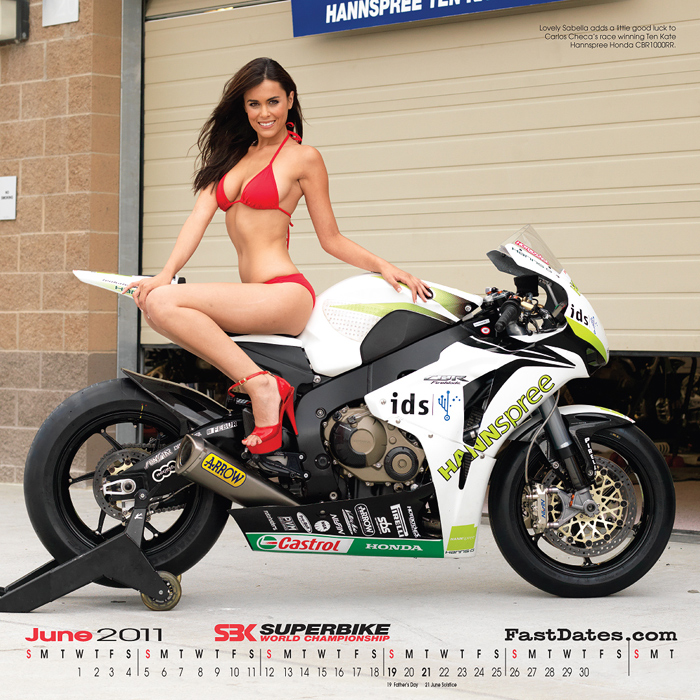 This Month in the Fast Dates World Superbike Calendar ....
World Superbike Calendar Kitten Sabella Shake has us coming and going aboard Carlos Checa's
2009 Miller USA World Superbike race winning Hannespree Team Kate Honda CBR1000RR
Order the 2011 Fast Dates Calendar • Screensavers in Members Corner
---
There's more! Go to Fast Dates Calendar News NEXT PAGE

Hot Calendar Girl and Bike News! Go to: Fast Dates • Garage Girls • Iron & Lace

Click to see even more of our sexy Fast Dates Calendar Kittens...


And visit these great Fast Dates recommended partner websites...
Some of our Calendar Kittens can also at Playboy's website...

FREE! New Met-Art Model Galley Updated Daily - Stop Back Each Day





MotorcycleSuperstore.com