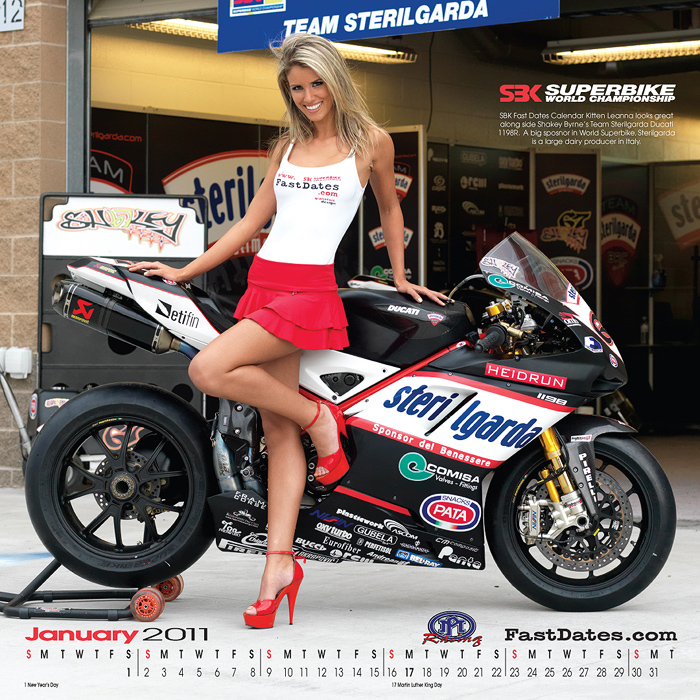 January - February 2011 Fast Dates Calendar News
This Month in the 2011 Fast Dates World Superbike Calendar...
Leanne & Shakey Byrne's Sterolgarda Ducai 1198RS Superbike
Our official Ducati Corse World Superbike team grid Kitten Lannna Parja gets frisky with Shakey Byrne's Ducati 1198R Superbike
featured in the 2011 SBK Fast Dates World Superbike Calendar.
---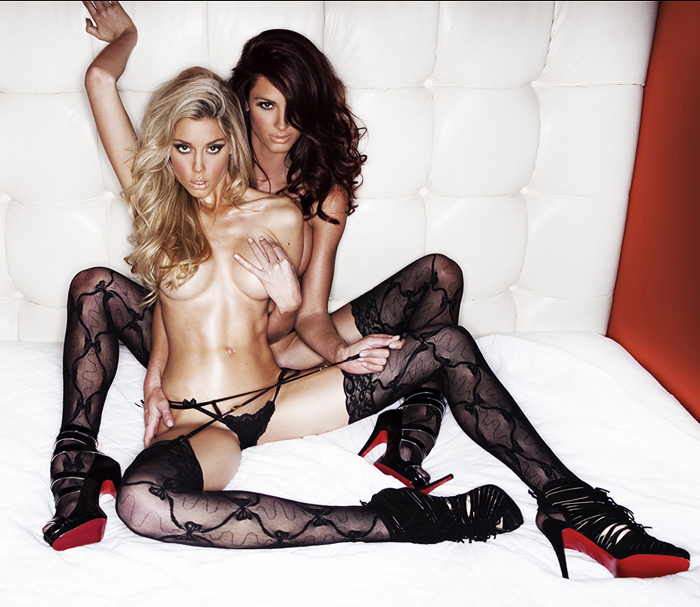 Heather and Jaime Need your Help!
Vote for our official SBK Fast Dates Calendar Kittens
& Ducati Corse Grid Girls as Playboy's Playmate of the Year.

Los Angeles, CA, USA, Jan 1st - FastDates.com Calendar Kittens and Playboy Playmates Jaime Edmonson (Miss January 2010) and Heather Rae Young (Miss February 2010) are in the running this month of January for the coveted title of Playmate of the Year. They need your voting support now to come out on top with the coveted Bunny title as well. Vote at: http://pmoy.playboy.com
Beautiful Heather Rae Young is featured on the cover and inside the new 2011 SBK Fast Dates World Superbike Calendar with 2009 World Superbike Champion Ben Spies' Yamaha YZF R1 and MotoGP World Champion Valentino Rossi's Yamaha M1. Heather is a successful Los Angeles model who shot for all 3 editions of the 2011 Fast Dates Calendars including Iron & Lace and Garage Girls, just months before her Playboy Playmate centerfold feature appeared in the magazine.
This past summer both Heather and Jaime accompanied FastDates.com Calendar photographer Jim Gianatsis to the Miller Motorsports, Utah, USA round of the World Superbike Championship to shoot the next SBK Fast Dates Calendar with all the top factory Superbike teams. Then on race day both Heather and Jaime served as the official Ducati Corse grid girls for Michel Fabrizio and Noriyuki Haga.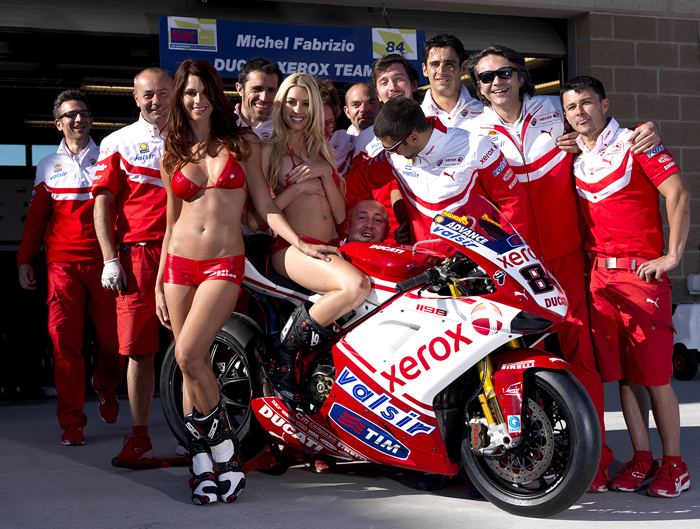 A playful Michel Fabrizio reaches over to loosens the top on Heather's bikini during a team photo shoot.
Jaime Edmonson hails from South Florida where the Florida University graduate served as a Miami Dolphins Cheerleader before coming a gun toting Boca raton Police Officer. Unfortunately her beautiful good looks proved to cause difficulties from her fellow officers, so she quit the police force to become a contestant with fellow former Miami Dolphins cheerleader and best friend Cara Rosenthal on TV's The Amazing Race, the duo finishing the season in 2nd place as the highest placing female team ever. After traveling the world, Jamie relocated to Los Angeles where she was signed by Playboy. Jaime spent a few months living at the Playboy Mansion to work on her Playboy photo shoot and participating in E!'s The Girls Next Door TV reality series. At the Playboy Mansion parties she meet our other recent Calendar Kitten and Playmate Heather Rae Young and last year they became new best friends, shooting for the FastDates.com Calendars at Miller World Superbike, and flying across America every weekend together on Playboy promotions.
Both Heather and Jaime need your help in voting for one or both of them as Playboy's Playmate of the Year on the Playboy website. Your can vote as many times as you like, but only once per day. Go to:
World Superbike Champion Troy Corser with a handful of Kittens and Bunnies, Heather Rae (blond on left) and Jaime (red hair on right).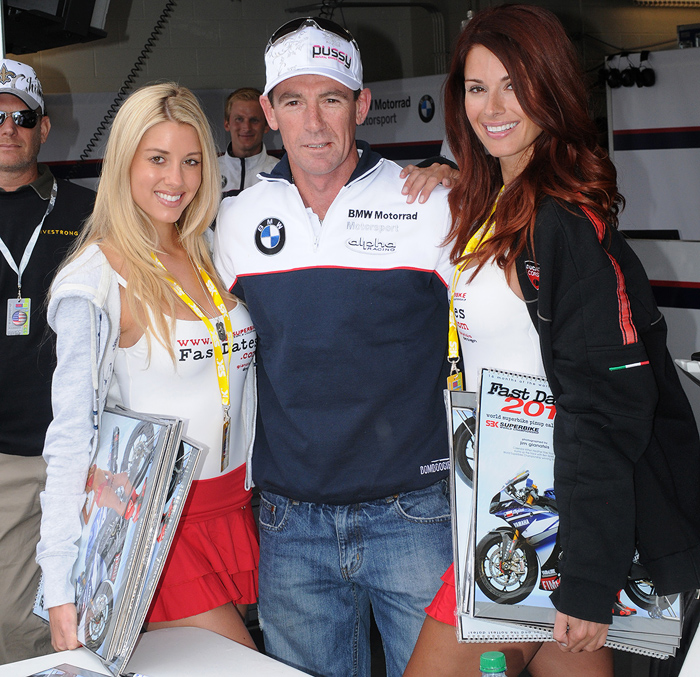 ---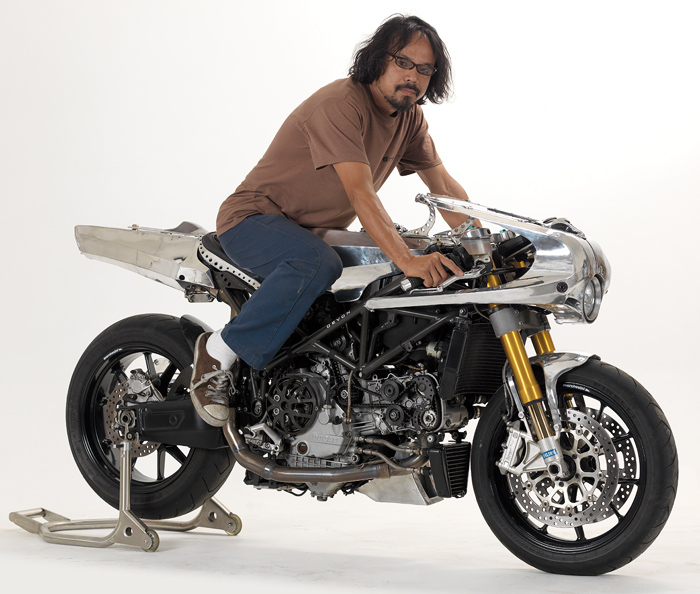 Shinya Kimura with the Ducati 999S Superbike retro conversion
Shinya Kimura Ducati 999S "Devon"
featured in the 2012 Fast Dates Calendar and in the Calendar Bike Garage
by Jim Gianatsis / photography by Jim Gianatsis
We first met Shinya Kimura when he won Best of Show bike at our 2004 LA Calendar Motorcycle Show with an old retro customized Harley Panhead.. At that time Shinya was the front man and celebrity builder at Zero Engineering of Japan, and we were humbled that Shina flew over from Japan with his bike just for our Calendar Show. It was Shinya who pioneered some 10-15 years ago the current retro chopper look that many top builders in America and around the world have followed. Shinya's retro customs were was so well known his he enthusiastic fans all over the world, including Hollywood stars, waiting in line up to 4 years to buy one of his bikes
The next year, 2005, Shinya moved to America and opened up a branch of Zero Engineering in Las Vegas, NV. But a year later he had a falling out with his partners and moved to Los Angeles to start up his own solely-owned company Chabbott Engineering, the company name he had used when he first started building bikes.
Originally from Japan where he turned to motorcycle repair, racing and restoration after studying entomology, Kimura has now relocated to the United States permanately and embarked on what has become a storied career in building what some have called functional art. He currently works out of his shop, Chabott Engineering, in Azusa, CA (www.chabottengineering.com).
Shinya has attended the LA Calendar Motorcycle show every year since 2004 and has used the Show each year to premier his latest custom builds. The retro Panhead Harley which won Best of Show that first year year was featured in the marketing campaign for the 2005 Calendar Show where it was seen and purchased by actor and motorcycle enthusiast Brad Pitt. Since then Pitt has purchased a number of Shinya's customs, including a pair of custom built Triumph and Ducati sportbikes that Shinya premiered at the Show in 2009.
Making its world premier at the 2010 Calendar Motorcycle Show was this aluminum re bodied retro styled Ducati 999S Superbike commission by a customer named Devon. Imagine if you will a classic vintage racer like Ducati's limited production MH900e Mike Hailwood "Evoluzione" racer. Ducati built 2,000 of them back in the early 2000s powered my an anemic 80hp air cooled twin. Most of them ended up parked in people's living rooms as expensive floor art because as "limited edition" bikes they were supposedly too valuable to ride, but in reality they were uncomfortable to ride as well.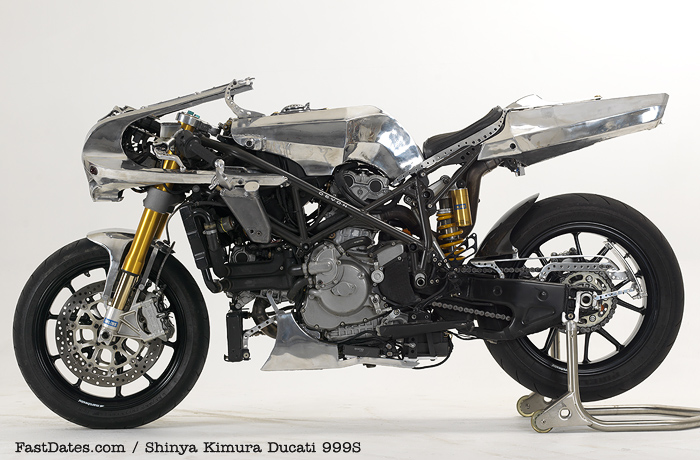 Then here comes Devon with a brain storm. Why not take Ducati's World Superbike Championship winning 999 Superbike in "S" configuration with the high end Ohlins race suspension and Brembo brakes. The Ducati that also happens to be the most comfortable riding of all the Ducati Superbikes.One that you can buy used now for around $8,000, half the market price of an MH900E. Then have legendary customizer Shinya Kimura re body it for you with unique hand fabricated aluminum bodywork. Rather than being one of 2,000 MH900E owners with a bike they can't ride, you are now just one of 1 with the ultimate ride able Ducati retro superbike that will blow the MH900E into the weeds, performance wise, and value wise over the coming years. Sheer genius! Congratulations Devon on having the ultimate 2-wheel retro racer. A unique one-off bike you can admire and ride. For additional information, hi-resolution photos and screend savers go to Calendar Bike Garage
---
The perfect trip for any sportbike fanatic as
Max Biaggi clinches the 2010Superbike Championship for Aprilia
The Ducati Edelweiss Imola Superbike Tour - Italy, the Factory & Museum, Imola WSBK!
By Jim Gianatsis, Editor
Bologna Italy, September 2010 -We love the Edelweiss Motorcycle Tours, especially across Europe. Their new Ducati sponsored Edelweiss Imola tour this year across beautiful Tuscany in Northern Italy, starts off with a visit to the Ducati factory in Bologna to pick up new Multitstrada 1200s, and ends the following weekend at the Imola World Superbike races. This was a must-do working vacation for any hardcore sportbike enthusiast! We had never been to Imola before, and were excited to find it was another classic european race circuit like Monza, Le Mans and Nuremberg Ring, set in a beautiful forest in the middle of the city. We picked up our Media Credentials in the middle of town at the local town hall, then crossed a nearby bridge half a block away over a river right into the track's Paddock Area.
There' a lot more HERE: Part 1 The Trip • Part 2 The Ducati Factory / Museum • Part 3 Imola World Superbike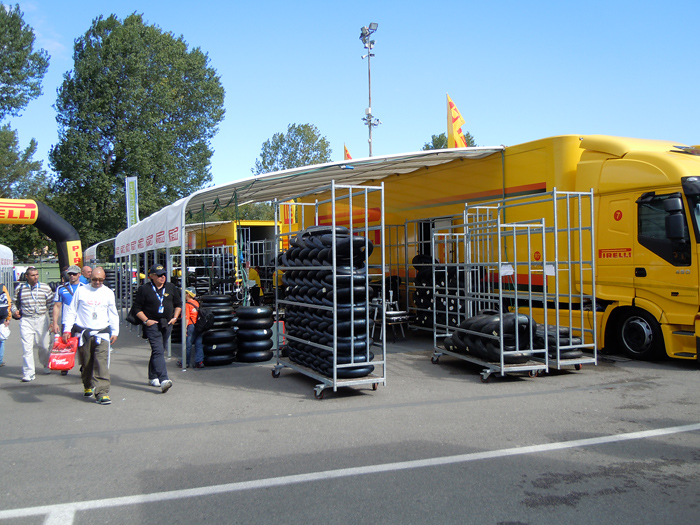 ---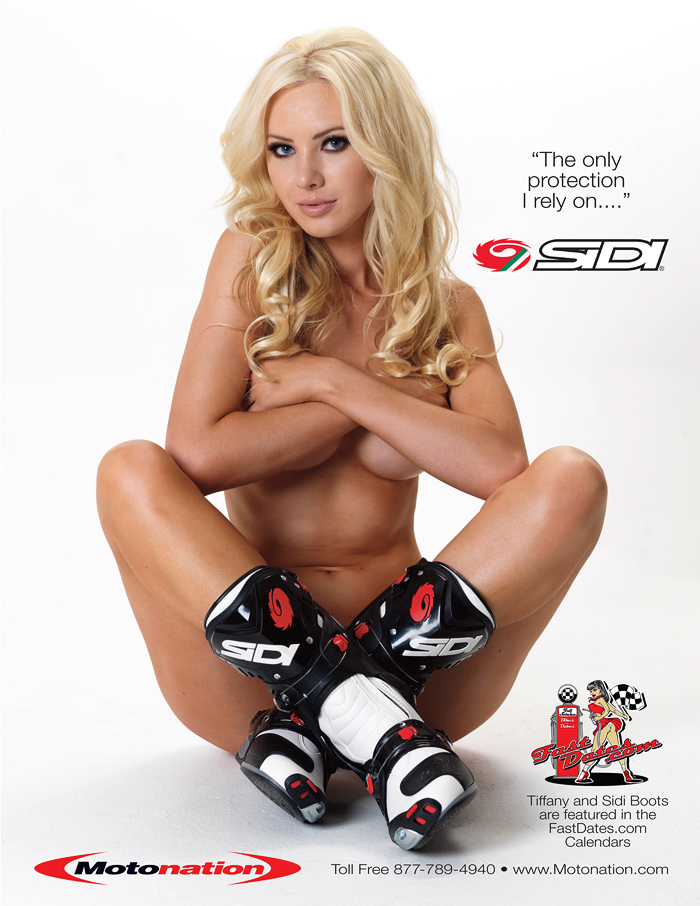 Tiffany is also featured without her boots in Members Corner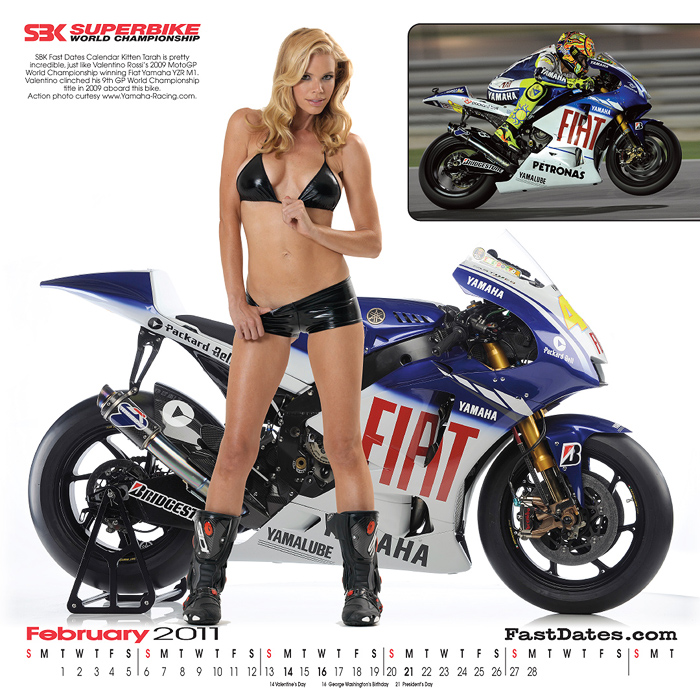 This Month in the 2010 Fast Dates World Superbike Calendar...
Tarah & World MotoGP Champion Valentiono Rossi's Yamaha M1
Our official SBK Fast Dates Calenar Kitten TarahTobiason loosens up with the Doctor's MotoGP winner.
featured in the 2012 SBK Fast Dates World Superbike Calendar.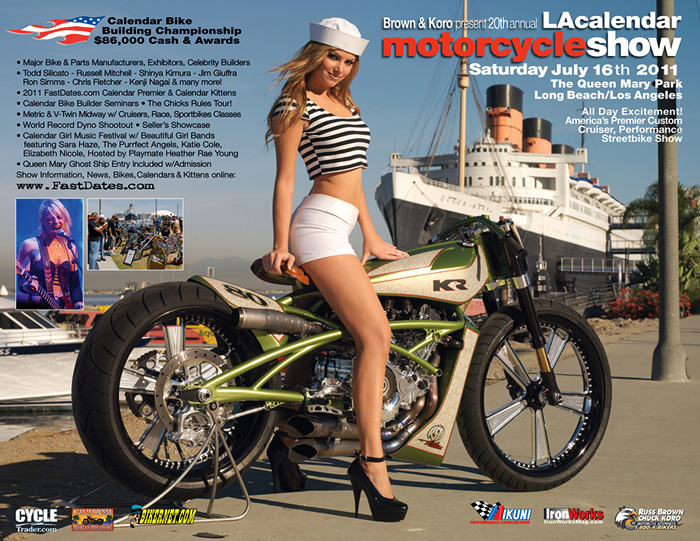 ---
There's more! Go to Fast Dates Calendar News NEXT PAGE

Hot Calendar Girl and Bike News! Go to: Fast Dates • Garage Girls • Iron & Lace

Click to see even more of our sexy Fast Dates Calendar Kittens...


And visit these great Fast Dates recommended partner websites...
Some of our Calendar Kittens can also at Playboy's website...

FREE! New Met-Art Model Galley Updated Daily - Stop Back Each Day





MotorcycleSuperstore.com