Click on the Covers Above to Visit the Particular Calendar and Book Pages, and Order Online



Amazon.com USA & Canada / Online Ordering


USA 1-800-366-3645



Great Britain / Europe
44-208-669-6400
Crossbow-Calendars






USA 1- 800-527-0501
FastDates.com Calendar Retailers / Distributors World Wide
United States: Mid-USA 1- 800-527-0501/ 1-800-632-0024
United Kingdom & Europe: Crossbow-Calendars (44) (0) 208-669-6400
Custom Chrome Europe 49 (0) 671 88888 0 • W&W Cycles, Germany (49) (0) 931-250-6116
Zodiac Netherlands 31-(0)297 28 86 21 • Zodiac England • Zodiac France • Zodiac Italy
World Wide: Additional Ordering Resources USA, Canada and Worldwide visit: Chain Links

New Distributor inquires go HERE Order early! News calendars available July 1st.
1991-2014 Past Edition FastDates.com Calendars available in Collectors Corner
Order Direct from FastDates.com
Dealer Orders: Visit the Chain Links page for our Distributor Contacts Worldwide
Order early! News calendars available August 1st.
For Past Edition 1991-2015 Calendars visit our Collectors Corner.
FastDates.com Calendars are a high quality 15 x 15" wire spiral bound calendar printed in full color
on premium art card stock revealing 16 months beginning with September preceeding the cover year, sealed in clear plastic with carboard insert. When ordering by mail please specify the calendar name, quantity, your name, address, and phone number
Postal Mail Orders should include check or money order - ONLY, no charge cards. Calendars are $17.95 each, plus $8 S&H per US order. International orders require a higher shipping cost - Email us with your order for a Quote - Contact@FastDates.com. Send Postal Mail Orders to:
FastDates.com Calendars, c/o Gianatsis Design, 4801 Reforma Road, Woodland Hills, CA 91365
Notice: Please do not use the 2015 FastDates.com Calendar Mail Order Cards which are bound into the 2014 FastDates.com Calendars. These are addressed to Van Leeuwen Distributing who is no longer selling the Calendars and these orders will not be processed. We appologise for any inconvience.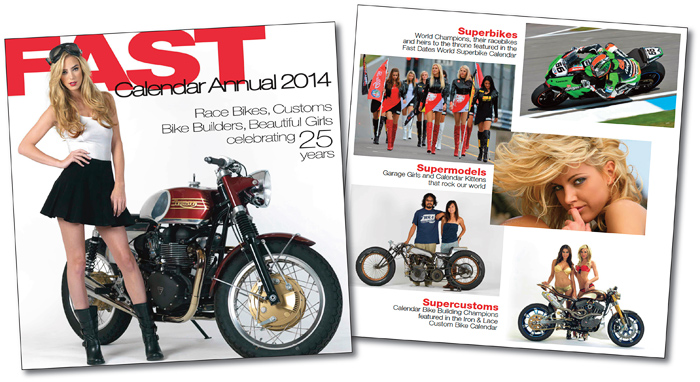 NEW! FAST 2014 Digital Magazine takes you behind the scenes of the FastDates.com Calendars!
Go with us on the photo shoots at World Superbike, meet the Calendar Kitttens, the top factory racers and bike builders, see photo features on the top calendar and race bikes. Take a track day with World Superbike Champion Troy Bayliss at Misano, take an Edelsweiss Ducati World Superbike tour of the Ducati Factory & Museum and across Italy, ride a Vespa scooter around Paris and party at the Crazy Horse and the Moulon Rouge. Hang with beautiful teen rock star Taylor Momsen of the Pretty Reckless.
Did we forget anything? - Oh yes, see every page in the new 2014 Fast Dates, Garage Girls, Iron & lace Calendars!
The FAST 2014 Digital Magazine is included in Members Corner
---


Los Angeles, USA
Phone: (010) 818.223.8550F• iFacsimile: (010) 818.223.8590
email: JGDesign at FastDates.com
Gianatsis Design Associates - Advertising, Photography, Marketing, Event Services
: Page 1 Introduction • Page 2 Graphic Design • Page 3 Photography
• Page 4 Press / New Product Release Services • Page 5 Advertising & Marketing Services • Page 6 Web Design
• Page 7 FastDates.com Advertising Rates / Gianatsis Design Service Rates
Page 8.1 Classic MX & Stock Motorcycle Images 01 • Page 8.2 Stock Images 02 • Page 9 The Jim Gianatsis Story

FastDates.com Calendar Distributor Information • FastDates.com Webmaster Affiiliate Programs
Revealing Pictorials of our Beautiful FastDates.com Calendar Girls!


Click Above for More
Swimsuit & Motorcycle Calendars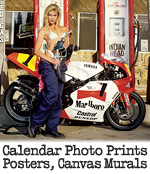 Welcome to
FastDates.com!
First published in 1990, the FastDates.com Calendars quickly established themselves as the world's premier line of motorcycle and motorsports pinup calendars created by motorsports and fashion photographer Jim Gianatsis.
The FastDates.com Calendars fostered the Los Angeles Calendar Motorcycle Show which involved from a backyard barbecue party at Jim's house to celebrate the publishing of each season's new calendars, to now become the biggest custom and performance streetbike motorcycle Show in America.
The FastDates.com Website quickly evolved as the premier motorcycle and pinup model related website in the world. We are visited by some 150,000 readers monthly.

The Complete Story Here
---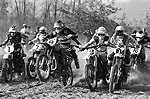 The Legends of Motocross!
1970's Nationals Trans-USA
& Supercross
Photography by Jim GianatsisClick to Order Prints