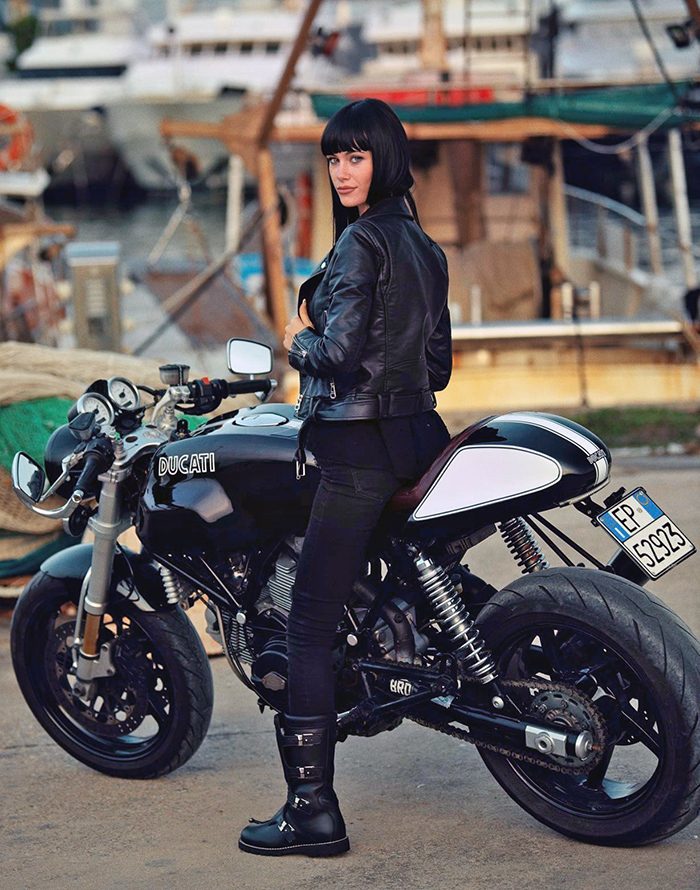 Our beautiful Italian Model Sophie dons a black wig for this motorcycle magazine shoot with FastDates.com Calendar Italian photographer Simone de Raineri.
Fast Dates Rome Adventure to Sicily Motorcycle Tour 2022
Another incredible Edelweiss BIke Tour,
accompanied in Rome with FastDates Calendar Kitten Sophie Francesconi

Photos and Report by Jim Gianatsis / FastDates.com Pit Lane News - Click on any Picture to Enlarge
Return to Pit Lane News • Pit Board Features

Edelweiss Motorcycle Tour, Rome, Italy, - April 28 - May 13th 2022 - For many of us looking to return to normal life, 2022 was my post pandemic return for a new Edelweiss Motorcycle Tour in Europe. This time my trip would be in Southern Italy, riding from Rome to Sicily along the beautiful Amalphi western coast of the Mediterranean Sea. This region was the birthplace of European civilization including the great empires of Greece and Rome, and later the Norman Vikings. I wanted to see for the first time where much of World history and civilization first began, and brought us to where mankind is today, the places I had always learned about and dreamed of visiting one day. This would be my 6th Edelweiss bike tour, and one of the most significant.

I booked another BMW XR1000S Adventure Superbike for this trip again, but this time the challenge wouldn't be the roads, but how much resort and spa life, beautiful girls, food and and ocean views and beaches, and pastas that I can endure over 13 days.... :) Edelweiss offers and provides a wide range of top tier touring bikes at corresponding price levels in their tour packages.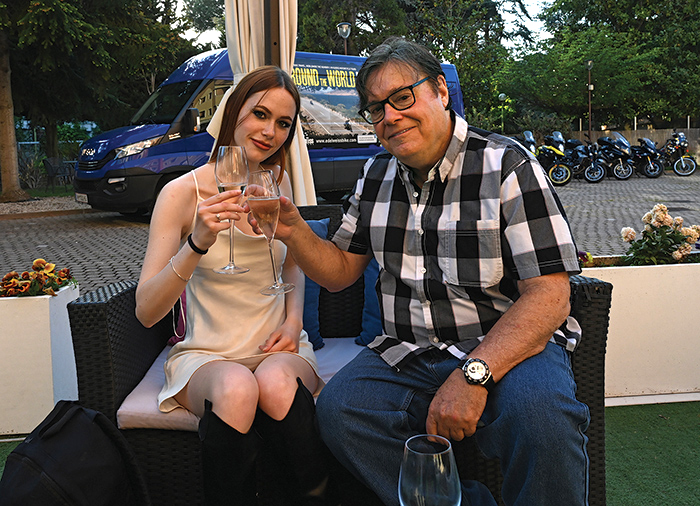 I have been to Northern Italy countless times over the last 20 years, both for Ducati factory events, World Ducati Weeks and DRE Track Riding Experiences with my buddy World Superbike Champion Troy Bayliss, and on previous Edelweiss tours in the Alps and across Tuscany. But this would be my first visit to Rome and I wanted to see it right, so I arranged to fly in 2 days early and stay at the Edelweiss Tour's start Hotel in Rome, the Occidental Aurelia. And I asked my Italian friend, 2023 Gasoline Girls Calendar photographer, Simon de Raineri to help arrange one of his beautiful Italian models, Sophie Francesconi, to shoot with me in Rome while we took in the sights for 2 days.

Making wonderful memories on my motorcycle trip from Rome, down the Amalphi Coast to Sicily. Taking selfies with beautiful Italian model Sophie at the Fontana de Quattro Fiumi (Fountain of the Four Rivers).


Sophie was a wonderful person and we had a great time together visiting all the sights from the Roman Coliseum to to Trevi Fountain, and enjoying Rome's sidewalk cafe life for lunches and dinner. Rome is such a vibrant and beautiful old city with many young locals mixed in with visitors to make it very exciting and vibrant city, both day and night. The city of Rome alone, justifies a visit to Italy. Then throw in a motorcycle ride down the beautiful Amalphi coast to Sicily and I found one of my favorite Edelweiss Tours of all time!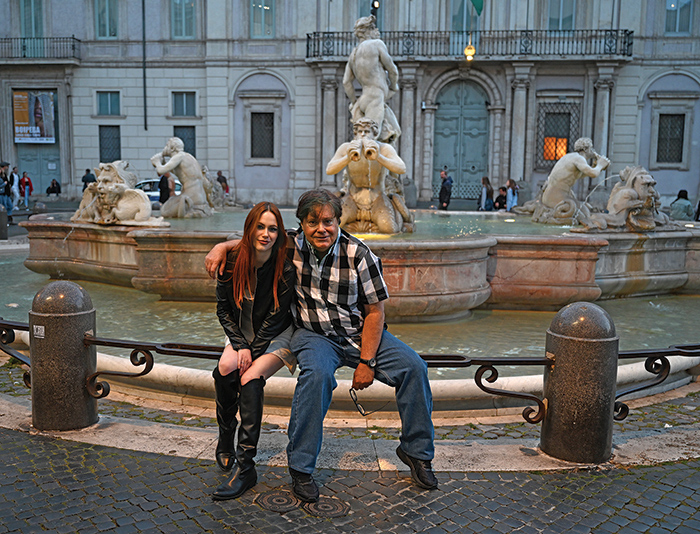 There's nowhere in the world quite like extraordinary Piazza Navona. Rome's greatest public space, a one-time ancient racetrack transformed into a thrilling piece of street theatre.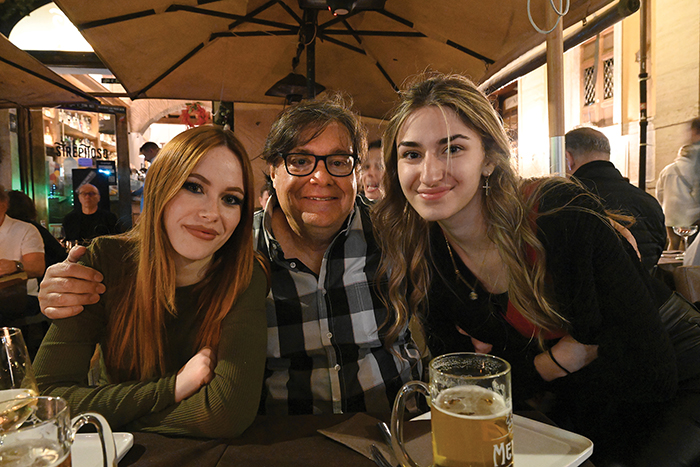 Dinner in Rome at an awesome sidewalk restaurant with beautiful Calendar Kitten Sophie (left) and the beautiful restaurant hostess (right) who got us the best table out front on the sidewalk at Strepitoso33, Via di Tor Millina, 33, Rome, across from a live Cuban jazz band! Needless to say, we got up from our table and danced in the street to the live band! Next to Paris, I think Rome is now my next favorite city on the world!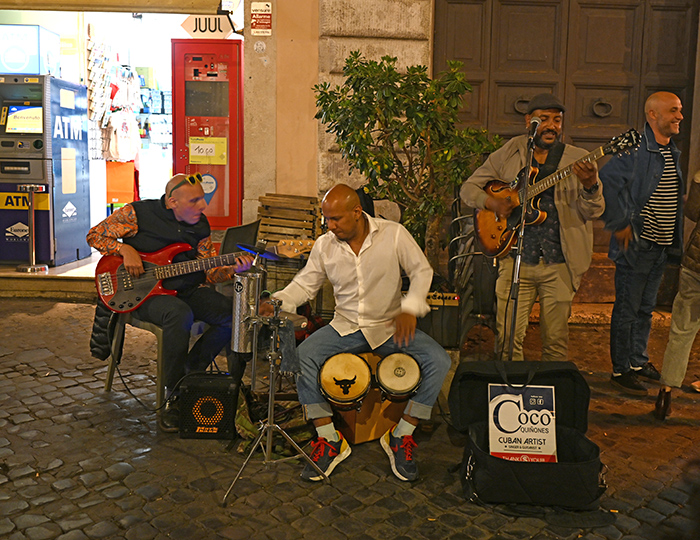 Below: Here is the Edelweiss catalog page for the Rome to Sicily ride, together with the list of our hotels at every stop along the way. These are all top class hotels with complimentary breakfasts, but if booked off season in the winter, spring or fall they should be very affordable. My only regret on this trio is we didn't have more time to spend 2-3 days at each hotel stop to enjoy their amenities and explore the historical and coastal sights around them. Click to Enlarge.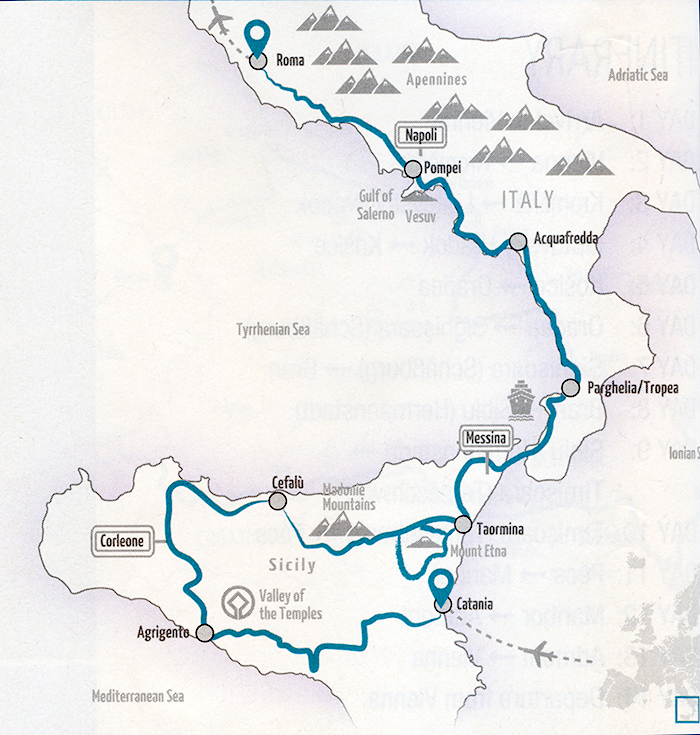 The Rome to Sicily Tour Catalog Map shows our 8 hotel overnight stops, with 2 nights and a day off in Pompei and Cefalu, for 11 total days on the Tour. The route is only one-way and I chose to fly into and begin in Rome and finished in Catania. From Catania it was a short plane trip back to Rome, from where I flew back home direct to Los Angeles. The Edelweiss Tour Description and Hotel List is found at the end of this story.
Sophie and I check out the Edelweiss tour bikes that were waiting for us at our tour's start hotel Occidental Aurelia in Rome.
I had reserved a BMW XR1000S for the tour, but found it too tall and top heavy when seated on it, to get it off and on the sidestand when parking, so I switched to a lighter Ducati Multistrada 950, a back-up bike carried in the Edelweiss chase van, for the rest of the tour. It was just more enjoyable as well, to ride on the tight roads, especially for the two days it rained off and on in Sicily.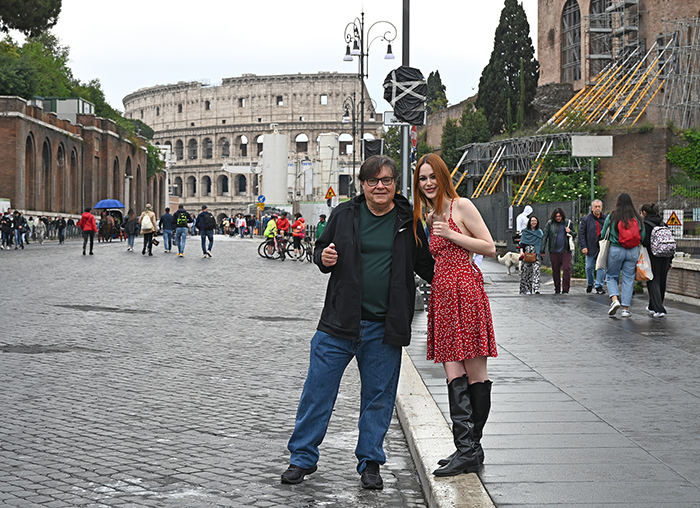 Walking around central Rome with Sophie om Sunday morning, here we are at the legendary Roman Coliseum, and checking out a horse and buggy ride.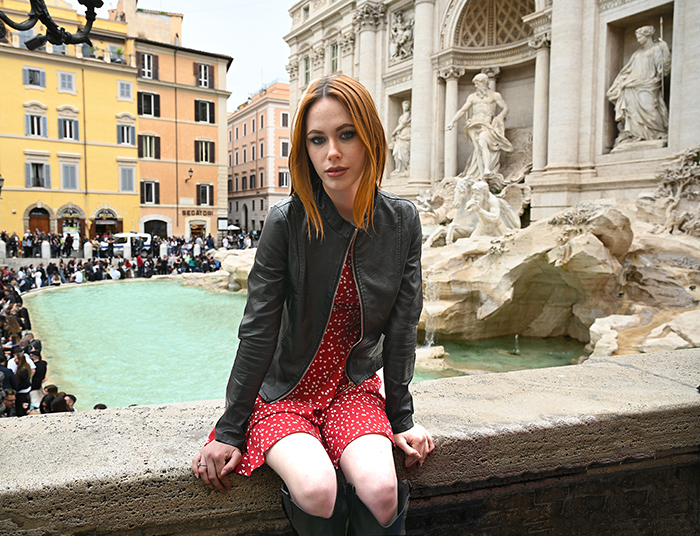 A wonderful girl, Sophie and I had a great time together visiting all the sights and enjoying Rome's sidewalk cafe life for lunches and dinner. Here we vie for a viewing and selfie photo spot at the tourist packed Trevi Fountain. Then we found a a nice pizza sidewalk restaurant have a wonder lunch...


For we Americans who grew up on our scrumptious New York and Chicago Styles and Deep Dish Pizza smothered in tomato sauce and cheese, with so many toppings, the traditional pizza found in Italy can be a litle disappointing - just a thin flat bread topped with just a smattering of cheese and a few garnismments. But in this little sidewalk cafe next to the Trevi Fountain jammed with hundreds of people we found the only vacant table and ordered up lunch. Sophie ordered Cheese and Peperonni for her pizza, and I got Ham and Cheese which turned out to be thinly sliced Prosciutto (uncooked, dry-cured) ham and chunks of Mozzarella which really tasted incredible!

After exploring Rome for two days with Sophie, I drop her off at the Central Train Station on Sunday afternoon and we said "Arrivederci Roma" and good bye to each other as she returns to her home town near Florence. We've made plans for her to come and visit and shoot with me in Los Angeles in October, a trip to America she says she has always dreamed about.
Each morning of the Tour, our Edelweiss tour guides Thomas Fellechner and Deiter Arnoth gave us a detailed briefing of the day's ride. They had a marker artwork drawing of the days ride showing the coffee and lunch stops, and the distance to our evening's destination. Each day averages around 300 km / 160 miles. And then we had color markers to trace the route on our own paper Country Maps which Edelweiss provides at the beginning of the tour, along with a Tour Guide Booklet outlining each day's ride and the sights along the way. Guests can divert from the tour route if they choose and meet at the hotel in the evening. The Edelweiss Chase van carries our luggage, and a spare bike, and has our luggage is waiting for us in our hotel rooms when we arrive each evening.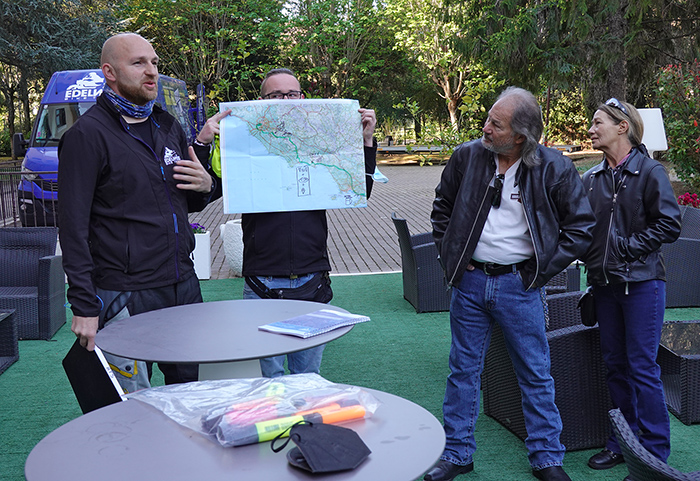 Riding Day 1, Rest Day 2, Rome to Pompei 120km / 75 miles
After exploring Rome for two days with Sophie, I drop her off at the Central Train Station on Sunday afternoon and we say "Arrivederci Roma" and good bye to each other as she returns to her home town near Florence. We've made plans for her to come and visit me in Los Angeles in October, a trip she says she has always dreamed about.
Our Edelweiss Tour Group leaves the Occidental Aurelia Hotel in Rome on Monday morning, and we ride south towards the Amalphi coast. In the mountains high above Lake Albano, we stop briefly to take a look at the The Pop's summer palace which sit on a hill on the opposite shore. From there we ride down to the coast to the enchanting little seaside town of Sperlonga which invites us to have lunch overlooking the beautiful beach.

To avoid the big city of Naples and its notorious traffic, we next jump on a toll road taking the A1 to A3 and then exiting at Pompei West. Our Hotel Forum is in the center of Pompei, the old city of which was buried under 40- feet of ash by the neighboring volcano Vesuvius in 79 AD, killing all of the population of thousands, but leaving the city lost but nearly intact for some. 1,800 years. It is really something to walk through the city 2,000 years later that survived.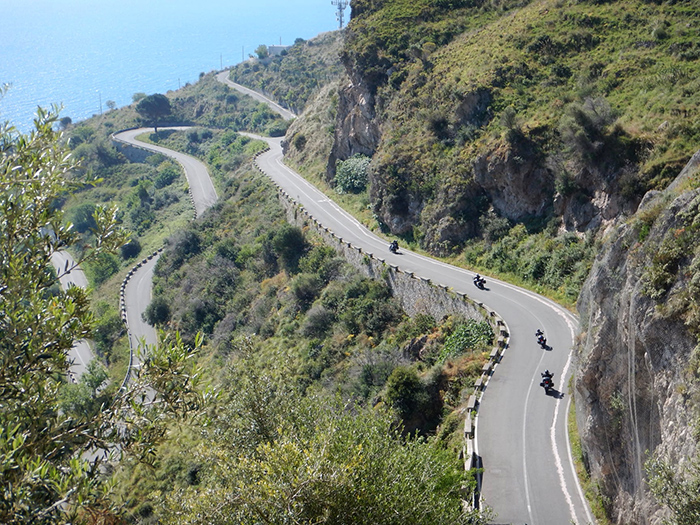 My Gang! Here is my wonderful tour group for the Edelweiss Italy to Sicily tour, featuring 3 couples and twelve people in all, including myself. Twelve is the best size for a group making it easy to ride together, stop for gas, coffee and lunch stops, to handle the baggage in the chase truck, and share a single large table together at dinner. Usually there's about half Americans and half Europeans, people from all walks of life and successful, and the language used is English. And being motorcyclists, we always get along together quite well.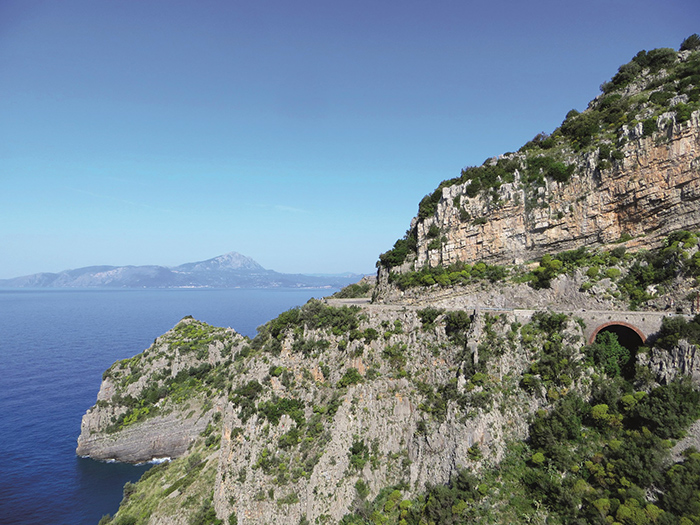 The roads on the Amalphi Coast were this spectacular, but we rode at a fair quick 80% pace most days, so it was sometimes difficult to take the time to enjoy view, but we usually would take one brief photo stop each riding session. Our hotels each night would also have Mediterranean Sea views, so we knew we would take in the spectacular sea views with a cold beer or glass of wine each evening.

Riding Day One Lunch Stop at Sperlonga, a beautiful seaside town located on the Amalphi Coast, half way between Rome and Naples. Whitewashed houses and restaurants are clustered at the beach, and the main street is perfect for exploring.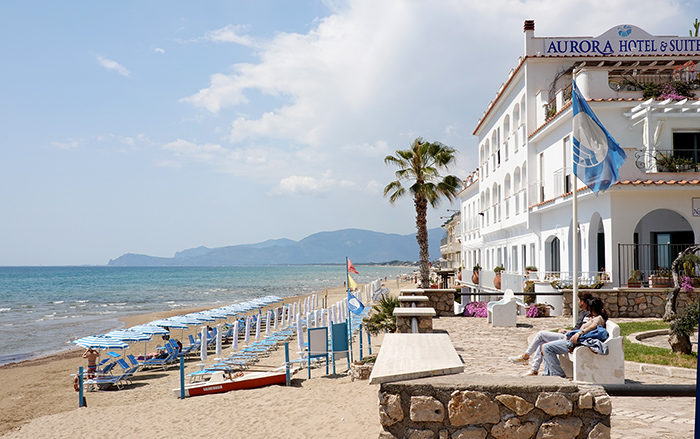 Above, the entrance to our Hotel Forum in new Pompei, located just across the street from the ancient city of Pompei.
Pompei Exploration Day Two:
We spent two nights and the day here, and were offered the choice to tour the ancient city of Pompei, or to ride to the Amalphi Coast, one of Europe's most beautiful coastlines. But we were warned that seaside traffic was always a nightmare on the coastal road. I had actually watched countless Almalpi coast tour videos on YouTube before I came to Italy, so I instead choose to stay and tour the ancient city with an experienced tour guide that Edelweiss had arranged for us with a small fee. I was here for the history and wouldn't be disappointed...

When volcanic ash from Vesuvius suddenly buried the city of Pompei the citizens were trapped in place, some holding on to loved ones. Over the 1800 years until discovered, their bodies decayed away leaving their fallen figures cast in ash, into which archaeologists inserted tubes and poured down plaster to bring them back as these suffocated statues.


The ancient city of Pompei which was first discovered here some 200 years ago buried under 40 feet of volcanic ash from the eruption of Mount Vesuvius in 79 AD. It has been thought the city was destroyed, but discovery of a roof top by a farmer digging in his field, followed then by archaeological excavation over the last 200 years has removed the ash and brought much of the old city back to life. The vast ruins provide fascinating insights into how the ancient Romans lived, and included impressive temples, a forum, one of the largest Roman amphitheaters which was used as a model for the one in Rome, plus luxurious houses with frescoes and mosaics, and streets lined with shops including fast food vendors with cook pots on the front counters.
On entering the old historic city of Pompei which has been unearthed from under 40 feet of ash the past 200 years, the first thing we see is the huge and nearly perfectly intact Pompei Amphitheater were gladiators clashed to the delight of thousands of spectators. There is a full circumferential walkway tunnel under the seating area for spectators to reach their seating locations with stairways leading up, just like modern stadiums today. The layer constructed Coliseum in Rome was inspired by this Pompei Amphitheater.
Aside from being a historical landmark and an object of archaeological study, the amphitheater has been used for concerts and other public events in modern times. Over a 4-day period in October 1971, Pink Floyd made a concert film at the amphitheater, titled Pink Floyd: Live at Pompeii. David Gilmore, the band's guitarist, returned to perform two concerts at the amphitheater in July 2016 as part of his Rattle That Lock Tour. Pink Floyd live in Pompeii In September 1991, Frank Sinatra was granted special permission by the site's chief archaeologist to perform in the amphitheater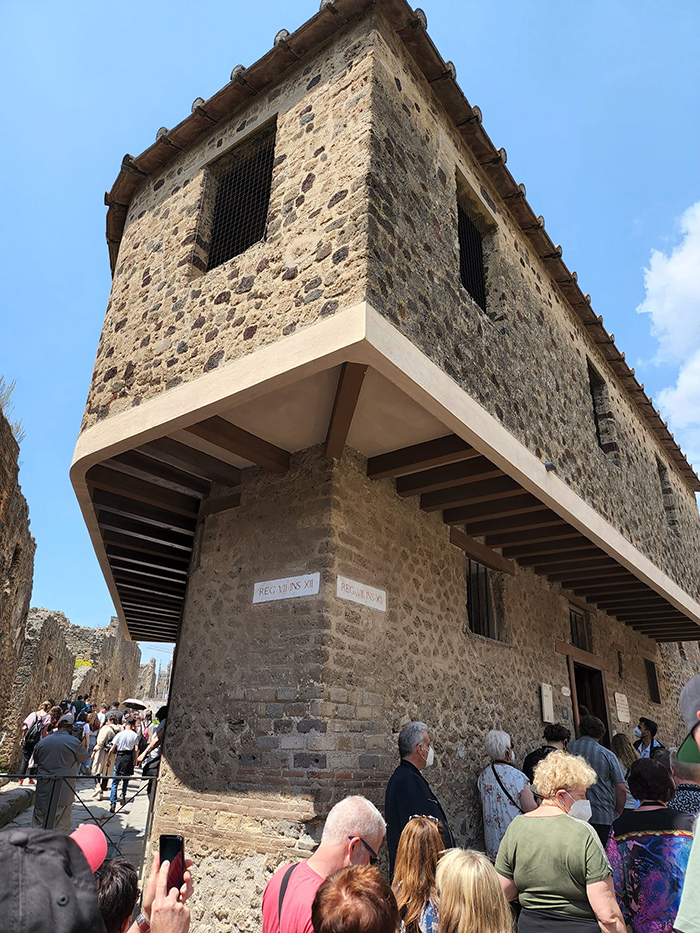 This is the famous Bordello house in Pompei which everyone wants to visit. Greece and Rome were both very open societies when it came to sex. There are actually carvings of male penises throughout the city that point the way to Bordellos. Downstairs there are small bedrooms where the women serviced their clients, with painted frescoes in the hallways showing couples in various sexual positions as a guide to help visitors choose what they wanted. This first floor was probably for more ordinary people like the sailors who were stopping in the busy trading port of Pompei. Upstairs are larger rooms for more wealthy clientele who could afford multiple prostitutes for a long night of partying!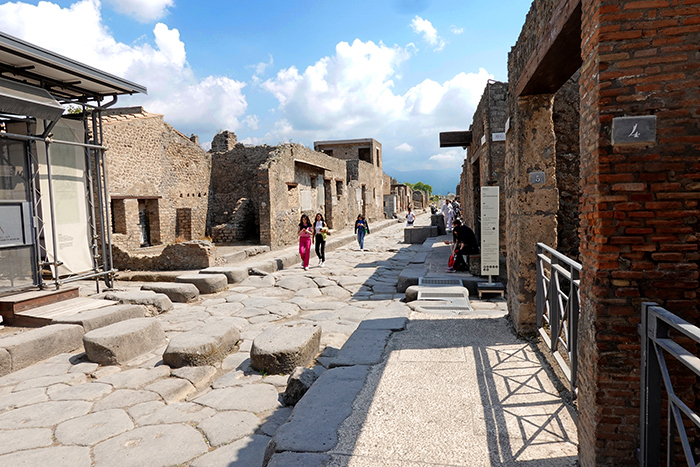 Here is a typical city street in Pompeii. Sand and water would have covered the center of the road where the tourists are walking. The rock stepping stones would allow chariots and wagons to pass up the street, and have allowed people to cross the streets between the sidewalks without stepping in the street itself which was where all the raw sewage was dumped. And then each evening fresh water was flushed down the streets to purge the raw sewage out into the nearby sea. Actual underground sewers hadn't been invented yet.
Here is one of many fast food restaurants in old Pompei where customers could walk up on the sidewalk and order what they wanted. The pots on the counter might have contained cooked fish, meats and vegetables. And you can see a cooking oven and stone display shelves. The meals might be prepared on the beautiful marble counter top and served on bread. Many fast food shops also offered a seating area in the open patio through the doorway out back.
Riding Day 3, Pompei to Acquafredda
The ruins of Paestum, and the and the Grand Hotel Pianeta Maratea Resort In order o get around the densely populated area of Salerno we again take the autobahn this morning. After 50 km we take the Battipaglia exit and quickly arrive at the excavations of Paestum. This city was built by the Greeks 2,600 years ago before the rise of the roman empire, and it flourished for several centuries. Then under the Romans it lost its splendor and eventually fell into oblivion. The beautiful Doric temples became overgrown, but still remain in good condition. Paestrum is on the UNESCO World Heritage List. My parents first brought me here as a child some 70 years ago, but I only remember it from pictures in a family photo album.



The beautiful Greek temples of Paestum which certainly inspired the architecture of Rome 2,000 years later.
A wonderful place to stop for a picnic lunch on our Edelweiss Bike Tour and spend and hour exploring. Paestum, is one of the most important excavation sites in history with temples from Roman and Greek time, an amphitheater, and and city with almost 5 km long city wall from different historical phases were discovered here. Paestum was founded by Greeks around 2,600 BC under the name Poseidona. Magnificent builds were erected here, the remains of which are still here.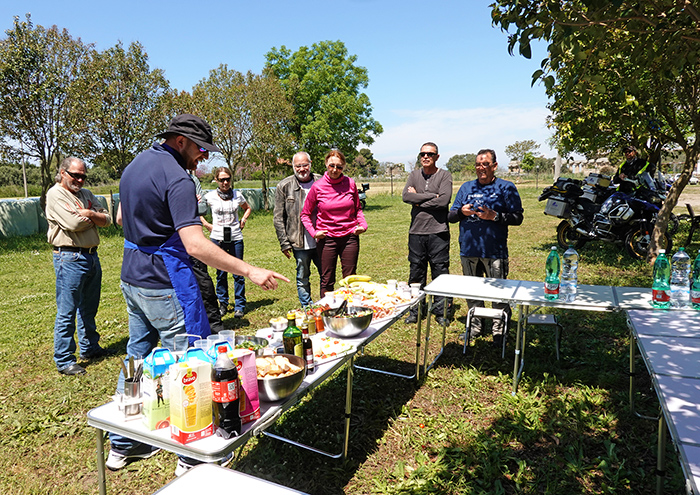 Tour guide Thomas arrived at Paestum in the Edelweiss van before us and had a nice picnic lunch waiting. The ruins of Paestum are just behind within a short walking distance, and it was like we had the World Heritage city all to ourselves.
Day 4, the Grand Hotel Paineta Martea Resort on a mountain top overlooking the Mediterranean
The view north on the Amalphi Coast from our Day 4 overnight stop over at the Grand Hotel Paineta Maratea Resort.
The bar room inside Grand Hotel Pianeta Maratea Resort looks like something you find in Monte Carlo or Paris.

Riding Day 4, Acquafredda to Parghelia: 228k / 142 miles
Next to our Grand Hotel Pianeta Maratea Resort is a mountain top church the Monte San Biaggo with a stature of Christ the Redeemer. It stands some 2,000 feet above sea level, with a twisty back and forth road on stilts leading up to it. It's not for the feint of heart, and if you suffer from vertigo like I do, it was quite traumatic to ride up it. It took all my attention to just focus on the road and not look over the edges and the drop offs, and not stall my big XR1000S which I couldn't touch the ground, and one wrong jerk on the throttle and I'd be catapulted into oblivion!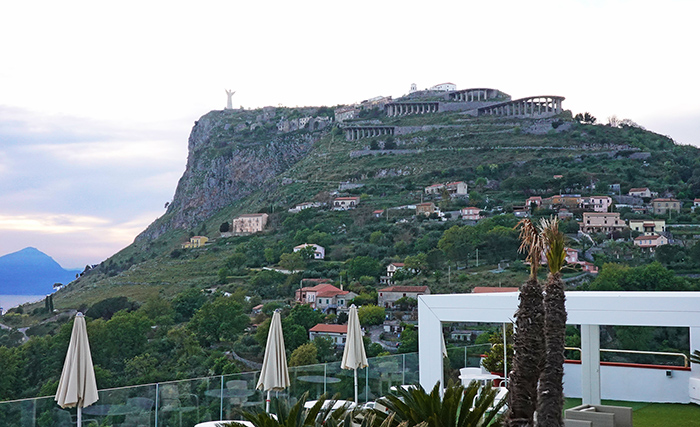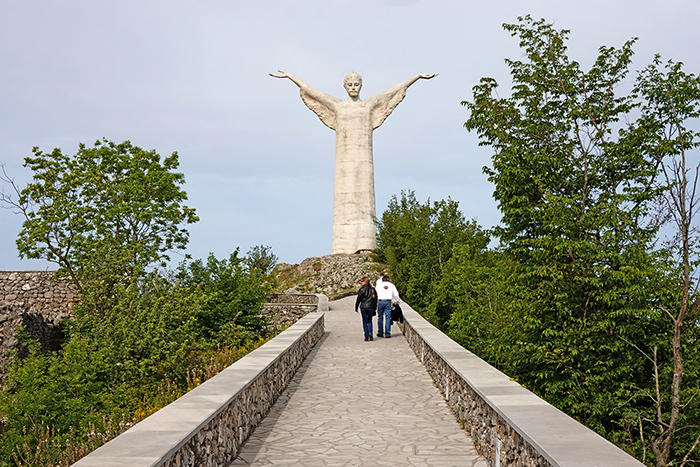 Once in the church parking lot on top, and safely off the monster bike, I saw we had been followed up the mountain by a bus with a 30 person marching band, who then got out a proceed to give us a live concert right on the church's steps. Amazing!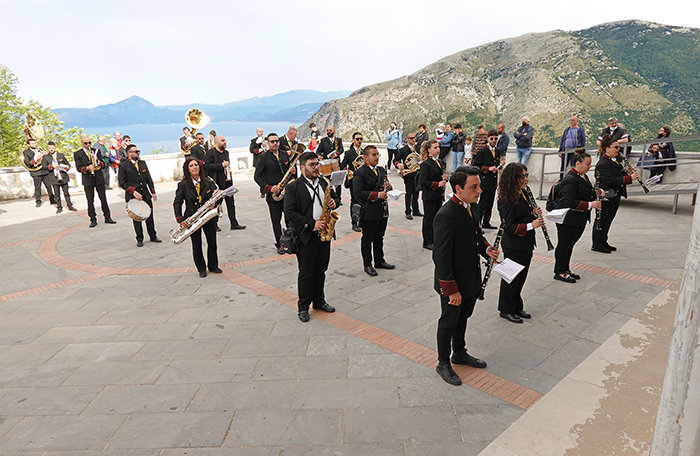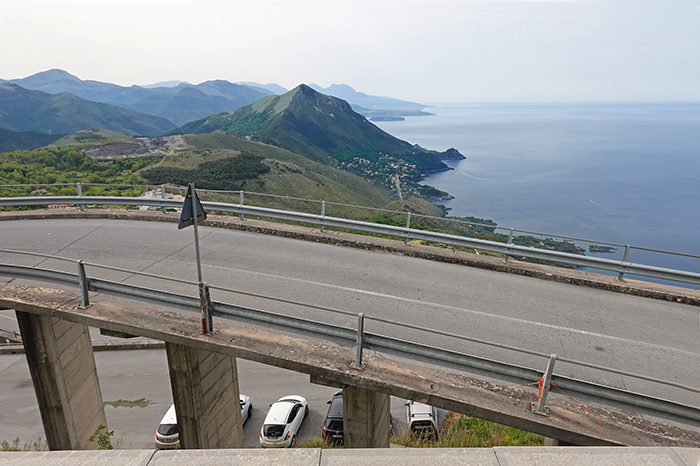 After visiting Monte San Biaggo with the stature of Christ the Redeemer this morning, we again head south on the Cambrian cost which is also known as Cost dei Cedri. The name comes from the Cedrat lemon, a huge 3kg fruit which is grown here and used in the making of Italy's famed Citronate lemonade and liquor. Endless beaches and beautiful little towns along the coast make for great coffee breaks and lunch stops. Our next hotel is Residence Tirreno next to the seaside town of Torpea. After a nice cold Italian Moretti beer, we have another great Italian pasta dinner in the hotel's restaurant that evening.

Above: Here I am in the harbor at Scilia, just below the castle on the big rock overlooking the sea.
Riding Day 5,: Parghelia to Taormina - 239km / 149 Miles
Once again we follow the southern coast of Italy this morning, heading south towards the tip of the Italian 'Boot". Tropea is a wonderful old town worth a second look, and then we come to Scila, a bit further down the road. Scilia has an old old castle overlooking the sea with a small boat harbor on one side, and a lovely sand beach on the other side where we stop for lunch overlooking the sea.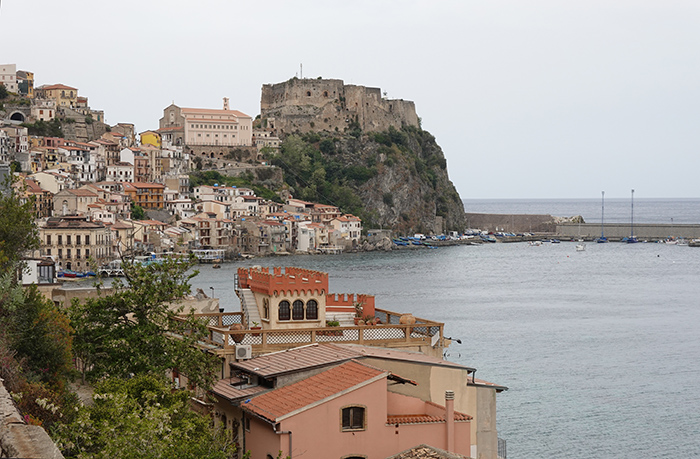 Riding Day 5: Parghelia to Taormina, Sicily (239km/149 miles)
We again follow the cost this morning, heading south towards the tip of the Italian "Boot " and our ferry boat ride to the island of Sicily. Bur first we make coffee and lunch stops in the small towns of Tropea and Sicila. If we had time we could take a dip in the sea at Sicila with its beautiful sandy beach which is still deserted from tourist this early in the spring, but we do have lunch at a quaint little cafe overlooking the sea. Then we say goodbye to the mainland and head for the ferry boat -Sicily is waiting!

In Villa San Giovanni we cross the Messina Straight by ferry. Boarding the huge ferry boast is a little intimidating as they are big enough to carry full passenger trains, and there are train tracks in-bedded into the floor of the ferry and we. All of the bikes were parked on their side stands which seemed safe for the medium rough sea crossing, but my bike and some other which were parked next to the ship's side, were lashed down with cargo straps by the ship's crew which made me feel better.

The Italian government had budgeted $millions to build a bridge across the straight to Italy, but somehow the initial funds disappeared and the Sicilian mafia is suspected to have had its hands in the cookie jar.

After a fun 30-minunute ferry ride watching from the passenger bridge we arrive in Messian, fire up the bikes and ride off the ferry boat towards Palermo. We arrive at our Hotel Baja Taormina

The initial plan was to ride to the Mount Etna volcano the next day and spend the day there, but leaning the volcano was covered in clouds and rain, and we would be able to see it anyway, so we postponed visiting Mount Etna on the next day, saving it for a quick visit on our final day returning back this way.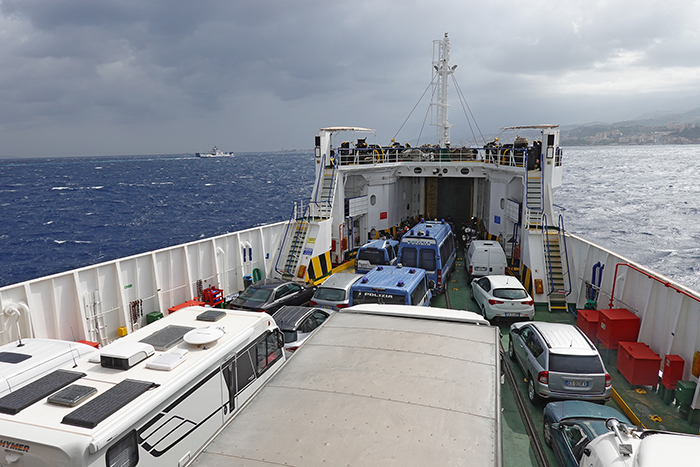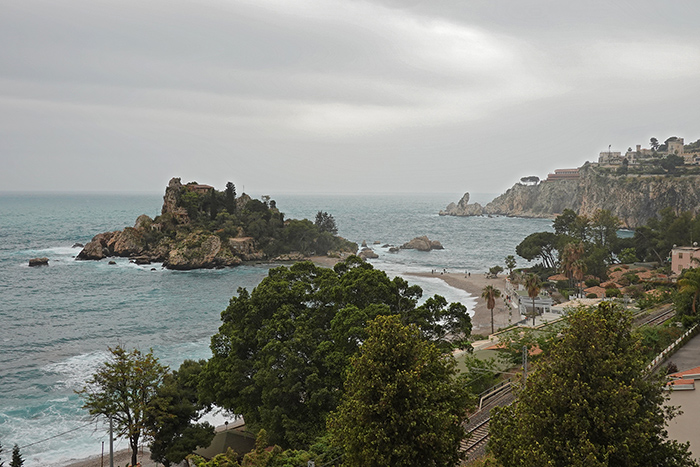 Riding Day 7, Rest Day 8: Taormina to Cefalu 218km/ 135 miles
When the Sicilians travel from Taormina to Cefalu, they always take the highway along the coast for the view. But for us we took the curvy back roads through the coastal mountains. It was a little bit challenging as it was raining at times, and the roads have a silver stone sheen asphalt that makes it difficult to distinguish if the road is wet or not. Fortunately all of us carried wet weather riding suits in our saddle bags and we were able to stay dry all day, and luckily no one went down despite our fast pace on the twisty wet moumtain roads.

After thousands of curves we finally reached Cefalu', our destination. In hindsight, I'm really glad we spent a rest day here instead of riding to to Mount Etna. We had an awesome hotel over looking a secluded beach cove, protected by the the big rock "Rocca di Cefalu, with the Isola Bella, a tiny island and nature reserve in the middle.

We'd have dinner at a lovey restaurant overlooking our almost private beach. Up on top of the mountain behind us is the charming historical town center of Cefalu' which we could reach from the beach by an alpine cable car. The old town was packed with tourists who arrived from the other side of the mountain by car and bus. The town had a cathedral, fountains, beautiful little shops, cafes and restaurants to explore. After spending half the day in town, I returned back down the mountain by a rock carved staircase that must have been1/4 a mile long. I was worn out just going down it, and I felt sorry for the few people I passed determined to walk up it!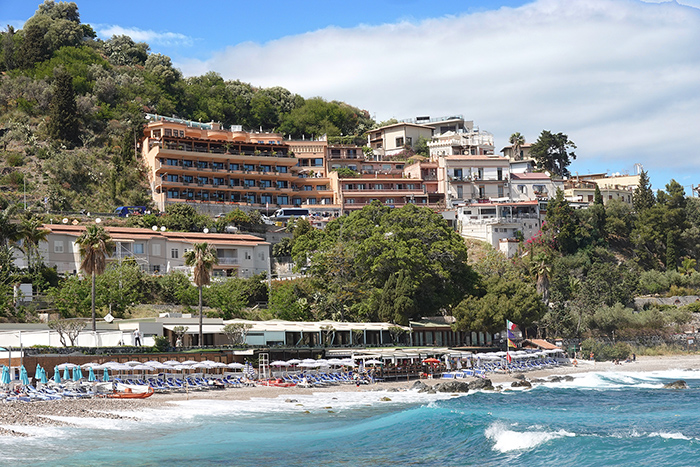 Isola Bella, a tiny island and nature reserve, viewed from my hotel room balcony. Simply amazing! I walked across from the beach to the island with my bare feet, but the beach here is all polished rocks, hard and painful on your feet. You really need to wear sports shoes
Taormina is a hilltop town on the east coast of Sicily. It sits near Mount Etna, an active volcano with trails leading to the summit. The history of Taormina dates back to before Ancient Greece established its first colony on Sicily in 734 BCE. After the fall of the Western Roman Empire, Taormina continued to rank as one of the more important towns of the island. Taormina followed the history of Sicily in being ruled by successive foreign monarchs. The town is known for the Teatro Antico di Taormina, an ancient Greco-­Roman theater dating back to 300BC is still used today. From the beach side, you can reach the old twin by this cable car.
After the Italian unification, Taormina began to attract well-off tourists from northern Europe, and it became known as a welcoming haven for gay men and artists. Near the theater, cliffs drop to the sea forming coves with sandy beaches. A narrow stretch of sand connects to Isola Bella, a tiny island and nature reserve. This was where our hotel Baia Taormina was located.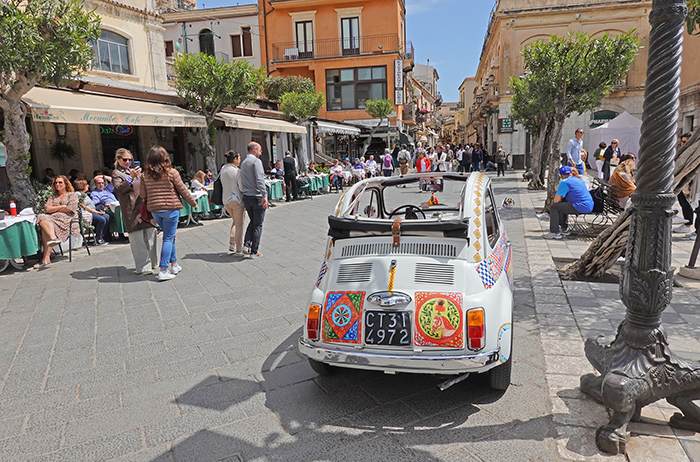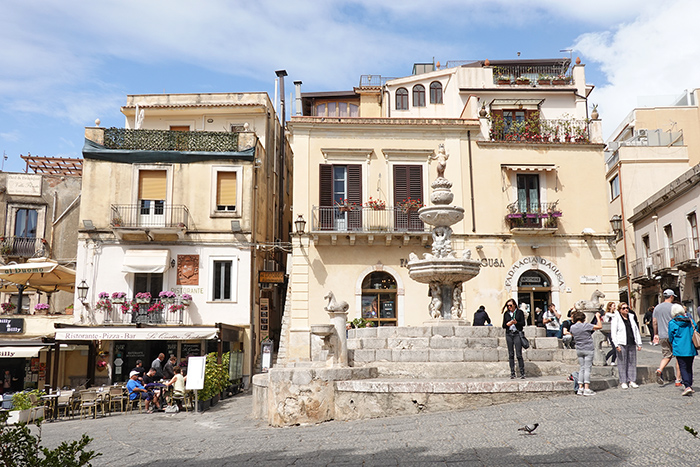 Above, a fountain in the middle of the old mountain top town of Taormina.

Below: This is the view of the southern coast of Sicily from the old town of Taormina. The cliffs drop to the sea forming coves with sandy beaches. A narrow stretch of rocky beach connects to Isola Bella, a tiny island and nature reserve. This was where our hotel Baia Taormina was located on the street, just in view in the lower right of the picture. In the lower left is the stone staircase which I used to walk back down the mountains, which from here looks like half a mile!
Return to Pit Lane News • Pit Board Features
Sperlinga - This picturesque village in the Madonie Mountains is famous for the unique Norman castle atop and carved into the giant rock formation. Some houses and rooms are also built into the rock, inducing a stable for horses, make Sperlinga a much see historical site on day's riding route.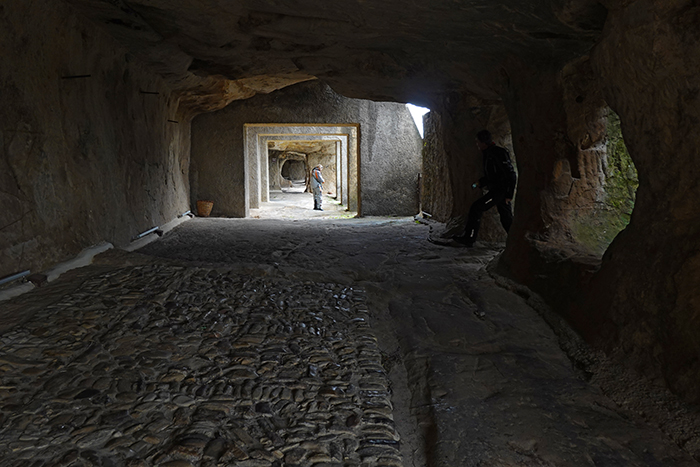 Above: Here are the carved rooms inside the Sperlinga stone mountain fortress. Below, the view of the countryside from the top of the castle fortress.
Above: The town of Gangi is a municipality that sits clustered on a hill in the middle of Sicily, about 80 kilometers southeast of Palermo. The clouds hide Mt Etna in the distance behind it. The town straddles the Madonie mountains of central Sicily. In 2014, the local administration under a dynamic mayor began disposing of abandoned houses with some being given away and others being sold for a nominal price. The flight of young people to the big cities for more work opportunities and to have a better live have left many smaller Italian towns nearly deserted and the local government will do almost anything to bring people back to live there, spend money and help bring the towns back to life. But the houses are small, and there is not much happening for social life. You'd have to walk everywhere as the small streets are too steep to ride a bicycle, and here's hardly any space to to park or drive a car.
Hotel Alperi Del Pardiso in Cefalu -After two days of riding off and on in the rain, it was amazing to pull into the luxury hotel Hotel Alperi Del Pardiso in Cefalu. My first priority after taking off my riding gear and taking a shower was to head for the lobby bar patio and order an Apple Martini. It came with amazingly with this full compliment of horderves which could have made a meal. Again with it being off season in May, our Edelwesiss group had the entire hotel and wait staff at out disposal for dinner.
The luxurious Colleverde Park Hotel in Agrigiento. Nothing like a cool Apple Martini on the back patio of a luxury Italian hotel in Sicily after long day's ride. The complimentary condiments were a meal in themselves and included Italian Prosciutto Sushi and Bruschetta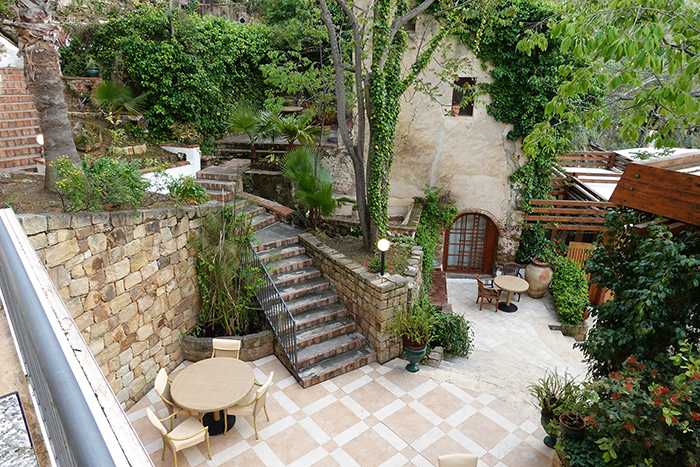 The Colleverde Park Hotel in Agrigiento was actually quite 1950s mid century and charming, but with this enchanting old courtyard out in back, and a beautiful contemporary swimming pool and lounge pictured above.
Riding Day 9, Cefalu to Argigento 235km / 146 miles
Today the rain is back with us. We cross the Island from north to south, navigating once again on small and extremely low traffic roads. They lead us up into the mountains where the mafia ruled the small rural villages for a long time- and does it still? We pass through the towns of Corleone and Prizi, made famous by the characters in the movie "The Godfather".

Time has stood still here in these small towns, the young people have all left for better opportunities in the big cities, so many of the towns are half vacant and in decay with little tax base. In an effort to repopulate these small towns, some have have even resorted to selling vacant homes and shops for just $1 if you promise to live in them and spend $15,000 on renovations to bring them back to life.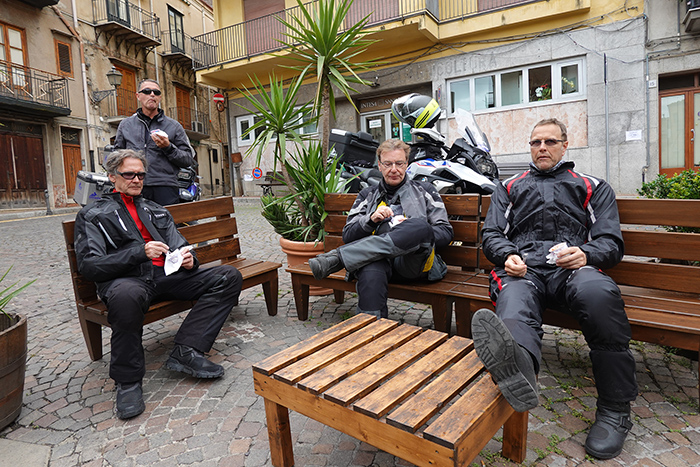 The crew relaxes for an afternoon coffee and ice cream stop in one of the small towns in Sicily.
Above: Our dinner at a local restaurant the evening we arrived in Argigento. On the south coast we will stay in the city of Argigento which has been here for 2,600 years with its huge monumental Greek temples. Under the ancient Greeks, it was a large metropolis, the 2nd largest city in Italy, known now as the "Valley of the Temples".
Riding Day 10: Agrigento to Catania - 226km / 140 miles
This would be our final riding day as it arrives bright and sunny and we head to the tour's final destination, the Grand Hotel Villar Itria. The south of Sicily does not have as high mountains as the north, but more rolling valleys with large farms. We stay off the beaten path and traverse 2-lane toads that snake through the valleys with no vehicle traffic. We arrive into Cantania and our hotel early in the afternoon we a few hours to spare and decide to ride to the nearby Mount Etna volcano which we missed a few days earlier because of the weather.

We emerge on our bikes from the city and ride into the Mt. Etna National Park area which is like a moon scape of volcanic rock with an asphalt roadway paved over it, that has often been destroyed and buried by lava flows, and then paved over again. The still snow capped Etna is the most active volcano in Europe. Fresh green vegetation pops up everywhere, creating a unique landscape.

We were unable to take the road fully to the top, where you could take a cable car or jeep up to the rim of the 3,340m / 10958.ft 2-mile high volcano, as the road is closed and there are hundreds of cars parked there. We will later learn back at the hotel that the famous Giro d' Itaia was taking place there, and we are excited to see that some of the major race teams were staying at our hotel with all their support vehicles and the racing bicycles were being washed and checked over by the mechanics in out hotel parking lot. So coo!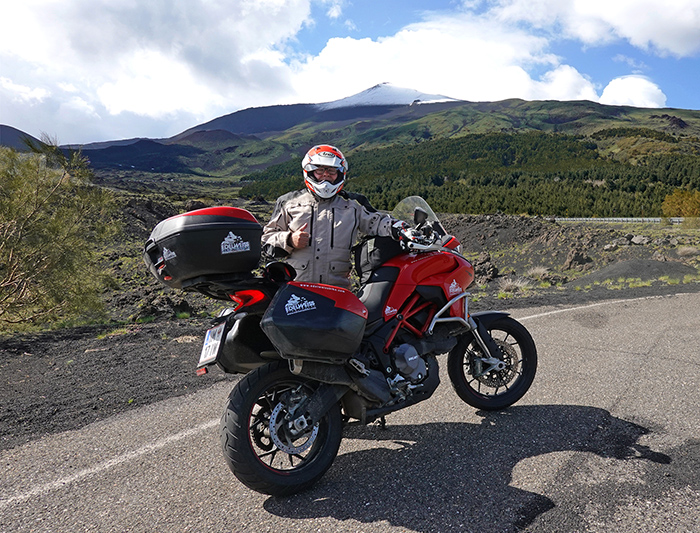 My Edelweiss Rome to Sicily motorcycle trip was an amazing adventure to some of the most historical birthplaces of civilization in Europe. The roads were great, there was very little automobile traffic, and the hotels and their locations we stayed at were amazing. Our tour guides Dieter and Thomas took the best care of us, and always had our luggage waiting for us in our rooms at the end of the day in the new hotel. And when I had a problem with by originally requested inline-4 cylinder BMW XR1000S being too tall and top heavy for me to manage at stops, they traded me for a more easy-to-ride and lighter Ducati V2 Multistrada 950cc which was carried as a spare bike in the Edelweiss chase van.

My only regret t the end of the trip was, we did see too many things too quickly, or missed some other things completely . I would have liked to have spent more days at many of the great hotels and explore more of the towns and historical sites. But you can only do so much in 10 days. What the tour did do was provide me an incredible sampling of the best of southern Italy's Greek and Roman history, sampling some of the best things to be seen in the south western part of Italy where I'd never been before. From Rome, down the Amalphi coast, and over into Sicily, I found it all so amazing!. So if I'd ever want to come back to this part of Italy, I'd know the best places to go and great hotels to stay at. The team who had set up this Rome to Sicily Tour had done a great job. Thank you Edelweiss! - Jim Gianatsis / FastDates.com
Edeleiss BikeTravel • http://www.EdelweissBike.com

Return to Pit Lane News • Pit Board Features