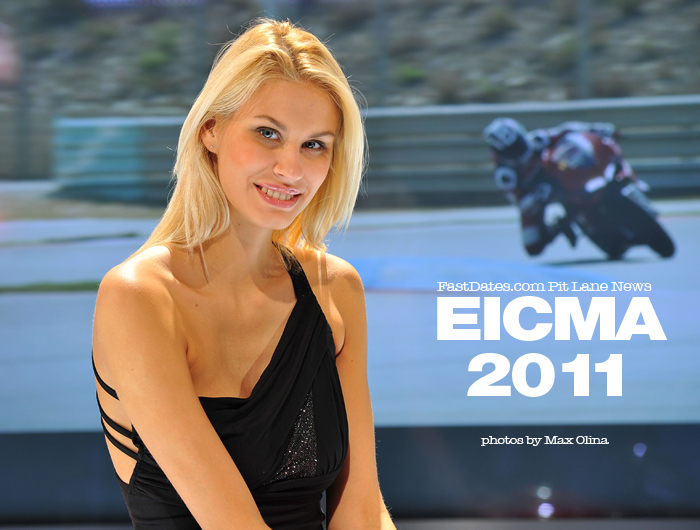 A visit to EICMA 2011 Milan Italy
Ducati Steals the World's Biggest Motorcycle Show with the all new 1199 Panigale Superbike
Photos By Max Olina - Return to Pit Lane News • Pit Board Features • EICMA 2011 Page One • EICMA 2011 Page 2
Milan, Italy November 8-12th, 2011 - When it comes to beautiful models, be it exciting new motorcycles or the long legged female type, nothing can top the annual fall International Motorcycle Show called EICMA for short, the world's biggest bike event now held regularly in Milan, Italy. All the manufacturers use EICMA to premier their latest prototypes and production machines. The first 3 days are trade days devoted to the Media and Dealers, then the doors are swung open for the general public on the weekend. Attendance is around half a million people taking in three huge exhibit halls that can take 2-3 days just to walk and cover thoroughly.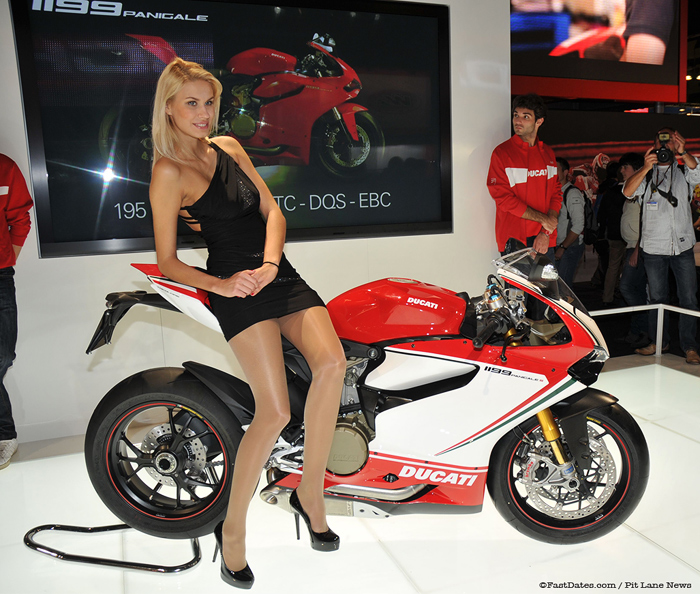 The new Ducati 1199 Penigale 5th genertion Superbike was the hit if EICMA 2011, as were the Ducati girls.
Where American motorcycle manufacturers feel it's exploitive to women and open to sexual harassment lawsuits to have an attractive spokes model in sexy evening wear showcasing your products, in Europe and the rest of the world it is common practice to help get noticed and photographed. And in our case it certainly does work. While here in America, the Advanstar International Motorcycle Show tour also kicks off this month across America with boring displays of some of thr same bikes you're seeing here, but without any beautiful spokes models.
Ducati hosted a private media launch in Milan on Monday of their new 2011 model line featuring the new 1199 Panigale. In the center is Gabriele Del Torchio, President of Ducati Motor Holding, flanked on the far ends by their winning 2011 World Superbike Championship riders with Carlos Checa and Riders' and Manufacturers' titles in the 2011 Superstock 1000 FIM Cup with Davide Giugliano. Plus Corse Superbike team manager Ernesto Marinelli and Ducati Motor Holding General Manager, Claudio Domenicali.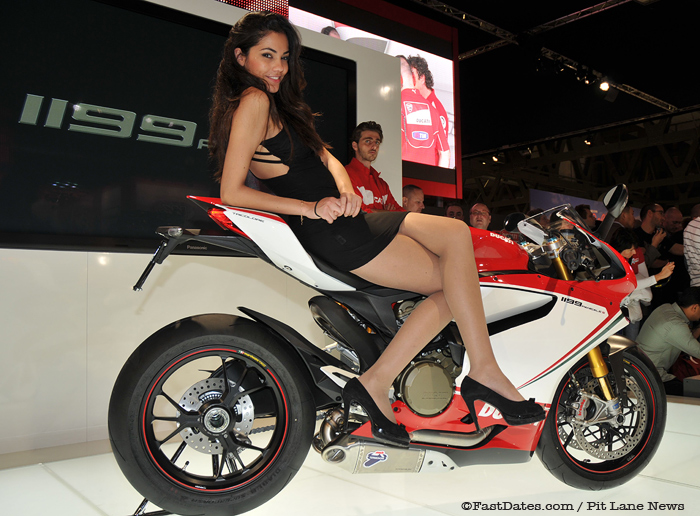 Ducati's 2nd bigget Coup d'état, besides the 1199 Penigale, was to score this beautiful brunette who was working on MV Agusta's stand last year.
A New Panigale 1999S outfitted with Ducati Performance Accessories and stripped down for track use / World Superbike SuperStock configuration. Very interesting to note that the standard S-model Electronic Suspension is not used, as there are not electric cables attached to the top of the front fork caps. The gas tank is unpainted on this show bike just to show that it comes aluminum as stock on all 1199's (3lbs lighter than the 1198 plastic tank). Check out the minimal grooving in the huge rear 200x17 street tire (basicly a slick). All World Superbikes will move from the current 16.5 in rims to 17in rims in 2013 as Pirelli says they can now build a 17 inch tire with as much side grop surface asa 16.5in tire.
The Termignoni Exhaust adds on 10 more hp and takes off 5lbs from stock, so you are looking at a production bike with 205hp and 360 lbs dry. A $65,000 Desmosedici beater and a $120,000 World Superbike beater for about $28,000 as shown. It would blow the number panels off Carlo's and Troy's current 1198RS World Championship Superbikes with their restricted 190 hp motors and FIM 164lb weight.
A close-up of the optional Ducati Performance Corse Full Race Exhaust System and Foot Control Assemblies. The titanium Termignoni race sysem drops nearly 5 pounds from the stock exhaust and increase horsepower by 5% - up from 195hp stock to about 205hp for just $3,499. The Corse Adjustable Foot Control Assembly goes for $999. Carbon Fibre Hell Guards $159.00. Note the new Wet Clutch which Ducati claims doesn't hinder horsepower and it certainly will increase clutch life. We've worn out the clutch baskets in our Ducati dry clutches in just 2,000 miles.
A Star Scooter girl looking like Gina Lolabridgeta dressed in a night gown with bedroom eyes!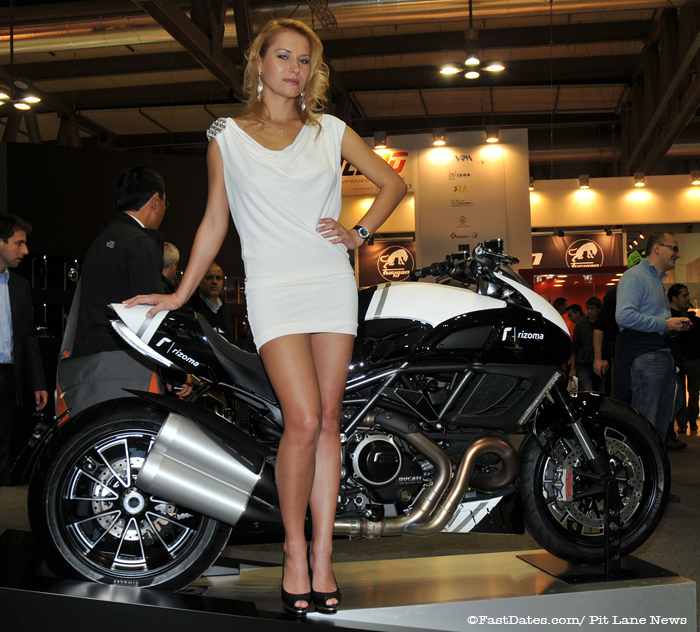 Above, a very well accessorized Ducati Diavel on the Rizoma Accessories stand. Below. Ducati's new Mercedes AMG Special Edition of the Diavel with White frame and accents, flat black paint and carbon fibre, special wheels and a swede leather seat.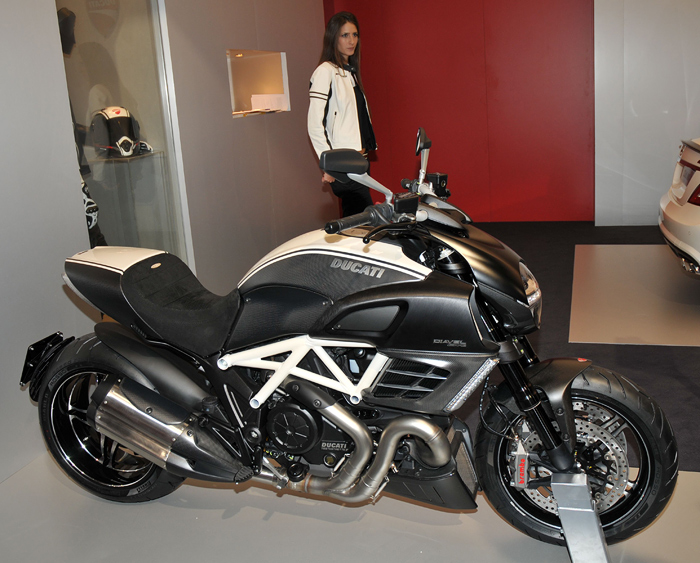 Finally, a performance modified Harley-Davidson V-Rod that we have a reason to like! XOXOX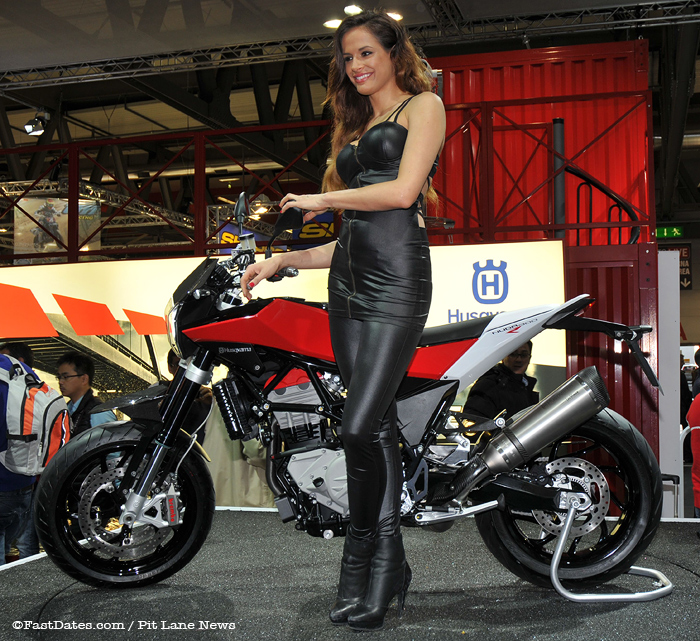 The new Husqvarna Nuda 900 (nude?) is a watercooled in-line 2-cylinder Supermoto streetbike bike to take on Ducati's Hypermoto. Throw in the girl and we'll take it!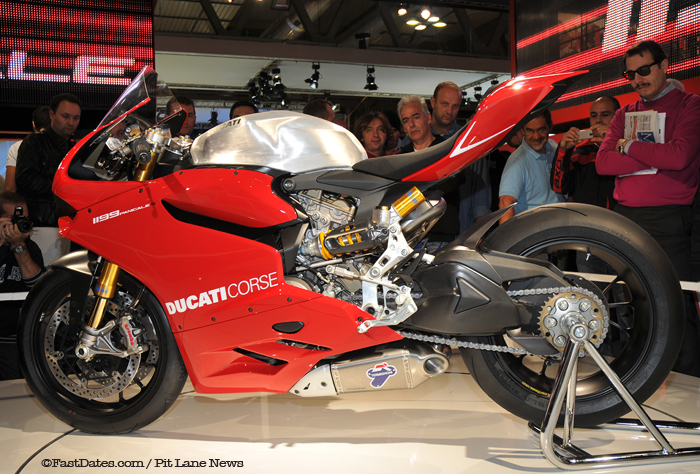 The 1199 featres Electronic Shifter, Traction Cpntrol, Ant-Locking Brakes, and an easy access rear shock and linkake for quick change and spring replacement, plus the pivot point of the rear shock link can be repositioned to provide a Progressive Link Rate for the street or a Flat Progressive Rate for the Track - sheer genious! The previous 1198 Superbike requires breaking the chain and removing the rear wheel and swingsrm to change the shock or spring, normally a 2-3 hour job. Not it can be done in just mintues without having to disassemble the rear suspension.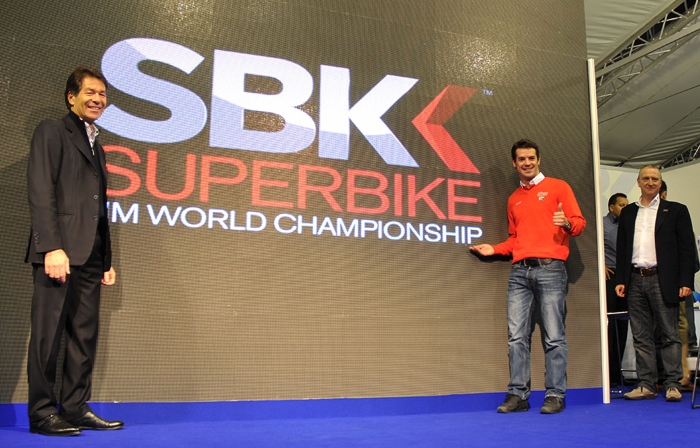 SBK World Superbike was at EICMA to premier their new ownership and graphics with President Paolo Flammini, 2011 World Champion Carlos Checa, and Press officier Julian Thomas.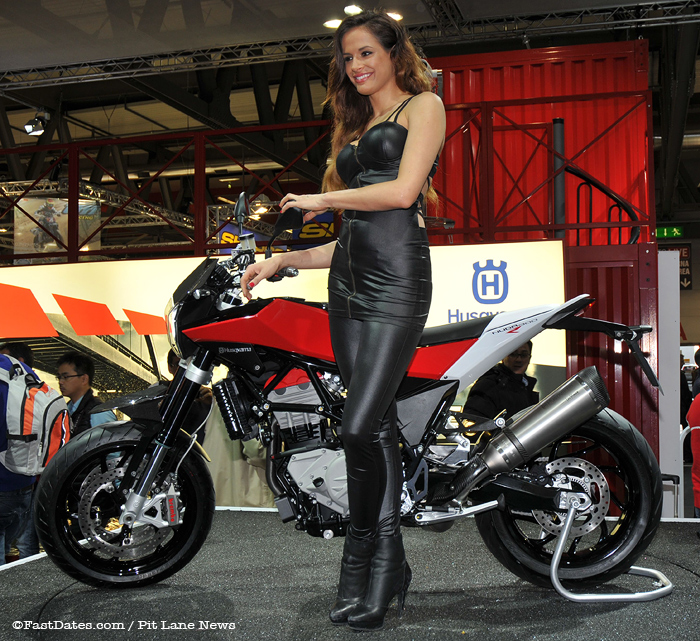 Above: The new Husqvarna Nuda 900 (nude?) is a watercooled in-line 2-cylinder Supermoto streetbike bike to take on Ducati's Hypermoto. Throw in the girl and we'll take it!
Beautiful Miss Italy was hanging out in the Puegeot scooter display, just to show how important motorcycling is in Europe.
When has a Miss America ever attended an American motorcycle show?


Bimota's take on a Supermoto named the DB10 that uses the Ducati Hypermoto's V2 engine and probably costs 3-times a much. Over you can and NCR M4 with a titanium trellis frame for 4-times as much.
Above: That's a Ducati 1198 Testastretta engine in these two new new Bimota DB9s with high bars. They look much more comfortable to ride and more practical than Ducati's own Streetfighter.
Below: A higher spec vesion of the same DB9 but with carbon fiber body panels and rim mounted brake rotors. The Bimota marketing guy should be shot for making their cute spokesmodel wear a man's bulky leather 1-piece riding suit!
Below: Bimota's ready to race Moto2 grand prix bike powered by the class spec Honda CBR600.
Above: The new Suzuki GSXR1000 gets upgraded for 2012 with traction control and Brembo monoblock brakes.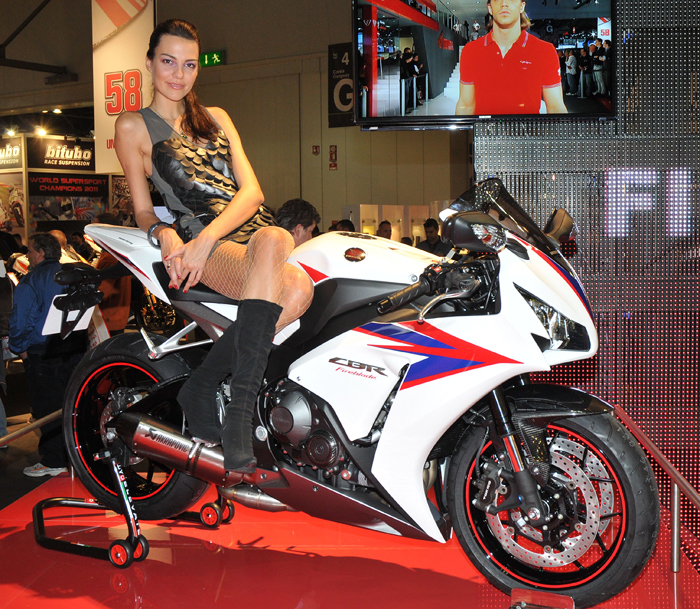 Above: Honda CBR1000 gets dressed up with some carbon bits and an optional Akrapovic downswept exhaust, but it is looking very dated with no real changes for 2012 comared to the competion. Below: The new, more affordable MV Agusts F4 1000RR Superbike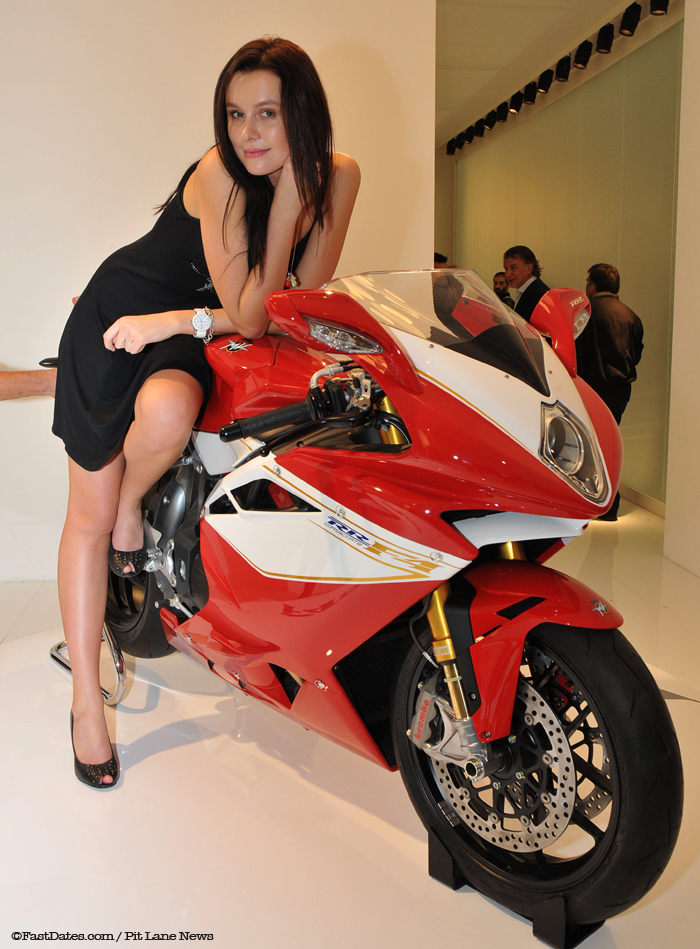 Scooter Kittens! We can't wait for motor scooters to get more populat in America, if only to see girls in short skits riding them everywhere. Above: a peforormance modified retro Polini. Below: Serious freeway commuters with an Aprilia 250cc and Kymko 300cc. Dig the high performance specs on the Aprilia with dual 4-piston front Brembo brakes and chain rear drive.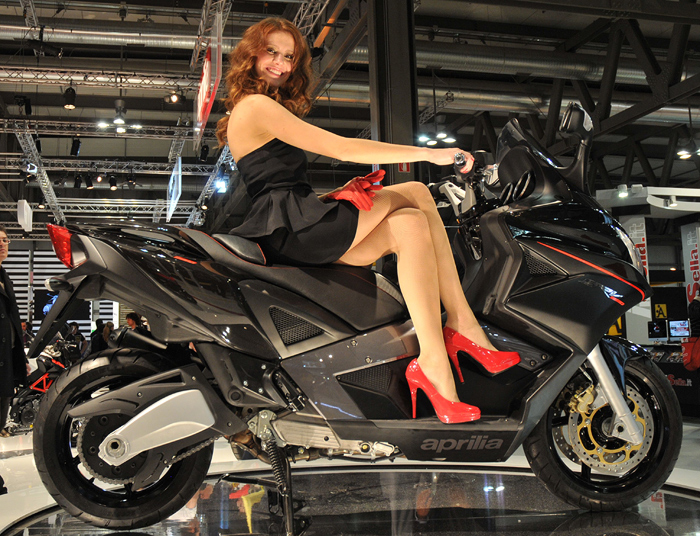 Return to Pit Lane News • Pit Board Features • EICMA 2011 Page One • EICMA 2011 Page 2