The Hansen Dam parking lot was filled in the morning with about 900 classic bike (and car) enthusiasts.
Southern California Norton Owners Club
31st Annual Hansen Dam All-British Ride - by Jim Gianatsis Click on Any Picture to Enlarge

Sun Valley, CA, Nov 7th, 2010 -There's a special drill to starting a classic British motorcycle: open the petcocks, tickle the carbs, find the compression stroke to suck mixture into the engine, turn the key, kick over the engine with a mighty lunge so it hopefully won't kick back and break your leg. And pray. Repeat this 3 or 4 mote times. The ritual whiring and then a firing roar was repeated hundreds of times Sunday during the 31st All-British Ride out of Hansen Dam, one of the biggest gathering of John Bull bikes in the nation, if not the world. The ride starts and ends at the the Hansen Dam Recreational Area's parking lot, the site being located off Interstate 110 in Sun Valley, CA, on the east end of the San Fernando Valley just north of Los Angeles.
Dubbed the "best ride by a dam site," an estimated 900 mostly leathery baby boomers from across the country lit out under drifting clouds for a 100-mile rumble through the San Gabriel Mountains on such mostly bygone marques as Norton, BSA and original Triumph motorcycles. As the ride has grown in recent years, some beautiful classic Italian and Japanese motorcycles have also joined the ride. In fact, there's no rules on who and what can join ride, but the bike should be a least 25-30 years old, or be modified to look like classic cafe racer.
It doesn't get better than these superbikes of the 1960-70s-: a brace of BSA, Triumph and Nortons poised ready to ride!
"If you show up with a Teddy bear on your back, you're thrown out," said Bill "Bib" Bibbiani, self-professed "dictator" of the Southern California Norton Owners Club, and host of the event who wore a Rule Britannia T-shirt. "The point is to get out there and ride - no pretense. No rules.

The wanabe bikers, meanwhile, were across town this very same morning, staging in front of Glendale Harley-Davidson, preparing for a treacherous 25-mile straight line ride up the Ventura Freeway to Calimigos Ranch for the big annual charity Love Ride. That Ride, hosted by Jay Leno, an avid British bike enthusiat himself was probably wishing he was at Hansen Dam instead with his old Vincent Black Shadow.
They came on machines once the envy of every kid who'd seen Marlon Brando swing a leg over a Triumph Thunderbird in "The Wild One." Or Sean Connery as James Bond scream through "Thunderball" atop a BSA Lightning. Or who'd fallen for the Norton Commando poster girl.They were fast, though they leaked oil. They could handle, for their day. And they were oh-so-cool, with names like Gold Star, Rocket, Super Meteor, Bonneville, Venom, Manx and the invincible Black Shadow.
The best part of "The Ride" is the morning check-in at the Hansen Dam Recreational Area parking lot. The Ride begins at 10am, but I wanted to be there much earlier at about 8am to have time to look at all the cool bikes and chat with their owners. I didn't want to sleep-in on this Sunday morning and arrive at the Dam Parking Lot for the end of The Ride, knowing how British bikes like to break down, chances are some wouldn't make it or would be delayed for hours, while other more valuable collector bikes might not even participate in the ride.
I had sold my Norton 750 Commando years earlier because I never remember to keep the battery charged, or how to check the oil after it had sat parked for months. The oil in the underseat oil tank would always drain back into the dry sump engine. leaving the tank empty. So when I'd come back to start the bike every 6 months, like a dutifully owner I would check the oil tank's dip stick and find it would be dry as a bone. Thinking my last ride must have burned or dripped it all out, I'd pour in another quart of oil. Then when I'd start the bike, the original oil that had drained down into the crankcase had to find room to go somewhere now the oil tank was full again, so it would blow out the breather vent, soaking the bike and my garage floor in oil!
A beautiful Royal Enfield.

Still, I come well prepared to my first Hansen British Bike Ride, but rather than a Limey motorbike, I drove there in my classic 1946 MG TC, topped out on the Hollywood and San Diego freeways at 65mph! The MG-TC was first post war sports car, a car much the same as the prewar MG TA/TBs of 1935-38. Mine even has the British right hand drive, and was probably brought back to America by a returning American military officer stationed in Britain at the end of the War. My first car as an teenager at age 16 was a used 1953 MG-TD, and I had always lusted after the older TC model with its taller 19-inch wire wheels. The same car driven by Mr. Toad in "Wind In the Willows", and by actor Ryan O' Neal in 1970's movie classic "Love Story", co-staring Ali-McGraw who was also dating Steve Mc Queen around that time.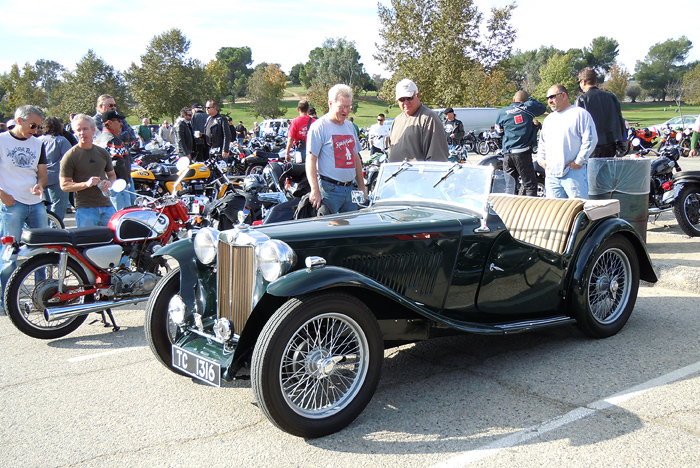 The oldest British vehicle at Hanson Dam had four wheels, not two, my 1946 MG TC!
Another interesting side note, when I went to register my TC at the DMV after I first bought in about 4 years ago, I was approached in the parking lot by still the owner of the "Love Story" MG-TC. He told me his movie car still resides in a garage in Boston where the movie was filmed. It is in crashed condition after O' Neal left it parked on a hill with just the had brake on, forgetting to also leave it in gear with the wheels turned into the curb as he had been told to do. Needless to say the British hand brake didn't hold.
I was there early enough at Hansen dam to park right in the middle of the Parking Lot, with all the other British bikes soon filling in around the TC. My car was the oldest British vehicle there and drew a lot of admiring comments.
You don't need an expensive British bike to join in - a brace of Classic 1970s Honda CB750s turned into cafe racers.
The period dress. It's 1964 all over again," said Craig Dillmann, 54, of West Hills, who rode his 1964 Triumph TR-6. "It's a throwback. It makes me feel like a kid."

"This is old-school, the real deal," added Walt Riddle, 57, of Winnetka, a Triumph guru whose restored Californian is on display at the Reagan Library. "Hundreds of years of riding experience. No wannabes."
The All-Brit ride was launched in 1980 by former racers Pat Owens, Skip Van Leeuwen and Gene Cox, an executive of Triumph, as a way to encourage sales during the throes of a dying British motorcycle industry. But what began as a Rose Bowl gathering with heaps of hot dogs and hamburgers soon moved to Hansen Dam, where hundreds of riders ogle English iron before sprinting toward the hills in clouds of rich-running motorcycle exhaust.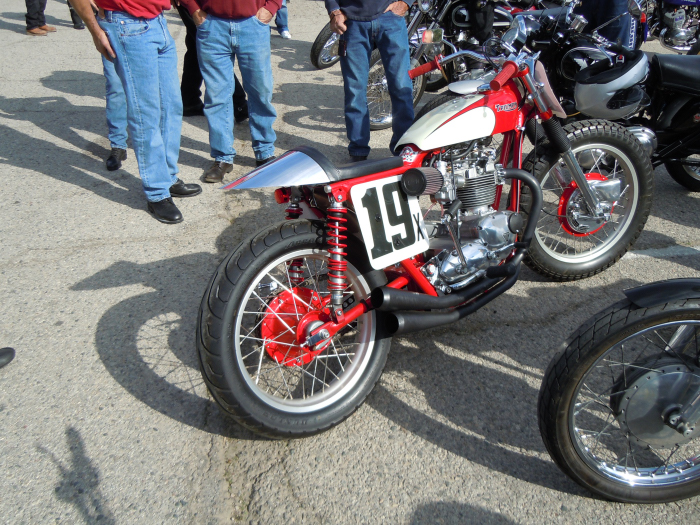 Skip Van Leeuwen bought a brand new Triumph at 16, then became a lifetime racing legend on dirt tracks in Southern California. Soon he became a Triumph sponsored factory racer on the national circuit. "They're lighter. They're faster. They handle better.," said Van Leeuwen, 73, who has a motorcycle parts distributorship with his sons that bears his name, inthe next town of Arleta. "And they're a lot of fun." Van Leeuwen Distributing sells our FastDates.com Calendars to dealers, and handles the retail phone sales from our website.
"It's a disease, that's all there is to it," added John Ebert, 59, admiring his black Interstate Commando, with its gleaming sand-cast primary cover, who'd driven all the way from of Phoenix for the ride. "If you park this bike next to a row of Harleys, they'll all come down and look at your bike. I love it."
Chris Tucker, of Moorpark, piled his Pomeranian into a tank-box atop his Bonneville and took him along for the ride.
Scott Buehl, of Upland, donned a kilt for his dash atop a modern-day Triumph. "This kilt has been tested at 130 mph," said Buehl, 44, of Upland, who'd been given the Scottish plaid on a dare. "There's a bit of a draft, but it's great on a hot day. Or any day."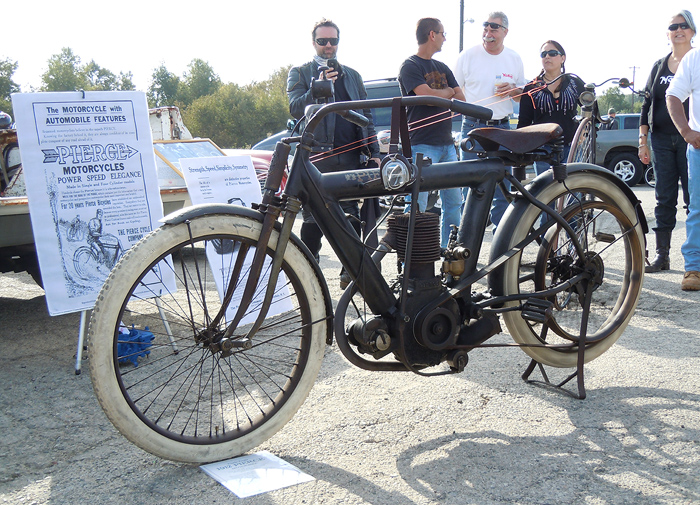 The oldest bike at Hansen Dam was this all original, unrestored and running 1912 Pierce. Check out the advanced engineering which included a monoshock leading link front suspension, the engine as a stressed member in the frame, and the frame tubes which hold both the gasoline (top tube) and oil tank (rear down tube). Everying new has been done before.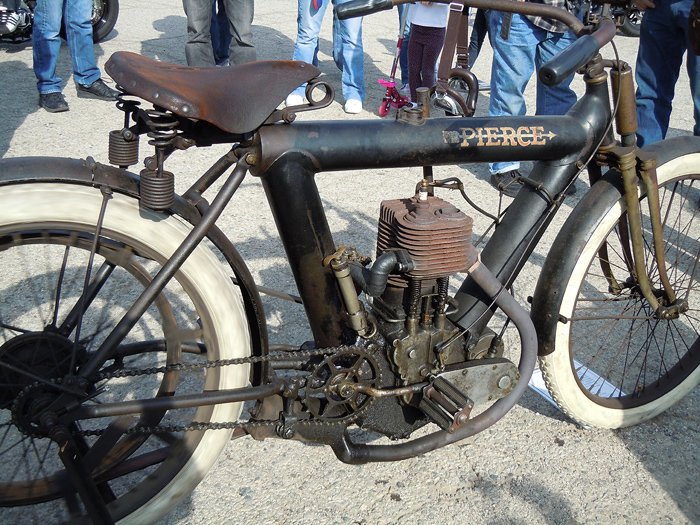 There were even young women riders from the Eastside Moto Babes, who were among the interlopers who rode in on non-British classic or other bikes. "Nice people ride Hondas," joked Jeannette Mekdara, 29, of Los Angeles. "I like British bikes. And British bikers."
When Gideon Kotler was growing up in Israel, Triumph was the two-wheeled Rolls Royce of the desert. Now he's riding a black-and-gold Bonnevile that took a full three months to restore. "It's the noise, it's the oil on your feet," said Kotler, 56, of Encino, smiling. "The bugs in your eyes. It's two cylinders, when it works. You can't buy that sound anywhere. Even your ex-wife, she can't growl like that."
"There's nothing like going 85 mph down the freeway on a 60-year-old motorcycle," said Tom Gross, 63, of Redlands, who'd ridden his Norvin, a hybrid cross between a Norton and Vincent motorcycle. "It makes you feel like you're shaking to death. It's great."
Robin, one of the few younger riders who rode in on a newer Ducati, said the annual event was a scene that may not be around in distant years."It's the love ... the love these guys have for their bikes," said Robin, 34, of Studio City, who declined to give his last name. "They remind you of your dad. Guys in the 1960s, a more innocent time, when guys were cool and girls were girls."
For additional information on the annual Hansen Dam British Ride visit: www.SoCalNorton.com / Bill Bibbiani phone 626 791-0259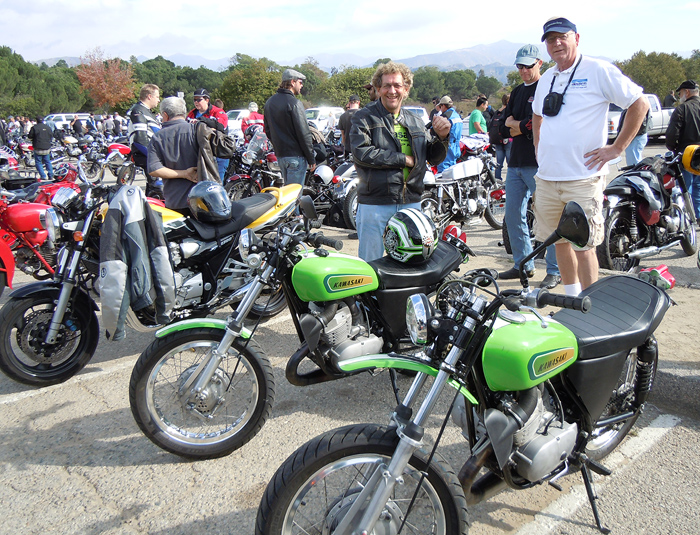 They old timers were crawling out of the woodwork! Famed 2-stoke tuner and friend from the 1970-90s, Harry Klemm / Klemm Research was on hand with a pair of immaculate Kawasaki 350 Big Horn single cylinder rotary valveengined dirt bikes that he had converted to streetbike specs, which he now roadraces in AMHRA, winning handily against the 4-cylinder 4-stroke Honda CB-550s in his class.